College Basketball Nation:

Nevada Wolfpack
April, 28, 2014
Apr 28
12:00
PM ET
There is nothing mid-major about San Diego State, New Mexico, UNLV and at times a few others in the Mountain West Conference. The capacity of their arenas, the coaching salaries, the money put into the programs and the ability to buy nonconference games dispute any attempts to label some of the top teams in the conference.
Placing multiple teams in the NCAA tournament also discounts any second-tier status. Two seasons ago, five of the nine teams made the dance. Those aren't mid-major numbers.
But to maintain its status as an alternative to the traditional five, much like the Atlantic 10, the MWC has to get its bottom in gear and can ill afford to let the nonconference portion of the schedule pass without significant victories.
Getting a team in the Sweet 16, as San Diego State achieved last month, helps camouflage the problems. Having only one other team in the tournament that whiffed in the round of 64 for the second consecutive season -- New Mexico -- doesn't help the situation.
What we saw this season:
The problem was that the MWC was only those two teams.
[+] Enlarge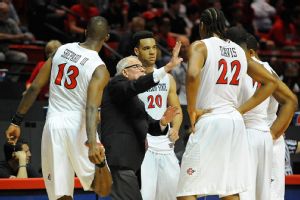 Christopher Hanewinckel/USA TODAY SportsSteve Fisher and San Diego State advanced to the Sweet 16, but the depth of the Mountain West didn't show in the postseason.
New Mexico and San Diego State played two tremendously competitive and high-level basketball games that would have matched any other conference's top two teams. Duke-Syracuse was better, but that game wasn't between the top two teams in the conference, considering Virginia won the ACC. New Mexico and San Diego State have fostered a healthy, and much-needed, rivalry.
UNLV shares a similar rivalry with both schools, but the Runnin' Rebels couldn't find any form of consistency.
Getting zero teams in the NIT is an indication of the lack of quality depth in the conference. Boise State was supposed to follow up a First Four appearance with another NCAA berth, only to miss several opportunities to impress.
"We didn't have the number of quality nonconference wins that we did the year before, and that's why we got two teams in the tournament," said San Diego State coach Steve Fisher. "We played enough of them, but we didn't win enough of them."
Fisher cited the opportunities UNLV and Boise State had, but neither was able to get the necessary wins.
"Sometimes luck is involved," Fisher said. "Whatever it was, we didn't get enough of them. The best win might have been New Mexico beating Cincinnati. But the teams in our league were good."
Of course, Fisher is being modest. The best win was San Diego State winning at Kansas. That victory silenced critics who have taken to knocking down the MWC's ability to compete at the highest level during the season. The victories in the NCAA tournament aren't always over top teams, as matchups and seeding can play a role.
"The bottom hurt us," said Wyoming coach Larry Shyatt. "There were pretty good teams left out. But we didn't get the wins in November and December like we did the year before. You're only talking about four or five more wins against the BCS leagues."
The MWC got what it deserved. SDSU and New Mexico were the two best teams and the ones that should have been in the NCAA tournament. The Aztecs lived up to their seeding and reached the Sweet 16 with strong performances before falling to new rival Arizona. New Mexico once again failed to get out of the first game, this time losing to a middling Stanford team that suddenly got hot enough to reach the Sweet 16.
"Our league was better than people thought," Fisher said. "It was a difficult league to win on the road, but we didn't get enough nonconference games to enhance the RPI."
That must change. The coaches are confident it will in 2014-15.
What we expect to see next season:
The Aztecs are the only sure thing in 2014-15, and that's even with the departure of
Xavier Thames
and
Josh Davis
.
"That's a mouthful," Fisher said. "X was so good last season, and Josh Davis was the missing ingredient. He was relentless on the boards. We'll miss them both. The question will be is how much better are the returnees? Can we play the two bigs
Skylar Spencer
and
Angelo Chol
[a transfer from Arizona] together and how much? We've got the post players. And then how much can our new kids contribute right away?"
The Aztecs still have
Dwayne Polee II
and
JJ O'Brien
to give them even more experience.
"San Diego State will be the favorite," said New Mexico coach Craig Neal. "Boise will be pretty good. The rest is up for grabs."
The Broncos, who slid back after the NCAA tournament berth in 2013, kept their most valuable possession when coach Leon Rice decided against going to Washington State.
[+] Enlarge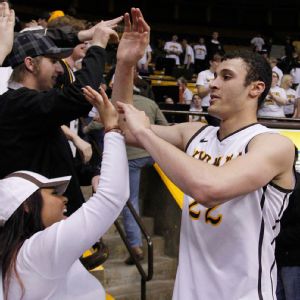 Troy Babbitt/USA TODAY SportsLarry Nance Jr. and Wyoming upset San Diego State in February, but Nance tore his ACL a week later, derailing his team's postseason hopes.
The core of the Broncos returns, led by
Derrick Marks
and
Anthony Drmic
.
"We were a whisker away last season," Rice said. "We were probably a little too small last year. Recruiting has filled that need. The Broncos will be a lot bigger and what could be our most talented team."
Said Fisher: "I thought Boise would be really good, but they had a hard time winning close games. That Australian kid [
Nick Duncan
] is pretty good, and so is Drmic [also from Australia]."
The sleeper pick among the coaches is Wyoming, assuming
Larry Nance Jr.
is healthy from his torn ACL.
"He's as good a big guy as any in the league -- maybe the best -- and Larry Shyatt does a great job," Fisher said. "They make you play at their place no matter what they've got."
Shyatt agrees.
"We were right on the cusp," he said. "We were never the same once Larry went down. But this is the first time in years we've got four starters back. I'm pretty optimistic."
UNLV has always had talent, even with early-entry departures. Dave Rice, who flirted with South Florida, ended up getting a contract extension through 2018-19. Losing
Bryce Dejean-Jones
as a transfer and seeing
Khem Birch
and
Roscoe Smith
declare for the draft normally would mean a slip. But counting out the Rebels is never smart.
Deville Smith
will likely need to be the leader.
The Lobos have been the most consistent winner along with San Diego State the past six years. But this will be Neal's toughest test as an assistant or head coach. Gone are
Cameron Bairstow
,
Kendall Williams
and
Alex Kirk
.
Cullen Neal
and
Hugh Greenwood
will be the likely lead guards, with the need for big men to emerge fast.
"This is not an easy conference," Neal said. "It is highly competitive, with great venues and great players."
June, 10, 2013
6/10/13
11:00
AM ET
Coaches of Mountain West Conference schools have a recruiting tool that isn't very common at other programs from non-BCS leagues.
NBA tradition.
UNLV's Dave Rice can sell prospects on the possibility of becoming the next Larry Johnson or
Shawn Marion
. New Mexico's Craig Neal and Fresno State's Rodney Terry can brag about the accomplishments of first-round draft picks
Danny Granger
and
Paul George
.
Nevada has three players (
Luke Babbitt
,
Ramon Sessions
and
JaVale McGee
) in the NBA and
Jason Smith
has given folks a reason to hope at Colorado State.
Here's a look at the 10 MWC products who have enjoyed the most successful pro careers since 1989, the year the NBA draft was whittled down to two rounds.
[Editor's note: The Mountain West didn't begin play until 1999-2000, but we are counting any draftee who has played at a current MWC school since 1989. The departed schools aren't totally forgotten, though. Any player who participated in Mountain West league play is eligible for this list, regardless of whether their alma mater has since departed the conference.]
1.
Larry Johnson, UNLV
-- The No. 1 pick in the 1991 draft had a solid pro career, but back problems kept Johnson from becoming the perennial All-Star as so many expected after he led UNLV to the 1990 NCAA title and 1991 Final Four. Johnson averaged 16.2 points and 7.5 rebounds in 10 NBA seasons. He was named Rookie of the Year in 1992, when he averaged 19.2 points and a career-high 11 rebounds. Johnson retired in 2001.
[+] Enlarge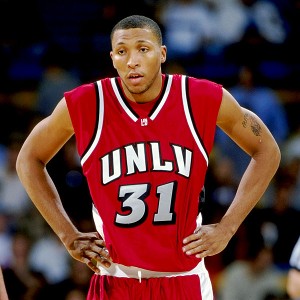 Todd Warshaw/Getty ImagesShawn Marion only played one season at UNLV when the team was still a part of the WAC.
2.
Shawn Marion, UNLV
-- As a member of the
Dallas Mavericks
, Marion is still going strong after being drafted ninth overall by Phoenix in 1999. Marion -- who played just one season at UNLV -- has averaged 16.2 points and 9.1 rebounds over 13 NBA seasons. The four-time All-Star earned third-team All-NBA honors in 2005 and 2006. In 2011 he was the starting small forward for a Mavericks squad that won the NBA title.
3.
Danny Granger, New Mexico
-- A small forward, Granger was named the NBA's Most Improved Player after averaging 25.8 points for Indiana in 2008-09. He averaged 21.2 points over the next three seasons before knee problems limited him to five games in 2012-13. The No. 17 pick in the 2005 draft is averaging 18.1 points in seven NBA seasons. Granger was a two-time All-MWC selection at New Mexico.
4.
J.R. Rider, UNLV
-- His on-court success was often overshadowed by legal problems, but still, Rider's NBA career certainly had its share of bright moments. He averaged 16.7 points in nine NBA seasons, including 19 or more points four times. He made the All-Rookie team in 1994 and posted a career-best scoring average of 20.4 points the following season. He was waived in November 2001 after playing 10 games for Denver.
5.
Paul George, Fresno State
-- The 6-foot-8 small forward just completed his breakout season, averaging 17.4 points and 7.6 rebounds for the
Indiana Pacers
in his third year as a pro. Even more impressive is that George averaged 19 points in the playoffs to lead his team within one game of the NBA Finals. No one will be surprised if the third-team All-NBA selection is an All-Star for years to come.
6.
Andrew Bogut, Utah
-- Bogut became the first Australian-born player to be selected No. 1 overall when Milwaukee made him the first pick in the 2005 draft. The 7-foot center now plays for Golden State. Bogut has averaged a double-double in three of his seven NBA seasons and is averaging 12.2 points and 9.2 rebounds for his career. He also swats an average of 1.7 shots. He was third-team All-NBA in 2010.
7.
Rafer Alston, Fresno State
-- A second-round draft pick in 1999, Alston struggled in his first four NBA seasons before finding his groove with the
Miami Heat
in 2003-04. He averaged 10.2 points and 4.5 assists that season and would average 30-plus minutes a game for the next five years. His best season came in 2003-04, when he averaged 14.2 points and 6.4 assists for Toronto. Alston played his final NBA game in 2010.
8.
Kenny Thomas, New Mexico
-- A first-round pick in 1999, Thomas averaged 9.3 points and 6.9 rebounds in 11 NBA seasons. He scored 14.1 points per game for Houston in 2001-02 and posted a career-high 10.1 rebounds in 2003-04 while playing for Philadelphia. That season he was one of 11 NBA players to average a double-double. Thomas played his last game in 2010.
9.
Stacey Augmon, UNLV
-- "Plastic Man" enjoyed a long NBA career after leading UNLV to the NCAA title. He played in 1,001 games in 15 NBA seasons but averaged only eight points. Augmon averaged five points or fewer in his final 10 seasons, but his defensive prowess kept him on NBA rosters. Augmon was a three-time winner of the NABC's National Defensive Player of the Year award at UNLV.
10.
Greg Anthony, UNLV
-- The point guard for UNLV's 1990 championship squad was an NBA journeyman who played for five teams in 11 professional seasons. An average outside shooter but an excellent assists man and defender, Anthony averaged four assists and 1.2 steals over the course of his career. His best season came in 1995-96, when he averaged 14 points and 6.9 assists for Vancouver.
Five more notables (names in alphabetical order):
Keon Clark
, UNLV
Luc Longley
, New Mexico
JaVale McGee
, Nevada
Theo Ratliff
, Wyoming
Ramon Sessions, Nevada
Too soon to tell:
These guys haven't been in the league long enough to make the top 10, but might get there soon enough (names in alphabetical order).
Jimmer Fredette
, BYU
Kawhi Leonard
, San Diego State
Greg Smith
, Fresno State
July, 3, 2012
7/03/12
11:50
AM ET
For most of the past two years, conference realignment has been about two things: football and football money. But as we've seen in this year's major Big East, Atlantic–10, and Colonial shuffles, the trickle-down effects of football-oriented realignment have begun to directly affect the positioning of basketball-dominant schools.
The loudest kvetching of the spring centered on Butler's move to the Atlantic–10, where some believed the Bulldogs would need to change to compete. As we've detailed before,
that seems unlikely
. Butler is good enough to play in the Atlantic–10 already. The Bulldogs will be fine.
[+] Enlarge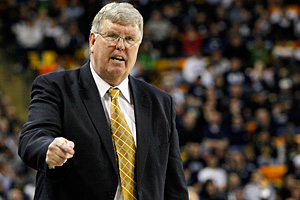 AP Photo/Colin E BraleyStew Morrill shouldn't have to worry about schedule strength when Utah State moves to the Mountain West Conference.
But what about Utah State? Arguably the most underrated mid-major program west of the Mississippi, Stew Morrill's Aggies have toiled in relative obscurity for much of the past decade, routinely fielding top teams (beloved by efficiency geeks everywhere) that have just as routinely been held back by affiliation with the WAC. Utah State has never been able to convince top programs to come to Logan for true road games, so it has often ended its seasons with lots of wins and little respect from the NCAA tournament selection committee.
That's about to change. In 2013, Utah State will move to the Mountain West, which has for the past two seasons been the best conference on the West Coast, Pac-(10)12 included.
Morrill spoke with Salt Lake Tribune writer Tony Jones about next year's move
, and the benefits are obvious: Utah State gets to play UNLV and New Mexico every season, not to mention fellow realigners Nevada and an emerging program in Colorado State, which just hired an experienced head coach in Larry Eustachy.
UNLV athletic director Jim Livengood is thrilled with the addition, and understandably so:
"Having Utah State in the conference greatly lessons the blow of losing San Diego State," UNLV Athletics Director Jim Livengood said. "I believe that they can come in and compete right away with anyone. The staff is great, and anyone who has played against Stew Morrill knows that it won't be an easy time of it. Utah State is going to help the Mountain West and the Mountain West is going to help Utah State. This is the perfect marriage."
But as Jones writes, there are also potential drawbacks. Utah State won't have to worry about scheduling anymore, because it will always have the likes of Mountain West play to fall back on, and high-major teams should be more willing to schedule the Aggies with the essential guarantee that Utah State's (read: the WAC's) RPI effects won't come back to bite them. But Utah State also won't be a big fish in a very small pond. To compete with the likes of New Mexico and especially UNLV -- where Dave Rice is recruiting top–25 players like the good old days -- Morrill will have to change his longtime routine, perhaps significantly.
If Morrill can do that, the Aggies should be able to hang tough in the Mountain West. If he can't -- if Utah State essentially remains the same program, dropped into a much tougher league -- it's possible the Aggies could lose much of their frequent NCAA tournament luster. Rather than mid-major darlings of the West, Utah State could be just another Mountain West team. Ho hum.
In many ways, Utah State might be the best distillation of conference realignment's double-edged sword. Bigger conference, tougher opponents, more tournament bids, better seeding, more money? Great! Fewer trips to the NCAA tournament? Entirely possible.
Forget Butler. Over the next five years, the real costs and benefits of conference realignment will play out in Logan, Utah, where an excellent but underrated program is set to step into the big leagues. Where Morrill and Co. go from here remains to be seen, but the effects of that evolution -- or lack thereof -- will be fascinating to observe.
February, 27, 2010
2/27/10
2:23
PM ET
Tonight's Hawaii-Nevada game was among the athletic events scheduled for Saturday that was canceled or postponed after campus was closed due to a
tsunami warning
, the school announced.
No potential makeup date for the basketball game has been determined, and it's possible the game will not be rescheduled.
Nevada sports information director Rhonda Lundin said from Honolulu Saturday afternoon that the Wolf Pack and all guests at the Hilton Hotel were told to get above the fourth floor at 4 p.m. EST when the first waves were expected to hit shore.
Lundin said the team would gather in Nevada coach David Carter's 26th floor room to ride out the tsunami warnings. Lundin said local authorities said the warnings could go on for hours as a series of waves are expected, but no one is quite sure how severe they will be after the 8.8 earthquake rocked Chile earlier Saturday. The earthquake has created tsunami warnings in coastal areas across the Pacific Ocean. President Obama reiterated early Saturday for residents to listen to local authorities in Hawaii and U.S. territories in the Pacific Ocean region.
Nevada is staying two blocks from Waikiki Beach, which has been closed. Lundin said roads to the airport have also been closed.
Hawaii postponed the game Saturday night against Nevada and the Wolf Pack is hopeful to still get out on a red eye late Saturday night. The reason the game may not be replayed is Hawaii is in last place in the nine-team WAC and may not need the game since only eight qualify for the WAC tournament. Hawaii (2-11, 9-18) trails eighth-place Boise State (3-10, 13-15) by a game in the standings with two games remaining, both on the road at Boise State and Idaho. Nevada (9-4, 17-10) is in play for a postseason berth and seeding in the WAC tournament is still in doubt, trailing first-place Utah State by two games and second-place New Mexico State by a game.