College Basketball Nation:

Nevin Shapiro
November, 23, 2011
11/23/11
2:38
AM ET
KANSAS CITY, Mo. -- A few months before the start of the season, a poll in the Kansas City Star indicated that 78 percent of Missouri fans wanted first-year coach Frank Haith to be fired.
It might be time to take another vote.
Because if what happened at this week's CBE Classic is any indication, the Tigers could be poised for one of their most successful seasons in recent memory. A lofty perch in the national rankings, a Big 12 championship and a deep run in the NCAA tournament ... all of it seemed possible as the final horn sounded in Missouri's
92-53
title-game victory over 18th-ranked Cal at the Sprint Center.
"I'm surprised by that score," Haith said.
And he certainly wasn't alone.
Even with a veteran team that won 23 games last season, no one expected Haith's imprint to be this visible this fast. Most programs that endure coaching changes take a step back before they take a step forward. In Columbia, though, the Tigers have pressed a button and taken off like the Millennium Falcon -- at light speed.
After this week it may be time to catapult the No. 21 Tigers into the top 10. They were that good.
[+] Enlarge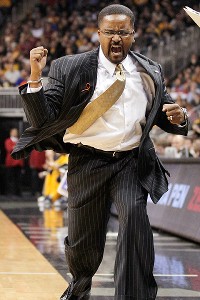 AP Photo/Charlie RiedelIt seems Frank Haith has gained a few fans in Missouri this week.
"This is the best I've felt in my four years here, because this is the most selfless team I've played on," said senior guard
Kim English
, who led Mizzou with 19 points. "We're all buying into the process."
That's a credit to Haith, who wasn't exactly greeted with flowers and candy by Missouri fans when he was hired in March to replace Mike Anderson. Haith led Miami to just one NCAA tournament berth in seven seasons. And in August, his name was linked to former Miami booster Nevin Shapiro, who allegedly provided impermissible benefits to a number of Hurricanes athletes, including at least one basketball player.
But none of those things -- or the loss of standout forward
Laurence Bowers
to an ACL injury -- has had an effect on Haith, whose Tigers appear to be in midseason form after just five games, which included an
87-58
beatdown of Notre Dame on Monday night.
"Things just clicked," said Haith, whose team improved to 5-0. "We've got a veteran team with older guys, but it can go either way with older guys. They can be stubborn because they've been used to doing things a certain way for a long period of time. Or they can have the poise and understanding to buy in.
"Our guys have really bought in and shown great leadership."
Indeed.
On offense, especially in the half-court, Missouri is operating with a plan and structure that seemed missing at times in past seasons. The Tigers are getting outstanding shots because they're taking pride in making the extra pass, even if it means passing up a wide-open, 10-foot jumper for an assist to a teammate streaking toward the paint for an easy layup. Missouri shot 58.8 percent from the field Tuesday.
The Tigers are also using a menacing defense to generate points, which was a trademark under Anderson. Only now, instead of employing a full-court press for large chunks of the game, MU has stepped up its half-court defense. Any time an opponent coughs up the ball -- the Tigers scored 23 points off turnovers against Cal -- or misses a shot, the Tigers capitalize thanks to a four-guard lineup that beats everyone down the court for an easy bucket.
Not many teams in the country will boast as much speed and athleticism as Missouri, and there might not be any school that will have as many high-level ball-handlers on the court at the same time. The situation completely overwhelmed Notre Dame in the CBE semifinal. And against Cal ... well, at times it didn't even seem fair.
And remember, this wasn't just some run-of-the-mill Golden Bears squad. Mike Montgomery's team entered Tuesday's game with a national ranking and a reputation as the best team in the Pac-12.
"I'd be naive to think that's going to happen every night," Haith said of the lopsided score. "We just played really, really well."
As good as things went this week in Kansas City, the Tigers are far from satisfied. They know one of their main weaknesses is a lack of size, with
Ricardo Ratliffe
and
Steve Moore
, who scored a career-high 10 points Tuesday, being the only true post players. Long, athletic teams could give Missouri more trouble than Notre Dame and Cal, who were physically overmatched.
Still, none of that seemed to matter as the Tigers paraded off the Sprint Center court carrying the CBE Classic championship trophy. Haith pumped his fist, fans dangled their hands over the railing for high-fives and players whooped and hollered as they trotted toward the tunnel to the locker room.
After a tumultuous offseason, things are looking good for Frank Haith and Mizzou.
Perhaps better than anyone -- even the Tigers themselves -- could've expected.
September, 15, 2011
9/15/11
1:01
PM ET
By
Diamond Leung
| ESPN.com
Missouri coach Frank Haith previously hadn't said much about Miami booster Nevin Shapiro's allegations in a Yahoo! Sports story reporting the coach knew about a $10,000 payment to the family of then-Hurricanes recruit
DeQuan Jones
.
But now Haith, little by little, is trying his best to clear his name without going against the NCAA's request that he not make public comments about the issue.
"I did nothing wrong at the University of Miami with our program," Haith told the
Columbia Daily Tribune
, adding, "It's difficult. It is very difficult. The thing is, this process, it can't be tried in the media. That's what the NCAA doesn't want. But it is very difficult because you have many articles that are written about you and that are challenging your character, and you can't defend yourself."
Later, according to the
St. Louis Post-Dispatch
, Haith went on KTRS, Missouri's flagship station, to reiterate, ""First of all...I did nothing wrong at the University of Miami" before offering a reason why he might now be fighting back.
Even so, his denial of the accusation was a public first on a matter that will linger at least until it's cleared up by the NCAA.

For instance, Haith said he is dealing with it constantly when recruiting.

"I don't wait for it to come up. ... It's the elephant in the room," he said. "Everybody knows it, and obviously ... coaches of other schools are using it against us."
Yes, the threat of other programs using Haith's potential recruiting violations against him could be an issue for Haith as he begins his first season at Mizzou. Haith's reputation has taken a hit following Shapiro's allegations, and the coach can't do much to change that for those whose minds are made up. But if Haith allows the negativity to seep into the minds of current recruits, then he's in trouble as well.
So Wednesday was when Haith made his stand with a short, quick-to-the-point denial just so everyone knows it's out there, especially the recruits who might think about becoming Tigers.
Haith can't say much more, of course, unless he wants to go against the NCAA's wishes.
August, 26, 2011
8/26/11
1:19
PM ET
Since the Nevin Shapiro mess dropped on Miami's head, the key college hoops questions have been as follows: What will Missouri do -- what can Missouri do -- about new head coach Frank Haith? Administrative leave? Termination? Or nothing at all?
Thus far, the answer has been "nothing." This is not exactly a surprise. For as
bad as the Yahoo! bombshell looked for Haith
-- the photos with Shapiro are bad enough, but the allegation that
Shapiro arranged $10,000 for DeQuan Jones is even worse
-- it's not clear whether Missouri has the cause needed to fire Haith
under the terms of the contract he signed this spring
. The language in the contract is occasionally vague. It's probably fair to surmise that if Missouri both wanted to and could fire Haith, it would have done so already. That the school has taken no action indicates that one of -- and probably both -- of those qualifications isn't true.
Thus, Tigers athletic director Mike Alden finds himself in a precarious position. For as long as the NCAA is investigating Haith's actions at Miami, the problem is still his, and there won't be any getting out of it. So what stance has the coach taken?
Judging by comments Alden made at a football fundraiser this week, it's fair to characterize that stance as "tepid, tentative support."
From the Associated Press
:
Asked by The Associated Press if he supports Haith, Alden replied, "We support the NCAA process." [...]

Alden briefly touched upon the situation in his remarks to boosters, noting that Haith met with the Missouri basketball team several days ago to discuss the matter. But he also emphasized that the alleged violations occurred at another school and singled out the returning basketball players as "a great group of guys."

"He's our coach," Alden told the AP. "There's a process that he's involved with -- that we're not involved with -- so we're just going to let that play out."
At this point, maybe that's the best thing Missouri can do. Taking action is more likely to result in a no-win situation. Firing Haith could lead to a messy cause lawsuit, and it would also leave a talented team with five returning starters without a coach before the start of an ambitious 2011-12 campaign. Placing Haith on administrative leave would have a similar effect, albeit without the lawsuit.
Stepping back and letting the NCAA conduct its investigation doesn't seem all that satisfying, especially given the high-profile nature of the story and the serious harm the allegations have already done to Haith's reputation. Besides, it's not as if Missouri fans were thrilled with the hire in the first place. They're especially displeased now, and with good reason.
But this route does allow Alden to let the NCAA Committee on Infractions make his decision for him. It's hardly an attractive option. But among the choices available to Alden, this one is the least unattractive. Sometimes, that's the best you can do.
August, 24, 2011
8/24/11
9:07
AM ET
If you didn't think that was possible, think again. It's hard to fathom, I know, because when your entire revenue-producing athletics program is
implicated in a massive scandal
by a former booster and convicted felon who, in the midst of spelling out countless sordid allegations,
says he gave $10,000 to then-recruit
DeQuan Jones
in an arrangement Frank Haith and his assistant were aware of -- well, that
should be
as far as a fan base and its new basketball coach can sink.
[+] Enlarge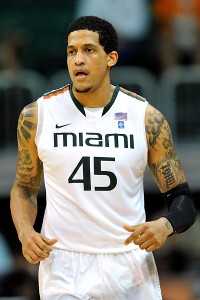 Steve Mitchell/US PresswireThe Canes were planning to lean on Julian Gamble while Reggie Johnson recovered from surgery.
And yet somehow, Tuesday night, Miami's offseason got even worse. Hurricanes center
Julian Gamble
suffered a torn ACL and
will likely miss the entire season
.
At first glance, it doesn't seem like a big deal: Gamble started only 13 games and averaged a mere 3.8 points and 4.0 rebounds in 2011. But
his emergence as a fifth-year senior was going to be crucial
to Jim Larranaga's first season at Miami because starting junior center
Reggie Johnson
is expected to miss all of November and December as he recovers from a June 30 surgery to repair a torn meniscus in his right knee.
Larranaga expressed his sadness in a statement
, saying the school would do everything it could to support Gamble during his injury and that he knew Gamble "will also be there supporting his teammates, because that is just the kind of person he is."
For his part, Gamble seems to be handling the injury extremely well. On Tuesday, in a series of tweets,
he wrote
:
We are never given more than we can handle, so i never ask "Why me?" just "Why not?" because i will come out on top! Thank you everyone for your wishes, love, and support... i promise i will come back better and always keep my head up in hard times. But for now all i can do is pray and give myself whole-heartedly to my team and doing anything possible to make us successful!
Miami needs that kind of attitude right now. Gamble's injury will leave the Hurricanes' frontcourt drastically thin until Johnson is able to return, and there's no telling how long Johnson will take to get to 100 percent game speed even after he's arrived back on the court. Fortunately, Larranaga does have an option in former Florida transfer Kenny Kadji, but the redshirt sophomore has yet to prove he's a legitimate college contributor, let alone the kind of frontcourt player who can keep the Hurricanes afloat without Johnson and departed 2011 starter
Adrian Thomas
.
You feel for Gamble, but you also feel for Larranaga. The former George Mason coach turned down many an offer after his miraculous 2006 Final Four appearance with GMU, but this spring, he decided to take a late-career trip to Miami in what was sure to be his final job as a college coach. Now, not only is the team he inherited debilitated by injury, but one of its players (Jones) has been accused of taking (and later returning) $10,000 cash in exchange for his commitment in 2008. That puts Jones' short-term services at risk. In the long term, if NCAA investigators can find any truth to that allegation, Miami's program will be punished and will suffer for years to come.
What a sad few months for Larranaga and his new program. It's just one thing after another.
August, 23, 2011
8/23/11
9:15
AM ET
By now, the irony -- or amusing circumstance, or whatever it is -- of former Miami athletic director Paul Dee's recent role as the chair of the NCAA Committee on Infractions has been lost on no one. The revelations and allegations in
Yahoo!'s damning report about former Miami booster and convicted Ponzi schemer Nevin Shapiro
are embarrassing now matter how you break them down. But the idea that the Shapiro mess could happen while Dee was at the school -- before Dee would go on to weigh judgement on other NCAA violators, including the major USC investigation, while saying things like "high-profile players demand high-profile compliance" -- borders on farce. Honestly, you couldn't make this stuff up.
Long Beach State University president F. King Alexander is struggling to find the funny side. In 2008, CSULB's men's basketball program was cited by the COI for self-reported violations involving impermissible tutoring and other major and secondary violations. The penalties were harsh but fair; CSULB was put on three years' probation and forced to forfeit scholarships, which is basically standard operating procedure for that kind of violation.
But Alexander remembers Dee's tone, and he is none too happy about it now.
From the Long Beach Press-Telegram
(this is
a few days old now
, but seriously, these quotes are too good to leave behind):
"Dee told us, 'You have to put in place the kind of institutional control we have at Miami,"' Alexander related with irritation. "And one of the other members of the NCAA Infractions Committee in that hearing was from Nebraska. On that same day, six Nebraska athletes were arrested for illegally selling sporting apparel."

"The hypocrisy of the NCAA makes me sick," he said. "To allow institutions like Miami and Nebraska to chair and oversee its infractions committee is like putting foxes in charge of the henhouse."
Boom. Roasted.
Once you get past the personal anger -- USC fans (and anyone else punished by the Dee-era Committee on Infractions) aren't going to let this one go for a while, I'm sure -- the more pertinent question is how the NCAA can avoid this sort of embarrassment in the future. Is it even possible? How can you be sure your regulators don't need their own regulation?
I'm not sure there's an easy answer. The obvious choice would be to staff the committee with exclusively non-affiliated personnel. That means no athletic directors and no law school professors. Rather, the committee should be as impartial and free of possible conflicts of interest as possible. But even then, there's always the possibility that some unknown issue will creep up; surely no one at the NCAA office had any idea Dee would find himself in this kind of position at any point during or after his tenure. (For as good a job as the NCAA typically does on seeding and selecting the NCAA tournament field every year, I'd argue that this principle should apply to the NCAA tournament selection committee, too. But that's another argument for another day.) And it's not like the COI is
full of current athletic directors already
.
That solution might be unrealistic. We see this in politics, in policing, in nearly every walk of life: Even those that are supposed to uphold our laws and rules can be guilty of looking the other way when those rules would apply to them. Dee says he didn't know what Shapiro was doing in the eight years Shapiro says he broke countless NCAA rules. If that's true, he seems clueless. If he
did
know -- even if he had some faint idea -- he seems willfully corrupt.
At the very least, the word "hypocrite," strong though it may be, fits like a glove. If there's a way for the NCAA to ensure this never happens again -- and again, I'm not sure there is -- now's the time to find it. What was that phrase? "High-profile compliance?" Right. Exactly.
August, 17, 2011
8/17/11
4:40
PM ET
When the
brilliant investigative bombshell by Yahoo! Sports
landed on the University of Miami's collective head Tuesday, the impact was felt most acutely by the football program. But
as Andy Katz discussed this morning
, the implication of former Miami basketball coach Frank Haith in a scheme to entice recruit DeQuan Jones with a $10,000 payment to a family member -- as
alleged by former Miami booster and Ponzi-scheming felon Nevin Shapiro
-- could leave a rather large crater where the newly hired Missouri basketball coach's career once stood.
It certainly doesn't
look
good. Yahoo! reporter Charles Robinson unearthed several photos featuring Haith side-by-side with Shapiro, one of which was taken at a restaurant, where Haith, Shapiro and assistant coach Jake Morton -- whom Shapiro alleges handled the cash in the supposed Jones payoff deal --
are sitting side-by-side and posing for the camera
.
[+] Enlarge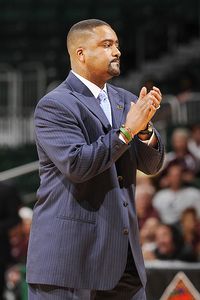 Richard C. Lewis/Icon SMIA former Miami booster claims then-Canes coach Frank Haith knew about a scheme to secure a recruit's commitment to Miami in exchange for cash.
But looking bad is one thing. Losing your job after an NCAA investigation is another. And so Tuesday's news raised a host of Missouri-related questions: Are Shapiro's allegations about the $10,000 accurate? Did Haith, as Shapiro alleges, actually know about it? And what of the investigation? Did Haith know about this before he was hired at Missouri? Did he inform MU athletic director Mike Alden during the interview process? Will Mizzou wait for an NCAA investigation to take action, or will it do so pre-emptively? Where does this leave the Tigers in the short-term? Why is my head spinning?
OK, so that last one's a personal problem. The rest are legitimate questions. As Andy wrote today, it's possible we won't know more about how Haith's old job will affect his new job until the NCAA has time to investigate and rule on Shapiro's allegations. It's possible, due to the nature of the alleged violation --
straight cash, homie
-- that Haith may be able to escape severe NCAA penalties.
But will Missouri want to go through all that? What power, if any, do the Tigers have to act on this mess before the NCAA submits the results of what is sure to be a long, drawn-out investigation?
The
Columbia Daily Tribune's Steve Walentik dug up Haith's Mizzou contract
and found some of the relevant language. (You can see a PDF of Haith's contract
here
.) There are a few related provisions in Haith's contract, including the following, which is specific to discipline in the wake of NCAA violations:
11. Discipline for Violation of NCAA, Conference and University Rules and Regulations. If the Employee is found in violation of NCAA regulations, he shall be subject to disciplinary or corrective action as set forth in the provisions of the NCAA enforcement procedures, including suspension without pay or termination of employment for significant or repetitive violations. The University is committed to meeting and exceeding that standard and, therefore, if there are significant or repetitive violations on the part of the Employee of Big XII, NCAA or University rules in his conduct of the intercollegiate men's basketball program, the University may terminate this Contract for Employment when such violations have reasonably been determined to exist by the Chancellor. The Employee shall have the procedural right to a review and hearing relating to any such determination. Any such hearing shall be governed by normal University grievance procedures provided for employees of the Employee's classification, as now or hereafter amended, unless other procedures are agreed upon by the parties.
Another section, which outlines the conditions under which Haith can be fired for "cause," reads as follows:
(5) consistent with the provisions of Paragraph 11 hereof, any violation of any policy, law, rule, regulation, constitutional provision, bylaw or interpretation of the University, the NCAA, or the Conference, which violation may, in the sole judgment of the University, reflect adversely upon the University or its ahtletic program, including any violation which results in the University being sanctioned by the NCAA or the Conference, including any violation which occurred during prior employment of the Employee at another NCAA member institution.
Another clause gives Missouri the right to terminate the employment contract for ...
... any behavior of the employee that brings him into public disrepute, contempt, scandal or ridicule or any behavior that is unfavorable to the reputation or moral or ethical standards of the University.
That last one is slightly more vague; you could certainly argue that Haith's seedy inclusion in Yahoo! Sports' report has already caused disrepute, contempt, scandal and ridicule, and you could certainly see that behavior as unfavorable to the reputation of Mizzou athletics.
Whether Missouri can actually fire Haith is far murkier than it would seem. Much of the language above is predicated on the existence of evidence that caused NCAA violations. In other words, the behavior has to
exist
if Missouri can use it to terminate Haith's contract. This investigation isn't anywhere close to that stage yet, and Haith deserves a chance to tell the NCAA his side of the story.
Yahoo! Sports' report on Haith does include some troubling corroborating evidence,
including 85 phone calls made between Shapiro and Haith between 2005 and 2010
, despite a significant expunging of Shapiro's phone records. (In other words, 85 calls might be a mere sample.) There are also Shapiro's credit card receipts, which according to Shapiro corroborate outings at Prime 112, a Miami restaurant, and Solid Gold, a Miami strip club where Shapiro says he frequently treated Hurricanes players and coaches.
Does having dinner, hitting the pole club and being photographed with a felon convicted of running a $930 million Ponzi scheme constitute "cause?" It may not. More importantly, the key question in all of this is whether the NCAA can find that Haith either orchestrated or had direct knowledge of the alleged decision to give DeQuan Jones' family $10,000. That's the allegation that could change the trajectory of Haith's career, and the one Missouri might be forced to wait on before it can taken any action on its suddenly discredited coach.
[+] Enlarge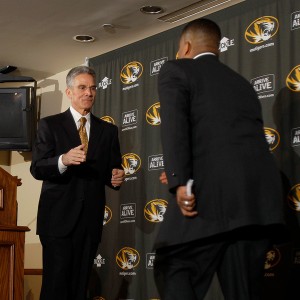 AP Photo/Jeff RobersonWhen Missouri AD Mike Alden, left, hired Frank Haith, he cited the coach's character as one of the deciding factors.
In the meantime, the damage to Haith's reputation has already begun to haunt Missouri, and it's only been made worse by Alden's rationale for hiring Haith in the first place. When faced with the backlash for hiring a coach with a 43-69 career record in the ACC, Alden spoke highly of his new coach's character as one of the decision's major factors. From
SI's Luke Winn
:
Tigers athletic director Mike Alden had to fall back on less quantifiable justifications. Alden spoke of his new coach's experience recruiting in the Big 12 as an assistant at Texas. But what the AD really focused on, in his early defense of Haith, were the words "integrity" and "character" -- saying that Haith's "entire reputation is based on building young men of character," and that "Frank has the character and integrity we are looking for." One prominent Missouri booster, in an early article about the hiring, still seemed skeptical. "In this case, the margin for error isn't as great," he said. "[Alden] rises or falls with how Haith does."
Now Alden finds himself in a no-win situation. If he fires Haith, he could spark a messy lawsuit. (That lawsuit may or may not have grounds, but it's a risk all the same.) If he sticks by his coach, he could do even further damage to a Missouri program whose reputation only recently recovered from the shadow of Quin Synder's violation-filled tenure. Administrative leave is an option, but what happens to the 2011-12 Tigers, a team posed to compete for the Big 12 title, while their coach is in limbo?
And once Alden deals with all of that -- provided he even
can
-- he still has to answer questions about his knowledge, or lack thereof, of the NCAA's investigation into Miami. Did Haith mislead his future boss? Did Alden know and hire Haith anyway? That seems downright unbelievable, given Alden's public comments about Haith. But if Alden didn't know, well, why not? Isn't knowing these sorts of things about your coaching candidates part of being an athletic director in the first place? Or is that an unrealistic expectation?
These questions -- like those about Haith's behavior and knowledge in the obviously corrupt athletics culture at Miami -- aren't going away anytime soon. Missouri's legal mandate is unclear. And much of the reputation damage is already done.
But one thing is certain: On Tuesday, the hiring of Frank Haith went from "questionable" to "scorched earth disaster." If there's a way out, Mizzou has to find it.