College Basketball Nation:

Nigel Hayes
July, 10, 2014
Jul 10
10:00
AM ET
There is no one correct way to put points on the board. Basketball, and specifically college basketball offense, comes in many flavors, which is a big part of why it's so interesting in the first place.
If you have a big, physical, bruising team, one that dominates the offensive glass and gets easy putbacks around the rim, you don't necessarily need 2005-era Steve Nash running the show. Likewise, for a team full of athletic, penetration-prone wings, spacing is arguably more important than passing. If your players can get to the rim by themselves, why complicate things?
If you're neither of those things -- if your players, and thus your system, aren't the isolate-and-go types -- then you'd better make the most of Dr. Naismith's original ball-advancement mandate. You'd better be able to pass.
Below are three teams likely to be among the best passing outfits in the country in 2014-15 -- and a couple that could rank among the worst. The question is: Can they score anyway?
Teams to watch
Wisconsin
: On one level, the Badgers aren't the most obvious passing exhibition in the country. In 2013-14, for example, they recorded an assist on 50.5 percent of their made field goals. That number ranked 197th in the country. Plenty of much worse overall offenses recorded higher A/FGM stats.
In reality, that has less to do with Wisconsin than it does the way official scorekeepers keep scores. In reality, the entire core of Wisconsin's top-five efficiency offense -- and the swing-motion system Bo Ryan has perfected in more than a decade in Madison -- is defined by passing. If Wisconsin's offense was a book, passing would be its spine.
For example: Last season, 27 percent of the Badgers' possessions ended in what Synergy's scouting data defines as spot-ups. That's an overwhelming number within Wisconsin's offense -- the other leaders in the clubhouse are "isolations" (15 percent), post-ups (11.3 percent), pick-and-rolls (8.3 percent) and transition baskets (8.1 percent). Simply put, you don't create that many spot-ups, and convert them at better than a point per possession, without first creating them with pinpoint movement and timely passing. The swing offense is designed such that, even when an assist
isn't
recorded (as can often be the case on post-ups and isolations), two or three passes probably led to the opportunity in the first place.
Last season, even as Wisconsin increased its tempo, it still turned the ball over on just 12.7 percent of its possessions -- second fewest in the country. This has always been the case under Ryan at Wisconsin; the Badgers simply do not turn the ball over. The 2014-15 version of the Badgers, the one returning almost everyone (including versatile big men
Frank Kaminsky
,
Nigel Hayes
and
Sam Dekker
) from a Final Four run, will have all these characteristics and then some. It might be Ryan's best team yet.
Villanova
: To refresh oneself on the 2013-14
Villanova Wildcats
' offensive statistics is to kick yourself for missing out. For most of the season, defense was the most eye-catching part of Villanova's makeup. Save two demolitions by Creighton's Doug McDermott, the Wildcats were among the best defensive teams in the country. Less heralded was Jay Wright's offense. For whatever reason, it just didn't jump out -- even as it was playing an almost idealistically unselfish, and downright fun, brand of basketball.
Last season, the Wildcats had assists on 60.4 percent of their made field goals. They also shot a ton of 3s -- 44.8 percent of their overall field goals, in fact. This was perfect for Wright's personnel, which was short on true big men. Just one rotation player, center
Daniel Ochefu
, was listed as taller than 6-foot-7. Everyone else in the ostensible frontcourt -- especially
James Bell
,
Darrun Hilliard
and
Josh Hart
-- was carved from the "tweener swingman" mold. These guys guarded and rebounded, sure, but they were also comfortable with the ball in their hands on the perimeter. And so point guard
Ryan Arcidiacono
, the team's leading assist man, found them. The ball was always moving, the shots were always flying.
If you missed it the first time around, don't feel bad: I watched Villanova a lot last season, and I totally missed it, too. The good news is Bell is the only piece departing from a roster that should be just as good on the wing as it was a season ago -- a roster that has long since left the selfish, ugly offense of the 13-19 2011-12 season behind it.
Pittsburgh
: The Panthers are the most intriguing, and maybe the most unlikely, team of the bunch.
For starters, they're losing their best player from a season ago. Lamar Patterson wasn't just one of the nation's best and most versatile scoring threats. He was also a genuinely gifted passer. Patterson found an assist on 30 percent of his possessions, which is great in and of itself. When you consider that he also took nearly 30 percent of his team's shots, it looks genuinely crazy. Unfortunately, he couldn't pass the ball to himself.
Still, though, Jamie Dixon's team has the look.
James Robinson
,
Josh Newkirk
,
Cameron Wright
and even
Durand Johnson
all posted plus-15 percent assist rates (with Robinson at nearly 25 percent and Newkirk at 19), and Pittsburgh might have to be even more pass-reliant after losing offensive rebounding force
Talib Zanna
along the front line. Last season, Pitt ranked seventh in the nation in A/FGM at 62.9 percent. With Patterson gone, a repeat performance is almost a requirement.
Teams that could struggle
Syracuse
: In the past five seasons, the Orange's assists-to-field goals ratio has intermittently declined. In 2009-10, Syracuse baskets were the result of an assist nearly 65 percent of the time, one of the top figures in the country. A year later, that number was 60.5 percent. From there, it went to 56.1 (in 2011-12) to 55.8 (in 2012-13) to 49.1 (in 2013-14). Now the Orange are losing Tyler Ennis, the freshman point guard who accounted for a huge portion of their assists last season. It stands to reason that in 2014-15, Syracuse won't be a particularly productive passing team.
Again, the question is this: Does it matter?
The answer is some version of "probably not." After all, despite a disappointing finish to the season, Syracuse was still a very good team in 2013-14. The Dion Waiters 2011-12 team wasn't a scion of precise passing, but it won 34 games. Two seasons ago, Michael Carter-Williams was arguably the best passer in the country, but the Orange didn't really uncork their potential until they ratcheted up the pressure in their 2-3 zone and crushed otherwise stellar offensive teams.
The makeup of the 2014-15 squad, which will be without workhorse
C.J. Fair
as well as Ennis, is uncertain. But Jim Boeheim's teams are always at their best when turning defensive excellence into easy points on the offensive end, getting a handful of 3s from a lights-out shooter (in this case,
Trevor Cooney
) and pounding the ball to the rim offensively. There's no reason to expect that Syracuse can't do that in 2014-15. This could be a truly bad passing team that is nonetheless quite good at winning basketball games.
San Diego State
: The same goes for San Diego State, albeit in far more extreme fashion.
Last October, the Aztecs looked like the classic off-year reload group; they were seen as a fringe NCAA tournament team at best. Instead, they played stingy, top-10 defense while senior point Xavier Thames had a massive, sustained campaign as the lone offensive centerpiece. The combination was good enough to beat Kansas at Kansas, win 31 games and a Mountain West title and take Arizona to the wire in the NCAA tournament.
Still, what made Thames' season so impressive wasn't just his much-needed scoring. He was also the Aztecs' primary distributor. He also never turned it over; with a usage rate of nearly 29 percent, Thames assisted on 25 percent of his possessions and coughed it up on just 10 percent. (Reminder: He was
really
good.) And even then, the Aztecs got just 39 percent of their field goals via assists. They ranked 350th in Division I.
If there's one thing we learned last season, it's to never undersell a San Diego State team. It might be ugly. But if Steve Fisher's group maintains its defense, it won't have to pass the ball all that well. There's more than one way to put wins on the board.
March, 19, 2014
Mar 19
5:00
PM ET
MILWAUKEE -- Wisconsin players found themselves in a slightly awkward place Wednesday at the BMO Harris Bradley Center, occupying the locker room belonging to their in-state rival, Marquette.
Splashed across the gold-and-blue walls were names, numbers and pictures illustrating Marquette's history. Not surprisingly, many of the mementos pointed to Marquette's Final Four team in 2003, led by Dwyane Wade.
Marquette basketball is still known, at least among younger fans, for that Final Four run. Wisconsin basketball is known for incredible consistency, home-court dominance, an ability to reload and success in the Big Ten, where coach Bo Ryan has the best winning percentage (.703) in league history. The Badgers have finished in the top four in the league in each of Ryan's 13 seasons as coach.
But Wisconsin also is known for bowing out early in the NCAA tournament. The Badgers have qualified in each of the past 16 seasons, the fourth-longest active streak behind Kansas (25), Duke (19) and Michigan State (17) and the seventh-longest streak of all time.
[+] Enlarge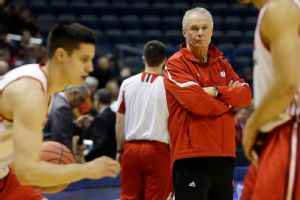 AP Photo/Morry GashBo Ryan and the Wisconsin Badgers are aiming for their first Final Four berth since 2000.
Since a Final Four run in 2000, however, the Badgers have made it past the Sweet 16 just once, in 2005. Their tournament has ended on the first weekend seven times under Ryan, including last year, when they lost to Ole Miss in the round of 64.
"We've been known to make it to the tournament, and we've been known to go pretty much to the Sweet 16," junior guard
Traevon Jackson
said. "We've always said, 'Why can't we do things that haven't been done here?'"
Jackson and his teammates begin their quest Thursday as a No. 2 seed as they take on No. 15 seed American. Wisconsin has been a top-five seed in seven of the past eight seasons, but it hasn't been a 2-seed since 2007, when it lost to UNLV in the second round.
The Badgers received a favorable draw in the West Region, considered by many to be wide open. A nice contingent of Wisconsin fans showed up for Wednesday's open practice, and many more will be in the stands Thursday.
"Being a senior, I want to go as far as possible," guard
Ben Brust
said. "You've got to have that sense of urgency every possession. It can't just be thinking about how to get there."
Brust has shared the pros and cons of his tournament experience with younger players such as freshman
Nigel Hayes
, who will make his March Madness debut Thursday.
All season, Badgers players have heard about how this is a different Wisconsin team, equipped with more scoring options and, at times, uncharacteristically poor defense. But the Badgers hope the real difference is a longer stay in the tournament.
"They only remember the past things you've done," forward
Sam Dekker
said. "If we go out and lose a game in this tournament, they're always going to remember that. As it should be. They're not going to remember the season we had.
"So we just have to be ready."
January, 24, 2014
Jan 24
10:30
AM ET
The Wisconsin bus was making its way to the airport after losing to Minnesota when the gate came down right on the front bumper.
The Badgers were stalled, stuck and now going to be late getting back to Madison.
Wisconsin coach Bo Ryan considered having the players walk across the tarmac to the plane, but the bitter cold made the decision for him. He wasn't cruel.
The moral for Ryan late Wednesday night into Thursday morning was that not everything is going well right now but things are hardly bleak.

The Badgers won 16 in a row before a Big Ten losing streak extended to three in Minneapolis. Purdue is up next Saturday, a team that the Badgers were miles ahead of two weeks ago in perception, ranking and playing progress. But the Boilermakers host the Badgers sporting an identical 3-3 Big Ten record.
"That's why I never got real excited about 16 wins," Ryan said. "In the conference, there are so many things that get erased. Everyone was saying we're the oldest team in the world. We're not. We're pretty young."
Purdue will be ready for Wisconsin after losing an overtime game at Northwestern, a matchup that the Boilermakers had multiple chances to win. The Boilermakers have been a gritty bunch, mimicking Matt Painter's charge.
Ryan looked for one area that has become a concern for him during the losing streak -- front-court defense.
"There are reads we have to make defensively," Ryan said. "That's where we're behind."
Ryan says he fully expects Purdue will get after them defensively, which means the Badgers will have to be even more mindful of their possessions.
"Defensively we've got to have guys step up more," Ryan said. "They know it. It's no secret. I'm not going to lambaste the players. It can be corrected collectively."
The Badgers must get more from the bench, too. Winning on the road at Purdue will only happen if there is some depth and variety of scoring. Ryan says he needs more than
Nigel Hayes
contributing in any significant manner.
"We don't have another guy who is giving us scoring [other than Hayes] off the bench," Ryan said. "We usually have two. We don't have that second scorer off the bench."
So did the 16-game win streak mask issues? The Badgers legitimately had quality wins over Florida at home, at Virginia and over Saint Louis in Mexico. Wisconsin held on for dear life to beat Iowa. But the magic has been lost in road losses at Indiana and Minnesota and at home against Michigan.
The Badgers don't have to go to Michigan State. But that might not matter in the Big Ten title chase if they don't win a game like Saturday's in West Lafayette.
"If you play 18 games and could pick and choose and move them around, you could win 10 straight games," Ryan said. "But you could also lose eight straight. The schedule always plays out."