College Basketball Nation:

Nikola Vucevic
August, 18, 2011
8/18/11
9:53
PM ET
By
Diamond Leung
| ESPN.com
USC coach Kevin O'Neill had
nothing but effusive praise
for guard
Jio Fontan
last season before he had even appeared in a single game for the Trojans. The Fordham transfer was coming, and it was going to be awesome.
[+] Enlarge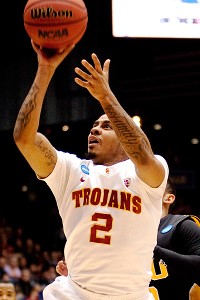 Greg Bartram/US PRESSWIREJio Fontan, who averaged 10.4 points for USC last season, will miss the upcoming season with an injury.
So you can imagine how O'Neill felt today upon learning that a magnetic resonance imaging exam had confirmed his biggest fear. Fontan, the team's returning leading scorer, had
torn an anterior cruciate ligament
during the team's preseason tour of Brazil and would need knee surgery that would cost him the entire 2011-12 season.
"I couldn't feel worse for any player I've coached in my career," O'Neill said in a statement from Brazil. "Jio is the heart and soul of our team and had become a high-level player. His loss is a huge blow to our team."
Fontan averaged 10.4 points points as a junior after becoming eligible in December and started in the backcourt on a team that captured an NCAA tournament bid. He had already showed signs this summer that his scoring would greatly increase. In the Trojans' first two games in Brazil, he scored 29 points and then poured in 28 the following day. But in the third game, Fontan took a hit while going to the basket and landed awkwardly.
The injury could have significant ramifications on the Pac-12 race. USC, like many teams in the league, lost a player to the NBA --
Nikola Vucevic
-- but the Trojans felt like they had a chance to be good. It's not as if there is a consensus preseason favorite in the conference, and USC could have made some noise.
Now O'Neill will have to expect big things at guard from
Maurice Jones
as well as untested freshman Alexis Moore. Earlier in the summer, O'Neill also
talked up 7-footer
Dewayne Dedmon as a big-time contributor even though he too had never played Division I basketball. The injury bug had already bitten the Trojans, as forward
Curtis Washington
is
out for the season
, so depth could be an issue.
But don't expect O'Neill to play up the woe-is-me act with his team. Since he took over as coach the Trojans have gone through a postseason ban and bounced back.
"We are determined to move forward and do what we've done the past two years, which is fight like Trojans and have a great season," O'Neill said. "We as a team are undaunted by this loss and we will play great basketball for our fans."
March, 28, 2011
3/28/11
11:33
PM ET
By
Diamond Leung
| ESPN.com
The NBA draft could end up stealing plenty of talent from the Pac-12. USC's
Nikola Vucevic
declared last week he was signing with an agent, as did UCLA's
Tyler Honeycutt
today. Several players must still make decisions, including Arizona's
Derrick Williams
, Washington State's
Klay Thompson
and
DeAngelo Casto
, and UCLA's
Malcolm Lee
and
Reeves Nelson
.
And when it all shakes out, UCLA could easily be the favorite going into next season. The Bruins
lose their best athlete in Honeycutt
, but won't miss his 100 turnovers and could return most of their roster to go along with transfers David and Travis Wear.
"Would we be a better team if (Honeycutt) came back? Absolutely," said coach Ben Howland, whose team was without a senior this season. "One hundred percent.
"I'm still very optimistic. I think we'll be a very, very good team."
Howland said the team could still play with three guards, using David Wear as a small forward. And the interior presence provided by the Wear twins along with freshman center
Joshua Smith
-- all standing 6-foot-10 -- is a nice advantage to have.
Should Nelson and Lee stay in school, UCLA would return its top two scorers along with point guard
Lazeric Jones
, who now has a Division I season under his belt.
UCLA will have plenty of challengers in the Pac-12. Arizona will really miss Williams should he leave for the NBA, but would still return most of a team that includes point guard
Lamont Jones
and bring in a top recruiting class coming off an Elite Eight appearance. Washington should still have
Isaiah Thomas
and an emerging star in
Terrence Ross
. Cal brings back freshman of the year
Allen Crabbe
, and Washington State would be strong with Thompson returning to school.
Losing Honeycutt isn't ideal, but it appears the Bruins will manage. And after some more draft decisions get made, they could really find themselves in a good spot.
March, 16, 2011
3/16/11
11:57
PM ET
DAYTON, Ohio -- VCU did what UAB couldn't at the First Four: justify its controversial at-large bid in the NCAA tournament.
The Rams bought major credibility for themselves and restored some for the selection committee by beating USC
59-46
on Wednesday night. It was a contrast in styles, and although the score might indicate that the game was played at the Trojans' pace, VCU's pressure and 3-point shooting flustered USC in the second half. Here's a quick recap:


Turning point:
Tied at halftime, VCU built a 10-point lead early in the second half by burying four of five 3-point
attempts. USC got back to within one at 44-43 just after the under-eight minute timeout. But then
Ed Nixon
hit a 3, and the Rams scored 15 of the game's final 18 points. With his team in foul trouble, coach Shaka Smart switched to a 2-3 zone in the final minutes that bothered USC. The Trojans also looked tired down the stretch, perhaps
suffering the consequences of a short rotation battling a steady full-court press. They had only two field goals in the final nine minutes.
Key stat:
VCU, one of the worst rebounding teams in the country statistically, beat the bigger Trojans on the glass 40-31. The Rams also hit nine 3-pointers, compared to just one for USC.
Star player:
Forward
Jamie Skeen
led all scorers with 16 points and added nine rebounds. He also contained USC big man
Nikola Vucevic
, who had only five field goal attempts before fouling out.
What's next:
VCU will go on to play Southwest Region No. 6 seed Georgetown on Friday in Chicago.
March, 16, 2011
3/16/11
12:30
PM ET
DAYTON, Ohio -- Random thought: How can the First Four have eight teams if the Final Four has only four?
We'll leave that for a mathematician or NCAA selection committee member to answer. What we know is that it means another first-round tournament doubleheader Wednesday night at University of Dayton Arena. And more basketball is always a good thing.


Texas-San Antonio (19-13) vs. Alabama State (17-17)
How they got here:
Alabama State was 6-16 at the end of January, but rallied to win 11 of its last 12 and captured the SWAC tournament title as a No. 4 seed. Texas-San Antonio finished seventh in the Southland Conference, but beat the league's top three teams in the conference tournament en route to its own improbable automatic bid.
Storyline:
One of these teams will leave Dayton with its first-ever NCAA tournament win. UTSA's previous three appearances came against a pair of No. 1 seeds (UConn in 1999, Stanford in 2004) and a No. 3 (Illinois in 1988). Alabama State lost the 2009 opening-round game in Dayton to Morehead State and also served as sacrificial lamb to Duke (2004) and Michigan State (2001). Wednesday's winner gets the privilege of playing No. 1 overall seed Ohio State on Friday in Cleveland.
Players to watch:
UTSA's
Devin Gibson
had his second triple-double of the season with 28 points, 10 rebounds and 10 assists in a Southland tournament game. Roadrunners freshman
Jeromie Hill
is a 6-foot-8, 230-pounder who leads the team in rebounds and can step out and hit 3-pointers. Alabama State had to wait nearly half the season for senior
Tramayne Moorer
to get an extra year of eligibility from the NCAA and then for him to recover from a knee injury. But the Hornets have been a different team since, and the SWAC tournament MVP has led them in scoring and rebounding over the past 15 games -- all of which he's begun on the bench.

What to look for:
Alabama State was one of the worst shooting and scoring teams in the country for most of the season and made only 55 percent of its free throws in the regular season. The Hornets suddenly turned that around in the SWAC tournament, but can they keep it up against a UTSA team that is holding opponents to under 42 percent from the field? The Roadrunners will certainly make Alabama State prove it can hit some 3s, something it rarely did all season.
If experience matters, Alabama State has three players who remember Dayton from that 2009 opening-round game. Meanwhile, UTSA has seven freshmen on its roster. But both teams have already showed major resiliency just to get here.


VCU (23-11) vs. USC (19-14)
How they got here:
Only the selection committee knows how VCU could finish fourth in the Colonial Athletic Association, lose 11 times, fail to win its conference tournament and yet still manage an at-large bid. USC, with those 14 losses (some of them on the horrific side), doesn't have that much stronger of an at-large case. But at least the Trojans did beat Texas, Arizona, Tennessee, UCLA and Washington this season while nearly upsetting Kansas in Lawrence back in December.
Storyline:
VCU will try to justify its controversial at-large bid, which UAB fell way short of Tuesday night. Then there's the return of USC coach Kevin O'Neill after his suspension for getting into a verbal altercation with a fan last week. "His approach to it was real sincere," guard
Jio Fontan
said. "You can tell that he really felt like he let us down. And he apologized for his actions." Will O'Neill's trouble bring the team together or serve as a distraction?

Players to watch:
The Trojans' attack revolves around 6-foot-10 forward
Nikola Vucevic
, who averages a double-double (17.3 points, 10.2 rebounds) and is a good passer out of the post. Guard
Marcus Simmons
was the Pac-10 Defensive Player of the Year. VCU is led by senior point guard
Joey Rodriguez
, the school's all-time leader in games played.
Jamie Skeen
is the Rams' top scorer, and at 6-foot-9 he led the team in 3-point shooting.
What to look for:
The best early-round tournament matchups offer severe contrasts in style, and this is one of them. VCU likes to press and play fast, using a deep bench and hoisting up a ton of 3s. USC basically has a six-man rotation and wins by slowing things down and applying the clamps on defense, where it led the Pac-10 in fewest points allowed.
"We're a team that has to play at our tempo to be successful," O'Neill said. It will be fascinating to see which style wins out, and whether the Rams can wear down a Trojans team that had to fly across the country on short notice.
But VCU is also one of the worst rebounding teams in the country. Vucevic -- whose name includes the letters v-c-u -- could spell serious trouble for the Rams on the boards and in the paint if he can stay out of foul trouble.
March, 14, 2011
3/14/11
2:26
AM ET
Quick hitters on the bracket:
The First Four will be a good watch. Well, at least the two games involving bubble teams. USC has proved it can beat just about anyone in the field. The matchup against VCU will be one of the better early-round games. Clemson is one of the toughest defensive teams in the field and UAB is one of the more controversial picks. Oh, and Kevin O'Neill has been reinstated to coach the Trojans, meaning there are plenty of storylines in Dayton on Tuesday and Wednesday.
I liked Oakland as a possible Sweet 16 team when I watched the Golden Grizzlies early in the season, but once again it's all about matchups. I don't like Oakland beating Texas because of the Longhorns' ability to defend on the perimeter.
Wisconsin couldn't have drawn a worse matchup than sneaky-good Belmont. The Bruins can win a first-round game. The Badgers struggled against Wofford and Cornell last season and now Mike Bruesewitz is hurt. This isn't a positive draw for Wisconsin.
[+] Enlarge

Don McPeak/US PRESSWIREIan Clark and No. 13-seeded Belmont could be a tough out for Wisconsin.

The committee doesn't play the matchup game. But geez, how odd is it that Memphis coach Josh Pastner, who played and coached at Arizona, has his first game as a head coach in the NCAA tournament against Arizona? UCLA and Ben Howland against Michigan State and Tom Izzo on the first day? Wow. It would have been hard to predict that in the preseason.
There will be blood during the Butler-Old Dominion 8-9 game in D.C. This is going to be a battle with two teams that like to grind defensively.
Florida State's Chris Singleton told me after the loss to Virginia Tech that he could have played in the ACC tournament but it was coach Leonard Hamilton's decision. He said he is going to play in the NCAA tourney. If he does, the Seminoles should beat Texas A&M.
Georgetown's Chris Wright said he's playing in the NCAAs. But the Hoyas didn't get an easy draw. The Hoyas have to prep for two different styles in USC and Virginia Commonwealth. The better matchup for Georgetown would be VCU. USC has the bigs in Nikola Vucevic and Alex Stepheson that could cause problems for the Hoyas in the second round.
The two toughest teams to predict in the Southwest Regional are playing in the 8-9 game. UNLV and Illinois have shown flashes of playing at a high level or looking very pedestrian. Neither team can beat Kansas.
Vanderbilt can't catch a break. The Commodores drew hot mid-majors Siena and Murray State in recent tournaments and lost to both in the first round. Richmond is on a roll right now with the A-10 title win. The Spiders will be a trendy 12-5 upset pick.
A Purdue-Notre Dame Sweet 16 game in San Antonio would be an intense affair. JaJuan Johnson and Ben Hansbrough have the ability to put up monster numbers. But whoever wins that game will probably fall to Kansas. That's my pick.
Utah State finally may win a first-round game. The Aggies have been playing do-or-die type affairs for weeks with little margin for error. Kansas State was a bad stock to buy since the Wildcats have been all over the map. The Aggies have the personnel to get to the Sweet 16 and if Belmont were to upset Wisconsin, or even if it didn't, a win over K-State could pave the way for Utah State to get to New Orleans.
Pitt should breeze to the Elite Eight. I'll be surprised if it doesn't get to its first Final Four since 1941.
Gonzaga got an 11-seed, but got St. John's sans D.J. Kennedy. The Red Storm started the season losing to a WCC team at Saint Mary's and I think they'll end it losing to a WCC team in the Zags.
Jimmer Fredette could pull a Stephen Curry and lead BYU to the Elite Eight. The reason? The bracket is winnable for the Cougars. UCLA and Michigan State aren't getting out of the first weekend and Florida is beatable.
[+] Enlarge

Ethan Miller/Getty ImagesBYU's Jimmer Fredette is the kind of player who can carry a team on a deep tournament run.

For much of the last two months, George Mason was a popular pick to go far in the NCAA tournament. But the matchups aren't favorable after Villanova. Ohio State has too much balance and strength inside for the Patriots.
Princeton can cause Kentucky's younger players problems, but the Wildcats have figured out how to play together more consistently. A Kentucky-Ohio State Sweet 16 game in Newark would be a tough ticket.
Marquette isn't playing well enough for me to buy into the Golden Eagles, but Tu Holloway can lead Xavier for a few rounds.
If Syracuse plays up to its potential, this bracket could open up for the Orange to at least get to the Sweet 16.
North Carolina didn't defend well against Duke on Sunday in the ACC tournament but the Tar Heels will not lose in Charlotte. No way. The Tar Heels will be playing at home for two games. Book them to Newark.
I thought UNC could get to Houston, but I don't like the Tar Heels getting past the Buckeyes. It's all about matchups.
Paging Tennessee? Part of me is convinced the Vols are in position to be the most dangerous No. 9 seed. If the Vols play up to their potential, they could beat Michigan and Duke to get to the Sweet 16. But Tennessee could also lose badly to Michigan and the Wolverines' 1-3-1 defense.
Texas is a No. 4 after projecting as a No. 1 a few weeks ago. Which Texas team will show? If it's the one that is sharing the ball, defending and has Jordan Hamilton taking quality shots, then the Longhorns can knock off Duke and be on the doorstep of playing as host in Houston.
The bottom part of the West bracket will be about Kemba Walker. The UConn star led the Huskies to an incredible five-game run in the Big East tournament. Can he do it again in the NCAA tournament? Playing either Cincinnati or Missouri, assuming the Huskies beat Bucknell, is a good draw.
How about Temple playing Penn State, two schools from Pennsylvania playing in Tucson, and Louisville and Morehead State, two schools from the state of Kentucky, playing in Denver?
I'm done doubting Louisville's Rick Pitino. This Cardinals team has shot down every question and continues to win. The Cards could be playing Kansas in the Sweet 16 in San Antonio. Talk about a fun game.
San Diego State was treated well by the NCAA tournament committee. The Aztecs earned a No. 2 seed by losing to only one team -- even though it was twice -- in BYU. The Aztecs will play in Tucson and then possibly Anaheim. I like their experience, defense, fast tempo and half-court game. If D.J. Gay is on, especially defensively against elite guards in this bracket, then the Aztecs can advance. They're the one team not on the No. 1 line that I have getting to Houston.
This bracket will be dominated by star players having headline games, just like we saw during Championship Week.
We should see plenty of upsets, but when the Final Four is upon us in a few weeks, I don't see Ohio State or Kansas losing. I'm less confident in Pitt, but the Panthers have a favorable bracket. I'm going with OSU, KU, Pitt and SDSU.
March, 12, 2011
3/12/11
3:43
AM ET
By
Diamond Leung
| ESPN.com
Forward
Nikola Vucevic
noted how different it was with fiery USC coach Kevin O'Neill suspended -- there was much less yelling coming from the sideline.
But after taking over for O'Neill on the bench, assistant coach Bob Cantu said as loud and clear as he could that the Trojans belonged in the NCAA tournament after the
their 67-62 loss
to top-seeded Arizona in the Pac-10 tournament semifinals
[+] Enlarge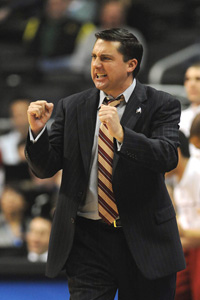 Jayne Kamin-Oncea/US PresswireAssistant coach Bob Cantu said the Trojans' "great wins" should outweigh their "bad losses."
"I think we had a good showing tonight, and anybody that was watching the game tonight would have to call this a good loss," Cantu said afterward. "If you were on the committee and we were on the border, you'd have to say, 'Well, this team played well without their head coach.' We feel they can compete in an NCAA tournament."
USC fell to 19-14 after the hard-fought loss, and twice Cantu mentioned that he thought the Trojans could compete with any team in the country. He listed off wins against Texas, Arizona, UCLA and Tennessee.
"My point is we have some great wins," Cantu said. "Everybody's saying we've got bad losses. I personally think great wins mean more than bad losses do when you look at the big picture."
Cantu's use of the bully pulpit came after O'Neill earlier in the week said it would be a "waste of time" pontificating about the team's at-large chances with the selection committee.
O'Neill actually spoke with Ramona Shelburne of ESPN Los Angeles during the game and said, "The people that make those decisions are smart people. They understand where this is at. I think they'll judge our team based on what we do on the court."
Off the court, O'Neill has apologized for his confrontation with an Arizona booster on Friday that led to his suspension for the tournament and the Trojans losing their strongest voice at a most critical time in the season.
Yes, Joe Lunardi as of right now has USC getting into the NCAA tournament as one of the "last four in." But USC ultimately got bounced from the tournament, and that has left them teetering.
Moving onto the championship game are two teams merely looking to further solidify their seeding in the NCAA tournament, though there is also plenty of motivation for preseason favorite Washington to prove itself against regular-season champion Arizona.
"They got us last time, and we want some revenge," Washington guard
Isaiah Thomas
said afterward. "They're a great team, and we'll be ready for them. It's going to be a fun game tomorrow."
But really, this tournament for the conference as a whole was about seeing which team could step forward and grab an at-large bid. Arizona coach Sean Miller took the opportunity after his team's win to talk up the Trojans, even mentioning that they were without transfer guard
Jio Fontan
until December.
"I told our guys in the locker room after the game I thought this was our best win of the season," Miller said. "The reason is we respect USC a great deal."
January, 31, 2011
1/31/11
1:48
PM ET
By
Diamond Leung
| ESPN.com
USC forward Nikola Vucevic, the Pac-10's leading rebounder, apologized to reporters a day after a postgame comment he made on Saturday following a loss to Arizona.
According the
Los Angeles Times
, the Montenegro native said he didn't mean to offend anyone and that he was trying to translate a common Serbian phrase into English.
"I felt like we played like women," Vucevic said after the loss in Tucson, Ariz. "We didn't play hard at all. Every single one of us just played like women."

There were four people present to hear it, two male reporters working for California newspapers, a female reporter for an Arizona newspaper and a female sports information official for the University of Arizona.

Vucevic's mother played professional basketball in Bosnia and his girlfriend plays volleyball, so, he said, he deeply respects all women who play sports and in no way meant to offend anyone.
"Back home, when we say that, it means we didn't play hard," he said. "That's what coaches say to players. It's just a saying we have."
Also, Trojans coach Kevin O'Neill, the former head man at Arizona, had something to say regarding Wildcats forward Jamelle Horne possibly pointing toward him following a made basket.
Horne hadn't played much when O'Neill was the coach and last season noted that O'Neill
didn't shake the hands of his former players
in his return to the McKale Center.
According to the
Arizona Daily Star
, there's apparently no love lost between the two and O'Neill said he wasn't sure if he saw the gesture:
"I don't know, and it wouldn't matter to me if he did," O'Neill said.

O'Neill paused for a second, and prepared a zinger for Horne, who talked openly of professional aspirations when arriving in Tucson.

"I'm waiting for the NBA career to take off," O'Neill said.
December, 15, 2010
12/15/10
1:29
PM ET
By
Diamond Leung
| ESPN.com
Remember Mike Gerrity? (The Pac-10 does because after all this time he's
still the featured player
on the background of their basketball web page.)
The USC point guard became eligible last December and
provided such a spark
as a redshirt senior that the Trojans had the look of possible NCAA tournament team before self-sanctions put that to rest.
Jio Fontan
-- this year's version of Gerrity -- becomes eligible on Saturday when USC plays at Kansas, and while the Fordham transfer's debut is being overshadowed by
Josh Selby
's, Trojans coach Kevin O'Neill is pretty fired up about it.
"He's our best player," O'Neill said. "He's our best leader. He's our best scorer. He's our best defender. He's our best passer. He's our best guard. He's our best player."
So... O'Neill likes his new point guard. Fontan certainly was good as a freshman at Fordham averaging 15.3 points and 4.7 assists before leaving after five games into his sophomore season and
deciding on USC
.
O'Neill said if Fontan had been eligible at the start of the season, the 6-4 Trojans who've lost to Rider, Bradley, Nebraska and TCU would probably be 9-1 or 8-2.
Fontan's abilities should prevent teams from doubling post players
Nikola Vucevic
and
Alex Stepheson
while providing relief for the freshman backcourt of
Bryce Jones
and
Maurice Jones
.
Fontan is said to have gotten himself into shape after the long layoff from playing and will now attempt to have a Gerrity-like effect on the Trojans.
And in a Pac-10 where teams are jostling for position behind Washington and Arizona and USC is once again eligible for postseason play, that might be all the Trojans need to make some noise.
December, 10, 2010
12/10/10
7:14
PM ET
By
Diamond Leung
| ESPN.com
USC doesn't host crosstown rival UCLA at the Galen Center until Jan. 9 and has four home games before then, but that didn't stop the Trojans from releasing a new intro video that shows the SC logo smashing UCLA's to bits.
USC has a three-game winning streak against UCLA to boast about, and there's plenty of other things going on in the video.
While the theme music from the movie "Inception" plays in the background, fans are asked to "Witness The Rise" as coach Kevin O'Neill says some motivational words and forward Nikola Vucevic declares, "This is our house."
Viewers are also treated to images of USC's past such as Desmon Farmer dancing, former coach Henry Bibby smiling and hugging someone, and Lil' Romeo helping celebrate the 2009 Pac-10 tournament title.
The Trojans have had an
up-and-down season thus far
, so maybe this intro to their games will fire them for what's to come.
June, 17, 2010
6/17/10
10:11
PM ET
By
Diamond Leung
| ESPN.com
In case you missed it last week, USC athletic director Mike Garrett didn't look very good at a booster event when he called the NCAA sanctions "
nothing but a lot of envy
."
Coach Kevin O'Neill also spoke at the event and showed off his personality in a more positive way, according to
television reporter Lindsay Soto
, who moderated the discussion on stage.
O'Neill is surprisingly funny. (I can't tell you how many Trojan fans told me, after events, that the hoops coach had won them over with his relatively candid, seemingly genuine, and genuinely humorous remarks. He's so intense on the sideline. They weren't expecting his dry sense of humor.)
Going back in my tape recorder, O'Neill indeed was able to produce some laughs that evening. He made the rounds. He needled Lane Kiffin about Tennessee.
When the issue of discipline was raised, the notoriously in-your-face coach had this to say:
"I just hug 'em and kiss 'em," O'Neill joked. "You can show up whatever time you want ... have a Bon Bon, whatever you want to do."
Forward Nikola Vucevic also made O'Neill's comedy routine.
"He has a chance to play in the NBA, but I also keep reminding him he is the most improved player in the Pac-10, which means you were
bad
," O'Neill said.
O'Neill can mellow out in front of the program's boosters, but implicit in his message is also that his players still shouldn't expect to be coddled going forward.
Hey, but it was hilarious to imagine, wasn't it?
January, 7, 2010
1/07/10
1:45
AM ET
By
Diamond Leung
| ESPN.com
PALO ALTO, Calif. - USC's chaotic week is only halfway over, and fittingly, their game Wednesday night ended in a mad scramble.
Bodies flew, tip-in attempts failed, the buzzer sounded, and the scoreboard read
Stanford 54, USC 53
.
Nikola Vucevic
pulled his jersey over his head in frustration.
Leonard Washington
sprawled on the court, his face buried in his hands.
On Sunday morning, the Trojan players learned that there would be no postseason. Tonight, in a battle between the teams slotted ninth and 10th in the preseason Pac-10 media poll, USC didn't look very NCAA-tournament-like anyway.
Coach Kevin O'Neill offered no excuses.
"For me, the news (of self-imposed sanctions) had nothing to do with this game," he said. "It's unfathomable to me that we would play like we did in the first half.
"I thought we had a total lack of effort in the first half. We were awful."
The Trojans woke up with 66 seconds left in the game, when they trailed by seven points. Improbably, with 32 seconds to go, they tied the game.
But with 10.6 seconds left and USC looking to force overtime, Washington fouled
Jarrett Mann
on a reach-in with his team in the double-bonus.
Mann missed the first free throw and made the second.
Mike Gerrity
tried a runner to win it, and by the time the scrum under the basket was over, USC's eight-game winning streak had ended.
The good news?
It's hump day.
January, 3, 2010
1/03/10
3:23
PM ET
By
Diamond Leung
| ESPN.com
USC has
announced self-imposed sanctions
that include banning its current 10-4 team from postseason play due to NCAA rules violations the program committed involving one-and-done guard O.J. Mayo.
The timing of the announcement is devastating to a team that has established itself as a legitimate contender for the Pac-10 regular-season title. The Trojans, using a stifling defense and a new point guard, have won eight in a row and could receive national poll recognition on Monday after beating Arizona State last night, 47-37, to complete a home sweep of the Arizona schools.
Coach Kevin O'Neill told ESPN's Kelly Naqi that athletic director Mike Garrett told him of the sanctions after last night's game when the Sun Devils were held to a low of 37 points in a single game for the second time since the 1949-50 season.
O'Neill told Naqi he met with the players this morning who were "stunned, shocked, disappointed."
USC not only is out of the Big Dance, but also won't even get to play in the Pac-10 tournament. It's an especially cruel blow to seniors like
Mike Gerrity
,
Marcus Johnson
and
Dwight Lewis
.
The Trojans will vacate all 21 wins during the 2007-08 season under coach Tim Floyd when Mayo played while ineligible. Also, there will be a reduction of one scholarship for the 2009-10 and 2010-11 academic years as well as limitations in recruiting activities.
"I think the University did the right thing in self-imposing sanctions," O'Neill said in a statement. "I respect and understand the action that was taken. Our players have risen to many challenges already this season and I am proud of what they have accomplished. I am confident that they will rise to this latest challenge.
"As their coach, I will do everything in my power to make our program better on and off the court every day. Our job as a team now is to move forward in a positive manner. We have 16 games left to play this season. I have no doubt that our players will prepare and play well in those games. While it is unfortunate that our players won't have the chance to compete in the postseason, that just makes every game for us now a postseason game."
According to USC, Mayo became ineligible because of
his involvement with Rodney Guillory
, who under NCAA rules became a USC booster due to his role in Mayo's recruitment.
Floyd, who was not mentioned in the release, had also been
accused of giving money to Guillory
in 2007. Floyd resigned in the offseason, and O'Neill has said that an ongoing investigation "
has basically taken over our team
, since we lost so many players," with recruits backing out of their commitments.
But O'Neill is surprising people with his current team, which dominates on defense. Gerrity has been a revelation since becoming eligible and taking over at point guard.
Leonard Washington
became academically eligible, and along with transfer
Alex Stepheson
, the two have been tough in the paint. Also playing inspired basketball are Johnson and
Nikola Vucevic
.
Like it or not, their season ends March 6.
"When we've done something wrong, we have an obligation to do something about it and that is exactly what we are doing here," Garrett said in a statement.