College Basketball Nation:

NIT Season Tip-Off
November, 23, 2012
11/23/12
7:12
PM ET
NEW YORK -- Quick thoughts from No. 4 Michigan's
71-57 victory
over Kansas State in Friday's championship game of the NIT Season Tip-Off at Madison Square Garden.


Overview:
With its second-half crushing of Kansas State, Michigan won its first in-season championship since the 2006 John Thompson Classic and its first neutral-site tournament since the 1997 Puerto Rico Holiday Classic.
Tim Hardaway Jr.
carried the Wolverines with a 23-point, seven-rebound performance, even more important because Michigan (5-0) didn't receive much help from sophomore guard
Trey Burke
, who sat for seven minutes of the first half in foul trouble and scored his first basket 21 minutes into the game.
Kansas State (5-1) struggled with Michigan's pace and athleticism. The Wildcats, who used a methodical, plodding style to knock off Delaware in the semifinals, could not approximate that type of defense against Michigan. The Wolverines were able to run the break well and play strong in the post, even with starting forward
Jordan Morgan
in foul trouble the entire night.
Turning point:
Hardaway threw down a nasty crossover on Kansas State's
Will Spradling
before hitting a 15-foot jumper, and Burke followed with a layup on the next possession, giving Michigan a 35-24 lead less than two minutes into the second half and opening up the game for the Wolverines.
Key player:
Hardaway looked like every bit a guy who could play in the Garden on the next level as well. He had multiple pro-caliber moves, including a floating layup between three Kansas State defenders and the aforementioned crossover.
Key stat:
Forty rebounds. Under coach John Beilein, Michigan has never been a good rebounding team, usually sacrificing wins on the boards for 3-point shots and transition defense. Not this team. The Wolverines outrebounded a strong front line for the second consecutive game, outrebounding Kansas State 40-28 after outrebounding Pittsburgh, 31-21, on Wednesday.
Miscellaneous:
Michigan captain (and walk-on)
Josh Bartelstein
missed his second straight game with an ankle injury. … Michigan also went deep into its bench early, playing little-used reserves
Eso Akunne
and
Max Bielfeldt
in the first half. …
Rodney McGruder
had 16 points and seven rebounds for the Wildcats. … Hardaway left the game with 3:37 remaining with an injury and did not return. He was taken inside the tunnel before returning to the bench in the final minute. … The NIT Season Tip-Off All-Tournament team comprised Delaware guard
Devon Saddler
, Pittsburgh forward
Talib Zanna
, Kansas State guard
Angel Rodriguez
, Burke and the tournament's most outstanding player, Hardaway.
Next game:
Michigan heads home to face another BCS-conference team, No. 16 NC State, in an Big Ten/ACC Challenge game on Tuesday night. Kansas State is off until it faces South Carolina Upstate on Dec. 2.
November, 23, 2012
11/23/12
4:42
PM ET
NEW YORK -- Quick thoughts from Pittsburgh's
85-59
win over Delaware in the consolation game of the NIT Season Tip-Off.
Overview:
Less than 48 hours from pushing No. 4 Michigan to the brink, Pittsburgh had no problems with Delaware in the NIT consolation game. The Blue Hens dealt with Kansas State's big men pretty well, the Panthers went early inside and rolled.


Pitt established junior forward
Talib Zanna
early, going to him during a game-opening 10-0 run. He finished the first half with 10 points and six rebounds, part of an 18-point night. More importantly, the Panthers were able to neutralize Delaware standout center
Jamelle Hagins
, who had two of his four points in the first half.
Delaware had a successful tourney by making it to New York and it could have been a special one if the Blue Hens had pulled off the upset in an eventual 66-63 loss to Kansas State on Wednesday. Now, they leave the Garden with two losses after the destruction by Pittsburgh.
Turning point:
It was over pretty early in the Garden. Pitt jumped out to a 10-0 lead and the Blue Hens never cut the lead into single digits the rest of the night. A small stretch where Pittsburgh freshman center
Steven Adams
blocked two shots and scored on the other end accentuated the Panthers' dominance. Adams tied his career high with 13 points Friday.
Key player:
Much of what Pitt did Friday against Delaware was set up by senior guard Trey Woodall, who bounced back from a rough performance against Michigan (2-of-7 shooting, three assists and three turnovers) to control the pace from the off-guard spot against the Blue Hens. Woodall had 13 points, five assists and was an efficient 6-of-8 from the field against a good Delaware backcourt consisting of
Devon Saddler
and
Jarvis Threatt
.
Key stat:
21 to 4. Pitt had 21 assists Friday on 33 baskets, somewhat efficient numbers but absolutely massive compared to what Delaware did. The Blue Hens had four assists, the fourth time in five games they had fewer than 10 assists. But the four were a season low. Against a stout defensive team like Pittsburgh, not sharing the ball is going to come at a price. That showed against the Panthers.
Miscellaneous:
Delaware was without senior forward
Josh Brinkley
, who did not dress for the game due to a right ankle injury. Brinkley, a starter, averaged 9 points and 3.8 rebounds for the Blue Hens. ... Zanna had his first double-double of the season and a season-high 11 rebounds against Delaware.
Up next:
Pittsburgh takes the weekend off before starting an eight-game stretch where the Panthers won't leave campus, beginning with Howard on Tuesday. The only non-home game until the end of 2012 is against crosstown opponent Duquesne on Dec. 5. Delaware continues a rough stretch, heading to Temple for a game Sunday.
November, 22, 2012
11/22/12
1:27
AM ET
NEW YORK -- Michigan threw a couple of sloppy inbounds passes at the end, giving Pittsburgh hope. Kansas State couldn't find a stop, keeping Delaware hanging around.
Early-season tournaments are always a juggling act for teams: the chance to receive a good gauge on where a team is early -- but a chance that comes with the potential for late-game issues that will be less likely to show up as the season progresses.
Neither No. 4 Michigan nor Kansas State played close to its best Wednesday night. In the Wolverines' case, a week-plus layoff and an elevation in competition led to sloppy play. But for both teams, it was good enough -- barely -- to win.
Michigan beat Pitt
67-62
, and Kansas State knocked off Delaware
66-63
, a pair of games that were similar in their closeness and their final-minute questions.
"We did just enough to win the game," Michigan coach John Beilein said.
Just enough was the key at Madison Square Garden. Just enough to advance. Just enough in November could equate to just enough in March, when just enough could separate the continuation of a season from the end of one.
[+] Enlarge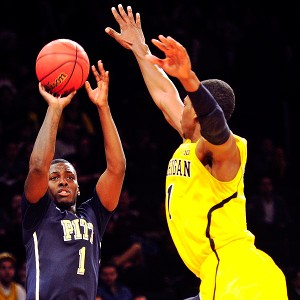 Joe Camporeale/US PresswireThe length of players like Glenn Robinson III, right, helped Michigan overtake Pitt in the second half.
Michigan reached its just-enough moment by making a switch, going from the mixing of man-to-man defense with a couple of different zones to an old reliable for the Wolverines, the 1-3-1 zone. This 1-3-1, though, looks different from versions played by Beilein's prior teams.
He has more length up top, with 6-foot-6
Nik Stauskas
, and then 6-6
Tim Hardaway Jr.
and 6-6
Glenn Robinson III
on the wings. The three can form a suffocating trio, which they did to force Pittsburgh into turnovers and to turn a seven-point deficit into a one-point deficit, allowing the Wolverines to climb back into the game.
"Absolutely," Beilein said. "We began practicing it a little bit ago and we just keep working at it. It has a lot of things to it. It has some merit to look at it in the future, especially the way they played it.
"That length, with our wings at the 3, the 2 and the 4 spot, it has a chance to work."
It was enough to overcome a 3-of-17 3-point shooting night for the Wolverines, a night that would have doomed them last season. Enough to overcome a night when Michigan turned the ball over more times (nine) than it had assists (eight), with a coaching staff that places high value on ball security.
Like everything else with Kansas State and Michigan, it is definitely a work in progress.
K-State shot less than 40 percent for the second consecutive game, and while it had good presence in the post, only three players --
Shane Southwell
,
Adrian Diaz
and
Thomas Gipson
-- shot 50 percent or better from the field. The Wildcats struggled with Delaware's
Jamelle Hagins
, who had 12 points and 15 rebounds in 27 minutes.
"We did not play pretty," KSU coach Bruce Weber said. "I mean, that was pretty obvious. It had been so good for us at home and we had defended so well, made shots and the game came easy.
"Now, it didn't come quite as easy. We missed a lot of shots, made some mistakes defensively."
But both teams received the same lesson. For the first time this season, after beating all their previous opponents by at least 19 points, they saw teams of at least somewhat similar caliber. Both teams were pushed -- almost to the brink of their first losses of the season.
Instead, Kansas State and Michigan did just enough to play for a championship Friday.
November, 22, 2012
11/22/12
12:49
AM ET
By
ESPN.com staff
| ESPN.com
Coach John Beilein speaks with Andy Katz after No. 4 Michigan overtook Pittsburgh for a
67-62 victory
in an NIT Season Tip-Off semifinal.
November, 21, 2012
11/21/12
11:51
PM ET
NEW YORK -- Quick thoughts from No. 4 Michigan's
67-62 win
over Pittsburgh in Wednesday's semifinals of the NIT Season Tip-Off:
Overview:
In its first real test of the season, Michigan got a glimpse of exactly what it would take to win a game in the Big Ten. Pitt is as physical as a Big Ten team and has experience, shooters and depth.


And the No. 4 team in the nation was challenged heavily. Michigan really struggled with Pitt's ball movement in the first half, often resulting in open shooters on the outside. The Panthers made 5 of 12 shots from beyond the 3-point line in the first half and had a 33-29 lead.
The Wolverines didn't come alive until they briefly switched into their 1-3-1 zone defense -- proven effective with length at the top (
Nik Stauskas
) and on the wings -- and used turnovers to transition into points. When they did, they started to find some offensive momentum.
Turning point:
Michigan guard
Tim Hardaway Jr.
let the 3-pointer fly and hung his arm up in the air. There was little doubt the ball was going in. And as it fell through the net, giving UM a 51-47 lead, the Wolverines seemed to take the momentum with them. Michigan never trailed again.
Key player:
Hardaway Jr. grew up seeing his father play in Madison Square Garden. Now, he has his own highlight. Besides the momentum-shifting 3-pointer, he had a variety of pro-level moves and smart decisions. Even though his 3-point shot wasn't falling (1-of-7), he didn't force many shots, especially in the second half with the game on the line. That is a big growth in his game from a season ago, when he would have forced more shots in this type of atmosphere. Hardaway Jr. had 16 points and five rebounds.
Key stat:
3-of-17. That was Michigan's 3-point shooting against Pittsburgh. Even last season, a percentage like that would have meant an almost certain loss for the Wolverines, who were reliant on the outside shot to win and bring them back into games. Not this season.
Miscellaneous:
Michigan unveiled a new warm-up shirt Wednesday night with the words "WE ON" screen-printed in large maize and blue lettering. It has to do with one of the themes in the Wolverines' locker room this season, stemming from a light switch each player has to flick on inside the room before he steps out onto the court. ... Pittsburgh showed off its versatility and depth, playing 10 guys nine minutes or more. Every player but freshman
Steven Adams
scored, and while the Panthers didn't have a dominant player, seven players had five points or more.
Lamar Patterson
had a team-high 14 points.
Up next:
After a day off for Thanksgiving, Michigan will play Kansas State in the final of the NIT. It will be a bit of familiarity for both coaches as John Beilein and Bruce Weber used to face each other in the Big Ten when Weber coached at Illinois. Pittsburgh will face Delaware in the third-place game.
November, 21, 2012
11/21/12
9:25
PM ET
NEW YORK -- Quick thoughts from Kansas State's
66-63 victory
over Delaware in the semifinals of the NIT Season Tip-Off.


Overview:
Delaware would just not go away, even when the Blue Hens had every reason to. Their best player, senior forward
Jamelle Hagins
, missed much of the second half with cramps. The Blue Hens trailed by as much as 11.
Yet Delaware kept responding to every Kansas State shot, and the Colonial Athletic Association school would not make life comfortable for the bigger school from the Big 12. The Blue Hens did this the entire game, even cutting the K-State lead to two points, 60-58, with 1 minute, 20 seconds left.
Each time KSU tried to pull away -- from a 15-5 run in the first half to a mini 5-0 run early in the second half -- Delaware kept retaliating. But the Blue Hens could never take the lead.
Turning point:
Kansas State forward
Nino Williams
made a long 2-pointer from the right wing with 52 seconds left to give the Wildcats a 62-58 lead and forced Delaware to have to foul to extend the game, even when the Blue Hens continually cut the game to one possession.
Key player:
When Delaware started to make a run, cutting the Wildcats' lead to three, 58-55, Kansas State guard
Angel Rodriguez
did what crafty point guards do: He made a crucial play. Rodriguez drove the lane and made a spinning layup, giving K-State a 60-55 lead. Rodriguez had 12 points, 5 assists and 4 rebounds for the Wildcats.
Key stat:
12-of-14 from the free throw line. Those were KSU's numbers Wednesday, a performance that included four consecutive made free throws in crunch time to extend leads from one possession to two twice during the final minute of the game.
Miscellaneous:
Even in a loss, Hagins emerged as a mid-major player to keep an eye on the rest of the season. He had 12 points and 15 rebounds before cramps limited him the rest of the game -- and played well against a big Kansas State frontcourt. ... Delaware guards
Devon Saddler
and
Terrell Rogers
stood out not because of their play, but their footwear. Saddler wore pink shoes to go with bright pink socks, while Rogers had pink shoes with white socks.
Up next:
Both teams stay in New York after a day off for turkey, stuffing and all the side dishes coming along with Thanksgiving. Kansas State advances to the Preseason NIT championship game Friday against either No. 4 Michigan or Pittsburgh. Delaware will play in the third-place game against the Michigan-Pittsburgh loser, but the Blue Hens will have another chance for a victory against a major-conference program.
May, 17, 2012
5/17/12
5:00
AM ET
1. Duke coach Mike Krzyzewski said Wednesday that he was in full support of the rules committee decision to have one finished, flat surface on the court instead of temporary decals or logos. "I just wish they would get rid of them," Krzyzewski said. "You could put them alongside the court. Where else is this in the middle of a court or playing field? There isn't a logo in between the second baseman and shortstop. You're not side-stepping over Reese's Peanut Butter Cups. The main thing is that it was dangerous." Krzyzewski also chimed in on the plethora of transfers who have graduated and are seeking waivers to play elsewhere while attending grad school. A number of these players have been shopping around this spring. "It makes rising seniors free agents," Krzyzewski said. "I'm not sure that's a good thing."

2. The NCAA dropped the ball on the 75th anniversary of the NCAA tournament, in 2013. The NCAA could have been at Madison Square Garden had it planned for the event long ago. But the Garden didn't hear from the NCAA until too late, after dates had to be booked with the NHL (Rangers) and NBA (Knicks). The old MSG housed the NIT and the NCAA tournament in the 1940s. The NCAA should have gone old-school, putting the first and second rounds or the regional finals at historic spots for the sport. Instead, it settled on the Staples Center (Los Angeles), Lucas Oil Stadium (Indianapolis), Cowboys Stadium (Arlington, Texas) and now the Verizon Center (Washington, D.C.). I know the NCAA has to deal with pro-style arenas, but there are college venues with historic significance in the sport that have decent size and capacity that the NCAA could have planned for well in advance (MSG, Rupp, Phog Allen, Huntsman Center). If it meant a tougher ticket for 2013, then so be it.

3. Murray State went for the sure thing and decided to play in the Charleston (S.C.) Classic over being in a Kansas State NIT Season Tip-Off pod that wouldn't guarantee a trip to New York for the semifinals. The Racers complete the eight-team field in the Charleston tourney, scheduled for Nov. 15-18, with Baylor, Boston College, Charleston, Colorado, Dayton, St. John's and Auburn. Baylor is the favorite in this tournament but Murray State should be seeded second or at the least third in this field.
April, 26, 2012
4/26/12
5:00
AM ET
1. The NIT contract with Madison Square Garden is up this year. The NIT Season Tip-Off could live with being in Indianapolis (where the NCAA is headquartered) if it couldn't be at MSG. But the postseason NIT really should be at the Final Four site if it can't be in New York. The perfect scenario to save the event, if an MSG deal falls through, would be to play the games at the Final Four in an adjacent college building (next year at Georgia Tech) on the Wednesday and Thursday nights at the Final Four. You can clear out the fans when most arrive by Friday morning.
2. Murray State coach Steve Prohm said he is desperately seeking a tournament for next season and is attempting to get into the Charleston Classic. He said he's willing to open up against a high-major on the road or in the first week, but needs a home-and-home series with the home game being next year. This is the price a school like Murray pays for having an outstanding season and returning an all-American candidate in
Isaiah Canaan
.
3. Xavier coach Chris Mack won't say anything more about
Mark Lyons
. But the Musketeers did need to move on from this crew. They excelled to get to the Sweet 16 in Atlanta. But the time was now to sever the relationships from last season's team. Xavier is too proud, too strong a program to be tainted by that one incident; having a fresh start with the main combatants gone allows for a new era.
November, 25, 2011
11/25/11
9:46
PM ET
NEW YORK -- Naturally, the biggest basket of the game came on a bank shot.
Correction: Naturally, the biggest basket of the game came on a bank shot that
Kris Joseph
didn't even call.
How else should a game in which the Orange's offense offered all the predictability and reliability of airline travel end? Certainly not with a bold guarantee that the jumper from the elbow would go in.
"We played 40 minutes of good defense and 35 minutes of horrendous offense,'' Syracuse coach Jim Boeheim said.
For once, the acerbic coach wasn't being sarcastic.
He was being kind.
Syracuse won its third NIT Season Tip-Off title over a better-than-expected Stanford team,
69-63
on the back of its defense and despite its offense. The Orange coughed up 21 turnovers, most of them unforced errors, and never had any sort of rhythm or flow to their game.
This was more helter-skelter than poetic, as SU's defense created 35 points via either fast break or off turnovers. Its halfcourt offense, meanwhile, produced only 34 points.
[+] Enlarge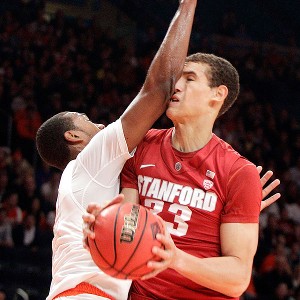 AP Photo/Richard DrewAt times the game was sloppy and hard to watch, but Syracuse and Stanford did put on a great finish.
"We weren't patient at all,'' Cuse senior guard
Scoop Jardine
said. "If we would have calmed down and ran our sets, definitely a lot of our turnovers would have been cut down. We have to be patient and trust in our offense and trust in each other, and it will be better down the stretch.''
At this point of the season, though, you take your victories -- even the ugly ones -- where you can.
The Big East, the league that gave us 11 NCAA tournament teams last season (including the national champion), did its best imitation of the Pac-12 on Friday. Connecticut completely collapsed in surrendering a 17-point second-half lead against Central Florida, Cincinnati lost at home to Marshall and Villanova was beaten in every facet of the game in a double-digit loss to Saint Louis.
Mix in Pittsburgh's stunner at home to Long Beach State, West Virginia's defeat at the hands of Kent State, the train wreck currently known as South Florida and Notre Dame's two losses in Kansas City (compounded by the news that
Tim Abromaitis
is gone for the year with a torn ACL) ... and, well, Syracuse's ugly win looks like a masterpiece.
Truth is, the Orange also might have beaten the best team in the Pac-12 by the time it's all over. That might be like being the prettiest of Cinderella's stepsisters, but it counts. The Cardinal, a team stuffed with freshmen and sophomores, manhandled Oklahoma State on Wednesday and barely blinked in the face of a pro-Syracuse Garden.
"I found out a lot about our guys,'' Stanford coach Johnny Dawkins said. "I think we can be pretty good. We're still a developing team, but that's something that excites me about what I saw tonight, the level of competitiveness. At times I didn't think we executed as well as we would like, but those are things we have to improve on.''
Boeheim has his talking points going forward, too.
The offense is an issue that needs to be addressed -- ideally before next Friday when Florida and its potent offense (the Gators average 85 points per game) come to the Carrier Dome -- but certainly before Big East play gets under way. The coach admitted his schedule was at least in part to blame.
Prior to Manhattan, the Orange feasted on a heavy dose of New York appetizers, gobbling up Fordham, Manhattan, Albany and Colgate in such lopsided fashion that Syracuse looked like a better offensive team than it was.
The Orange outscored those first four teams by an average of 30 points per game and then came to the Garden, where they ran into a haymaker in good defensive teams such as Virginia Tech and the Cardinal.
The chasm of victory closed to almost nothing.
"The one thing I can say in defense of my team, we had four easy games and I just don't think it prepared us,'' Boeheim said. "Nobody that we played could defend us at all. We could just pass and go.''
Against Stanford, they could barely pass without issue.
But as bad as Syracuse's offense was, its defense was that good. The Cardinal fared no better than the Orange, turning it over 24 times and clawing for each of their points.
And just when the Cardinal appeared primed to be the upset flavor of the day -- upping their lead to eight with just less than seven minutes to go -- Syracuse kicked its defense into an even higher gear. Boeheim called in the big dogs, going full-court press against a Stanford team that had zero wiggle room. With 6:14 left, Dawkins was already down to his last timeout.
[+] Enlarge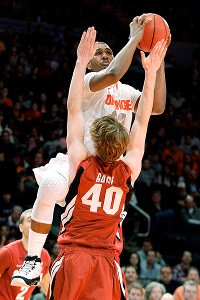 AP Photo/Richard DrewKris Joseph went into beast mode in the closing minutes of Syracuse's comeback win.
The combination of Syracuse's frenetic defense and the Cardinal's temporary panic led to five Stanford turnovers in those final six minutes and allowed the Orange to slowly chip away at the deficit.
After
Chasson Randle
missed on a pull-up in the paint,
Dion Waiters
grabbed the rebound and pushed Syracuse's tempo. He got the ball to Joseph, finding the hot hand on an otherwise cold offense.
Not that Joseph had been hot long. For much of the game, he fared no better than his teammates, scoring six points in the first half and going scoreless in the first 13 minutes of the second.
Finally with 7:09 to play, he hit a jumper, opening up the mini-floodgates that would lead to his 18 points, a most outstanding player award and his team's win. Joseph scored 12 points with the game on the line, none bigger than his jumper in front of his bench with 2:53 to play.
The ball banked in, giving the Orange back the lead 61-60 with 2:53 to play.
Syracuse would never trail again.
"That's one of those things, your friends ask you and you said you did call it,'' Joseph said, smiling. "But I didn't.''
No worries.
On this night, no one would have believed him anyway.
November, 25, 2011
11/25/11
7:30
PM ET
NEW YORK -- A quick take on Syracuse's
69-63 win
over Stanford on Friday evening at Madison Square Garden.


Overview:
Syracuse comes from behind for the second time this week here in the Big Apple and wins the NIT Season Tip-Off. Coach Jim Boeheim wanted his No. 5-ranked Orange to be tested after four easy wins to start the season, and they certainly were. But they showed great poise in pulling out both games -- an indication of good things to come.
Stanford, picked to finish sixth in the Pac-12 in the conference's preseason poll, put on a very impressive performance this week, blowing out Oklahoma State and playing Syracuse down to the wire. The Cardinal should exceed expectations this season.
The skinny:
Stanford hung right with Syracuse in a first half that scored high in energy but rather low in artistic impression. The Cardinal had 15 -- yes, 15! -- first-half turnovers, while the Orange weren't much better with 12. The lead changed nine times over the first 20 minutes, with neither team leading by more than four. Stanford led 25-24 at intermission.
Both teams came out hot to start the second half, the lead changing hands several times in the first few minutes alone. Finally, Stanford put some distance between the two teams with a 9-2 run, capped by an
Aaron Bright
3-pointer with 6:45 remaining to make the score 55-47 Cardinal.
But the Orange weren't done.
Kris Joseph
took over, scoring nine straight points for his team in one stretch, and his bank shot with 2:53 remaining gave Syracuse the lead again, 61-60. It was a wild finish from there. Freshman guard
Chasson Randle
hit a big 3-pointer to cut a 64-60 Syracuse lead to 64-63. But then
Dion Waiters
made his second huge bucket in a row to put Syracuse back up three, and the Orange held off Stanford in the final minute. They ended the game on a 15-3 run.
Under the lights:
Five Cuse players were in double-figures, but Joseph and Waiters were the ones who got it done down the stretch for the Orange. Joseph finished with a game-high 18 points and nine rebounds. Waiters had 10 points off the bench. Bright led Stanford with 13 points, and Randle added 12.
Number crunch:
When a team commits 24 turnovers, it usually isn't going to win. Stanford almost pulled off that feat Friday night. Instead, Syracuse finished with 21 turnovers and won. Hey, nobody said it was pretty.
What's next:
Syracuse returns upstate to host Eastern Michigan on Tuesday night, while Stanford flies cross-country back home and will welcome Pacific to Maples Pavilion on Monday night.
November, 25, 2011
11/25/11
5:29
PM ET
By
ESPN.com staff
| ESPN.com


Dana O'Neil with Virginia Tech's Erick Green, who scored a team-high 18 points as the Hokies claimed third place in the NIT with a 59-57 victory against Oklahoma State.
November, 25, 2011
11/25/11
5:07
PM ET
By
Kieran Darcy, ESPN New York
| ESPN.com
NEW YORK -- A quick take on Virginia Tech's 59-57 win over Oklahoma State on Friday at Madison Square Garden.


Overview:
Virginia Tech takes third place in the NIT Season Tip-Off, after giving No. 5 Syracuse a tough game in the semifinals on Wednesday night. The Hokies are now 4-1 on the season. Oklahoma State leaves New York City with a pair of losses over the Thanksgiving holiday weekend. The Cowboys are now 3-2.
The skinny:
It was a sloppy first half, with both teams shooting less than 38 percent from the field. Oklahoma State jumped out to an 8-0 lead, but Virginia Tech was not down for very long. A 14-0 run by the Hokies turned a 9-7 deficit into a 21-12 advantage. Tech led by as many as 11, and it was 32-23 at halftime.
The Hokies kept the Cowboys at bay for most of the second half, but OSU cut the deficit to two, 53-51, on a
Jean-Paul Olukemi
bucket with 3:35 remaining. But the Cowboys were never able to get over the hump. A couple of potential game-tying shots were off the mark,
Markel Brown
made a key turnover on another potential game-tying possession, and Virginia Tech pulled this one out.
Center stage:
Erick Green
had a team-high 18 points for Virginia Tech, shooting 6-for-12 from the field. Freshman
Dorian Finney-Smith
had 10 points and 14 rebounds, including eight off the offensive glass.
Brown had 19 points and 10 rebounds for Oklahoma State but made that critical turnover late. Olukemi chipped in 13 points. Freshman
Le'Bryan Nash
, ranked the No. 10 high school senior in the country by ESPN last year, went scoreless in just 11 minutes after scoring a team-high 16 against Stanford two days ago.
How 'bout that:
Virginia Tech shot just 18-for-57 (31.6 percent) in this game, yet managed to win. How? Well, let's start with a 45-37 advantage on the boards, including 21-14 on the offensive end. The Hokies also shot 30 free throws (making 19) and held the Cowboys to just 20-for-49 shooting from the field (40.8 percent).
What's next:
Virginia Tech gets back to work quickly, hosting St. Bonaventure on Sunday night. Oklahoma State will host Tulsa on Wednesday.
November, 25, 2011
11/25/11
1:00
PM ET
One team coasted, one fought.
Except the roles were reversed.
Stanford, a young team that remains more of a curiosity than a sure thing right now, breezed into the NIT Season Tip-Off final with a thumping of Oklahoma State on Wednesday. Syracuse, a veteran team that many believe deserves its top-5 ranking, had to rally against a depleted Virginia Tech team.
With its deep roster and experience, the Orange are among the contenders in the Big East. Stanford, in the meantime, surprisingly looks like it might have the chops to contend in the Pac-12. (Although the way the beleaguered conference is performing right now, that could be damning with faint praise.)


So what does that mean exactly?
That's what Friday's NIT Tip-Off final will, at least in part, determine: Just how good are each of these 5-0 teams? Before the championship game begins at 5:30 p.m. ET on ESPN and ESPN3, here are a few keys to keep in mind:
Stanford's shooting vs. Syracuse zone
It was the 3-point shooting that turned heads against Oklahoma State -- the Cardinal drained 9 of 19 from beyond the arc -- but Stanford has been a solid shooting team all season. The Cardinal sink 49 percent from the floor, 35th best in the country. Johnny Dawkins creates good spacing in his offense, which allows his shooters to get open, but the question is can Stanford do that against Syracuse's zone? For those who don't see it often, Jim Boeheim's defense can be confounding. The Cardinal will have to be patient to the point of being deliberate.
Youth vs. experience
Playing Syracuse in Madison Square Garden is not easy, not even for Big East teams that bring their own packs of fans for the conference tournament in March. So you can imagine the crowd disadvantage cross-country-playing Stanford will face in the title game. The Cardinal are young -- relying on a heavy dose of freshmen and sophomores -- and cannot afford to get rattled. Senior
Josh Owens
delivered that message to his teammates prior to tipoff against Okie State, reminding them that the Garden is no different than a playground. But that's a much easier message to hear when you're facing Oklahoma State orange rather than a sea of Orange.
Guard vs. guard
Stanford accorded itself well in the backcourt against the Cowboys, but how the Cardinal handle a much deeper, much more experienced Syracuse guard consortium will be huge.
Scoop Jardine
had an off night against Virginia Tech -- just two points -- and it barely mattered since
Brandon Triche
(17) and
Dion Waiters
(11) were there to pick up the slack. Stanford doesn't have enough good guards to go mano-a-mano against Syracuse. Few teams do, frankly. Freshman
Chasson Randle
and sophomore
Aaron Bright
have played very well this season, but they haven't faced anything quite like this backcourt.
Big vs. big
Here's where it could get interesting. Owens had 21 points for Stanford against Oklahoma State -- 10 of them came at the line.
Fab Melo
and
Baye Moussa Keita
have been good for Syracuse in the early going but the duo, charged with replacing Rick Jackson, remain the biggest question mark for the Orange. Owens is a very good shooter -- 58 percent from the floor for his career -- and he's equally good at getting to the line and knocking down his free throws. Melo and Keita can't make it easy for Owens, nor can either of them afford foul trouble.