College Basketball Nation:

Nnanna Egwu
March, 24, 2013
3/24/13
11:25
PM ET
AUSTIN, Texas -- The one-time, small-time coach is back in the big time.
Jim Larranaga, who last made a significant NCAA tournament run at George Mason in 2006, has led the second-seeded Miami Hurricanes to the Sweet 16 for the first time since 2000 with a
63 -59 win
over No. 7 Illinois at the Frank Erwin Center Sunday.


Overview:
In a game that went back and forth throughout the second half, Miami found just enough offense from
Shane Larkin
to pull away late. With Miami down one, Larkin hit a step-back 3-pointer to put the Hurricanes ahead for good with one minute left.
Turning Point:
Illinois had the chance to go up by two inside of two minutes and possibly put some pressure on Miami but
Tracy Abrams
missed the second of two free throws, allowing the Hurricanes some measure of comfort as they went down the floor for what was the game-winning shot.
Key Player:
Larkin not only hit the big shot at the end of the game but proved his value as a point guard all night. The sophomore was consistently able to penetrate, draw and dish to his teammates. And when the Illini didn't cut off the lane Larkin was comfortable finding his shot among taller players. He finished with 17 points and five assists.
Key Stat:
The Illini were able to hang in the game because they kept the Hurricanes off the offensive glass. In fact it was Illinois that thrived, getting 19 second-chance points to Miami's eight.
Nnanna Egwu
led the way with 12 boards for Illinois.
Next Up:
Miami will play No. 3 Marquette in the Sweet 16 in Washington, D.C., on Friday.
January, 5, 2013
1/05/13
7:15
PM ET
The last time
Brandon Paul
played Ohio State at home, he didn't have just a career game -- he had
anybody's
career game.
That night, Jan. 10, 2012, Paul scored 43 points on 15 shots, including 8 of 10 from beyond the arc. More than a few of those shots were patently ridiculous -- a contested fallaway 3 from the corner, a bank shot from 20 feet, step-backs from every angle -- and they let you know pretty early on that Paul was just having one of
those
nights. Stand back and enjoy.
Despite all that efficient brilliance, Illinois still only barely toppled the Buckeyes, 79-74. In the end, the game was a weirdly telling sign of things to come: Paul went back to his usual inefficient self and Illinois lost 12 out of its last 14 games, turning a 15-3 start into a 17-15 finish that got its coach, Bruce Weber, summarily canned.
This time around, the home victory over Ohio State couldn't have been more different. Illinois didn't have to summon its very best; Paul didn't have to go off. He just needed to do what he's been doing all season. He just needed to be consistent.
[+] Enlarge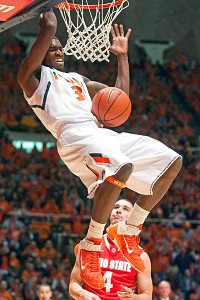 AP Photo/Darrell HoemannBrandon Paul credits the freedom new Illinois coach John Groce has given him for his steadier play.
"I really do just think it's about consistency," Paul told ESPN.com via phone following Saturday's
74-55 cruise
over No. 8-ranked Ohio State. "I'm a lot more consistent this year than I've been in the past."
It's simple but true. Last season, Paul's crazy 43-point breakout was an aberration in an otherwise choppy season. On Saturday, his 19 points on 12 shots (with 7 rebounds and 3 assists) was still one of the best performances on the floor (Illinois center
Nnanna Egwu
had 16 points on 10 shots, with 8 rebounds), and it was more in line with what we've come to expect from Paul this season. Last season, the guard still used 28 percent of his team's possessions -- the same as in 2012-13 -- but his offensive rating was a mere 95.2. Before Saturday's game, his 2012-13 mark was 111.4.
Paul's senior year has thus far been the best of his career, and it isn't even close. He's not only more "consistent," he's
better
, and so is his team.
How? Paul gives a lot of the credit to coach John Groce, who did a major set renovation on Illinois' offense in his first offseason with the team. Doing away with much of Weber's three-out, two-in motion, Groce instead spaced the floor. He frequently plays a four-guard lineup, runs much more high screen-and-roll, and allows 6-foot-9 forward
Tyler Griffey
to spot up from 3, where he's shooting 45 percent on the season.
All of this has helped Paul feel like he has more space to operate on offense -- he can take a screen or two, read the defense, attack the rim or dish to one of several perimeter options. But Groce has also done something much more basic: He has made his star guard feel trusted.
"He's given me, and continues to give me, more freedom," Paul said. "He knows if I make a strong decision with the ball he doesn't really have to worry about bad shot selection. We've all done a better job this year with bad shot selection, myself especially.
"He's given me the option to control the team, to control the game," Paul said. "He says to go at my pace, and make sure everyone else is on the same page. That definitely helps."
To be sure, Paul got plenty of other help in Saturday's victory. His teammates put in a balanced scoring effort -- Egwu picked up an off Griffey down low, while
Tracy Abrams
went 5-of-7 from the field and
Joseph Bertrand
added 12 points off the bench. It also helped that Ohio State went just 4-of-19 from 3.
Deshaun Thomas
needed 21 shots to get his 24 points, and the rest of his teammates combined for just 31 points on 28.2 percent shooting, easily the ugliest performance of the season from a typically good offensive team, albeit one that has yet to notch a marquee victory, and will have its doubters in droves. And 11th-ranked Illinois cleaned up all those misses on the glass, something the Illini struggled to do in Wednesday's Big Ten-opening loss at Purdue.
Illinois' victory also highlighted the sheer strength of the Big Ten, and just how difficult it will be to steal wins on the road in league play.
"You can't take one game off," Paul said. "You have to compete no matter where you're at. It's going to be like every year in the Big Ten -- there are going to be a lot of ups and downs."
Rarely was that more true than for the 2011-12 Illini, who went from an upset of a Final Four team and a classic 43-point performance to 17-15 with a fired coach. This season, the Illini have set about making those downs less down, even if the ups are never quite as high. In a word: consistency.
"We had balanced scoring, guys in double digits, guys were getting a lot of gang rebounds," Paul said. "I love these types of games."
November, 5, 2012
11/05/12
1:15
PM ET
I don't put much stock into exhibitions. The goal, for most coaches, is to learn more about their respective programs and shake off the rust from the offseason.
Sloppy play is expected. Even for the best.

Illinois' struggles in its 75-66 exhibition win over Division II opponent West Chester (Pa.) Sunday and new head coach John Groce's postgame comments, however, might warrant more scrutiny than usual.
From the Chicago Tribune's Shannon Ryan
:
"We're going to keep doing what we're doing," Groce said. "What? I'm just going to panic and do something different? We're going to do what we do and do what we do better."

There are certainly improvements to be made.

The Illini finished their win with 21 turnovers, five of them coming from Brandon Paul, to only seven assists. West Chester outscored the Illini 46-31 in the second half, cutting a 27-point Illini lead to only 10 points, prompting Groce to reinsert his starters in the final two minutes.

"It was sporadic or random at best," Groce said. "I thought we played well for about 20 minutes of it. … Those (statistics) aren't up to our standards. These guys have some pretty high standards."

Point guard Tracy Abrams finished with a game-high 17 points to go with seven rebounds and three steals.

It's safe to expect him to be instrumental in the Illini's rotation, which Groce said he is finalizing.

Through the exhibitions, he has started the players who graded out the highest at practices and he has kept a measured chart on how rotations worked together. Groce hopes to have a set rotation, which he expects to be about nine players deep, by Tuesday.
Just days before the start of the 2012-13 season, life within Illinois basketball remains unsettled.
Bruce Weber had talent. And even though the program missed the tournament multiple times in recent years, the Illini displayed its full potential in spurts.
But an unsettling trend developed after the team reached the NCAA title game in 2005. The Illini could contend with the best in the Big Ten and beyond on their best days. Those performances, however, became infrequent. And that's something Groce has to change. Consistency is necessary in Champaign.
Yes, Groce will enjoy a lengthy grace period as he implements his system. But he's not starting from scratch.
Paul could be an All-Big Ten performer.
D.J. Richardson
averaged 11.6 points per game last year. Abrams' performance is a plus since he's the only veteran point guard on the roster.
Sam McLaurin
, a transfer from Coastal Carolina, will help the Illini in the post, their greatest weakness other than point guard depth.
The latter is most troubling, considering the Illini's 21 turnovers against a Division II team. Illinois' 13.4 turnovers per game were the No. 2 mark in the Big Ten last season. Without Meyers Leonard inside, opponents will put more pressure on the perimeter and attack Groce's only proven playmakers. And if they can't control the ball, problems will persist for a team that was ranked No. 126 in offensive efficiency.
The bottom tier within the Big Ten features multiple teams with question marks. Illinois is obviously in that group. And with Richardson and Paul in the backcourt and the potential impact of McLaurin and
Nnanna Egwu
(if his development continues) suggests that the Illini could climb the standings as easily as the others in the group who will vie for an NCAA tournament slot.
But, this could also evolve into another season of the lukewarm basketball that Illinois has produced in recent years.
No, Sunday's exhibition isn't the end of the world, which is why Groce refuses to "panic." "Worry" might be a better word for a team that will soon face Gonzaga, Missouri and the field in the Maui Invitational prior to the start of play in the Big Ten, a conference with more depth and substance than any league in America.
Again, Groce deserves time. And he has it.
But it's difficult to rate the Illini above the current projections that expect the team to finish toward the bottom of the league. Turnover-filled performances, even in exhibitions, don't exactly stir up optimism about the program. They spur more "here we go again" talk.
I don't think the Illini warrant that response yet. But Groce has some perennial problems -- a few that emerged Sunday -- to correct in the coming months if he plans to avoid that reaction in the future.
November, 11, 2010
11/11/10
1:15
PM ET
Remember when Bruce Weber couldn't recruit?
For a while there, that implication -- whether true or false -- hung like a weight around Weber's neck. Illinois fans saw their guy could coach, but Weber's best seasons (including the brilliant two-loss run to the national title game in 2005) came with the benefit of predecessor Bill Self's players. Once those players left the program and the talent (and wins) seemed to dwindle, Weber was stuck answering the age-old succession question: Yeah, but can he recruit? More specifically, can he recruit in Chicago?
[+] Enlarge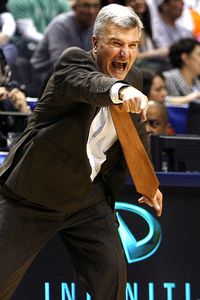 Brian Spurlock/US PresswireBruce Weber's 2011 class includes four players ranked among the top 20 at their positions.
The first question has been settled by the past two signing days; Weber's 2009 and 2010 classes were both among the 15 or 20 best in the country. And if there was any remaining doubt about the second question, Weber's 2011 class has made it officially moot.
That's
because the 2011 class
, which
Weber officially inked yesterday
, features four players ranked among the top 20 at their positions and three in the ESPNU 100 and -- get this -- all of them hail from Chicago. Forward Mike Shaw, small forward Mychael Henry, point guard Tracy Abrams and Nnanna Egwu all played their high school hoops in and around the Chicago area at schools like St. Ignatius, De La Salle Prep, Orr Academy and Mt. Carmel high school. There are other good Chicago-area players heading to other schools in the class -- Kentucky commitment Anthony Davis, the No. 2 player in the class, for one -- but the depth and breadth of Weber's domination in the area is impressive all the same.
This isn't the first time Weber's done well in Chicago, of course. Top 2010 recruit
Jereme Richmond
hails from Waukegan, Ill. His classmate,
Crandall Head
, is from the city proper. In 2009, Illinois Mr. Basketball
Brandon Paul
, a Gurnee, Ill., native -- brought his talents to Champaign, Ill., too. Weber had made serious strides in the city before 2011. But altogether, with the 2011 class in the fold, six of Weber's past 11 recruits come from the Chicago area. Only
D.J. Richardson
, a Peoria, Ill. native, can be counted as top Weber recruit who
isn't
from the Second City.
In other words, the question is answered. Yes, Bruce Weber can recruit. Yes, he can recruit -- maybe even own -- Chicago. And yes, after once feeling the pangs of uncertainty about their new coach, Illinois fans can rest easy. The Illini are going to be good for a while.