College Basketball Nation:

Noah Dahlman
March, 17, 2011
3/17/11
11:43
PM ET
By
Diamond Leung
| ESPN.com
DENVER -- The buzz from upset wins by Morehead State and Richmond still lingered when BYU took the court at the Pepsi Center. The Cougars knew all about what had happened earlier in the day and certainly didn't want it to happen to them.
By the time BYU got done with Wofford, order had been restored. It was business as usual, with
Jimmer Fredette
scoring 32 points in a
74-66 second-round win
on Thursday.
And unlike last season when Fredette's monster game against Florida gave BYU its first NCAA tournament victory in 17 years, the Cougars hope this is just the start of a march to the Sweet 16.
[+] Enlarge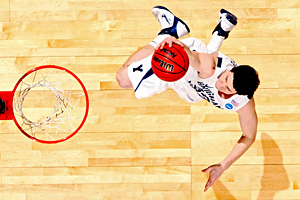 Doug Pensinger/Getty ImagesJimmer Fredette still notched 32 points despite decent defense by Wofford.
"Last year was a euphoric atmosphere," BYU coach Dave Rose said. "Guys were jumping around.
"Guys today were happy with the win and look forward to the next challenge. This team is pretty business-like."
Wofford actually felt it did a decent job on Fredette, a sign of just how dangerous the nation's leading scorer is. He was 10-of-25 from the field and only 2-of-9 from beyond the arc, but other players stepped up for BYU.
Charles Abouo
scored eight straight points at one point to extend the lead to 14 while
Noah Hartsock
and
Logan Magnusson
knocked down two 3-pointers apiece. Fredette finished with seven assists.
"Those assists come to those guys who are ready to make a play." Rose said. "We had three or four guys able to knock them down."
Said Fredette: "They were trying to force me left, so I kept going left and went to the basket."
His passing helped showcase once again that no, the Cougars are not just a one-man team. Abouo, Hartsock and Magnusson scored 10 points apiece, and
Kyle Collinsworth
collected 11 rebounds. These are players who still have to prove that there's a successful future after Brandon Davies was lost for the season.
Wofford kept the game close, with
Noah Dahlman
scoring 22 points, but the No. 14-seeded Terriers didn't shoot well from the perimeter and couldn't come up with baskets when they needed them.
Jamar Diggs
(5-for-14),
Cameron Rundles
(5-for-14) and
Brad Loesing
(3-for-10) all struggled.
"Had you told us our team would do a great job on Fredette, I thought we would have won the game," Wofford coach Mike Young said.
Diggs felt he did a good job on Fredette, but it wasn't enough. "He's deceptively quick," Diggs said. "You look at him and think you're in front of him, and then he's by you."
BYU wasn't going to suffer an upset, not with Fredette leading the way and not with the team's complementary players performing their best. After witnessing Louisville and Vanderbilt go through it, the Cougars collectively told themselves the ride wasn't going to end.
"A lot of the guys saw it and said, 'Let's not let that happen to us,'" Magnusson said.
March, 14, 2011
3/14/11
5:00
PM ET
By
Diamond Leung
| ESPN.com
It's no secret how Wofford plans to attack BYU on offense, as Terriers coach Mike Young has watched only film of the five games the Cougars have played since losing top post player Brandon Davies to suspension. Wofford can feed the ball inside to
Noah Dahlman
, last season's Southern Conference player of the year and one of the top scorers in the nation, and go from there.
In the process of reviewing the tapes, Young got to the New Mexico game and got a good look at
Jimmer Fredette
. "I had to excuse myself from the film room and walk out in the hallway watching a replay of the New Mexico game," Young said. "It's a quiet 52. He scores like he breathes."
Still, it appears as if Wofford isn't going to do much differently or anything special when it comes to trying to contain Fredette. The Terriers have spent four years game-planning against College of Charleston's
Andrew Goudelock
, a scoring point guard whose range is equal to Fredette's.
For the assignment, Young said his team already has a good idea of what they're going to do try to contain Fredette. It starts with the team's top defender in senior
Jamar Diggs
.
"He's tenacious," Young said of Diggs. "He's quick as a cat. He's got great hands. He is as competitive as any human being I've ever been around. Fredette is a special, special player. I will look forward to Jamar guarding him, and I will look forward to our team guarding him. Fredette may get the best of him, but my guy's going to fight."
So in the face of getting Jimmered, No. 14-seeded Wofford will take its best shot. The Terriers nearly upset Wisconsin in the first round of the NCAA tournament last season and know the challenge Fredette presents.
"All the accolades and everything that's come his way, he deserves every bit of it," Young said. "I love watching him play."
March, 13, 2011
3/13/11
9:34
PM ET
Rapid-fire reactions to the bracket:
Before we get into this, someone please check on Seth Greenberg. Make sure he is in a safe place. I'm mostly joking, but not completely.
Now, if I'm Ohio State coach Thad Matta, I tell the boss this when he returns to Columbus:
[+] Enlarge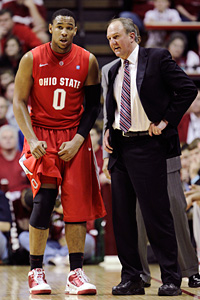 AP Photo/Darron CummingsDespite having their athletic director on the selection committee, many believe Ohio State coach Thad Matta, forward Jared Sullinger and the rest of Buckeyes have the toughest run of any No. 1 seed.
Thanks for nothing.
OSU athletic director Gene Smith was the head of the NCAA tournament selection committee, yet he stuck his own team with what I think is the toughest region in the whole tournament. Earlier Sunday,
I wrote that seven teams
had the most realistic shot at a national title -- and three of them are in the same region. That would be No. 1 seed Ohio State plus No. 2 seed North Carolina and No. 4 seed Kentucky, all in the East.
Two of the seven are in the Southwest Region: Kansas and Notre Dame. Two are in the West: Duke and San Diego State.
And then there is the Southeast, otherwise known as the Jamie Dixon Backrub Regional. I don't see a single major national-title threat in that 16-team grouping, which means terminal underachiever Pittsburgh might finally reach its first Final Four since World War II.
So Matta needs to ask his AD one simple question: Why didn't we get the Pitt treatment?
Instead, here's what Ohio State got: a likely matchup against a coach with Final Four experience in the rounds of 32, 16 and 8.
After the Buckeyes dispatch a play-in-team-to-be-named-later on Friday in Cleveland, they'll face either George Mason or Villanova. Jim Larranaga took the Patriots on one of the all-time Cinderella Final Four runs in 2006, and Jay Wright got the Wildcats there in '09.
In the Sweet 16, Ohio State could face any of three coaches who have been to Final Fours in the past decade: Bob Huggins (West Virginia last year, plus Cincinnati in 1992); Mike Davis (Indiana 2002); or John Calipari (Massachusetts 1996 and Memphis 2008).
And a potential regional final showdown looms with either North Carolina and Roy Williams (six Final Fours, two national titles) or Syracuse and Jim Boeheim (three Final Fours, one national title).
That is not an easy road to Houston.
The committee apparently saved all its mollycoddling for Florida, which drew a mystifying No. 2 seed in the Southeast. Apparently, friends, losing to Jacksonville and Central Florida will actually
help
your seeding as opposed to hurting it. Oh, and a home loss to South Carolina (last in the SEC East) must not hurt the profile either.
The Gators are a good team. The Gators are fully capable of winning that region. But the Gators should be doing it as a No. 4 or 5 seed, in my estimation.
In fact, I think three of the No. 4 seeds (Louisville, Kentucky and Texas) all are more accomplished to date than Florida.
So I'd nominate the Southeast as the section of the bracket most likely to be busted. Pitt and No. 4 seed Wisconsin have a history of great regular seasons and not-so-great NCAA tournaments. Third-seeded BYU looks highly vulnerable after going 3-2 since losing leading rebounder and third-leading scorer Brandon Davies.
(Quick aside: All conjecture to the contrary, losing a player for the tournament apparently didn't matter much after all. BYU still got a No. 3. Georgetown, winless in four games since the broken hand suffered by guard
Chris Wright
, still got a No. 6. Florida State, 3-3 since the loss of leading scorer/rebounder/stealer
Chris Singleton
to a broken foot, still got a No. 10. I believe all three could have been justifiably bumped down at least one more seed line.)
In the Southwest, a potential Kansas-Louisville matchup in San Antonio could be a great one. The Jayhawks are really good -- but check Rick Pitino's record in Sweet 16 games. He's 9-0. But both the Jayhawks and Cardinals have to win two games first to make that matchup happen.
On the other side of that region, I love Notre Dame's chances of reaching a regional final for the first time since 1980 -- although Purdue looms as a potential Indiana battle removed to San Antonio in the Sweet 16.
And in the West, I could see chalk holding to a Duke-San Diego State regional final -- if the Aztecs can finally get around to winning the first NCAA tournament game in school history. There could be some very good regional semifinals there: Duke-Texas and San Diego State taking on a Big East school, be it Connecticut or Cincinnati.
At this moment, give me Ohio State, Duke, Notre Dame and Kansas State to reach the Final Four, with the Fighting Irish winning it all.
And I can't believe I just typed that sentence.
But I'll stick with it at least until tomorrow morning.
Some other random ruminations:
Seeded too high
: Florida, BYU, Georgetown, UCLA.
Seeded too low
: Oakland, Utah State, Xavier, Gonzaga.
Most intriguing first-round games:
UCLA-Michigan State; Oakland-Texas; Butler-Old Dominion; BYU-Wofford.
Individual star-watch games
: Texas shot-blocking freshman
Tristan Thompson
against Oakland shot-blocking senior
Keith Benson
; BYU scoring machine
Jimmer Fredette
against Wofford 20-point-a-game guy
Noah Dahlman
; UCLA forward
Reeves Nelson
against Michigan State forward
Draymond Green
; versatile
Darius Morris
of Michigan against versatile
Scotty Hopson
of Tennessee.
Next up
: Hot anticipation for game times Thursday and Friday, so we can plan our hooky accordingly.
March, 19, 2010
3/19/10
3:59
PM ET
JACKSONVILLE, Fla. -- It was a first half only a Wisconsin fan could love.
The fourth-seeded Badgers lead No. 13 Wofford 27-19 after 20 minutes of intermittent basketball skill. Wofford was just 2-for-15 to begin the game and ended the half shooting just 28 percent. The team has no assists and five turnovers.


Wisconsin's length clearly caused problems for the Southern Conference champions, who start three guards and a pair of 6-6 forwards.
SoCon player of the year
Noah Dahlman
has managed just two field goal attempts, and the Terriers need more for him to make this a game in the second half.
Trevon Hughes
has been the main man for Wisconsin, scoring 14 points in the half.
Jon Leuer
added eight points in what has been mostly a two-man show on offense. The Badgers' shooting woes from the Big Ten tournament have continued, as they made just 10-of-29 shots in the first half.
We'll hope for prettier sights in the second half, but Wisconsin would happily continue this street fight if it can advance to Sunday.