College Basketball Nation:

Noah Vonleh
June, 26, 2014
Jun 26
12:37
PM ET
By
ESPN.com staff
| ESPN.com

In today's 3-point shot, Andy Katz reports on the schools Australia's Dante Exum was interested in, Noah Vonleh's take on the Hoosiers' problems last season and John Calipari's presence at the Barclays Center.
May, 19, 2014
May 19
11:37
AM ET
By
ESPN.com staff
| ESPN.com
In today's 3-point shot, Andy Katz talks about why Wayne Tinkle is a great fit at Oregon State, the NBA draft stock on 2013-14 seniors and Noah Vonleh's pro potential.
January, 21, 2014
Jan 21
11:47
PM ET
The opponent mattered as much as the circumstances Tuesday night.
Although Michigan State had the luxury of competing in East Lansing, it still faced a viable Indiana team that's searching for an identity. That's always a dangerous predicament for a favored home team because an opponent might find it midgame.
Plus, Wooden Award candidate
Adreian Payne
missed the matchup due to a sprained right foot that reportedly could sideline him for the next two weeks.
The Hoosiers were combative in their hunt for a significant road win -- the only elixir for a recent loss to Northwestern -- as expected. But Michigan State emerged from the rubble
with a 71-66 victory and a remarkable 7-0 start in the arduous Big Ten.
The Spartans continue to regroup when personnel limits threaten their success.
No Payne? Fine.
[+] Enlarge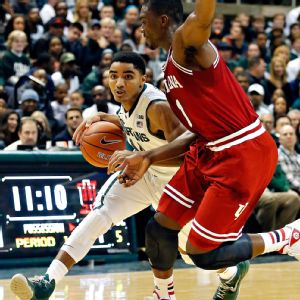 Duane Burleson/Getty ImagesMichigan State's Garry Harris drives against Indiana's Noah Vonleh.
Gary Harris
, a possible lottery pick this summer, scored 20 of his 24 points in the second half. Michigan State forced 18 turnovers against an Indiana team that continues to cost itself possessions and games with sloppy ballhandling.
The Spartans were down 46-41 with 11:51 to play. But by the 3:53 mark, they were ahead by 10. A few free throws in the final minute and the Spartans had proven, again, that they're the current Big Ten kings and threats to reach Arlington, Texas, in April.
"I made no bones about it at the beginning of the year that this is one of those teams that I think has a legitimate shot,"
Tom Izzo told reporters prior to Tuesday's game
. "And, I think that we've proven that we do. We could lose three games in a row and still prove that we do."
That potential is tied to its overall health, though.
And the Spartans haven't really been 100 percent all season.
That hasn't stopped them from climbing to the top of the league and winning their last 11 games, following a loss to North Carolina on Dec. 4. But it's still the lingering concern for the program.
Payne is out. Harris has dealt with an ankle injury -- he played with a bad shoulder last year.
Travis Trice
missed time due to illness.
Matt Costello
, too. Just three players saw action in each of the team's first 18 games.
Three.
The Spartans are deep enough to tussle with any team in the Big Ten, even if Payne can't go or Harris is hobbled or Trice doesn't feel well. They've shown that multiple times.
Their ceiling is high. To reach it, however, Izzo will need a healthy roster.
Noah Vonleh
is an NBA-ready freshman who's gradually opening the toolbox and showing off talents that should compel scouts to slobber. He took advantage of Payne's absence in a performance that carried the Hoosiers (13 points, 13 rebounds, one block, one steal).
Payne is a significant component on offense and defense for the Spartans. He's agile enough to contain shooters and big enough to stop post players.
Yogi Ferrell
(19 points, 4-for-13) might have had even more trouble finding good shots with Payne on the floor.
Yet, they won without him.
Tuesday's win provided more proof of Michigan State's resilience. The best teams ignore circumstances and adjust.
But injuries -- especially if Payne isn't available for a lengthy period or if he's bothered by the foot injury for the remainder of the season -- could be detrimental in the coming weeks. The Spartans will play Michigan, Iowa (in Iowa City), Georgetown, Penn State and Wisconsin (in Madison) in their next five games. It's a stretch that will either solidify their spot atop the Big Ten or jeopardize it, as conference frontrunners ascend.
An interesting transition is taking place in college basketball right now. The true contenders are beginning to emerge.
Arizona is a versatile juggernaut that would be a nightmare for any team in the country.
Tyler Ennis
has helped Syracuse stay on top of the ACC. And
Joel Embiid's
presence might position Kansas to be the scariest team in the field of 68 come March.
In late January, squads often take shape and turn the corner, for better or worse. The overrated are exposed. The elite young teams tend to evolve this time of year as they finally reach a level of chemistry and maturity that they just didn't have in November and December. The veteran programs win the gritty games and showcase the true value of experience.
Things begin to make sense in college basketball as February approaches.
Or fall apart.
The Spartans continue to avoid the latter scenario even as injuries affect their lineups.
If Izzo's squad does what it's capable of doing and wins the Big Ten and makes a commendable run in March, then the program will earn rightful praise for its ability to navigate this midseason turbulence.
But if this injury bug undercuts the Spartans, and if it refuses to relinquish its hold the rest of the way, then Michigan State's year could end with disappointment and a question.
What if the Spartans had been healthy?
January, 3, 2014
Jan 3
11:00
AM ET
The Indiana Hoosiers are fun to watch.*
*Offer not applicable to Indiana fans.

To the casual basketball person, or the random fan of a random program looking for a watchable game on a random night, Indiana is practically a made-for-TV guarantee. The Hoosiers play some of the breakneck-est basketball in the country, averaging 73 possessions per game; their offensive trips are some of the shortest in the country and their defense doesn't lull opponents to sleep, either. Point is, the ball moves, and moves through talented hands: Yogi Ferrell is a cannonball/point guard hybrid, forward Noah Vonleh is a lottery-level talent on the low block who is producing in kind, and Troy Williams is all coiled, vibrating, athletic talent.
Thus far, Indiana has managed to play excellent defense -- Vonleh deserves a huge share of the credit here -- and just-OK offense, mostly because the Hoosiers turn the ball over so frequently. Which is why the above asterisk applies. If you don't care that Indiana is turning the ball over on 22.1 percent of its possessions, if you have zero emotional investment, and if just want to see a fast, engaging, athletically played game and are willing to accept some sloppiness in the aesthetic exchange, hit the couch groove, friend. Enjoy.
Indiana fans are not interested in this bargain.
Tuesday's OT loss at Illinois, hard fought as it was, meant the Hoosiers have made it to January without beating anyone ranked inside the top 100 of the Pomeroy rankings. (The RPI will tell a similar story, when and if that becomes an issue.) The turnovers are a source of intense frustration, to the point that even the relentlessly positive Tom Crean has taken to commiserating with fans on Twitter. Meanwhile, this week also marked the departure of forward Luke Fischer, a top 2013 recruit who informed the school of his plans to transfer when he returned from Christmas break.
So, to put it bluntly, fans are grumbling. Inside The Hall's Alex Bozich has his finger squarely on the pulse of the IU fandom, and Thursday he was compelled to write a gigantic memo essentially encouraging everyone to chill the heck out:
It's become both fascinating and exhausting to follow all of the dialogue. What's not up for debate, however, is the reality of what this season is for Indiana. It's a year of transition. There will be no Big Ten or national championship. There may not even be a NCAA tournament appearance. The preseason polls told us Indiana was a top 25 team. It's taken less than half of the season to learn that the polls were wrong, at least for now. So where exactly does perspective tie into all of this?
As Bozich rightly notes, talent or not, Indiana lost Cody Zeller and Victor Oladipo this summer, to say nothing of four-year starters Jordan Hulls and Christian Watford. Vonleh is a beast -- better than most would have projected and evolving on a seemingly daily basis. But Indiana lost a couple of the best college basketball players of recent seasons, and are attempting to replace them with guys who are struggling with shot selection and turnovers.
All of which is why Saturday's home date against Michigan State is so fascinating. Indiana is tough beat on its own floor, and the Hoosiers really are defending well -- perhaps well enough to trap Michigan State in a close, tight game down the stretch, at which point anything can happen. It's a major opportunity: In one fell swoop, Indiana might turn the corner on a season that has Hoosiers fans dealing with transition in more ways than one.
November, 22, 2013
11/22/13
1:07
AM ET
NEW YORK -- Here are five quick thoughts from
Indiana's 102-84 win over Washington
on Thursday night at Madison Square Garden:
Diaper dandies:
Indiana freshman
Noah Vonleh
has gotten more headlines thus far, but fellow frosh
Troy Williams
was even better Thursday night.
The 6-foot-7 swingman scored a team-high 22 points, shooting 8-for-12 from the field and 6-for-7 from the foul line (plus eight rebounds). He scored from all over the floor, displaying highlight-reel athleticism. In fact, his most exciting play was a missed dunk over a Washington player that might still make the "SportsCenter" Top 10.
Vonleh wasn't bad, either, by the way -- 18 points, nine rebounds, despite being limited to 24 minutes because of foul trouble in the first half. He fell one rebound short of his fifth consecutive double-double to start his collegiate career.


One-sided:
The Hoosiers took a 50-37 halftime lead by dominating the Huskies on the offensive glass and at the foul line. Indiana had 15 offensive rebounds and shot 16-for-18 from the foul line in the first half.
"We knew that Indiana was a really good offensive rebounding team, but what they did just decided the game on the boards," Washington coach Lorenzo Romar said. "Right away they established themselves, 15 offensive rebounds -- that's tough to overcome."
Indiana kept on coming in the second half, never allowing Washington to get closer than nine points. The Hoosiers finished with a 50-29 rebounding advantage overall and made 31 of 36 free throws. (The Huskies were just 19-for-28 from the foul line.)
Hold your horses:
Indiana, picked to finish in the middle of the Big Ten, is now 5-0 -- but let's not get carried away. This is their first victory against a major conference opponent, and not a particularly impressive major conference opponent.
Coach Tom Crean is relying on a lot of freshmen and sophomores, too.
Will Indiana be exciting to watch? Absolutely -- it has already topped the century mark three times and is averaging 94 points per game. But let's see the Hoosiers pull this off against stronger competition.
Consolation prize:
Five players scored in double figures for Washington. Senior guard
C.J. Wilcox
scored a game-high 24 points, is averaging more than 20 points per game on the season and should be among the leaders in scoring in the Pac-12.
The Huskies will put up plenty of points this year. That won't be their problem.
The bad news:
Washington was picked to finish eighth in the Pac-12 in the conference's preseason poll, but if they don't step it up on defense, they'll be hard-pressed to finish even that high.
The Huskies were like a sieve Thursday night, allowing the Hoosiers to pick them apart with ease. Penetration was a piece of cake. They got beat on backcut after backcut. It wasn't pretty. Washington must play hard at both ends.
November, 21, 2013
11/21/13
8:00
AM ET
On Holiday is College Basketball Nation's daily rundown of the holiday tournaments, complete with previews, recaps, and links to all of the early-season tournament info you'll need in the weeks to come.
PUERTO RICO TIP-OFF (Bayamon, Puerto Rico)
Charlotte vs. Kansas State, 10:30 a.m. ET (ESPNU)
Northeastern vs. Georgetown, approx. 12:30 p.m. ET (ESPNU)
Long Beach State vs. Michigan, 5 p.m. ET (ESPN2)
Florida State vs. VCU, 7:30 p.m. ET (ESPNU)
[+] Enlarge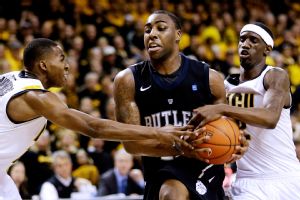 AP Photo/Steve HelberThe rules have tightened, but VCU's "Havoc" is still living up to its name early in the 2013-14 season.
Need to know
: Traditionally, few would confuse the Puerto Rico Tip-Off for the Maui Invitational -- or, more recently, the Battle 4 Atlantis -- for overall strength of field. That's true again this season, but not nearly as much as usual. ...
VCU
looks like a bona fide Final Four-level team, and is still forcing turnovers at a massive rate (29 percent) despite the NCAA's new hand-checking rules. It should be said that frequent grumbles from opposing coaches suggested that the Rams' press works only because it's so physically aggressive. Maybe not so much?
Michigan
is still getting forward
Mitch McGary
's back healthy after last weekend's tough loss at Iowa State. But a bigger concern might be the play of wingman
Glenn Robinson III
, who is scoring more frequently but less efficiently this season, particularly in the half court, where he's shooting just 36 percent.
Kansas State
is defending and rebounding, which is hardly a surprise, but the Wildcats
still need to get their offense on track
.
Oh, and save the irrepressible freshmen,
Georgetown's
Joshua Smith
was the story of college basketball's opening weekend. Smith's ongoing weight issues at UCLA left many thinking he was a lost cause, but his 25-point, 10-for-13 performance in Seoul showcased a player who might yet succeed in spite of his size.
Game of the day
: Florida State vs. VCU. The previous time these two teams met, Florida State was the Sweet 16 victim in VCU's program-defining First Four-to-Final Four run in 2011. Bradford Burgess' layup with seven seconds left, and Rob Brandenburg's last-second block, gave VCU the win — and resulted in
one of the greatest and most delirious radio calls of all-time
. Florida State's odds on revenge seem slim.
2K SPORTS CLASSIC (New York City)
Connecticut vs. Boston College, 7 p.m. ET (ESPN2)
Indiana vs. Washington, 9 p.m. ET (ESPN2)
Need to know
:
Connecticut
point guard
Shabazz Napier
appears to have finally found his sweet spot, posting a 135.5 offensive rating thus far. It's still early, of course, but that's a 20-point increase from last season's efficiency metric, despite Napier using almost exactly the same number of possessions in 2013-14 (24.4) as in 2012-13 (24.3).
The difference? Fewer shots. Napier is hoisting just 17.9 percent of available attempts this year, down from 24.0 last season, and his assist rate has leapt from 27.9 to 36.3. He's shot just seven 3s; he's made six. This is all small-sample-size disclaimer stuff, but it is worth noting: Napier is keeping UConn's top-10-level offense humming less through scoring than everything else. Against
Boston College
-- a slightly disappointing 1-3 team with an efficient offense and a downright brutal (ranked 294th in the country in adjusted defensive efficiency-level brutal) defense -- Napier's smooth command should be on full display.
The Huskies likely will face
Indiana
, but that's only if the Hoosiers can avoid an upset at the hands of Lorenzo Romar's rebuilding
Washington
Huskies. Indiana is a very different team from the No. 1-seeded group that sent two players (Cody Zeller, Victor Oladipo) to the top five of the 2013 NBA draft. This is evident in both good and bad ways. On the positive side, freshman
Noah Vonleh
has been an immediate interior beast, grabbing 31.0 percent of Indiana's available defensive rebounds and blocking one shot every 20 possessions.
On the down side, Indiana's 3-point shooting has plummeted from 40.4 percent last season to 30.3 percent; stellar sophomore point guard
Yogi Ferrell
is the only player shooting it consistently. That has allowed smart defenses (see: LIU Brooklyn) to sink and prevent driving lanes, stagnating IU's attack, making life more difficult for Ferrell, and making IU look -- for perhaps the first time in Tom Crean's tenure -- better at defense than offense. Strange times.
Game of the day
: Indiana vs. Washington. Boston College doesn't look likely to stop Napier,
Ryan Boatright
, and the rest of UConn's impressive backcourt. But if Indiana's young group stutters under the bright lights of Madison Square Garden,
C.J. Wilcox
and the Huskies might just have an unpleasant surprise in store.
November, 9, 2013
11/09/13
12:32
AM ET
Before the whole thing devolved into a hilarious game of expectations limbo, Tom Izzo kind of had a point.
"[Kentucky coach John Calipari's] lucky,"
Izzo said last week
. "Everybody says, 'Have you studied Kentucky?' What the hell are you going to study? I said, 'I've got to go back and look at high school film, and then they run different things than he's going to run, so he's got a big advantage.' You can tell him I said that. It'll probably make the news."
Surprise, surprise: It made the news.
Calipari insisted that no
,
his
team's perennial youth gave more experienced teams like Michigan State the early-season advantage; on Friday Izzo joked that Cal and his already-legendary recruiting class
should just go ahead and forfeit
.
With all this comedy gold flying about, it would be easy to lose sight of Izzo's original point. But it's valid, and can be applied to
every
highly touted freshman we've spent all offseason eagerly anticipating: Until each plays some real, recorded college basketball, we don't really know anything.
[+] Enlarge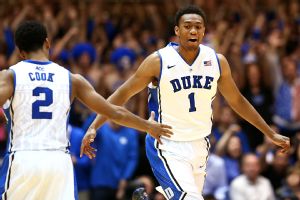 Streeter Lecka/Getty ImagesWith 22 points and six rebounds Friday, it's safe to say that Jabari Parker's college debut went well.
Now they have, and now we do, and you know what? That high school tape might have been pretty valuable after all.
Kansas'
Andrew Wiggins
, the undisputed cross-cultural star of this thrilling 2013 class, made his much-anticipated debut in Lawrence, Kan., Friday night. He finished with 16 points on 5-of-9 from the field, 2-of-4 from 3-point range, and 4-of-6 from the free-throw line, with three rebounds, two assists, and three steals. In other words, he didn't disappoint -- provided you knew what to expect.
If you need Wiggins to score 35 points a game to "validate" his hype, you're on the wrong track. Instead, what every coach has said about Wiggins -- that his greatest asset, perhaps aside from his athleticism, is that there are no real weaknesses in any aspect of his game -- is precisely what he displayed Friday night. He flies around the court but also handles the ball well, has soft perimeter touch (and
excellent
mechanics), and is already one of the best on-ball defenders in the college game. Yes, OK, it was Louisiana-Monroe, but still: Wiggins' game is obscenely well-rounded, and he showed as much in his first game as a Jayhawk.
Kentucky freshman
Julius Randle
performed similarly in that he did the things every scout and recruiting guru said he was going to do when he arrived in Lexington this summer: He beasted dudes. Randle finished with 23 points (on 50 percent shooting) and 15 rebounds. That's a nice line for a 38-minute outing. Randle did in 26. And Calipari already has developed a devastating wrinkle for his best player. Rather than start Randle on the low block, he has him playing at the top of the key, where Randle can build a sufficient head of steam before flying unstoppably through the lane. Think of the sets Michael Kidd-Gilchrist saw in 2011-12, and then picture a 6-foot-9, 225-pound left-handed freight train in his place. You get the picture.
The rest of UK's freshmen were more of a mixed bag.
James Young
-- who has drawn as many, if not more, NBA raves this fall -- finished just 3-of-10 from the field.
Aaron Harrison
and
Andrew Harrison
combined to go 4-of-11, though Aaron added four steals and five rebounds and Andrew five assists. But
Marcus Lee
's 17 points on 7-of-8 shooting speaks to the depth Calipari could unleash on the sport this season; Lee played exactly 15 minutes off the bench.
There were other noteworthy frosh in action: Florida's
Kasey Hill
helped lead a depleted Gators team past a frisky North Florida 77-69, and his 15-point/four-assist/two-steal night doesn't quite speak to the speed and command he displayed offensively, particularly on the break. Kansas'
Joel Embiid
attempted just two field goals but went 7-of-10 from the stripe, and Indiana's
Noah Vonleh
struggled from the field but pulled down 14 rebounds in 22 minutes against Chicago State. Indiana blocked 13 shots, six more than their 2013 season high.
And then there was Duke's
Jabari Parker
, whom our own
C.L. Brown saw first-hand
. Parker scored 22 points, grabbed six rebounds, looked every bit as natural a scorer as he'd been sold as, and led Duke to a 111-points-in-68-possessions (yes, you read that right) win over Davidson. And let's not overlook
Aaron Gordon
's 13 points, 10 rebounds and four blocked shots in a win for Arizona.
All of which is ... kind of a relief! After all, we've spent the last six months telling you a number of things: That this was the best incoming group of freshmen in memory; that Kentucky's class was the greatest of
all-time
; that Wiggins and Parker were generational talents and future NBA All-Stars; that this was going to be an exciting, freewheeling, freshman-dominated season of college hoops. But there were no guarantees. Not when high school tape is the only point of reference. There never are.
Now, those days are officially over. The college data sets have received their first inputs. Izzo will be thankful; his tapes just got a little bit better. The rest of us can settle for "stoked."
November, 5, 2013
11/05/13
10:00
AM ET
In recent years, the Big Ten has boasted an assembly of athletes who have boosted the league to the top of college basketball's conference rankings.
Players who could've turned pro returned and granted the league a lineup of experienced players who carried their respective squads for multiple seasons.
Evan Turner
,
Trey Burke
,
Cody Zeller
,
Draymond Green
, Deshaun Thomas,
Jared Sullinger
, JaJuan Johnson,
Tim Hardaway
Jr. and others had opportunities to sign NBA contracts a year or two earlier than they did. Instead, they stayed and strengthened their teams and subsequently, the entire conference.
Prior to changes at Minnesota and Northwestern this past offseason, only four of the 12 Big Ten schools (Iowa, Nebraska, Illinois, Penn State) had changed head coaches in the previous five seasons. That continuity has fueled immense success for a league that has earned 20 total bids in the last three NCAA tournaments.
There are, however, more questions now.
Other than Michigan State, the Big Ten's membership enters the season possessing promise but also dealing with a rare uncertainty. Michigan and Ohio State return elite talent, but you can't ignore what both lost from last season. Indiana could blossom behind some youngsters, but how many teams improve after a pair of top-five picks turn pro? A fleet of seniors have left Madison. Iowa is still a "maybe" to many.
Illinois and Purdue? They'll either surprise or spend the year at the bottom of the league.
Even with four teams cracking the Associated Press' Top 25 preseason poll, the Big Ten is somewhat of a mystery as this weekend's tipoff to the 2013-14 season approaches. Still, there's plenty of hope for many squads in this league.
There's just a lot we don't know (yet) about the Big Ten.
The Contenders
[+] Enlarge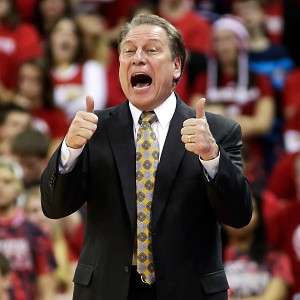 AP Photo/Andy ManisTom Izzo has a Michigan State team with enough talent to return to the Final Four.
Michigan State:
Tom Izzo has another capable crew in East Lansing this season.
Adreian Payne
and
Keith Appling
anchor the Big Ten favorite and national title contender.
Gary Harris
is a future lottery pick who could campaign for All-American honors. Whenever Izzo has this much talent and experience, his teams usually reach the Final Four.
Michigan:
The answer is no. No, the Wolverines won't replace Wooden Award winner Burke no matter how productive
Derrick Walton Jr.
is in his freshman season. But John Beilein's pillars --
Glenn Robinson III
and
Mitch McGary
-- and his stellar recruits should give Michigan a serious shot at the Big Ten crown.
Ohio State:
Somehow,
Aaron Craft
is still eligible and available to squash the dreams of perimeter players throughout the country. Without Deshaun Thomas, the Buckeyes will probably spread the ball around more than they did last season. But
LaQuinton Ross
-- assuming we see the same player who lit up the Big Dance a few months ago -- might be the star Thad Matta needs to make a postseason run and snatch another Big Ten crown.
The (Possible) Contenders
Indiana:
If exhibitions are to be believed, then
Yogi Ferrell
has become a more dangerous threat from the field since registering a 45.4 effective field goal percentage last season. That matters, but not as much as the maturation of the rest of the roster does (will). How much production will
Noah Vonleh
and a bunch of inexperienced youngsters give Tom Crean? We'll find out soon.
Wisconsin:
Say it with me three times: "I will not doubt Wisconsin, I will not doubt Wisconsin, I will not doubt Wisconsin." Once again, however, there are a few reasons to doubt the Badgers, simply because they're entering the season without a trio of seniors (Mike Bruesewitz, Ryan Evans and Jared Berggren) who made a major difference last season, and they're depending on a point guard who's returning from a serious knee injury (
Josh Gasser
).
Sam Dekker
and Co. will probably maintain Bo Ryan's streak of 20-win seasons (10 in a row) and top-four finishes in the Big Ten.
Iowa:
The rebuilding phase is over, folks. The Hawkeyes return every meaningful player from a team that won 25 games and finished 9-9 in conference play during the 2012-13 season. It's time for Iowa to finally make some noise in the Big Ten race and get back to the NCAA tourney. Fran McCaffery has the pieces to achieve both.
The Questionable
Purdue:
The last thing Matt Painter needed was a bout of early drama involving young star
A.J. Hammons
. But that's exactly what he's facing after Hammons was recently suspended for three games after violating team rules. If Hammons gets his act together -- it's always if with him -- the Boilermakers could sneak into the at-large mix.
Illinois:
Same for John Groce's squad. Groce adds eight new faces to the program. This is a much different team compared to the one that reached the NCAA tournament last year. But if Groce can help transfer
Rayvonte Rice
become the star he was at Drake two seasons ago, Illinois might make a case for another berth.
The Bottom
Minnesota:
Richard Pitino has his father's last name and hair, but nothing resembling the players Rick Pitino used to win the national title with Louisville in April.
Northwestern:
Chris Collins is already making strides in recruiting, but he doesn't have the beef inside to compete in the Big Ten yet.
Nebraska:
The Cornhuskers have a new arena, but Tim Miles' squad has the same problems.
Penn State:
Tim Frazier
will have to carry a very heavy load. Again.
October, 22, 2013
10/22/13
9:00
AM ET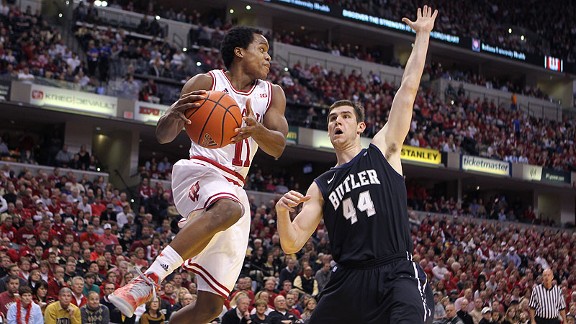 Brian Spurlock/USA TODAY SportsSophomore point guard Yogi Ferrell will take on a much bigger role for the Hoosiers this season.
It's college basketball preview season, and you know what that means: tons of preseason info to get you primed for 2013-14. But what do you really need to know? Each day for the next month, we'll highlight the most important, interesting or just plain amusing thing each conference has to offer this season — from great teams to thrilling players to wild fans and anything in between. Up next: Promise and uncertainty in the Big Ten.
You have to feel for the Big Ten. After decades of punchlines -- 10 losses in its first 10 ACC-Big Ten Challenges, groaningly slow basketball, and a dearth of NCAA tournament success -- last season the Big Ten finally ascended to the conference-hierarchy throne.
Its reign lasted about as
long as Robb Stark's
.*
When the ACC officially added Syracuse, Pittsburgh and Notre Dame this summer, it became the de facto top league by sheer force of acquisition. But even in a status-quo alternate universe, the Big Ten wasn't a guarantee to maintain its exalted position in 2013-14. This is less an argument about conference strength than a way into a summary of the league's individual parts: This season, uncertainty is the one true king.
Nowhere is this crystallized more clearly than in Bloomington, Ind. The Hoosiers, now fully rebuilt by coach Tom Crean, waved farewell to two top-five picks (
Victor Oladipo
,
Cody Zeller
) and two dependable four-year seniors (Jordan Hulls, Christian Watford) this spring. What remains might be as talented as any group in the Big Ten this season: Sophomore point guard
Yogi Ferrell
, sophomore wingman
Jeremy Hollowell
, highly recruited freshman forwards
Noah Vonleh
and
Luke Fischer
, top-100 small forwards
Troy Williams
and
Stanford Robinson
. But save senior guard
Will Sheehey
, the Hoosiers will look totally different when you see them in November. With all that talent and capable guard play, they might be
very
good. But no one can know for certain.
You don't have to squint too hard to see this trend elsewhere in the league. Iowa is looking to make a leap from sneaky-good to just plain good. Purdue has a potential lottery-pick center in
A.J. Hammons
, but what else? Northwestern will be playing modern basketball for the first time in 13 years. With
Tim Frazier
back, Penn State has a chance to be legitimately
good
not terrible. Nebraska will introduce a player who
could be one of the best recruits
in school history (New Zealand native
Tai Webster
). Illinois turned over whole swaths of production, but everyone expects John Groce to come up with an answer. New Minnesota coach Richard Pitino wants the Gophers to run, run, run. Even Michigan will be figuring out how to make its high-powered attack run without the national player of the year. And Ohio State has to score without Deshaun Thomas.
Perhaps the only sure things are that a) Michigan State will compete for the national title, and b)
Wisconsin will finish no lower than fourth
.
That seems like a lot of things to know about the 2013-14 Big Ten. It's really only one thing:
We don't know that much about the 2013-14 Big Ten
. It could be great. It could be meh. There's only one way to find out.
* The North remembers.
May, 24, 2013
5/24/13
5:00
AM ET
1. Vanderbilt hasn't released
Sheldon Jeter
to his hometown Pitt Panthers yet. It may or may not come. Vanderbilt coach Kevin Stallings has never blocked a player from transferring to a specific school in the past. Jeter could be the first. Regardless of whether or not it's fair to put a block on a player receiving a scholarship in his first year at a new school (blocking doesn't prevent the player from transferring to a school, but does cloud the process with the NCAA), there is a right and wrong way to depart. Jeter tweeted "Due to some personal issues, I am leaving Vanderbilt University to be closer to my family.'' According to a source with direct knowledge, he didn't meet face-to-face with Stallings to tell him he was leaving. Jeter, a freshman forward from Beaver Falls, Pa., isn't the first nor the last to mishandle a departure. There is a mature way to deal with leaving.
Evan Gordon
left Arizona State two weeks ago. He went in and told Herb Sendek he was out. The conversation didn't last more than a few minutes. But at least there was one. Jeter averaged 5.5 points, 3.4 rebounds and 17.5 minutes a game. He'll probably end up at Pitt. He may be on scholarship by next season. Cooler heads may prevail here. But most of the time the reason there is animosity over an exit is the way in which it is handled.
2. Indiana coach Tom Crean said he's already looking at how the Hoosiers will play next season without
Victor Oladipo
,
Cody Zeller
,
Jordan Hulls
and
Christian Watford
. He said he still wants to push the tempo and fully expects this team to be offensively effective like last season when the Hoosiers were one of the nation's best. He's banking on
Will Sheehey
continuing to lead and show his work ethic to the young Hoosiers. Expect
Yogi Ferrell
to team up with Sheehey and newcomer
Noah Vonleh
as well as
Troy Williams
as some of the top producers. The player who may surprise more than any other could be
Luke Fischer
, a 6-9 forward who is considered the most efficient newcomer by the staff and
Stanford Robinson
, who will add to the depth on the perimeter. Crean said the speed of the game has to be high for the Hoosiers yet again. Look for
Jeremy Hollowell
and
Hanner Mosquera-Perea
to be one of the more intriguing early-season battles for Zeller time. The Hoosiers are still looking for one more nonconference game. The Hoosiers are in the 2K Classic in NYC with the likely matchup pitting Indiana against Boston College or Washington to ensure the Hoosiers and UConn are on opposite sides of the bracket. IU plays at Syracuse in the ACC-Big Ten Challenge and Notre Dame in Indianapolis.
3. Arizona released its nonconference schedule Thursday and for what should be a top-10 ranked Wildcats team there are a number of challenges: at San Diego State (Nov. 14), hosting UNLV (Dec. 7) and New Mexico State (Dec. 11) and at Michigan (Dec. 14). But the headline event should end up being the NIT Season Tip-Off where Duke is the other primary host with Arizona. Alabama and Rutgers are also hosts. If the home teams hold serve, which doesn't always happen in the only nonconference neutral-site tournament where you still have to earn a spot with two wins, then a potential Arizona-Duke matchup over Thanksgiving would be the top-10 game the NIT has desperately craved for years. Duke is also playing another high-profile Pac-12 team in New York when it plays UCLA in December.
April, 16, 2013
4/16/13
9:23
AM ET
We won't see another college basketball game for about seven months. That's a long time.
But the players in the highly touted 2013 recruiting class will reach their respective campuses soon.
Future Arizona forward
Aaron Gordon
(No. 4 in the 2013 class per RecruitingNation) could be a game-changer who morphs Sean Miller's squad into a Final Four-caliber program. He's Blake Griffin Lite.
Indiana's
Noah Vonleh
(No. 8), a 6-foot-8 five-star forward, could make folks in Bloomington forget about the loss of
Victor Oladipo
and
Cody Zeller
.
Former
Nerlens Noel
teammate
Wayne Selden
(No. 12) is a stocky 6-foot-5 guard with swagger. He's going to Kansas and, yes, he'll log minutes for Bill Self.
Florida's Billy Donovan will have a good rotation problem when McDonald's All Americans
Kasey Hill
(No. 9) and
Chris Walker
(No. 14) enter the mix in Gainesville.
Locals are at the center of Memphis' nationally ranked recruiting class, which includes PF
Austin Nichols
(No. 15), SF
Kuran Iverson
(No. 31) and SF
Nick King
(No. 33).
[+] Enlarge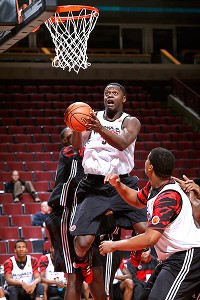 Courtesy of McDonald'sJulius Randle highlights a Kentucky recruiting some have touted as being the best of all-time.
Duke's
Jabari Parker
(No. 2) plays like a pro. He'll be ready to star in Mike Krzyzewski's system in Year 1.
And then there's the young NBA franchise that John Calipari signed. The "greatest recruiting class of all time" is a legitimate label for the top-rated bunch in the field.
Julius Randle
(No. 3),
Andrew Harrison
(No. 5),
James Young
(No. 6),
Aaron Harrison
(No. 7) and
Dakari Johnson
(No. 11) are all potential pros.
Here's what some of the coaches who'll have to deal with those young studs in conference play next season had to say (anonymously) about the impact they might have on their programs as freshmen.
Aaron Gordon (Arizona)
"Arizona will be very tough adding Gordon. He's versatile and athletic and could probably play three to four positions." --
Pac-12 head coach
.
Noah Vonleh (Indiana)
"Noah is as talented as any 2013 recruit. He has the total package. Should be an impact player from day one. He's very skilled for his size and also has a college-ready body." –--
Big Ten assistant
.
Wayne Selden (Kansas)
"He's a big-time athlete and very talented, I know that." --
Big 12 head coach
.
Kasey Hill and Chris Walker (Florida)
"Hill is a special talent and will play, but he is not beating out [
Scottie Wilbekin
]. He is too tough and the best defender in our league. I worry about Walker. Will Walker accept his role? Because he is not a better basketball player than [
Dorian Finney-Smith
] or [Damontre Harris]. He is a better athletic talent but not a better basketball player." --
SEC head coach
.
Austin Nichols, Kuran Iverson and Nick King (Memphis)
"I think from what I saw, Kuran Iverson has the intangibles to make an impact. Nick King has good length and size. He has the best chance to make an impact. Austin Nichols is going to need a year to develop his body." --
American Athletic Conference/Big East assistant
.
Jabari Parker (Duke)
"Jabari has the ability to impact the game in so many ways. He's versatile, knows how to win, and will fit in very well in Duke's style." --
ACC assistant
.
Aaron Harrison, Andrew Harrison, Julius Randle and Dakari Johnson (Kentucky)
"I think they're all very talented. When you're talking about this class, they all have the mentality of one-and-done. Now you have to make it work. Two years ago, they had some experienced guys with a seven-man rotation. Now, they'll have a nine- or 10-man rotation." --
SEC head coach
.
July, 12, 2012
7/12/12
3:30
PM ET
The July recruiting season is officially in full swing, but this July is like few before. Because of new NCAA rules --
which allowed coaches to recruit in April, but shortened the July period
to three four-day windows -- the same number of events are being crammed into a much tighter schedule. Travel demands for coaches are higher. Performances by prospects carry more weight, for better or worse. The general atmosphere, at least viewed from afar, almost feels frantic.
This is nothing new in the world of college basketball recruiting, where the search for talent -- inarguably the key ingredient in program building and sustained national championship contention -- has been a life-or-death ordeal for decades. The best players win national titles almost all of the time. The difference in 2012, or at any point in the past five years, is how much attention that search has received.
Which
brings us to Mike DeCourcy's feature on 2014 prospect Noah Vonleh
, who impressed Mike with his maturity at the adidas Invitational tournament this week. But I'm less interested in Vonleh's story -- though his is well worth your read -- than the meta-portrait DeCourcy paints of the scrutiny Vonleh, who won't play college basketball for another two-plus years, finds himself party to:
For all the attention he draws from opponents, Noah Vonleh never has been surrounded like this. Standing adjacent to a basketball court at North Central High, site of this summer's adidas Invitational tournament, he is working hard not to be intimidated by the sight of nearly two dozen microphones stretched toward his chin. [...]

This is college basketball recruiting in the summer of 2012. Still two years removed from high school graduation -- an incredibly versatile 6-9 forward, he ranks among the top-five prospects in the Class of 2014 — Vonleh is feeling compelled to explain a substandard performance to an army of reporters representing daily newspapers, national recruiting services, national sports websites, team-specific sites and even a longtime columnist who now works for a TV station.
Again, Vonleh just finished his sophomore year of high school. I mean, can you imagine? Let's try.
Say you're 16, and you're one smart cookie. In fact, several of the national math and science rankings algorithms believe you to be five smartest high school sophomores in the country. You're at a major high school programming competition, competing against the best 16-year-old programmers from across the country. Every top science organization, engineering-based corporation and government agency has at least one representative in the crowd. They're all watching your every move.
But you have a bad run. The proof is more challenging than the regional competition, way more challenging, and the rest of the programmers are just as good as you. Things don't click. Hushed murmurs trickle through crowd. Your sidelined idols furrow their brows and scribble something --
oh, God, what are they writing?
-- on their notebooks and iPads. And then, once you've finished, you don't get to go home, pop in some video games and be a 16-year-old kid. You have to sit down and wait for the media horde -- the kind you thought only existed on TV, the kind that doesn't show up for a Space Shuttle launch, for crying out loud -- to cram 30 recording devices into your face and ask you questions about why your mastery of C++ didn't live up to the hype.
Doesn't that seem at least a little bit insane?
Alas, I don't think there's a solution. Coaches are going to recruit players in person. Fans have an unquenchable thirst for recruiting information. High school freshmen and sophomores are going to have microphones shoved below their chins. It has been this way for some time now.
Still, it's hard not to think this entire process has become cyclically amplified. The noise has never been louder.
And I'm not even sure it's totally a bad thing! For players like Vonleh -- players who have a very real shot at one day being an NBA player -- it can't hurt to learn how to deal with the horde this early in life. It's a skill not unlike shooting a free throw, borne of consistent repetition and avoidance of bad habits. You get a rep, it works or it doesn't, you try again. The kids have to learn to drive one day. It might as well be now.
Still, it's a lot to ask of a teenager, any teenager, no matter how talented or self-assured or mature, no matter how "stable" the player's "home environment" might be. I don't have any solutions, nor I am interested in hectoring, nor am I exactly sure what this all means. I just know that it's a lot to ask.