College Basketball Nation:

Norris Cole
March, 8, 2013
3/08/13
11:32
AM ET
Player of the Night -- Daniel Mullings, New Mexico State
New Mexico State
halted
Louisiana Tech
's 18-game winning streak, handing the Bulldogs their first WAC loss.
Daniel Mullings
led the way with 23 points, eight rebounds, three assists and four steals. With
Akron
and Louisiana Tech falling the past week, the nation's longest winning streak belongs to
Middle Tennessee State
(16).
Co-Freshman of the Night -- Xavier Johnson, Colorado
Xavier Johnson
went 7-for-7 from the field, scoring a career-high 22 points in a 76-53 blowout against
Oregon
. He's the first freshman since Dan Gadzuric in 1999 to go at least 7-for-7 in a Pac-12 conference game.
Co-Freshman of the Night -- Michael Kessens, Longwood
Longwood
fell to
VMI
in the Big South quarterfinals, despite the most prolific performance in tournament history.
Michael Kessens
finished with a tournament-record 36 points to go with 16 rebounds. He's the first player to reach those totals since
Cleveland State
's
Norris Cole
in 2011. But consider the past two freshmen to pull it off:
Michael Beasley
and
Kevin Durant
.
Stat Sheet Stuffer -- Spencer Butterfield, Utah State
Whenever a guard pulls down 20 rebounds, it warrants special mention.
Spencer Butterfield
finished with 10 points, seven assists and 20 rebounds in
Utah State
's win against
Texas State
. It's the most rebounds by a guard since that aforementioned Norris Cole performance in 2011. Butterfield is one of only five players in the past 10 years to finish with at least that 10-20-7 line.
Scorer of the Night -- Josh Greene, Cal State Northridge
Josh Greene
scored a career-high 37 in the
Matadors
' win against
Hawaii
. That's the seventh most in school history. He joins
Kansas
'
Elijah Johnson
and
Iona
's
Lamont Jones
as the only players with 37 points and six assists in a game this season.
February, 15, 2012
2/15/12
6:40
AM ET
By
ESPN Stats & Info
| ESPN.com
A scan of the college basketball box scores each night guarantees all kinds of statistical oddities and standout performances. Here are some we found from Tuesday:
Creighton 88, Southern Illinois 69
Creighton shot a school- and MVC-record 77.5 percent (31-for-40) from the field in Tuesday's win, the best shooting performance by a team in more than seven years. Utah shot 80 percent (24-for-30) against Air Force on Jan. 24, 2005. Not surprisingly, Southern Illinois' seven defensive rebounds is a season-low for a team.

Indiana State 83, Illinois State 77
Indiana State's
Jake Odum
had 34 points, 7 rebounds and 7 assists in the win. He's the first player to reach all three of those levels in a game since Cleveland State's Norris Cole on Feb. 12, 2011 (41 pts., 20 reb., 9 ast.).
Delaware 71, Hofstra 57
Delaware's
Jarvis Threatt
made 13 free throws in back-to-back games off the Blue Hens' bench. Six substitutes have made at least 13 free throws in game this season, but Threatt is the first to do it twice.
Clemson 60, Virginia 48
Virginia made its only free throw attempt of the game in the loss. The Cavaliers are the sixth team this season to shoot no more than one free throw in a game.
March, 23, 2011
3/23/11
10:15
PM ET
NEW ORLEANS -- There's Jimmer. And the darling, Butler. And Florida back in the Sweet 16 for the first time since winning the second of two titles four years ago.
And then there's Wisconsin.
Oh yeah, the Badgers are here, too.
"Hey, if that's how people want to look at us, that's fine with us,'' Wisconsin's
Jon Leuer
said. "We've got a good, confident group that is confident that it can win. We've got a shot to move on to the Elite Eight and hopefully the Final Four. There's a lot of good teams here, and I think we could beat anybody, but we could also lose to anybody here.''
[+] Enlarge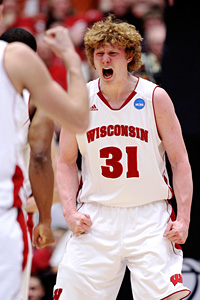 Christian Petersen/Getty ImagesMike Bruesewitz has been the glue guy for Wisconsin in the past two games.
The Badgers are the afterthought program that doesn't create the buzz or the natural storyline. Yet, outside of Butler's unbelievable win over Pitt in the final frenzied seconds, the Badgers might have had the most impressive win of the four teams in New Orleans. Wisconsin beat Kansas State 70-65 despite
Jacob Pullen
's 38 points.
"I think everyone thinks we're just boring, run the swing,'' Wisconsin's
Jordan Taylor
said. "But this is wide open. It's going to be a fun weekend to see who comes out on top.''
The Badgers might seem dull to the outside world, but they're not without their share of characters, led by sophomore forward
Mike Bruesewitz
.
The redhead with the curly, floppy hair has been the ultimate glue guy for the Badgers.
"He's been unbelievable all year, especially in these last two games,'' Taylor said of Bruesewitz. "He hit two of the biggest shots for us. Against Belmont, he hit a 3 to push us from four to seven. And the 3 he hit against Kansas State was huge [it broke a tie with 91 seconds left]. He's been like the Energizer Bunny for us. He never stops.''
And he was questionable playing in the event last week after he sprained his knee in the Big Ten tournament semifinal loss to Penn State.
"I came down on it and said, 'Oh crap.' It didn't feel good; something weird happened,'' Brusewitz said. "But it was just a sprain, and once I could practice full speed by Wednesday [of last week], I knew I'd be OK.''
Brusewitz finished with eight points and nine rebounds in 28 minutes against Belmont, and then 11 points and six boards in 29 minutes against K-State.
"We didn't know if we'd have him for sure, but he's given us so much energy, especially on the offensive rebounds,'' Leuer said. "We're glad we're getting production out of him. It helps us out a lot.''
If the Badgers are going to beat Butler, you can guarantee Bruesewitz will be a factor. He was a difference-maker with two significant 3s and a key offensive rebound in the Badgers' win over then-No. 1 Ohio State on Feb. 12.
But no one on the Badgers would trade hairstyles.
"No way; I don't think that looks good on anybody,'' Leuer said.
"Never in my life,'' said Taylor.
Brusewitz laughs it off. The curly locks have been a trademark for him, but they don't overshadow his effort.
The Badgers don't have to apologize for being here one bit. They've earned their spot. And the respect is mutual from Butler.
"I could sit up here and flatter them all day,'' Butler coach Brad Stevens said at Wednesday's news conference. "Why wouldn't you want to play a way where everybody is completely unselfish? Where if they have a good shot, they try to find a better shot for their team, where guys are diving on the floor, where guys take charges, where guys are physically and mentally tough.''
Stevens went on to praise how the Badgers don't lose very often and the remarkable run that Bo Ryan is on the past decade.
"They are one of the hardest teams to guard in the country,'' Stevens said. "They're one of the hardest teams to score on in the country, and that's usually a pretty good combination.''
The praise from Stevens continued with Taylor, comparing him to some of the best point guards Butler has faced this season, such as
Kyrie Irving
of Duke and
Norris Cole
of Cleveland State.
The Badgers aren't a sexy pick to get out of the regional, but they're more than capable with players who can star, such as Taylor and Leuer, and gritty role players who will make headline plays, in Bruesewitz.
March, 14, 2011
3/14/11
6:14
PM ET
Yes, the 2011 John R. Wooden Award finalists are here. The award is organized by the Los Angeles Athletic Club and voted on by "nearly 1,000 members of the media that cover college basketball," and if you're surprised at the idea that there are 1,000 college hoops writers in the world, well, you're not the only one. (Lots of those ballots go to columnists and generalists who don't specifically cover the sport year-round ... but that's a topic for another blog post on another day.)
Who made the cut? The list is below, and it includes pretty much everyone you'd expect from a list of college hoops' best and brighest individual stars.
The rundown
:
Well, done, Los Angeles Athletic Club. That is a borderline peerless list.
But it isn't perfect. The most notable omission (perhaps the only notable omission) is Kentucky forward
Terrence Jones
, who has been one of the best players in the country throughout the season.
Ken Pomeroy's latest player of the year award list
ranks Jones as the eighth-most productive player in the country this season, and while Pomeroy's POY metric doesn't account entirely for the defensive side of the ball, player of the year awards are never all that concerned with the defensive end -- Brooks and Burks probably wouldn't be on the list above if they were -- so Pomeroy's list is as good a statistical look as we have. And, well, yeah: Jones should be among the Wooden candidates. There's really no getting around it.
That said, his omission isn't criminal. Jones deserves some POY consideration, but let's be real: He's not winning the award. Nor are 19 of the players listed above.
Unless something radical changes
, Fredette is going to win the Wooden and Naismith player of the year awards. If the voting does change anytime soon, the award is likely to go to Walker, Smith, or Sullinger.
In other words, this list has all the usual suspects. We'll see if any of the candidates has time to unseat the Jimmer in the weeks to come. It's unlikely ... but, hey, you never know.
February, 17, 2011
2/17/11
10:33
AM ET
By
Jeremy Lundblad, ESPN Stats & Info
| ESPN.com
An inside look at the numbers behind Wednesday's top performances:
1.
Kemba Walker
broke out of a prolonged shooting slump, scoring 31 to lead Connecticut to a 78-70 win over Georgetown. He took the game over in the second half with 21 points, more than he's been averaging in his previous eight games (17.3 ppg). Walker also added 10 assists and seven rebounds. He's just the third player this season to post a 30-point, 10-assist game (
Myron Strong
,
D.J. Cooper
). The last time a power-conference player did it was March 12, 2009. That's the date of the epic six-overtime Connecticut-Syracuse marathon where both Jonny Flynn and A.J. Price went for at least 30 and 10.
2. At halftime against Georgia, Vanderbilt was a mess. It had shot just 21.6 percent, and the top two scorers had done nothing. Just one game removed from his career-high,
John Jenkins
was scoreless.
Jeffery Taylor
was 0-for-10. But in the second half, Jenkins came alive with 21 points, including five 3s. Georgia scored only three points in the final 9:46 as Vanderbilt came from behind to win 64-56. The win is particularly impressive when you look at Taylor's shooting performance. He went 2-for-18 from the field, and is just 3-for-25 over the last 2 games. It's the worst shooting performance (min. 15 attempts) by an SEC player since Florida's Matt Walsh went 1-for-15 against Alabama in 2004.
3. The most shocking result of the night was in San Diego, where the 5-21 Toreros knocked off No. 23 Saint Mary's 74-66. Consider that two of San Diego's wins had come against non-D-I schools and it's even more improbable. But a team with only one player averaging over 10 ppg had four starters in double figures. This one was all about the second half. Trailing by eight going at halftime, San Diego shot 66.7 percent in the second half and hit 6 of 7 from 3-point range. For Saint Mary's,
Mickey McConnell
and
Mitchell Young
combined for 45 points on 20-for-30 shooting, but the rest of the team shot just 26.7 percent. The Toreros now have more wins over the RPI top 50 than teams like UAB, Utah State and Cleveland State.
4. Speaking of Cleveland State,
Norris Cole
hit the court for the first time since his 41-point, 20-rebounds effort on Saturday. He didn't quite have a repeat performance against Wright State, but the Vikings still came out on top 74-72. Cole finished with 16 points, 10 assists and six rebounds. He's averaging 20.9 ppg, 6.1 rpg and 5.6 apg on the season. Since 2000, only three players have averaged 20-5-5 over a full season: Evan Turner, Ricky Minard and Speedy Claxton. Cleveland State got all 74 of its points from the starting lineup, and has now gone three consecutive games without a point off the bench.
5. Lehigh's
C.J. McCollum
is listed at just 6-3 and 185 lbs, but plays like a much bigger man. On the season, he's averaging 22.3 ppg and 8.3 rpg, which puts him in the top 10 in the nation among guards in both categories. On Wednesday, he did his best Norris Cole impersonation. McCollum posted 31 points, 15 rebounds, five steals and two blocks, but the Mountain Hawks fell short in overtime to Colgate. As impressive as McCollum was, this game actually belonged to Colgate's
Mike Venezia
. He scored 11 of his career-high 27 points in overtime, and connected on 5-for-8 from 3.