College Basketball Nation:

North Carolina State
February, 22, 2012
2/22/12
3:06
AM ET
By
ESPN Stats & Information
| ESPN.com
A scan of the college basketball box scores each night guarantees all kinds of statistical oddities and standout performances. Here are some we found from Tuesday.
Creighton 93, Evansville 92 (OT)
Evansville's
Colt Ryan
scored 43 points, the highest scoring output by a player in a loss this season. He made 17 field goals, one shy of the high this year, set by Creighton's
Doug McDermott
. McDermott was 6-for-13 from the free throw line Tuesday; he had missed just six free throws in his previous eight games.

Michigan 67, Northwestern 55 (OT)
Thirty-eight of Michigan's 56 field goal attempts were 3-pointers (67.9 percent), the highest 3-point attempt percentage by a major conference team this season.
North Carolina 86, North Carolina State 74
North Carolina's
Kendall Marshall
had 22 points, 13 assists and no turnovers in the win. No other player in Division I over the past 15 years has recorded at least 22 points and 13 assists without a turnover.
March, 5, 2010
3/05/10
3:35
PM ET
Here's my latest attempt at video blogging, a hopefully shorter and less blabby version. Thanks to everyone who sent questions on Twitter, especially
@MizzouHoops
,
@torymaynard
,
@WillBrinson
and
@RyanCorazza
. And thanks to you for watching, for not making fun of my large cranium, and for leaving the feedback you are totally going to leave in the comments section right now. To have questions answered in future Twitter mailbags,
hit me up here
.
February, 20, 2010
2/20/10
4:59
PM ET
CHESTNUT HILL, Mass. -- North Carolina coach Roy Williams scanned his team's schedule Friday night and saw a potential path to the NCAA tournament.
[+] Enlarge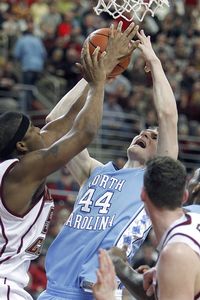 AP Photo/Michael DwyerTyler Zeller and UNC lost again Saturday, their ninth loss in the last 11 games.
Beat Boston College on Saturday, rip off four more wins in a row to get to 8-8 in the ACC and the Tar Heels would be right there for an NCAA at-large bid.
"I thought we'd get on a run and be in the NCAA tournament," said the Hall of Fame coach. "Now we have to readjust and get it done Wednesday [against Florida State]. I've never been in this position. I've never cared if we were a one seed, two seed or a three seed. But I thought that if we win five in a row, get to 8-8, that would get us in, but we didn't get the first step."
Despite having multiple chances to beat Boston College, the Tar Heels once again couldn't finish a game,
losing to the Eagles 71-67
at Conte Forum. The loss dropped UNC to 3-9 in the ACC, 14-13 overall, and left it dangerously close to playing itself out of the NIT (it's unlikely UNC would pay to play in the CBI) and, gasp, finishing last in the ACC.
The Tar Heels have the tiebreaker with last-place NC State (3-10 in ACC play) after sweeping the Wolfpack. But if the Tar Heels were to fall so far as to finish last they would, per league rules, not participate in next season's ACC-Big Ten Challenge, just like Georgia Tech this season. That would have been unheard of a few months ago.
After the game, it was BC sophomore
Reggie Jackson
(17 points), not anyone on the Tar Heels, talking about winning out and finishing 8-8 in the league and possibly winning the ACC tournament and bursting a team's bubble. The Eagles now stand at 4-8 in the ACC, 13-13 overall.
"Everybody knew that this could be the start of five wins in a row," said Tar Heels senior guard
Marcus Ginyard
. "We were excited. We felt like we had a great attitude, a great practice and it didn't equate to the type of play we needed to win. We've got to play with more pride. That's the bottom line."
Don't blame Williams for projecting a possible NCAA tournament bid. He hasn't missed the NCAA tournament since 1989 -- his first season at Kansas -- and that was because the Jayhawks were on probation after Larry Brown's 1988 national championship season.
This is new territory for this group of Tar Heels as well as Williams. And it's hard to fathom for all of those involved.
North Carolina beat Ohio State -- with
Evan Turner
-- in New York in November and took out a healthy Michigan State team in the Big Ten-ACC Challenge in Chapel Hill, N.C., in December. The Tar Heels also beat the ACC's second-place team, Virginia Tech, at home, even after losing at College of Charleston in a game in which they were missing Ginyard and
Will Graves
to injury.
Tyler Zeller
missed 10 games with a stress fracture in his foot. He returned Saturday to score nine points and grab seven boards in 16 minutes, but he missed seven shots.
Travis Wear
missed his fourth game with a sprained left ankle and
David Wear
nearly missed this game with a hip injury. And, of course, double-double threat
Ed Davis
missed his third straight game with a fractured left wrist.
But these aren't excuses. The Tar Heels still have talent (just watch
John Henson
as he scooped up a loose ball and snapped in a jumper while getting fouled or as he picked up a steal and flushed a jam). UNC has seven McDonald's All-Americans on its roster.
The Tar Heels were just 1-of-8 on 3-pointers, missed 32 2-point shots and were outrebounded by four by the smaller Eagles. Their guard play has been inconsistent, to say the least.
Larry Drew II
,
Dexter Strickland
and
Leslie McDonald
were unable to find a smooth stroke. Graves was 1-of-5 on 3s.
"It's been the most frustrating time I've had in coaching," Williams said.
Williams said the Charleston and Clemson losses shook UNC's confidence. He said prior to that he thought "we were really going to be good."
Williams said there was one point during the BC game when Drew looked at him after a turnover and said "my fault."
That didn't wash well with Williams. Overall, he said the Tar Heels need to "freakin' play," since their backs were against the wall.
"You've got to go out and fight until you frickin' die," said a heated Williams, who has been coaching with a sling for a few weeks after undergoing shoulder surgery this season and is now dealing with a bad head cold.
The mood in the Tar Heels' locker room was somber. Remaining games against Florida State, at Wake Forest, home against Miami and at Duke all seem difficult at this stage.
Said UNC senior forward
Deon Thompson
, "I guess I know how other teams feel now."
That emotion may not subside until the season ends.
February, 10, 2010
2/10/10
12:58
PM ET
January, 26, 2010
1/26/10
4:39
PM ET
Saddle Up is our nightly preview of the hoops your TV wants you to watch. Here's Tuesday night's rundown.
No. 1 Kentucky at South Carolina, 9 p.m. ET, ESPN
: Only
four players in the country use more of their team's possessions than South Carolina star Devan Downey
. DeMarcus Cousins is one of them. But where Cousins probably takes a few too many shots in Kentucky's offense -- John Wall and Eric Bledsoe are standing right there, DeMarcus -- the Gamecocks rely on Downey's production much the same way as Ohio State relies on Evan Turner. Perhaps even more. The question is whether Downey's gaudy offensive production is enough to stand up to a Kentucky team that is better than South Carolina in literally every way. The Gamecocks are especially vulnerable when the ball hits their own rim;
they rank 339th in the country at preventing opposing offensive rebounds
. Here's where it gets worse: Thanks to Cousins' prodigious rebounding ability, Kentucky ranks
No. 1 in the country in grabbing their own misses
. This smells like disaster. If the Gamecocks can keep Kentucky off the glass even occasionally, and thus give Downey a chance to go at Kentucky's defense on the other end, maybe South Carolina can hang with a Kentucky team that has had trouble putting away inferior opponents in the past. But if not -- if Cousins works as freely on the glass as the numbers suggest -- South Carolina has no shot. No matter how good Downey is.
In any case, tonight is Kentucky's first game as the No. 1 team in the country. Will that affect the Cats' play? Will it matter at all? This is not a team unused to hype, so I'm betting no ... but it's worth some attention all the same.
No. 5 Michigan State at Michigan, 7 p.m. ET, ESPN
: Can Michigan get a reschedule? This is really not a good time. Manny Harris is coming off a suspension. The Wolverines are still desperately looking for leadership. And John Beilein is saying things like this: "It's almost like the old-time days in the mid-majors. You got to go on a big string at the end of the year or you have to peak at tournament time and win the tournament. Those are our two options right now." Meanwhile, Michigan State is playing its best basketball of the season, or at least coming off its most emotional win, a come-from-behind last-second win at Minnesota on Saturday, the kind of win Tom Izzo teams always seem to get right before they figure things out and tear through the second half of their season. There are a lot of ancillary factors for Michigan at work here, and none of them look particularly positive.
No. 12 Kansas State at Baylor, 8 p.m. ET, ESPN360
: Fire up the laptops; this is tonight's best game. Baylor nearly beat Kansas at the Phog last week. Kansas State toppled Texas before dropping a home game to Oklahoma State on Saturday. So K-State is vulnerable, and Baylor is at home. This has the makings of a close one. Baylor's key? Keep the Wildcats off the free throw line, which they go to more than any other team in the country. K-State's key? Get to the free throw line (naturally), and also keep Baylor's perimeter shooting (the Bears make 40 percent of their threes and 53.3 percent of their twos) under wraps.
Everywhere else
:
West Virginia visits a DePaul team
that's playing slightly better since interim coach Tracey Webster took over ...
Clemson will take on Boston College in Boston on ESPN2
... Maryland will attempt to preserve their hot ACC start (
Gary Williams
' team is playing the best offense in the conference thus far)
against a cupcake-bloated Miami (FL) team in College Park
... North Carolina State has been better than expected and North Carolina has been far worse; which wins out
when the Heels head to Raleigh?
...
Seattle will visit Washington
with its secret weapon, former Washington juco recruit Charles Garcia in tow; check out Diamond's post about Garcia, who uses more of his team's possessions than any other player in the country,
here
.