College Basketball Nation:

Northeastern
February, 23, 2012
2/23/12
7:15
AM ET
By
ESPN Stats & Info
| ESPN.com
A scan of the college basketball box scores each night guarantees all kinds of statistical oddities and standout performances. Here are some we found from Wednesday.

Sam Houston State 50, Northwestern State 37
In what might have been the worst offensive game of the season:
Northwestern State set an NCAA record for most 3-point attempts without a make by missing all 26 of its 3-point attempts.
The teams combined to shoot 27-for-64 (42.2 percent) from the free throw line. The 37 combined misses are four more than in any other game this season.
The two teams combined for seven assists, the second-lowest total of the year.
Thanks to all the misses, the Bearkats' Antuan Bootle had 20 rebounds off the bench, only the second player this season with that many rebounds as a non-starter.
Ten players scored for Northwestern State despite the fact that the Demons scored only 37 points.
High Point 98, Campbell 60
High Point's
Nick Barbour
scored 44 points in 32 minutes, tied for the third-highest scoring output this season. No player had scored that many points in 32 minutes or fewer against a Division I opponent since Feb. 13, 2010, when UTEP's Randy Culpepper scored 45 in 32 minutes against East Carolina.
Northeastern 85, George Mason 82 (OT)
Northeastern's
Jonathan Lee
scored 27 points on four field goals (one 3) and 18 free throws. He's the first player to score that many points on four or fewer made baskets since Evansville's
Colt Ryan
scored 28 points on four field goals and 19 free throws on Dec. 23, 2010.
Marshall 66, Houston 58
The Thundering Herd made just 4 of 18 free throws (22.2 percent), the lowest free throw percentage in more than three years for a team with more than 10 attempts. Incidentally, Marshall shot 4-for-18 on 3-pointers as well.

Lafayette 84, Colgate 67
The Leopards made 18 3s in the win, tied for the third-most made 3s by a team this season. They made only 10 2s, becoming the seventh team this year to make at least eight more 3-pointers than 2-pointers.
November, 16, 2010
11/16/10
9:30
AM ET
CARBONDALE, Ill. -- Chris Lowery wants to restore order.
Bill Coen is just hoping to find some.
If ever there was a game showcasing the cyclical nature of basketball, this is it.
Southern Illinois, tired of being an afterthought in the Cinderella-rich Missouri Valley the past couple of years, is trying to climb back to its perch as mid-major darling. The Salukis were once an NCAA tournament staple and a hot pick for an early-round upset. But lately other teams in the conference have stolen SIU's thunder as the Salukis struggled to a 13-win season two seasons ago and a disappointing 15-15 finish last year.
This could be the season Lowery gets Southern Illinois back to its usual spot. He has two reliable seniors in
Carlton Fay
and
Justin Bocot
, plus a quartet of junior college transfers who are new to Southern Illinois, but as juniors hardly new to basketball.
Pardon Coen while he envies that wealth of experience.
He has
Chaisson Allen
and a whole bunch of newcomers. Allen, a terrific player and scorer, averaged 12 points last season. The rest of Northeastern's returning players averaged 10.7. Combined.
Allen will temporarily have to be a one-man band while the Huskies find their footing, a tall order against a Southern Illinois team playing at home.
The 9 a.m. local tip probably isn't ideal for anyone under the age of 40 (if my ancient memory serves, college students don't tend to be early-risers), but I'm hoping the novelty of the game time will draw the students out in droves and make for an early-morning jolt of mid-major hoops.
February, 13, 2010
2/13/10
8:34
PM ET
Eight o'clock thoughts:
Xavier comes much closer to punching an NCAA ticket with a big victory at Florida. The Musketeers had a week to stew on their beatdown at Dayton and came out flying in Gainesville. But most impressive was the fact that Xavier lost its big lead and never folded. Rookie head coach Chris Mack called a good timeout at the 10:32 mark of the second half with the game tied, and his team responded with a 12-2 run and kept the lead the rest of the way.

You also have to enjoy a solid senior like Jason Love. "Senior" can be a dirty word in the quixotic world of college basketball these days, but he's a success story. The post man has improved his scoring from 6.7 points as a junior to 11 as a senior, and his rebound numbers from 5.9 to 8.4. Against the Gators, Love had 20 points and 10 rebounds, showcasing his growth over his career.
The SEC was supposed to be much improved this year -- and I bought the hype -- but it's still nothing special. Kentucky is easily the best of the bunch, with Vanderbilt and Tennessee following, but after that it's a muddled mess. The SEC West might not have a single NCAA team in it.
Wayne Chism is going to test his injured ankle pregame to see whether he can go against Kentucky. If Chism isn't 100 percent, Tennessee has no chance in Rupp Arena. Even with him, the Volunteers might not have a chance.
When compiling my potential home-underdog upset list earlier today, I should have paid more attention to the Colonial Athletic Association. James Madison (3-11 in the CAA coming into the game) knocked off VCU (9-5 coming in). And William & Mary is up 14 at halftime on Northeastern, which entered the contest 12-2 in the league.
January, 28, 2010
1/28/10
12:45
AM ET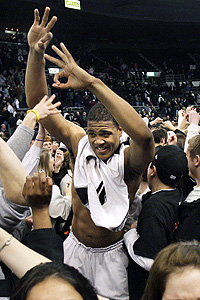 AP Photo/Elise AmendolaBilal Dixon and Providence had reason to celebrate after an 81-66 win against UConn.
Something I didn't think I would see:
Providence ahead of Connecticut
in the Big East standings. PC is 4-4, UConn is 3-4.
How about this quote from PC coach Keno Davis: "We can beat anybody in the country. We have enough talent, but we have to play extremely hard.'' I'm not sure I'm buying that proclamation, but it's good to know Davis has that much confidence in his crew.
UConn's win over Texas was as impressive a W as we've seen this season. But I knew if Connecticut was an elite team the Huskies had to win a game on the road that they're supposed to -- and they didn't. It's odd looking at the Big East standings and seeing UConn ranked No. 19 yet in 11th place in the league.
Not sure there was as impressive a road performance in the SEC (save Kentucky winning at Florida) as Vanderbilt's win at Tennessee. The Commodores got spirited production out of Jermaine Beal (25 points) and held the Vols to 6-of-20 on 3s. Vandy goes into Kentucky on Saturday with a chance to actually build a two-game lead on the Cats. Huh?
No one should fault BYU for losing at New Mexico, 76-72. The Pit is and will be one of the toughest places in the country to play, and I can tell you from years covering the Lobos that there is no opponent that gets the place as amped as the Cougars. BYU remains the MWC favorite even with the loss to the Lobos. But UNM desperately needed the win to stay in the race.
Memphis coach Josh Pastner picked up a quality road W by winning at Marshall to keep the Tigers in the C-USA league race.
Villanova's 18-1 record and 8-0 mark in the Big East after beating Notre Dame is as impressive as any in the country. But the Wildcats' schedule is back-loaded with road games at Syracuse, Georgetown and West Virginia that will be tough to tackle.
Duke won again at Cameron. I just don't see the Blue Devils losing at home. So that's eight ACC wins right there. The Devils have already won at Clemson. So that's nine. Pick up at least two road wins out of BC, Miami or Virginia (don't see UNC or Maryland) and the Blue Devils will likely win the league with 11 wins. That's unless Maryland decides to string together a bunch of road wins.
Florida is winning the games it should at home now with a 79-63 win over Georgia to move to 4-2 and move closer to an NCAA berth after two NIT years.
Drexel snuffed out Northeastern's win streak at 11 (which was the third-longest in the country) with an impressive 61-48 win on the road.
Hard to generate buzz for William & Mary now after the Tribe lost to James Madison by a deuce to fall to 6-4 in the CAA.
Hard not to cheer for Oklahoma State to beat Texas A&M on Wednesday, the ninth anniversary of the tragic plane crash that killed 10 people associated with the program. OSU beat the Aggies to move ahead of them in the standings at 4-2 (A&M is 3-3).
What has happened to LSU's offense? The Tigers led Alabama at the break, but scored just 13 points in the second half. Tasmin Mitchell and Bo Spencer were a combined 4-of-18 in the 57-38 loss at Alabama. The defending SEC champs are now 0-6 in league play.
Believe it or not, Hofstra's Charles Jenkins had an eight-point play in the Pride's 93-54 win over UNC Wilmington. He scored on a layup and was fouled. But it was ruled an intentional foul and then Wilmington's Benny Moss got a technical for arguing. Jenkins hit all four free throws (two for the intentional and two for the technical) and then Hofstra got the ball because of the intentional foul and Jenkins scored off the inbound pass with a floater. In five seconds, the score went from 26-9 to 34-9. Wow.