College Basketball Nation:

Northern Arizona Lumberjacks
December, 20, 2012
12/20/12
1:10
PM ET
By
Jeremy Lundblad, ESPN Stats & Info
| ESPN.com
Every other week in these parts, we'll unveil our list of the nation's top 10 freshmen. As with first-year players, this list is bound to be fluid throughout the season. So if you don't see your favorite player on these initial rankings today, check back with us for later editions. Or you can just leave us an angry comment in this one.
Without further ado, here are the choices (followed by a notable player from the past who put up similar numbers as a freshman):
[+] Enlarge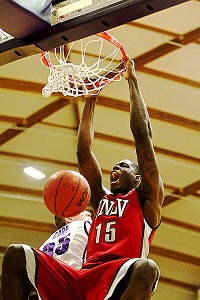 Jaime Valdez/USA TODAY SportsAnthony Bennett's size and perimeter ability break the mold of the traditional power forward.
1. Anthony Bennett, UNLV --
19.4 PPG, 8.6 RPG, 54.7 FG pct
Freshman Statistical Comparison: Tyler Hansbrough, North Carolina (2005-06)
As the most consistent and most prolific freshman in the nation, Bennett has distanced himself from the pack. He's the top freshman scorer (19.4) and ranks fifth in rebounds (8.6). His 19-8 averages were achieved by only four freshmen over the previous 10 seasons: Kevin Durant, Michael Beasley, Kris Humphries and Carmelo Anthony. Pretty good company. Forget freshman honors, Bennett's in the conversation for national player of the year.
2. Marcus Smart, Oklahoma State --
12.7 PPG, 6.6 RPG, 5.2 APG, 2.6 SPG
Freshman Statistical Comparison: Jason Kidd, California (1992-93)
Statistically, the last freshmen to fill up the score sheet like Smart were Jason Kidd and Penny Hardaway. On top of lockdown defense, he's averaging 12.7 points, 6.6 rebounds, 5.2 assists and 2.6 steals. Arguably the top freshman in November, Smart's production has waned a bit this month. His turnovers are high and he's shooting only 35 percent from the field on the season. With those caveats aside, there's really no one like him.
3. Jahii Carson, Arizona State --
17.9 PPG, 5.3 APG
Freshman Statistical Comparison: Jerryd Bayless, Arizona (2007-08)
Three of the top 20 recruits in the nation enrolled at Arizona this year, but there's little question that the most impressive freshman in the state plays in Tempe. Carson (17.9 ppg) trails only Bennett is scoring, while also ranking in the top five in assists (5.3). It has been 16 years since a freshman averaged 17 and 5 (Seton Hall's Shaheen Holloway in 1996-97). On a team picked to finish 11th in the Pac-12, it's no surprise that the Sun Devils are leaning heavily on Carson. If he turns ASU into a conference contender, he might lock up this award. But keep in mind that the last USBWA Freshman of the Year to miss the NCAA tournament was Eddie Griffin in 2000-01.
4. Ben McLemore, Kansas --
15.9 PPG, 5.7 RPG, 2.3 APG
Freshman Statistical Comparison: Courtney Lee, Western Kentucky (2004-05)
Kansas is the only team in the top 20 with a freshman leading the team in scoring. McLemore (15.9 PPG) is on track to break Danny Manning's freshman scoring record, while joining Brandon Rush as the only freshmen to lead the Jayhawks in scoring over the past 30 years. An interesting side note: Both McLemore and Carson are redshirt freshmen, who were ineligible last season. They were ranked back-to-back (at 49th and 50th, respectively) in the ESPN 100 for the Class of 2011.
5. Archie Goodwin, Kentucky --
15.8 PPG, 5.4 RPG, 4.4 APG
Freshman Statistical Comparison: Tyreke Evans, Memphis (2008-09)
Goodwin is putting up numbers eerily similar to another John Calipari freshman sensation, albeit from his pre-Kentucky days. Like Goodwin, Tyreke Evans was pressed into point guard duty for Memphis in 2009, finishing the season at 17.1 PPG, 5.4 RPG and 3.9 APG. Through 10 games, Goodwin is averaging 15.8 PPG, 5.4 RPG and 4.4 APG. Just like John Wall and Brandon Knight did as freshmen, he leads the Wildcats in points and assists.
6. Nerlens Noel, Kentucky –
10.7 PPG, 9.0 RPG, 3.9 BPG, 2.8 SPG
Freshman Statistical Comparison: Tyrus Thomas, LSU (2005-06)
In the span of a month, Noel went from overrated to overlooked. That's what expectations will do for you. Maybe he won't be the next Anthony Davis, but his numbers on the defensive end are worthy of praise. Noel leads all freshmen in steals (2.8), ranks second in blocks (3.9) and fourth in rebounds (9.0). He's the only player, regardless of class, ranked in the top 50 in steals and blocks. Even if his offense doesn't come around, Noel will remain among the most impactful freshmen.
[+] Enlarge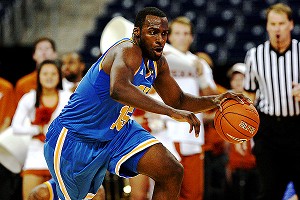 Troy Taormina/USA TODAY SportsUCLA's Shabazz Muhammad has been stellar since becoming eligible this season.
7. Shabazz Muhammad, UCLA --
17.8 PPG, 4.8 RPG
Freshman Statistical Comparison: Rashad McCants, UNC (2002-03)
While Muhammad missed the first three games of the season,
Jordan Adams
exploded out of the gate. But Muhammad has been the Bruins' most consistent player since becoming eligible. He's up to 17.8 ppg, the fifth-highest scoring average among freshmen. A week ago, he wouldn't have been on this list. But after totaling 46 points over the past two games, Muhammad is coming on strong. Apart from Kevin Love, no one has been a bigger threat to Don MacLean's school freshman scoring record (18.6 ppg).
8. Semaj Christon, Xavier --
14.7 PPG, 5.2 APG
Freshman Statistical Comparison: Dominic James, Marquette (2005-06)
Cramps limited Christon to 23 minutes against Cincinnati, blocking him from a potential statement game. On a team that lost its top six scorers, he has thrown the Musketeers on his back with the fifth-highest usage percentage of any freshman. He's on track to be Xavier's second-leading freshman scorer of all time behind Byron Larkin (17.0 in 1984-85). All that's missing is the deep threat. Christon is 2-for-11 from 3-point range.
9. Rasheed Sulaimon, Duke --
12.7 PPG, 2.7 APG, 3.6 RPG
Freshman Statistical Comparison: E'Twaun Moore, Purdue (2007-08)
While most of his brethren dominate lesser competition, Sulaimon is getting it done against the nation's elite. With 17 points against Ohio State and 14 against Louisville, he's a big reason that the Blue Devils are unbeaten and No. 1 in the nation. He doesn't have the flashiest numbers, but Sulaimon is third on Duke in points, rebounds, assists and steals.
10. Nik Stauskas, Michigan --
13.2 PPG, 54.7 3-pt FG pct
Freshman Statistical Comparison: John Jenkins, Vanderbilt (2009-10)
The least heralded recruit on this list, Stauskas was ranked 76th in the ESPN 100 coming out of St. Mark's in Southborough, Mass. But the Canadian has been just the deep threat that John Beilein needed at Michigan, shooting 54.7 percent from 3-point range. That puts him on pace to break Jay Edwards' 25-year-old record for 3-point percentage by a freshman (53.6).
Just Missed:
T.J. Warren
(NC State),
Isaiah Austin
(Baylor), Jordan Adams (UCLA)
Rising:
James Robinson
(Pittsburgh),
Jakarr Sampson
(St. John's),
John Brown
(High Point)
Falling:
Brandon Ashley
(Arizona),
James Woodard
(Tulsa),
Dewayne Russell
(Northern Arizona)
November, 29, 2012
11/29/12
12:38
AM ET
By
ESPN.com staff
| ESPN.com
October, 16, 2012
10/16/12
6:50
PM ET
By
ESPN.com staff
| ESPN.com
Before we get to the Blue Ribbon team-by-team previews for the Big Sky, here is Eamonn Brennan's quick wind sprint through the league:
Blue Ribbon breakdowns of all 11 teams in the Big Sky:

Eastern Washington
Idaho State
Montana
Montana State

North Dakota
Northern Arizona
Northern Colorado
Portland State
Sacramento State
Southern Utah
Weber State
October, 13, 2011
10/13/11
11:54
AM ET
By
Diamond Leung
| ESPN.com
Before we get to the Blue Ribbon team-by-team previews for the Big Sky, here is Diamond Leung's one-minute wind sprint through the league:
Blue Ribbon breakdowns of all nine teams in the Big Sky:
Eastern Washington
Idaho State
Montana
Montana State
Northern Arizona

Northern Colorado
Portland State
Sacramento State
Weber State
More Big Sky content
:
-- New Faces, New Places: In a dozen seasons at the Division III level, Jim Hayford never had a losing season.
Diamond Leung examines
whether the new Eastern Washington coach can continue his winning ways.
-- Joel Francisco gives the lowdown on the
recruiting picture
in the Big Sky.
-- Find out how Weber State star Damian Lillard
spent his 21st birthday
.
February, 1, 2011
2/01/11
11:47
AM ET
By
Jeremy Lundblad, ESPN Stats & Info
| ESPN.com
Inside the numbers behind Monday's top performances
1. Texas held Texas A&M to just 30.9 percent from the field in a 69-49 win. It was the Aggies' worst shooting performance at home since a 2001 loss to Kansas State. A&M leading scorer
Khris Middleton
was held scoreless on 0-for-9 shooting, which continued a rather amazing stretch for the Longhorns' defense. Texas has held each of its past four opponents under 36 percent from the field. Three of those games were against ranked teams, and three were also on the road. Combined, those four teams have shot 33.3 percent against Texas, including 20.0 percent from 3-point range. Since a Dec. 5 loss at USC, Texas has won its past five true road games. That includes wins at Michigan State, Kansas and now Texas A&M, all top-20 teams at the time. In front of their own fans, those five teams have shot 33.4 percent from the field and 15.9 percent from long range.
2. Texas is one of 10 remaining teams unbeaten in conference play. The Longhorns are 7-0 in league play for the first time in 33 years. All seven wins have come by double-digits, with the closest being an 11-point victory at Kansas. Texas is outscoring conference opponents by an average of 18.7 ppg, second only to Belmont's 22.2 in the Atlantic Sun. The Big 12 record for ppg differential in conference play is 19.3, set by the 1998 Jayhawks, who went 15-1 in league play. This season's UT squad had held Big 12 opponents to a 36.0 field goal percentage, which would be a conference record. Conference opponents are now shooting just 19.0 percent from 3-point range. Not only would that be a Big 12 record, but no team in any conference has done better in league play in the past 15 years. Saint Joseph's held A-10 opponents to a 24.4 3-pt FG pct in 2004, which is currently the best in the past 15 years.
3. Georgetown shot 47.8 percent from the field in its 62-59 win against Louisville. However, that number doesn't even come close to telling the story. After a first half in which the Hoyas shot just 31.0 percent, they hit 13 of 17 shots (76.5 percent) after halftime. Following up his first scoreless performance since his freshman year,
Chris Wright
scored a season-high 24 points. Wright had 16 of those points in the second half on 4-for-7 shooting. While Wright led the second-half charge, the rest of the team was certainly accurate. Hoyas other than Wright were 9-for-10 from the field in the second half. In the first half, those same players shot just 22.7 percent.
4. Kyle O'Quinn flat out had a game in Norfolk State's 110-108 double overtime win against Coppin State. The junior center finished with a career-high 37 points, including a pair of free throws to break a 108-108 tie. He also tied a career-high with 19 rebounds and added six blocks. It's the first 35-15-5 game by a D-I player since Austin Peay's Drake Reed in 2009. However, no one in the past 15 seasons has put up a line of at least 37-19-6. O'Quinn had a solid line if you just look at his numbers after halftime: 25 points and 10 rebounds. The reigning MEAC Player of the Week, he's now averaging 29.0 ppg, 13.3 rpg and 4.0 bpg in his past three games.
5. Northern Arizona came up with a big 65-54 win against Northern Colorado, which had entered the game 7-1 in the Big Sky. What makes this one interesting is that the Lumberjacks won despite shooting 26.7 percent from 3-point range. Northern Arizona came into this one as the most accurate 3-point shooting team in the nation at 44.7 percent. Last night's performance brings them down to 43.8 percent, still the best in the nation. In fact, NAU is on track to be the most accurate 3-point shooting team since Illinois State shot 44.0 percent in 2003.
January, 7, 2011
1/07/11
11:11
AM ET
By
Jeremy Lundblad, ESPN Stats & Info
| ESPN.com
An inside look at some of Thursday's top performances:
1. Arizona's
Derrick Williams
had a career-high 31 points (including 19 in the second half), as the Wildcats held off Cal 73-71. The sophomore broke his own school record by attempting 22 free throws, of which he made 16. Averaging 9.5 attempts per game, Williams gets to the line more than any other power conference player. In fact, Rice's
Arsalan Kazemi
(9.7) is the only player in the nation who spends more time at the line. If Williams keeps up this rate, he'd be the first Pac-10 player since Leon Powe in 2005 to average nine or more free throw attempts per game. Just how important is his performance at the line? Williams is shooting 81.9 percent from the charity stripe in Arizona's wins, but just 52.0 percent in losses.
2. Illinois set a school-record by shooting 70.5 percent from the field in its 88-63 win against Northwestern. It topped a 1985 game in which the Illini shot 69.1 percent. The Big Ten hasn't seen a conference game like this since 2004, when Michigan State shot 73.3 percent against Ohio State in 2004. Thursday's performance also marked the second-highest field goal percentage in a game this season behind SMU's 72.3 percent against Lamar in November. The Illini hit 18 of their first 22 shots (81.8 pct) to take a 23-point halftime lead. Through three Big Ten games, Illinois is shooting 64.7 percent from the field and 63.6 percent from 3-point range.
3. Northern Arizona avoided an 0-3 start to its Big Sky schedule with an 82-80 overtime win against Idaho State.
Cameron Jones
was the hero with 31 of his career-high 37 points coming after halftime. However, the more interesting scoring line came from teammate
Stallon Saldivar
. The sophomore point guard handed out a career-high 13 assists, but didn't score a single point. It's the most assists in a scoreless game since Charlotte's DiJuan Harris had 15 back in 2009. Saldivar also didn't have a turnover in this one, giving him the most assists without a turnover in a game this season. While several players have matched his 13, the last player to put up more assists without a turnover was UTEP's Filiberto Rivera with 18 in 2005. On the season, Saldivar has a 3.54 assist-to-turnover ratio, sixth-best in the nation.
4. Boise State needed four overtimes to top San Jose State 102-101, a game that resulted in a bevy of fun facts. It marked the Broncos' longest-ever game, and matched a record set in 1985 for SJSU. The Spartans scored more than 100 points for the first time since 1979, a stretch of 914 games. San Jose State's
Justin Graham
played all 60 minutes and matched his career-high with 29 points. The Spartans played all of the extra frames without
Adrian Oliver
, the nation's third-leading scorer. Boise State's marathon man was
Paul Noonan
, who finished with 20 points and nine rebounds in 57 minutes. The Broncos missed six of 10 free throws in the final two minutes of regulation, but then hit 12 of 14 in the overtimes.
5. Imagine your starting lineup scoring only 15 points. Now imagine actually winning that game. That's what happened in Alabama State's 50-47 victory against Grambling State. The Hornets starters combined to shoot 4-for-18 from the field and 6-for-17 from the line. The 15 points from the starters is fewest in a win since last season when St. John's beat Cincinnati despite just 13 points out of its starting lineup. Alabama State is the lowest-scoring team in the nation (52.9 ppg), and its starters only average 25.9 ppg, the fewest in the nation. At just 8.0 ppg,
Kenderek Washington
is the leading scorer for the Hornets, a team that made the NCAA tournament in 2009.