College Basketball Nation:

Northern Iowa
February, 17, 2010
2/17/10
9:00
AM ET
The Morning After is our semi-daily look at last night's best basketball action. Try not to make it awkward.
No. 2 Kentucky 81, Mississippi State 75
: The most obviously intriguing part of Tuesday night's Kentucky-Mississippi State match up -- at least before the game began -- was the interior battle between two of the country's best big men,
Jarvis Varnado
and
DeMarcus Cousins
. By the end of regulation, that was no longer the case. Varnado was on the bench, thanks to five fouls. Cousins was on the floor, grabbing rebounds and dominating in the paint. And the game had become so much more.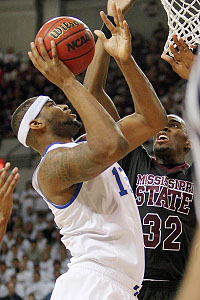 AP Photo/Rogelio V. SolisKentucky's DeMarcus Cousins, left, finished with 19 points and 14 rebounds against Jarvis Varnado and Mississippi State.
It's always tough playing Kentucky (duh, Eamonn, thanks for the brilliant analysis); it's even tougher when your all-world defensive player and team-leading rebounder gets his fifth foul with plenty of time left in the second half (hey, you're welcome). Really, Mississippi State deserves credit just for pushing the game to overtime, because it was unlikely they'd make it that far after Varnado's foul-out. They did, though, and they gave us a thrilling game in the meantime, pushing Cousins and
John Wall
and
Patrick Patterson
to their best in a hard-fought SEC road win.
A few other notes:
1. Mississippi State fans celebrated their team's loss by
throwing water bottles and other junk onto the floor
. Combined with
their racist and God-knows-what-else text messages to DeMarcus Cousins before the game
, this was not a particularly strong national showing for the denizens of Starkville. Seriously, guys? Water bottles?
2. Kentucky fans will be happy to see Patrick Patterson playing well again. After drawing criticism earlier this season, Patterson looked like a dominant big man at times on Tuesday night; his contributions made the whole Varnado-Cousins faceoff a moot point.
3. John Calipari used all three of his remaining timeouts in the last six seconds of regulation, which resulted in a double-teamed
DeAndre Liggins
hoisting a prayer (which, to his credit, almost fell) from the baseline corner as time expired. I'm guessing this is not the shot Calipari wanted, but you'd think with all those timeouts, the Cats would have been able to get something better.
In any case, great game. Kentucky rolls on. State completes a valiant effort in a near-loss to an uber-talented, highly-ranked team. And Mississippi State fans get to spend some much-needed time in the corner. Everybody wins. (Well, you know, except Mississippi State. They actually, like, literally lost. But you know what I mean.)
Virginia Tech 87, No. 25 Wake Forest 83
: Virginia Tech couldn't get no respect. This is the Hokies' fault -- building a 20-4 record against one of the worst schedules in recent memory (No. 340 in strength of schedule, to be exact) has a lot to do with scheduling; you almost have to try to play a non-conference slate as bad as Va. Tech's. I mean,
just look at it
. It's ... it's breathtaking. And not in a good way.
Nevermind that, now. The Hokies may have started their season with dreck, but they're ending with their most difficult and important games, and so far, so good.
It wasn't just that Virginia Tech
won
; it's how. Trailing by 11 with 16 minutes to play,
Malcolm Delaney
led his Hokies on a comeback, scoring 10 of his 31 points (he finished with nine rebounds, too), making big bucket after big bucket to get his team its all-important second win over a top 50 RPI team. As big as this game was for the Hokies' national respect, it should do just as much for Delaney's -- the guard just so happens to be leading the ACC in scoring at 21.2 points per game. I bet you didn't know that. What I didn't know was whether to believe in Virginia Tech. Another win or two like Tuesday night's, and we won't have a choice.
Everywhere else
: Weirdly enough, Indiana was out-everything'd (not an actual word, but let's roll with it) by Michigan State last night but managed to hang tough until the second half,
when the light-years-more-talented Spartans eventually pulled away
... Without suspended
Jordan Eglseder
,
UNI rolled Creighton to clinch the MVC regular-season crown
... Baylor might have sealed its own tourney fate (in) as well as Texas Tech's (out; hey, this is turning into an episode of Project Runway),
as the Bears gave the Raiders their seventh conference loss
... Meanwhile, two teams moving in relatively opposite directions in the Big East did exactly that Tuesday night,
as South Florida edged Cincinnati
... and, not to rub any more salt in UNC fans' wounds, but you know it's bad when ESPN anchors stop during your highlight to talk about how much they're not used to seeing
this sort of scoreline
. Ouch. (Also:
"Ed Davis, 0 points."
Double ouch!)
February, 16, 2010
2/16/10
4:02
PM ET
Saddle Up is our nightly look at the hoops your TV wants you to watch. Here's Tuesday night's rundown.


No. 2 Kentucky at Mississippi State, 9 p.m. ET, ESPN
: Unstoppable force, immovable object.
DeMarcus Cousins
,
Jarvis Varnado
. Even if Kentucky rolls over Mississippi State in Starkville tonight -- certainly no guarantee, despite Kentucky's vastly superior backcourt talent -- this matchup alone is worth your undivided attention. Cousins is a dominant freshman with a burgeoning skill set and one of the
best interior offensive stat lines in the country
. (Cousins gets a ton of offensive rebounds, takes a ton of shots, and makes most of them.) Varnado, meanwhile, is the best shot blocker in the country, and maybe of the past decade -- averaging five blocks a game this season, he's well on his way to setting the NCAA career record for blocked shots. He also leads the Bulldogs in rebounds, many of which come on the defensive end; he's one of the best in the country at that, too.
Unfortunately for Mississippi State, Varnado can shut down Cousins and the Cats can still roll. (Kentucky still has this dude named
John Wall
. I suppose he's pretty good.) Regardless of the outcome, though, Cousins-Varnado might be the year's best big man matchup, at least until we can get these two to play
Cole Aldrich
in a game of 21. You should probably watch.


No. 25 Wake Forest at Virginia Tech, 7 p.m. ET, ESPN2
: While Indiana is taking its probable beating from Michigan State on ESPN at 7 p.m., you might also flip over to ESPN2, a game with actual tournament implications. (Though I suppose Michigan State could lose to Indiana, and that would have tournament implications ... but whatever, you see what I mean.) See, Virginia Tech is 20-4. That's a gaudy record. It was also amassed against one of the worst schedules in the history of college basketball, and I'm barely exaggerating: The Hokies are ranked No. 344 -- No 344! -- in nonconference strength of schedule this season. They have one win over a team in the RPI's top 50 (Clemson). Their best wins are over Seton Hall, Miami, North Carolina, Georgia, and Virginia (twice). Sorry, but this is not the résumé of an NCAA tournament team -- at least not yet. Tonight, Va. Tech gets its chance to prove the haters wrong, notch another RPI top-50 win and build momentum for its backloaded ACC slate, which includes games at Duke, vs. Maryland and at Georgia Tech. Contender or pretender? Tonight, the Hokies have a chance to answer.
Everywhere else
: The first game of
Jordan Eglseder
's controversially short suspension is tonight,
when UNI plays Creighton in Cedar Falls
. ... As mentioned above,
Indiana will try to recover from its ugly Big Ten losing streak as MSU attempts to stave off a letdown
. ... Texas Tech, still trying to play its way into the tournament,
will go to Baylor
, which already has. ...
Dominique Jones
and
Lance Stephenson
do anything for you?
Cincinnati-South Florida sounds entertaining, at least
. ... Less entertaining:
Rutgers at DePaul
. ... North Carolina will look to build on last week's near-miss against rival Duke
with a trip to Georgia Tech
. ...
Drexel will play VCU in a matchup of putative CAA contenders
.
February, 15, 2010
2/15/10
5:30
PM ET
UNI coach Ben Jacobson is drawing heat from all sides today. The reason?
Jordan Eglseder
.
Eglseder is Northern Iowa's 7-foot center and second leading scorer. He's also, unfortunately, in some trouble. Mere hours after UNI's loss to Bradley Saturday,
Eglseder was pulled over and charged with operating a motor vehicle while intoxicated
. As punishment, Jacobson suspended Eglseder for ... three whole games. Harsh, dude. Harsh.
This rather lenient punishment happened for obvious reasons -- UNI can't afford to lose any more league games and stay on the right side of the bubble, and the Panthers desperately need Eglseder to make sure that doesn't happen. Losing Eglseder for the rest of the season or the NCAA tournament would be dire for UNI's chances to make waves in March.
Of course, that's also a somewhat cynical approach. From
College Hoops Journal's Matt Norlander
:
Eglseder is a key player for the Panthers. He accounts for more than 12 points and nearly eight rebounds per game. He's a 7-foot lug in a conference and a sport that lacks them. Northern Iowa is on the bubble right now, and with another two losses, it would likely mutate from an at-large candidate to a sure-fire NIT squad. Making The Tournament would be an economic boost to the school. So with that in mind, it seems, at this hour, that head coach Ben Jacobson is content with the perception that he goes easy on his players when they break the law. Three games is weak, I don't care how thin your bench is.

[...] That's version 24 out of How to React to Controversy coach's handbook, I believe. The games Eglseder is schedule to miss: Creighton, Old Dominion and Evansville. ODU is noteworthy because it's the BracketBusters game. I wish Jacobson would send a message and pine the kid until the conference tournament at least. Creighton and Evansville would struggle to beat UNI this year even if the Panthers only played four guys.
Norlander isn't the only person making this case;
Andy Katz's first tweet
on the subject
was met with the same reaction
. Most people are comparing Elgseder's punishment to
Brady Morningstar
's,
the Kansas guard who was arrested
for a DUI in the fall and suspended for an entire semester. There are a couple of pertinent differences there -- Kansas is super-deep, the fall semester isn't nearly as crucial as UNI's stretch run and Morningstar had previously been involved in a fight on Kansas' campus between football players and the basketball team.
Still, the general concern is the same, and critics of Jacobson have a point here. Eglseder's punishment
is
lenient. It's driven less by educational concerns than by the desire to get a star player back on the court as quickly as possible. For all of college basketball's highfalutin rhetoric about student-athletes and academia, the core of the sport is no more noble than any other.
February, 13, 2010
2/13/10
5:25
PM ET
You already know all about what Siena's loss to Niagara means for the Saints.
It's, um, not good
. Now, just over 12 hours later, Northern Iowa can feel the Saints' pain.
Bradley hosted Northern Iowa in beautiful Peoria, Ill. today. Things did not go well. The Braves, sitting at .500, took advantage of an inefficient, cold Panthers team -- UNI shot 18-of-55 from the field, including 6-of-30 from behind the arc, committing 16 turnovers in the process.
The loss moves UNI to 22-3, with two wins over top 50 RPI teams in Wichita State and Siena, neither of whom are NCAA tournament locks. UNI's case isn't as dire as Siena's, at least not yet; the Panthers have played a much tougher schedule than the Saints, and a 13-2 record in the MVC is nothing to sniff at. Their RPI of 14 is considerably more impressive than Siena's No. 33 ranking.
But UNI lacks marquee victories, and 15 of their wins have come against teams with RPIs of over 100. A loss to DePaul is a confusing blemish. Assuming UNI won out in the MVC regular season, it was a lock, but this loss to Bradley throws everything into flux, much like Cornell and Siena before them.
Much like those two teams, this is another bummer. Anyone interested in college hoops wants to see how these teams do in the NCAA tournament, and this loss throws another such squad into an uncertain position. Now, it's up to UNI. An MVC conference tourney title may not be a must ... but it sure wouldn't hurt, either.
February, 10, 2010
2/10/10
3:45
PM ET
Saddle Up is our daily look at the hoops your TV wants you to watch tonight. Here's Wednesday night's rundown. Special programming note: I'll be flying to Indianapolis tomorrow to participate in the NCAA's mock selection committee, so my blogging may be a little light these next couple of days. I'm sure you'll find a way to persevere.


No. 7 Duke at North Carolina, 9 p.m. ET, ESPN
: Given the average college basketball fan's general fatigue with Duke-North Carolina -- everyone likes to complain about the attention these two teams always receive, and not without reason -- you might be struggling to find a reason to care about tonight's game. After all, if North Carolina (13-10, 2-6 in the ACC) is this bad, what's the point? Won't Duke just roll?
Maybe. Maybe not. Duke is certainly a more complete and more polished team than the Tar Heels. Veterans
Jon Scheyer
and
Kyle Singler
and the rest of Duke's formidable lineup constitute a major advantage over UNC's talented but inexperienced bunch. But it's not that cut and dry. Duke has major flaws, and one of them is that it's just not very good on the road. Let's not forget the
Devils' trouncing at Georgetown two weeks ago
. Nor should we ignore
Duke's loss at NC State
two weeks before that. Duke played very few nonconference road games, and it's been punished for it since, going 2-4 on the road in six tries overall. For a team with national title aspirations, Coach K's bunch has a way of looking decidedly average away from Cameron Indoor.
Meanwhile, North Carolina is in a horrific tailspin. What better way to turn the season around after losing six of your last seven than by getting a win at home over your hated rival? What better way to build confidence in your young players than by them proving to themselves they can play with an elite group like Duke? Or maybe the inverse happens: Duke dominates UNC at home in front of a disgusted crowd, and Roy Williams has to figure out how to get his team to recover from its latest disaster -- and how to talk to the media without
sounding depressed and apoplectic after the game
. The outcome will be high drama, in its own marginal way.
This might not be vintage UNC-Duke. You won't confuse tonight's lineups with anything you'll see on ESPN Classic. But sleep on it at your own peril. For reasons different than the past, this rivalry might surprise you yet.


Connecticut at No. 3 Syracuse, 7 p.m. ET, ESPN
: Speaking of intrigue, or a lack thereof ... ladies and gentlemen, allow me to present UConn-Cuse 2010! These two teams have taken opposite trajectories to end up where they are today. Syracuse was seen as a marginal Top 25 team at the beginning of the season; the Orange has morphed into one of the few viable challengers to Kansas' putative crown. UConn was a top 15 team to begin the year, and has morphed into a Jim Calhoun-less shell of its former self -- dominant shot-blockers on the defensive end (where the Huskies are No. 1 in the country for the ninth year in a row)
and barely average at almost everything else
. Jim Calhoun is being mentioned for coach of the year awards. Jim Calhoun is still on a leave of absence with no return date imminent.
It's hard to spin those conditions into something positive, even for me, and I'm positive (to a fault, admittedly) about any and all college basketball on my television. It's college hoops! It's awesome in and of itself! We get to watch basketball! Hooray for basketball! But it's hard not to feel the same sinking feeling many will have about Duke-UNC, and that many had about Kansas-Texas --
this game should be so much better
. It's up to UConn to prove us wrong. (In the Carrier Dome. Against a dominant 2-3 zone. With a team that can't shoot. Um, good luck, I guess?)


No. 19 New Mexico at No. 25 UNLV, 11 p.m. ET
: It would be criminal to focus on the above games and not give what could be tonight's best, most important matchup some love. New Mexico at UNLV is tonight's only game featuring two top 25 teams, and that's not the only reason to watch. Whoever wins tonight takes over first place in the Mountain West, where three teams (these two, plus BYU) are vying for NCAA tournament bids. Plus it features a matchup between the conference's two best wing players, New Mexico's
Darington Hobson
and UNLV's
Tre'Von Willis
. New Mexico rarely turns the ball over; UNLV thrives on forcing steals. New Mexico loves to get to the free throw line; UNLV never allows its opponents that luxury. Stay up past your bedtime, East Coasters. You don't want to miss the game of the night.
Everywhere else
:
Ohio State will visit Bloomington
, where the Hoosiers have been a tough out all year. But tough enough to keep
Evan Turner
Line Watch from showing up in the morning? Doubtful. ...
Northern Iowa will go on the road to play a pesky Drake squad
, which wants this win forever, man (sorry). ... Georgia Tech has lost its last two games on the road and
will try to avoid a third at Miami
. ...
Florida goes to Columbia
, where a banged-up
Devan Downey
should be in the lineup. ...
Northwestern's game at Iowa is a must-win for the Wildcats' tournament chances
. ... and a pair of important A-10 battles --
Charlotte at Dayton
;
Richmond at Rhode Island
... will go down.
February, 4, 2010
2/04/10
10:47
AM ET
The Morning After is our semi-daily recap of the night's best basketball action. Try not to make it awkward.
No. 6 West Virginia 70, No. 21 Pittsburgh 51
: Who wants to go play in Morgantown? Not me. Granted, I am not a college basketball team, so I don't have to worry about that. If I was an opposing team, though, I would officially see the angry fans -- the people who threw spare change onto the court (make it rain!) as Pitt rebounded and closed the deficit last night,
prompting Bob Huggins to grab the microphone and tell fans "that's stupid"
-- and I would get a little nervous. But the real cause for concern is the Mountaineers themselves. West Virginia is officially finding its stride. Huggins' group has won five straight over Big East foes in consistent and overpowering ways, especially on the offensive glass -- WVU grabbed 57.6 percent of its misses on offense last night, leading to a variety of second-chance buckets and putbacks, and that's the key right there. That's how West Virginia wins. They don't have to shoot the ball all that well. They just have to rebound. If you can stop them, you can win, but good luck: No one's figured it out yet.
Pittsburgh shouldn't be too discouraged by this result, which started OK and then got ugly after the half. (Speaking of ugly and true to its name, the Backyard Brawl included some mild brawl-like occurrences late in the game.) Why? Because the Panthers never really found their shot, and despite a high number of free throws and plenty of offensive rebounds of their own, the lack of shooting wasn't enough. It should correct itself in time. That might not make Jamie Dixon, whose team has now lost four of its last five, feel any better. But it's true.
No. 1 Kansas 72, Colorado 66
: I barely previewed this game
in Saddle Up
, and that tiny mention was merely this: "New No. 1 Kansas will try to avoid the fate of last week's No. 1 when it hits the road for a meeting with a marginal conference opponent." Lesson learned: Don't sleep on marginal conference opponents at home. Of course I knew this already, but sometimes it takes a little reminder, and last night's thrilling back-and-forth in Boulder (my third favorite college town of all-time, and I've only been there for like three hours) was all that and more.
Part of me wants to say I knew Colorado had this in them -- the Buffs were
pesky against Gonzaga
and
Arizona
in Maui in November, after all. But I didn't. Rather, I expected Kansas to take control of the No. 1 seed and avoid the road pitfalls that have so frequently plagued other No. 1s this year. Oh well. The Jayhawks weren't at their finest, and Colorado deserves credit for finding a way to hang in
despite not really beating Kansas in any particular phase of the game
, but after Colorado missed its last-second opportunity in regulation, you had to figure Kansas would overpower the Buffaloes in overtime. So it did, and so it stays. But at least it was interesting on the way down.
South Florida 72, No. 8 Georgetown 64
: "Y'all come watch
Dominique Jones
play!"
That was the sentence
screamed from Georgetown's court by -- who else? --Dominique Jones Wednesday night, just after Jones scored 22 of his 29 points in the second half to give South Florida its biggest win in program history. Um, you guys? Maybe we should listen to him. If you caught any glimpse of the game last night, or if you've seen Jones in the past, you know: Jones is an occasionally dominating college basketball player, a guy with skills to isolate the ball at the top of the key but the size outrebound and physically dominate smaller defenders. Check out
the move he makes at the -0:15 mark in these highlights
. Strength, size, speed and skill, all melded into one. Watch him play. He wasn't joking.
Everywhere else
: Running out of words in a hurry, so let's go to the lightning round: UAB will have to wait to take full control of Conference USA,
as Memphis topped the Blazers by 10
and pulled itself into a tie for the conference lead. ...
Vanderbilt got a major late challenge from Mississippi State
;
Jarvis Varnado
had
another ho-hum nine-block effort
. ...
Northern Iowa hung on at home over Wichita State
, avenging its earlier loss in Wichita and moving to 11-1 in the Missouri Valley. ...
Evan Turner
line watch: 27 points, 10 rebounds, six assists, and three steals (!!). ...
Baylor cruised over Iowa State at home
. ...
Georgia State handed George Mason its second conference loss
, moving Jim Larranaga's squad to 10-2 in the CAA and making a conference tournament win a must.
January, 20, 2010
1/20/10
9:00
AM ET
The Morning After is our semi-daily recap post. Try not to make it awkward.
No. 18 Georgia Tech 66, No. 16 Clemson 64
: Sometimes size is all you need. That's the prognosis over Georgia Tech's last-second win over Clemson Tuesday night, wherein
Trevor Booker
fouled Zachary Peacock on the arm with three seconds remaining, putting Peacock on the line to hit the game-winning free throws. Booker shouldn't feel too bad; he led Clemson in points (19), rebounds (nine), steals (three) and blocks (two), and in the all-important "impressive breakaway dunk that causes a "SportsCenter" anchor to inexplicably and awesomely reference 'Lost In Translation'" category with one. (Check the highlights
here
if you don't believe me.) In the end, though, the Georgia Tech win came down to size, specifically the size possessed by
Gani Lawal
and
Derrick Favors
. Favors went for 17 and 14, and finally appeared to be breaching his uber-prospect potential -- this was one of those "oh, THAT'S why" games -- and he and Lawal scored a combined 66 percent eFG. Their work on the interior also gave
Georgia Tech a decided offensive rebounding advantage
, and in a tough, somewhat ugly conference game, that was enough to make the difference.
Wichita State 60, No. 22 Northern Iowa 51
: Those of you who tuned in to Purdue-Illinois expecting a raucous Assembly Hall crowd had to feel a little disappointed; every time I dialed up the Big Ten on my remote, the Orange Krush and company were downright demure. Not so in Wichita. There, the Shockers played the streaking
Northern Iowa Panthers
for a shot at the Missouri Valley regular-season crown and, even more importantly, a chance to prove that the MVC isn't just a one-bid league in 2009-10. The Shockers opened up small lead after small lead against UNI, guarding the Panthers all the way out to 25 feet and holding what is usually a good 3-point shooting team (29.9 percent on the season) to a dismal percentage (11.8 percent). Wichita State made the most of its possessions by grabbing offensive rebounds, and Northern Iowa could never erase the deficit.
It's a huge win for the WSU program generally and coach Gregg Marshall specifically, and it gets Wichita State right back in the hunt in the MVC, which is all Marshall and company could ask for Tuesday night. Thanks to some impressive play and a rowdy home crowd, the Shockers got it.
No. 15 Purdue 84, Illinois 78
: This is a held serve, isn't it? Sure, road wins are tough, and road wins at Assembly Hall are tougher, but you would expect a good Purdue team to go into Champaign and beat a mediocre Illinois squad, would you not? That's fair, yes?
OK, so the Boilermakers have had their share of troubles these last three games, but this team is still talented, well-coached, deep (except at point guard, where it's very shallow) and experienced. Methinks the Boilers -- who got back to their efficient ways Tuesday night, scoring 1.12 points per possession (even as they allowed more than a point per possession on the defensive end) -- will be just fine.
No. 8 Tennessee 63, Alabama 56
: Tennessee won for three reasons Tuesday night. One, the Volunteers didn't turn the ball over. Like, at all. Two, the Volunteers got to the free throw line at an extraordinary rate, especially for a road game -- someone should tell the referees in Tuscaloosa what home-court advantage is supposed to mean -- and three,
Wayne Chism
. Chism scored all of his 11 points in the final seven minutes of the game, helping the Volunteers close out another SEC win, this one on the road. The question now is how long Tennessee can keep this up. After all, it's still four scholarship athletes down, including
Tyler Smith
, the Vols' best all-around playmaker before his dismissal. Can Tennessee keep rolling? Hey, it's come this far.
January, 19, 2010
1/19/10
3:50
PM ET
Saddle Up is a quick preview of the basketball your TV wants you to watch tonight. Here is Thursday night's rundown
.
My mind is big on finding themes where perhaps there are none. I recognize this is foolish. But if there is any sort of theme to be drawn out of tonight's action, it's whether the teams on hand are real or fake, about which side of their personalities are the real deal. It's like figuring out a girlfriend after a couple of months; that's when things start to get familiar and real, whether you like it or not.
All right, that analogy was terrible. Sorry. Let's just get to previewin':


No. 16 Clemson at No. 18 Georgia Tech, 7 p.m. ET, ESPN2
: Can either of these teams win the ACC? It's not looking good: Despite
Kyle Singler
's odd senior-year struggles, Duke is looking like an efficient beast unlikely to yield many conference losses. This is Duke's conference to win. But Georgia Tech and Clemson have proved themselves more than capable of beating the conference's usual powers. So which team is a contender? Which team can unseat Duke? If anyone can do it, it's probably Clemson; the Tigers are one of only four teams (Duke, Maryland, and Virginia being the three others) with a
positive efficiency differential
, and they have the ACC record to show for it. A win at Georgia Tech -- something Duke couldn't accomplish last week -- would go a long way toward proving the Tigers are more than just another footprint in Duke's path to an easy conference title. A loss means ... well, not a whole lot. It means Georgia Tech can win home games against solid teams, and it means Clemson probably isn't as good as their 20-point win over North Carolina. It's a confusing conference, this ACC. Let's see how it plays out.


No. 15 Purdue at Illinois, 9 p.m. ET, ESPN
: Can Purdue right the ship? After a 14-0 nonconference tear, the Boilermakers are looking suddenly vulnerable, having lost three straight Big Ten games, one of which came in a come-from-behind loss to Ohio State at home -- the kind of thing this Purdue team would have seemed incapable of three weeks ago -- and an upset loss to Northwestern in Evanston on Saturday. (Which was an awfully nice, résumé-building win for the Wildcats, for what it's worth.) Purdue doesn't look like the defensive buzz saw that took down a full-strength Tennessee team in one of the best games of the young season in November. They don't look like the team that beat West Virginia by 15. Ever since they hit conference play
the Boilermakers look like a mediocre defensive team
, and this Purdue team can't afford to be mediocre on defense. It's, like, their thing. They need to be good at it, or all hopes of a Final Four will be gone faster than Conan O'Brien. (Topical humor! What, are people not still talking about Conan O'Brien? Have we moved on?)
Meanwhile, Illinois is 4-1 in the Big Ten and is looking a little more coherent than in their disappointing non-conference start, but that start has just as much to do with playing Iowa, Indiana, and Penn State than anything else. Tonight is Illinois's chance to prove they deserved their preseason top 25 ranking, or at least some reasonable slice of it. It would be a quality Big Ten win. Heck, it would be a quality win, period. Illinois doesn't have nearly enough of those this year.


No. 22 Northern Iowa at Wichita State, 9:05 p.m. ET, ESPNU
: If the above options don't excite you, how about a little quality hoops from the Missouri Valley? Northern Iowa is ranked for a reason: The Panthers have won their last 15 games and have only been challenged a couple of times during that stretch, quietly going from MVC unknown to national mid-major power in the course of a couple of months. (In the meantime, if anyone can figure out how this UNI team lost to DePaul on Nov. 20 -- beyond "It was November and weird things happen in November" -- feel free to fill me in.) Tonight is the country's chance to get acquainted with the Panthers. While doing so, enjoy the
Wichita State Shockers
, who have racked up their own impressive record (16-3, 5-2 MVC) and appear to be UNI's most relevant challenger. At the very least, the Shockers can prove that the MVC is more than a one-bid league in 2009-10.
Everywhere else
: Is Tennessee ripe for a letdown? You would have said that before their handy win over Auburn and their gutty overtime victory over Ole Miss, and that didn't work out so well. But now the Vols must take their underhanded show on the road,
where a rebuilding Alabama team awaits
... Can Northwestern follow up its home win over Purdue with a
road win
over the
Evan Turner
-energized
Ohio State Buckeyes
? It doesn't seem likely, but neither did Saturday's victory ... Miami built a gaudy nonconference record before it got into ACC play, and things have headed downhill from there;
tonight's match up with Boston College in Miami
should be a brief respite from the losing.
January, 13, 2010
1/13/10
12:44
PM ET
January, 13, 2010
1/13/10
10:06
AM ET
The Morning After is our semi-daily recap post. Try not to make it awkward.
[+] Enlarge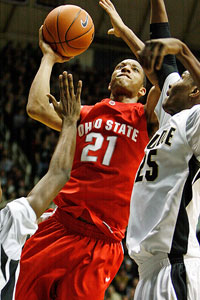 Andy Lyons/Getty ImagesEvan Turner scored 23 of his career-high 32 points in the second half Tuesday night.
Ohio State 70, No. 6 Purdue 66
:
Evan Turner
does bad things. You know this already. He did such things before the ugly back injury (which he suffered doing something awesome; players like Turner don't get injured in normal or unexciting ways, apparently), and he's done such things since returning from that injury. He's, um, really good. But the Buckeyes' accomplishment Tuesday night -- winning a road game over an efficient, brutal defensive team like Purdue -- is truly remarkable: Road wins like this simply don't happen all that often in basketball.
How did Ohio State do it? It was almost flawless where it counts most: The Buckeyes shot well, they rebounded their misses, and they didn't allow Purdue to get to the line, surrendering free throws on a mere 12 percent of the Boilermakers' possessions. Purdue will be disappointed with that number; the Boilermakers must find a way to balance their perimeter strengths with more touches for
JaJuan Johnson
, who shot only five times Tuesday night. Make no mistake, though: This win belongs to the Buckeyes, who got a legendary performance from their star and did more than enough around the margins to complement him. If the Buckeyes go on to stir things up at the top of college hoops this season, they will have learned their formula on Jan. 12.
No. 2 Kentucky 89, Florida 77
: It's almost unfair. After all, John Calipari already has the best point guard and arguably best player (I'm adding in the "possibly" because did you
see
Turner last night?) in the nation in
John Wall
. It's easy to forget that
Eric Bledsoe
was almost as highly touted as Wall as a high schooler;
Bledsoe was considered
the third-best point guard in that class and among the top 20 or 30 players entering the 2009 class. But for all the John Wall love, Bledsoe is showing Kentucky fans they have no reason to worry about 2010 and beyond -- while not as versatile and athletic, Bledsoe is nearly as quick as Wall and has a much better shooting touch, which he displayed last night in his 25-point, 10-of-13 performance at Florida.
In the meantime, the tandem of
Patrick Patterson
and
DeMarcus Cousins
(and even
Daniel Orton
) is proving impossible for teams to stop. The Wildcats scored 1.25 points per possession last night -- an insane rate for any team -- without shooting particularly well from beyond the arc. Kentucky was just that good (65.2 percent for the game) on their twos. If the Wildcats can score at this rate even when they don't shoot well from the perimeter (and when Wall bricks 3 after 3, which he's prone to do), then we were all wrong: The Cats aren't vulnerable. They're just scary.
Colorado 78-No. 24 Baylor 71; No. 12 Kansas State 88, Texas A&M 65

: Who else is trying -- and failing -- to figure out the middle portions of the Big 12? Eamonn confused: Baylor beats Oklahoma by 31 and goes to Colorado and loses to a frisky-but-let's-be-real-here-still-pretty-bad Buffs team. Meanwhile, Texas A&M looks like a tough matchup for a K-State team that lost its first Big 12 game to Missouri. Instead, the Aggies build themselves a tower of bricks (how tall? 38.2 percent FG% tall, is how tall) while K-State scores almost 1.2 points per possession. Road difficulties? Weird night? Who knows? The Pac-10 is this year's most wide-open conference -- which is a nice way of saying there are no good teams -- but the Big 12 might be the most fun to figure out in the next two months.
NC State 88, No. 25 Florida State 81
: Florida State will have some 'splaining to do. How do you lose to the hapless Wolfpack at home? Well, here's how: Freshman Scott Wood made 7-of-11 3-pointers and scored a career high (duh) 31 points on the way to a Wolfpack win. Add that to NC State's generally hot shooting and efficiency on offense -- it went to the line on 66 percent of its possessions and scored 1.2 points per trip -- and you have a recipe for a freaky loss at home to an inferior team. Not that this is the upset of the century, but still.
Everywhere else: Maryland-Wake Forest played a classic that few around the country saw, trading baskets in overtime on the way to a two-point Wake win; Al-Farouq Aminu had 24 and 13 and a key defensive play in the victory. ... Northern Iowa tied a school record with its 14th straight win, but a two-point win over Bradley at home was probably not the win the UNI folks had in mind. ... TCU edged Wyoming out West. ... Illinois needed some last-second drama to top Penn State at home, but escaped with 54-53 the win all the same. ... Iowa got its sixth win, a five-point home win over Tennessee State.
January, 12, 2010
1/12/10
3:35
PM ET
Saddle Up is a quick preview of the basketball your TV wants you to watch tonight. Here's Tuesday night's rundown.
No. 2 Kentucky at Florida, ESPN
, 9 p.m. ET
: ESPN resident bracketologist Joe Lunardi (perhaps you've heard of him?)
sees big implications
in Tuesday night's pair of ESPN games. Can you blame him? We'll get to Ohio State-Purdue in a minute, but Florida has a major opportunity. It gets the
Kentucky Wildcats
, unbeaten and riding high, in Gainesville. For Kentucky, there would be no shame in losing to a motivated Florida team on the road tonight; if Tennessee's weekend upset over Kansas tells us anything, it's that elite teams can and will often lose on the road to merely good teams. That would be the case tonight ... if a "merely good" Florida team shows up. The Gators have the potential to beat Kentucky in Gainesville -- they
topped Michigan State on a neutral court earlier this year
. Florida has also lost to Richmond and South Alabama. This is why tonight's opportunity is such a major one. Playing the Wildcats at home is Florida's chance to steal a win that most of us will recognize as the difficulty of a road contest, but that the selection committee will see first and foremost as a quality résumé win. And a big performance against
John Wall
's crew might just make Florida's own highly touted freshman,
Kenny Boynton
, a household name, too.
Ohio State at No. 6 Purdue, ESPN
, 7 p.m. ET
: If Florida's date with the Wildcats is an uphill battle, Ohio State's trip to Mackey Arena to face a brutally tough Purdue team is more like trying to play laser tag on Mt. Everest. But, much like Florida, this is the Buckeyes' chance to change their entire season, to prove they're fully recovered from losing uber-versatile Wooden Award candidate
Evan Turner
to a busted back, to show that with Turner in the lineup, they're just as good as anyone in the Big Ten. There's a bit of immovable-object-meets-unstoppable-force stuff going on here; is Turner good enough to shed Purdue's smothering defense? It's a tall order, but if anyone can do it, Evan can.
Texas A&M at No. 12 Kansas State, ESPN 2
, 7 p.m. ET
: If you knew nothing about either team, and merely glanced at their records, you'd be forgiven for thinking Texas A&M (12-3, 1-0 Big 12) was Kansas State's (13-2, 0-1 Big 12) relative equal, at least in terms of perception. But Kansas State's last loss, a 74-68 loss at Missouri, was its first since Nov. 20; in the meantime, Frank Martin's team has shot up the polls and gained a measure of respect most K-State hoops fans will find foreign. A&M, on the other hand, has yet to achieve the same level of national respect, despite an impressive record and three OK losses (West Virginia, New Mexico, at Washington). Tonight, A&M gets a shot to prove its worth, while simultaneously making an argument for Big 12 as the deepest conference in the land.
Everywhere else
: Baylor will look to build off its blowout win over Oklahoma
as it travels to Colorado
...
Florida State should handle N.C. State
, probably the ACC's worst team, at home ...
Maryland will travel to Wake Forest
in the much-anticipated "Battle Of Teams That Seem Like They Should Be Better Than They Are Based On Star Power" ... and Northern Iowa, or as we Iowans call it, "UNI," will look to
extend its winning streak another game against Bradley in Cedar Falls
.