College Basketball Nation:

Notre Dame Irish
March, 18, 2010
3/18/10
4:47
PM ET
NEW ORLEANS -- Old Dominion didn't come to the Big Easy to be an easy out.
Nor did the Monarchs come just to be a part of the spectacle that is March Madness.
"We weren't interested in a participation ribbon," Old Dominion coach Blaine Taylor said.
Obviously not.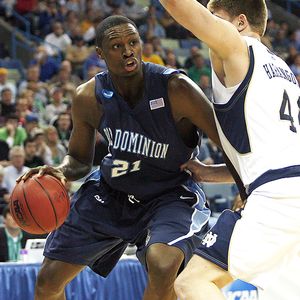 Crystal LoGiudice-US PRESSWIREOld Dominion forward Frank Haskell led the Monarchs with 15 points in their win over Notre Dame.
The No. 11 seed Monarchs are headed to the second round after taking down
No. 6 seed Notre Dame 51-50
at New Orleans Arena for their first NCAA Tournament win since the 1995 season.
There wasn't a lot pretty about it, but that's exactly the way these guys like it.
"We win with defense and rebounding. We've won that way all year," said Old Dominion junior forward
Frank Hassell
, who led the Monarchs with 15 points and nine rebounds.
"Even when we're not shooting well, like in the first half, we don't worry, because we know our defense is going to pull us through. We keep playing defense no matter what. A lot of teams would have been down by 15 points at the half."
Old Dominion faced a 28-22 deficit at the break after trailing by as many as nine points in the first half. The Irish didn't shoot it particularly well in the first half, but they shot it even worse in the second half.
Notre Dame's
Luke Harangody
didn't score until the final seconds of the game, both of his baskets coming on a pair of rebound baskets. He ended his career shooting just 2-of-9 from the field.
The Monarchs were determined not to let him get started. They played man-to-man defense in the first half and switched to a 3-2 zone and then a variation of a 2-3 zone after that.
"We focus on us and think we can play with most people in the country," Taylor said. "Our kids have a strong belief that they can play defense and rebound with most people. That doesn't change regardless of who we're playing or how we're playing on offense."
The Irish shot just 6-of-26 from 3-point range, including a flurry of missed 3s down the stretch.
Carleton Scott
had a look from the corner in the final seconds that could have tied the game, and the ball seemed to go about halfway down the basket before popping out.
"That's the only time all game that I got scared. That scared me," Hassell said. "But if we had gone into overtime, we feel like we would have pulled that out, too.
"If we play like we play, we're going to be fine."
The Monarchs only had five team fouls and had one to give there at the end, but Taylor said they decided against it. He didn't want to give the Irish a good look at inbounding the ball from the mid-court area and was going to take away
Ben Hansbrough
as a 3-point option. Hansbrough was 3-of-8 from behind the arc.
"I guess I'm kind of old school," Taylor said. "I think we can guard people and stop them."
This time of year, old school works just fine.
March, 18, 2010
3/18/10
2:41
PM ET
NEW ORLEANS -- One of the first games of the NCAA tournament produced the first upset.
Old Dominion, a No. 11 seed in the East, rallied from a nine-point deficit in the first half to send No. 6-seeded Notre Dame packing
51-50 in New Orleans Arena
.


The Irish couldn't buy a basket down the stretch, and Old Dominion's
Gerald Lee
hit the big jumper to put the Monarchs ahead to stay.
Notre Dame had a good look from the corner to tie the game with a 3-pointer, but
Carleton Scott
's shot lipped out.
After
Keyon Carter
hit a pair of clutch free throws with just under 10 seconds to play to put the Monarchs up by three points, they only had five fouls as a team. But instead of fouling (and they had one to give), they allowed the Irish to get a 3-point look from the corner.
It didn't come back to bite them.
Luke Harangody
, who finished 4-of-9 for just four points in the final game of his stellar career, got the rebound of Scott's shot and scored a meaningless bucket as time expired.
The Irish were 6-of-26 from 3-point range. The Monarchs, meanwhile, shot 52.6 percent from the field in the second half.
March, 18, 2010
3/18/10
11:39
AM ET
NEW ORLEANS -- Kentucky coach John Calipari won't be counting made jump shots this week in the Big Easy.
For that matter, he won't be counting jump shots at all. He'll gladly tell you that the Wildcats' ability (or inability) to knock down perimeter jumpers won't dictate how far this team goes in the NCAA tournament.
Say this for the Wildcats: They've made it this far, a No. 1 seed in the East Regional sporting a 32-2 record, and their 3-point shooting has been dreadful at times.
"If we're not hitting our 3s, we'll find other ways to score," Kentucky freshman point guard
John Wall
said. "That's what we do. That's what we've done all season. We'll score off our defense, go inside to our big guys, make tough 2s.
"We just look at the 3s as a bonus."
A very scary bonus if you're the other team lining up against the Wildcats and they happen to be hitting that day.
As Calipari said earlier this season, "If we're making shots, we bury people."
But the Wildcats have also had to grind out more than a few this season, and at some point in this tournament, grinding becomes a way of life.
Really, it becomes a necessity when you shoot 16 percent from 3-point range as Kentucky did during one stretch in February. And then in the SEC tournament, the Wildcats shot just 25.4 percent from behind the arc.
Will it catch up to them? We're going to find out.
Here's a preview of the first-round East Regional games in New Orleans on Thursday:


Game 1: (6) Notre Dame vs. (11) Old Dominion, 12:25 p.m. ET
How they got here:
The Irish (23-11) have won six of their last seven games, including three victories over nationally ranked teams. Their only loss in that stretch was a two-point decision to West Virginia in the Big East tournament semifinals. The Irish needed a big finish to ensure their sixth trip to the NCAA tournament in 10 seasons under coach Mike Brey. They had lost seven of 10 games from the middle of January to the middle of February prior to their hot close. The Monarchs (26-8) won the Colonial Athletic Association tournament championship to earn an automatic berth. They've won eight of their last nine games entering the tournament. Their best win was a 61-57 triumph over Georgetown in December.
Who to watch:
Notre Dame senior forward
Luke Harangody
is back and looking healthy after missing five games in late February and early March with a bruised right knee. Now coming off the bench, he said Wednesday it's the healthiest he's felt, which is good news for the Irish. He's averaging 22.4 points and 9.2 rebounds. The Irish tweaked their offense late in the season and are now playing more of a slow-down game.
What to watch:
The Monarchs are an excellent rebounding team and rank fifth nationally in rebounding margin at plus-8.8. Junior forward
Frank Hassell
leads the way with 6.6 rebounds per game. He's one of five players on the team averaging at least 4.2 rebounds per game. Old Dominion is 22-4 when it outrebounds its opponent.
They said it:
"You know, you just can't make that change [on offense[ unless you have guys that are really good with the ball. We've led the nation in assists to turnovers the whole season. If you're going to make more passes every possession and throughout 40 minutes, you've got to have guys that can do that and big guys that can do that." -- Notre Dame coach Mike Brey


Game 2: (3) Baylor vs. (14) Sam Houston State, 2:45 p.m. ET
How they got here:
The Bears (25-7) have won eight of their last 10 games, tying with Kansas State for a second-place finish in the Big 12 Conference. The No. 3 seed is their highest in program history. Baylor is the only NCAA Division I team this season with no loss of more than seven points. Its seven losses have come by an average margin of 5.6 points. The Bearkats (22-7) won the Southland Conference tournament championship to receive an automatic berth. They enter the NCAA tournament having won 17 of their last 19 games. They played Kentucky to a 102-92 loss back in November in Rupp Arena and drilled Auburn 107-89 on the road in December.
Who to watch:
Baylor 6-foot-10 junior forward
Ekpe Udoh
has been the perfect complement to all of those guards in the Bears' lineup after transferring over from Michigan. The Big 12 Conference's Newcomer of the Year, Udoh set a Big 12 single-season record with 124 blocked shots and is also averaging 9.8 rebounds per game.
What to watch:
The Bearkats love to run, love to force the tempo and aren't shy about shooting the 3-pointer. They're also an extremely unselfish team and lead all NCAA Division I teams with an average of 20.9 assists per game.
They said it:
"We didn't come up here to just win one game. We've come up here to win games, and that's what we've worked to do all season long. So we're going to continue to do that." -- Baylor senior guard
Tweety Carter


Game 3: (16) East Tennessee State vs. (1) Kentucky, 7:15 p.m. ET
How they got here:
The Wildcats (32-2) swept both the SEC regular-season and tournament championships. Their only losses were to South Carolina and Tennessee. They won their 26
th
SEC tournament title in overtime last week, a 75-74 victory over Mississippi State in Nashville. The Buccaneers (20-14) are back in the NCAA tournament for a ninth time and have been the essence of perseverance. They overcame the tragic death of sophomore Seth Coy in a car accident in July and then lost their top player, senior guard Mike Smith, to a season-ending knee injury prior to the season. Still, they played their best basketball down the stretch, winning their last six games, including the Atlantic Sun Conference tournament championship.
Who to watch:
The Wildcats have three sensational freshmen, all of whom will probably be playing in the NBA next season, but the guy who makes them go is Wall. Nobody in college basketball gets up the court as quickly as he does, and he's also one of the best finishers in the country when he gets into the lane. Wall has struggled with turnovers at times and isn't a great shooter, but go back and count how many clutch plays he's made for the Wildcats this season.
What to watch:
Calipari will try to join Rick Pitino as the only two coaches to take three different schools to the Final Four. Pitino took Providence, Kentucky and Louisville. Calipari has taken Massachusetts and Memphis. If Calipari does reach the Final Four with Kentucky, he would be the first coach to get to the Final Four in his first year at that school since 1998 (Bill Guthridge at North Carolina and Tubby Smith at Kentucky).
They said it:
"I think all brackets are hard. Some may be harder than others. This guy may say this bracket's hard. This guy may say that bracket is really easy. There is no easy road to Indianapolis. Don't let anybody tell you there is an easy road. There is none. They're all hard." -- Kentucky coach John Calipari


Game 4: (8) Texas vs. (9) Wake Forest, 9:35 p.m. ET
How they got here:
The Longhorns (24-9) limp into the NCAA tournament. They've lost nine of their last 16 games, a fade that's even more stunning when you consider they started the season 17-0 and were ranked No. 1 in the country for two weeks in January. It's not like the Longhorns have been going up against all powerhouses, either. Nine of their last 16 opponents finished with losing records. The Demon Deacons (19-10) have been a carbon copy of the Longhorns in a lot of ways. They've lost five of their last six games and were routed 83-62 by Miami their last time out in the ACC tournament. The Deacons do own six wins against RPI top 50 teams, but just about all of those came in the first half of the season.
Who to watch:
Texas senior forward
Damion James
thought about turning pro last season, but decided to come back. He's averaged a double-double for the Longhorns (17.7 points and 10.3 rebounds) and tried to be more of a leader, but he hasn't had a lot of help around him as Texas faded down the stretch. He admitted after a stinging 19-point loss to Baylor in the Big 12 tournament quarterfinals that the team had lost its focus and its passion. We'll see if the Longhorns can get it back.
What to watch:
The Longhorns and Deacons are both athletic, although neither team shoots it particularly well. Both will look to run and get out in transition. Teams forced Wake Forest to slow it down during its slide to end the regular season, but the Deacons shouldn't have to worry about that Thursday. The team that works the boards the best and gets the most second-chance points is probably going to win this game.
They said it:
"We're going out there with attitude. But people forget we were the best team in the country. We're still the same team. We just have to go out there with that swagger and that demeanor and go out there and go at it." -- Texas senior forward Damion James