College Basketball Nation:

Omar Calhoun
November, 21, 2013
11/21/13
10:32
PM ET
Here are five quick thoughts from
No. 18 Connecticut's 72-70 win over Boston College
on Thursday evening at Madison Square Garden:
X factor:
When people talk about UConn, they usually start with the talented backcourt of
Shabazz Napier
and
Ryan Boatright
. But
DeAndre Daniels
is the player who can turn this team from good into great.
The 6-foot-9, 195-pound junior scored just 19 points in the Huskies' first three games, including a goose egg against Yale. But in the team's past two games, he's exploded for 24 against Boston University and 23 versus Boston College.
Daniels is a matchup nightmare -- he can shoot the 3 or take it to the rim and has some crafty moves in the paint. If he turns into a reliable offensive threat, watch out.


The other end:
Napier and Boatright didn't have great games offensively. Napier did score 20 but shot just 6-for-17 from the field with only two assists; Boatright scored nine. But they did an excellent job on defense, blanketing Boston College star guard
Olivier Hanlan
.
Hanlan, last year's ACC Rookie of the Year, came in averaging 24.5 points per game and went off for 38 in BC's last game, a win over Florida Atlantic. But Napier and Boatright shadowed Hanlan everywhere he went Thursday night.
Hanlan still managed to score 19 points, but he had to work awfully hard to get them.
Contenders:
We're only five games into the season, but we've seen enough to say this Connecticut team is capable of making a run to the Final Four.
Four different players are capable of scoring 20-plus on any given night -- sophomore guard
Omar Calhoun
has that potential, too. They have capable, if somewhat raw, bigs. And they have experience, despite being ineligible for the postseason last year.
Speaking of Hanlan:
Yes, he finished under his scoring average. But he was impressive nonetheless.
The best part about Hanlan's night was he didn't force the issue. Most big-time scorers would feel the need to hoist up shots regardless of the defense. Hanlan played under control (5-for-14 from the field, 7-for-8 from the foul line), scoring when he could and trying to create for teammates when he couldn't.
Many teams BC will face this season won't have guards as quick as Napier and Boatright. Hanlan will have plenty of big games.
Eagles forecast:
Boston College did a very nice job hanging around against a more talented opponent. The Eagles could have wilted twice -- when they fell behind by 11 in the first half and when they again fell behind by 11 in the second half. But they bounced back both times to remain within striking distance.
They even had a 3-point shot attempt from near midcourt at the final buzzer that would have won the game, but Boatright blocked Lonnie Jackson's attempt.
On a hot shooting night, Boston College could beat just about any team in the country. But the Eagles shot just 8-for-25 from beyond the arc Thursday night. That wasn't quite good enough to take out UConn.
September, 10, 2013
9/10/13
5:00
AM ET
1. Arizona coach Sean Miller has quite a gem in incoming freshman forward
Aaron Gordon
, who had a breakout summer playing for the USA FIBA U-19 gold-medal winning team in the Czech Republic in July. Miller said this about Gordon, "Aaron's greatest talent lies in his mind -- highly competitive, intelligent, plays to win, great teammate. He combines this with exceptional athletic talent and physical gifts. It's this combination that makes his future so bright. He also is very young [just turned 18], which is one reason why I believe he continues to improve at a rapid pace.'' Arizona is a legit Final Four contender and should enter the season as a top-six team. Meanwhile, the Wildcats still don't know the bracket for the NIT Season Tip-Off. The four hosts -- Arizona, Duke, Rutgers and Alabama -- have to win two games to get to New York for Thanksgiving. Arizona and Duke will be on opposite sides, but the question will be which teams they each play to get to a potential final.
2. The A-10 put out its conference schedule last week. The league got the late-season rivalries right to draw interest from new member George Mason at George Washington on March 2 to VCU at Richmond on March 6 to La Salle at Saint Joseph's on the final day on March 9. A league needs to have games that matter for schools as much as possible late in the season. And there is a good chance that all of those games, save maybe the battle of Mason and GW, should have A-10 top seeding possibilities. Saint Louis, one of the favorites in the A-10, has quite a finish with two of three on the road at VCU on March 1 and closing the season at UMass on March 9. Earlier in the conference season, the game of the month of January may be VCU at La Salle on Jan. 25. The A-10 should have five to six schools in contention for bids, with likely four or so earning berths in March.
3. This comment from UConn coach Kevin Ollie speaks volumes after
Tyler Olander
was suspended for his DUI when asked about how this affects the Huskies' frontcourt: "I don't care about what's going on with our bigs rotation but do care about Tyler as a person.'' Ollie is proving his personal character is transferring over to his coaching. He isn't going to compromise. Meanwhile, Ollie said guard
Omar Calhoun
isn't cleared yet for five-on-five after offseason hip surgery but is working out at full speed with the coaching staff. Ollie added that
Shabazz Napier
is "looking great. Wow.'' Napier has a real shot to be an All-American, let alone one of the top contenders for American Athletic Conference player of the year.
February, 28, 2013
2/28/13
5:00
AM ET
1. The seven non-FBS Big East schools have always wanted to exit for the 2013-14 season if they could get out in time and the TV deal -- with Fox -- was done. The problem is they can't and don't want to leave, according to a high-level source within the seven, until they have secured the other three schools to be a 10-team league. The seven are confident, though, that they can extract three schools (likely Butler, Xavier and one other) on short notice. The Atlantic 10 confirmed that it would cost each school $2 million to get out early, money that won't be an issue for the seven and Fox to offset. The logistics of setting up a league, including soccer in August, are what could keep the seven in the Big East until the fall of 2014.
2. I sat next to Jim Calhoun for Wednesday night's Connecticut-Georgetown game at Gampel Pavilion and it was like taking a class in basketball. Calhoun was informative, analytical and calm in describing the action in front of us. He only got excited when
Omar Calhoun
hit a 3-pointer to tie the game at the end of regulation. I cannot get over how much at peace Calhoun is in his "retirement." I wasn't sure he would be after making the decision in the fall. But he really is in such a good space. He seems as healthy, physically and emotionally, as he has been in years.
3. Akron might not have the profile to be a lock as an at-large NCAA team, but it would be a shame if the Zips don't get a bid if they can't win the Mid-American Conference tournament. Akron won in overtime at rival Ohio on Wednesday to go to 13-0, 23-4 overall with three games remaining. The Zips haven't lost since Dec. 15 at Detroit, winning 19 in a row. This is a team I want to see in the Dance -- and probably one many coaches don't. Akron can win games in mid-March. The committee doesn't need to change its prescription to see that this team passes the eye test quite well.
February, 14, 2013
2/14/13
2:22
AM ET
HARTFORD, Conn. -- Kevin Ollie was determined to coach this season as if Connecticut had a chance for glory, never giving the postseason ban a second thought when he was given a seven-month contract to replace Jim Calhoun or when he received a multiyear deal in late December.
The only way Ollie knew how to coach the lame-duck Huskies was to ensure the team played as if the national title were still in sight.
The players never blinked. The ones who stayed remained committed and were determined not to play spoiler but to win the Big East regular-season title.
Now they still can.
And if the Huskies'
66-58 victory
over No. 6 Syracuse on Wednesday at the XL Center -- in the final matchup between these charter Big East members before the Orange go to the ACC -- is any indication, UConn isn't going to be just a spoiler.
The Huskies have larger aspirations. They want to win the title and stick it to the conference that wouldn't let them play in the league tournament after the NCAA ruled their academic progress rate was too low and banned them from the postseason.
Is it a reach? Possibly. But it's not out of the question for the Huskies, who have a game to go against Georgetown, two with Cincinnati and none remaining against Syracuse or Louisville.
The win put UConn at 7-4 in the Big East, just a game back of the first-place trio of Syracuse, Georgetown and Marquette.
What would it mean to the Huskies to pull off the improbable feat?
"It would mean everything, considering that they tried to take everything from us," said sophomore
Ryan Boatright
, who led the Huskies with 17 points Wednesday. "It's realistic because anybody can lose in the Big East. We feel like we're supposed to be here."
[+] Enlarge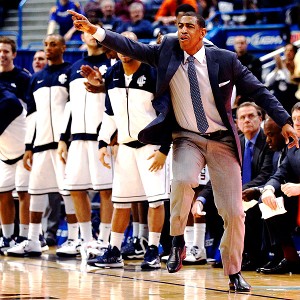 David Butler II/USA TODAY SportsKevin Ollie has his Huskies a game out of first in the chase for the Big East regular-season title.
Regardless of Boatright's confidence, the win is still one of the more surprising of the season. UConn was dealt another blow to its depth when
Enosch Wolf
, who had been a stable inside presence, was suspended indefinitely; he likely has played his last game. Wolf saw his domestic dispute case continued to March 20 after a Hartford court appearance earlier Wednesday. He was charged with third-degree burglary, criminal trespassing and disorderly conduct.
And it didn't matter one bit against Syracuse's length in the zone or on the boards. Boatright,
Shabazz Napier
and
Omar Calhoun
handily won the perimeter battle with
Michael Carter-Williams
and
Brandon Triche
.
Earlier in the day, Huskies assistant coach Karl Hobbs said UConn had to make seven 3s to beat Syracuse. The Huskies made eight, seven of those coming from the aforementioned trio, with one from
Niels Giffey
.
The Orange were just 4-of-23 from long range.
"They shot 8-of-14 from the 3, which is the best anybody's shot against us in a long time," Syracuse coach Jim Boeheim said. "Their guards played extremely well, but I thought all their guys played well."
Boatright didn't hold back with his postgame comments, saying the Huskies had sent Syracuse to the ACC "with a taste of UConn in their mouth." The same comment was uttered by Omar Calhoun after the game.
"It was definitely a big game," Calhoun said. "I know the tradition and the rivalry between these two teams. They got to leave with a taste of UConn in their mouth going to the ACC."
It's no secret the Huskies wanted to go to the ACC, which instead picked Louisville over them and Cincinnati. UConn is left with the Bearcats in the remaining Big East as Syracuse and Pitt head to the ACC next season.
Jim Calhoun, the Hall of Fame coach, was courtside for the game and said during the second half that he didn't want this rivalry to end.
Boeheim said after the game about the UConn series, "It's been a great series. Connecticut and Syracuse have had so many great games over the years. The league wasn't able to be kept together. I feel bad about the whole thing."
Syracuse has already signed up for a home-and-home series with St. John's. The other one that makes the most sense is with Georgetown since the Hoyas are in a recruiting area that is crucial to the Orange. And that series with the Hoyas might take on more importance now that Maryland is heading to the Big Ten.
Jim Calhoun said Georgetown was always Syracuse's biggest rival but the Orange were the top rivalry for the Huskies. Boeheim said after the game that he would be open to playing anybody.
"Your biggest rivalries are going to be the teams in your league," he said. "That's just the way it is. Even if you play somebody, it will never be the same. It will never be the same."
To Ollie, this was bittersweet, since he said one of the reasons he went to UConn was to play in the Big East against schools such as Syracuse.
"It's kind of hard with the rivalry being over with," he said. "Hopefully we'll be able to play somewhere, somehow."
If the Huskies can play with the same passion and purpose, flaws and all, the rest of the season as they did Wednesday, anything is possible in this league.
The role of spoiler fits Boatright.
"It feels great because they came in with their swag, their attitude, and they thought they were going to blow us out of the gym," he said. "We hit them first. In the second half, they thought they were going to make a run and we responded. It was a team effort. It was a great win."
And the credit goes to Ollie, who should be the front-runner for Big East coach of the year.
"We're just one of the purest teams playing right now," Ollie said. "We're not playing for the postseason. We're playing for the love of UConn. We're playing for the love of each other. We're playing for the pride of getting better. They can't ban us from that. They can ban us from the postseason, they can ban us from the Big East tournament, but they can't ban us from getting better and loving each other. They really love being around each other, and it shows."
February, 1, 2013
2/01/13
8:30
AM ET
To death and taxes, I add Marquette. The Golden Eagles are the one thing you can count on annually. A year after losing the Big East's player of the year and league's leading scorer (and they were two different people) Buzz Williams' team is back again, tied atop the leaderboard with Syracuse. Despite seven consecutive trips to the NCAA tournament, Marquette still somehow manages to sneak up on people.
Maybe we ought to start paying closer attention.

1. Syracuse.
That the Orange lost to Villanova in overtime isn't the biggest worry right now. Even their bad shooting isn't a big concern. Here's the problem: Four of Syracuse's starters played 41 minutes or more in that game. Without
James Southerland
(eligibility issue) and now
DaJuan Coleman
(injury), the rotation is minuscule for the Orange as they head into the home stretch.
2. Marquette.
The Golden Eagles have won eight of nine to quietly slide into a first-place tie with Syracuse atop the standings. For those thinking Williams needs a steady scorer,
Vander Blue
might be the guy -- he had 30 against South Florida. But there's a big test for both Blue and Marquette this weekend, at Louisville.
3. Louisville.
The Cardinals ended their losing streak by beating Pittsburgh despite playing without
Wayne Blackshear
(shoulder injury) and
Kevin Ware
(suspension). Here's the catch: Louisville is averaging just 61.8 points over its past four games. As good as the Cards' defense is, their offense has to make life a little more bearable.
4. Georgetown.
Without
Greg Whittington
, the Hoyas don't have much room for error. Their bench is perilously short, so short that John Thompson III had to go to a walk-on against Seton Hall. But Georgetown is winning steadily after a sloppy start, three in a row and five of its past six.
5. Cincinnati.
The Bearcats' propensity for slow starts nearly cost them dearly at Rutgers.
Sean Kilpatrick
bailed them out then and has continued to be a backbone, especially with
Cashmere Wright
still getting over a balky knee. Cincinnati has winnable games in the coming week -- at Seton Hall and Providence -- but can ill afford to back into things again.
6. Notre Dame.
The great tinkerer, Mike Brey, retooled his team practically overnight, debuting a bigger, tougher and stronger version of the Irish against red-hot Villanova. It worked. The Irish not only won, but got contributions from previously untapped resources such as senior
Tom Knight
and freshmen
Cam Biedscheid
and
Zach Auguste
.
7. St. John's.
The Red Storm could catapult up these rankings in a week. St. John's has won five in a row, showing a streak of consistency few in this league can match. The catch? The Red Storm have feasted on the bottom of the standings (with the exception of Notre Dame) to get out on that run. I want to see how St. John's does in upcoming games against Georgetown and Connecticut.
8. Pittsburgh.
The Panthers' four-game win streak came to an end at Louisville, but in the loss Pitt showed it could hang with the conference elite. And now the Panthers' reward: They get to try to do it all over again when they host Syracuse on Saturday.
9. Villanova.
That the Wildcats' week of happy mayhem ended at South Bend did little to disprove that Villanova is arguably one of the most improved teams in the league. The Cats hung with Notre Dame despite a woeful 3-point shooting night. The next challenge: beating teams they are now expected to beat, including Providence and DePaul, next on the docket.
10. Connecticut.
Nothing is easy for the Huskies these days, but at least they are finding a way to gut it out, beating Providence in overtime Thursday for their second victory in a row. For once, at least, UConn got some scoring from someone other than its backcourt, with
Omar Calhoun
and
DeAndre Daniels
hitting double figures. That needs to happen more often.
11. Seton Hall.
We have now entered that portion of the rankings where you are debating among the least awful of the awful. So kudos to the Pirates, who at least have lost just two in a row, both on the road and to two decent teams in Georgetown and St. John's. Not that the schedule gets any kinder, with a visit from Cincinnati and a trip to Pittsburgh in the coming week.
12. Providence.
The Friars are oh-so-close to putting something together and oh-so-far-away from seeing the results. Providence lost to Pitt by four, to Marquette by 10 and to UConn in overtime. Can the Friars finally break through Sunday at Villanova?
13. Rutgers.
If "almost" counted, the Scarlet Knights would be right there. They've lost four in a row, but were in the games against Notre Dame, Connecticut and Cincinnati. Alas, this is neither horseshoes nor hand grenades, and as Rutgers preps for a midweek visit from Louisville, it has won just once since Jan. 10.
14. South Florida.
The Bulls' skid is at three, but in their defense, it is against two quality teams -- Notre Dame and Marquette. But like Rutgers, USF's quality losses don't mean much, not when it has but one league victory to show for it.
15. DePaul.
I've run out of ways to describe the Blue Demons' doom and gloom, so just use the numbers: DePaul has lost five in a row and seven of its past eight.
January, 18, 2013
1/18/13
8:30
AM ET
Coaches love to say that, on any given night, a team can lose. Apparently the Big East would like to make that its motto.
The league has become either strangely unpredictable or woefully unstable, depending on your point of view. What looked like established, solid, top-of-the-conference teams instead went out and lost games they frankly shouldn't have.
The two constants: Louisville and Syracuse. And they play each other this weekend.

1. Louisville.
It's time for the first Big East showdown of the year -- before the participants become ACC members, that is. The Cards host Syracuse on Saturday, having rolled through their first league games with relative ease.
2. Syracuse.
Time to see just how much the loss of
James Southerland
hurts the Orange. Syracuse got past Villanova without its most accurate outside threat, but it's a tougher road this week, first at Louisville and then home against Cincinnati.
3. Marquette.
The Golden Eagles' margin of error is miniscule, but they keep coming out on the right side of the edge. That's more than a lot of their conference brethren can say.
Davante Gardner
has been very solid for Marquette and should be key this week against Cincinnati.
4. Cincinnati.
The Bearcats righted the ship the easy way, beating up on Rutgers and DePaul. Whether or not Cincinnati is truly back on track, however, remains to be seen in the coming week, when it faces Marquette and Syracuse. The good news: UC should have
Cashmere Wright
, who sprained his knee against DePaul.
5. Georgetown.
The Hoyas could be the all-enigma team of the season. Unable to score one night, solid the next. The big question: What will Georgetown be without
Greg Whittington
, suspended from the team for academics? There's a good team here if it just develops consistency.
6. Connecticut.
There might have been a silver lining in the Huskies' loss to Louisville:
Omar Calhoun
finally returned. After three pedestrian games, the freshman had 20 points and four boards. UConn needs that from him to take the pressure off of
Shabazz Napier
and
Ryan Boatright
.
7. Notre Dame.
Feel free to argue that the Fighting Irish are slotted too low. Then go ahead and explain why a good, veteran team lost to Connecticut at home and then at St. John's. Notre Dame simply has not played well in the past week.
8. Pittsburgh.
Perhaps stubbornly, I still refuse to give up on the Panthers. Their defense is just too good. If only the offense could catch up. Pitt needs to beat Connecticut at home on Saturday to gain some more converts.
9. St. John's.
The Red Storm will rival Georgetown for unpredictability but at least they have a reason -- crazy youth. Steve Lavin has brash talent that isn't quite sure what to do with itself all the time. But as St. John's proved against Notre Dame, it will be a threat all season.
10. Rutgers.
The Scarlet Knights are making progress, albeit in baby steps.
Eli Carter
's shooting struggles doomed them in a could-have-won game against Cincinnati, but Rutgers at least took care of business against South Florida. Tricky week with Notre Dame and St. John's on the menu.
11. Villanova.
The Wildcats lost twice this week but, if it's possible, looked slightly better doing it. They put up a fight against Syracuse and matched Pitt's defensive intensity, good signs for a program that needs some positives. Beating Providence on Saturday would help. Facing Louisville on Tuesday won't.
12. Seton Hall.
It's almost unfair to judge the Pirates this week. Decimated by injuries, Kevin Willard had all of three subs to choose from in the loss to Marquette.
13. DePaul.
It's the same worn-out tune for the Blue Demons, who are limping through their Big East slate. DePaul has lost four of its past five, dating back to its final nonconference game against Loyola-Chicago.
14. Providence.
Bryce Cotton
has been terrific since returning from injury, averaging 20.8 points in the past five games. That's the good news. The bad: The Friars are just woefully inconsistent.
15. South Florida.
If the Bulls were playing golf, they'd be fantastic, what with their penchant for low scores. Sadly, this is basketball, and hovering in the 50-point range, as USF has done since league play began, isn't going to win you a lot of games.
December, 30, 2012
12/30/12
12:15
AM ET
HARTFORD, Conn. -- Kevin Ollie grabbed the microphone after Saturday night's game against Washington and thanked the Huskies faithful for their support and for believing in him. He made sure he told the Connecticut fans that he would keep their program at the top, competing at the highest level.
The fans, who had weathered blizzard conditions to catch the Huskies at the XL Center in their final nonconference game against Washington, gave him a standing ovation.
They cheered wildly for him when he came out at the beginning of the game too.
The youngster from South Central Los Angeles has become a native son in the Nutmeg State.
He had weathered the storms of his initial hire -- earning a five-year contract Saturday -- by proving that he could coach (10-2 record), lead a depleted roster (a scrappy group that has forced turnovers well) and organize a program that is disciplined and takes responsibility in the classroom.
Ollie had to do all of this while coaching a team that knew from day one it couldn't play in the postseason because of poor Academic Progress Rate scores that have the Huskies banned from the Big East and NCAA tournaments.
His players backed him from the opening practice and delivered a memorable first victory in Germany against Michigan State, surrounding him during a postgame interview. They rallied around him Saturday in his first official victory as the permanent head coach -- a
61-53 win
over Washington.
[+] Enlarge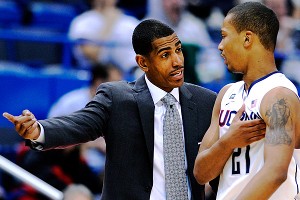 AP Photo/Fred BeckhamContract extension behind him, Kevin Ollie coaches Omar Calhoun during UConn's win over Washington.
"It's because of Kevin," said UConn assistant coach George Blaney of how the Huskies have focused on daily tasks and gotten off to a surprising start despite the postseason ban. "He won't let them [stop playing with a purpose]."
Ollie, who turned 40 on Thursday, just had the best day of his coaching life. He earned a new deal and won the final nonconference game. And his players couldn't be happier the pressure is off.
"I'm definitely excited, since Coach Ollie recruited me," said freshman
Omar Calhoun
, who led Connecticut with 14 points on 6-of-10 shooting. "I'm relieved."
Junior guard
Shabazz Napier
said pride is what is driving Huskies players. They aren't thrilled with the situation, but they are competitors and don't want to lose -- ever.
Washington coach Lorenzo Romar echoed what everyone else has said about Ollie -- that he is all class. He has sought out advice on coaching and building a program from as many sources as possible. Ollie has been a sponge on the subject, never too egocentric to ask for advice. He coveted predecessor Jim Calhoun's constructive criticism.
Those who covered Ollie in the NBA and in college would be hard-pressed to find anyone who has something negative to say about him -- about as rare a statement as you can make about a coach.
Romar talked about Ollie's high basketball IQ, was thrilled he got a new deal and wished him nothing but success.
Ollie wears his emotions for everyone to see. He doesn't hide behind coachspeak. He is raw. He is genuine. He is still a work in progress and relishes in the chance to develop his identity and craft in the field. His work ethic is obvious to those who saw him play at UConn and in the NBA, never a star but always as important a player on the team as anyone who was stuffing the stat sheet.
He was a leader as a player without being the headline. He has become a leader as a coach in a unique situation.
When he walked onto the XL Center court Saturday, he said his legs were shaking with excitement, much as they were 20 years ago when he played at UConn.
The night ended with his infectious smile and his need to thank everyone -- his staff, his players and the fans -- for helping him get to where he is today: the head coach at his alma mater, a dream come true for a kid from South Central LA who had no idea this was ever possible.
December, 18, 2012
12/18/12
10:49
AM ET

Player of the Night – Kelsey Howard, Jackson State
Jackson State escaped from the ranks of winless with a 91-82 win over Seattle, as Howard scored a career-high 32 points. No Jackson State player has scored more since Trey Johnson, who led the nation in scoring in 2006-07.
With that victory, only four winless teams remain: Grambling State, Maryland-Eastern Shore, Mississippi Valley State and St. Francis (PA).

Bench Player of the Night – James Southerland, Syracuse
Southerland helped bring Jim Boeheim his 900th win, scoring 22 points off the bench in a 72-68 win over Detroit. At 15.9 ppg, he's Syracuse's leading scorer, yet he hasn't started a game this season.
That's the highest scoring average for a player who hasn't started this season. In fact, the last Division I player to average more through an entire season in which he only came off the bench was Appalachian State's Rufus Leach (16.4) in 2000.

Freshman of the Night – Omar Calhoun, Connecticut
On the night that Boeheim reached a milestone, perhaps it's only fitting that a Calhoun at UConn had a big night. Omar Calhoun scored a career-high 22 points, to lead the Huskies over Maryland-Eastern Shore.
Calhoun's performance stands in stark contrast to his scoreless effort last time out against Harvard.

Stat Sheet Stuffer – Jackson Stevenett, Southern Utah
In its Big Sky debut, Southern Utah beat North Dakota 79-67 courtesy of a big performance from Stevenett. The senior finished with 21 points, 10 rebounds, five assists and three steals.
Stevenett joins BYU's
Brandon Davies
as the only players with such a 20-10-5-3 game this season.

Breakout Performance of the Night – Max Jacobsen, Northern Arizona
Jacobsen doubled his previous career high, scoring 22 points and adding nine rebounds in the Lumberjacks' 87-80 win over Montana State.
He exploded out of the gate with eight of Northern Arizona's first 11 points. The Lumberjacks never trailed.
November, 16, 2012
11/16/12
8:00
AM ET
Until Connecticut's opening day victory over Michigan State in Germany, there wasn't much reason to get excited about the 2012 Paradise Jam. And even after a gutty, fired-up UConn team showed us it's not ready to wither just yet, the P-Jam (which is an abbreviation I just made up, I think; let's go with it) is far from the best early-season tournament out there. That would be the Battle 4 Atlantis, which basically drank every other early-season tournament's milkshake.
Even so, there are a few teams and players worth keeping an eye on.
The basics
: Nov. 16–19 at University of the Virgin Islands
The set matchups
: Mercer vs. George Mason, 1:30 p.m. ET; Illinois-Chicago vs. New Mexico, 4 p.m. ET; Wake Forest vs. Connecticut, 6:30 p.m. ET; Quinnipiac vs. Iona, 9 p.m. ET
The favorite: Connecticut.
New Mexico isn't far off -- the Lobos are still criminally underrated in the 2012-13 Mountain West conversation -- but it's hard to look at what UConn did to Michigan State and not be impressed (particularly because the Spartans took down Kansas four days and a 4,500-mile trip from Germany to Atlanta later). The Huskies' backcourt --
Shabazz Napier
,
Ryan Boatright
,
Omar Calhoun
and lengthy wing
DeAndre Daniels
-- appear to be playing fast, scrappy, motivated basketball under hungry young coach Kevin Ollie. And they have a straightforward route to the tournament title game.
FIVE PLAYERS TO WATCH
Shabazz Napier, Connecticut
: Napier struggled with leadership issues throughout the Huskies' lackluster 2011-12 season; he fully admitted other players simply didn't want to hear it. But Napier is now a legit veteran presence with a national title on his résumé, and this greenhorn UConn team revolves much more around his perimeter abilities.
[+] Enlarge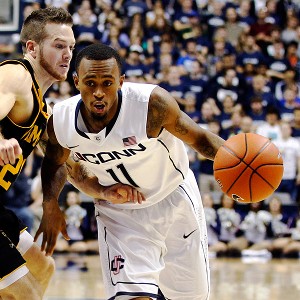 David Butler II/US PresswireRyan Boatright's making better decisions so far in his his sophomore season for UConn.
Ryan Boatright, Connecticut
: Boatright's freshman season was like many freshman seasons: promising but flawed. This season, he appears to be playing much more of a true point guard role, with Napier working more frequently off the ball, and the decision-making that made him a liability last season looks to be much improved.
Tony Snell, New Mexico
: The Lobos have a really good chance to win this tournament -- if UConn is the favorite, it's not by that much -- and Snell is a major reason why. He led New Mexico's 86–81 comeback win over Davidson Tuesday morning with 25 points, including a final-minute shot-clock-beating 3 to help seal the deal.
MoMo Jones, Iona
: Iona lost national assists leader Scott Machado and senior forward Mike Glover. It will gain former Iowa State point guard
Tavon Sledge
and former Toledo forward
Curtis Dennis
. But Jones -- the former Arizona point who transferred to Iona last summer -- should get the touches to have a very big season, even if he isn't always the most efficient scorer in the country.
C.J. Harris, Wake Forest
: The Demon Deacons still have a big talent hole to climb out of before they get competitive in the ACC again, but that doesn't mean you should overlook Harris. The guard had a breakout junior season, shooting 50.7 percent from 2, 42.2 percent from 3 and 84.4 percent from the line while lowering his turnover rate and drawing shooting fouls frequently.
FIVE BIG QUESTIONS
Is this Connecticut thing real?
As good as UConn looked Friday night -- and it did look good -- it's important to temper this kind of exuberance this early in the season. It was only one game (in Germany, no less) and Michigan State hardly had its finest outing. A convincing jaunt this weekend will hardly guarantee Big East title contention, but it will be another green shoot.
Where is George Mason right now?
Paul Hewitt enters his second season at George Mason with the program arguably as bereft of talent as at any point in the past five seasons. That's what happens when you lose two leading frontcourt scorers, Ryan Pearson and Mike Morrison (and your program's best recent scorer,
Luke Hancock
, is preparing to debut for Louisville). Mason looks likely to slide this season, but did open with a win over Virginia. This tournament will tell us more.
Is New Mexico good enough down low?
The Lobos have plenty of perimeter talent.
Kendall Williams
and Snell are gifted scorers,
Hugh Greenwood
is a crafty point,
Demetrius Walker
is finally getting it, and
Jamal Fenton
can really go. But after losing Drew Gordon to the draft, can New Mexico find and develop some interior presence in time to compete with UNLV and San Diego State?
Is Wake on its way?
There's no two ways about it: Jeff Bzdelik's tenure has been a disaster thus far, and that's before you consider the comparatively gleaming record of the man (Dino Gaudio) he replaced. But Bzdelik did improve Wake to a 13-win outfit last season after losing two starters from an 8–24 team, and Harris and
Travis McKie
form a really nice scoring combo. The Demon Deacons aren't going to challenge for the ACC title anytime soon, but there's at least a chance they won't be horrible. So there's that.
Will ESPN.com college football editor Brian Kelly shave his head if his alma mater, Quinnipiac, wins this tournament?
I don't know, but I
triple dog dare him
.
THE PICKS
First round
: Iona over Quinnipiac (sorry BK); UConn over Wake; New Mexico over UIC; George Mason over Mercer.
Semifinals
: UConn over Iona; New Mexico over George Mason.
Championship
: UConn over New Mexico.
July, 23, 2012
7/23/12
2:00
PM ET
Editor's note: ESPN.com's Summer Shootaround series catches up on the offseason storylines for each conference. For more on the Big East, click here.
Steven Adams, Pittsburgh: The highest-ranked incoming Big East freshman, the New Zealand big man has been hailed for his shooting toughness, passing skills and rebounding acumen. At Pitt, he'll just be a breath of fresh air after a forgettable season.
Ryan Arcidiacono, Villanova: The true point guard will be even more critical for the Wildcats now that Maalik Wayns bolted college early. Savvy and skilled on both ends of the floor, Arcidiacono has only question -- his health. He missed much of his senior high school season after undergoing back surgery.
Omar Calhoun, Connecticut: The shooting guard is a top-notch scorer (had a tournament-record 26 points at the All-American Classic in April) who should help a depleted UConn roster rebuild and serve as a nice complement to Ryan Boatright and Shabazz Napier. Extra kudos for honoring his commitment, even after UConn's APR woes and penalties.
Jerami Grant, Syracuse: There is no shortage of room for Grant to fit in, what with the departures of Kris Joseph, Scoop Jardine, Dion Waiters and Fab Melo. The son of former NBA star Harvey Grant, he's a versatile forward who can score from just about anywhere -- which is good, since there will be plenty of open real estate on the Orange roster.
Ricardo Ledo, Providence: The shooting guard is supposed to be part of a one-two punch for Ed Cooley, but his counterpart, Kris Dunn, is recuperating from a shoulder injury. On his own, though, Ledo is a pretty impressive get as Cooley retools the Friars. He's ranked sixth at his position and should make Providence more than the Vincent Council show.
June, 8, 2012
6/08/12
5:00
AM ET
1. The USA men's U18 national team that will play in the FIBA Americas championship in Brazil later this month cut its roster down from 23 to 14 Thursday and there are a few names that fans will come to know next season. The incoming freshmen who will be instant hits on this roster -- so far -- are:
Rodney Purvis
(NC State),
Sam Dekker
(Wisconsin),
Shaq Goodwin
(Memphis),
Jerami Grant
(Syracuse),
James Robinson
(Pitt),
Marcus Smart
(Oklahoma State),
Rasheed Sulaimon
(Duke),
Montrezl Harrell
(Louisville),
Jake Layman
(Maryland) and
Joel James
(North Carolina). The coaching staff was most wowed by Smart, but the most memorable name when this tournament ends could be Tennessee's
Jarnell Stokes
. Stokes should star for this team -- and for the Vols next season. He's the only player
on the squad
who is currently in college.
2. The early departure of Butler to the Atlantic 10 has forced teams in the Horizon League to scramble in non-conference scheduling. Illinois-Chicago coach Howard Moore said Thursday that the Flames and other teams are searching for two more games at this late date. The Flames actually need four more games. One of the games the Flames had already secured is the opener against UC Riverside. Why is this significant? The Flames have
Joey Miller
-- who transferred from Eastern Illinois after his father, Mike Miller, was fired as head coach -- eligible immediately. Well, Mike Miller has now joined the Riverside staff and will be in Chicago for the opener, coaching against his son.
3. Former UConn wing
Jeremy Lamb
said he has been in touch with
Ryan Boatright
since his departure and that he has no doubt the perimeter of Boatright,
Shabazz Napier
and
Omar Calhoun
, with whom Lamb said he has played, will shine next season. Lamb also said he anticipates that
Tyler Olander
will be the anchor inside and can handle the chore of being the focal point in the post. No one should expect Lamb to trash his former team, but he was overly confident about the Huskies surviving the attrition that has hit the team since it was handed a postseason ban.
June, 10, 2011
6/10/11
10:38
AM ET
We don't cover every little recruiting decision in these parts -- that stuff is best left to
experts like Dave Telep and Paul Biancardi
-- but I have to say, this one caught my eye. The words "Calhoun" and "Connecticut" can do that, I guess.
Yes, the UConn Huskies appear to be adding another Calhoun to their stable. It's not Jim, the legendary coach, nor is it a relative of any sort. Rather, it seems Omar Calhoun -- the No. 38-ranked player in the class of 2012 -- committed to Connecticut Friday. Calhoun considered North Carolina, Pittsburgh, Kentucky, West Virginia, Villanova, Seton Hall and Rutgers, but ended up choosing the Huskies thanks to an extremely positive recent visit with the coaching staff,
as Omar Calhoun, Sr., the player's father, told Telep today
. And guess what? There's even more positive Coach Calhoun-related news for Huskies fans here:
Calhoun's father saw a renewed passion in the Hall of Fame coach and it rubbed off on his son. It was the head coach's approach that swayed him into making a decision before the summer.

"It was the passion that Coach Calhoun demonstrated, an excitement that he brought to the table," said Calhoun Sr. "It was the energy level that he spoke with and the determination that you saw in his eyes to win another championship. You felt like he was in it for the long haul."
How long will that haul be? Only Jim Calhoun seems to know. Many predicted he would retire later this offseason, but the commitment of highly ranked 2011 small forward DeAndre Daniels --
not to mention Daniels's assertion that the coach said he wouldn't be retiring this year
-- did much to squash that notion. Now Huskies fans can consider the possibility that the 69-year-old coach might have more than one more year left in the tank.
Let's review the past few days for Huskies fans. Their program received two commitments from touted recruits and, as a bonus, two separate assertions that their Hall of Fame coach was dedicated to staying at the program longer than most anticipated. Talk about a good news week. And the "Calhoun commits to Calhoun" thing? Merely more icing on the cake.