College Basketball Nation:

On Holiday
November, 27, 2013
11/27/13
1:00
PM ET
On Holiday is College Basketball Nation's daily rundown of the holiday tournaments, complete with previews, recaps, and links to all of the early-season tournament info you'll need in the weeks to come.
IN REVIEW
Top Story: Wichita State impressive as ever in a 75-62 CBE CLASSIC title win over BYU: "It's easy to forget how close the Shockers came to a national championship last season. With 13:40 to play in that Final Four matchup in Atlanta, Wichita State had a 12-point lead over Louisville. The Shockers lost 72-68, but the admirable effort seemed more impressive after Louisville won the national title. But the Shockers didn't receive the VCU treatment after last year's Final Four. They're not the new Butler. They're not viewed that way, at least. Past mid-major darlings became top storylines in the months that followed their surprising postseason rallies. Not so much for Wichita State." -- From Myron Medcalf's take on Wichita State's impressive win over BYU.
[+] Enlarge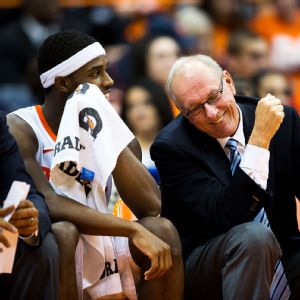 Brett Carlsen/Getty ImagesJim Boeheim's defense and team length should be a big factor when Syracuse faces Baylor.
The Shockers never looked totally in the flow offensively, but never looked anything but commanding defensively and on the glass. They headlined the CBE Classic and lived up to billing, and if they really are flying under the radar this season, well, stop that, you guys.
CANCUN CHALLENGE: Wisconsin moves to 7-0 with win over St. Louis: Has any team had a more impressive November than Wisconsin? The Badgers have had their moments of sheer brilliance -- see Frank Kaminsky's 43 points-on-19-shots night against North Dakota -- but they've also found ways to win when they haven't been peerless offensively. Tuesday night was a good example: St. Louis, always a brutal out, was the first team since Florida to hold the Badgers to less than a point per possession. But after a late Billikens run -- and a 23-17 advantage in the final 10 minutes -- Traveon Jackson and company still defended well enough down the stretch to walk to midcourt with a win.
(By the way, Wisconsin's win in a lopsided Cancun Challenge field -- the other half of the "bracket" saw West Virginia punish poor Old Dominion -- might make the St. Louis win the best opportunity of the event. We'll see if the Mountaineers have different ideas Wednesday night.)
MAUI INVITATIONAL: Baylor beats Dayton. Still not sure how. "We led 1-zip and we finished leading by one; everything else was chasing Dayton." That was Baylor coach Scott Drew after his team's borderline-mystifying win over Dayton last night. His math was right: The Bears led for exactly 16 seconds, after the opening possession of the game and for the final one -- when Dayton's Van Sanford missed a contested floater and forward Devin Oliver's tip-in somehow rimmed out. (His quote, head down at press conference podium, was both factual and devastating: "I don't know how I missed it.")
Coach Archie Miller had his own postgame assessment: "For about 30 minutes in that game," he said, "our guys looked about as good as any team in college basketball." His was just as accurate as Drew's. Syracuse and Baylor will meet in the Maui Invitational final tonight -- more on which below -- but no team has had a better, or more impressive, trip to the island. But still, that's small consolation, when your win probability chart looks like the polygraph reading of a bad liar with just one very big secret. Ouch.
One more thing: Pitt's soft nonconference schedule is likely to either a) keep the Panthers off the national radar or b) inspire doubt (or both), but it'd be silly to ignore how dominant Jamie Dixon's team looked in a win over a not-horrible Stanford team in Brooklyn Wednesday night. Pitt, no surprise, is grabbing every offensive rebound in sight, which sounds like a very frightening proposition for huge swaths of the ACC.
UP NEXT
MAUI INVITATIONAL FINAL: Syracuse vs. Baylor, 10 p.m. ET, ESPN: Does Baylor have a chance? That sounds harsh -- the Bears are 6-0, stocked with lanky, athletic talent, and coming off that win against Dayton, which for all its flaws can and should be described as gutty. Besides, the Bears seem to match up pretty well. Their interior defense is among the best in the country, thanks to Cory Jefferson and Isaiah Austin; Bears' opponents are making just 36.3 percent of their two-point shots on the season. Why the doubtful tone?
Because the one thing Syracuse has done consistently this season -- not only its chief statistical characteristic, but a reliable source of points (and wins) in otherwise ugly offensive performances -- is turn opponents over. And Baylor doesn't need much help.
Syracuse foes have turned the ball over on 25.8 percent of their possessions this season, the seventh-highest mark in the country. It's the same old story: Smart 2-3 zone and long arms and offenses forced into corners against their will, and the bad-idea-blue-jeans skip-passes that turn into deflections. The Orange have ranged from intriguing to downright bad on offense thus far, but they've turned folks over in the zone, and that's why they've won.
Baylor, on the other hand, enters Wednesday night's finale with a 20.8 percent turnover rate hanging around its neck. It's the one thing the Bears don't do well on offense. Which is why this game looks, at a glance, so likely to be a Syracuse win: Not because the Bears aren't talented enough, or long enough, or whatever else, but because the one area where they're worse off just so happens to be Syracuse's bread and butter. There are solutions. "Make 3s" and "rebound misses" are chief among them. But if the Bears can't get into their offense in the first place, or give away too many transition buckets before they have time to get Jefferson and Austin in front of the rim, it could be a long night for the kids from Waco.
Maui remainders: Arkansas gets Gonzaga after both teams handled respective second round (consolation) opponents Minnesota and Chamiande, and it feels safe to guarantee a stylistically entertaining game. And Minnesota, which two days ago was five good minutes away from a possible upset of Syracuse, now has to avoid disaster against Chaminade.
[+] Enlarge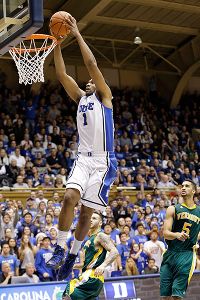 AP Photo/Gerry BroomeFans should be clamoring to see Duke's Jabari Parker against Arizona's Aaron Gordon in a potential NIT Season Tip-Off final.
NIT SEASON TIP-OFF: No. 4 Arizona vs. Drexel; No. 6 Duke vs. Alabama:
Let's just come out and say it: Arizona-Duke is the matchup everyone wants to see. I think Drexel coach Bruiser Flint and Alabama coach Anthony Grant would both happily admit
that
much, that fans are totally stoked on the idea of putting two more of these fascinating freshmen (Duke's
Jabari Parker
, Arizona's
Aaron Gordon
) on the same floor for 40 minutes. That sounds great, right! Of course it does! That's kind of the whole value proposition at the NIT Season Tip-Off, you know?
And yet it feels far from guaranteed. Duke barely got by Vermont at home Sunday night, when it allowed the Catamounts 90 points in 65 possessions. I will keep repeating and emphasizing that fact until Duke's defense, currently 179th in defensive efficiency, proves that it can guard anyone. Duke's defense is awful right now.
Arizona has no such obvious warts. The Wildcats are rolling, with a lottery talent surrounded by no-slouch frontcourt counterparts (Kaleb Tarczewski, Brandon Ashley, Rondae Hollis-Jefferson) balanced with pass-first point guard T.J. McConnell and efficient shooting guard Nick Johnson. The whole thing just clicks. But Drexel is not a slouch, either: After a disastrous 2012-13, the Dragons took UCLA to the wire in Westwood on opening night and haven't lost again since.
Odds are, we get Arizona and Duke Friday, and our freshman frenzy will be, at least for the moment, sated. But if we don't, don't say you weren't warned.
Bonus Wednesday note! The Great Alaska Shootout may be a diminished shell of its former self these days, and this year's field is basically Harvard, Denver and not much else, but I felt obligated to inform you the GAS still exists, so there you go.
Happy Thanksgiving, and happy hoops, y'all.
November, 26, 2013
11/26/13
9:00
AM ET
On Holiday is College Basketball Nation's daily rundown of the holiday tournaments, complete with previews, recaps, and links to all of the early-season tournament info you'll need in the weeks to come.
IN REVIEW
MAUI INVITATIONAL [bracket]
While You Were Sleeping: Dayton survives "just drive to the rim and get fouled, or at least just act like it" late-game offense, upsets Gonzaga 84-79
Just when you thought the Maui Invitational was going to go according to plan.
On an otherwise predictable first day of Maui action, Dayton unleashed a thorough performance in an 84-79 win over Gonzaga.
How? The Flyers were the more physical, sharper team throughout. Of the 50 rebounds on Gonzaga's end of the floor, Dayton grabbed 17. But it wasn't until the second half that the Flyers, um, took flight? (Wow, sorry.) Dayton scored 28 points in the first 20 minutes of the game, but required just 10 minutes and 28 seconds in the second half to do the same — blitzing the Zags with good spacing, crisp ball movement and a bevy of 3s. Jordan Sibert, Khari Price and Scoochie Smith made four 3s in one four-minute stretch, and eight of Dayton's nine 3s came in the second period.
[+] Enlarge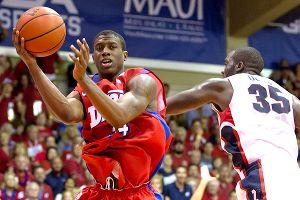 AP Photo/Eugene TannerJordan Sibert had 23 points to lead Dayton to a win over No. 11 Gonzaga.
The biggest among them came with just one minute to play. Up 75-72, Sibert took a quicker-than-recommended 3, and sank it, giving Dayton a 78-72 lead. The Flyers would need every bit of that lead in the final 60 seconds.
Why? Two reasons: First, Kevin Pangos was very good at getting to the rim. Second, he was very good at drawing fouls while doing so -- even when contact looked minimal at best. It was a tough night for the officials all around, and there were a lot of questionable calls, and a lot of unfortunate foul trouble, that marred an otherwise entertaining affair. But it was the final minute that was most noticeable, as Pangos kept turning the corner, kept getting fouled and kept earning free throws. Honestly, the final minute took forever.
Eventually, Pangos, who finished with 27 points, spurred his own undoing. His steal with 43 seconds left turned into a wide-open, missed floater, and Gary Bell Jr. failed to convert on the rebound. Then, 21 seconds later, Pangos and Bell converged on Dyshawn Pierre -- and Pangos, who had four fouls, slapped and fouled Bell. Bell gave Pangos a mystified look, just before the star guard calmly walked to the bench.
You can't have seen Dayton's performance and not bumped up your projections for the Flyers going forward. They were good. Very good. If they're able to control the offensive glass and knock down kickout 3s the way they did Monday night, they'll give teams even better than the Zags plenty of fits in the days and weeks to come.
Top Story 1B: Syracuse manages Minnesota. A near-upset of Kentucky in Lexington was Monday night's biggest non-tournament news, and Arizona State's campus-site preliminary thriller against Marquette was the most entertaining result of the day, but the most interesting game (at least to your humble correspondent) came Monday afternoon. Syracuse's 75-67 win over Minnesota was about as close as you get to a win-win.
For Syracuse, it was a victory, of course, but also much more than that. In four games to date, in particular last week's downright gross 56-50 home win over St. Francis, the Orange looked disjointed and out of sorts, especially on the offensive end. Senior C.J. Fair, a do-everything glue guy turned focal point, had struggled in his new role; a talented-but-thin Orange backcourt of Trevor Cooney and Tyler Ennis looked even less comfortable.
On Monday, though, Fair finally grabbed a game by the scruff of its neck. Late in the first half, Fair skied over two Minnesota defenders and dunked so hard his own face exploded into bloody stigmata. (In reality, he caught a fingernail or three on the way up, but I prefer my explanation.) With two minutes left in the second half, when Minnesota's press began to wear on Syracuse, Fair knocked down an ice-cold midrange jumper that built the Orange lead back out to four points, a lead that held the rest of the way. Fair finished with 16 points and 10 rebounds on 15 shots; Cooney made five 3s; Ennis went 1-of-9 from the field but 10-of-11 from the free throw line.
Minnesota, meanwhile, kept on being impressive. The Gophers have adapted to Richard Pitino's chip-off-the-block high-pressure style immensely well. That style kept them in the game throughout the second half, and good 3-point and free throw shooting put them there in the first place. Monday's performance, combined with a big road win at Richmond on Nov. 16, is enough to make one think the younger Pitino's first season might not involve much rebuilding at all.
[+] Enlarge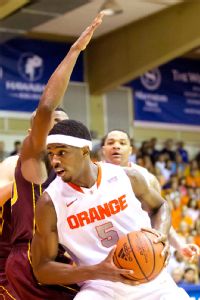 AP Photo/Eugene TannerC.J. Fair and Syracuse struggled with Minnesota's press, but got the win in Maui.
The rest: California looked plenty impressive in its own right. Arkansas has not exactly been the best road defensive team under Mike Anderson, so make of that what you will, but still: Cal got a 19-point, 15-rebound, 8-of-12 night from forward David Kravish, 15 points on eight shots from promising wing Jabari Bird, and a nice 15-point, seven-assist night from senior guard Justin Cobbs. The phrase "total team win" applies here. … Chaminade couldn't hang with Baylor in the second half in Tuesday night's 93-77 loss, but it did have at least a little of what Baylor coach Scott Drew called "Maui Magic." Silverswords guard -- and former Dunk City resident -- Christophe Varidel scored 31 points in the first half, and 42 total, and did it all while sporting an absolutely textbook chill-barista ponytail-scruff combo. Here's to you, Christophe!
Maui fixtures, Day 2:
Arkansas-Minnesota, 2 p.m. ET (ESPN2)
Chaminade-Gonzaga, 4:30 p.m. ET (ESPN2)
California-Syracuse, 7 p.m. ET (ESPN)
Baylor-Dayton, 9:30 p.m. ET (ESPN)
PARADISE JAM: Maryland tops Providence in final, 56-52: So: Good win for Maryland? Letdown for Providence? What about neither? The Terps will take it, to be sure, and the Friars will walk away feeling as if an opportunity was lost, but I'm not willing to throw out any long-term Providence bullishness on the back of a 16-of-59 night from the field. Sometimes you eat the rim, and sometimes the rim eats you.
ELSEWHERE:
BYU got a characteristically high-octane 86-82 win over Texas on the first night of the CBE Classic. That tally was topped only by Wichita State, which put up a tidy 90 on the still-defensively-challenged DePaul Blue Demons. Those two results set up a fantastic non-power-six final at the CBE, where Wichita State, fresh off a Final Four run, will happily soak up the home Kansas City energy that has in recent years been reserved for Kansas, Missouri and Kansas State. Movin' on up, indeed.
The Legends Classic did its best to fill the Maui lull, but there wasn't a whole lot of entertainment value involved. Stanford got a pretty good 86-76 win over Houston.
November, 25, 2013
11/25/13
12:45
PM ET
On Holiday is College Basketball Nation's daily rundown of holiday tournaments, complete with previews, recaps, and links to all of the early-season tournament info you'll need in the weeks to come. Please excuse any typos. It is hard to type while whimpering in the fetal position.
IN REVIEW
TOP STORY: Big Sunday in North Carolina
. "The No. 24 Tar Heels haven't
had a November win
that warranted such an impromptu celebration in a while. Just one week ago, the Heels' loss to Belmont was just their second nonconference home defeat during Williams' tenure. The program also has been carrying an albatross of uncertainty while awaiting a final judgment on the status of
P.J. Hairston
and
Leslie McDonald
. That's why a little celebration was in order. Carolina needed this one. 'Since June 5 it's not been a very pleasant time
it's been probably the most difficult time I've had as a coach,' Williams said. 'It has not been fun in any way, shape or form. But today, out on that court watching their excitement, bumping with them, then going in the locker room celebrating, that's what I coach for.'" —
C.L. Brown, on UNC's immensely impressive 93-84 win over No. 3 Louisville in the Hall of Fame Tip-Off title game Saturday, ESPN.com
[+] Enlarge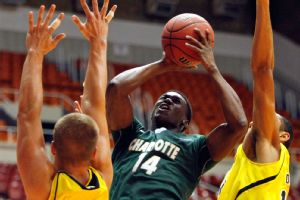 AP Photo/Ricardo ArduengoTerrence Williams and Charlotte prevailed in Puerto Rico and made a big early season statement.
But that's not all
North Carolina could get happy about Sunday. The state at large had an excellent Sunday, as Charlotte -- which entered the weekend unmentioned and unloved --
toppled Michigan 63-61
in the
Puerto Rico Tip-Off
finale. The 49ers shot 46.2 percent from 3 to Michigan's 21.7 percent, and won the thanks to a last-second, game-deciding
Terrence Williams
layup, but those key facts tell only a small portion of the story. Charlotte looked crisp and cohesive throughout, quicker to loose balls and more aggressive around the rim. Michigan looked uncharacteristically disjointed.
Alan Major's team has improved every year but has never really sniffed the NCAA tournament. This season, Major's fourth, may be the breakthrough. At the very least, Charlotte is the early favorite to win Conference USA -- and their presence might make that woebegone league a bit better than anyone expected.
(Also,
Duke survived Vermont 91-90 at home
. That wasn't a holiday thing, and Coach K certainly wasn't feeling celebratory afterward, but it fits nicely into the North Carolina theme, so hey, there you go.)
Georgetown was feeling the love, too
: After a loss to Northeastern in the first round in Puerto Rico last week, Georgetown fans were understandably sent on a downward spiral of rage and ennui. (Fortunately for the rest of us, they're really funny when they're mad.) But the Hoyas got one back Sunday,
beating VCU 84-80
. The win was made even more impressive in that it was played at the Rams' pace: The two teams exchanged 80 possessions, which, given the Hoyas' typical stylistic sloth, felt like even more-- though there were 61 fouls called, which is a lot even in 80 possessions. Georgetown scored 55 points in the second half;
Markel Starks
,
D'Vauntes Smith-Rivera
and
Joshua Smith
scored 23, 26 and 17, respectively.
On the flip side: Is it time to start worrying about VCU?
The Rams are now 4-2 with losses to unranked Florida State and Georgetown; their only win in Bayamon was a not particularly impressive 73-67 strugglefest against Long Beach State. The most disconcerting thing: VCU is forcing plenty of their trademark turnovers -- 28 percent of opponents' possessions, to be exact -- but shooting so poorly on the offensive end, and giving so much away at the foul line, that it almost doesn't matter.
Elsewhere
: New Mexico rebounded from a Charleston Classic semifinal loss to UMass, while UMass held on against local favorite Clemson to a) move to 6-0 on the season, b) win the Charleston title and c) further convince yours truly that Derrick Kellogg's speedy group has finally cracked the code.
UP NEXT
[+] Enlarge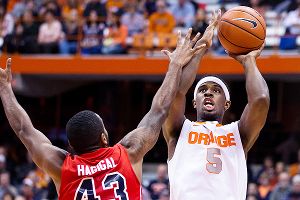 Brett Carlsen/Getty ImagesC.J. Fair and Syracuse head into the Maui Invitational as a clear favorite..
THE MAUI INVITATIONAL (bracket). Perhaps you've heard of it?
The marquee early-season tournament -- the one that started the whole trend in the early 1980s -- commences its 30th competition on Monday. The anniversary field might not be the
murderer's row that was 2011
, but
it is a typically solid, even sneaky-good field
.
Syracuse is the favorite, but hardly a guarantee.
Ahead of Arkansas-California's 3 p.m. tip, the Orange look like the strongest team in the field -- with a caveat. Yes, Syracuse is 4-0, but its wins -- particularly its most recent, a diabolically ugly 56-50 survival of St. Francis at the Carrier Dome -- have showcased the team's struggles to replace guards Michael Carter-Williams and Brandon Triche. Syracuse has shot just 31.8 percent from 3 thus far, and 46.6 percent inside the arc; even worse, the Orange have made just 61.7 percent from the free throw line. What's worse? The Orange, who almost always defy the convention that opponents' 3-point range can be a function of defensive excellence (and never more so than in 2012-13) have allowed foes to knock down 37 percent from beyond the arc -- 259th in the country. There is plenty of good news: Syracuse's zone is still dominant on the low block, senior forward
C.J. Fair
is probably the best player in the tournament, and if freshman point guard
Tyler Ennis
comes into his own in Maui, what Sean Keely said:
Look out
.
Other Maui notes:
The sneaky-good reference above has a lot to do with California, which has played top-15 defense -- and blown out a better-than-you-think Denver team, 77-50 -- to date.
The Baylor Bears are officially the "non-Syracuse team most likely to win the tournament, at least on paper," because "at least on paper" must always be applied to Scott Drew's talented but occasionally incoherent group. Brady Heslip is still making 3s at a crazy rate (51.9 percent), Cory Jefferson has stepped into the lead usage role, and Isaiah Austin, despite offensive struggles, is blocking 15.9 percent of opponents' shots. But the Bears are losing too many possessions (20.8) to turnovers, and gaining almost none of them back; their 12.9 percent opponent turnover percentage is one of the lowest in the country.
Oh, by the way, Gonzaga is in this field too. The Zags haven't lost a step on offense without 2012-13 star forward Kelly Olynyk; Gonzaga has averaged 1.18 points per trip to date. That's thanks in large to part to Kevin Pangos, who has made 14 of his 32 3s, good for a 136.9 offensive rating on 25.2-percent usage in four games to date.
Finally, the Maui also offers a good look at the Gophers of Minnesota, who have been one of the most paper-impressive teams of November. Four of Minnesota's five wins have come at home against inferior opponents, sure, but all of them have been convincing, and their 74-59 Nov. 16 win at Richmond was a legitimately quality victory. New coach Richard Pitino doesn't quite have Andre Hollins and Austin Hollins playing as fast as he advertised in the offseason, but Minnesota has picked up the pace significantly, and at any speed, those two key holdovers from the Tubby Smith era have played brilliantly thus far. Monday's opening round matchup against Syracuse should be fascinating.
Elsewhere
: Providence and Maryland both handled business (against La Salle and Northern Iowa, respectively) to get to Monday's 10 p.m. ET Paradise Jam final; it was nice to have at least one tournament this weekend that made any semblance of sense … the CBE Classic and Legends Classic, both two-day, four-team championship round events, tip off as well. Enjoy.
November, 24, 2013
11/24/13
12:00
PM ET
On Holiday is College Basketball Nation's daily rundown of the holiday tournaments, complete with previews, recaps and links to all of the early-season tournament info you'll need in the weeks to come.
IN REVIEW
College football was more exciting Saturday, and I don't love college football: "On a slow Saturday for college basketball, there just weren't many gems. North Carolina struggled with Richmond but eventually pulled away to win 82-72. Louisville dismissed Fairfield 71-57, which set up a marquee Sunday matchup against the Tar Heels. Winless Tulsa gave Creighton a scare. But overall, it certainly wasn't the game's sexiest Saturday. But there were a variety of under-the-radar and mid-major programs that offered some impressive individual efforts." -- Myron Medcalf, ESPN.com
[+] Enlarge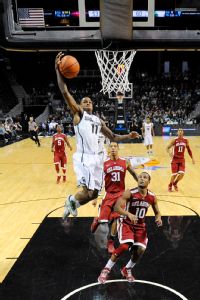 Maddie Meyer/Getty ImagesKeith Appling's career-high 27 points and clutch plays helped Michigan State overcome Oklahoma.
COACHES V. CANCER: Michigan State "got punched, almost KO'd' by Oklahoma; wins Coaches' title 87-76 anyway: "The Sooners came out with something to prove. The Spartans did not. They won anyway, 87-76, despite falling behind by double digits midway through the first half in the finals of the Coaches vs. Cancer Classic. And despite building an 18-point second-half lead, only to fritter it away with turnovers and missed free throws. … They might not have were it not for Keith Appling, whose 3-pointer in the first half ignited a run for MSU and whose three-point play in the second half stopped a run for Oklahoma. That driving layup and ensuing free throw began a run of seven consecutive points for Appling. He finished with 27 -- a career high. He scored many of them down the stretch, driving into the lane, tossing acrobatic floaters." --Shawn Windsor, Detroit Free Press
UP NEXT
**HALL OF FAME TIP-OFF: No. 3 Louisville, No. 24 North Carolina survive in semis, give us marquee title game -- with one caveat: The tournament organizers at the Mohegan Sun in Uncasville, CT could rest easy Saturday afternoon. Defending national champs Louisville handled Fairfield 71-57 and continued to look impressive. North Carolina, on the other hand, was a little bit shakier against Richmond -- a more solid, healthier Richmond than in recent seasons, but Richmond all the same.
Strong recap from C.L.: "Erase for a minute everything you're used to assuming about a North Carolina basketball team under coach Roy Williams. The No. 24 Tar Heels are not that team." -- C.L. Brown, ESPN.com.
They're also not last season's team, in one very obvious way. The Tar Heels still won't have last season's leading scorer, P.J. Hairston, against Louisville on Sunday, though that is not exactly new news. What is new, now, is the open question of whether Hairston might ever come back for North Carolina. To put it simply, if Williams and UNC are worried that Hairston's summertime dalliances with convicted felon Haydn "Fats" Thomas (and the rental cars Hairston was driving that led back to Thomas's payment info and addresses at rental vendors), then he can't play. If he did, and the NCAA ruled against Hairston or UNC in the future, every game it played in the time being -- whether Richmond or Louisville or wherever -- would be in dispute.
For the first time since Hairston was pulled over, North Carolina officials -- down to Williams himself -- aren't evincing optimism about his return.
— Will Williams ever coach Hairston again? "I think I will," he said. "There's no doubt in my mind that I think I will. But I don't know." To understand the weight of that quote you need to understand that Williams would never rule anything out until it's officially ruled out. He's forever positive and hopeful. But it should be noted that even the Hall of Fame coach has changed his position since the preseason. Back then, Williams admittedly seemed unsure about how much time Hairston might miss, but he never publicly entertained the idea that Hairston would not play for the Tar Heels again. Now, Williams acknowledges he just doesn't know, and that public uncertainty can be interpreted as serious doubt. … But the prevailing theory among sources around the North Carolina program is that Hairston might not have been completely honest with investigators about the extent of his use of rental cars connected to a convicted felon named Haydn 'Fats' Thomas that were seemingly occupied by Hairston in violation of NCAA bylaws." -- Gary Parrish, CBS
[+] Enlarge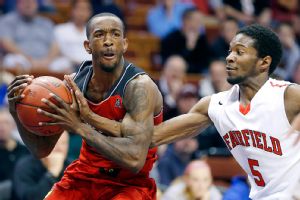 AP Photo/Michael DwyerAfter beating Fairfield, Russ Smith and the Cards face North Carolina on Sunday afternoon.
Oh, also: Louisville: It would be a shame to allow the ongoing North Carolina psychodrama to blot out Russ Smith and the Cardinals. Sure, Saturday represents Louisville's first test against quality competition -- besides Fairfield, the Cardinals have treated College of Charleston, Hofstra, Cornell and Hartford like a bored housecat with a mouse. But two things stand out about Louisville thus far:
Much like VCU, it is still turning people over at the same rate as in 2012-13 despite the new handchecking rules.
The Cardinals are not turning the ball over themselves. They finished No. 77 in turnover rate in 2012-13 -- coughing up on 18.3 percent of their trips. This season, with Chris Jones installed in place of departed senior Peyton Siva, the Cardinals are turning it over just 11.3 percent of the time.
The small sample size disclaimer applies here. Actually, make that a double disclaimer -- small sample size and poor competition. Jones is unlikely to make things look this easy all season. But the juco transfer junior hasn't missed a step in his first season in Louisville, Smith is even better offensively thus far, and the Cardinals are rolling as a result.
Paradise Jam (updated bracket) semifinal rounds: Seeds mostly held on Day 1 of the Paradise Jam, which I think we should abbreviate to "PJ," even if support among my colleagues remains tepid. Northern Iowa and Maryland square off at 7 p.m. ET, and La Salle gets Providence at 9:30 ET in the winners' half of the bracket.
Puerto Rico Tip-Off (updated bracket): Will Act III be as crazy as the first two? Georgetown-VCU sounds like a pretty solid November nonconference game, right? By March, it might be possible for both teams to have fully shaken off the reasons why they played on the final day of Puerto Rico; they may have improved so much by then we'll look back on today's consolation -- yes, consolation -- in a whole different context.
Today, however, it's a product of the unpredictability of the week in Puerto Rico -- where Florida State manhandled VCU and probably should have beaten Michigan late; where Northeastern made Georgetown look like a fellow CAA team, and not a very good one; where Charlotte, a seemingly nondescript program at this point, finds itself in today's 6:30 p.m. ET title game in Bayamon, PR.
With all due respect to the 49ers, the Florida State game may well have hardened Michigan in crucial ways. The Wolverines were physically dominated and just straight-up played badly and still, thanks to some timely, late heroics, managed to dispatch Leonard Hamilton's team and progress to the title game. It's hard to see them losing to Charlotte now.
Then again, we've been wrong before -- which is how we got Georgetown and VCU in the 2 p.m. ET consolation game in the first place. VCU was the favorite coming in to Puerto Rico, but FSU did a number on the Rams in Round 1, and Long Beach State kept that crucial turnover number startlingly low in VCU's win in Round 2. Georgetown has not protected the ball particularly well to date. The Hoyas turn it over on 18.0 percent of their offensive possessions. And their one clear personnel advantage -- massive center Josh Smith -- may not be able to stay on the court in an uptempo affair.
And that's it: There are other tournaments out there, but only so much space on the Internet to discuss them. Enjoy the Sunday of hoops everyone.
November, 23, 2013
11/23/13
1:30
PM ET
On Holiday is College Basketball Nation's daily rundown of the holiday tournaments, complete with previews, recaps, and links to all of the early-season tournament info you'll need in the weeks to come.
In Review
[+] Enlarge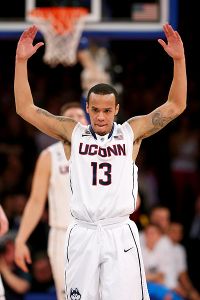 Elsa/Getty ImagesConnecticut's Shabazz Napier was "too good," according to Indiana coach Tom Crean.
Top story: Shabazz Napier is above the law (2K Sports Classic)
: "Shabazz Napier is just too good," Indiana coach Tom Crean said. "I imagine it would be in the NFL like trying to deal with a great running back
like Barry Sanders or Adrian Peterson now, something like that
where a guy can change direction at the drop of a hat, he can play with both hands, both feet, he's explosive to the basket, he's got the pull-up (jumper), obviously. He's got the straight pull-up, he's got the step-back, he's got the 3. And he's got one of those unteachable abilities to make big shots at really crucial times." —
Kieran Darcy, ESPN.com
New Mexico is not (Charleston Classic)
: New Mexico's struggles in Charleston didn't end with UAB. A day after an occasionally thrilling, often ugly two-overtime survival of the Blazers,
Kendall Williams
& Co. lost for the first time this season, 81-65 to
Massachusetts
.
New Mexico fans shouldn't panic, and not only because it's still just Nov. 22. For one, UMass is an experienced team on the cusp of a very good season. They also happen to play very
fast
basketball — difficult to slow down, anyway, but especially so just one day after a double-overtime scrap. New Mexico played the Minutemen even through 30 minutes. In the final 10, they were outscored 22-8. That reeks of fatigue.
Michigan (somehow) survived Florida State in OT (Puerto Rico Tip-Off)
: "Michigan's offense was as effective in the second half as it was dreadful in the first. The Wolverines scored 27 points on 30 first-half possessions compared to 55 points on 42 possessions in the second half and overtime. That's 0.9 points per possession in first and 1.31 points per possession after the halftime horn. Florida State's length was as advertised inside and Michigan shot just 46 percent on twos but made some threes, 37.5 percent, and got to the free-throw line. Converting the freebies was a different story; Michigan was just 17-of-27 at the stripe. The free-throw shooting almost cost the Wolverines down to the final horn, when Florida State had a desperation heave at the win. … A loss to Florida State would have been crippling to Michigan with games against Duke, Arizona and Stanford still on the schedule." —
Dylan Burkhardt, UMHoops
In Puerto Rico, Florida State pounded VCU and took Michigan to the wire — and honestly, probably
should
have finished the Wolverines off in regulation. I don't know whether this is a short-term November blip or a sign of a team that is much better than anyone outside Tallahassee expected — but the latter option is officially on the table.
VCU survived, too
, needing an eight-point second-half run, and an 8-of-14 night from
Juvonte Reddic
, to
shed Long Beach State
. A win's a win and all, but the no-turnover-no-stop formula that eventually sank VCU last March reared its ugly head again here (Long Beach turned it over on 16.4 percent of its possessions and scored 1.10 points per trip.)
Michigan State got by Virginia Tech with relative ease
, their first cruise since beating Kentucky and earning the No. 1 ranking 10 days ago. Next up is Oklahoma, a more challenging, but still eminently winnable, test.
What else?
The semifinal rounds of the Hall of Fame Tip-Off are under way as of this writing; read
Andy Katz
,
Dana O'Neil
and
C.L. Brown
on North Carolina and Louisville (and their opponents Fairfield and Richmond) here.
November, 22, 2013
11/22/13
11:20
AM ET
On Holiday is College Basketball Nation's daily rundown of the holiday tournaments, complete with previews, recaps, and links to all of the early-season tournament info you'll need in the weeks to come.
FURTHER REVIEW
What happened Thursday? What didn't happen Thursday? Much of the day's insanity was covered late Thursday night by your humble holiday tournament correspondent, and you can kind of get everything you need to know by reading Casual Hoya comment threads … so let's just move on.
IN PROGRESS
[+] Enlarge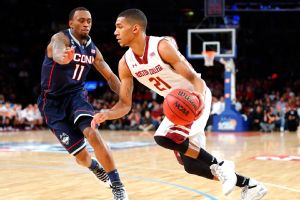 Jim O'Connor/USA TODAY SportsUConn had a surprisingly tough test against Boston College at the 2K Sports Challenge.
PUERTO RICO TIP-OFF (updated bracket), not the holiday tournament we deserve, but the one we need right now: I don't really know what that means, but then again I don't know what to make of a tournament in which Kansas State and Georgetown are facing off in the semifinals of the loser's bracket, with VCU on a straight line down the page. Charlotte fans especially have to be stoked: A chance to beat a struggling Kansas State team in November is all well and good, but a second-round defensive battle with Northeastern could well put Alan Major's 49ers into the final. Whoever gets there would surely relish a chance to play Michigan, but the Wolverines themselves first have to get past an unbeaten Florida State team that turned the ball over to VCU on 29.1 percent of its possessions and still won by 18 points Thursday night. "Go figure" is the unofficial motto in Bayamon, Puerto Rico, thus far.
2K SPORTS CLASSIC, where things stayed relatively sane: I qualify with "relatively" because Shabazz Napier and Connecticut needed everything they could muster to get past a 1-3 Boston College team that suddenly -- if only for a Thursday night -- figured out how to guard the perimeter. Indiana had fewer issues with Washington, which showcased some promising perimeter stuff but looks drastically understaffed on the block. This sets up a rather excellent (and certainly brand-dominant) UConn-IU showdown in Madison Square Garden Friday night.
Thursday was a coming out party of sorts for Indiana's freshmen. Forward Noah Vonleh, a top-15 player in the loaded 2013 class, showcased the result of his near-legendary offseason workout regimen; the dude went from "beanpole" to "hoss" in the matter of, like, three months. But IU's most impressive new player Thursday night was Troy Williams, a hyper-athletic wing who shot the ball well and attacked the rim in thrilling fashion. The Victor Oladipo comparisons are already being thrown about. Now let's see what all this means against IU's first truly quality opponent.
CHARLESTON CLASSIC (updated bracket), where New Mexico survived: It took two overtimes and a couple of 3s at the buzzer -- one of them a 40-foot Kendall Williams heave -- but the Lobos fought on. Next up is UMass, where senior guard Chaz Williams and the Minutemen -- already one of the fastest teams in the country the past three seasons -- are using the new, high-scoring college game to full advantage.
JOINING THE PARTY
PARADISE JAM (bracket): With all due respect to the rest of a solid field -- and in full understanding of the fact that crazy things happen in single-elimination settings -- the Paradise Jam is Providence's tournament. Or, at the very least, Bryce Cotton, Kadeem Batts) and emerging sophomores (Josh Fortune, Tyler Harris, former top-five guard prospect Kris Dunn, who is still recovering from a shoulder injury) get a mix of totally winnable but nonetheless intriguing tests. The first comes in Friday's opening round against a depleted Vanderbilt. The especially interesting stuff comes later with a possible second-round matchup with La Salle, and a shot, if seeds hold, to play Maryland in the title game next week."
COACHES VS. CANCER (schedule): Can Michigan State shake off two ugly home wins -- a near-disaster (averted by the Izzone, no less) against Columbia and a not-much-better win over Portland -- to handle what should be a pretty straightforward pair of games in Brooklyn?
November, 21, 2013
11/21/13
8:00
AM ET
On Holiday is College Basketball Nation's daily rundown of the holiday tournaments, complete with previews, recaps, and links to all of the early-season tournament info you'll need in the weeks to come.
PUERTO RICO TIP-OFF (Bayamon, Puerto Rico)
Charlotte vs. Kansas State, 10:30 a.m. ET (ESPNU)
Northeastern vs. Georgetown, approx. 12:30 p.m. ET (ESPNU)
Long Beach State vs. Michigan, 5 p.m. ET (ESPN2)
Florida State vs. VCU, 7:30 p.m. ET (ESPNU)
[+] Enlarge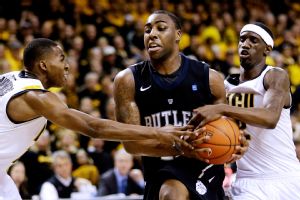 AP Photo/Steve HelberThe rules have tightened, but VCU's "Havoc" is still living up to its name early in the 2013-14 season.
Need to know
: Traditionally, few would confuse the Puerto Rico Tip-Off for the Maui Invitational -- or, more recently, the Battle 4 Atlantis -- for overall strength of field. That's true again this season, but not nearly as much as usual. ...
VCU
looks like a bona fide Final Four-level team, and is still forcing turnovers at a massive rate (29 percent) despite the NCAA's new hand-checking rules. It should be said that frequent grumbles from opposing coaches suggested that the Rams' press works only because it's so physically aggressive. Maybe not so much?
Michigan
is still getting forward
Mitch McGary
's back healthy after last weekend's tough loss at Iowa State. But a bigger concern might be the play of wingman
Glenn Robinson III
, who is scoring more frequently but less efficiently this season, particularly in the half court, where he's shooting just 36 percent.
Kansas State
is defending and rebounding, which is hardly a surprise, but the Wildcats
still need to get their offense on track
.
Oh, and save the irrepressible freshmen,
Georgetown's
Joshua Smith
was the story of college basketball's opening weekend. Smith's ongoing weight issues at UCLA left many thinking he was a lost cause, but his 25-point, 10-for-13 performance in Seoul showcased a player who might yet succeed in spite of his size.
Game of the day
: Florida State vs. VCU. The previous time these two teams met, Florida State was the Sweet 16 victim in VCU's program-defining First Four-to-Final Four run in 2011. Bradford Burgess' layup with seven seconds left, and Rob Brandenburg's last-second block, gave VCU the win — and resulted in
one of the greatest and most delirious radio calls of all-time
. Florida State's odds on revenge seem slim.
2K SPORTS CLASSIC (New York City)
Connecticut vs. Boston College, 7 p.m. ET (ESPN2)
Indiana vs. Washington, 9 p.m. ET (ESPN2)
Need to know
:
Connecticut
point guard
Shabazz Napier
appears to have finally found his sweet spot, posting a 135.5 offensive rating thus far. It's still early, of course, but that's a 20-point increase from last season's efficiency metric, despite Napier using almost exactly the same number of possessions in 2013-14 (24.4) as in 2012-13 (24.3).
The difference? Fewer shots. Napier is hoisting just 17.9 percent of available attempts this year, down from 24.0 last season, and his assist rate has leapt from 27.9 to 36.3. He's shot just seven 3s; he's made six. This is all small-sample-size disclaimer stuff, but it is worth noting: Napier is keeping UConn's top-10-level offense humming less through scoring than everything else. Against
Boston College
-- a slightly disappointing 1-3 team with an efficient offense and a downright brutal (ranked 294th in the country in adjusted defensive efficiency-level brutal) defense -- Napier's smooth command should be on full display.
The Huskies likely will face
Indiana
, but that's only if the Hoosiers can avoid an upset at the hands of Lorenzo Romar's rebuilding
Washington
Huskies. Indiana is a very different team from the No. 1-seeded group that sent two players (Cody Zeller, Victor Oladipo) to the top five of the 2013 NBA draft. This is evident in both good and bad ways. On the positive side, freshman
Noah Vonleh
has been an immediate interior beast, grabbing 31.0 percent of Indiana's available defensive rebounds and blocking one shot every 20 possessions.
On the down side, Indiana's 3-point shooting has plummeted from 40.4 percent last season to 30.3 percent; stellar sophomore point guard
Yogi Ferrell
is the only player shooting it consistently. That has allowed smart defenses (see: LIU Brooklyn) to sink and prevent driving lanes, stagnating IU's attack, making life more difficult for Ferrell, and making IU look -- for perhaps the first time in Tom Crean's tenure -- better at defense than offense. Strange times.
Game of the day
: Indiana vs. Washington. Boston College doesn't look likely to stop Napier,
Ryan Boatright
, and the rest of UConn's impressive backcourt. But if Indiana's young group stutters under the bright lights of Madison Square Garden,
C.J. Wilcox
and the Huskies might just have an unpleasant surprise in store.