College Basketball Nation:

orange-cardinals-021312
February, 13, 2012
2/13/12
11:25
PM ET
LOUISVILLE, Ky. -- Syracuse has some glaring weaknesses.
The Orange are not a great rebounding team and give up way too many second chances on the defensive glass. They're not a deadly outside shooting team. They don't have a bona fide superstar who can take over in late-game situations.
All of those flaws were laid out for the world to see Monday night against Louisville, the team that has exploited Syracuse's liabilities more than any other the past few years.
Yet here's the undeniable good news for the nation's second-ranked team. The Orange found a way to trudge through a defensive morass and pull out the
52-51 victory
-- their 26th win in 27 tries this season -- against one of the hottest clubs in the Big East.
[+] Enlarge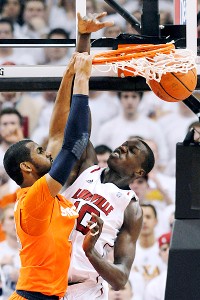 AP Photo/Timothy D. EasleyJames Southerland contributed crucial points and minutes off the bench in Syracuse's one-point win over Louisville.
"We really didn't play well, especially from the guard position," senior point guard
Scoop Jardine
said. "We didn't score the ball like we usually do. But we fought all game, on the road against a tough Big East team that really has had our number. And that speaks highly of our team."
Much like last week's 64-61 overtime win against Georgetown, Syracuse struggled to make shots. Rick Pitino's matchup zone caused confusion just as it had in Louisville's seven-game winning streak in this series dating back to 2006. The Orange connected on just 34.4 percent from the field and went 1-for-15 from the 3-point arc, its second-worst showing from long range in the past 15 seasons.
Kris Joseph
bailed his team out against Georgetown, scoring 29 points and drilling six 3s. But on Monday, Joseph picked up his fourth foul early in the second half and wasn't much of a factor with just two field goals. Jardine, who had 21 points in a hot shooting day over the weekend versus Connecticut, was 0-for-8 from the floor and didn't score.
"Normally, when your two best players are struggling in college basketball you can't win, at home or especially on the road," coach Jim Boeheim said. "And they both struggled mightily tonight."
Boeheim, though, has arguably the deepest well of talent in the country to draw from, and that played a key role Monday. The Syracuse bench scored as many points (26) as the starters, led by 13 from
C.J. Fair
, who scored the game-winner. It's that depth that makes the Orange dangerous, especially when guys like
James Southerland
and
Baye Keita
-- the eighth and ninth men Boeheim called upon Monday -- can contribute six crucial points down the stretch when every basket is precious.
"We've got a lot of guys, and everybody believes in each other," sixth man
Dion Waiters
said. "We're not just a one-man show."
That depth also gives Boeheim the versatility to play different styles. This month alone, Syracuse has won track meets against St. John's and Connecticut by scoring 95 and 85 points, respectively. And they've won hand-to-hand combats versus Georgetown and Louisville.
On Monday, with the outside shot not falling, the Orange took advantage of their length inside by getting to the rim as often as possible. Of their 21 field goals, 18 were either layups or dunks. That became even more pronounced in the second half, when their only points outside the paint or the free throw line came on an eight-foot jumper by
Brandon Triche
.
The game was really won, however, on the defensive end. Louisville is deeply flawed offensively itself, especially when point guard
Peyton Siva
can't penetrate and create open looks. After a hot start in which he was directly or indirectly responsible for his team's first 13 points, Siva got saddled with his third foul before halftime. Syracuse's big men started staying at home defensively when he drove to the rim, and Siva finished with more turnovers (five) than assists (four). The Cardinals had a chance to take the lead in the final five seconds, but Siva's pass was intercepted by Waiters after he got cut off along the baseline.
The Orange also locked onto Louisville's
Kyle Kuric
, who had averaged 22.5 points in the teams' last two meetings. Kuric went just 1-for-8 from the field with a lone 3-point make. The Cardinals were held scoreless for the final 3:38 after a 15-2 run had put them up by five and worked the home crowd into a lather.
"I'm telling you, we really gutted this one out," Jardine said. "They didn't make many shots, but we got the guys we wanted to shoot it."
Boeheim knows that these types of slogs will pop up again during the NCAA tournament. He also knows that if Louisville had made one more play in the final minutes, we'd be sounding much louder alarm bells about Syracuse's holes, like the 18 second-chance points it surrendered thanks to poor rebounding execution.
Yet the Orange -- who have a very real chance of heading into the Big East tournament at 30-1 -- displayed admirable grit and poise in a challenging environment on Monday night. Their very real weaknesses might not be enough to offset their many strengths.
"We could have hit a few more shots and we definitely could have crashed the boards a bit better," Triche said. "We could have done a lot of things better tonight. But to win a game like this, going down to the last shot, that's definitely something we're going to use for March."
February, 13, 2012
2/13/12
9:12
PM ET
LOUISVILLE, Ky. -- Quick thoughts from the Yum! Center, where No. 2 Syracuse survived on the road against No. 18 Louisville
52-51
on Monday night:


Overview:
If you like high-scoring games and lots of easy baskets, this game was not for you. Points were like precious gems most of the night and neither team led by more than eight points. Both teams shot less than 35 percent for the game and bricked 3-pointers left and right. But Syracuse showed a lot of poise in finally getting over the hump against Louisville, which had beaten the Orange seven straight times dating back to 2006.
Turning point:
Louisville reeled off a 15-2 run to go ahead by five points with fewer than four minutes left. Syracuse looked rattled during the run, especially when
Kris Joseph
dropped the ball out of bounds with no one around him. But the Orange chipped away at the lead on the strength of their defense, holding the Cardinals scoreless over the final 3:39.
C.J. Fair
's layup with just over two minutes left put Syracuse back ahead 52-51, and neither team would score again.
Peyton Siva
turned the ball over in the final six seconds while trying to create something off a drive, and Louisville couldn't get off a shot attempt after getting the ball back with 1.1 seconds left.
Star of the game:
Fair was big off the bench for Jim Boeheim, scoring a team high 13 points and adding five rebounds. And his go-ahead basket was the last field goal of the game. Special mention goes to Louisville freshman
Chane Behanan
, who led all scorers with 16 points to go along with nine rebounds.
Stat of the game:
Of Syracuse's 21 baskets, 18 were layups or dunks. The Orange were just 1-of-15 on 3-point shots, missing all six second-half attempts. According to ESPN Stats & Info, it was the program's second-worst performance from long range in the past 15 years. But the Orange converted 9 of 11 free throws, while Louisville was just 12-of-21 from the foul line.
What the win means for Syracuse:
The Orange (26-1, 13-1) tightened their grip on first place in the Big East by winning what looked like their toughest remaining regular-season game. They won't play another ranked team until the March 3 finale against these same Cardinals in the Carrier Dome, if Louisville hangs around the Top 25 that long. Despite the win, concerns about Syracuse's outside shooting and defensive rebounding remain as both areas were exposed on Monday.
What the loss means for Louisville:
The Cardinals (20-6, 8-5) saw their six-game winning streak snapped and got a measuring stick as they played their first ranked team since a Jan. 16 loss at Marquette. They slide back into the middle of the pack in the Big East standings. Louisville remains limited offensively, especially when Siva -- who was saddled with early foul trouble and committed too many turnovers -- is not at his best.
Up next:
Both teams go on the road this weekend but should be heavily favored, as Louisville heads to DePaul on Saturday and Syracuse visits Rutgers on Sunday.