College Basketball Nation:

orange-hoyas 021810
February, 18, 2010
2/18/10
9:15
PM ET
[+] Enlarge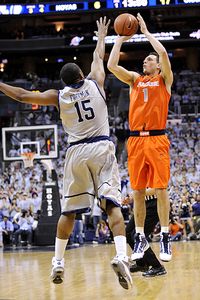 AP Photo/Nick Wass Andy Rautins led Syracuse with 26 points against Georgetown.
WASHINGTON D.C. - Still wondering what hit me after watching
Syracuse nearly blew what I figured was a walkover
here at the Verizon Center. Georgetown fought and clawed as close as a team down by three touchdowns can and still make it interesting, but couldn't push the Orange to extinction.
More to come later, but here are a few things I do know for sure after this game:
The 'character' issues that plagued Georgetown are definitely a thing of the past. Teams without character don't crawl out of a subterranean basement against a top-5 team.
As good as Syracuse is, the chink in the armor right now is that the Orange don't seem to know how to put teams away. They struggled with it against Marquette, Connecticut, Louisville and desperately in this game. Come tournament time, Syracuse could find itself in hot water if it doesn't solve that problem.
Wes Johnson needs to start taking over more games. With Arinze Onuaku on the bench, followed in short order by Rick Jackson, I kept waiting for Johnson to demand the ball and determine the outcome. It never happened. He had just two points in the second half.
And last, the Big East Tournament will be must-watch TV for any and all hoop heads. But I'm guessing you already knew that.
February, 18, 2010
2/18/10
8:04
PM ET
WASHINGTON D.C. -- Syracuse clearly isn't interested in yet another tight game. The Orange have blown the doors off Georgetown in the first half, putting up more points (44) in the first 20 minutes than anyone has this season against the usually stingy Hoya defense.


Syracuse is shooting a blistering 54 percent from the floor and has been impressive in mixing up the way it's getting its buckets. It's been a 20-minute reminder of just why this team is good enough to win a national championship.
Andy Rautins
-- all but shut down by Louisville -- got things rolling with 10 quick points, but when Georgetown started concentrating on the arc, the Orange dished inside to
Rick Jackson
or
Wes Johnson
drove to the hoop.
Georgetown, on the other hand, looks completely vexed by the Syracuse zone. The Hoyas have taken 10 free throws but
Greg Monroe
is responsible for all but two of them. That's because Georgetown has been taking low percentage shots and barely challenging the Orange inside. The Hoyas have only four points in the paint to 14 for Syracuse. Monroe has taken just one field goal. Mix in
Austin Freeman
's rough start (2-of-9) and it doesn't bode well for the Hoyas.
I'm curious to see if Syracuse, which has squandered big leads before, keeps its foot on the gas pedal in the second half or if Georgetown, which has been a second-half team all season (averaging 40 points in the second half to 33 in the first), will make this interesting.
February, 18, 2010
2/18/10
6:27
PM ET
WASHINGTON D.C. -- Getting ready for what ought to be a very good game between Georgetown and Syracuse here at the Verizon Center. The theme for both teams is the same -- bounceback. Syracuse was stung and stunned at home by Louisville on Sunday. An hour later, the Hoyas upped the surprise quotient in the Big East when they lost to Rutgers.


In the grand scheme of things it won't kill either team but the dogfight is on to try and score one of the double byes in the Big East Tournament and capture regular-season honors. Plus no one wants to head towards March riding a win-loss rollercoaster.
Here's what I'm curious to see:
Can the Hoyas get Greg Monroe involved this time? In the first game this season between the two, the combination of Syracuse's zone and the Orange's big men held Monroe to just eight ineffective points.
Will the Orange need last-minute heroics again? In Syracuse's last three games, the Orange has had to bail itself out of a jam: down six late to Cincinnati, blowing a 16-point lead to Connecticut and then squandering an early 12-point advantage against Louisville. Jim Boeheim said he wasn't pleased with his offense the last few games and with good reason. Will an angry Cuse team come out on fire?
Does Wes Johnson start looking like a Player of the Year candidate again? Considered in the top group along with John Wall and Evan Turner, Johnson's numbers have slipped late. In the last four games he's averaging just 10 points per game and shooting just 30 percent from the floor.