College Basketball Nation:

orange-panthers-011711
January, 18, 2011
1/18/11
12:35
AM ET
By
Dana O'Neil, ESPN.com
| ESPN.com
PITTSBURGH -- The Legendary Blue Horizon, home to some of boxing's richest history, sits just a few blocks north on Broad Street from
Brad Wanamaker
's Roman Catholic high school.
So when the Philadelphia native was looking for a way to explain the Big East, and, better yet, to explain who wins the Big East, Wanamaker went with an analogy he and his Brotherly Love natives know well.
"In this conference, it's not just about throwing the first punch,'' the Pittsburgh senior said. "It's about how you respond. You survive in this league. Survival of the fittest.''
You remember Pittsburgh, right? The team picked to win the Big East in the preseason? The one on most everyone's Final Four short list back in October?
The one that promptly fell off the radar after an inexplicable loss to a Tennessee team that used said victory to go on a losing rampage and further discredit Pitt for the loss?
[+] Enlarge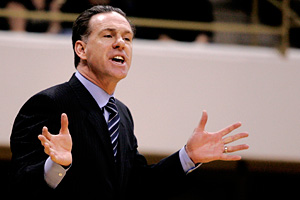 Justin K. Aller/Getty ImagesJamie Dixon directed his Panthers to an early 19-0 lead against No. 3 Syracuse.
Yes, well, the Panthers would like to offer a little bit of a memory jolt: they didn't go anywhere.
And as the Big East gets churning into the meat of things, Pittsburgh has three things going for it: the Panthers are healthy, they are deep and they are talented, a simple formula that works like a Molotov cocktail in this Darwinian league.
With its
74-66 win
over a depleted Syracuse team (the Orange were without leading scorer
Kris Joseph
, and going into the Oakland Zoo without your leading scorer is like going to Las Vegas with an empty wallet), Pittsburgh is 6-0 in the Big East for the first time in school history.
"Since the Tennessee game … we've been on a mission to just prove to everybody and ourselves what type of team we are and what we're capable of,''
Gilbert Brown
said. "I don't think people necessarily forgot about us. They may have doubted us a little bit.''
But the Panthers are out to do more than silence their critics. For all the success Pittsburgh has enjoyed over the past 10 years -- nine consecutive NCAA tournament appearances, a 263-66 record in the Big East, nine 20-win seasons in a row -- there is one glaring hole in the Panthers' résumé .
Pitt has yet to cross the threshold to the Final Four Promised Land. The Panthers have been close -- a Scottie Reynolds coast-to-coast buzzer-beater close -- but they have yet to achieve the ultimate basketball measuring stick.
Is this team capable of doing it?
Dixon won't bite on that, but he does offer this assessment, one that ought to frighten opponents:
"We're improving,'' he said. "We're getting tougher. Confidence is part of toughness and we're gaining confidence.''
This game will only serve to up the needle on the confidence meter.
Pittsburgh dropped a hoops haymaker on the Orange to start, rolling to a stunning 19-0 lead in the first seven minutes.
That can happen against, say, DePaul.
It doesn't happen against the No. 3 team in the country, a team without a loss on its schedule.
[+] Enlarge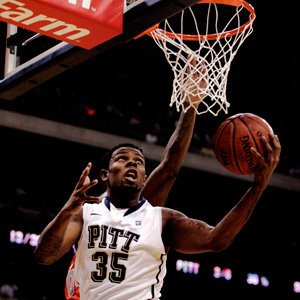 Justin K. Aller/Getty ImagesNasir Robinson scored eight of Pitt's first nine points and finished with 21 points in a win against previously unbeaten Syracuse.
Of course neither does what happened next: Syracuse, which missed its first 10 shots, sank its next five and peeled off a 17-0 run of its own.
A goose egg for one team followed by a goose egg for the other? Go figure.
"We just did not do anything well at the beginning,'' Jim Boeheim said. "We regrouped. I thought we played well the rest of the first half once we got over that start. We made as good a comeback as you're probably going to make.''
Indeed the Orange leave Pittsburgh with little to hang their heads about. This is the place where top-5 teams come to die -- Pitt is 9-0 against top-5 opponents since the Zoo opened nine years ago -- and Syracuse would have been hard pressed even if it could have had Carmelo Anthony in uniform.
Relying on freshmen
C.J. Fair
(16) and
James Southerland
(8) to make up for Joseph's points and experience will only help the Orange in the long run.
But like Wanamaker said, it's not about throwing the first punch.
It's about withstanding all of them.
The Panthers picked and prodded the Syracuse zone, letting
Nasir Robinson
destroy it from the inside out. He put himself in the heart of the zone, taking feeds from up top and then either passing back to his shooters or scoring himself.
Robinson finished with 21.
"Coach preached to me all week to get catches in the middle so that we could work out of that to our perimeter shooters,'' said Robinson, who helped the Panthers shoot 40 percent from beyond the arc against a team that ranks in the top 10 in 3-point defense. "The key thing in zones is getting inside touches.''
The only real disappointment in this game is that the two teams won't meet again in the regular season with, presumably, Joseph in the lineup.
The unbalanced Big East schedule doesn't offer up a rematch at the Carrier Dome.
If these two heavyweights are to meet again, it will have to be in New York, during the Big East tournament.
"I'd love to play them again,'' Wanamaker said. "They're a great team and playing at their place is like playing here. I'm sure people probably will say this has an asterisk because he didn't play. Let them put an asterisk next to it. We don't care. We're used to people doubting us.''
Sounds like a fighter.
January, 17, 2011
1/17/11
10:05
PM ET
By
Dana O'Neil, ESPN.com
| ESPN.com
PITTSBURGH -- Remember Pittsburgh? The team picked to win the Big East?
Yes, rumors of the Panthers' death were slightly premature.
Somewhat forgotten behind a red-hot Syracuse team and thanks to a bizarre train wreck of a loss to Tennessee, Pitt reasserted its preseason expectations with a
74-66 win
against Syracuse.


The win, however, comes with a caveat: No
Kris Joseph
for the Orange. The leading scorer stayed back home after a frightening fall on his head during the Cincinnati game this past Saturday.
The bad news: These two teams won't meet again in the regular season thanks to the stilted Big East scheduling.
The good news: There's always the Big East tournament.
What it means for Syracuse:
The Orange drop out of the select company of undefeated teams, leaving Kansas, San Diego State and Ohio State to forge ahead without them. Other than that? This isn't exactly a killer. There is little shame in losing at Pittsburgh. Period. There is even less shame in losing at the Oakland Zoo when your leading scorer is sitting back in New York, nursing a head injury and you once trailed by 19. The only real thing the Orange can't afford to do is spend too much time wallowing in disappointment, not with Villanova coming to town on Saturday.
What it means for Pittsburgh:
That whole preseason favorite thing? Yeah, that's back on the table. The Panthers now stand alone atop the Big East standings, the only conference team without a blemish. They are 6-0 in the Big East for the first time in their history. Pitt's very un-Pitt-like loss to Tennessee remains the lone blemish on its record and the Panthers frankly have a decent schedule in front of them. Aside from a home and away with Villanova and a game at West Virginia, the Panthers will easily be favored in the rest of their games.
Game ball goes to… Nasir Robinson:
The junior scored eight of Pitt's first nine points to spearhead the Panthers' crazy 19-0 start, and finished with 21 points. He was lethal cutting through the Syracuse zone, scoring at the rim and dishing when the Orange sagged on him.
Not so Fab:
Freshman
Fab Melo
started the game for the Orange, proceeded to get burned on two defensive plays and took an ill-thought jumper. Two minutes into the game, he went to the bench. He never came back. That's what Jim Boeheim likes to call a teaching moment.
OK, your turn:
In what had to be the most bizarre first half of basketball played this season, Pitt opened the game on a 19-0 run. Syracuse erased that with a 17-0 dash. The Panthers responded with seven unanswered and then the Orange matched that with a 7-0 run of their own. Not until the final minute, when the play-by-play read
Lamar Patterson
jumper,
James Southerland
3-pointer,
Ashton Gibbs
3-pointer did the two teams actually trade a succession of buckets.
Maybe it's a Big East thing. Over the weekend, Providence blew a 17-point lead to South Florida and Marquette gave up an 18-point advantage against Louisville.
The difference? The Friars and the Golden Eagles both lost.