College Basketball Nation:

Pat Kelsey
May, 3, 2012
5/03/12
11:00
AM ET
The coaching carousel hasn't come to a complete halt yet. But the bulk of the maneuvering has concluded. Some great moves. Some questionable hires. A few "Huh, really?" selections, too.
But these rankings are not just about the head coaches. They're about the equation. Which schools made the best moves considering their current situations? Let the debate continue.
[+] Enlarge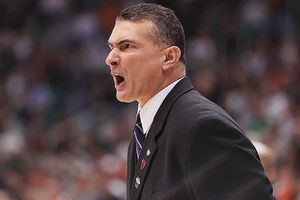 Jed Jacobsohn/Getty ImagesWill the fire of Frank Martin help turn South Carolina into a contender in the SEC?
1. Frank Martin, South Carolina:
So Martin needed a change of scenery. But his offseason options were limited. Enter South Carolina, a program that fired Darrin Horn following three consecutive losing seasons. If Martin builds this program into a contender, it will build a statue for him. He's certainly not intimidated by the odds. He has had to coach, recruit and compete against top programs/coaches in the Big 12 for the past five years. He has a brand that will attract recruits who may have previously dismissed the SEC squad. His personality will draw attention to his project and adding former Kansas State assistant Brad Underwood guarantees continuity. In all, a great move for the Gamecocks.
2. Dan Hurley, Rhode Island:
Rhode Island (7-24) made one of the best hires in the country when it signed Hurley. Under former coach Jim Baron, the Rams never made the NCAA tournament. But they've grabbed one of the top young coaches in America by hiring Hurley, who led Wagner to a 25-6 record this past season and beat Pitt on the road. Wagner had won just five games when he took over the program two years ago. Brother and former Duke star, Bobby Hurley, and former Rutgers assistant Jim Carr will join him, too. Looks like a winning combo for the Rams.
3. Bruce Weber, Kansas State:
I can understand the critics of the move. In recent years, Weber failed to meet expectations at Illinois. But he also won 210 games, third in that program's history. He led the Illini to the 2005 national title game and managed to land some talented recruits in the years that followed. Kansas State signed a coach with the name recognition and experience it needs to maintain a place in the top tier of the Big 12. New assistant Alvin Brooks III has strong ties to the South, a potential recruiting boost for the Wildcats. Former Southern Illinois coach and assistant Chris Lowery has head-coaching experience. Inserting Weber limits the potential drawbacks from Martin's departure.
4. Tim Miles, Nebraska:
Miles needs his own energy drink. He's full of vigor. And he's going to need it to make Nebraska relevant in Big Ten basketball. Doc Sadler couldn't do it. But Miles' mojo made him an attractive candidate for multiple jobs after he led Colorado State to a 20-win season last season and North Dakota State to the NCAA tournament before that. The Rams won seven games in his first season and NDSU had to transition to Division I. The Cornhuskers have a new practice facility and a new arena (under construction) that will become the team's home in 2013. Drawing kids to Lincoln won't be easy. But the facilities and Miles' personality will definitely help.
5. Pat Kelsey, Winthrop:
He was an assistant under former Wake Forest head coach Skip Prosser, whose death in 2007 was so devastating for Kelsey that he left coaching last year. Now that he's back, however, Winthrop has just signed one of the top young coaches in the country. He was known for both his recruiting prowess and player development during his time at Wake Forest and his most recent stint as associate head coach at Xavier. Winthrop went 25-37 over the past two seasons, but the Eagles previously enjoyed a stretch that included nine NCAA tourney berths in 12 years. The 36-year-old Kelsey has the pedigree to rebuild there.
6. Barry Hinson, Southern Illinois:
If you can't beat him, hire him. Former Missouri State coach Hinson had his way with Southern Illinois during his nine seasons with the Bears. Now, he'll try to restore his former adversary, which cracked the Sweet 16 five years ago. Former head coach Chris Lowery had stretches of success but couldn't sustain them. Hinson was dismissed at Missouri State for similar challenges. But he's spent the past two years as Kansas' director of basketball operations. He knows the Missouri Valley Conference and he's a coaching vet. That's the kind of guy that SIU needs to climb to the top of the league and make noise in the postseason again.
[+] Enlarge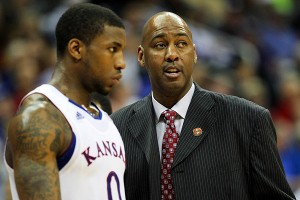 Jamie Squire/Getty ImagesWhile at Kansas, Danny Manning helped Thomas Robinson become one of the nation's elite players.
7. Danny Manning, Tulsa:
Thomas Robinson
was just a physical player with potential when he arrived. He left Kansas as a potential NBA lottery pick and national player of the year candidate.
Jeff Withey
was viewed as a "soft" prospect who'd never make a major impact in the Big 12 when he transferred to the Jayhawks. He set the NCAA tournament record for blocks last month and will enter next season as one of the nation's top big men. Manning helped those players -- and other former KU stars -- reach their potential. Does that mean he'll be a great coach? Not necessarily. But Tulsa needs someone who can take midlevel recruits and turn them into high-level college players. Manning is built for the task. He has developed some of the top players in the country.
8. Larry Eustachy, Colorado State:
CSU found a great replacement for Miles when it hired Eustachy. He rebuilt his career and life during his time with Southern Miss. He left Iowa State following alcoholism and other off-court issues in 2003, but he restored his name with his work at Southern Miss, a program he led to the NCAA tournament last season. He has led three teams to the NCAA tournament. Colorado State could have faced far more challenges in its search for Miles' successor. But Eustachy gives the Rams immediate credibility and a proven winner. Solid move for CSU.
9. John Cooper, Miami (Ohio):
After multiple assistant coaching stints, Cooper took over at Tennessee State three years ago. The program didn't have a great track record. But last season, he led the Tigers to a 20-win season and an upset over top-10 Murray State. It was the program's first winning season since the 1995-96 campaign. The RedHawks went 9-21 last season, but Cooper is familiar with rebuilding projects. And more importantly, he knows that region. He has the coaching prowess to change Miami the same way he changed Tennessee State's fortunes in just three seasons.
10. Larry Brown, SMU:
Can't think of the last time folks cared about SMU basketball on a national level. But there are still many questions. Yes, the school hired Brown, who hasn't coached at the collegiate level since the late 1980s. But former Kansas assistant and Illinois State head coach Tim Jankovich has been named "coach in waiting," whatever that means. New assistants Jerrance Howard and Ulric Maligi are very respected in recruiting circles. And while it's not always about "winning the news conference," Brown gives the Mustangs the national attention they will need to make progress on the recruiting trail. But this could be an "Isiah Thomas hire." No guarantee that this assembly finds success at SMU, but it's an intriguing package for a school that wanted to make a splash on its way into the Big East.
March, 30, 2012
3/30/12
5:00
AM ET
1. It's really a shame that
Kendall Marshall
's last game was against Creighton in the third round and not Kansas in the Elite Eight. We never really saw the full potential of this Carolina team. Had Marshall been able to avoid injury then the Tar Heels would likely be in New Orleans competing for the title. But that's the beauty as well as the cruelty of sports. Now Marshall is declaring for the NBA draft with
John Henson
and
Harrison Barnes
, too. Roy Williams has had three sets of elite teams in his brief time at North Carolina. Two of the three won titles in 2005 and 2009. This one was destined to win one, too. But it will always be remembered for what could have happened, instead of what they did -- finish a game short of the Final Four.
2. A decision on Butler going to the A-10 isn't final yet, but all indications are that it's still pointing in that direction. Butler was once in a league with Xavier and Dayton and with Saint Louis nearby it's a slam dunk for basketball and the overall athletic department. The hurdle for the department would be to ensure that it's not too much of an added cost for the non-revenue sports. A-10 sources and Colonial Athletic Association sources all said there was no truth to George Mason and VCU moving to the A-10, too. They've gone public with that, as well. The A-10 shouldn't go to 16 anyway at this juncture. All it needs to do for now is replace Temple for Butler. If Charlotte were to leave for the CUSA-MWC merger then the A-10 can deal with that loss later.
3. Pat Kelsey took over the job at Winthrop in a surprising move since Kelsey had resigned from his Xavier assistant position to spend more time with his family last year. I spoke with Kelsey a few times and he legitimately feared that he was not spending enough time at home and that he was going to miss his children's lives. Kelsey was deeply troubled by the death of his mentor, former coach Skip Prosser. But the year off did wonders for him. The hope is that he has his priorities set and can allow himself at a smaller, less intense school like Winthrop to stay grounded and keep the balance necessary in his life.
May, 16, 2011
5/16/11
3:40
PM ET
To hoops junkies, being a college basketball coach sounds like a dream gig. You immerse yourself in the game you love. You thrive in a position of authority and inherent respect. You define the life trajectory of hundreds of young men. You pack an office with truckloads of knickknacks and memorabilia. You make anywhere from hundreds of thousands to millions of dollars a year.
There's a reason so many young graduate assistants and college-age hopefuls throw themselves at the mercy of the oversaturated coaching job market each and every year. More often than not, it's worth it.
[+] Enlarge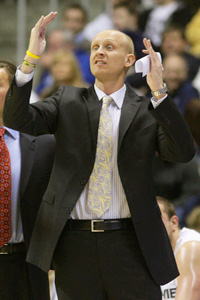 AP Photo/Al BehrmanPat Kelsey says he's done with college hoops for good, and will seek employment outside the game of basketball.
The position isn't all glamour, though. Think of all it requires: long hours. Constant attention. Obsessive study. Subservience to the cynical recruiting landscape. Unceasing Blackberry addiction. The knowledge that, when you really get down to it, your job, your livelihood, your position of prestige -- whatever success you've managed to attain in your professional career -- hinges on the waffling whims of 17-year-old kids. And even if you reach the top of your profession, even if you're Tom Izzo or Mike Krzyzewski or Bob Knight, there's always a thousand driven hopefuls willing to go that extra step to knock you down a peg. The job never gets easier. Quite the opposite, in fact.
Is the dream job worth all that it requires? Most coaches seem to think so. But every so often, someone proves that that's not always the case. Today, that coach is Xavier assistant Pat Kelsey,
who told the Sporting News that he's not only decided to step away from his promising gig with the Musketeers
, he is leaving the game of basketball entirely:
"For a long time, I have struggled internally with this decision," Kelsey said in a statement. "Four years ago, I witnessed firsthand Coach Prosser's death in the basketball office at Wake Forest. That day, my perspective on the profession and life was forever altered.

"My role as a father and husband is everything to me, and the rigors of this business can make that challenging."
"Nowadays, college basketball is 24 hours a day, 365 days a year and the balance between career and family can be difficult," Mack said. "I respect and, in many ways, understand his decision to put family first. Kels will always be part of the Xavier basketball family even as he moves in a different direction professionally."
According to Kelsey, he isn't just taking some time off, recharging the batteries for a few months in an effort to prevent long-term burnout. No, Kelsey says he's done with college hoops for good, and will now seek employment outside the game of basketball. (Kelsey has a degree in business administration, which should be useful in a still-challenging job market these next few months.) What that employment will be is uncertain, but Kelsey is looking for something that won't require him to choose between a profession and a life.
To use a bit of hoops parlance, you have to respect the call. Quitting your job for the sake of personal desire is not a decision many -- whether a coach or a cubicle drone or a post office worker or insert-your-own-profession-here -- would be able to make. It must be especially difficult for a competitive coach. But most of us can identify.