College Basketball Nation:

Pat Knight
February, 18, 2014
Feb 18
9:00
AM ET
By
ESPN.com staff
| ESPN.com

Andy Katz discusses a possible rule against court-storming, the upcoming scheduling challenges in the American Athletic Conference and the first domino to fall in the coaching carousel.
February, 24, 2012
2/24/12
1:00
PM ET
So, hey, how's Pat Knight doing at Lamar? Let's go check, shall we? Let's see here ... actually, things look pretty good.
The Cardinals are 17-11
, already a four-game improvement over last year's 13-17 team. They have an 8-5 record in the Southland conference, which, OK, the Southland conference is bad. Still, the first-year coach, whose tenure at Texas Tech didn't exactly go well, has his team ranked in the top 140 in the
KenPom rankings
and
No. 97 in the LRMC
. At first glance, that's a pretty good year, right?
Apparently, Knight doesn't see things that way. After Thursday night's home loss to Stephen F. Austin, the Cardinals' third in their past four games, Knight let loose with a rather epic postgame rant. It began with Knight's entrance, when he stopped senior guard
Mike James
from finishing an answer, telling him: "OK, let's go. I'm back. You don't have a clue what it takes to win." Things just sort of took off from there.
[+] Enlarge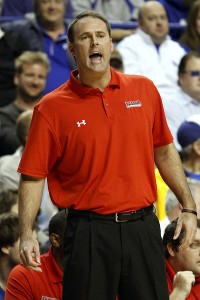 AP Photo/James CrispLamar head coach Pat Knight said the attitude and mentality of his seniors were "awful."
You can see the video
here
. I recommend you watch it.
Knight directed his ire toward his seniors, who he blamed for poor energy and effort in practices and games. He called them out for attitude issues, for dalliances with drugs, for a lack of accountability -- you name it, Knight said it. He held nothing back. Some of the choicest selections:
"We have a bunch of tin men out there right now. They've got no heart. I've never been around a team that's got so many problems as this one has. Usually you've got one or two guys that are a problem. We've got an infestation of guys that are hard to coach. I've never been around a group as a whole that are like that. Not one guy stands up."

"When I played, if you acted like the way some of these guys do, you got shoved in a locker with a forearm up against your neck and told you don't do that."

"We've got the worst group of seniors right now that I've ever been associated with. Their mentality is awful. Their attitude is awful. It has been their M.O. for the last three years."

"We've had problems with them off the court, on the court, classroom, drugs, being late for stuff. All that stuff correlates together if you're going to win games. You just can't do all that B.S. and expect to win games. And if people have a problem with me being harsh about it, I don't care. I came here to clean something up."
Turns out, some people do have a problem with Knight being so publicly harsh. Among them is Rob Dauster, who wrote at Beyond the Arc that he has a feeling Knight "is going to regret this press conference," that the "house issues must stay in house," and that "blaming your players [for] a loss, in my mind, is unacceptable." I can dig that, but I can also see the other side: The whole point of Knight's rant is that he doesn't feel his players (and, as he says, kids in society in general) are held accountable. This may not be the prettiest way to do so, but if you're trying to drive the point home and you're in Month 4 of the season and nothing has worked, making them publicly accountable is one way to do so. It may not be the prettiest way, but it's certainly one way.
Indeed, this may be the freedom afforded to a coach like Knight at a place like Lamar, a Southland program with little in the way of annual national relevance. Could Knight get away with this in his first year in a power-six conference? Probably not.
But this is nothing new: The man is honest, sometimes to a fault, with the press. Two years ago at Big 12 media day, Knight said the 2010-11 season was a "get-fired or get-an-extension kind of year." His team went 13-19 and tied for 10th in the Big 12. On March 7, 2011, Texas Tech fired him. Knight could have soft-pedaled his status, could have said the right things about "building a foundation" and "seeing progress," could have peppered his news conference with mindless preservation-minded coachspeak nuggets. Instead, he told the truth. If only more coaches would do the same.
On Thursday night, Knight told the truth again. It wasn't pretty, and it would be a shock to see Lamar's players finish this season strong; Knight practically pushed them out the door already. But he said what he felt needed to be said. Harsh as it was, in a world full of coaches who treat their teams like nuclear codes, it's hard to fault him for that.
(Hat tip: The Dagger)
October, 19, 2011
10/19/11
1:59
PM ET
The short version? Pat Knight thinks some of the NCAA's rules are "[expletive]."
The long version is slightly more complicated. Here's the deal: On Tuesday,
the Indianapolis Star reported that newly hired Lamar coach Pat Knight may face some NCAA heat for potential secondary violations
committed by his father, former Indiana coach Bob Knight. (Perhaps you've heard of him?) According to the Star, the elder Knight spoke for about five minutes apiece with Indianapolis-area high school recruits Jason Smith and Donnell Minton, both of whom committed to Lamar last week. The NCAA prohibits anyone but program staff from attempting to recruit a player to a school; it's the same reason boosters can't meet recruits, the same reason schools try so hard to police those pesky "Come to our school!!!!" Facebook fan groups. The rule also applies to Bob Knight.
So what does that mean for Lamar? Probably very little. The NCAA may investigate and hand down some minor punishments, but these are secondary violations. They're minor. Oh well.
That doesn't mean Pat Knight is all that pleased with the rule itself. Never one to gloss his feelings, Pat
told the Beaumont Enterprise just how he felt about the NCAA's myriad minor recruiting restrictions
:
"I didn't know it was against the law to have your dad say hello to recruits," Pat Knight said after practice Tuesday. "At least I'm not paying them. The NCAA should look into guys that are paying players and not worry about guys that are doing it the right way."

"I think it's (expletive), honestly," Knight said. "The guy is my dad. If he wants to say hello to a recruit, he can. If we get reprimanded, fine. They need to check into guys that are outright cheating instead of nickle-dime stuff like that."
Pat Knight is hilarious. When placed in a similar situation, your average coach would talk about how regrettable the mistake was, how seriously the program takes its compliance, how important it is that everyone realizes these were sloppy accidents, and boy, will we make sure they don't happen again. In other words, they pay lip-service. Pat Knight, like his father before him, seems physically incapable of paying lip-service.
As entertaining as that is, he's also wrong. If you want to be a college coach, you sign up for a certain set of rules. You may not like them all, but you sign up for them anyway. The NCAA justice system isn't the place to experiment with civil disobedience. You can't just say "that rule's dumb, they should focus on other things." If only!
March, 7, 2011
3/07/11
3:30
PM ET
And so the coaching carousel begins.
To be fair, the coaching carousel never really stops in the first place. Being a college basketball coach -- excluding those already managing successful high-major programs, or still in the first few years of a rebuilding process -- means spending all your non-coaching and non-recruiting time thinking about the next place you'll spend all your time coaching and recruiting. Everyone is always angling for a job, even when they're not.
[+] Enlarge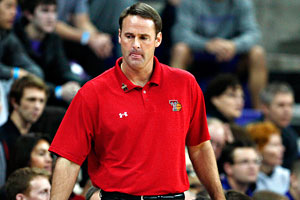 AP Photo/Kevin P. CaseyPat Knight seemed to have an idea he wouldn't be coaching Texas Tech beyond this season. The Red Raiders did not reach the NCAA tournament in his three seasons as coach.
And to be even more fair, technically, Wyoming got there first
when it fired coach Heath Schroyer in early February
.
Still, Monday's news --
that Texas Tech has fired coach Pat Knight
after his third full year at the school -- marks the first high-major coaching vacancy of the season.
In addition to being first among high-major schools, Tech's firing of Knight is also one of the least surprising coaching moves in recent years. Knight himself had to expect the ax. He famously put himself on the line at Big 12 media day, saying 2010-11 was a "get fired or get an extension kind of year" for him and his program, and now that we know his Red Raiders are unlikely to make it to the NCAA tournament for the fourth straight season, it's no surprise Texas Tech chose the former.
The question is: Who fills the vacancy? The answer: I have no idea. But don't be surprised to hear a lot of talk about Billy Gillipsie in the coming weeks. Gillispie has been working on getting back into coaching since he was fired at Kentucky, and he still has ties in Texas -- not to mention experience winning at ostensibly football schools -- thanks to his pre-UK tenures at UTEP and Texas A&M. He may not be the eventual hire, but it'd be a shock not to see his name on Raider fan message boards in the days and weeks to come.
In any case, though Tech is the first high-major to announce a firing or resignation, it isn't the only new coaching vacancy in Division I hoops. Beyond Wyoming, jobs are also available at Towson and Eastern Washington -- which announced their decisions on Monday as well -- along with Stetson, Monmouth, Georgia State and Bradley.
According to our own Andy Katz
, there is also the lingering threat of buyouts and potential openings at a variety of schools, including Utah, Oklahoma, Arkansas, NC State, Georgia Tech, Providence and South Florida. Indeed, the dominoes are about to begin falling. The coaching carousel -- which might better be described as a game of musical chairs -- is about to hit full speed.
In other words, the pink-ponied carousel has begun in earnest for the first time this season. So come on, you guys! Hop on! Dibs on the race car!
Weeeee!
March, 3, 2010
3/03/10
8:47
AM ET
The Morning After is our semi-daily recap of the night's best action. Try not to make it awkward.
No. 7 Ohio State 73, Illinois 57
: There were zero upsets to speak of last night, and Illinois' bid for a tournament-securing win at Ohio State was no different. Instead, the night was a feel-good Buckeye festival. Thad Matta's team secured a share of the Big Ten title.
Evan Turner
got a national spotlight, not that he needed it (more on this below). And
Mark Titus
, the by-now-famous
purveyor of Club Trillion
, made the most of his senior night,
notching one final trillion
in front of hundreds of Club Trillion t-shirt-clad OSU fans --
not to mention raising a whole bunch of cash for sick children
. Really, things couldn't have gone much better.
The most notable performance of the night -- other than Titus', obviously -- probably came from Ohio State sharpshooter
Jon Diebler
, whose seven 3-pointers for 21 points (this scoreline math is refreshingly simple) helped bury the Illini in the second half. After the game, though, the only national topic was Turner. More specifically, the topic was "Is Evan Turner the player of the year?" Every analyst ESPN had to offer on Sportscenter proclaimed it to be true. The only dissenters? America. In a SportsNation poll, 37 percent of the country voted for
John Wall
as the player of the year; Turner notched 33 percent of the vote. Which means one thing, America: You're on notice. I know Wall might be the most familiar name, but it's March now. There's no excuse for this. Inform thyself. Wall is a great player, but Turner has had a better season, and he deserves the award. I thought we Turner advocates had settled this issue already -- seriously, you have no idea how good it felt to see the unanimous pundit praise for Turner Tuesday night -- but apparently not. We have more work to do. Turner bandwagon team ...
assemble!
No. 19 Vanderbilt 64, Florida 60
: Again, no upsets here: Florida, like Illinois, could have sealed an at-large NCAA tournament spot with a win over the sturdy Commodores on Tuesday night. It didn't happen. Still, the Gators acquitted themselves nicely in the loss; Florida held a typically efficient Vanderbilt offense to a mere 64 points on 60 possessions. Billy Donovan's team was undone by its poor shooting, though, hitting 21-of-50 2-point shots and just 2-of-13 from 3 for a paltry 31.8 effective field goal percentage. Even in a solid defensive effort, that's not going to get the job done.
The Associated Press wrap of the game seems to think that Florida significantly hurt its tournament chances with the loss, but that seems slightly overstated. Sure, Florida didn't help itself, but losing by four to Vanderbilt at home isn't the worst result in the world, is it? Florida might have more work to do -- but no more work than before Tuesday, right?
Everywhere else
: Cincinnati likewise needed a big win to keep itself in the at-large conversation. They almost got it,
but insert the old koan about horseshoes and hand grenades here
...
UTEP clinched the outright Conference USA title with a hard-fought win at Marshall
... Missouri's
Zaire Taylor
almost perfectly recreated
Tyus Edney's famous game-winner in a
thrilling overtime win at Iowa State
...
North Carolina became the second team in the history of college basketball to get to 2,000 wins
; one wonders if the current players felt strange holding that 2,000-win plaque, given this season's ugliness ...
Syracuse had no problems with St. John's on senior night
...
Baylor won at Texas Tech
, handing Pat Knight's team its sixth straight loss ...
Minnesota suffered a major letdown at Michigan
, one which officially puts the final nail in the the already almost-entirely-assembled Gophers' coffin ...
Trevor Booker
did manly things in
Clemson's win over Georgia Tech
... and
Marquette shredded Louisville's zone in a 21-point win in Milwaukee
.
December, 17, 2009
12/17/09
1:08
PM ET
By
ESPN.com staff
| ESPN.com
Andy Katz speaks

with Tom Izzo about his Michigan State team and expansion plans in the Big Ten. Plus, Katz chats with New Mexico's Steve Alford and Texas Tech's Pat Knight.
December, 3, 2009
12/03/09
10:18
PM ET
Watching Texas Tech's double-court storming
win against Washington
tonight, I kept thinking of Pat Knight's words at Big 12 media day. In Kansas City a month ago, the Red Raiders coach insisted this year his team would be different because this year he finally had players.
Taking a cue from his pop, Knight didn't mince words about his earlier teams. He said emphatically that the players he had on the roster previously weren't good enough to win in the Big 12. They didn't defend well because they couldn't; they didn't run an efficient offense because the players weren't talented enough to do it.
I'll admit, at the time I thought it sounded like a cop out. Knight was feeling the heat in Lubbock and I thought maybe he was reaching for excuses.
I was wrong.
He was right.
Armed with good players -- his players -- and able to run the kind of game he wants to run, Knight has Texas Tech headed in the right direction.
Texas Tech is playing terrific defense -- something that's gotta please poppa. Before Washington put up 92 in overtime, Texas Tech had given up more than 61 in a game just once.
The Red Raiders are 8-0 and have scalped the best team in the Pac-10 in Washington and exposed the supposed rising team in the same conference, Oregon State.
The Big 12 is pretty loaded this year, so I'll be curious to see how Texas Tech measures up in league play, but there is no doubt Knight was right. He's got players and he's got a team.