College Basketball Nation:

Pat Skerry
January, 31, 2014
Jan 31
12:35
PM ET
By
ESPN.com staff
| ESPN.com

Andy Katz discusses Nebraska becoming a threat in the Big Ten, Arizona State's rekindled tournament hopes and a great cause taking place on Saturday across college basketball.
June, 20, 2012
6/20/12
5:00
AM ET
1. The NBA early-entry withdrawal list came out Tuesday and there was one college player on the list: Florida Atlantic's
Raymond Taylor
. This is not a
Dee Bost
case, when the former Mississippi State guard didn't know the rules -- that he couldn't return to school once he declared for the draft (he ultimately won an appeal but had to sit out games). FAU assistant coach Mike Jarvis II said Taylor was well aware of the rules and plans on playing in Europe. The 5-6 junior guard averaged 8.9 points and 4.5 assists last season. His numbers dwindled each of the past two seasons from a freshman-high 14.2 points and 5.9 assists a game.
2. The conference or the level of Division I doesn't matter for a coach or a program when a player transfers in June. The timing causes a major headache. Vermont coach John Becker said he was going to have a potential America East championship team. He still might. But he lost his top scorer, freshman guard
Four McGlynn
last week when he told him he was transferring to Towson to be closer to his York, Pa., home. Becker said McGlynn needed to spend time with his family. But here is a new twist. No one is pushing for McGlynn to play immediately. Towson coach Pat Skerry said he believes that McGlynn should spend time with his family instead of pushing through a waiver to play immediately. Becker is now down to nine players and he won't be replacing McGlynn's ability to score on short notice.
3. The deal between Louisville and Florida International has a clause in the contract that most nonconference series should include more often. Games are scheduled between coaches, and, at times when there is a coaching change, a coach wants out of the series for a variety of reasons. Louisville coach Rick Pitino said Tuesday that the three-year contract (two straight home games and then a third game at FIU, beginning with next December's game at the KFC Yum! Center) has a clause that stipulates both Rick and Richard Pitino have to be the head coaches for the series to continue each of the three seasons. If that type of clause were put into deals then that could alleviate some haggling to get out of a game when there is a coaching change.
June, 18, 2012
6/18/12
4:00
PM ET
No, I don't mean the Colonial Athletic Association cellar. The
Towson Tigers
have been there for years, of course, but that's a small byproduct of Towson's continued existence in the ur-cellar -- of the entirety of Division I basketball itself.

From 2010-12, the Tigers posted a 5-56 record, including a 0-41 stretch and zero -- yes, zero -- wins throughout the calendar year 2011, a mark that was only broken by the 2012 Tigers' lone victory. (This win over UNC-Wilmington
mercifully moved Towson off the Bottom 10 in early February
, which was
obviously
a motivating factor.) In 2012,
the Tigers finished ranked No. 338
(out of 345 teams) in Ken Pomeroy's final efficiency rankings. Towson has never been particularly good, especially in the past decade. But in the past two years -- 2011 was former coach Pat Kennedy's first season; 2012 was Pat Skerry's first in deep-dive rebuilding mode -- few teams in the sport have managed to match the Tigers for sheer futility.
Don't look now, but that futility may soon become a thing of the past. The largest indicator of such came this week, when former Vermont freshman
Four McGlynn
announced his decision, after late transfer-release drama with the Catamounts,
to transfer to Towson
, according to the York Daily Record. McGlynn said he spoke with Penn State and Virginia Commonwealth, among other schools, about his future plans, but ultimately chose the Tigers thanks to the proximity to his hometown (Dallastown, Pa., about 50 minutes north of Towson's campus) as well as his comfort with Skerry, the energetic second-year coach.
McGlynn, the America East Rookie of the Year last season, told the York Daily Record he believes Towson is rebuilding. He might well be right. Per the usual transfer restrictions, McGlynn won't be able to take the court until next fall, but the 2012 Tigers are already looking much more capable thanks to two transfers Skerry landed last summer. Forward Jerrelle Benimon appeared in 29 games for Georgetown before his transfer to Towson; guard Mike Burwell appeared 31 times for South Florida in the 2010-11 season. Neither player is going to change the trajectory of Towson forever, but both are obviously of much higher quality than Towson has recruited at any point in the recent past.
Throw in Towson's new arena -- a 5,200-seat arena tentatively set to open in May 2013, complete with garish tiger stripes all over the court -- and it's clear the Tigers are headed in a new direction. Climbing out of a cellar this deep is never easy, and no one will expect the Tigers to challenge for an NCAA tournament bid anytime soon. But for the first time in a long time, the Towson Tigers men's basketball program has hope.
January, 28, 2012
1/28/12
5:53
PM ET
Less than an hour before tipoff Saturday at Towson, Kristen Skerry called her husband Pat and told her that an owl had crashed into a window at their house.
Pat told her to call 911. Kristen called back and said it wasn't an owl but a hawk. She said it was bleeding and dying on the ground outside the window.
"I said great, we're playing the Seahawks today, maybe it's a premonition,'' Skerry told ESPN.com Saturday afternoon. "I told my assistants that the hawk died at my house and now we have to slay the Seahawks.''
Towson did just that, snapping an NCAA-record 41-game losing streak with a
66-61
victory over UNC Wilmington. Binghamton (0-21) is now the nation's only winless team.
The victory, the first of Skerry's head-coaching career, was the first for the school since December 2010. On Wednesday, the Tigers play Hofstra, which is tied with Towson at 1-10 in the CAA.
Could this be the start of a win streak?


Maybe. Skerry, who was an assistant at Pitt last season, took over the job with only one returning player, Enrique Gumbs.
"I think we were the only team in the country with one returning letterwinner,'' Skerry said. "We have six freshmen and we're trying to reload quickly.
"We've got a chance to be competitive quickly. We're getting players, developing them. We have a winning formula.''
Skerry said it was bizarre that last season he was on Jamie Dixon's Pitt staff celebrating a Big East title and now he was celebrating the end of a 41-game losing streak.
He said he had no idea the climb would be this challenging when he took the job, but he said the support has been tremendous and by upgrading facilities (the school is building a new arena), the hope is that Towson will no longer be the doormat in the CAA.
"We've been in some games, but we've had trouble sustaining things,'' Skerry said. "We lost to a D-II team in the exhibition season in Virginia State that's 2-14. I knew then that we were in for a grind.''
Towson did play well in a seven-point loss at Virginia, but lost by at least a dozen in each of its past eight games before Saturday.
"We have gotten markedly better,'' Skerry said. "Our problem has been with turnovers and shooting the basketball. I knew there were challenges ahead but we've got good recruiting classes coming in.''
Before the UNC Wilmington game, Towson ranked 344th (out of 344 nationally) in points, 343rd in field goal percentage and 344th in assists.
"It's been crazy,'' Skerry said. "But I don't feel any different right now.''
The number on the left side of the record is different, though.
And for the long-suffering Tigers, that makes all the difference in the world.
January, 5, 2012
1/05/12
3:08
PM ET
I have a little rule: If I see you at the National Chain Bagel shop just across the street from the delicious and local
Chicago Bagel Authority
in my neighborhood, you are a bad person. I don't care about the content of your character, or what you do for a living, or how many times you've donated to charity. My judgement is swift and final, and that's that.
I feel the same about Towson men's basketball. If you don't feel for the Tigers, you have no heart. It's a rule.
[+] Enlarge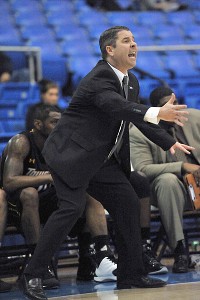 Jim Brown/US PresswireTowson and coach Pat Skerry are in the midst of a record losing streak.
Sure, there are other winless teams in the world. The Chicago States of the world don't have it easy. The road-rambling ways of a team like Grambling State are worthy of our empathy. There are plenty of luckless squads in Division I hoops, teams that suffer some form of this difficult existence every season -- overmatched, overwhelmed, with the next day's suffering always just around the corner.
Still, Towson's dark days are of a different kind in 2011-12. In 2011 -- as in, you know, last week -- Towson completed one of the more ignominious records in modern college hoops history,
achieving the rare winless calendar year
. Yes, the Tigers went all of 2011 without a win. It's almost impressive, when you think about it, but let's not think about it too much.
Unfortunately, things only got worse Wednesday night. Towson scored just 27 points in its loss to Drexel, its fewest, according to ESPN Stats and Info guru Jeremy Lundblad, since joining Division I hoops in 1979. The Tigers went 8-of-37 from the field Wednesday, good for a 25.7 effective field goal percentage and -- get this -- a .51 points per possession mark. That's one of the worst offensive performances you will ever see, anywhere, in any sport.
Worse yet? Towson's loss was historically significant, too. With the loss Wednesday, Towson tied the all-time Division I record for consecutive losses, tying the 1997 through 1999 Sacramento State teams. On Saturday, the Tigers travel to Old Dominion. If -- OK, when -- they lose, they will become the NCAA's all-time leader in consecutive losses. That is not a distinction any coach, player or program wants to be a part of.
Perhaps the saddest part of all this -- the part that makes you think this team is star-crossed or something -- is that Towson had its one big opportunity to win on Dec. 30. That was Towson's last chance at a win in 2011, and the Tigers played like it, staying near-even with Virginia for nearly 40 minutes and cutting the Cavaliers' typically slim margin to
just two points at the 5:40 mark in the second half
. Towson trailed by just four with 1:30 left to play, but a Virginia timeout yielded a
Malcolm Brogdon
3-pointer, and so the upset bid was squashed. It would have been a miracle, a bright, positive sign of progress, and above all a streak-buster -- no winless 2011 to hear about, no threat of breaking the all-time losing streak mark, none of it. The miracle outcome was just 90 seconds away.
Instead, of course, Towson lost. And so here we are, lamenting what on Saturday is likely to become the worst losing streak in the history of college basketball. You have to feel for the Tigers, for first-year coach Pat Skerry, for an athletics department doing its best to raise the school's profile and resources, for the players and fans and everyone involved. College hoops is a coldhearted business; some teams win and some teams lose, and that's just the way it goes. But you wouldn't wish this season on your worst enemy.
You know who would? The same people that go to the mediocre chain restaurant across the street from the delicious local business. Evil comes in many forms, my friends.
December, 22, 2011
12/22/11
10:52
AM ET
When Pat Skerry took his new job this summer, he knew the challenge would be daunting. The team he inherited, the
Towson Tigers
, went 4-26 in 2010-11, a campaign that ended with 19 straight losses, including all 18 Colonial Athletic Association conference tests. That winless performance marked the first time in league history a team managed to lose every single CAA game. What's worse, Towson experienced loads of turnover this offseason, with only four players -- two who played minutes of any sort in 2011 -- returning for Skerry's first season.

It's hard to have illusions about this kind of rebuilding project. Still, you wonder: Did Skerry know it would be
this
bad?
How bad is it, exactly? Towson is 0-11 to start the season. It ranks No. 343 in Ken Pomeroy's adjusted efficiency rankings, merely a Chicago State and a Grambling away from being the worst per-possession team in the country. The Tigers are scoring .87 and yielding 1.13 points per possession. I append no editorial comment, because none is needed. (And I don't want to be mean.)
Unfortunately, after Tuesday night's 81-62 home loss to Manhattan, Towson is set to attach two ignominious milestones to this stretch of brutal basketball,
as our stats and information guru Jeremy Lundblad wrote yesterday
:
If the Tigers don't beat Vermont at home Thursday night, they'll have gone a full calendar year without a victory.
If the Tigers don't beat Virginia in Charlottesville on Dec. 30, they'll started and finished all of 2011 without a win.
The Tigers have a long-standing culture of losing; they've gone 15 years without a winning season. But this season has been worse than most. Under Kennedy, the Tigers won more than 10 games in each season from 2006-2010, even flirting with .500 in 2007, Kennedy's third year at the school. But Kennedy was never quite able to get over the hump, and last year's four-win campaign, including that record-setting conference malaise, necessitated some change at the program.
That change was made by new Towson associate athletic director Mike Harris and athletic director Mike Waddell, who hired Skerry -- a longtime assistant who spent a season under Pittsburgh coach Jamie Dixon in 2010-11 -- in an attempt to revitalize this program with new energy. Harris also drew some offseason headlines for his decision to remake the Towson home court by adding stripes and a unique design to the floor. The idea was based on the Oregon model: Do something different, stand out a bit, and the talent will follow. (
Harris's quote from the announcement
: "Just like Oregon did last year at the Matthew Knight Arena with their new look, we feel that our new court is a plus for recruiting because kids like things that are unique and cutting edge in design.") Of course, this is easier to implement at Oregon, which has a blank check from Nike co-founder and chairman Phil Knight, than at a place like Towson.
Still, the ideas are there. Harris isn't sitting on his hands. He certainly isn't satisfied with the current state of affairs. There's reason to believe his efforts, along with Skerry's transparent enthusiasm, will get Towson pointed in the right direction sooner rather than later.
In the meantime, though, the Tigers are bound to struggle. Unfortunately, if Towson loses tonight, they'll have set up one of the least happy milestones in recent college hoops history, and they'll be on deck for another in a week's time. This is the Platonic ideal of a rebuilding project.
The good news? There's nowhere to go but up.
June, 6, 2011
6/06/11
3:44
PM ET
Ah, yes, who could forget Oregon's basketball court?
You know the one
: Two-dimensional trees, lack of a half-court line, shimmering, reflective sheen.
It wasn't always popular
, Oregon's court, but it made waves. Give Matthew Knight Arena that much.
It certainly seems to have inspired Towson. Via
Dan Steinberg's D.C. Sports Bog
(and
blog buddy Matt Norlander
) comes the news that Towson, like Oregon before it, is adding a non-traditional full-court design to its floor. The design
includes clear "watermark tiger stripes"
across the length of the floor
plus a large paw mark near the scorer's table
. It was initially slated to be the new floor design when Towson moves into its new Tiger Arena in 2013-14, but new coach Pat Skerry said the design got such a positive response from players
that the school decided to install the floor in Towson's current hoops home
:
"Just like Oregon did last year at the Matthew Knight Arena with their new look, we feel that our new court is a plus for recruiting because kids like things that are unique and cutting edge in design." Skerry added that "when the guys first saw the court design on the Tiger Arena web site it got a great response, so we figured as long as we are getting the court repainted why not go with the new design now."
I'm not sure a new court design will impact recruiting much in Towson's favor, but if it does anything to put the school's program on the map -- like, say, encourage blog posts on national college hoops sites -- then it will be more than worth the 500 man hours, eight gallons of paint and 62 gallons of finish it requires. Towson is constantly fighting for relevance in the Colonial. Every little bit counts.
Plus, it does look kind of cool. As long as everyone can see the half court line, what's not to like?