College Basketball Nation:

Pat Summitt
October, 4, 2012
10/04/12
3:55
PM ET
It seems impossible to fathom, doesn't it? But former Tennessee coach Pat Summitt's thoughts on the matter are now a matter of legal record -- part of a signed affidavit in a lawsuit filed against the school by former media director Debby Jennings -- and Summitt's own words clearly indicate she felt like she was forced out of her job by athletic director Dave Hart at the end of her tenure last season.

From the Knoxville News-Sentinel
(the affidavit is
available here
):
"Dave Hart indicated to me that I would not be coaching the Lady Vol Basketball Team in the next school year (2012-13) and he planned to name Holly Warlick as the head coach," Summitt wrote.

"Dave Hart told me I would still have an office in Thompson-Boling Arena and my title could be Head Coach Emeritus. This was very surprising to me and very hurtful as that was a decision I would have liked to make on my own at the end of the season after consulting with my family, doctors, colleagues and friends and not to be told this by Mr. Hart. I felt this was wrong."
As you already know, Summitt is as legendary as college hoops coaches get, the winner of 1,098 games, a beloved pillar of not only the Tennessee community but women's athletics writ large. Before her final season, she was also diagnosed with early-onset dementia, a condition that was seen to have played a role in what at the time appeared to be her decision to step down. The end of Summitt's career was in some ways already sad enough, but it was easy to draw inspiration from the coach's own positive outlook, and the way the Volunteers seemingly handled the departure with tact. If that was not the case, expect widespread outrage from UT fans. More to come, to be sure.
May, 29, 2012
5/29/12
3:35
PM ET
December, 5, 2011
12/05/11
12:19
PM ET
Somewhere, Novak Djokovic is feeling slightly unappreciated.
[+] Enlarge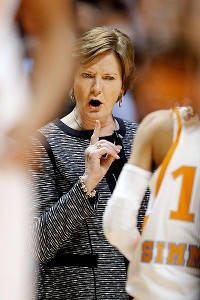 AP Photo/Mark HumphreyWith Pat Summitt's diagnosis of early-onset dementia comes fear and admiration for her perseverance.
After all, if the Serbian tennis dynamo wasn't going to win Sports Illustrated's Sportsman of the Year honors this year --
one of the greatest individual years in men's tennis history
, which was highlighted by a 10-1 record over legends Roger Federer and Rafael Nadal and three Grand Slam titles -- it's safe to say he might never win it. But it's hard to argue too forcefully against the picks that won the award ahead of Djokovic, particularly if you're a college hoops fan. This year's Sportsman and Sportswoman of the Year are Duke coach Mike Krzyzewski and Tennessee Lady Vols coach Pat Summitt.
Longtime SI writer Alexander Wolff
was charged with explaining the selections,
and he admits there is "an an element of the lifetime achievement award" in the choice:
How could there not be? Summitt has put her stamp on women's basketball for 38 seasons, from the days when the sport was sometimes referred to as "women's extramurals," and her Lady Vols were asked, during a 1979 game at LSU when their prelim to the men went into overtime, to move to an auxiliary gym so the guys could tip off on time. Over that span she has won eight national titles along with all those games, while graduating every last young woman to play four years for her.

As for Krzyzewski, with four more seasons he will complete 40 years as a collegiate head coach. He won his fourth and unlikeliest national title in 2010, and -- oh, by the way -- sandwiched around it two almost criminally underappreciated international gold medals, at the 2008 Olympics and 2010 World Championships, as head coach of a U.S. national team program that had been in steady decline. No other coach has ever won the Olympics, the NCAAs and the Worlds -- and Coach K did so in a span of 26 months.
[+] Enlarge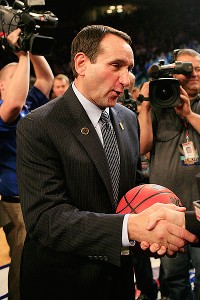 P. McDermott/Getty ImagesCoach K received the game ball after picking up his record 903rd win at Madison Square Garden.
Why highlight them now? Wolff cites Coach K's recent move into the all-time wins lead among men's college hoops coaches, which he accomplished in epic fashion at Madison Square Garden in November. He also says Summitt's diagnosis of early onset dementia, and her brave and inspiring response to the disease, provided the impetus to award the legendary Lady Vols coach this season.
It's hard to fault SI for the selections, especially given the lifetime achievement aspect. Still, the awards come at a fascinating time. Perhaps no year in the history of college sports has been less friendly to the image of the collegiate coach as teacher and mentor -- from the rampant cheating scandals to the dastardly events at Penn State (and now Syracuse), college sports's tendency to canonize its most successful coaches has undergone something like a psychological crisis. You could understand any hesitancy to avoid that discussion in the Sportsman of the Year process.
Still, if there are any two college coaches deserving of this kind of lifetime achievement honor -- the only other college coaches to win the award are legends John Wooden and Dean Smith -- it's Coach K and Pat Summitt. There are arguments to be made for a host of players and teams, from
Dirk Nowitzki
to
Aaron Rodgers
to
Lionel Messi
to
Shaka Smart and the VCU Rams
. And sure, the hardcore Djokovic fans will be upset. But few college hoops fans would argue with SI's choices.
August, 24, 2011
8/24/11
2:06
PM ET
By
Diamond Leung
| ESPN.com
A couple years ago, Tyler Summitt posted this heartfelt tribute video, reminding all who know Pat Summitt as a coach that she is a great mom, too.
Tyler, a walk-on guard on Tennessee's men's basketball team, was raised with basketball in his blood. As the story goes, Pat completed a recruiting visit in Pennsylvania with her water broken in 1990 and still made it back home to give birth so that her son would be born in Tennessee.
He played four games this past season, making the only shot he attempted all season -- a 3-pointer. He joined the team knowing he'd have to be a celebrity walk-on.
And now with the spotlight on his mother following Tuesday's announcement that Pat had been
diagnosed with early onset dementia
, it's become clear he will be very much a visible figure in her fight.
He sat by her during interviews, and according to Sally Jenkins of the
Washington Post
, after accompanying his mom to the Mayo Clinic to receive the diagnosis, Tyler and Pat perhaps need each other now more than ever.
When everyone departs the Summitt household there are two people left, gazing at each other with a deep, indestructible understanding. Suddenly, something becomes clear: Summitt's qualities and legacy have been vastly underrated. All these years, while she was coaching basketball and teaching other people's daughters, she very quietly and without any fanfare, did a stupendous job of mothering her son.

"I followed her everywhere growing up," Tyler says. "I followed her on bus rides, airplanes, in gyms and in locker rooms all over the country, and I thought she taught me everything she had. But she saved this lesson, to always come out and be open, to not be scared, to have the courage to face the truth like she's doing."

The boy, you realize with a start, is looking more like her all the time. He has the same scotch-red coloring, the same uplifted chin. The eyes are slightly different, a milder more limpid blue. But there is the same look in them, a quality. A candle.
On Tuesday, Tyler reminded everyone again what his mom means to him.
"Pat Summitt is not only my mom, but also an incredible role model and mentor for me," he said in a statement. "It seems like she teaches me something new every day, and she is currently giving me one of the best life lessons of all: to have the courage to be open, honest, and face the truth.
"This will be a new chapter for my mom and me, and we will continue to work as a team like we always have done. We both appreciate the continued support of the Lady Vol family. Our faith is in the Lord and we trust that God has a plan for us. Looking forward, nobody is as ready for the 2011-12 basketball season to start as much as the Summitt family. God Bless."
December, 2, 2010
12/02/10
1:06
PM ET
It's a day for prodigious offspring here at College Basketball Nation. First,
it was the rising star of
Marcus Jordan
, son of Michael. Now it's the, um, "star" of
Tyler Summitt
, the son of legendary Tennessee women's coach Pat Summitt, who has sprinkles of Jordan in his own tale.
In sixth grade, Summitt was cut from his school's basketball team. Eight years later, he's a member of Bruce Pearl's No. 17-ranked Tennessee squad, and he nailed a three in the waning moments of Tennessee's 86-56 win against Middle Tennessee State on Tuesday. Summitt isn't a Division-I basketball player, really; he's one of those walk-ons that doesn't see the court until the game is really, really out of hand. But he doesn't seem to care; his attitude is as realistic, and refreshing, as you could possibly ask. From
the Knoxville News-Sentinel
:
"The best part of this for me is just being on the team with heavily recruited guys like Scotty Hopson and Tobias Harris,'' Summitt said. "I don't care if I play another minute. I just want to give my all in practice and be a part of the team.''

"I remember I was crying when I came home [after being cut in sixth grade], and Mom walked into the room with two basketballs, one under each arm,'' he said. "She said 'if you wear these basketballs out, you will make the team.'

"Every year she would make me write down my goals, and at the bottom of every list, I always wrote I wanted to be a Tennessee walk-on. It's always been my dream.''
It's a cool story, and the News-Sentinel's accompanying photo -- Summitt being mauled by much-taller teammates
Brian Williams
,
Cameron Tatum
and
Renaldo Woolridge
after his three Tuesday night -- reinforces the coolness. Tyler Summitt's dream was to be a walk-on at Tennessee. For the son of Pat Summitt, it seems like a modest dream, but he's living it. How many of us get to say that?