College Basketball Nation:

Patrick Chambers
July, 7, 2011
7/07/11
9:32
AM ET
PHILADELPHIA --
Jonathan Severe
is a rising prospect, a small forward ESPN calls, "one of the top young swingmen in the New York City area in the class of 2013.''
And no matter how hard he tried, Severe could not beat the guy in the other layup line.
When Severe had the ball, the other kid swatted it away. When the other kid was on offense, Severe -- considered a pretty good defender -- simply could not keep up. Which normally would make for a pretty lousy day at the Reebok Breakout Challenge.
Only no one in the stands was holding it against Severe.
He was trying to handle
John Wall
.
The Breakout Challenge has a special place in Wall's heart. It was there, on the Philadelphia University courts in 2007, that he blossomed, going from just another kid from North Carolina to a future All-American at Kentucky and the No. 1 pick in the NBA draft.
And so when Reebok brought their camp back to Philadelphia after a brief hiatus, Wall wanted to do more than attend.
He wanted to inspire.
"When I came here, I wasn't anything special,'' Wall said. "And I want these guys to know about that. If they come here and they work hard, you never know what could happen.''
But Wall is doing more than talking a good game. He's playing one, too. From 10 a.m. until mid-afternoon, Wall took his place in the layup line, participating in the drills during the training sessions like one of the campers.
With little kids using their phones to record videos from the stands, Wall did some dribble work through a pair of chairs, worked on his pull-up jumper and fought just as hard as the high schoolers for the ball during one drill.
And he wasn't taking it easy. Far from it. Wall went at the campers hard and they came back at him equally tough, though none got the best of him.
"I showed them a few things,'' he said with a grin.
Wall plans to stay in Philly all week and has every intention of working out with the players while he's there.
"It wasn't that long ago that I was one of them,'' he said. "Hard to believe.''
Sure, Wall is a Reebok endorser so he was technically only doing his job by showing up. And of course, with a lockout on, the practices give him a nice workout.
But Wall went above and beyond. There wasn't an ounce of diva in the gym (if Wall gets dunked on before week's end, I'm pretty sure no one will be confiscating the tape).
He acted like one of the guys, high-fiving and patting guys on the back after good plays, and listening as intently to the instructors as the campers.
And now a handful of guys will go home with great stories about how they went one-on-one with John Wall.
Da plane, da plane:
New Penn State coach Patrick Chambers drove the three hours from State College to Philadelphia but from there, he was flying to Indianapolis, Cleveland, Boston, Augusta and Newark.
On a private plane. Which in the typical world of big-time college basketball isn't a very big deal.
But Penn State basketball isn't typically part of that world.
The administration pledged that, with Chambers' hire, it was going to make more of a commitment to the men's basketball program, so long Happy Valley's ugly stepchild.
Giving their new coach a plane during the recruiting period is definitely a step in that direction.
Basketball is about keeping up with your peers as much as it is beating your peers and in order to compete in the Big Ten, Penn State needs a Big Ten commitment from its administration.
Tip-ins:
There weren't a lot of high-profile head coaches on hand Wednesday. I spied Chambers, Cuonzo Martin (Tennessee), Fran Dunphy (Temple) and Fran O'Hanlon (Lafayette) in the stands. … Villanova missed a good photo op. At one point, former assistants Chambers, Fred Hill (now an assistant at Northwestern), Andrew Francis (now at Siena) and Doug West (back at Villanova after a one-year break) all stood atop the bleachers on Court 1, watching the action on Court 2.
June, 3, 2011
6/03/11
10:14
PM ET
Snarky critics will argue that after losing its head coach to Navy,
Penn State
basketball had nowhere to go but up.
Long-suffering Nittany Lions fans would beg to argue.
Penn State has spent the better part of its existence stuck in irrelevance and submerged in basketball purgatory. Sure, losing a coach to Navy is embarrassing, but that shame easily could have been compounded had the next hire relegated the Lions to another five years of the doldrums.
[+] Enlarge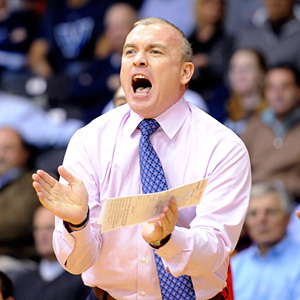 Howard Smith/US PresswirePatrick Chambers led Boston University to an American East title and an NCAA tournament berth this past season.
Instead on Friday the university finally took a step toward the light.
By hiring Patrick Chambers as its new coach
, Penn State finally breathed life into a program that, for years, has reeked of mothballs.
Bruce Parkhill begat Jerry Dunn begat Ed DeChellis, all decent coaches, all good men and all who moved the energy meter about an eighth of an inch every five years. They suffered the same anonymity as their basketball team: nondescript guys on the next step of their coaching road who wanted to win and who cared, but who brought nothing to the table to invigorate the program.
Chambers changes the dynamic. He is young, only 40, and finally gives a face to a faceless program.
The initial appeal, of course, is Chambers' recruiting ties to Philadelphia. There's no doubt that bringing a Philly guy -- Chambers is from the city, went to high school in the city and coached there at both the high school and college levels -- is key. Since joining the Big Ten, one of Penn State's biggest obstacles has been figuring out where to find recruits.
Philadelphia is the most logical source for future players. It's only three hours away and stuffed with talent. And with the Big Ten Network, it is not like it was 10 years ago, where kids would go to State College to never be seen or heard from again.
But hiring Chambers is about more than just getting a good recruiter. It is about getting the right guy for a program that has all the BCS bells and whistles and yet offers low-major pizzazz.
Before I joined ESPN.com, I worked in Philadelphia and watched Chambers tutor alongside Villanova coach Jay Wright. His passion for basketball and his eagerness was so overwhelming that more than one person asked, "Is this guy for real?" The implication being that Chambers' personality might be somewhat disingenuous.
It is not. It is who he is.
He is the typical kid from a big Irish family (12 kids in all), who is used to living large and loud and who has a fire and intensity that borders on manic.
At Boston University, he coached hard and recruited well, the two biggest tools in a head coach's tool belt. But he also recognized that involving the fans and inspiring the campus was key. So he did goofy videos, bringing a cameraman into his home to give fans a day in the life of their head coach. He hopped on a golf cart and toured the campus.
Was it hokey? Sure. But it was fun and it was different and it was young.
I remember before the NCAA tournament was a birthright at Villanova, when the tradition-laden program needed resuscitation. The year that Wright was first hired, he went into the cafeterias with his players and literally stood on the tables, pleading with students to come to games. He banged on dorm room doors. Wright recognized that he needed to build more than a team on the court. He needed to build a program.
That's what Penn State needs. In Chambers, that's what it has: an architect.
The only caveat is that Chambers also needs something in return.
He needs support. The administration's interest in the basketball program has been, shall we say, reluctant at best. The coaching staffs have been underpaid and the program long has been treated as the athletic department's ugly stepchild.
That has to change. The arms race in college basketball extends beyond the reach of a coach. It encompasses the resources he's given to go out and search for recruits, the high-end fixings in his office, locker room and practice space and most important, the response he receives from his administration when he needs something.
Out of the depths of its misery, of losing its Big Ten coach to the Patriot League, Penn State has turned the program onto the road to rediscovery.
Now that it's turned over the keys to Chambers, PSU needs to make sure it is the keys to a Mercedes and not a Yugo.