College Basketball Nation:

Patrick Heckmann
January, 5, 2013
1/05/13
8:01
PM ET
By
Jack McCluskey, ESPNBoston.com
| ESPN.com
NEWTON, Mass. -- When trying to upset a top-25 team on your home floor, there are certain things you just can't do:
You can't take bad shots, heaving up deep 3s like you're playing "NBA Jam" and a hot spot just appeared beneath your feet.

You can't miss free throws, giving up chances at unhindered points.

You can't commit bad fouls, such as running into the ballhandler 60-odd feet from the rim with your team in the penalty.

And you can't suddenly go cold from the floor, failing to score for minutes at a time.
History tells us you can't do those things and win. Yet the
Boston College Eagles
did all those things and still had a chance to upset No. 23 NC State in a nationally televised game late Saturday afternoon.
The Eagles didn't always take smart shots, shot 64.9 percent from the free-throw line, committed bad fouls and went long stretches without scoring, but still found themselves neck-and-neck with the Wolfpack late in the second half.
After
Joe Rahon
hit the first of two free throws to tie the game at 59, his second shot bounced long and
Ryan Anderson
tipped it to
Patrick Heckmann
to give BC another shot.
Lonnie Jackson
converted, nailing a 3 to put the Eagles up 62-59 with less than six minutes to play.
That was a glimpse of the good things the young Eagles did, and got the crowd fired up. But the next possession was a glimpse of the bad, as
Rodney Purvis
wound up wide open off an inbounds pass and hit a 3 to tie the game.
BC wouldn't lead again. With time running down late, trailing by three, Rahon had a good look at a game-tying 3 but the shot fell short, clanging off the front iron. NC State got the rebound and held on for a
78-73 victory
.
[+] Enlarge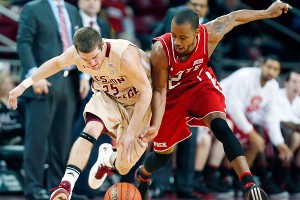 AP Photo/Michael DwyerBC's Joe Rahon (25) and NC State's Lorenzo Brown (2) battle for a loose ball in Saturday's first half.
"As I told the guys, I thought we did a lot of things really well in terms of things that you're gonna need to do to win the game," BC coach Steve Donahue said. "I thought we were tough and physical and competed and took care of the basketball, fought through adversity with foul trouble.
"But to win a game against as talented a team as that, we gotta do certain things that we typically do. One of them is shoot foul shots. We're a better foul-shooting team than that."
The Eagles came into the game shooting 74 percent from the line. Hitting that average might not have made the difference Saturday, but it would've helped.
"Hopefully it was just one of those fluke things," Anderson said. "We have great shooters on this team throughout the whole roster. Hopefully we just move on to the next game and I think they'll drop in the next one."
"When it comes to game time, we've gotta knock 'em in," Rahon said. "There's no excuse for missing 'em."
The game was entertaining, seesawing back and forth throughout.
BC ripped off a 10-1 run in the first, then NC State answered with a 12-2 run. NC State opened the second with an 8-2 run to take a seven-point lead before BC answered with a 9-2 run of its own to tie it at 39.
The Eagles (8-6, 0-1 ACC), winners of five straight entering the game, weren't surprised to be hanging with the Wolfpack (12-2, 1-0), winners of seven straight coming in and eight straight going out.
"We know we can play with anybody," Rahon said. "So staying close with NC State -- maybe should've beaten NC State -- we expect to be in that situation. … Just being in those kind of situations, in the future down the road it will prove to have helped us.
"But right now we're just disappointed we didn't come through."
January, 7, 2012
1/07/12
7:24
PM ET
CHAPEL HILL, N.C. --With about 9 minutes left at the Smith Center on Saturday afternoon, Boston College's
Patrick Heckmann
buried a 3-pointer to cut North Carolina's once-21-point-lead to 9.
You never got the feeling the outcome of the
eventual 83-60 victory
was in doubt. Not with Tar Heels wing
Harrison Barnes
(25 points) hitting shots from all over the floor; forwards
Tyler Zeller
(20 points) and
John Henson
(14) shooting better than 50 percent; and point guard
Kendall Marshall
once again dishing out double-digits assists (11).
All against a rebuilding Eagles team that starts five freshmen.
But it's another reminder that fourth-ranked UNC (14-2) has to continue to work on something less tangible than free throws or rebounding or steals. It has figure out how to create, and maintain, intensity. Especially in an ACC where every team, better or bad, wants to push the Tar Heels from atop the standings.
"In league play, you've got to be able to play the whole total game,'' North Carolina coach Roy Williams said. "And you've got to be able to do it for 40 minutes."
Williams agreed the his team, which outrebounded the Eagles by 11 and helped force 20 turnovers, lost concentration after opening the second half with a 10-2 run that gave it a 50-29 lead.
[+] Enlarge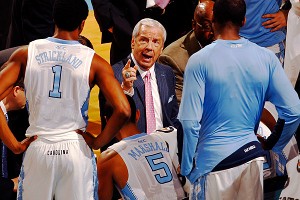 Bob Donnan/US Presswire"I told them it was very reasonable that I was upset," coach Roy Williams said of UNC's mental lapses.
UNC started missing shots while BC started connecting, but it was more than that. The Tar Heels – who haven't played a truly competitive game since early January, winning their previous five outings by an average of 31.8 points – started juggling its focus.
"I really got ticked off there for a couple minutes when it got down to 9 or 10,'' Williams said. "It wasn't because it got down to 9 or 10, it was because we decided not to help down in the post, and Kendall goes and helps down in the post, and the [BC] guy makes a 3.
"We say 'go over the screen' and Harrison went below the screen, and the guy makes the 3. Next time, he goes below the screen, Z [Zeller] steps out and helps him, and [BC] throws it to Z's man for a layup. You can't make those kinds of mistakes. … So I told them it was very reasonable that I was upset."
Barnes eventually stopped the Eagles run with a bucket. And BC, led by
Matt Humphrey
's 14 points, managed only four field goals in the final 9 minutes.
But its comeback gave the young Eagles (5-10) something to build on: "When it looked like Carolina was going to shove us out the door, I thought these guys showed a lot of character and toughness," BC coach Steve Donahue said.
Before, he added, his Eagles let their guard down, too – something that can probably be expected from a team featuring nine freshmen.
But not something UNC can afford.
"I think that sometimes when we get a big lead, we let up defensively and just want to run out and score," Henson said. "I think we just need to play 'D' a little harder, and especially when we're up by a lot, push it a little harder."
Or risk having a more seasoned team than Boston College whittle leads to less than 9 points.
BRIEFLY:
Freshman
James Michael McAdoo
, doubtful to play because of a sprained left ankle, finished with 3 points and 7 rebounds in 11 minutes. ... Barnes has scored 20 or more points in three of his past four games, and is averaging 22.2 points during that stretch. ... This marked Marshall's seventh double-figure assist game this season. He now has 13 for his career, tying Kenny Smith for fourth-most 10-plus assist games in Tar Heels history.
Follow Robbi Pickeral on Twitter at @bylinerp.