College Basketball Nation:

Penn State
March, 13, 2010
3/13/10
1:15
PM ET
The Minnesota Gophers' tournament hopes died on March 2. Or so we thought.
That's when Minnesota, after winning at Illinois, attempted to build on its late-season push with a win at Michigan. That, um, didn't happen. Instead, the Gophers were walloped by a bad Michigan team, 83-55, and if you ever needed a reason to exclude the Gophers from the tournament -- and, as of March 2, you didn't -- the Michigan loss was plenty.
But look now: Minnesota is still breathing in the Big Ten tournament after wins
over Penn State
and
yesterday's upset of No. 3 seed Michigan State
, giving Minnesota its 19th and 20th victories of the year. Unsurprisingly, those wins have boosted Minnesota's tournament stock considerably. What's more surprising is that Minnesota's tournament stock isn't just vaguely better -- all of a sudden, the Gophers have a legitimate chance to sneak in the NCAA tournament.
Joe Lunardi now has Minnesota listed in his "next three out,"
right below Dayton and Mississippi State. That has to be the first Minnesota bracketology mention since, when, October? Of that group, only the Bulldogs are still active. Minnesota still has work to do -- leapfrogging Arizona State, Memphis, Rhode Island and Seton Hall will be no easy feat -- but it remains genuinely remarkable the Gophers are even on the bubble radar.
A win over Purdue today
would surely boost Minnesota's chances again, putting them right on the cusp. Then there's the Big Ten final against
the winner of Ohio State and Illinois
, which, duh, could mean an automatic bid for the Gophers.
Will Minnesota get in? At this point, it's still unlikely. But you have to give the Gophers credit for not doing what some of their disappointing Big Ten counterparts -- cough, Michigan -- have done, which is fade down the stretch. The Gophers are still fighting. Good for them.
February, 4, 2010
2/04/10
12:46
PM ET
February, 4, 2010
2/04/10
10:47
AM ET
The Morning After is our semi-daily recap of the night's best basketball action. Try not to make it awkward.
No. 6 West Virginia 70, No. 21 Pittsburgh 51
: Who wants to go play in Morgantown? Not me. Granted, I am not a college basketball team, so I don't have to worry about that. If I was an opposing team, though, I would officially see the angry fans -- the people who threw spare change onto the court (make it rain!) as Pitt rebounded and closed the deficit last night,
prompting Bob Huggins to grab the microphone and tell fans "that's stupid"
-- and I would get a little nervous. But the real cause for concern is the Mountaineers themselves. West Virginia is officially finding its stride. Huggins' group has won five straight over Big East foes in consistent and overpowering ways, especially on the offensive glass -- WVU grabbed 57.6 percent of its misses on offense last night, leading to a variety of second-chance buckets and putbacks, and that's the key right there. That's how West Virginia wins. They don't have to shoot the ball all that well. They just have to rebound. If you can stop them, you can win, but good luck: No one's figured it out yet.
Pittsburgh shouldn't be too discouraged by this result, which started OK and then got ugly after the half. (Speaking of ugly and true to its name, the Backyard Brawl included some mild brawl-like occurrences late in the game.) Why? Because the Panthers never really found their shot, and despite a high number of free throws and plenty of offensive rebounds of their own, the lack of shooting wasn't enough. It should correct itself in time. That might not make Jamie Dixon, whose team has now lost four of its last five, feel any better. But it's true.
No. 1 Kansas 72, Colorado 66
: I barely previewed this game
in Saddle Up
, and that tiny mention was merely this: "New No. 1 Kansas will try to avoid the fate of last week's No. 1 when it hits the road for a meeting with a marginal conference opponent." Lesson learned: Don't sleep on marginal conference opponents at home. Of course I knew this already, but sometimes it takes a little reminder, and last night's thrilling back-and-forth in Boulder (my third favorite college town of all-time, and I've only been there for like three hours) was all that and more.
Part of me wants to say I knew Colorado had this in them -- the Buffs were
pesky against Gonzaga
and
Arizona
in Maui in November, after all. But I didn't. Rather, I expected Kansas to take control of the No. 1 seed and avoid the road pitfalls that have so frequently plagued other No. 1s this year. Oh well. The Jayhawks weren't at their finest, and Colorado deserves credit for finding a way to hang in
despite not really beating Kansas in any particular phase of the game
, but after Colorado missed its last-second opportunity in regulation, you had to figure Kansas would overpower the Buffaloes in overtime. So it did, and so it stays. But at least it was interesting on the way down.
South Florida 72, No. 8 Georgetown 64
: "Y'all come watch
Dominique Jones
play!"
That was the sentence
screamed from Georgetown's court by -- who else? --Dominique Jones Wednesday night, just after Jones scored 22 of his 29 points in the second half to give South Florida its biggest win in program history. Um, you guys? Maybe we should listen to him. If you caught any glimpse of the game last night, or if you've seen Jones in the past, you know: Jones is an occasionally dominating college basketball player, a guy with skills to isolate the ball at the top of the key but the size outrebound and physically dominate smaller defenders. Check out
the move he makes at the -0:15 mark in these highlights
. Strength, size, speed and skill, all melded into one. Watch him play. He wasn't joking.
Everywhere else
: Running out of words in a hurry, so let's go to the lightning round: UAB will have to wait to take full control of Conference USA,
as Memphis topped the Blazers by 10
and pulled itself into a tie for the conference lead. ...
Vanderbilt got a major late challenge from Mississippi State
;
Jarvis Varnado
had
another ho-hum nine-block effort
. ...
Northern Iowa hung on at home over Wichita State
, avenging its earlier loss in Wichita and moving to 11-1 in the Missouri Valley. ...
Evan Turner
line watch: 27 points, 10 rebounds, six assists, and three steals (!!). ...
Baylor cruised over Iowa State at home
. ...
Georgia State handed George Mason its second conference loss
, moving Jim Larranaga's squad to 10-2 in the CAA and making a conference tournament win a must.
February, 3, 2010
2/03/10
3:45
PM ET
Saddle Up is our daily preview of the hoops your TV wants you to watch. Here's Wednesday night's rundown.


No. 21 Pittsburgh at No. 6 West Virginia, 7 p.m. ET, ESPN360
: Aw, you guys.
Stats LCC has a case of the bummers
: "Two weeks ago, the matchup between West Virginia and Pittsburgh was shaping up to be one of the most highly anticipated meetings in this storied rivalry. A sudden string of losses by the Panthers dashed that prospect, but it likely won't diminish the atmosphere in Morgantown." Never fear, nameless Stats LLC writer. Sure, the Backyard Brawl won't be quite as brawl-y as it might have been for the Pittsburgh team that jumped to a 5-0 record in the Big East. (The difference in brawl escalation probably lies somewhere between brass knuckles and a trident.) Sure, Pittsburgh's 1-3 record in its last four games ruined the prospect of having two top-10 teams in a hated rivalry facing each other in ever-hostile Morgantown.
But Stats LCC, don't you see? This is still an awesome college basketball game. Pittsburgh is reeling, so what better time to get hot and steal a huge Big East road win than now? And West Virginia? The Mountaineers are coming off a controversial last-second win over Louisville, have lost two Big East games by a combined three -- yes, three -- points, and are developing the sort of edgy home atmosphere that should simultaneously outrage fans and scare opponents. (When your own student newspaper
thinks you've gone too far
, you've probably gone too far.) And, lest we forget, a win for Pitt means the Panthers leapfrog the Mountaineers and get right behind Syracuse and Villanova in the Big East race. (A panther leapfrogging a human? I am thoroughly enjoying this mental image.)
So don't fret, Stats LLC. This game might not be as cool as it would have been two weeks ago, but it's still an awesome Big East rivalry with plenty on the line. There's no reason to frown.
(OK, maybe one reason: The game's not actually on TV, but rather on ESPN360. Get your laptops ready. It's 2010, people. The power of the Internet compels you.)


UAB at Memphis, 8 p.m. ET, CBS College Sports
: This might be the first game we've featured that's been on CBS College Sports, but that's because few CBS CS games have had this sort of import. Sure, Memphis is in the midst of what appears to be a very short rebuilding, but the Tigers are still a solid Conference USA team and tonight they face the biggest threat to their longstanding C-USA crown: UAB. Mike Davis has the Blazers playing better than at any time in his tenure.
Elijah Millsap
& Co. are 18-3 and 6-1 in the conference so far, but if they want to seize the title, even for one year, they'll have to go through the house that competitively priced shipping costs built. (Um, the FedEx Forum. No one?)


Mississippi State at No. 20 Vanderbilt, 8 p.m. ET, ESPN360
: If Kentucky continues to play how it did Tuesday night, the Cats are going to roll to an easy SEC title. But they're not without challengers. Kevin Stallings' ever-improving Vanderbilt team is one such challenger. The Commodores are a mere half-game back of Kentucky and, if they manage to survive their upcoming slate, could welcome UK to Nashville on Feb. 20 with the division title on the line. Meanwhile, Mississippi State still doesn't have
Renardo Sidney
, and it's not looking good. But the Bulldogs are worth watching merely for the defensive brilliance of
Jarvis Varnado
, a once-in-a-generation shot-blocking machine.
Everywhere else
: New No. 1 Kansas will try to avoid the fate of last week's No. 1 when it hits the road for
a meeting with a marginal conference opponent
... Georgetown
gets a courtesy date with South Florida
ahead of Saturday's big matchup with Villanova ... The
surprising Temple Owls host Duquesne
, a similarly surprising team but for different reasons ... and
Penn State goes to Columbus
, so make sure to have your
Evan Turner
scoresheet watch in full effect. It could get awesome.
January, 22, 2010
1/22/10
10:05
AM ET
The Morning After is our semi-daily recap post. Try not to make it awkward.
Seton Hall 80, Louisville 77
: Wednesday was a night of streaks. Memphis lost its conference win streak; DePaul broke its conference losing streak; Pitt ceded its Big East home game streak, and so on. Louisville might as well have played on Wednesday night, as the Cardinals lost for the third time in a row for the first time since 2005-06. If that seems confusing, it's not just the awkward phrase. That's how good Louisville has been in the Big East for the past three years, and in 2009-10, for whatever reason, the Cardinals are managing to post efficient statistics and numbers and still look utterly mediocre in the win column. That's what's most confusing: Why isn't this Louisville team better? Or, more precisely, why isn't this Louisville team,
which appears on paper to be one of the best four or five teams in the Big East
, so apparently unable to turn that efficient profile into wins?
No. 20 Butler 48, Loyola (IL) 47
: Perhaps the most important thing for Butler is they survived, and won, a game in which they made .08 points per trip, posted a 38.4 FG percentage, went to the free throw line on a mere 17 percent of their possessions, and were out-rebounded on the offensive end almost 2-to-1. Still, though, that is an ugly performance. Even against mediocre Horizon League teams like Loyola, Butler won't be able to play this badly and expect to make it through the conference slate unbeaten,
which is pretty much what they have to do
to secure an at-large bid and not worry about the pressures of the conference tournament come March. If you wanted to over-analyze the game, you could say that surviving and winning on the road on such a bad night was a good thing, that it proved Butler's mettle, or something. Or you could just call it what it is: a bad game that Butler can't afford to replicate all that often.
Indiana 67, Penn State 61
: Indiana fans have had a weird relationship with this year's IU team. Most went into the season with some cautious optimism, only to have that optimism simultaneously piqued and dashed week in and week out. Tom Crean's team is
capable of beating Pitt in Madison Square Garden
, only to
lose Loyola (MD) at home a week later
. This is the kind of up-and-down, tweener season Crean is having right now: His team can play inspired, coherent basketball and challenge and even topple superior teams ... and then a night later can toss in horrid, ugly performances that have some of the more strident IU fans already questioning the length of Crean's contract. (Kentucky fans get a bad rap for being too hard on coaches, but IU fans deserve a shout-out: That some are already nibbling at the edges of his popularity is kind of shocking. What did you expect? Things were screwed up before, and Crean is trying to make them less screwed up, and you're going to blame him when the process takes longer than you hoped? Note that you could, were you so inclined, substitute Barack Obama's name in for Tom Crean's ... but let's not go down that road.)
Anyway, the point is that Thursday night was one of IU's Dr. Jekyll nights. Penn State is a bad team, but Big Ten road wins were an absolute impossibility last season. Crean has his team at .500 after 18 games. Given the circumstances he inherited, that's worthy of some measure of respect.
No. 10 Gonzaga 91, Pepperdine 84
: Today's AP wrap makes note of the history of Pepperdine-Gonzaga, when both teams used to contend for the WCC every year, when both teams used to make it to the NCAA tournament, when both teams were mid-major darlings (even if Gonzaga hogged most of the press). Those days are basically over: Gonzaga has emerged the victor, becoming a national power a ubiquitous national profile and Nike shorts in every sports good store in the country. Pepperdine has receded in WCC mediocrity. But last night, the two teams had one of their trademark duels, the kind that harkened back to the glory days of the late 1990s, and Gonzaga needed a career-high 32 points from Matt Bouldin and a 20-and-13 from freshman Elias Harris to get past the Waves at home. One more note on Harris: Most reading this blog will already know this, but Elias Harris should be in contention for every freshman award there is. It's not that he'll win all of them -- John Wall, John Wall, John Wall -- but Harris' performance deserves national attention. He's special.
Everywhere else
:
Florida notched a big SEC road win over Arkansas, 71-66
...
Utah State cruised in Fresno
... Siena stayed unbeaten in the MAAC with a
six-point win over Loyola (MD)
... Isiah Thomas' FIU team dropped to 6-16 overall with
a 15-point loss to Arkansas State at home
...
Cal utterly destroyed Oregon in Berkeley
...
Oregon State scored 35 points in a 60-possession game and promptly lost to Stanford
; more on this later ...
Washington State beat a lifeless USC team in L.A.
... and
UCLA caused its fans to rush the court with a home win over Washington
. More on this later, too. In the meantime be sure to
check out Diamond's live coverage of the game from Pauley Pavilion
.
January, 21, 2010
1/21/10
3:44
PM ET
Saddle Up is a quick preview of the basketball your TV wants you to watch tonight. Here's Thursday night's rundown.
Louisville at Seton Hall, 7 p.m. ET, ESPN
: If I told you Louisville was almost exactly as efficient a basketball team as Syracuse, would you believe me? Probably not: Syracuse has one loss and is a favorite to make the Final Four; Louisville already has two losses in the Big East and is still apparently rebuilding from last year's Earl Clark-Terrence Williams dual exodus.
But it's true!
Louisville has been a pretty darn efficient team so far in the Big East, tying Syracuse with a plus-.11 efficiency margin, good for fourth in the conference. Louisville plays very good offense (largely thanks to its
No.5-ranked offensive rebounding percentage
) and serviceable defense. Louisville's problem is fouls: The Cards give up way too many trips to the line to opposing teams, a stat that makes Pitino's style of play -- pressing, pushing, forcing teams to play fast and scattered -- much more difficult to pull off. Seton Hall, meanwhile, needs a to start a flurry of Big East wins if it wants to sniff the NCAA tournament; the Hall's weak non-conference schedule make a Big East run imperative. At 1-3 so far, it's not looking good.
Florida at Arkansas, 9 p.m. ET, ESPN
: Speaking of teams that need to start rattling off conference wins: Florida. This is a team that doesn't shoot particularly well, and combines that problem with its stunning inability to get to the free throw line. Florida is No. 302 in the country in free throw rate. This is very bad; either the Gators need to figure out a way to shoot better, or they need to figure out a way to get to the line. One or the other could cause a veritable renaissance in Gainesville. Neither will see the Gators left out of the NCAA tournament for the third straight year.
No. 20 Butler at Loyola (IL), 8 p.m. ET, ESPN360
: Butler has an interesting conundrum on its hands. Because the Bulldogs fared somewhat poorly in their non-conference slate -- the same non-conference slate that could have pushed them into high-seed territory come March, had things gone as planned -- Butler finds itself needing to win almost every league game to avoid needing to win the Horizon League tournament to guarantee its NCAA bid. Fortunately, the Horizon League isn't chock full of talented teams, at least not as talented as Butler. Unfortunately, that doesn't matter. What'd we learn Wednesday night? (And, you know, in every college basketball tournament ever?) Upsets happen. The Bulldogs could slip and still make the tournament as an at-large bid, but it won't be a guarantee. This means that every league game Butler plays -- even against opponents like Loyola, which is 3-4 in Horizon League play -- is important and nervy. Sounds like fun, right?
Everywhere else
: There's a big slate of Pac-10 games this Thursday, including
Washington-UCLA
, where our man Diamond Leung will be on the scene. If you desperately want to watch a desperately unwatchable conference, there's also
Oregon State-Stanford
,
Oregon-Cal
, and
Washington State-USC
...
Gonzaga will take on Pepperdine
at home, which used to be a much better game, but should still provide some exciting moments ...
Indiana and Penn State will do battle
in the three-team race (the third team is Iowa, natch) not to be the worst team in the Big Ten which, given the other two teams in each's equation, would be very bad indeed ...
Siena will look to stay perfect in the MAAC
... and last but not least,
Utah State will travel to Fresno to help settle in a match up of 3-2 WAC teams
. Also,
Jersey Shore is on
. You know you're going to watch. Don't lie to me.
January, 16, 2010
1/16/10
5:51
PM ET
Back in front of the scoreboard after a long day at my daughter's swim meet. A few things jump out at me from the afternoon portion of today's hoops schedule:
Pitt's overtime win against Louisville is, to me, another sign of the continuing maturity of a really young Panthers team. Granted Pitt was at home, where it loses about as often as the solstice, but to rally back against a very talented Louisville team and then have the composure to take over in OT is no gimme. That the Panthers were able to do both -- and negate 25 points from Samardo Samuels -- ought to convert the handful of nonbelievers that Pitt is for real.
Not sure why North Carolina's struggles are so stunning. Pitt loses four starters and everyone is stunned the Panthers are playing well; the Heels lose four starters and no one can understand why they aren't top five. The only thing that surprises me is that UNC probably is playing with less composure now than it was in December, but young teams do strange things and the powder blue uniforms don't negate the youth on this team. This is going to be a tough season for the Heels, with everyone in the ACC more than happy to take back some of the wins they sacrificed during the Tyler Hansbrough years.
The win over Missouri may be a good sign for Oklahoma. The Sooners' survived the Tigers' freneticism and themselves, winning despite 20 turnovers. Oklahoma has been glossed over in the first of the season, and understandably so, but if the Sooners can get their act together and Willie Warren can consistently play up to his abilities, OU could be a dangerous team as the Big 12 season gets cooking.
The more things change in the Atlantic 10, the more they appear to stay the same. Sean Miller is gone. Xavier isn't. The Musketeers beat early league favorite Dayton for the 25th consecutive time, a mark of futility that extends to the Ronald Reagan era -- 1981. The "in transition" X men stand atop the A10 standings at 4-0, with equally surprising Temple right behind them.
And I have to send a note of condolence to Talor Battle. The Penn State guard is trying like heck to win by himself, but can't. Battle had 31 against hapless Iowa, but his teammates offered him no help, chipping in only 33 more. The Nittany Lions are 0-5 in the Big Ten and threatening to match their 0-10 start in 2003.
And by the way ... remember Michigan State? Overlooked after a rough December, the Spartans have quietly won five in a row after dispatching Illinois.
January, 13, 2010
1/13/10
10:06
AM ET
The Morning After is our semi-daily recap post. Try not to make it awkward.
[+] Enlarge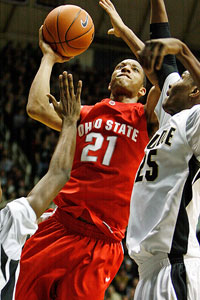 Andy Lyons/Getty ImagesEvan Turner scored 23 of his career-high 32 points in the second half Tuesday night.
Ohio State 70, No. 6 Purdue 66
:
Evan Turner
does bad things. You know this already. He did such things before the ugly back injury (which he suffered doing something awesome; players like Turner don't get injured in normal or unexciting ways, apparently), and he's done such things since returning from that injury. He's, um, really good. But the Buckeyes' accomplishment Tuesday night -- winning a road game over an efficient, brutal defensive team like Purdue -- is truly remarkable: Road wins like this simply don't happen all that often in basketball.
How did Ohio State do it? It was almost flawless where it counts most: The Buckeyes shot well, they rebounded their misses, and they didn't allow Purdue to get to the line, surrendering free throws on a mere 12 percent of the Boilermakers' possessions. Purdue will be disappointed with that number; the Boilermakers must find a way to balance their perimeter strengths with more touches for
JaJuan Johnson
, who shot only five times Tuesday night. Make no mistake, though: This win belongs to the Buckeyes, who got a legendary performance from their star and did more than enough around the margins to complement him. If the Buckeyes go on to stir things up at the top of college hoops this season, they will have learned their formula on Jan. 12.
No. 2 Kentucky 89, Florida 77
: It's almost unfair. After all, John Calipari already has the best point guard and arguably best player (I'm adding in the "possibly" because did you
see
Turner last night?) in the nation in
John Wall
. It's easy to forget that
Eric Bledsoe
was almost as highly touted as Wall as a high schooler;
Bledsoe was considered
the third-best point guard in that class and among the top 20 or 30 players entering the 2009 class. But for all the John Wall love, Bledsoe is showing Kentucky fans they have no reason to worry about 2010 and beyond -- while not as versatile and athletic, Bledsoe is nearly as quick as Wall and has a much better shooting touch, which he displayed last night in his 25-point, 10-of-13 performance at Florida.
In the meantime, the tandem of
Patrick Patterson
and
DeMarcus Cousins
(and even
Daniel Orton
) is proving impossible for teams to stop. The Wildcats scored 1.25 points per possession last night -- an insane rate for any team -- without shooting particularly well from beyond the arc. Kentucky was just that good (65.2 percent for the game) on their twos. If the Wildcats can score at this rate even when they don't shoot well from the perimeter (and when Wall bricks 3 after 3, which he's prone to do), then we were all wrong: The Cats aren't vulnerable. They're just scary.
Colorado 78-No. 24 Baylor 71; No. 12 Kansas State 88, Texas A&M 65

: Who else is trying -- and failing -- to figure out the middle portions of the Big 12? Eamonn confused: Baylor beats Oklahoma by 31 and goes to Colorado and loses to a frisky-but-let's-be-real-here-still-pretty-bad Buffs team. Meanwhile, Texas A&M looks like a tough matchup for a K-State team that lost its first Big 12 game to Missouri. Instead, the Aggies build themselves a tower of bricks (how tall? 38.2 percent FG% tall, is how tall) while K-State scores almost 1.2 points per possession. Road difficulties? Weird night? Who knows? The Pac-10 is this year's most wide-open conference -- which is a nice way of saying there are no good teams -- but the Big 12 might be the most fun to figure out in the next two months.
NC State 88, No. 25 Florida State 81
: Florida State will have some 'splaining to do. How do you lose to the hapless Wolfpack at home? Well, here's how: Freshman Scott Wood made 7-of-11 3-pointers and scored a career high (duh) 31 points on the way to a Wolfpack win. Add that to NC State's generally hot shooting and efficiency on offense -- it went to the line on 66 percent of its possessions and scored 1.2 points per trip -- and you have a recipe for a freaky loss at home to an inferior team. Not that this is the upset of the century, but still.
Everywhere else: Maryland-Wake Forest played a classic that few around the country saw, trading baskets in overtime on the way to a two-point Wake win; Al-Farouq Aminu had 24 and 13 and a key defensive play in the victory. ... Northern Iowa tied a school record with its 14th straight win, but a two-point win over Bradley at home was probably not the win the UNI folks had in mind. ... TCU edged Wyoming out West. ... Illinois needed some last-second drama to top Penn State at home, but escaped with 54-53 the win all the same. ... Iowa got its sixth win, a five-point home win over Tennessee State.