College Basketball Nation:

Peter Jurkin
December, 13, 2012
12/13/12
5:00
AM ET
1. The Big East is going through a number of different scheduling models for 2013-14 and beyond, but the league may need to dance carefully around promoting the "elite" teams too much over the "new rebuilding programs." Big East commissioner Mike Aresco has instructed Tom Odjakjian in the Big East office to come up with a number of different scheduling models. One school of thought is to have the top teams like Marquette, Georgetown, Connecticut and Cincinnati playing each other in the repeat games and having some of the perceived lower-level schools playing each other in the repeat games. While that would make sense for television purposes, it may create haves and have-nots if it is done without a top team playing a lower-level team. It also could lead to inflated records for teams that wouldn't have played as tough a schedule. The NCAA tournament selection committee sees through this. They look at each school's schedule individually, and if they play lower-level teams -- regardless of the final record -- then they won't be tourney worthy. The Big East was going to have 18 teams with Notre Dame in 2014. But then the Irish announced they were leaving and may get out for next season. That meant Odjakjian had to come up with a 17-team model. Then, Rutgers and Louisville left, for the 2014-15 season, meaning the 2015 conference schedule was going to have 15 teams. But the Big East added Tulane for the 2014-2015 conference season pushing the number back to a 16-team scheduling model. The league has time to figure this out -- of course as long as there aren't any more defections between now and next season.
2. Indiana finally gets 6-8 freshman
Hanner Mosquera-Perea
and 7-foot freshman
Peter Jurkin
eligible for Saturday's game against Butler in Indianapolis. The two players add tremendous length and size as well as giving the Hoosiers 10 more frontcourt fouls if
Cody Zeller
ever has foul issues. It's unclear if either player can be extremely effective in a game like Saturday's, or if they'll even see the court, but having them on the bench makes the top team in the country deeper and even more attractive as a title pick. Indiana coach Tom Crean doesn't anticipate having any issues adding two players to an undefeated team. "It's not that hard because we need to ease them in,'' said Crean. "There won't be any big changes immediately. You have to let them gain and get confidence and not force them into action. They are two great young men.''
3. One thing that shouldn't be dismissed even though a number of sources in the Big East say they would never head to the A-10: Not everyone may have a choice. Marquette, Georgetown, Villanova and St. John's will do everything in their power to remain in what they perceive is an elite conference -- whether that's in the Big East or forming their own conference. But if the whole thing ever splinters then DePaul, Providence and Seton Hall may not have the same options. There is strength in numbers as a group of seven. But each school is also thinking about itself and can't afford to lose out on something for the sake of the group. I have been told that there is no way the A-10 would be able to pull off a 21-team league. But I think we all have learned that nothing is certain anymore. A number of the football schools remaining in the Big East don't think the Catholic schools will be able to dissolve the league or break off because they would need the football schools to get the best possible television deal. Stay tuned. ...
December, 11, 2012
12/11/12
2:30
PM ET
When Indiana and its fans were informed of the NCAA's decision to label A-HOPE founder and Indiana Elite coach Mark Adams a booster based on a few hundred dollars of window-sticker purchases made in the 1980s, they were outraged.
That outrage was mostly directed at the suspensions of freshmen forwards
Hanner Mosquera-Perea
and
Peter Jurkin
, two A-HOPE projects who count Adams as their personal guardian. When their appeal wasn't granted, the players were required (worst of all, in my opinion) to pay money to charity, and sit out the first nine games of Indiana's season.
You can question the NCAA's prosecutorial nitpicking, and at the time
I did
. With the benefit of perspective and
tweets from NCAA staffers
, it's pretty clear the NCAA had identified Adams' involvement with Indiana's program as too tight for its own comfort, and was willing to take any excuse possible -- even decades-old window stickers and "booster" status -- to exert some control over the situation.
That is obviously not the best way for the NCAA enforcement committee to go about its business. (
Q.v. this
.) But I'm not sure IU fans should be so quick to
defend Adams, either
. The Illinois High School State Athletic Association --
which ruled Monday
that A-HOPE had "taken advantage" of four Sudanese high school basketball players -- is only more reason to at least maintain some healthy skepticism. (I know this is not what fans do, but still.)
Anyway.
Through all the outrage, I rarely heard Indiana fans acknowledge the obvious: That
it didn't really matter
whether Jurkin and Mosquera-Perea played in the first nine games or not. Sure, you'd like your young guys to get some experience, and you don't want anyone sitting in street clothes, but in terms of affecting Indiana's nonconference record? It didn't look like an issue then. After nine games and nine wins, it doesn't look like an issue now.
There is, however, the small matter of getting the duo into an already tight rotation. Indiana's balance (and its tendency to blow out opponents) has allowed Tom Crean to play no one player more than 70 percent of available minutes. As it stands, the Hoosiers currently have a pretty identifiable rotation:
Jordan Hulls
,
Yogi Ferrell
,
Victor Oladipo
,
Christian Watford
and
Cody Zeller
start.
Will Sheehey
comes off the bench and plays near-starter's minutes. Guard
Remy Abell
and freshman forward
Jeremy Hollowell
come off the bench, and Austin Etherington (now sidelined with
an ACL tear
broken kneecap*) and
Maurice Creek
fill in where applicable.
There is good and bad news in the freshmen forwards' returns. The good news? As you may notice, only Zeller, Watford and Hollowell can guard forwards, and the latter two are tallish small forwards as much as they are low-block guys. The bad news? With all those guards getting time, someone's minutes are going to get cut. How does that change the look of the team?
The
Indy Star's Terry Hutchens doesn't think
it will make all that much difference early in the transition, and he's probably right. Jurkin is likely to start his participation as a big-bodied rebounder and fill-in player for when Zeller is in need of the bench. Mosquera-Perea, on the other hand, is much more likely to contribute right away. Where Watford is polished and smooth, HMP is athletic, brute-force strong and raw. He might be exactly what Indiana needs on the glass.
In the next couple of weeks, there may be some growing pains -- the rotation may get jumbled, or Jurkin or HMP may need more time to catch up to the speed of the college game. But in the long term, these additions only make Indiana deeper, tougher and more physical, which are, coincidentally, exactly the qualities they need.
In other words, the best team in the country is about to get better. Kind of crazy, isn't it?
(*An earlier version of this post said Austin Etherington's injury was a torn ACL. My apologies for the error.)
November, 23, 2012
11/23/12
9:05
AM ET
By
ESPN.com staff
| ESPN.com
1. Indiana coach Tom Crean said Thursday he has no idea when Hanner Mosquera-Perea and
Peter Jurkin
will hear whether they won their appeals to have the nine-game penalty for impermissible benefits reduced. The two players won an appeal to travel with the Hoosiers -- after they left -- for Brooklyn and joined the team to watch them win the Legends Classic Tuesday. The Hoosiers play Ball State Sunday and host North Carolina Tuesday in the Big Ten/ACC Challenge. If the suspension isn't reduced then the two freshmen won't play until Dec. 15 against Butler in Indianapolis.
2. The NCAA isn't rushing to make a decision on Texas sophomore guard
Myck Kabongo
, either. Kabongo is being held out as the NCAA investigates who paid for a trip to Cleveland for a workout last spring. Texas, which struggled mightily in Maui by losing to Chaminade and USC before beating a depleted Mississippi State, won't play Kabongo until he is cleared. The Longhorns need Kabongo before the season gets away from them with a brutal upcoming stretch against Georgetown in the Jimmy V Classic on Dec. 4 in New York, UCLA in Houston on Dec. 8, North Carolina in Austin Dec. 19 and at Michigan State Dec. 22.
3. Illinois coach John Groce had a tremendous start to his Illini career with a Maui Invitational title this week. But this wass an odd year for the tournament as there was only one ranked team. There is a chance that the two Division I wins for the Illini in Maui (USC and Butler) may end up being against teams that won't make the NCAA tournament. Illinois will get plenty of shots to have quality wins for résumé-building Dec. 8 at Gonzaga and Dec. 22 against Missouri in St. Louis, as well as in Big Ten play. But it would be bizarre if the Maui wins don't matter as much on the team's selection profile. That has almost never been the norm for a title team in Maui.
November, 21, 2012
11/21/12
12:42
AM ET
NEW YORK -- A quick look at Indiana's
82-72 overtime victory
over Georgetown in the championship game of the Legends Classic.


Overview:
This wasn't the matchup everyone had hoped for but no one is complaining now, not after 45 minutes of ridiculously good basketball.
Having watched UCLA and Georgetown in back-to-back games, there was no arguing which was the better team, at least on this night.
The Hoyas in a landslide.
Pushed and prodded by Georgetown the entire game, the Hoosiers pushed right back, giving a November game a March feel. Like the Champions Classic in Atlanta, it was high entertainment, high intensity and high skill, and it was like that from the tip.
If Georgetown is the fifth-best team in the Big East -- as it was picked in the preseason -- the league is going to be fierce. The Hoyas leave New York with a lot more believers than they came with, and a sweet combination of offensive skill and high hoops IQ should carry them far.
Indiana leaves as it came -- as the No. 1 team in the nation, and maybe with more admirers, too. That's because the Hoosiers held on, fought back and proved they aren't just the
Cody Zeller
show. The sophomore was good, but his surrounding cast was every bit as great.
Jordan Hulls
had 17,
Victor Oladipo
12, and
Christian Watford
a double-double with 10 points and 10 rebounds. Mix in two huge 3s from sophomore
Remy Abell
and another from
Yogi Ferrell
, and you've got an across-the-board box score here.
The caveat: There is still that lurking issue of IU's defense. It tightened up when Indiana needed it most, but the Hoosiers have work to do, especially defending the arc, beyond which Georgetown did its most damage.
Turning point:
There were approximately 50 in regulation, but the overtime was more like a slow bleed to victory for Indiana. The Hoosiers went to the basket and got to the free throw line, needing just one field goal to build a seven-point lead that would be the end of Georgetown.
And then came the dagger, a buzzer-beating circus 3-pointer from Ferrell to bump the lead to 10 with less than a minute to play.
Before that, though, was the end of regulation.
Otto Porter
drained a 3-pointer to get the Hoyas within one after IU seemed ready to finally ease to the W. He followed it up with a gigantic drive to the right side of the lane, laying in the muscle shot to tie it at 64.
Key stat:
Here are the numbers Hoyas fans will be sure to study: 36 to 11. That's how many times Indiana went to the free throw line versus Georgetown. The Hoyas didn't even get into a one-and-one situation until there were two minutes left in OT.
Key player:
Really hard to pick just one and really hard to limit it to one team in a game like this. So I won't.
In a group effort from Indiana, the edge goes to Hulls. The quintessential Indiana kid made sure Indiana stayed No. 1. His 17 points matched Zeller's, but it was the timing of some of them that mattered most. Hulls scored five of the Hoosiers' first seven in OT and then set up Zeller with two more on a nifty bounce pass. That ended up being all the cushion IU needed.
But we've also got to give Porter his due. The super sophomore, who had just three points in the first half, nearly willed the Hoyas to and through overtime. He finished with 15 points, including those crucial five at the end of regulation to force the extra five minutes.
Miscellaneous:
Indiana has yet to hear from the NCAA regarding its appeal of suspended players
Hanner Mosquera-Perea
and
Peter Jurkin
. The two traveled to Brooklyn, and their appeal was heard Tuesday, but the NCAA did not make a ruling. ... Hoosier Nation travels.
Next game:
The Hoosiers host Ball State on Monday, and then North Carolina, loser to Butler on Tuesday night, heads to Bloomington on Nov. 27 for the ACC/Big Ten Challenge. ... Georgetown hosts Mount St. Mary's on Saturday and then has a good back-to-back, against Tennessee (Nov. 30) and Texas (Dec. 4).
November, 2, 2012
11/02/12
1:51
PM ET
If there is a fly in the
Indiana Hoosiers
' otherwise euphoric 2012-13 preseason ointment, it's the lingering eligibility questions surrounding incoming freshmen forwards
Hanner Mosquera-Perea
and
Peter Jurkin
. Like (much more high-profile) UCLA newcomer
Shabazz Muhammad
, both players are still awaiting initial eligibility rulings from the NCAA and, like Muhammad, neither the NCAA nor Indiana has provided any hints one way or the other, because they can't.
Still, the season is rapidly approaching. After Indiana's exhibition win Thursday night,
coach Tom Crean was asked about the situation
. Per the usual, he didn't say much:
"What I can say about that is that we go through a lot in a program," he said. "There's situations that are always going to arise and every one of them has got a process to it. And we're in the middle of that process. We just are. That's the extent of it. They're two great kids that are trying to get better every day and it's not like it's anything that we're dealing with that just came up. It's been a process for some time. And that's really where we're at with it."
In fact, the best indicator of Jurkin's status was that he played last night. Because the NCAA counts all competitions, including exhibitions, inside its eligibility purview, Indiana would be taking a massive risk allowing Jurkin to play without some measure of certainty on his status.
As bylaw guru John Infante writes
, the likelihood is that the NCAA has cleared Jurkin, but the school itself is still checking some things out on its own.
There has been no such hint from Perea, but he's also been recovering from a left foot injury for much of the offseason, so it's tough to say whether he would have played in the scrimmage whether healthy or not. Naturally,
Indiana fans are starting to ring the alarm
. In case everyone's wondering what all the fuss is about, it's likely -- repeat, likely, since the NCAA hasn't confirmed any of it -- that it has something to do with the revelations uncovered last year by Outside the Lines reporter Mike Fish, who,
as part of his multipart investigation
into Indiana Elite and Bloomington, Ind.-based non-profit African Hoop Opportunities Providing an Education (A-HOPE), reported on potential benefits Jurkin and especially Perea may have received during their time with the program:
After Drew Adams, the son of Mark Adams, was promoted to director of operations/video coordinator in April 2010, Crean signed or picked up commitments from eight players with ties to A-HOPE and/or the Indiana Elite program. According to summer team forms on file with the NCAA, the younger Adams previously coached three of the players with Indiana Elite, and his father acknowledges that two -- 2012 commits Perea and 7-foot-1-inch Peter Jurkin, part of a class ranked No. 1 in the country by ESPN -- lived at his Bloomington, Ind., house last summer while he was their coach at Indiana Elite.

[...] A-HOPE paid for Perea's round-trips to Bogotá, Colombia, last summer and this past Christmas -- the latter not long after he verbally committed to the Hoosiers in October. Mark Adams also has provided Perea a cell phone and pays the bill, gave him a used iPod and bought a $400 laptop that Perea shares with another A-HOPE player. Such treatment potentially violates NCAA extra benefits bylaws and thus could impact Perea's initial NCAA eligibility at Indiana.
There's
more on Perea here
. Perea was also unwittingly at the center of an investigation into former Baylor assistant coach Mark Morefield,
who the NCAA began investigating last year
for sending impermissible text messages, including an alleged message to Perea's high school coach that threatened to revoke the Colombian native's access to the United States if Perea chose to commit anywhere other than Baylor.
When you combine those potential vagaries with all the other things the NCAA looks at -- and the extended, prove-you-didn't-take-something process it uses to verify amateurism status -- perhaps it's no surprise the decisions haven't yet arrived, especially with regards to Perea. Along with Jurkin, Perea is the key to Indiana's frontcourt depth, to a lineup
that doesn't rely solely on Cody Zeller for its interior acumen
. At this point, you can forgive Indiana fans their anxiety.
November, 2, 2012
11/02/12
10:00
AM ET
Unlike shooting or rebounding or point guard play or the variety of other specific basketball skills we've been highlighting in our
Best of the Best lists
throughout this week, the category of "most important" is far trickier to quantify. It depends not only on a player's contributions, but on the team around him and where the two dynamics meet in the middle. There is also a constant temptation to conflate "most important" with "best" or "most valuable," and those arguments (hello, baseball) always make my head hurt.
My editors asked me to name the 10 players most important to their teams in the country, and that's precisely what I'm going to try to do. But I also attempted to avoid the rabbit hole that is individual talent at the mid-major level. Instead, I tried to narrow the criteria down to players most important to their teams' chances of winning a national title, or making a deep tournament run, or maintaining some level of national relevance. Let's give it a shot:
[+] Enlarge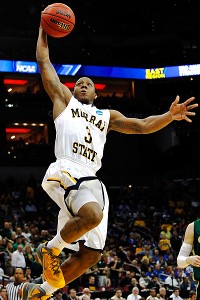 AP Photo/Dave Martin, FileWith much of last season's cast gone, Isaiah Canaan is even more key to Murray State this season.
1. Isaiah Canaan, Murray State
: Last season, Canaan was hands down the best and most important player on a team that went 31–2, leading his team in minutes, points, assists, offensive rating (122.2), 3-point field goal percentage (45.6) and a wide swath of other statistical categories. He dominated the ball, scored at will and facilitated to boot. He was really, really good.
And that was on a team that included seniors Donte Poole, Ivan Aska and Jewuan Long, on a team that already was beginning to bring along guard Zay Jackson as Canaan's new backcourt partner. The first three players are gone to graduation; Jackson is missing the entire season after pleading guilty to wanton endangerment for running over two people with his car in a Walmart parking lot. (
True story
.) So Canaan, already crucial to his team's success a year ago, becomes the primary returner on a squad that still very much maintains conference-title and NCAA tournament aspirations. No one player in the country will mean more to his team this season.
2. Cody Zeller, Indiana
: Zeller, the AP Preseason Player of the Year, obviously is important. He is the unifying force on a team that desperately needed exactly what he provided as a freshman: interior scoring, rebounding, strength, efficiency, you name it. He led the Hoosiers in field goal attempts by a wide margin, and Indiana fans could frequently be heard complaining that Zeller wasn't getting enough touches. Truth is, they probably were right. Before he arrived, with similar personnel, Indiana won 12 games. Afterward, they went 27–9. He doesn't get credit for all 15 wins of that improvement -- other players got better, too -- but there's no question his impact was immense. You know all this already.
Here's the twist, though: All offseason, we've been praising the Hoosiers' depth, and there's no question Tom Crean has a wealth of pieces at his disposal. But right now, aside from Zeller, the frontcourt is looking a little slim. Forward
Derek Elston
(better as a 15-foot jump-shooter anyway) is injured, and the eligibility statuses of freshman
Hanner Mosquera-Perea
(a wide-shouldered rebounding force) and
Peter Jurkin
(a 7-foot center) are both up in the air. Zeller already has much riding on his shoulders, and more help was supposed to be on the way. If it isn't, Zeller's task becomes even more daunting.
3. Doug McDermott, Creighton
: Last season, there were two players in the country who used at least 28 percent of their team's available possessions and posted offensive ratings (a measure of individual player efficiency) above 120. The first was Damian Lillard, who did
this for the Portland Trail Blazers the other night
. The other: Doug McDermott. He shot 63.2 percent from inside the arc (on 400 shots) and 48.6 percent outside (on 111), and he rebounded well on both ends for good measure. Creighton has guys who can play.
Grant Gibbs
is a sublime entry passer,
Jahenns Manigat
is coming on strong and
Ethan Wragge
can shoot it. But there's no getting around the fact that McDermott's incredible inside-out offensive versatility was the main reason his team boasted the fifth-most efficient offense in the country last season,
per KenPom.com
. Seeing as Creighton's defense was so lackluster, the Bluejays very much needed that offense. Even assuming they improve somewhat on the defensive end this season, they'll still need to score like crazy in 2012-13. That's where McDermott comes in.
4. Peyton Siva, Louisville
: Every time we talk about the huge talents returning at Louisville, we talk about how good the defense is going to be. This is for good reason: It was the best in the country last season, good enough to get the No. 4-seeded Cardinals to the Final Four. It will keep them in excellent shape in the season to come. It's bankable like that. Then, after we sing the defensive hosannas, we get around to talking about how so-so Louisville's offense was, and how if the Cardinals are truly a national title contender they have to find ways to score.
Siva is the most crucial piece in this discussion. The UL senior point guard is 5-foot-11 and quick as lightning; the problem is that he just isn't very efficient. He shot 24.6 percent from 3 in 2011-12. He turned the ball over on nearly a third of his possessions (29.3 percent). According to Synergy scouting data, Louisville uses Siva more frequently than any other player to initiate pick-and-roll sets at the top of the key, a play type it favors as a team, but he is merely average in his execution. Why? Because defenses don't have to respect his jumper. They play under the screen, the play dies and Louisville goes to Plan B.
To me, if Louisville is going to turn its offense to something more coherent, Siva is the key. Without a more efficient performance at the point guard spot, the Cardinals will still be a brutally tough out. But they won't reach their full potential.
[+] Enlarge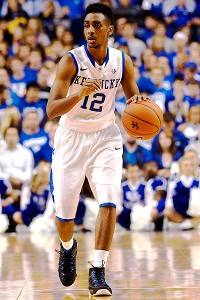 Mark Zerof/US PresswireNC State transfer Ryan Harrow takes the reins of a talented, but again young, Kentucky squad.
5. Ryan Harrow, Kentucky
: The NC State transfer is getting his moment in the John Calipari point-guard spotlight this season, a vaunted role typically reserved for NBA lottery picks. That spotlight can be harsh --
never more so than from Calipari himself
-- but there are good reasons for Calipari's insistence on point guard excellence. For one, his dribble-drive offensive system (which he has used variously in recent seasons, and might return to more in 2012-13) thrives on point guard play more than most.
The second reason? Harrow, who spent last season on the bench after a freshman campaign in Raleigh, is in many ways a veteran in Kentucky's latest amalgamation of highly talented but still raw freshmen. His ability to run an effective offense, while dealing with players still getting used to each other and the college level at the same time, will be key to Kentucky's success this season.
6. Trey Burke, Michigan
: Burke has something of a similar challenge to Harrow's, but one accentuated by what could be a major adjustment at the offensive end. Last season, Burke sprang onto the scene at the helm of an archetypal John Beilein-style "spread the floor and fire away" 3-point-shooting team. The team's three most efficient shooters are gone, replaced by touted freshmen (
Glenn Robinson III
,
Mitch McGary
) unlike anything Beilein has had the luxury of landing during his tenure in Ann Arbor. Now, Michigan's best lineup will look more conventional, with big, athletic, bruising players.
This could be a boon on defense, but it will require a shift on offense; it seems almost unfathomable the Wolverines will shoot nearly as many 3s this season. At the middle of it all will be Burke, a preseason All-American who will see his distribution and leadership abilities fully put to the test.
7. Adonis Thomas, Memphis
: It was tempting to put point guard
Joe Jackson
in this spot. The same could be said for center
Tarik Black
. Jackson has still yet to harness his immense talent in a totally cohesive way; Black can't seem to stay out of foul trouble. But I decided to go with Thomas. Why? For one, he'll be stepping into former Tiger Will Barton's shoes, and there was no mistaking Barton was the best player on a pretty underrated 2011-12 Memphis team. But Thomas could arguably be even better, at least on the offensive end; by all accounts, the 6-6 small forward has been utterly lacing long-range shots all offseason. That versatility would make Thomas, who played power forward until his injury last season, an utter nightmare to guard and could introduce a new dynamism to a Memphis offense that was already pretty good in the first place. I'm really intrigued.
8. Lorenzo Brown, NC State
:
C.J. Leslie
is the obvious pick here, but I think we kind of know what we're going to get with him. He's athletic, he's one of the best in the country at catching on the block or elbow and diving to either side of the rim, and he should be locked in from start to finish this season. Maybe that's presumptuous, but I'm taking Leslie's productivity as a given. (OK, it's definitely presumptuous. Make me look smart, C.J.) Brown, on the other hand, feels more crucial because, like some of the other PGs on this list, it is his job to make the whole Wolfpack thing work. That includes integrating
Rodney Purvis
; playing better defense at the point of attack; and keeping Leslie involved and finding sharpshooter
Scott Wood
on the wing. If Brown has a top season, NC State might indeed be worthy of that lofty, tourney-run-infused No. 6 preseason ranking. If not, the "overrated" refrain will ring out early and often.
9. Phil Pressey, Missouri
: Senior guard
Michael Dixon
's indefinite suspension probably won't last too long, but that's hardly the only reason Pressey deserves a nod here. Along with Dixon -- who is more of a catch-and-shoot player than Pressey, a gifted ball handler, penetrator and creator -- Missouri's backcourt has kind of a crazy/thrilling challenge on its hands in 2012-13. The Tigers have to replace the losses of Kim English, Ricardo Ratliffe and Marcus Denmon with four transfers:
Keion Bell
(from Pepperdine), Jabari Brown (from Oregon),
Alex Oriakhi
(from Connecticut) and
Earnest Ross
(from Auburn). Those players have all been on campus for a while, and it's not exactly like figuring out guys you just picked up in an open run ... but compared to the rest of the country, it's not all that far off, either.
10. James Michael McAdoo, North Carolina
: It will be easy, in the coming months and years, to forget just how good North Carolina's 2011-12 frontcourt was. That's what happens when you have gigantic expectations and bow out of the NCAA tournament short of the Final Four. But let it be known: Tyler Zeller and John Henson (and, oh yeah, Harrison Barnes) were
really
good. Not only did they control the paint and score easily on the offensive end, but they were fast enough to race down the floor in Roy Williams' up-tempo system, getting easy buckets on offense and turning UNC's interior defense into its overall team strength.
Given all that, McAdoo has a ton riding on him in 2012-13. He was a highly touted recruit who probably could have been a lottery pick last season, but he chose to avoid that route (word to Marvin Williams) and come back to prove himself on the college stage. Carolina returns some promising wings (
P.J. Hairston
,
Leslie McDonald
) and brings in a really interesting frosh at point guard (Iowa native
Marcus Paige
), but McAdoo will be in charge of the low block. If he lives up to his heady NBA potential, look out. If not, UNC will labor. It's that simple.