College Basketball Nation:

Phil Knight
September, 6, 2012
9/06/12
10:01
PM ET
SPRINGFIELD, Mass. -- Phil Knight was left awestruck when Naismith board chairman Jerry Colangelo called him and said he had been selected for enshrinement into the Basketball Hall of Fame.
The Nike co-founder and CEO had no idea there was a category for contributors.
Yet, while Knight wonders why he's on the illustrious list, there is no debating the importance of his induction to some of the highest-profile names in the NBA and college basketball.
Knight will be introduced Friday night by Hall of Fame player Michael Jordan, who won six titles with the Chicago Bulls and is arguably the greatest player of all time, and Hall of Fame coach John Thompson of Georgetown.
[+] Enlarge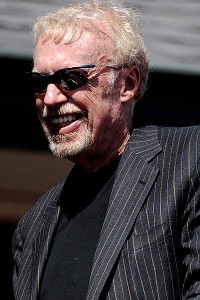 Kirby Lee/US PRESSWIRENike co-founder Phil Knight will enter the Basketball Hall of Fame. "It means the world to me," Knight said.
"I saw where someone said it would be controversial that I'm in,'' said Knight Thursday at the Naismith Hall of Fame. "This surprised me. But nobody will ever have two better presenters.''
Nike's influence on the sport is unmatched by any other company. The decision to attach itself to star players and iconic college coaches helped push the product and create even more name recognition in the sport. Nike then got even more involved in sponsoring grassroots basketball by funding programs at all levels of the sport.
Having Jordan and Thompson present Knight is yet another reminder of Nike's influence.
"They come at this from two very different sides,'' said Knight. "Obviously Michael Jordan revolutionized the sporting goods industry. He played a big part in Nike's success and still is. He is selling twice as much product under the Brand Jordan name since he quit playing. That's never been done before. John Thompson is a Hall of Fame coach and a board member for over 20 years, an advisor and friend.''
Nike is holding seats for Miami Heat all-star LeBron James and the Hall of Fame is expecting him to attend. Other NBA players and members of the gold medal Olympic team were invited and may arrive in time for Friday night's ceremony.
The list of Nike-sponsored college coaches who have told Nike that they are attending is a who's who in the sport. The list includes national championship coaches Mike Krzyzewski (Duke), John Calipari (Kentucky), Jim Calhoun (Connecticut), Jim Boeheim (Syracuse), Roy Williams (North Carolina) and Billy Donovan (Florida). Also scheduled to attend, per Nike, is Jamie Dixon (Pitt), Mike Anderson (Arkansas), Jay Wright (Villanova), Buzz Williams (Marquette), Mark Fox (Georgia), Dave Rose (BYU), John Thompson III (Georgetown), Steve Lavin (St. John's) and former college coaches Gene Keady, P.J. Carlesimo, Lute Olson and John Chaney.
Representatives from other sports, possibly Ken Griffey Jr., may also attend. Nike reps said the college football season will prohibit football coaches from attending but a number of athletic directors are expected to attend.
"It means the world to me,'' said Knight. "I'll get very emotional. It's been great to deal with Hall of Fame coaches and it's been good for business.
"We're very involved at the grass roots and promoting the game literally around the world,'' said Knight. "It's good for the game and good for business.''
Only one head coach was in attendance at Thursday's news conference: Oregon's Dana Altman. If you're the head coach at Oregon then you have to be on board with Nike since Knight is an alumnus and the arena is named after his son Matthew.
"He's had a great impact on the game,'' said Altman. "The product development, the high school game, the AAU programs nationally and at the collegiate level, his company has touched and supported it all. I think it's a great honor for him.''
Honoring Knight in college basketball will go to another level in 2017 when a 16-team mega event will be held in honor of Knight's 80th birthday. The plan is for two eight-team tournaments at two venues in Portland including two teams from a conference.
The teams which Nike says have committed are: Duke, North Carolina, Kentucky, Florida, Georgetown, Connecticut, Texas, Oklahoma, Gonzaga, Portland, Oregon, Stanford, Michigan State, Ohio State, Butler and Xavier.
Altman said the original plan, which was crafted by Michigan State athletic director Mark Hollis, was for the Spartans to play a smaller event in Eugene to honor Knight. But it was too hard to pull off at Oregon. So the two tournaments will take place in Portland at Veterans Coliseum and the Rose Garden.
"All 16 schools said they're going to come,'' said Knight. "That was another phone call recently (with the Hall of Fame call too) where I said, 'wow.' Now I've got to hang on for five more years.''
Knight will enter the Hall of Fame with Reggie Miller (player), Don Nelson (coach), Ralph Sampson (college player), Katrina McClain (women's player), Hank Nichols (official), Jamaal Wilkes (player), the All-American Red Heads (first professional women's team), Mel Daniels (ABA player), the late Don Barksdale (player), Lidia Alexeeva (international coach) and Chet Walker (player).
August, 17, 2012
8/17/12
11:07
AM ET
1. Eastern Michigan athletic director Derrick Gragg had all the leverage with his head coach, Rob Murphy. If Murphy truly wanted to leave for an Orlando Magic scouting job he could but his contract stated he
had to pay $210,000 to leave, according to the Detroit News
. Multiple sources also confirmed Murphy wasn't going to get out of paying the fee. So, Murphy opted to remain and he did say in a statement that Gragg assured him the school is "continuing on the path of building a strong foundation for our basketball program." Well, that's fine if Murphy wanted to get a strong commitment. But the time to do so isn't in August. Coaches complain all the time when a player opts to transfer at an inopportune time in the spring or even summer. Had Murphy bolted on his staff and players on the eve of the fall semester it would have been even more egregious. Murphy can leave when he wants but there are consequences, especially financially. He also was leaving for a non-coaching position. Murphy will have to work even harder now to show where his loyalties lie this season to those that gave him a chance as a head coach. EMU did win the MAC West Division, but were under .500 overall in Murphy's one MAC coach of the year stint. Had he left in the spring then there would have been time to recover. But not now. He made the ethical choice to stay. Now the onus is on him to show his commitment to this season.
2. Is it me or are more positive things happening for Northwestern than ever before? The Wildcats got 7-foot-2 center
Chier Ajou
eligible for the season. If he can contribute then suddenly the usually vertically challenged Wildcats would have significant size inside. Northwestern's recruiting has gone exceptionally well for 2013. Coach Bill Carmody is energized as if he just arrived in Evanston. The Big Ten is loaded yet again with potential champion/Final Four teams. But it's hard to dismiss the positive vibes emerging for the Purple and White. Oh, if they can only get into the NCAA tournament just once.
3. The proposed 16-team Nike event in Portland in 2017 to celebrate co-founder and CEO Phil Knight's 80th birthday -- created by Michigan State athletic director Mark Hollis -- will be interesting to watch if all the teams sign contracts instead of just offering up firm emails and verbal commitments. Hollis said the reason the two specific Pac-12 schools were selected -- Stanford and Oregon -- is those are the institutions which granted Knight a degree. The other 14 schools invited are: Kentucky, Florida, Duke, North Carolina, Michigan State, Ohio State, Connecticut, Georgetown, Texas, Oklahoma, Xavier, Butler, Gonzaga and Portland. The two eight-team tournaments (remember conference teams can't be in the same event) would be seeded. The organizers (and our bracketologist) have plenty of time to come up with intriguing brackets for the two fields.