College Basketball Nation:

Planning for Success
March, 3, 2014
Mar 3
11:00
AM ET
For most of the first two months of the season, the Duke Blue Devils were a bad defensive team. Not by their own standards. Not relative to their conference or their opponents. No qualifications needed. Just plain bad.
Their home game against Vermont on Nov. 24 offered up the perfect example. Duke barely escaped the Catamounts, 91-90, and needed 26 points and nine rebounds from
Jabari Parker
and a go-ahead
Rodney Hood
free throw with five seconds left to get there. Worse yet was what pace told us about Duke's defense: The Blue Devils had allowed 90 points on their own floor to Vermont …
in 65 possessions
.
[+] Enlarge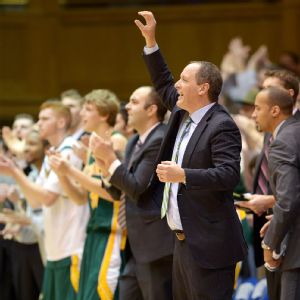 Lance King/Getty ImagesJohn Becker has guided the Catamounts nearly unscathed through the America East.
After the game, Mike Krzyzewski said his team was "awful." This was accurate. There was no other way to explain how a team that had scored .90 points per trip in its three previous games -- lossses to Bryant, Providence and Wagner -- had hoisted 1.38 on Duke in Cameron Indoor. It became personal Duke shorthand: "The same defense that allowed 90 points in 65 possessions to Vermont on its own floor ..." We probably overused it.
In the months since, Duke has patched up its defense and scored at a more efficient rate than every team in the country save Creighton. You are aware of these things. You are probably not aware of what Vermont has done since its near-miss at Cameron. Which is to say you've missed a team taking its own conference to the woodshed on a nightly basis.
Vermont lost three more nonconference games after Nov. 24, to San Fransisco, Quinnipiac and Harvard. It lost exactly one America East Conference game, 67-64, at Stony Brook. In pretty much every other America East game -- not every game, but almost -- it has utterly demolished its opponents. You can count the even marginally close games on one hand. (Sunday's overtime win over Binghamton was one of them. But then again, s
even players fouled out in an apparently horrendously officiated game
, so it's kind of hard to add that one to the analysis.) The majority of Vermont's conference contests have ended in drastically lopsided fashion. It's almost felt unfair.
You can see the dominance in the
Catamounts' conference efficiency profile
(subscription required). They rank first in the AE in points scored and allowed per possession, and by huge margins. They rank first in field-goal percentage, 3-point percentage, turnover percentage, defensive rebounding percentage, 2- and 3-point defense, and block percentage
and
steal percentage
on both sides of the ball.
Pick your stat, and Vermont has probably destroyed the America East at it. It's a comprehensive thing. If all you saw of the Catamounts was their performance at Duke, you might assume they were roughly this good. But if you noticed any of their other nonconference losses, you might be surprised. And you should be.
Of course, the America East is not a very good basketball conference this season. Even if Vermont had won at Duke, it probably wouldn't be in the at-large conversation, certainly not with all those other bad losses on its ledger. Either way, the path forward is the same: Vermont's only chance of getting to the NCAA tournament is winning the America East tournament later this week.
These are the times that can make the practice of awarding automatic bids to tournament champions feel like a mistake. For 16 games, Vermont was so obviously better than the rest of its league that its final statistical tallies look fake. But if the Catamounts slip up just once this week -- one off night, one stretch of foul trouble -- the America East will send a different team to the NCAA tournament. That seems kind of silly, right?
Silly or not, that is the task ahead of Vermont this week. It's the same for any mid-major that won its regular-season title but didn't build a strong enough at-large résumé, which is most of them: One weekend to validate an entire season's worth of work. It's unfair and dramatic, and often both at the same time. But there's nothing to do now but win.
March, 3, 2014
Mar 3
10:00
AM ET
The West Coast Conference is that rarest of birds: The mid-major league that realignment made better.
For a host of institutional and geographic reasons, Gonzaga was never tempted to realign upward these past few years. It's been a sturdy member throughout its 15-year run of success. Nowhere else made much sense. This set the WCC apart from other top mid-major leagues of the past decade, almost all of which lost a standard-bearer: The Valley lost Creighton; the Horizon lost Butler; C-USA lost Memphis; the Colonial lost everyone. But Gonzaga and the WCC's unique position -- and the desire of BYU to find a convenient men's hoops home when the Cougars went independent in football in 2010 -- have managed to put Jamie Zaninovich's league in a stronger position than ever before.
[+] Enlarge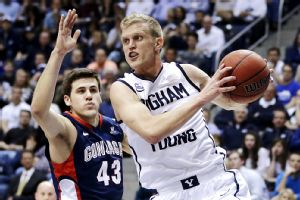 AP Photo/Rick BowmerGonzaga and BYU are the top two seeds in the WCC tournament.
Top to bottom,
per KenPom.com's conference efficiency average rankings
, the WCC is better than the Mountain West Conference and is the ninth-best league in the country. This while Gonzaga is having an uncharacteristically injury-prone and so-so season, though not so-so enough to do something so crazy as, you know,
not
win the conference title. That position has a lot to do with the non-San Diego State or non-New Mexico MWC having a straight-up awful season, but still.
Gonzaga is not nearly as far out ahead of the rest of the league as it normally is this time of year. Some years, that's because Gonzaga is good and the rest of the WCC is not so much. Some years, Saint Mary's is the only challenger. Some years -- OK, last year -- Gonzaga is a No. 1 seed in the NCAA tournament. None of those things is true right now.
Which is to say that this week's WCC tournament in Las Vegas could be Champ Week's most entertaining.
Gonzaga and BYU are your No. 1 and No. 2 seeds, respectively, so they have Thursday's opening round off. The Zags will play the winner of No. 8 Pacific and No. 9 Santa Clara; BYU gets the winner of No. 7 Portland and No. 10 Loyola Marymount. That should all be fairly standard.
But San Francisco, the No. 3 seed, is where things get interesting. The Dons are having their best season in at least a decade. They finished the conference regular season ranked third in the league in points per possession (1.09) and second in points allowed (1.05) and finished 13-5 in league play. In November, Rex Walters' team began the season losing 92-90 and 93-90 in back-to-back home losses to Nevada (meh) and Idaho State (bad), respectively, and falling to Illinois State (meh) at home two weeks later. An 81-57 loss at St. John's went mostly unnoticed. Since then, though, the Dons' only losses have come to Gonzaga (twice), BYU (twice) and Saint Mary's (once).
The Gaels' season has been a little rough by their recent standards; they are, after all, the only WCC program in the past 15 years to unseat Gonzaga from the regular-season throne. But as the No. 4 seed in the conference, and with efficient inside-out scoring from
Brad Waldow
and
Stephen Holt
(Steve Holt!), they are absolutely a threat to win three games in the WCC tournament.
That's a standard disclaimer for Champ Week, and what makes it so great: Any team can get hot enough to win three games, and next thing you know you're going to the Dance with a sub-.500 record. But the WCC has been light on that kind of drama during Gonzaga's reign. Mark Few's program is usually that much better than the field. But this season's combination of a merely good Gonzaga with a stronger and deeper WCC might yet give us something more.
February, 24, 2014
Feb 24
11:00
AM ET
Arizona pummelled Colorado, 88-61, in Boulder, Co., on Saturday night and, to the perpetrators, it must have felt like a breath of fresh air. Since forward
Brandon Ashley
lost his season to a foot injury, the Wildcats had been struggling in all of the obvious, understandable ways. Which is to say, offensively.
Until Saturday -- including the loss at California in which it happened -- the Wildcats had averaged .997 points per possession since the Ashley injury. The loss of his unique skill set, a mix of interior strength, floor spacing
and
size, proved impossible to replace.
Rondae Hollis-Jefferson
is an excellent player in his own right, but a different one. And so the Wildcats struggled in every game, save for a home blowout of Oregon State, scrounging for points, fighting close finishes, narrowly avoiding losses, watching one-time player of the year candidate
Nick Johnson
take a massive scoring nosedive
.
[+] Enlarge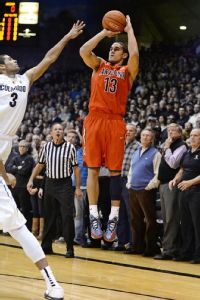 Ron Chenoy/USA TODAY SportsArizona's offense broke out Saturday against Colorado, the Wildcats' best performance since Brandon Ashley was sidelined for the season.
Prior to Arizona's 67-63 win at Utah last week, Sean Miller made a decision. He would sit Hollis-Jefferson and start
Gabe York
. At the time, some speculated Hollis-Jefferson was in trouble. Instead, Miller decided that what his team needed was offense, and what York needed was confidence,
and so he tried a little lineup voodoo to make it work
.
"We wanted to give Gabe an opportunity at the beginning," Miller said. "Sometimes if you give a guy a fresh opportunity they play with more confidence. And it ended up working. He shot the ball like he's capable of. Rondae's role didn't change. He played the same amount of minutes [31 on Wednesday]. It kind of gave Gabe what I would call a new beginning where you have a chance to start and be out there. It was great to see."
No one would go so far as to say York's starting role led to Arizona's breakout performance Saturday. That would be silly, not least of which because York scored just four points on nine percent usage Saturday. But the ability to bring Hollis-Jefferson off the bench, where he was so useful before Ashley's injury, is important, as is Arizona's general ability to space the floor. The three-guard look is a good one, at least according to early returns.
And anyway, it would be just as silly to attribute too much of the Wildcats' success to offense in the first place.
No, where the Wildcats have always been best this season is on the defensive end. That hasn't changed since the Ashley injury: Arizona ranks No. 1 in the country in Pomeroy's adjusted defensive efficiency, allowing opponents just .869 points per trip. In Pac-12 play, the Wildcats have allowed .891. Pac-12 teams shoot just 41 percent from inside the arc against Arizona, and the Wildcats force the second-most 2-point field goal attempts of any team in the league -- and 26th nationally.
York's installation in the starting lineup might change these facts slightly. We'll see. For now, as long as Johnson and
T.J. McConnell
are running shooters off the perimeter, and
Aaron Gordon
and
Kaleb Tarczewski
are behind them ready to fill in Miller's adaptive pack-line defense, the Wildcats are going to keep playing the best defense in the country. Let's see how far they've come offensively in their rematch with Cal Wednesday night.
February, 24, 2014
Feb 24
10:00
AM ET
By now, a handful of the notions advanced in November and December about the 2013-14
Kansas Jayhawks
look hilariously quaint. No, this isn't the season Kansas will finally relinquish its stranglehold on the Big 12 regular-season title; the Jayhawks are 12-2 with a three-game lead on Iowa State, Oklahoma and Texas with just four games left to play. Yes,
Andrew Wiggins
and
Joel Embiid
are really, really good. No, the Kansas offense isn't too stagnant to be relied upon.
All these and more were driven home in Kansas' 85-54 annihilation of Texas on Saturday. But it's the last one -- about KU's offense -- that is especially worth dispelling in advance of Monday night's visit from Oklahoma (9 p.m. ET, ESPN), because against some odds, it is the Jayhawks' offense that will define their season.
[+] Enlarge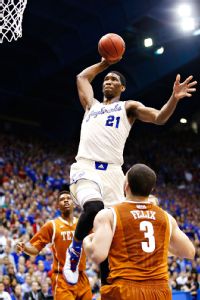 Bo Rader/Wichita Eagle/MCT/Getty ImagesJoel Embiid and the rest of the Jayhawks have risen above the Big 12 fray offensively, putting Kansas on the verge of a 10th consecutive conference title.
The offense-or-lack-thereof critique was the most noteworthy at the time. In late November in the Bahamas, Villanova held KU to 59 points in 71 possessions. A day later, Kansas escaped UTEP 67-61 in 64 trips. Colorado limited Kansas (72 points, 67 trips) effectively in its Dec. 7 win in Boulder, and Florida held Kansas to 61 points in 64 possessions in Gainesville later that week.
And then came San Diego State. The Aztecs' win in Lawrence -- the first nonconference win by any team in Allen Fieldhouse in 68 games -- was a 65-possession, 61-57 clinic in how to make the Jayhawks look pedestrian. SDSU raced back in transition, crowded all available driving lanes, prevented clean post entries, and essentially begged Kansas to beat it from outside. Kansas couldn't.
How often does a team score .94 points per trip and win at Allen Fieldhouse? At the time, that performance was a sign of how far behind Bill Self's unusually young team seemed. The Jayhawks could overpower inferior foes with sheer talent, but against smart, athletically capable defenses, their offense could be made to stall.
That hasn't been remotely true since.
The Aztecs were Kansas' last nonconference foe. Since Big 12 play began, the Jayhawks have averaged 1.19 points per possession -- more than Wichita State has scored against the Missouri Valley. Only Duke and Creighton, the two best offensive teams in the country, have been better in conference play; Louisville is close. All three have a larger selection of stats-inflating bottom-feeders in their leagues. Save for TCU, Kansas has had no such luxury.
Perhaps the most remarkable thing about KU's offense is how good it has been
despite
its willingness to give the ball away. Kansas is turning the ball over on 18.1 percent of its possessions in conference play. This is actually an improvement from earlier in the season, when that number was up around the 22-percent mark. And it's still way too high, and it still basically doesn't matter, because Wiggins, Embiid,
Wayne Selden
and
Perry Ellis
are still eschewing 3s and finishing interior buckets more effectively than any team in the country. As we saw on Saturday -- and are likely to see again Monday night against the Sooners -- the Jayhawks have done far more than "figure out" their offense. They've thrived.
Perhaps the place Self's atypically advanced development timeline has shown up is on defense. In the past decade, no coach has churned out top-10 efficiency defenses as reliably as Self; the Jayhawks' adjusted defensive efficiency rankings from 2007-13 range from No. 1 to No. 11, and usually tend toward the former. This season? No. 27. The last time a Kansas defense was just merely good -- because let's keep things in perspective -- was 2005.
For anyone who watched Kansas during this historic nine-year run of Big 12 supremacy, the makeup of the 2013-14 team has been a little jarring. Here we have a brilliant Jayhawks offense that doesn't shoot the ball all that well from outside, turns it over a bit too much, and is still brilliant all the same playing out in front of a defense that is uncharacteristically not amazing. It's a different formula, one Self has invented on the fly. But it's working, and pushing Kansas ever closer to a remarkable 10th straight Big 12 title, all the same.
February, 17, 2014
Feb 17
1:00
PM ET
James Michael McAdoo
wasn't very good last season. It's OK to be up front about it. He shot 44.5 percent from the field and 58 percent from the free throw line. He turned the ball over on 18.2 percent of his possessions. His offensive rating, 91.3, means he probably hurt his team offensively more than he helped.
Watching him play wasn't much fun either. McAdoo gobbled up 27.4 percent of his team's possessions last season, and all too often those possessions went like this: McAdoo catches the ball too far from the hoop. McAdoo turns, dribbles, hesitates, faces up -- any of the above, really, or some combination therein -- and shoots a 10- to 15-foot jump shot. Most of the time, it did not go in. It was rough.
[+] Enlarge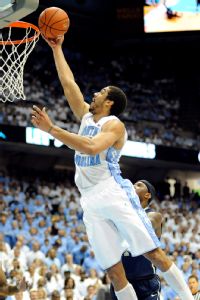 Liz Condo/USA TODAY SportsJames Michael McAdoo is making better decisions this season for North Carolina.
To say McAdoo has improved this season doesn't take much of a leap. It's right there in his numbers: His offensive rating is 105.0; his true shooting is up from 47 percent to 50.3; his turnover rate is down to 11.1 percent. The only thing he isn't better at is free throw shooting, but the sum of his improvements is clear. He's guarding better too. It's a wholesale leap.
But maybe the most impressive thing about McAdoo's improvement is not the what but the how -- how he goes about his offense, how concise, decisive and direct he plays.
There is no better example than his work during Saturday's victory over Pittsburgh. McAdoo had his best game of the season: He was 11-of-18 from the field for 24 points and had 12 rebounds on 27 percent usage. But it wasn't because he started reliably knocking down those midrange jumpers. He made a couple early in the game, yes, but he also badly missed a baseline 10-footer in the second half that was like last season all over again.
Instead, the McAdoo on display Saturday was active and energetic, grabbing seven offensive rebounds, typically beating his defender to spots, establishing good post position and creating a handful of easy points from work done before the ball arrived. When he caught the ball away from the hoop, as he did several times in both halves, he made one quick move, got his shoulder by the defender and went straight to the rim. In the first half, he scored on a picture-perfect baseline drive. In the second half, he caught a post pick-and-roll on the left wing and went straight at the middle of the lane -- no hesitation, no fakes -- where he earned an easy 5-foot floater over the defense.
It was like watching an entirely different player. Last season, McAdoo operated under the impression that the way to score was to be better than defense after you catch the ball. This season -- Saturday especially -- he has begun to grasp just how important pre-touch offense is and how effective you can be when you implement it.
Monday night's trip to Florida State comes in the heart of Bubble Watch season, so much of the focus will revolve around the Seminoles' bubble odds. I'm sure UNC's Thursday matchup with Duke will receive some attention. But in the meantime, watch the matchup happening on the low block, as
Okaro White
and the rest of the FSU frontcourt will try to make the Tar Heels one-dimensional.
February, 3, 2014
Feb 3
11:00
AM ET
On Jan. 12, the first time these two teams met, Iowa left Columbus, Ohio with its biggest win in years.
The Hawkeyes, you see, had yet to "break through." They were clearly a good team; no one had any question about that. But they had a confusing habit of failing to turn "being good at basketball" into "winning basketball games." They lost in overtime to Villanova in the Bahamas. They let Iowa State overcome them in the closing moments in Ames. They could have, maybe should have, won at Wisconsin. Worse, this was a multiyear pattern, the same custom that cost them a real shot at the NCAA tournament a season ago.
[+] Enlarge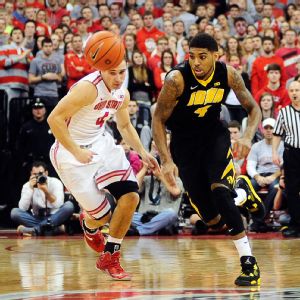 Ryan Young/Getty ImagesIowa hoped that beating Ohio State in January would get the "can't win the big game" monkey off its back. But it's still there as the rematch looms.
Jan. 12 changed all that. Here was an Iowa team authoritatively finishing off a Big Ten contender on the road. Here was an Iowa team dispensing with the drama. Here was the big win, the proof, the path forward.
Less than a month later, here's the rematch, and it feels like we're traveling in circles.
To be fair, that is as much the Buckeyes' fault as the Hawks'. Ohio State has spent the past month keeping up its general offensive struggles while also suddenly turning into the worst defensive team Thad Matta has coached in years. The Buckeyes rattled off losses to Minnesota, Nebraska and Penn State. They didn't look much better in a win over Illinois, and their win over Wisconsin on Saturday was just … blech. Suddenly, it is fair to wonder whether beating Ohio State is even all that impressive in the first place.
Of course, the Hawkeyes have done their fair share of damage. They lost at uber-hot Michigan, which was fine. But they soon let Michigan State -- the basketball equivalent of Monty Python's Black Knight -- playing with neither Branden Dawson nor Adreian Payne -- beat them on their own floor. Rightly or wrongly, either win would have kept the "can't win big games" narrative at bay. Now, it's back out in the open, being all gross and narrative-y, smearing crayon on the walls of an otherwise impressive season.
The good news: The quality of Iowa's basketball hasn't really changed! The last 15 minutes of Michigan State aside, the Hawkeyes have been playing the super-efficient, up-tempo offense, mixed with the same adaptable, stingy defense, that have made them a fixture among the adjusted efficiency top 10. The fundamentals are all there. The vital signs are strong.
But at some point, you have to start getting results. That's the one unifying principle of the NCAA tournament selection committee criteria: It doesn't matter how efficient you are, or how close you play people. Without wins, you're nothing.
Iowa, believe it or not, still very much needs some wins. Closing this Ohio State-narrative loop on Tuesday night seems as good a starting point as any.
January, 20, 2014
Jan 20
11:00
AM ET
Now that Iowa has last Sunday's win at Ohio State out of the way, we can officially say farewell to the Hawkeyes' well-earned narrative -- that they didn't know how to finish games -- and get down to the much more enjoyable business of appreciation. And not a moment too soon.
If Iowa had made it this deep into its immensely promising season without a marquee victory, everyone would still be focusing on the results, fretting about when and how the Hawkeyes would get the wins they needed to guarantee an NCAA tournament berth. That win in Columbus (to say nothing of Sunday's 94-73 drilling of Minnesota) gives us license to stop exclusively grading results and instead enjoy a face-first swan dive into Fran McCaffery's glorious process.
[+] Enlarge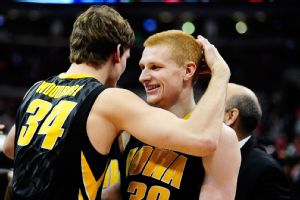 Ryan Young/Getty ImagesAfter being relegated to the NIT last season due to an inability to finish close games, this season's Hawkeyes have plenty to smile about.
Last season, when a swath of close Big Ten losses really did resign a statistically impressive Hawks team to the NIT, Iowa made its transition from "rebuilding" to "hold on, Iowa might be pretty good!" primarily on the strength of its defense.
That
Iowa team shot abysmally from 3-point range and not much better inside the arc; it was a medium-tempo squad that played stout perimeter defense, not unlike most of the Big Ten.
This
Iowa team, the 2013-14 version, is like a fever dream by comparison. The Hawkeyes average 73 possessions per game, according to kenpom.com, with an average offensive possession length of 14.3 seconds. That's the third fastest in the country and the fastest of any high-major team. (Only BYU and Northeastern play at a faster pace.) This is head-turning stuff in any league. In the traditionally slow-paced Big Ten, it's unheard of.
Still, pace is just speed. There's no point to playing fast if all you're doing is hustling up bad shots. Iowa is not that. Iowa, believe it or not, also happens to be one of the most efficient offensive teams in the country. These Hawkeyes shoot the ball vastly better than a year ago, they don't turn it over often, they rebound their own misses and they draw fouls. Frankly, there isn't an area of offensive basketball where they don't excel.
And even with all of that said, the most impressive and surprising factor in Iowa's offensive renaissance is its sheer strength in numbers. Guard
Roy Devyn Marble
uses 27.9 percent of possessions and takes 30 percent of Iowa's shots; he's the obvious featured weapon. But the Hawkeyes also have inside-out forward
Aaron White
, sharpshooter
Zach McCabe
, rebounding machine
Melsahn Basabe
, savvy point guard
Mike Gesell
and sophomore forward
Jarrod Uthoff
, the former Wisconsin transfer whose offensive rating of 129.4 trails only White (132.6) in the internal race for maximization of touches.
And those are just the starters. (Slight correction here: Woodbury actually starts, though Uthoff plays more minutes.) Center
Adam Woodbury
and forward
Gabriel Olaseni
are interior anchors off the bench, while
Peter Jok
and
Anthony Clemmons
provide a change of pace at guard. Even occasional fan punching-bag
Josh Oglesby
, now freed from the burden of more than a handful of minutes per game, has seen his offensive rating leap from 93.6 to 131.9 in the matter of just one season.
When McCaffery arrived at Iowa four years ago, he did so in the wake of the dreary Todd Lickliter disaster, and he promised a spiritual return to classic up-tempo Iowa teams of old. The Hawkeyes would run, he said, and they'd give fans something to cheer for. Plenty of coaches say the same thing in the early stages of a rebuild when there is little to lose by being less hard on the eyes. Few follow through on it quite so heartily.
The result is a team that can become almost impossible to plan for. For Michigan, where Iowa travels in search of another quality win Wednesday night, the hopes of slowing the Hawks down and playing a half-court game are barely more preferable (if at all) to the idea of getting into a perimeter footrace with one of the most willfully speedy teams in the country.
If Iowa goes another unlikely month without a marquee win, we can recommence the narrative nail-biting. But for now, just sit back and enjoy the ride.
January, 20, 2014
Jan 20
10:00
AM ET
When the
Creighton Bluejays
arrive in Philadelphia on Monday to face No. 6 Villanova, they will walk off the airplane with the nation's best, most efficient offense, led by the nation's best, most efficient player.
They will also arrive nursing the wounds of their first loss since Dec. 1,
Saturday's 81-68 loss at Providence
in which the Friars helpfully outlined the simple, elegant and vastly difficult one-point plan applicable to any opponent hopeful of stopping the
Doug McDermott
Express:
[+] Enlarge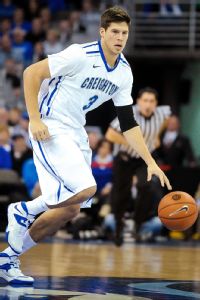 Eric Francis/Getty ImagesStopping Creighton's offense requires much more than just containing Doug McDermott. Villanova could be uniquely qualified to follow the blueprint on Monday.
Make the Bluejays miss.
Before Saturday, Creighton was the best 3-point shooting team in the country. After Saturday, it ranked No. 2 -- both a testament to its long-range prowess and to the struggles it suffered in the Dunkin Donuts Center. The Bluejays shoot 42.5 percent from 3-point range, and they leverage that skill by shooting 44.1 percent of their field-goal attempts from behind the arc.
This is the underrated key to the top offense in the country, and it goes much deeper than McDermott's singular offensive greatness.
Ethan Wragge
is the best long-range weapon in the country, a 6-foot-8 lumberjack (eternal hat tip to
Rob Dauster
) with 25-foot range, the highest effective field-goal percentage (71.1!) in the country and a hilarious distaste for interior play. Wragge has attempted 140 shots this season. Six of them have come inside the arc. If that wasn't enough, guards
Jahenns Manigat
(43.6 percent from 3) and
Austin Chatman
(45.0) can't be left unguarded either. Defenses have to respect Creighton's shooters, McDermott included, which gives him the freedom to poke and prod in the interior and midrange space where aggressive double-teams might otherwise be.
On Saturday, Creighton shot just 4-of-19 from 3, with Wragge going 2-of-8. Those long misses had a direct impact on Providence's offense, turning missed shots into transition breakdowns and easy baskets on the other end. Creighton doesn't force turnovers on the defensive end. It prefers to score, get back, set up its foul-free defensive shell, rebound opponents' misses and assume it will recuperate its losses on the offensive end. It usually does. But those long-range misses broke the first link in the chain, and so Providence turned the ball over just five times, made 60 percent of its 2-point shots, and scored 1.33 points per trip. A rout ensued.
These are the conditions that make scouting reports like "make everything difficult for McDermott" look so half-you-know-what. It's all of a piece.
The good news for Villanova is that few teams in college basketball are as perfectly designed to break the Creighton efficiency chain. The Wildcats allow just 0.91 points per possession, per
kenpom.com
. They do so in large part because 6-7
JayVaughn Pinkston
, 6-6
James Bell
and 6-6
Darrun Hilliard
are, despite their size, among the best defensive interiors in the country. (
Daniel Ochefu
, who blocks nearly 10 percent of opponents' shots, deserves a nod here, but he plays just 19 minutes a game.) The Wildcats are tough and physical and athletic, and Jay Wright's defensive strategy -- what SI.com's Luke Winn recently dubbed "3-point gapping" -- forces opposing teams off the 3-point line and into Nova's well-defended interior. Villanova opponents shoot just 31.6 percent of their shots from 3 and make just 41.3 percent of their 2s. Add those two facts together, and you've got the backbone of one of the nation's best defenses.
In the lead up to tip off Monday night, and probably throughout the game, you will hear a lot about the individual matchups -- what Pinkston and Bell will do to stop McDermott specifically. This is understandable: On a sheer physical level, the Wildcats are perfectly suited to prevent the kind of mismatches McDermott eats for breakfast.
But stopping Creighton's offense asks much more of a defense than the awareness that it is playing against the best offensive basketball player of the last five years. Because, well, duh. No, beating Creighton requires something like holistic preventative dedication. Keep the Bluejays from lighting you up on the perimeter, plan to exploit those misses if they come, and not only
can
you win, at that point you should.
Providence cracked the code. Can Villanova follow?