College Basketball Nation:

Preston Knowles
July, 29, 2011
7/29/11
12:22
PM ET
For the next month or so, our friends at The Mag are previewing one high-profile school per day for their Summer Buzz series. For the sake of all that is synergistic, yours truly will be attempting the same, complementing each comprehensive Insider preview with some analytic fun. Today's subject: the Louisville Cardinals.

Here's why previewing teams in the summer can be so difficult: Until we get to the season, we have no idea what teams can really become. The 2011 Louisville Cardinals are a perfect example.
Last season was supposed to be a holdover year for Rick Pitino. Last summer, things were looking grim. The Louisville coach had survived -- but been thoroughly embarrassed and chastised by -- the Karen Sypher extortion scandal. His recruiting had taken a dip, and the best player from the 2010 class, Justin Coleman, was unable to qualify for the team. Top 2011 point guard Marquis Teague, long considered a likely Louisville commitment, defected to the worst possible place for Louisville fans: Kentucky. Under Calipari, the hated Wildcats were on the rise. The 2010 Cardinals were mediocre, and the talent from that squad had been thinned by the early NBA departure of center Samardo Samuels and the graduations of Reginald Delk and Jerry Smith. Could 2011 really hold that much hope? What about the long-term health of the program? Had Louisville's best years under Pitino passed him by?
A year later, those concerns seem ridiculous. The 2011 Cardinals thrived. Pitino's decision to pick up the pace -- and his brilliant construction of a lineup that executed that could execute his classic pressing style effectively -- led to a 25-10 season and one of Pitino's finest seasons as a coach. Meanwhile, the recruiting picked up: Pitino landed commitments from Chane Behanan, Wayne Blackshear, Zac Price and Kevin Ware, all four of whom are ranked in 2011 ESPNU top 100. Guard
Peyton Siva
enjoyed a breakout year at the point guard spot, and is a likely preseason candidate for Big East player of the year.
The message is clear: Louisville isn't going anywhere.
Now that that's settled, the next item on the docket is another move toward the national elite. That will require the assimilation of those talented freshmen -- especially big men Behanan and Price -- into a lineup that would benefit from size and rebounding, especially in the wake of
Terrence Jennings
's strange decision to enter the NBA draft this spring. Jennings was often the only interior presence worth watching for the Cardinals. His 11.8 percent offensive rebounding percentage was a major contribution, one the team often needed when its offense struggled to get easy looks. Gorgui Dieng and Stephen Van Treese might be ready to step into larger roles; both posted OR% rates higher than 13 percent in limited minutes last season.
Another item of business involves replacing
Preston Knowles
-- another breakout catalyst of Louisville's surprising success -- on the offensive end of the floor. Knowles wasn't the most efficient scorer (his offensive rating was a good-but-not-great 105.0), but he had the highest usage rate and shot rates on the team. Siva's emergence may help to close that gap.
Chris Smith
's presence is a plus. But will Blackshear -- whose scouting report cites his outside shooting as his main weakness -- be able to contribute, too? If not, will Siva be able to adopt more of a perimeter scoring load?
But these are all minor concerns for Louisville fans. For a while there, it was the big picture that seemed most worrisome. Now, Pitino and Co. are back to basketball business as normal. No more existential crises. No more embarrassing headlines. Forgive the cliche, but what a difference a year makes.
March, 17, 2011
3/17/11
6:29
PM ET
By
Diamond Leung
| ESPN.com
DENVER -- Morehead State coach Donnie Tyndall was having trouble sleeping at 2:30 a.m. when he made the decision. If the Eagles had the ball on the final possession against Louisville, they were going to go for the win.
Faced with that scenario, the way
Demonte Harper
heard Tyndall telling that story in the huddle before the biggest shot of his life, there was no way he wasn't going to take the 3-pointer confidently.
Harper buried the shot at the top of the key with 4.2 seconds left and
Kenneth Faried
blocked
Mike Marra
's jump shot attempt on the other end at the buzzer to lift No. 13-seeded Morehead State to a
62-61 win
on Thursday in the second round of the NCAA tournament, easily the most significant victory in the program's history.
[+] Enlarge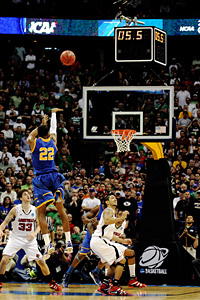 Justin Edmonds/Getty ImagesMorehead State's Demonte Harper watches his game-winning 3-pointer sail toward its target with seconds to play.
A senior who experienced a loss to in-state power Louisville two years ago when the Eagles were a No. 16 seed and the Cardinals had future NBA players all over the floor, Harper saw his shot to make his coach's vision come true.
"Coach said, 'I dreamed about this last night. I know exactly where I'm going to. I'm going to put it right in your hands, Demonte. I don't want you to drive it to the hole. I want you to pull up and win the game off a 3-pointer. I want you to pull up and win the game.'"
The Cardinals used a 9-0 run to take a four-point lead with 1:20 left and the hopes of an upset started to wane. But despite a tough day on offense for Faried (finished with 12 points on 4-of-17 shooting), Morehead State -- which trailed by eight at one point -- delivered the ball to its dreadlocked big man in the post, and he came through with two subsequent free throws to cut the lead.
With Louisville leading scorer
Preston Knowles
knocked out of the game in the second half with a sprained foot, it was left to
Elisha Justice
in crunch time. The freshman had hit a 3-pointer to give Louisville the lead with 2:13 left, but missed the front end of a one-and-one after Faried's free throws gave MSU the ball with 23.8 seconds left.
Harper unleashed his dagger, beating
Peyton Siva
with a crossover and burying the shot. Faried blocked Marra's attempt at the other end, and the school's cheerleaders rushed the court to celebrate. In Tyndall's new reality, he approached a cheering section and repeatedly pumped his fists as his face reddened.
"We played for 40 minutes, and that's what it takes to beat a team like Louisville," Tyndall said.
Morehead State surprised UL by racing off to a 7-0 lead, using a swarming defense to get the Cardinals out of sorts and force them into 10 of their 16 turnovers in the first half. The Eagles'
Terrance Hill
buried a 3-pointer at the halftime buzzer to leave the two teams tied at 33, and it was a sign of things to come.
Hill scored 13 second-half points, repeatedly hitting 3-pointers to bring the Eagles back and keep them within a reasonable distance.
Chris Smith
led Louisville with 17 points, but it wasn't nearly enough.
"I could live with losing last year. They were much better, Cal," Louisville coach Rick Pitino said, referring to last season's first-round loss to Pac-10 champion California. "This is a tough one to lose. This is a tough one."
Pitino's team surprisingly tied for a third-place finish in the Big East in the face of injuries and without returning a single starter. But with Faried gathering 17 rebounds, it was apparent the Cardinals missed leading rebounder
Rakeem Buckles
despite a solid game from
Terrence Jennings
, who blocked four shots and had eight rebounds.
"We are what we are," Pitino said. "We're just too small, and unfortunately it hurt us on the backboard."
And it was Faried, the nation's leading rebounder, who made his 6-foot-8 presence felt at the end of the game. Marra pulled up for a shot, and Faried threw his arms up and said he got all ball.
"This is a dream," Faried said. "Did we just beat Louisville?"
March, 17, 2011
3/17/11
4:23
PM ET
By
Diamond Leung
| ESPN.com
DENVER -- Morehead State pulled off the stunner against Louisville,
winning 62-61
in such an upset that the cheerleaders stormed the court and coach Donnie Tyndall pumped his fists at the crowd.
Demonte Harper
hit the game-winning 3-pointer with 4.2 seconds left, and
Kenneth Faried
blocked a potential
Mike Marra
game-winning attempt at the buzzer.
Terrance Hill
led Morehead State with 23 points, hitting five 3-pointers.


Turning point
: Louisville leading scorer
Preston Knowles
left the game for good with 8:51 left, apparently due to a sprained left ankle. He had his shoes off and left the court in crutches. The Cardinals missed him, especially since it was freshman
Elisha Justice
who was left on the court and missed on the front end of a one-and-one to give Harper the chance for the game winner.
Key player
: Hill was money from beyond the arc, tying his season high with five 3-pointers in six attempts. He also had eight rebounds and three steals, going 6-for-9 from the field overall.
Key stat
: Faried went 4-for-17 from the floor, but made his presence felt with 17 rebounds. The nation's leading rebounder used a couple of those boards to kick out for 3-pointers.
Miscellaneous
:
Terrence Jennings
did a fine job guarding Faried, holding him to four field goals. He also had two straight buckets down the stretch and gave the Cardinals a four-point lead with a dunk with just over a minute left.
Peyton Siva
played with such heart down the stretch, dishing the ball off to Jennings for easy baskets.
What's next
: Morehead State moves on for a chance to play in the winner of the Vanderbilt-Richmond game.
March, 12, 2011
3/12/11
1:40
PM ET
NEW YORK -- When asked what he thought his team's Big East tournament championship game against Connecticut would be like, Rick Pitino laughed.
"Well I don't think this game will be a work of art,'' he said.


This won't be where-points-went-to-die ugly like the Wisconsin-Penn State mudder on Thursday, but it will be a slugfest. Both teams are gassed.
Yet both teams also feel like they have something to prove still, and this game is the ultimate proving ground, the final trophy from the toughest league in the country.
The Big East Conference hasn't disappointed all season. Why would it start now, in its last game?
Fatigue level
Connecticut coach Jim Calhoun insisted on Friday night, "We won't be tired. We won't be tired." He might have been trying to convince himself more than anything else. There's no way the Huskies won't be standing on rubbery legs. Yes, guys played a bunch of games back in high school during the summer league travel circuit, but anyone who has watched five minutes of those games knows the intensity isn't quite the same as the Big East.
Louisville won't be fresh as a daisy, either. The Cardinals are only on Game 3, but all three have tipped off at 9:30 p.m. ET and sent the Cards out of the Garden after 1 a.m. That wears on a team, as does a bite-the-inside-of-your-mouth overtime winner against Notre Dame.
Players to watch
I'm waiting for some entrepreneurial salesman with a trinket stand outside of Madison Square Garden to start hawking WWKD bracelets to the masses. What will Kemba do?
What's left? Own the city? Check. Set a national scoring record in a conference tournament? Check. Practically will his team to an unforgettable season? Check. Hang out with an ex-president? Check.
Kemba Walker
has scored 111 points in four days. There is no Kemba on the Louisville roster, but that's not a knock on the Cards. There are no Kembas on any other roster.
What the Cardinals have is what Pitino accurately described as a group of "very good players, maybe no NBA players right now, but good players who want to win." The Cards are that oddity in college basketball, an honest to goodness sum-of-our-parts team. In this game, though, the most critical cogs will be
Peyton Siva
and
Preston Knowles
. It will be up to one of them to handle Walker defensively.
Recent history
The Cardinals are 2-0 against the Huskies this season, beating UConn in Louisville 71-58 and in Connecticut, 79-78 in double overtime.
What to look for
How will the Huskies, especially as drained as they must be, handle Louisville's pressure? The Cardinals' defense has been relentless and unforgiving down the stretch, and they will try to disrupt and speed up Walker and company. In two games this season, Louisville forced Connecticut into 28 turnovers.
The Huskies need to respect the arc.
Kyle Kuric
has been and can be lethal when he gets going. UConn did a nice job on him in its most recent game -- he had only six points -- but in the double overtime Louisville win, he had 15.
Frankly, though, this game is going to come down to intangibles that a box score can't explain. Connecticut is going for history -- no one has ever won five games in five nights in college basketball. And Louisville is going for respect. Like the Huskies, the Cardinals weren't expected to be here, but there's probably more doubters still lurking about Louisville's abilities than there are surrounding UConn.
March, 12, 2011
3/12/11
1:39
AM ET
NEW YORK -- As he huddled up his team during a late timeout, Louisville coach Rick Pitino realized
Preston Knowles
had his head down.
"I said, 'Hey, look at me, look me in the eye,'' Pitino said. "And he said, 'I can't.' He was that tired. Then we go back out and he dogged a guy the whole length of the court, never let up.''
That has been Knowles' MO all season -- never let up.
He has endured his share of infamy -- his foolish foul a zip code away from the basket cost Louisville a win against West Virginia -- but he hasn't stopped.
Nor has Louisville. The overachieving Cardinals are ready to scale yet another improbable mountain. With its
83-77 overtime win against Notre Dame
, Louisville faces Connecticut in the Big East tournament final in a matchup featuring a team picked to finish eighth in the preseason versus one expected to land at tenth.
The Cardinals are here for a lot of reasons, not the least of which is the superb job Pitino has done coaching this group. He has catered his teaching to this team's strengths, building up a defensive behemoth that thrives on disruption. Against the Irish, somehow the native New Yorker's warnings of "shoot-uh" could be heard loud and clear over the frenzied Madison Square Garden.
But they are here also because of Knowles. The senior has welcomed the mantle of leader with grace, comfortable in his abilities to lead a team.
His spot is so secure now that, during the first half when Pitino lost his cool and was about to get a technical, Knowles calmed him down.
"Me and Coach, our relationship has just skyrocketed,'' Knowles said. "When I talk to him he actually listens to me now.''
Knowles rarely talks about himself and though he will, when pressed, admit that he is fueled by the notion that he, like his team, flies a little bit under the radar, he doesn't really care about individual nonsense.
Consequently, neither does his team.
Pitino has called this the most enjoyable team he's been around since 1987, a group that is selfless to a fault.
And he knows the root of that attitude: It is Knowles.
"We don't care about what anyone else thinks about us or awards or any of that,'' he said. "We just care about winning.''
Knowles took care of that, too, last night. Notre Dame led by as many as 16 in the first half and 14 at the break. The Irish picked apart the Cards' defense easily and appeared headed for another rout in as many nights.
Instead, Louisville recorded its biggest comeback of the season.
The Cards cut it to two, 66-64, with 3:53 left in regulation, but then
Peyton Siva
was whistled for his fifth foul. The point guard, who just a play before deftly cut through the Notre Dame defense to kick a pretty pass to a wide-open
Kyle Kuric
, sat down with 15 points and seven assists.
What should have been game over instead became game on.
Knowles seamlessly slid over to the point guard position, opting mostly to keep the ball in his own hands. He scored Louisville's final eight points in regulation to force the overtime.
Given the chance to crow about his own success Knowles, of course, deflected the praise. He cited his teammates for setting solid screens to get him open, ignoring his relentless attack on the rim.
"I don't care about all that,'' he said. "I just want to win.''
Don't expect him to let up.
March, 11, 2011
3/11/11
1:02
PM ET
NEW YORK -- It is time to offer these Big East semifinals a name for the marquee.
For this New York City nightcap between Connecticut and Syracuse/Louisville and Notre Dame, let's go with "The Improbables."
Three of these teams aren't supposed to be here and the fourth was left for dead two months ago.
But in what has been a turbulent, unpredictable and highly entertaining season in this conference, maybe this is how it ought to turn out: improbably.
Connecticut vs. Syracuse


Improbability
: High. The Huskies were picked 10th in the preseason, play five freshmen and start three of them. The Orange, meanwhile, may be the only team with the preseason notion of fitting in -- Syracuse was picked third in the Big East and ranked 13th nationally in the preseason -- but their January swoon left many wondering whether the Cuse would reach its potential.
Recent history
: In their only meeting in the regular season, Syracuse won 66-58. The Orange remain the only team to hold
Kemba Walker
under double digits all season. Against the Cuse zone, he shot just 3-of-14 from the floor, 1-of-6 from the arc and finished with eight points.
Players to watch
: For UConn, there has been one man to watch all season and that is Walker. The junior added yet another exclamation point to his incredible season with a buzzer-beating winner against Pittsburgh in the quarterfinals Thursday. For Syracuse, keep an eye on
Brandon Triche
. He has the ability to be the outside threat that the Orange so desperately need and when he's on, he can spread the defense and open things up for
Rick Jackson
inside.
What to look for
: If
Roscoe Smith
can play against the Orange -- he participated in the team shootaround and is expected to be available after getting eight stitches from an errant elbow to the head against Pitt -- that helps UConn significantly. The Huskies need Smith and
Alex Oriakhi
to contain Jackson, who went for 13 points and 13 rebounds in the regular-season matchup. Equally important: How will Connecticut puncture the Cuse zone? The Huskies struggled last time, turning the ball over 14 times and shooting only 36 percent, including 8-of-23 from the arc.
---
Notre Dame vs. Louisville


Improbability
: Off the charts. The Irish lost Luke Harangody, a one-time league player of the year and the central focus of their offense for four years. Notre Dame didn't receive a single vote in the preseason polls and was tabbed for a seventh spot in the Big East. Louisville was even less likely to be a semifinalist. The Cardinals returned just one starter from a team that lost in the first round of the NCAA tournament and were right behind the Irish in the conference preseason poll, checking in at eighth.
Recent history
: Don't be surprised if you get an extra act here. These two teams have gone to overtime in five of their last nine meetings, including the 89-79 win for Notre Dame this season. The Irish quickly ended the tension in that matchup, scoring the first 14 points in OT.
Players to watch
:
Ben Hansbrough
has brought the life to the Irish party, giving Notre Dame a nasty edge it's never really had before. He is borderline cocky but the Big East Player of the Year has the numbers to back it up -- he's shooting a blistering 45 percent from the arc. Louisville's
Preston Knowles
is the Cardinals' most critical player. A more-than-capable scorer, the guard also directs the Louisville offense and has been sensational lately. Since missing a game against DePaul on Feb. 5 with a hamstring injury, Knowles is averaging 4.7 assists per game.
What to look for
: Louisville has recently been absolutely stifling defensively. The Cardinals have held five of their last six opponents to under 60 points and opponents are shooting just 33.6 percent from the floor and 20 percent from the arc in the last five games. That last number will be especially interesting against the always hot-shooting Irish. Notre Dame, like Louisville, is great at spacing and finding ways to get clean looks for Hansbrough and
Tim Abromaitis
, so it will be interesting to see which strength wins out here.
March, 11, 2011
3/11/11
12:42
AM ET
NEW YORK -- In the past 24 years, Rick Pitino has enjoyed a few special coaching moments.
Hung a few banners, hoisted some national championship hardware, dabbled in the NBA.
Which is why, when the Louisville coach said what he said, everyone's ears sort of perked up.
"They're a fun group to coach,'' Pitino said. "Not since 1987 have I had this much fun coaching a basketball team.''
Coach-speak hyperbole? Maybe.
But coaches are a unique bunch. They love to win and they love the glory that comes with it, but at their core, they love it when their message is heard, when the team they're coaching plays the way they imagined basketball was supposed to be played somewhere in Hoops Utopia.
And for Pitino, that's what this season has been.
That it comes after Pitino's worst year personally of course makes this all the more special. Even if he hadn't gone through so much himself, the coach would have liked this season.
It is the age-old sports cliché come to life -- a team overcoming obstacles and rallying as the underdog -- but just because it's cliché doesn't make it any less rich.
This is the season when, off the court, practically nothing has gone right for Louisville. The Cards' lone returning player,
Jared Swopshire
, has yet to play. Ten other guys have missed portions of the season with injury. Yet inexplicably, improbably, everything on the court has been seamless.
From the first tip, when they "upset" Butler to open the Yum! Center to Thursday's night
81-56 rout of Marquette
to reach the Big East tournament semifinals, the Cardinals have been a season-long band of overachievers who don't seem to know or care that they're overachieving.
"Not since 1996 did I walk into a place and feel as confident as this,'' Pitino said. "And in 1996, I had a reason. I had eight pros. The way these guys play, with sacrifice and dedication, they bring it every game. It's great to have that feeling.''
What makes Louisville work doesn't often work anymore: There is no superstar on the team.
Preston Knowles
is easily the leader and center of the Cardinals' success, but he is as content and willing to cede the limelight as he is to step into it.
Against Marquette it was
Mike Marra
's turn. The player Pitino once tabbed the best high school shooter he'd ever seen, scored 22 points off the bench, draining six 3-pointers in the process.
But Marra was just one of four players in double figures for the Cards and was simply the beneficiary of a team's unselfish play.
Louisville dished out 24 assists on 30 made baskets.
"In this day and age, there's a lot of talk about clichés, about playing for the name on the front of the chest and not the back, but this team truly epitomizes that,'' Pitino said. "They absolutely do not care about themselves. All they care about is winning. It's been a long time since I've seen players after a loss be as disappointed as the coaching staff and this group takes it hard as we do.''
February, 27, 2011
2/27/11
7:49
PM ET
LOUISVILLE, Ky. -- Overachievement has been a group effort this season at Louisville.
There have been contributions from everyone, and I do mean everyone. That includes a male cheerleader who got into the act Sunday against No. 6 Pittsburgh.
With near-infamous results.
When
Kyle Kuric
got loose for a late dunk that made the score 62-57, cheerleader Jordan Alcazar was so thrilled that he bounded onto the court, grabbed the basketball and threw it toward the ceiling of a delirious KFC Yum! Center.
Just one problem: there was still half a second to play in overtime, so that was a technical foul on Alcazar for imitating Steve Bartman. After making the two technical free throws, Pitt had a final heave from near midcourt at a tie.
It barely missed,
Louisville won 62-59
, and Alcazar's life was spared.
The first comment from Cardinals coach Rick Pitino after the game: "All good things have to come to an end, and the male cheerleader has come to an end."
[+] Enlarge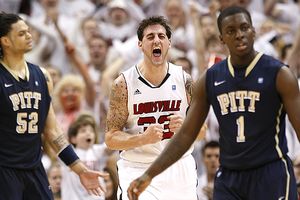 AP Photo/Ed ReinkeWith his career likely over, Louisville's Mike Marra appears to be handling his situation with maturity.
One good thing that won't end anytime soon is this remarkable Louisville season. Neither low expectations nor brutal conference competition nor a plague of injuries nor a trespassing cheerleader has derailed the surprising 22-7 Cardinals, who are close to clinching a double-bye in the Lollapalooza of a Big East tournament.
Pitino himself said he thought this would be "a .500 team," and that was before Louisville began living in the training room. Ten players have missed at least one game with an injury, and only two (
Peyton Siva
and
Chris Smith
) have answered the bell all 29 times.
The only returning starter from last season, forward
Jared Swopshire
, has missed all season with a groin injury that required surgery. Center
Gorgui Dieng
missed six games with a concussion. Forward
Rakeem Buckles
has missed 13 games with a broken finger, then sprained his knee Sunday against Pitt.
Louisville has played through it all, and won through it all. In a league where two-game losing streaks can happen to the best of teams, it hasn't happened to the cohesive Cardinals all season.
Nobody is touting a single Louisville player for first-team all-Big East honors. Nobody is averaging 15 points or playing more than 30 minutes per game. But by sheer collective will, they're 11-5 and tied for third in America's toughest league.
"No ego, no anything," explained senior guard and leading scorer
Preston Knowles
. "I think it starts from the head down. The coaches are doing a great job getting us prepared, I'm doing a great job of leading this team, and everyone is buying in."
Part of Knowles' leadership was telling his teammates earlier in the year that he didn't want to see them scrutinizing the stat sheet in the locker room after the game. The only stat he wanted anyone focusing on was the team record.
Knowles embodied that philosophy Sunday. His biggest play in overtime was nowhere to be found on the stat sheet.
Sixty-five seconds into a scoreless overtime, Knowles positioned himself on the right wing, caught Kuric's eye and mouthed, "Fade." Kuric raised his eyebrows in silent acknowledgement.
This was a play Knowles himself devised earlier this season, to be used specifically when Kuric -- his roommate on the road -- is in the game at the power forward spot. And Kuric was at that point.
In fact, Kuric spent most of the afternoon playing the 4 -- a daunting assignment for a 6-foot-4 wing player against a rugged Pitt team that ranks second in the nation in rebounding margin. But Kuric battled his way to seven rebounds, an effort Pitino described as "awesome," and exploited the mismatch at the offensive end on this key possession.
Knowles positioned himself in front of Kuric's defender to set a screen on the wing. Kuric popped free and took a pass from Siva. He drained the open 3-point shot for a 59-56 lead, and the Cardinals controlled the game the rest of the way.
"That's why I love Kyle Kuric playing the 4," Knowles chirped.
[+] Enlarge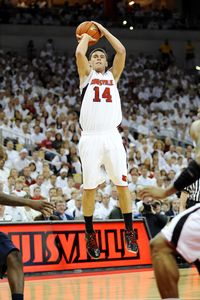 Jamie Rhodes/US PresswireKyle Kuric nailed two crucial buckets in overtime.
Kuric himself is less fond of it in games like this, when he's giving away several inches and plenty of pounds. But that's been what Louisville has thrived on this season -- someone stepping up to do whatever it takes.
"You've just got to come up with the ball," Kuric said.
The Cards came up with the ball just often enough Sunday. They battled the Panthers to a near-draw on the boards (39 for Pitt, 38 for Louisville). They gouged out 16 turnovers while committing only nine. And they defended tenaciously enough to win despite shooting just 34 percent themselves, 27 percent from the 3-point line.
Louisville's matchup zone defense will be difficult to decipher for every March opponent. It's been especially sticky in the Cardinals' past three games.
Connecticut is a 47 percent 2-point shooting team, but shot 36 percent from that range in the Yum! Center. Rutgers shoots 44 percent from the floor, but made just 29 percent of its shots against Louisville at home. And Pitt was held six percentage points beneath its season average in this game.
"We're trying to get totally into the mentality of thinking defense every single time down the floor," Pitino said.
Despite that defense, Pitt's
Brad Wanamaker
nearly willed the Panthers to victory. The most valuable Panther (13 points, 12 rebounds, 6 assists, 3 steals) made two clutch jump shots in the final minute to force overtime.
"I thought hands down he was their best player," Knowles said. "[Ashton] Gibbs gets the publicity, but he makes them go."
But Wanamaker made a curious decision at the end of OT that helped swing the game to Louisville once and for all. Trailing by three in the final seconds, he rose for a 3 at the top of the key but inexplicably passed it inside to
Gilbert Brown
, who blew a layup with seven seconds left.
"We can't get a better look than that," said Pitt coach Jamie Dixon.
Simple arithmetic suggests that Pitt could have gotten a whole lot better look than that. But that wasn't the only eyebrow-raising commentary from the Panthers after this game.
There was this from Ashton Gibbs' Twitter feed: "No way we shouldve lost to them bums smh [shaking my head]."
Interesting take, considering the Panthers didn't lead them bums at any point over the final 38 minutes of play. And they only had a chance for double OT because of a near-epic cheerleader trespassing.
Pitino called Alcazar about an hour after the game and, with magnanimity afforded by victory, told him not to worry about his brush with infamy.
It's been a cast-of-thousands success story for Louisville this season -- but they'll decline any additional help from the cheerleaders from now on.
December, 31, 2010
12/31/10
3:05
PM ET
Throughout November and December, even as their young team was making impressive strides in a difficult nonconference schedule, Kentucky fans had a singular refrain: "Free Enes."
After Friday's resounding 78-63 win at Louisville, perhaps Big Blue Nation should adopt a new slogan for their arena signs, T-shirts and message board signatures: "Enes Who?"
[+] Enlarge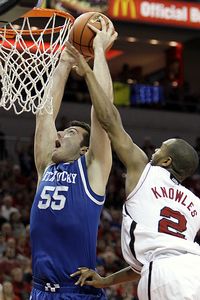 AP Photo/Ed ReinkeJosh Harrellson had the game of his life on Friday, contributing 23 points and 14 boards.
As Kentucky waited for word in the inexorably NCAA eligibility case of highly rated Turkish prospect Enes Kanter,
Josh Harrellson
-- Kentucky's occasionally maligned would-be backup center -- proved that maybe the Wildcats don't need Enes after all.
Harrellson went 10-of-12 from the field, scored 23 points, grabbed 14 rebounds, and led Kentucky to an easy victory at the KFC Yum! Center. Thanks in large part to his effort -- which even saw the big man drain a 3-pointer, Harrellson's second make (and third attempt) of the season -- Kentucky rolled over an offensively impotent Louisville team hurting from the loss of forward
Rakeem Buckles
to injury.
Rivalry implications aside, the win solidifies Kentucky's progress before the start of SEC play. The Cats didn't need a quality nonconference victory, but after losses to Connecticut in Maui and North Carolina in Chapel HIll, it was clear UK's freshman-oriented lineup as currently constructed (read: without Kanter) still had plenty of improvements to make if it planned to put together a deep tournament run in March.
The Wildcats have made many of those improvements. After an uneven start,
Brandon Knight
showed why he was such a cherished prospect. His ability to run Calipari's show while stretching the defense with outside shooting (Knight scored 25 points on 7-of-13 from the field, including 4-of-6 from 3) is a rare luxury few teams in college basketball have. If Knight is this good, Kentucky doesn't need fellow stud freshman
Terrence Jones
to carry nearly as much of the scoring load. Jones (12 points, eight rebounds, 5-of-11 from the field) is perfectly capable of that, of course, but Calipari's dribble-drive motion offense works better when it has balance. Kentucky found that balance Friday.
Facing that daunting defensive task, Louisville couldn't keep up. The Cardinals have been a vastly improved defensive team this season, thanks in large part to Pitino's tactics, which have seen the classic run-and-gun coach ramp up his pace and create gobs of turnovers in the full-court press. Kentucky kept the turnovers to a minimum and made enough shots, but the real problem for Louisville came on offense.
The Cardinals suffered a six-minute, halftime-straddling drought that left them stuck at 24 points until the 18:30 mark of the second half. After
Preston Knowles
broke that streak with a breakaway dunk, Louisville scored only four points over the next four minutes. Kentucky built its lead to 44-28 and never looked back, leaving Louisville and its rabid fans in the proverbial dust.
It's a big win for NCAA tournament seeding purposes, of course; any true nonconference road win over a top-20 team qualifies as big. But far more important is what the win means to the rivalry in the Commonwealth.
In nearly every facet of college hoops -- on-court success, recruiting, national profile, media attention -- Kentucky has overtaken Louisville in the two years since John Calipari's arrival in Lexington. Pitino has weathered this storm with varying degrees of success; last year's extortion circus was a black mark, to be sure, but Pitino managed to land a top recruiting class for 2011 despite his travails. This season, he revamped the Cardinals' style and saw them streak to unexpected early-season success, an imprint of his ability to affect the game with X's and O's.
All of these things were positive signs for Louisville fans, indicators that Pitino wasn't about to let his personal and professional rival take over the Commonwealth that easily. All the Cards needed was a win. Instead, Calipari's supreme young talent -- with an assist from an obscure-until-now senior like Harrelson -- took over.
As of today, Kentucky still owns the Commonwealth. And it didn't need Enes Kanter to do so.
August, 30, 2010
8/30/10
3:45
PM ET
If Louisville is going to avoid an ugly slip into the Big East's lower half this season, it's going to need
Preston Knowles
. The 6-foot-1 guard is one of the few veterans on a Louisville team that turned over much of its roster this offseason, and with the untimely news that Memphis transfer
Roburt Sallie
and top shooting guard prospect Justin Coleman will both be unavailable for the Cardinals this season, Rick Pitino's team will need to rely on its existing guards more than ever.
The only problem: Knowles has been in Pitino's doghouse for much of the offseason. It didn't help when Knowles was implicated (but never charged) in a May 23 domestic incident involving his then-girlfriend and her stepfather. (The argument, according to the police report, began over a hair brush. Seriously.) Pitino suspended Knowles for the Cardinals' two exhibition games.
Knowles has had to earn his way back into his coach's good graces, and to do that, he's had to spend time at the Daniel Pitino Shelter in Owensboro, Ky. The
Louisville Courier-Journal's C.L. Brown checked in on Knowles' community service
and found the player talking a lot about gratefulness and change, and that can only be a positive thing for the Cardinals. To wit:
"It was a real big eye-opener about life in general," Knowles said. "I was kind of going down a path of destruction. Now I'm taking everything for what it's worth. I feel like a totally different and changed person."

"Instead of playing out of hate and the people that want to see me fail, now I'm playing for the people that always loved me and always wanted to see me succeed," he said. [...]

Knowles knew it was serious when he arrived at the Yum! Center to work out one day and found out his hand code that unlocks a side door had been deactivated.

"That was the worst feeling," he said. "It was like basically I was like an outsider. I never felt so sick to my stomach."
Knowles' positive attitude alone won't make Louisville a contender for the Big East title. The Cardinals are going to have to stockpile some talent in 2011 --
which Pitino is well on his way to doing
-- before the program makes any returns to glory. In the meantime, though, Louisville needs its senior guard to take a major step forward. For the first time in his career, Knowles seems to have the mindset part covered.
March, 20, 2010
3/20/10
12:33
AM ET
JACKSONVILLE, Fla. -- To say California vs. Louisville was a game of runs is like saying the ocean has a few waves.


The Bears opened the game with a 22-4 lead, then saw Louisville get it back to single digits late in the first half. After Cal built a 14-point edge in the second half, the Cardinals stormed back to get within four points with seven minutes left.
But Cal had the last run and the last laugh, advancing to play Duke on Sunday with a
77-62 win
.
The end came for Louisville when the Cardinals were called for an intentional foul with 2:43 left after coach Rick Pitino yelled for his team to foul. Pitino argued and was slapped with a technical, giving California four free throws and the ball.
Really, though, the Bears won with their outside shooting. Every time Louisville got close, a Cal shooter would hit a big jumper.
Jerome Randle
,
Theo Robertson
and
Patrick Christopher
combined to make all eight of the team's 3-pointers and scored 59 points together.
The Cardinals, on the other hand, got very little from their backcourt outside of
Edgar Sosa
. Starting guards
Jerry Smith
and
Reginald Delk
and top reserve
Preston Knowles
were a combined 3-for-17 from the floor.