College Basketball Nation:

Preston Murphy
April, 26, 2012
4/26/12
5:31
PM ET
One of my first lessons of program building came at the hands of Mike Brey, who took over at the University of Delaware at the tail end of my collegiate career. When I say career, I'm referring to my melodious play-by-play calls of Blue Hen basketball. Anyway, Brey imparted on me the wisdom of the transfer.
Over the course of his time in Newark, I would chide the coach that he took so many transfers it seemed like he didn't start recruiting until campus directories were printed and he knew how to get in touch with players on other teams. Steadily, Brey constructed a winning program at Delaware behind guys who were on their second and final chances.
Since graduating and watching Brey enjoy nearly two decades of success, I've never lost the importance of what a good transfer can do for a program, especially at the mid-major level. Would VCU have gone to the Final Four without Jamie Skeen two years ago? That's just one example, but I'm a firm believer that makeup of a good mid-major program has room for multiple transfers.
[+] Enlarge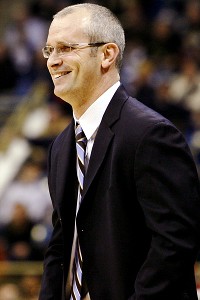 Charles LeClaire/USPRESSWIRENew Rhode Island coach Dan Hurley is mining talent from the state of New Jersey.
For that reason, we shine the light on Rhode Island, where Dan Hurley quickly adopted a Brey-like philosophy. On Wednesday night, Hurley dipped into the transfer pool and sprung wing Jarelle Reischel from Rice. VCU was the other finalist for the kid who started 10 conference games as a freshman for the Owls. He played his high school ball in New Jersey, as did Hurley's first impact transfer.
Gil Biruta averaged 9 points and 5 rebounds for the Rutgers Scarlet Knights. Like Reischel, he'll sit out next season, but he'll have two years of eligibility remaining; Reischel has three.
When you're transferring, it's basically one's last chance at making the best decision. There's no room for error. Often times dropping down a level is the best choice, but the reality is Biruta could have played in any league. However, he played for Hurley at St. Benedict's in high school. The familiarity led to him making a strong transfer choice based on prior information.
"I was tempted to go to a bigger school and league but it's not really about it, it's about how coach is going to use me and help me improve," Biruta said. "I know he's going to bring good guys and the team chemistry would be great."
Rhode Island was 7-24 last season. Chances are it won't be much better next year. But reloading is a process and Hurley, along with his brother Bobby and former Rutgers assistant Jim Carr and URI alum Preston Murphy, have their eyes on the long term.
The biggest challenge facing URI now is patience. There's a waiting game that comes when you take transfer players. With two good ones in the bank, the task is putting pieces around them, constructing a solid foundation class in 2013 and implementing the culture change that's bound to come with a Hurley at the helm.
Rhode Island isn't relevant yet, but it's on the recruiting trail for sure, as evidenced by these two newcomers. Relevancy is measured in wins and that's going to take more time and most importantly another recruiting class. Regardless, the players are beginning to see what URI has a chance to become.
"I had many options, but Hurley getting the job at Rhode Island was perfect timing," Biruta said. "I can trust Coach Hurley, I know how he treats players. Why would I risk it and go somewhere else when I know he can build a winning program?"
URI also owns commitments from former Wagner power forward
Mike Aaman
(Raritan, N.J./Raritan) and retained URI pledge
Jordan Hare
(Saginaw, Mich./Saginaw).
By the way, these Hurley boys are sticklers for tradition. So far the only transfers they've taken are New Jersey kids. Heck, Aaman is a Jersey guy and Hare was a retainee from the last staff.
Fact is, they're mining New Jersey right now. Evidence? This weekend, Derrick Gordon, St. Pat's Class of 2011, is visiting. He was the best freshman at Western Kentucky last year. Word is he's looking to return north. Maybe he'll find his way to Rhode Island, the Garden State's most fertile friendly suburb.
September, 22, 2010
9/22/10
2:59
PM ET
When you think of Rhode Island basketball, what do you think? Go on, take your time. Now, whatever it was you were just thinking, I'm betting it didn't involve the state of Michigan. Would I be correct in that bet?
That's why the story of former Rhode Island player-
cum
-newly hired Rhode Island assistant Preston Murphy is rather interesting. Murphy, a Michigan native who
starred at guard at Rhode Island in the late 1990's
, was hired by URI coach Jim Baron in July. In that short time,
he's managed to land two recruits from the state of Michigan
.
The latest is guard T.J. Buchanan, who hails from Central High in Kalamazoo, Mich. The first, and perhaps most important, was point guard David West. West, like Murphy, hails from Saginaw, Mich., and he's expected to be a main contributor for the Rams as early as this fall.
It's a veritable Michigan-Rhode Island pipeline in the making. I'm pretty sure if you had to tenuously connect two states in college hoops recruiting -- i.e., X state is sending players to Y school more often than the norm; name X, name Y, and show your work -- those two would be among the least likely connections. You'd probably be better off using a dart board. The only thing wackier would be a Canada-Texas recruiting pipe -- er, wait. Nevermind.
Apparently that exists, too
.