College Basketball Nation:

Quinnipiac Bobcats
August, 11, 2013
8/11/13
11:00
PM ET
The best thing about the college basketball offseason is that it ends. The second best thing about the college basketball offseason is that when it ends, it ends so quickly and so exhaustively that within a few days you have to remind yourself that there was ever an offseason in the first place. By mid-November, it's impossible to imagine life without basketball.
We have the ESPN Tip-Off Marathon to thank for that. Hey, it might still be warm outside and the campus dorms are mostly empty here in the dog days of August. But exactly three months from now, college hoops will be back in full force with the Marathon, which will include more than a dozen games in more than 24 consecutive hours of basketball in what has become a great annual excuse to call into work sick.
At 7 p.m. ET on Nov. 11, the Marathon begins with an ESPN2 women's doubleheader (Stanford-UConn; then Tennessee-North Carolina) and an ESPNU men's doubleheader (Kent State-Temple; then Colorado State-Gonzaga). At 7:30 p.m. ET on Nov. 12, the Marathon ends with a Champions Classic doubleheader that very well might match up four of the nation's top five teams (Kentucky-Michigan State; Kansas-Duke).
In between, starting at 11 p.m. ET on the 11th, there's a run of men's games that will keep the hardcore fans up all night and morning and begging for caffeine by lunchtime. Who will be participating in those games? Well, stick with us here in the Nation blog. We'll be revealing each of the Marathon matchups at the corresponding time they'll be taking place three months from now. Keep this page open and refresh every two hours and you'll get a new game, along with an early analysis of the matchup. Starting with ...


BYU at Stanford, 11 p.m. ET, ESPN2:
The Cougars and Cardinal will not only get the Marathon party started late on Nov. 11, they also provide a handy reminder that the earliest parts of the season mean just as much as what happens in February and March. In recent years, the NCAA tournament selection committee has de-emphasized recent results in its selection, instead emphasizing performance in the nonconference as much (or more) than any other single selection criterion. What happens on Nov. 11 matters, in other words, and that's especially true for both BYU and Stanford. The Cougars have quality players in
Matt Carlino
and
Tyler Haws
; Stanford is a quality defensive team with solid guard play from
Chasson Randle
. Neither team looks like a top-25 group, but they do look like they could be in the mix on Selection Sunday. So both will need as many quality nonconference wins as they can get to avoid languishing on the tournament bubble for months at a time. That process will begin immediately.
[+] Enlarge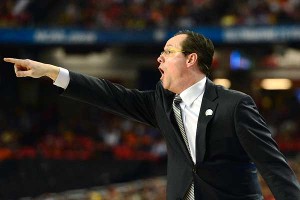 Bob Donnan/USA TODAY SportsComing off a Final Four appearance in April, coach Gregg Marshall and the Wichita State Shockers are riding high entering this season.
Western Kentucky at Wichita State, 1 a.m. ET, ESPN2:
Just two years ago, Western Kentucky, a proud,
historically successful program
, appeared to be in deep decline. In January 2012, a 5-10 team lost to six players (
true, and long, story
), then fired its coach. Since then, Ray Harper has managed to get WKU into the tournament twice, which is as much a testament to his coaching as it is to the wacky power of automatic bids and mid-major conference tournaments. But really, this fixture is about the
Wichita State Shockers
and their fans, who, in the wake of a surprise Final Four visit, are no doubt eager to showcase the strength of their program and their fan base to a national audience. Charles Koch Arena is always bumping. Imagine what they'll have cooking for a midnight local tip. Oh my.


Akron at Saint Mary's, 3 a.m. ET, ESPN2:
This
midnight local tip -- you know, were it not for time zones, this whole Marathon thing would be a lot harder to pull off -- features two of the best mid-major programs of the past decade. You're likely already familiar with Saint Mary's, which has crept up on (and even briefly unseated) Gonzaga in the West Coast Conference in recent years. But Akron coach Keith Dambrot has taken the Zips to the tournament in three of the past five seasons, including as a 12-seed in 2012-13. Recovering from the loss of super-efficient center Zeke Marshall won't be easy (to say nothing of the
Alex Abreu ordeal
), but Akron has almost everyone else back and is ready to push toward another postseason berth, and then some.


New Mexico State at Hawaii, 5 a.m. ET, ESPN2:
There are many,
many
benefits to being in Hawaii and its time zone is typically not high on that list. But the Warriors' unique geography also makes them a yearly inclusion in the Marathon. At this point, 5 a.m. ET might as well be called the "Hawaii Slot." This year's edition of the Hawaii Slot features one of the more consistently successful and frequently slept-on mid-majors in New Mexico State, where Marvin Menzies has won 50 games over the past two seasons (and has been to back-to-back NCAA tournaments). Expect to hear a lot about
Sim Bhullar
, who is not your average NMSU player: He's a 7-foot-5 Canadian-born son of Indian parents whose unique background (and sheer size) won him cross-cultural hype from the New York Times before he played a minute of college ball. The good news? Bhullar was good as a freshman, when he shot 62.1 percent from the field and grabbed 12.8 percent of available offensive rebounds. The dude can play, and you can see him do so live -- as long as you can get up early (or stay up that late).


Hartford at Florida Gulf Coast, 7 a.m. ET, ESPN2:
There's something immensely fun about the early-morning Marathon entries. The schools involved are typically small enough that the very idea of being included in the event (and on ESPN) is enough to draw a raucous A.M. crowd, especially in the student section. Expect things to go up a notch or two in 2013. The folks at Florida Gulf Coast are riding as high as the sport allows these days. March's "Dunk City"-defined run to the Sweet 16 put the tiny 22-year-old school and its pristine beach dorms in front of every sports fan in the country. Merchandise flew off the shelves; enrollment (almost certainly,
given precedent
) spiked. It's safe to assume the party will be still be raging come November.
[+] Enlarge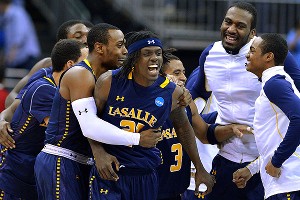 John Sleezer/Kansas City Star/MCT/Getty ImagesThe Explorers lost only one contributor from a team that won three NCAA tourney games in March.
Quinnipiac at La Salle, 9 a.m. ET, ESPN2:
Are you sensing a theme? La Salle, like Florida Gulf Coast and Wichita State above, are likewise coming off one of the best seasons in program history. The 1954 NCAA champs saw the last vestiges of ongoing relevance dry up by the mid-1990s, but their return to the tournament in 2013 -- which required a stopover at the "first round" in Dayton -- took them all the way to the Sweet 16 before they fell to Wichita State. The Explorers lose senior leader
Ramon Galloway
, but everyone else is back, including a great group of guards led by Tyrone "Southwest Philly Floater" Garland, who is entertaining and frustrating in equally perfect measure.


LSU at Massachusetts, 11 a.m. ET, ESPN2:
Typically, LSU fans devote more time to the mechanics of Les Miles' grass-chew habit than they do basketball, and in recent seasons it's been hard to argue with that order of priorities. The Tigers simply have not been very good. That may be changing. Johnny Jones' team returns four starters from a better-than-you-remember 19-12, 2012-13 group. But the biggest piece of news is the arrival of Jarrell Martin, the No. 11-ranked overall player in a stacked incoming recruiting class. The Baton Rouge native took to basketball later than most, but he's already developed into an imposing (if somewhat raw) presence. If his development curve continues to do its best hockey stick impression throughout the rest of the summer, look out for the Tigers. Oh, and don't sleep on UMass -- one of the most stylistically entertaining teams in the country, with a solid returning core -- either. This could be one of those games that looks huge once bubble talk ramps up.


West Virginia at Virginia Tech, 1 p.m. ET, ESPN:
Virginia Tech got off to a great start last season, its first under new coach James Johnson. But by the end of the year, about the only thing the Hokies had going for them was senior guard
Erick Green
, who managed to post a 120.0 offensive rating on 31.7 percent usage, which ranked him behind only
Nate Wolters
,
Kelly Olynyk
,
Doug McDermott
and
Trey Burke
on the list of players who managed to be efficient despite using so many of their team's possessions. Green was great, but now he's gone, which leaves Johnson facing a classic, long-haul rebuilding scenario. West Virginia isn't quite there, but Bob Huggins' team had a decidedly un-Huggins season in 2012-13, when they played some of the ugliest, most disjointed offense the college game had to offer (which, last season, was saying something). After essentially sending talented, but troubled, forward
Aaric Murray
away, Huggins will have to cull some semblance of a rotation from a smattering of pieces that never congealed last year. Incoming four-star power forwards Devin Williams and Elijah Mason should help.


South Carolina at Baylor, 3 p.m. ET, ESPN:
Despite taking a massive L.J. Peak-induced
recruiting gut-punch
this summer, Frank Martin's Gamecocks have already made more progress in his one year at the school than in the 10 before it. Martin has a six-player class arriving this fall, led by No. 7-ranked shooting guard Sindarius Thornwell. A few years down the road, the talent level in Columbia is going to be unrecognizably high. Baylor fans could lend some experience on this front. Now entering his 11th season, Scott Drew has taken the Bears from the untouchable site of
shocking scandal
into one of the most consistently talented programs in the country. This season, the Bears are adding two top-100 talents (Ishmail Wainright, Allerik Freeman) to a group that already includes 7-footer
Isaiah Austin
and a score of rising youngsters and/or reliable veterans, including forwards
Cory Jefferson
and
Rico Gathers
and guards
Brady Heslip
and
Gary Franklin
-- the list goes on and on. After an NIT title in March, Baylor should be after much more this season.
[+] Enlarge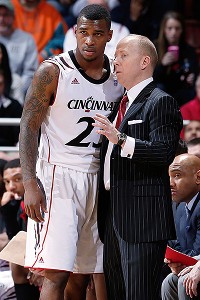 Joe Robbins/Getty ImagesSean Kilpatrick and Mick Cronin are looking to for a fourth straight NCAA tournament bid.
NC State at Cincinnati, 5 p.m. ET, ESPN:
When everything was clicking, there were few sights in the college game as thrilling as NC State's offense last season --
Lorenzo Brown
leading the break,
T.J. Warren
running to the block,
Scott Wood
spotting up on the wing. The problem, of course, was defense, or more precisely a lack of defense. Some of that had to do with personnel, but much of it was related to attitude. With Wood, Brown, guard
Rodney Purvis
(transfer to UConn) and forwards
C.J. Leslie
and
Richard Howell
all gone, coach Mark Gottfried won't have as much tantalizing talent on the court this time around. But he will have a pared-down group that actually wants to be in Raleigh, and he can build the additions of top-100 recruits Anthony Barber, BeeJay Anya and Kyle Washington around Warren, the Pack's most dynamic and promising player a season ago. A trip to Cincinnati will be a crucial early test of Gottfried's mini-rebuild, as a
Sean Kilpatrick
-led Bearcats group hopes the addition of power forward Jermaine Lawrence will push the program past the "solid NCAA tournament inclusion" hump into ever more rarefied air.
"College GameDay" from Chicago, 7 p.m. ET, ESPN:
I don't need to preview College Gameday for you, do I? You already know how awesome College Gameday is. Let's move on.


VCU at Virginia, 7 p.m. ET, ESPN2:
It's almost unfair to pit the ESPN2 primetime games against the Champions Classic. They're bound to look pale by comparison. But on any other night of the season, VCU-Virginia (and its 9 p.m. ET follow-up, about which more below) would be must-see stuff. The basketball is good in and of itself. Under Shaka Smart, Virginia Commonwealth has morphed 2011's shock Final Four run into a burgeoning outfit that plays one of the most recognizable systems -- a constantly turnover-hawking pressing style -- in the country. UVa, meanwhile, has steadily improved under fifth-year coach Tony Bennett, who has adopted many of the pack-line defensive principles that his father Dick Bennett developed long ago at Wisconsin-Green Bay. The contrast of speed and style couldn't be more pronounced here, and if a hearty quasi-cultural, in-state rivalry doesn't exist between these two very different schools already, it shouldn't take long.


Michigan State vs. Kentucky in Chicago, 7:30 p.m. ET, ESPN:
And so we arrive at the jewel of the ESPN Tip-Off Marathon: The Champions Classic. In its first two years, the Champions Classic has done exactly what it set out to do -- provide mutually beneficial marquee college hoops scheduling at the start of the season -- and then some. It even offered an early national title preview (Kentucky vs. Kansas) in 2011-12.
This year's edition might be the best yet, and that starts with Michigan State-Kentucky. The Spartans are the prohibitive Big Ten favorite (or co-favorite with Michigan, your mileage may vary), and bring back about as solid and imposing a core -- senior guard
Keith Appling
, still-improving senior forward
Adreian Payne
, Big Ten freshman of the year
Gary Harris
-- and will begin the season in the top 5 because of it.
After the 2012 national title, Kentucky coach John Calipari probably didn't expect to be on the losing side of a first-round NIT game a year later (
and in his hometown, no less
), but even as Robert Morris fans stormed the court in March, Calipari could take solace knowing he assembled what is by all accounts the best recruiting class since the Fab Five, and maybe
ever
. With Julius Randle, Andrew and Aaron Harrison, Dakari Johnson, James Young and Marcus Lee, Calipari landed five of the top nine players in the class and six of the top 25. Oh, and he'll have
Alex Poythress
and
Willie Cauley-Stein
-- clearly talented players who struggled as freshmen, but should be more effective with more experience and more minimized roles -- back, too. The whole prospect is terrifying: For as good as UK was in 2011-12, this team might be better. What better early test than a veteran, Tom Izzo-coached Michigan State?


Florida at Wisconsin, 9 p.m. ET, ESPN2:
See? This is another really good college basketball game that most people probably won't watch live, because you're not going to miss the beginning of what I have already imagined will be a Bird-Magic-esque Wiggins-Parker rivalry in Duke-Kansas. But the doubleheader on ESPN2 isn't too far behind. No coach in the country is as consistent as Bo Ryan, and this year very little should change. The only exception is the star power offered by sophomore forward
Sam Dekker
, a rare top-20 recruit for the Badgers who shined in an introductory role as a freshman, and will be asked to do loads more as a sophomore. Speaking of consistency, Florida has participated in the last three Elite Eights, and the Gators appear to be as capable of that feat as ever in 2013-14. No. 2-ranked freshman point guard Kasey Hill should start and star immediately alongside forward
Patric Young
, and if the Gators can get equally touted freshman power forward Chris Walker academically eligible, they'll have plenty of firepower to bring to the Kohl Center.


Kansas vs. Duke, 10 p.m. ET, ESPN:
Yes, UK-MSU is awfully good, and the teams are probably better overall. But for sheer intrigue, it's hard to top Duke versus Kansas. On one side is the No. 1 player in the class, Andrew Wiggins, who is not merely your average top-ranked recruit but considered by pretty much every scout you talk to as the best prospect since Greg Oden and Kevin Durant, if not LeBron James. Which is funny, considering that's the same thing Sports Illustrated once plastered on its cover next to a photo of four-time Illinois state champion, No. 2-ranked Jabari Parker. There is already a bit of a LeBron James-Carmelo Anthony thing going on here. Wiggins is the world-destroying athletic freak with the intuitive all-court game; Parker is the smooth, natural scorer. In 2003, Anthony and James entered their rookie seasons having only ever met on the AAU circuit. In 2013, Parker and Wiggins will meet each other on one of the first nights of the season, following Kentucky's Julius Randle, who is good enough to steal the eventual No. 1 overall pick out from under both.
In other words, the three reasons why you'll hear so much about NBA teams tanking in the next 12 months are all playing on the same United Center night in mid-November, and
two of them are playing each other
. Man, the Champions Classic is awesome. Did I mention that already? We covered that part, right?
So get your remote control handy; get your DVR game tight. That's good advice for the primetime doubleheader, but it works for the whole Marathon, too. By the time it's over, you won't even remember the offseason existed. I can't wait.
March, 28, 2013
3/28/13
5:00
AM ET
1. Minnesota coveted VCU's Shaka Smart, but his former boss, current Golden Gophers athletic director Norwood Teague, couldn't convince Smart to come to the Twin Cities (he should know Smart is loyal to VCU) for the head-coaching job from which Tubby Smith was just fired. According to sources, the Gophers have now turned their attention to Iowa State's Fred Hoiberg and Butler's Brad Stevens. We'll see, but I'll be shocked if either were to go to Minnesota. Hoiberg is the Mayor in Ames (it's his alma mater) and has Iowa State in a good place after back-to-back NCAA tournament appearances. If Hoiberg were to leave for Minnesota, the NBA's Timberwolves, not the Gophers, would make more sense. I can't see Stevens bolting, either, with how much he loves the Butler way and working for AD Barry Collier. Stevens can have a lifetime contract at Butler, much like Mark Few has at Gonzaga. If they can't convince either of these two, the Gophers may make a play for Cincinnati's Mick Cronin. But Cronin is from Cincinnati and loves his gig, too. The only reason he might listen is if he sees the need to go to a school in a more stable conference.

2. NC State has made it clear that coach Mark Gottfried hasn't heard anything from UCLA. Athletic director Debbie Yow also is quick to remind everyone of the $3.75 million buyout in Gottfried's contract, which she terms non-negotiable. Much as he got many in the Research Triangle to warm to NC State, Gottfried would fit at UCLA. But it would be too hard for UCLA to pry him out of Raleigh. Multiple sources continue to think the Bruins may have to go with an NBA coach. But there are other options out there -- Washington's Lorenzo Romar, a former UCLA assistant, hasn't been contacted; apparently neither has Colorado's Tad Boyle, who has recruited Los Angeles well. USC, meanwhile, might end up going with a quality coach, albeit not a huge name. Remember, Oregon didn't get its first choice, but did land a big-time talent in Dana Altman. It can be done.

3. Hofstra athletic director Jeff Hathaway has made it clear he wants a current head coach for its vacancy, according to sources, making it seem more realistic he would lean toward coaches like Iona's Tim Cluess and/or Tom Moore of Quinnipiac. Quality openings like Old Dominion and Siena remain. Meanwhile, sources close to former UCLA coach Ben Howland anticipate he'll sit out next season rather than take a job.
November, 16, 2012
11/16/12
8:00
AM ET
Until Connecticut's opening day victory over Michigan State in Germany, there wasn't much reason to get excited about the 2012 Paradise Jam. And even after a gutty, fired-up UConn team showed us it's not ready to wither just yet, the P-Jam (which is an abbreviation I just made up, I think; let's go with it) is far from the best early-season tournament out there. That would be the Battle 4 Atlantis, which basically drank every other early-season tournament's milkshake.
Even so, there are a few teams and players worth keeping an eye on.
The basics
: Nov. 16–19 at University of the Virgin Islands
The set matchups
: Mercer vs. George Mason, 1:30 p.m. ET; Illinois-Chicago vs. New Mexico, 4 p.m. ET; Wake Forest vs. Connecticut, 6:30 p.m. ET; Quinnipiac vs. Iona, 9 p.m. ET
The favorite: Connecticut.
New Mexico isn't far off -- the Lobos are still criminally underrated in the 2012-13 Mountain West conversation -- but it's hard to look at what UConn did to Michigan State and not be impressed (particularly because the Spartans took down Kansas four days and a 4,500-mile trip from Germany to Atlanta later). The Huskies' backcourt --
Shabazz Napier
,
Ryan Boatright
,
Omar Calhoun
and lengthy wing
DeAndre Daniels
-- appear to be playing fast, scrappy, motivated basketball under hungry young coach Kevin Ollie. And they have a straightforward route to the tournament title game.
FIVE PLAYERS TO WATCH
Shabazz Napier, Connecticut
: Napier struggled with leadership issues throughout the Huskies' lackluster 2011-12 season; he fully admitted other players simply didn't want to hear it. But Napier is now a legit veteran presence with a national title on his résumé, and this greenhorn UConn team revolves much more around his perimeter abilities.
[+] Enlarge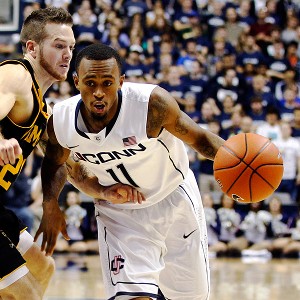 David Butler II/US PresswireRyan Boatright's making better decisions so far in his his sophomore season for UConn.
Ryan Boatright, Connecticut
: Boatright's freshman season was like many freshman seasons: promising but flawed. This season, he appears to be playing much more of a true point guard role, with Napier working more frequently off the ball, and the decision-making that made him a liability last season looks to be much improved.
Tony Snell, New Mexico
: The Lobos have a really good chance to win this tournament -- if UConn is the favorite, it's not by that much -- and Snell is a major reason why. He led New Mexico's 86–81 comeback win over Davidson Tuesday morning with 25 points, including a final-minute shot-clock-beating 3 to help seal the deal.
MoMo Jones, Iona
: Iona lost national assists leader Scott Machado and senior forward Mike Glover. It will gain former Iowa State point guard
Tavon Sledge
and former Toledo forward
Curtis Dennis
. But Jones -- the former Arizona point who transferred to Iona last summer -- should get the touches to have a very big season, even if he isn't always the most efficient scorer in the country.
C.J. Harris, Wake Forest
: The Demon Deacons still have a big talent hole to climb out of before they get competitive in the ACC again, but that doesn't mean you should overlook Harris. The guard had a breakout junior season, shooting 50.7 percent from 2, 42.2 percent from 3 and 84.4 percent from the line while lowering his turnover rate and drawing shooting fouls frequently.
FIVE BIG QUESTIONS
Is this Connecticut thing real?
As good as UConn looked Friday night -- and it did look good -- it's important to temper this kind of exuberance this early in the season. It was only one game (in Germany, no less) and Michigan State hardly had its finest outing. A convincing jaunt this weekend will hardly guarantee Big East title contention, but it will be another green shoot.
Where is George Mason right now?
Paul Hewitt enters his second season at George Mason with the program arguably as bereft of talent as at any point in the past five seasons. That's what happens when you lose two leading frontcourt scorers, Ryan Pearson and Mike Morrison (and your program's best recent scorer,
Luke Hancock
, is preparing to debut for Louisville). Mason looks likely to slide this season, but did open with a win over Virginia. This tournament will tell us more.
Is New Mexico good enough down low?
The Lobos have plenty of perimeter talent.
Kendall Williams
and Snell are gifted scorers,
Hugh Greenwood
is a crafty point,
Demetrius Walker
is finally getting it, and
Jamal Fenton
can really go. But after losing Drew Gordon to the draft, can New Mexico find and develop some interior presence in time to compete with UNLV and San Diego State?
Is Wake on its way?
There's no two ways about it: Jeff Bzdelik's tenure has been a disaster thus far, and that's before you consider the comparatively gleaming record of the man (Dino Gaudio) he replaced. But Bzdelik did improve Wake to a 13-win outfit last season after losing two starters from an 8–24 team, and Harris and
Travis McKie
form a really nice scoring combo. The Demon Deacons aren't going to challenge for the ACC title anytime soon, but there's at least a chance they won't be horrible. So there's that.
Will ESPN.com college football editor Brian Kelly shave his head if his alma mater, Quinnipiac, wins this tournament?
I don't know, but I
triple dog dare him
.
THE PICKS
First round
: Iona over Quinnipiac (sorry BK); UConn over Wake; New Mexico over UIC; George Mason over Mercer.
Semifinals
: UConn over Iona; New Mexico over George Mason.
Championship
: UConn over New Mexico.
October, 4, 2012
10/04/12
5:00
AM ET
1. Maryland coach Mark Turgeon made his final plea to the Harrison twins --
Andrew
and
Aaron
-- on Wednesday with a visit in Texas, hoping they would commit to the Terps on Thursday at 5 p.m. on ESPNU. Turgeon has poured quite a bit of time since his arrival in College Park to try to lure the potentially game-changing brothers. If he loses, it will be to Kentucky, so he can't really complain. But it will be hard for Maryland to come up with a plan B. The drop-off from the Harrison twins is quite steep. They have the potential to be ACC championship-caliber players -- much more than just recruits who will be solid players that keep Maryland in the mix. To add to the drama, Maryland plays Kentucky in the season opener for both schools at Barclays Center in Brooklyn, N.Y., on Nov. 9. If Maryland lands the players, Kentucky will move on to the next big thing. If Kentucky gets the pair, it will be even more difficult for Turgeon and staff to go against UK, knowing that they couldn't beat Big Blue off the court and possibly on it, as well.
2. Practice is a week away and Ole Miss coach Andy Kennedy says he has the most quality depth in his six years in Oxford. The Rebels have been a perennial early bubble team, only to find itself more to the NIT's liking under Kennedy -- Ole Miss has been in the NIT in five of Kennedy's six seasons. He returns three senior starters and adds six players, three to four of whom Kennedy expects will play significant minutes. The gem returnee, though, isn't a senior. It's
Jarvis Summers
, a sophomore guard who led SEC freshmen with a 43.6 percent 3-point percentage last season. The problem for the Rebels is that the non-conference schedule which is once again light. Ole Miss plays only one team that is projected to be in the NCAA tournament -- San Diego State at the Diamond Head Classic in December. Ole Miss will have to earn the bid in the SEC.
3. The alignment saga is quiet -- for now. But there are still spots to fill in the Metro Atlantic Athletic Conference, Colonial Athletic Association and America East. One school that is quietly hoping its phone rings is Monmouth. The New Jersey university would take a ticket out of the Northeast Conference if it came from the CAA or the MAAC. Facilities and location are a plus. The CAA, though, still needs Davidson and Charleston if it's going to get a significant bump out of expansion after losing Virginia Commonwealth, Old Dominion and Georgia State. Quinnipiac would listen to the MAAC and America East (and of course the CAA, too, but that's doubtful). The America East loses any of its leverage to lure if it sees Stony Brook depart -- and the Seawolves' football program is on its way to the CAA in 2013.
October, 24, 2011
10/24/11
6:22
PM ET
By
ESPN.com staff
| ESPN.com
Before we get to the Blue Ribbon team-by-team previews for the Northeast Conference, here is Eamonn Brennan's one-minute wind sprint through the league:
Blue Ribbon breakdowns of all 12 teams in the NEC:
Central Connecticut State
Fairleigh Dickinson
Long Island
Monmouth
Mount St. Mary's
Quinnipiac
Robert Morris
Sacred Heart
St. Francis (N.Y.)
St. Francis (Pa.)
Wagner

More NEC content
:
New Faces, New Places: Andy Katz on how former North Carolina star and first-year Monmouth coach King Rice overcame alcoholism and is now getting his first shot at a head-coaching gig.
Paul Biancardi gives the lowdown on the recruiting picture in the NEC.
October, 5, 2010
10/05/10
10:40
AM ET
On Monday, Quinnipiac forward (and 2009-10 NEC Player of the Year)
Justin Rutty
gave his teammates and coaches a blast from the past. That's because he did
this in practice
-- dunking so hard he hollowed out a huge chunk of his team's practice facility backboard glass. The remaining glass looks like it was crushed by something from Jurassic Park.
Rutty
told the Dagger that he had to walk off the court with his eyes closed
... because, you know, he was covered in glass. Once he got cleaned up, though, he was able to appreciate the situation. Quinnipiac even gave him the rim as a dorm-room keepsake.
So why is Rutty such a throwback? Because shattered-backboard dunks just don't happen anymore. Anyone who remembers the early 1990s can remember a better, simpler time, a time when Shaquille O'Neal seemed to break a backboard at least once a game. (It probably didn't help that he noticeably yanked the rim outward from the glass while he dunked; dude was definitely trying to break those things.) Then safety concerns took over: Glass was falling on the court (and on players) too frequently for anyone's taste, so basketball arenas installed redesigned hoops that allowed the rim to break away from the backboard. Whoever designed this is a genius, because it worked. And, um, thanks, genius guy. No one breaks rims anymore. Hooray.
That is, unless those rims are old. Last year, Oklahoma forward Keith "Tiny" Gallon shattered a rim at a Spokane, Wash., tournament. It
was later discovered that the rim was outdated
-- one of the old, easier-to-break types. It's hard to tell from a Twitter photo,
but Rutty's Quinnipiac rim looks a little vintage
; it's entirely possible Rutty weeded out yet another of the old-school rim types right in his own practice facility.
If not, he was able to do what very few hoopsters have done since the mid-90s: shatter the backboard glass. Either way, it's pretty impressive.