College Basketball Nation:

Randy Culpepper
January, 20, 2011
1/20/11
11:54
AM ET
By
Jeremy Lundblad, Stats & Information
| ESPN.com
Here's an inside look at the numbers behind Wednesday's top performances:
1. It's tough to pick the most embarrassing stat from Wake Forest's 74-39 loss to Georgia Tech. Let's start with those 39 points, which were the fewest by the Demon Deacons since Jan. 8, 1959. Wake Forest shot just 25.9 percent from the field, its worst over the last 15 years. Even the free throw line wasn't friendly, as they hit just 9 of 26 from the charity stripe. At 34.6 percent, that's the worst free throw performance over the last 15 years by an ACC team attempting at least 25 free throws. The second half was particularly ugly, as the Deacons didn't connect on a field goal until there was 7:28 left in the game. They finished the half with only 13 points on 4-of-21 from the field. It could have been much worse if you'll believe it. The score was 74-32 with five minutes to go, and Wake Forest went on a 7-0 run in garbage time to end the game.
2. Since the calendar turned to 2011, no one has been hotter than BYU's
Jimmer Fredette
, who is averaging 28.4 ppg in the new year. You'd have to be under a rock to miss the Jimmer Show, but under the radar, there's another player raising his game since the ball dropped. Richmond's
Justin Harper
is averaging 25.2 ppg on 65.7 percent shooting since Jan. 1. He put on another show on Wednesday, scoring a career-high 30 points and adding 10 rebounds in a win over George Washington. On the season, the 6-10 senior is in the top 25 in the nation in both field goal percentage (57.4) and 3-point percentage (51.1).
Highest scoring average since Jan. 1
28.4 -- Jimmer Fredette, BYU
27.3 --
Cameron Jones
, Northern Arizona
26.4 --
Randy Culpepper
, UTEP
25.5 --
Klay Thompson
, Washington St
25.2 -- Justin Harper, Richmond
3. Texas State's
Ryan White
scored 22 points to go with 11 assists in a 95-91 win over Sam Houston State. It was the 25th 20-point, 10-assist game in D-I this season. So what made this performance so special? White came off the bench. Incredibly, it's his second 20-10 game off the bench this season. The only other player to accomplish a 20-point, 10-assist game off the bench this season was Cornell's
Chris Wroblewski
. But prior to this season, you have to back nearly six years to find the last time this happened. Current San Antonio Spurs guard George Hill had 26 points and 11 assists coming off the bench for IUPUI as a freshman in 2005.
4.
Peyton Siva
was benched in favor of a freshman late in Louisville's game on Saturday. Wednesday was a much better day. Siva had 10 points to go with career highs in assists (10) and steals (7), as the Cardinals crushed St. John's 88-63. It's been almost 10 years since a Big East player had at least 10 steals and seven assists in a game. In November 2001, Notre Dame's Chris Thomas posted a triple-double that included 11 steals.
5. Navy attempts 26.2 3-pointers per game, the sixth-most in the nation. So things can get a little ugly when the Midshipmen have an off night shooting. On Wednesday, Navy went 1-for-25 from beyond the arc in a 71-50 loss to Holy Cross. That's just 4.0 percent. For a team that attempted at least 25 3s, it's the worst performance since 2003, when The Citadel also went 1-for-25.
March, 18, 2010
3/18/10
7:24
PM ET
By
Diamond Leung
| ESPN.com
Butler extended the nation's longest winning streak to 21 games after dominating UTEP in the second half to take the
first-round win
.


Shelvin Mack
scored 25 points, hitting seven 3-pointers to lead the Bulldogs.
Gordon Hayward
, the Horizon League's player of the year, added 13 points.
No. 5-seeded Butler came back from a six-point halftime deficit, with Mack scoring 18 after the break. He went 7 of 9 from beyond the arc and also had four assists and four rebounds.
"We came out with some nerves, but in the second half, we came out firing," Hayward said.
UTEP ended the season with 26 wins, but two straight losses after going down today and to Houston in the Conference USA championship game.
Derrick Caracter
finished with 20 points and nine rebounds, and
Randy Culpepper
had 16 points.
"I'm frustrated because we're a lot better than we showed today," Caracter said.
The Miners shot only 37. 5 percent from the field in the second half.
"It started with our defense," Mack said.
Butler moves on to play No. 13-seeded Murray State in the second round.
March, 18, 2010
3/18/10
6:14
PM ET
By
Diamond Leung
| ESPN.com
SAN JOSE, Calif. -- Some quick thoughts...
Derrick Caracter scored at the buzzer to cap a very nice half, leading all scorers with 12 points and seven rebounds. He's 6-of-8 from the field and showing how important his transfer is to UTEP.
Randy Culpepper showed off his athleticism with a high-flying dunk on a breakaway, and he has eight points. Conference USA's player of the year is also doing on it defense with three steals.
Gordon Hayward has six after missing all three attempts from beyond the arc. Butler is 3-of-12 from 3-point range.
Shelvin Mack has six points for Butler, and the Bulldog are only 37.5 percent from the field.
March, 17, 2010
3/17/10
1:54
PM ET
We've seen it happen before. Players turn themselves into household names and etch their names in tourney lore with strong performances in the NCAA tournament -- Davidson's Stephen Curry and Valparaiso's Bryce Drew come to mind.
Here are a few under-the-radar players to watch during the NCAA tournament:
1.
Ryan Wittman
, Cornell
The senior from Eden Prairie, Minn., is a big reason the Big Red won the Ivy League championship. He averaged 17.5 points per game and shot 42 percent on 3-pointers. Wittman, the son of former Indiana star Randy Wittman, scored 24 points in Cornell's 71-66 loss at Kansas on Jan. 6.
2.
Randy Culpepper
, UTEP
The junior guard from Memphis helped the Miners run away with the Conference USA championship. He averaged 18 points per game and is capable of scoring in bunches. He had 45 points against East Carolina and 39 against Central Florida.
3.
Kevin Anderson
, Richmond
Anderson and
David Gonzalvez
give the Spiders one of the country's most underrated backcourts. Anderson, a junior from Atlanta, averaged 17.8 points and seemed to play his best in Richmond's biggest games. He scored 31 points at Wake Forest, 29 against Temple and 27 against Xavier in the Atlantic 10 tournament.
4.
Jimmer Fredette
, BYU
By now, most college basketball fans have heard about Fredette, the Cougars' high-scoring guard. The junior from Glen Falls, N.Y., averaged 21.7 points and shot 44.8 percent on 3-pointers. He had seven games with 30 points or more, including a 49-point outburst in a 99-69 rout at Arizona on Dec. 28.
5.
Kawhi Leonard
, San Diego State
The Aztecs' bruising freshman nearly averaged a double-double with 12.8 points and 9.9 rebounds per game. He posted back-to-back double-doubles in San Diego State's upsets of New Mexico and UNLV in the Mountain West Conference tournament. Leonard had 16 points and 21 rebounds in a 55-45 victory over the Runnin' Rebels in the MWC tourney championship game.
6.
Aubrey Coleman
, Houston
Coleman, a senior from Houston, led the country in scoring with 25.6 points per game. The junior-college transfer from Southwest Mississippi Community College had nine 30-point games this season and also is an underrated rebounder and passer.
March, 13, 2010
3/13/10
2:03
PM ET
Sorry, Arizona State. Our bad, Seton Hall. Maybe you can catch a break, Rhode Island. Say bye-bye, Dayton.
Those are the potential consequences of what Houston, a 19-15 regular season team with a losing record in Conference USA, just did to dominant conference champ UTEP. Needing a conference tournament title to steal the C-USA's automatic bid to the NCAA tournament,
the No. 7-seeded Cougars topped the Miners 81-73 in Tulsa
in what is thus far the country's least likely conference tournament winner. March Madness? Houston's got your March Madness right here.
The
way
Houston won was just as unlikely as the result. The Cougars have the country's leading scorer on their roster -- guard
Aubrey Coleman
, who averages 26 points per game. But Coleman didn't carry the Cougars against UTEP. Rather, it was fellow guard
Kelvin Lewis
, who played 39 minutes, scored 28 points, and hit six of his 10 three point attempts in the win. (Coleman added 13 points of his own, but shot a putrid 4-of-20 from the field.)
UTEP acquitted itself well enough in the loss. Forward
Derrick Caracter
scored 18 points and grabbed nine rebounds, and guard
Randy Culpepper
scored 20 and added six rebounds. The Miners are a balanced, talented team -- it's not every year a talent like Caracter falls into your lap -- and should still be feared in the tournament.
The real story here, though, is how Houston's unlikely run will
affect the handful of bubble teams desperately hoping for as many available at-large bids as possible
. One of those bids just went bye-bye; UTEP should not be excluded from the tournament. (To be clear: UTEP belongs in the tournament, and the committee should recognize as much. If they don't, it will be a shame. That's a good team.) So who loses out?
One aside: Does Houston's win improve Memphis' chances? The Cougars beat Josh Pastner's bubble-fied Tigers team on a last-second Coleman shot Thursday. Does Houston's impressive run through the tournament give the Tigers a little more credibility? And is it enough to get them out of the dreaded "first four out" category where they currently reside?
All of that will play out in the next, oh, 24 hours. There are plenty of hoops left. In the meantime, Houston can enjoy the celebration that comes from that most unique of college basketball traditions: the automatic qualifier. Who cares about the regular season, right? It's tournament time, and the just-barely-.500 Cougars will be joining us. What's cooler than that?
February, 22, 2010
2/22/10
2:13
PM ET
Barring something unforeseen, the top four teams
in the current poll
should end up being the four No. 1 seeds.
Kansas should be the overall No. 1, getting St. Louis as a Midwest Regional home. Kentucky (No. 2 in the poll) will likely be seeded in the East and go to Syracuse. Syracuse, the No. 4 team in the current poll, can't play at the Carrier Dome as a host, meaning the Orange will likely go to Houston as the South's top seed. The fourth No. 1 isn't firm yet, but as of now, it's hard to argue against the No. 3 team in the current poll, Purdue, which has now won at Ohio State and at Michigan State and has the inside track to win the Big Ten.
Here's a breakdown of the rest of this week's ESPN/USA Today coaches' poll:
No. 5 Duke:
The Blue Devils have clearly proved they are the best team in the ACC and are a possible No. 1 seed.
No. 6 Kansas State:
The Wildcats continue to win road games in the Big 12 and are looking like a solid No. 2 seed.
No. 7 West Virginia:
Interesting the Mountaineers are here after losing at Pitt the week before. Beating Connecticut on the road Monday would help their seeding cause.
No. 8 Villanova:
Nova fans think I'm hard on this team, but I'm about results and as of late the Cats have lost a few. I'm not sure I've seen a team slide down only a few spots after losing two games in a week. This is too high for this week.
No. 9 Ohio State:
The Buckeyes did lose at home to Purdue, but then won at Michigan State. Ohio State should be in front of Nova.
No. 10 Butler:
Love the Bulldogs' spirit, the play of
Gordon Hayward
, and beating Siena without
Willie Veasley
. But the Bulldogs haven't beaten enough quality teams to be ranked No. 10.
No. 11 BYU:
I've been on the BYU bandwagon from day one. This team continues to win big games in the Mountain West and has a road win at UTEP that will come in handy.
No. 12 New Mexico:
I'm still having a hard time digesting how well the Lobos are doing. Steve Alford and Craig "Noodles" Neal have found quite a blend of talent that went under the radar. The Lobos deserve this high ranking and it could be argued they should be ahead of the Cougs since they beat them at home. Circle the major showdown Saturday in Provo between these two teams.
No. 13 Georgetown:
The Hoyas lost to Syracuse last week at home. Should they be higher? Maybe. This feels right.
No. 14 Michigan State:
It's still hard to see the Spartans slide so far down in the polls and look like a third-place Big Ten team. Seeing MSU, one of my Final Four picks, at No. 14, doesn't make sense, but it is justified.
No. 15 Gonzaga:
The Zags lost another WCC road game, this time at LMU. I know the Zags are better than they're showing, but pushing them further down in the polls would've been fair.
No. 16 Pitt:
Let me get this straight. Pitt beat West Virginia at home in triple overtime, won at Syracuse earlier and just knocked off Villanova at home. Why are the Panthers at No. 16 again? Please move them up.
No. 17 Tennessee:
The Vols picked up a huge win over South Carolina. I picked it as an upset. I was wrong. I like the Vols here.
No. 18 Temple:
The Owls will find out soon enough if they're the best in the A-10. They are getting mileage out of the win over Nova. This is too high for me.
No. 19 Wisconsin:
The Badgers barely beat Northwestern at home and lost at Minnesota. Sorry, but Wisconsin could be pushed down a few pegs this week.
No. 20 Vanderbilt:
I know the Commodores lost at home to Kentucky but they were coming off a win at Ole Miss. I would have had no problem moving Vandy up a few spots.
No. 21 Texas:
The Longhorns lost
Dogus Balbay
, but won at Texas Tech. That saved face for them after losing at Missouri. I know this team is more talented than it's showing, but I wouldn't have had a problem not ranking Texas this week.
No. 22 Northern Iowa:
The Panthers get props for winning games, but still haven't beaten anyone major outside of the win over Old Dominion last Friday. If they weren't ranked I wouldn't scream.
No. 23 Texas A&M:
The Aggies couldn't close out Kansas, but then won at Iowa State. We'll find out more about this squad with a game at Baylor. Aggies should be up a few notches.
No. 24 Richmond:
The Spiders are playing better basketball than Temple, so at least swap those teams in the rankings.
No. 25 UTEP:
Finally. The Miners deserved to be ranked as they steamroll through Conference USA. The win over Tulsa spoke volumes as to why they should be the team to beat going forward.
Derrick Caracter
and
Randy Culpepper
have been big-time players for them this season.
I would have seriously considered putting in Maryland, Virginia Tech, Baylor and Xavier this week. There would have been some tough calls, but I might have tried to find a home for at least two of them, most notably the Terps.
December, 21, 2009
12/21/09
11:49
PM ET
Derrick Caracter
as a program boost?
Who'd a thunk it? Certainly not anyone in Louisville, where Caracter spent more time in Rick Pitino's doghouse than on the court.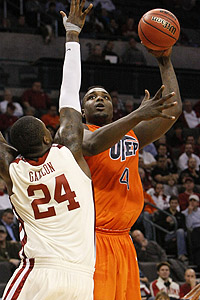 AP Photo/Alonzo AdamsLouisville transfer Derrick Caracter scored 11 points and had 10 boards for UTEP in its win over OU.
But away from the Big East spotlight and Pitino's glare, Caracter may have found his niche -- in El Paso, Texas of all places. On Monday night, Caracter helped UTEP to a signature
89-74
win against Oklahoma. He's played just four games for the Miners, but recorded three double-doubles, including the 11 and 10 he put on the Sooners.
With Memphis in rebuilding mode, Conference USA and its NCAA tournament bid is there for the taking, and UTEP, with Caracter and red-hot scorer
Randy Culpepper
, might be up for the grab.
Here's the caveat: It's early. Caracter has shown flashes before, but the good nights often were freight trained by his hot-and-cold relationship with commitment. Once the most highly regarded recruit in the country, he has been his own worst enemy.
If he has truly changed his ways, Caracter might finally live up to that surname and his abilities.
And UTEP might reap the benefits.
December, 12, 2009
12/12/09
2:57
PM ET
UTEP coach Tony Barbee announced Saturday by text message that former Louisville center
Derrick Caracter
has been academically cleared to participate and will play Sunday in the Miners' game against New Mexico State.
Barbee said Thursday that he didn't anticipate a problem with Caracter getting eligible, but still wanted to make sure he had cleared the academic hurdle. Barbee said Caracter, who was a much-hyped prospect in high school, but eventually fell into Rick Pitino's dog house, has been working hard in practice and will make an immediate impact on the Miners. UTEP is 5-0 with a schedule that Barbee said was back-loaded, waiting for Caracter to get eligible.
The Miners, a trendy pick to push Tulsa and Memphis and win Conference USA, have only played five games (5-0) with a glut of nonconference games remaining against Ole Miss in Southaven, Miss. (Dec. 16), Oklahoma in Oklahoma City (Dec. 21), at Texas Tech (Jan. 3) and against BYU (Jan. 9). They open C-USA play against SMU on Jan. 6.
UTEP has five players averaging double figures -- guards
Randy Culpepper
,
Julyan Stone
and
Christian Polk
and forwards
Arnett Moultrie
and
Jeremy Williams
.