College Basketball Nation:

Ray Allen
June, 24, 2013
6/24/13
10:30
AM ET
In the weeks leading up to the June 27 NBA draft, we'll be taking a look at the 20 schools that have produced the best pros in the modern draft era (since 1989, when the draft went from seven to two rounds). Click here to read Eamonn Brennan's explanation of the series, which will be featured in the Nation blog each morning as we count down the programs from 20 to 1.
Top Five NBA Draftees Since 1989
Ray Allen (1996)

Richard Hamilton (1999)

Clifford Robinson (1989)

Rudy Gay (2006)

Caron Butler (2002)
Sixth man
: Ben Gordon (2005)
The rest
: Donyell Marshall, Emeka Okafor, Kevin Ollie, Charlie Villanueva, Kemba Walker, Andre Drummond, A.J. Price, Jerome Dyson, Jeff Adrien, Hasheem Thabeet, Josh Boone, Hilton Armstrong, Marcus Williams, Jake Voskuhl, Khalid El-Amin, Travis Knight, Donny Marshall, Scott Burrell, Chris Smith, Tate George
[+] Enlarge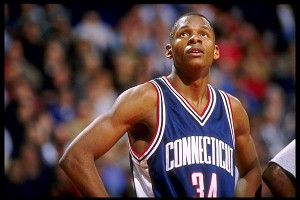 Doug Pensinger/Getty ImagesRay Allen is easily one of the best players any college has produced since the draft went to two rounds in 1989.
Why they're ranked where they are
: Besides Tim Duncan and Shaquille O'Neal, which players drafted since 1989 have had a better career than Ray Allen? There are a few worthy of argument, sure. Jason Kidd is up there. Paul Pierce, Dwyane Wade and Carmelo Anthony, too. But now that Allen has captured his second career NBA title at age 37 -- and not just won it, but hit the immediately legendary 3-pointer that saved the Miami Heat from elimination in Game 6 (and made a
bunch of the Heat's highly mockable fan base look completely silly
, which was beautiful) -- Allen has cemented his place among the best of the best players any college has produced since the draft went to two rounds in 1989.
How do you quantify such a thing? For starters, of course, there is Allen's shooting. Allen holds the NBA record for made 3-point field goals (2,857). Remarkably, he has taken the most 3s in the history of the game (7,120), while still maintaining a career average just above 40 percent. His mechanically invariable quick-twitch release, born of his maniacal workout habits, is a wonder that may never be replicated. He is the greatest shooter in the history of the game, period, and he has been doing it for 17 years.
But great shooting alone doesn't necessarily make you a Hall of Famer; were that the case, Steve Kerr would be a shoo-in. Though he has become more of a standstill shooter with age, Allen spent most of his career -- from the promising early years in Milwaukee to his four-year romp in Seattle to most of his time in Boston -- being much more than just a shooter. Allen could always put the ball on the floor and get to the rim. His size allowed him to finish in traffic, and his midrange touch was just as devastating as his perimeter marksmanship. Before the legs wore down in his mid-30s, Allen could just about do it all.
That's an awfully nice piece to have atop your school's list of NBA products, but of course with UConn it doesn't stop there. Richard Hamilton has had his own excellent run in the league, most of it spent in Detroit, where he averaged around 1,500 points per season and was a key piece in the Pistons ensemble that shocked Shaq and Kobe Bryant (and Karl Malone and Gary Payton) to win the NBA title in 2004. Hamilton was sort of a poor man's Allen. He did his scoring in similar ways -- tirelessly working off wing screen actions -- but weirdly enough his jump-shooting prowess never extended to the 3-point line. Had Hamilton ever added that piece to his game for more than a season or two, he'd be a surefire Hall of Famer. Though, "poor man's Ray Allen" still adds up to a hefty NBA career.
Figuring out just how good Rudy Gay is has been a subject of some controversy in the past year or so, after the newly analytics-obsessed Grizzlies traded Gay to the Toronto Raptors and never lost a step en route to the Western Conference finals. Offensive inefficiency is the main complaint about Gay's game -- sometimes he's just a little too happy to take that outside jumper. But even so, Gay is a super-tall wing player with guard skills in a league that prizes such things, and he already has cobbled together an impressive resume. One could say the same for Caron Butler, who has visited a couple of All-Star Games and averaged 15.5 points, 5.4 rebounds, 2.5 assists and 1.5 steals in a very-much-above-average-if-not-totally-spectacular body of work.
And then there's Clifford Robinson. It might be easy to forget about old Cliff, not only because he's not the only NBA player to go by "Cliff Robinson" (the other, Clifford Trent Robinson, was drafted out of USC in 1979). Robinson was drafted in 1989, the first year eligible for this project, and when most people think of Jim Calhoun's trendsetting NBA pros they think of Allen, Donyell Marshall and Kevin Ollie before they ever think of Robinson. But in fact, Robinson's 17-year career is the longest of any pro UConn has produced. Nor does Robinson merely get points for longevity. While his final three seasons (from age 37-40) were just-hanging-on affairs, Robinson averaged in double figures every season from 1991 to 2004. His longevity also was marked by an unusual durability; Robinson played in at least 75 games every season until 2004 (save the strike-shortened 1999 year, when he tied for the league lead with 50 games played). In all, Robinson's 1,380 career games put him ninth on the all-time list. He played a
ton
of professional basketball, almost all of it at a high level.
Those five players alone would probably warrant a spot near the top five in our Path to the Draft rankings, but there is so much more. Ben Gordon has had a very productive career; Emeka Okafor has averaged a career double-double while playing for atrocious teams in Charlotte, New Orleans and Washington; Donyell Marshall and Kevin Ollie were tenured pros; and even Charlie Villanueva had a couple of really good seasons before falling off after Detroit signed him to a $40 million deal in 2009. The young blood -- particularly Kemba Walker and Andre Drummond, who looks as though he's going to be a beast -- should carry Calhoun's legacy of producing pros forward into the Ollie era. It's a solid, deep list, punctuated by singular brilliance at the top.
Why they could be ranked higher
: The argument for ranking Connecticut higher will have a lot to do with the same dichotomy we've been dealing with for the last couple of weeks, the one that makes this whole conversation interesting in the first place*: quantity versus quality, and the nuances therein.
*
Which is also why we didn't do something as simple as a points system to rank years played versus All-Star appearances vs. Win Shares or whatever other metric would have made this whole thing much more straightforward. Because it also would have been much more boring. Also, NBA careers are not simply quantifiable things.
For example: If you think a lengthy list of players that comprises its fair share of duds is more impressive than a handful draftees, a significant number of which are bona fide Hall of Famers, then your rankings might look a little bit different than ours. In this case, you might see UConn's combination of Allen (an elite all-timer) alongside this collection of top players and think there's no way the Huskies could rank behind the next two teams on the list. Or maybe you take the opposite view — that the Thabeets and Dysons and El-Amins of the world prove that UConn's pro bona fides are overrated. Our essential goal has been to balance those two concerns, which is why No. 3 feels about right to me.
Why they could be ranked lower
: I don't think they could. No. 4 Kentucky and No. 5 Duke both have similar dynamics at work -- lots of products, plenty of solid pro careers, and their fair share of busts, too -- but neither group has a player with a career like Allen's. (Grant Hill comes closest, but those devastating injuries make it harder to put him on the mountaintop.) So, no. UConn might have an argument to move up; it's much harder to justify the opposite direction.
What's ahead?
Drummond is the one to watch. Despite seeming to rarely care about basketball as a collegian, the big man had an immensely promising rookie season in Detroit in 2012-13, averaging 7.9 points, 7.6 rebounds and 1.6 blocks in 20.7 minutes per game. Drummond still needs a great deal of polish in the low post, but there aren't many players in the league as athletic as he is, and none that possess his combination of size, strength and leaping ability. At the bare minimum, he should be a force on the glass for years to come. The ceiling is much higher than that.
It's almost hard to tell how good of a pro Kemba Walker is -- call it the curse of playing in Charlotte -- but things are trending in the right direction. After an anemic rookie season, Walker lifted his shooting percentage from 36.6 percent to 42.3 in his second year, scoring 17.7 points per game and adding 5.7 assists. He needs to develop his outside shot to make up for his lack of size, but his pure scoring and playmaking abilities give him value even as he sands off some of the rough edges.
Other than that, senior Shabazz Napier is probably the clearest NBA prospect on the Huskies' roster right now, but Omar Calhoun is an interesting look down the line, and in 2014 Daniel Hamilton, the No. 4-ranked shooting guard in his class, should give Ollie the kind of talent that will have NBA scouts spending the traditional amount of time in Storrs, Conn.
Final thoughts
: Calhoun did plenty of things in his nearly three decades at UConn. He brought an old Yankee Conference power into the Big East. He made that old Yankee Conference power into a competitive Division I program. Then he turned it into a Big East power. Then he started winning national titles. His legacy of success doesn't stop in Storrs, though; Calhoun also created one of the most consistent NBA talent factories in the modern college game. The results are plain to see.
September, 13, 2012
9/13/12
1:00
AM ET
Connecticut coach Jim Calhoun will announce his retirement Thursday,
per ESPN.com's Andy Katz
. Calhoun's career spans more than 40 years. He's sixth among Division I coaches with 873 wins. He's won three national titles.
A variety of talented players helped him achieve those feats. Here's a list of Calhoun's top 10 players of all time:
Reggie Lewis -- Before his tenure at Connecticut, Calhoun led Northeastern for 14 seasons. Lewis, who suffered sudden cardiac death in 1993 as a member of the Boston Celtics, averaged 24.1 points per game as a sophomore and 23.8 ppg as a junior under Calhoun. Those Northeastern squads (1984-85 and 1985-86) amassed a combined 48-14 record, won a pair of Eastern Collegiate Athletic North conference titles and reached the NCAA tournament both seasons with Lewis in charge.

Richard Hamilton -- "Rip" was ridiculous in college. That entire 1998-99 squad fed off his bravado. He was relentless. And he didn't care about anything but winning. He led Connecticut to the national title in 1999, the same year the Huskies went 34-2 and didn't lose one road game (11-0). The Huskies also defeated a Duke squad that was one of the greatest teams to have never won a national championship. Hamilton, the 1999 Final Four's most outstanding player, is second on Connecticut's career scoring chart (2,036 points).

[+] Enlarge

AP Photo/Doug MillsRichard Hamilton led Jim Calhoun and Connecticut to its first national championship.

Ray Allen -- One of the greatest shooters in the history of the game, Allen epitomized "textbook form." And he had that subtle cockiness you couldn't see in interviews but that always emerged on the floor. He averaged 23.4 ppg as a junior. He was a two-time All-American shooting guard. All of this before he played Jesus Shuttlesworth in "He Got Game."

Donyell Marshall -- He always looked like he'd gotten out of bed minutes before game time. But that sleepy gaze was deceiving. Marshall might have been Calhoun's most dominant player. He scored 855 points during the 1993-94 season (25.1 ppg), No. 1 all-time for Connecticut. He also was a consensus All-American that season who blocked 111 shots, then a high mark for the program. And he scored 42 points in two separate games.

Emeka Okafor -- He's never quite lived up to the expectations in the NBA. But during his three seasons at Connecticut (2001-04), Okafor was one of the most dominant players in the country. He was a monster on defense (his 441 career blocks are in the top 10 in NCAA history). He was a two-time national defensive player of the year and All-American. And above all, he was Calhoun's anchor on the 2004 squad that won a national title.

Kemba Walker -- Walker dazzled with an unrivaled Big East tournament performance in 2011. He scored 130 points as the Huskies defeated five teams (four of them ranked) in five days. The Huskies, losers of four of their previous five regular-season games, limped into that tourney but managed to grab the crown once Walker donned his cape. And he didn't stop there. It was just the start of an 11-game winning streak that concluded with the Huskies winning the 2010-11 national championship. Walker also is seventh all-time on Connecticut's career scoring list (1,783 points).

Chris Smith -- The program's career scoring leader (2,145 points in four years) led the Huskies to the Elite Eight in 1990 and a 31-win season three years after Calhoun kicked off his term with a 9-19 campaign. In his career, Smith led the team in scoring three times and assists twice. Smith is a legend based on his stats but also because the Bridgeport, Conn., native stayed home and played a key role as Calhoun built the program.

Cliff Robinson -- He turned the headband into a fashion statement with the Portland Trailblazers. But before his lengthy pro career, Robinson led Connecticut to the NIT title in 1988. He averaged 15.3 ppg during a three-year career. He was the leading scorer on Calhoun's first squad during the 1986-87 season. A year later, the Huskies had won 11 more games (20-14) than they had the previous season thanks in part to Robinson's 17.6 ppg and 6.9 rebounds per game.

Ben Gordon -- Gordon was Okafor's counterpart on the 2004 national title team. He was small (6-foot-3), but strong and aggressive. Gordon finished his career with 1,795 points, sixth all-time for Connecticut. He's also second all-time in made 3-pointers (246). Okafor earned most outstanding player honors in the 2004 Final Four, but Gordon's 127 points (21.2 ppg) led the field.

Khalid El-Amin -- The Minneapolis product played three seasons for Calhoun, and ended his career with 1,650 points, 10th in program history, and sixth all-time in steals (186). On the floor, he was the aggressive point guard who helped guide the Huskies to the national title in 1999. In his final season with the program (1999-2000), he averaged 16 ppg and 5.2 assists per game.
March, 24, 2012
3/24/12
12:46
AM ET
By
ESPN Stats & Information
| ESPN.com
Tyler Zeller's
historic game was barely enough to help the
North Carolina Tar Heels
reach the Elite Eight.
This win over the
Ohio Bobcats
kept an impressive streak alive. The Tar Heels have now won each of their last 11 Sweet 16 games and are 5-0 all-time in Sweet 16 games against double-digit seeds.
How the Tar Heels won
Zeller finished with 20 points and 22 rebounds. He's the fifth player to have a 20-point, 20-rebound game with at least four blocked shots in the Men's Basketball Championship since 1975, as noted in the chart on the right.
Zeller's eight offensive rebounds were one more than Ohio had for the entire game.
Reggie Bullock
supported the effort with a rare statistical combination.
He's the fourth player in tournament history to have at least 10 rebounds, five assists, and five 3-pointers, joining Mitch Richmond (1987 Kansas State), Hersey Hawkins (1988 Bradley), and Ray Allen (1996 Connecticut).
Stilman White
, starting in place of injured guard
Kendall Marshall
, was the only Tar Heels player who didn't turn the ball over. He's the first North Carolina player to play at least 32 turnover-free minutes, and finish with at least six assists in the Round of 16 or later since Kenny Smith in 1985.
How Ohio hung in
North Carolina won despite committing 24 turnovers, its most in a game since 1989, when it had 26 against Loyola Marymount. Ohio's defense entered forcing an average of 17 turnovers per game, best among those teams left in the Sweet 16.
The Tar Heels also survived an inefficient game from
Harrison Barnes,
who took a season-high nine 3-pointers and finished with a career NCAA tournament-low 12 points.
Barnes was 16-for-31 in the paint in the first two games of the tournament, but just 0-for-1 in this contest.
Oh, so close
This was the seventh time that a team seeded 13th or lower played in the Round of 16. None has won, but Ohio was the first of those teams to take the game to overtime.
Ohio's
D.J. Cooper
, just missed the game-winner in regulation for Ohio. He went 3-for-20 from the field, tied for the second-worst shooting percentage by a player since college basketball went to a shot clock in 1986.
The only one to fare worse in a game with at least 20 shot attempts was Loyola Marymount's Bo Kimble in 1988 -- a 3-for-21 effort that also happened to come in a loss against North Carolina.
Ohio finished the season 1-5 when Cooper took at least 17 shots (Ohio was 28-3 in all other games).
Looking ahead
What's next for North Carolina?
The last time a No. 1 seed played an overtime game in the Sweet 16 was 2006, when
Villanova
and
Connecticut
did it.
Both of them won those Sweet 16 games and lost in the Elite Eight.