College Basketball Nation:

Ray McCallum
February, 17, 2013
2/17/13
1:17
AM ET
A few observations from another exciting Saturday evening in college basketball ...

Let's talk about Alex Len
: The 7-foot-1 sophomore from Ukraine got paid Saturday. Settle down, NCAA. No runners were involved. But the young man clearly elevated his NBA draft stock with his grown-man performance in Maryland's
83-81 victory
over No. 2 Duke, a crucial victory for the Terrapins' at-large résumé.
Seth Allen
's late free throws sealed the win after a furious late push by the Blue Devils turned Maryland's 80-72 lead into an 81-all tie in the final seconds. But Len's performance was the difference. He was a star (19 points, 9 rebounds, 3 blocks), while Duke counterpart
Mason Plumlee
(4 points, 2-for-7) struggled.
The Terrapins don't have any postseason guarantees right now. It's a soft bubble but they're still on it. Right now, the Terps are on Joe Lunardi's "First Four Out" list, but every game on their remaining ACC slate is winnable. Maryland, however, needs
this
Len every night. He had failed to crack double figures in three previous losses. But on Saturday, he showcased the talent that has fueled the NBA lottery buzz that currently surrounds him. If he gives the Terps that juice over the next six games, they might not lose again in the regular season.
[+] Enlarge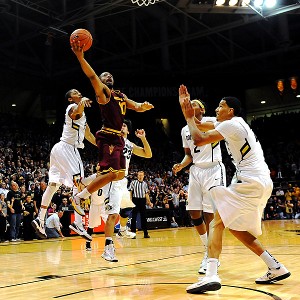 Ron Chenoy/USA TODAY SportsEvan Gordon knifes in to give Arizona State the OT win at Colorado with this buzzer-beater.
Arizona State stays in the Pac-12 race with crazy win
: The Pac-12 has given college basketball fans multiple exciting finishes this season. And the conference did not disappoint Saturday, when both Oregon-Washington State and Arizona State-Colorado were decided in overtime. The latter matchup ended on
Evan Gordon
's buzzer-beating layup. The Sun Devils'
63-62 road win
was significant in their pursuit of the Pac-12 crown.
Freshman
Jahii Carson
(18 points, 4 assists) can take Herb Sendek's program there. It won't be easy, especially since the Sun Devils have road games against UCLA and Arizona in the coming weeks. But at least they'll face two of the Pac-12 teams slotted ahead of them in the standings. Arizona State just made the Pac-12 race more interesting.
UNLV needed this one
: The Runnin' Rebels were desperate Saturday. They're now 6-5 in the Mountain West, three games behind first-place New Mexico. But a lot can happen over the next five games, especially in a volatile league such as the MWC. A loss Saturday, however, would have certainly removed the Runnin' Rebels from the conversation. And their so-so at-large résumé would have taken another hit, too.

They played like a team that understood the stakes in the
72-70 victory
over San Diego State.
Khem Birch
blocked
Jamaal Franklin
's shot in the final seconds as UNLV preserved the win, completed a sweep of the Aztecs and maintained a place in the Mountain West race.
Anthony Bennett
(21 points, 12 rebounds) and Birch (16 points) could lead the Rebels to a strong finish and help the team solidify a bid. The latter seems far more reasonable and feasible. I don't think I would have felt that way about either if UNLV had lost.

Kansas State recovers:
On Monday, the Wildcats went to the Phog and suffered a 21-point loss to archrival Kansas. On Saturday, they beat Baylor by 20 points. No better way for a team to clear its head after a tough loss. I think the
81-61 win
says a lot about Kansas State's mental makeup.
Sure, Baylor has been inconsistent all season. But the Bears also are one of the Big 12's top defensive teams. The 81 points they surrendered to Kansas State were the most they'd given up in Big 12 play this season.
Angel Rodriguez
led the Wildcats with 22 points and 10 assists. Four Wildcats recorded double figures in a game that helped K-State remain in the Big 12's three-way tie for first place (Kansas and Oklahoma State both won Saturday, too). And it helped the program move past Monday's lopsided loss to the Jayhawks.

Memphis?
I think the Tigers have the athleticism and talent to compete with other top-25 teams at neutral sites. Their problem is they don't have many opportunities to show it right now due to the limited competition in Conference USA. Much like Gonzaga or Florida, the only way for the Tigers to prove their value nationally is to stomp opponents in league play.
To their credit, they've won three games by 13 or more in February. They returned to the national rankings last week based on that dominance. They beat Marshall (
71-59
) on Saturday. There were highlights for the Tigers. But there also were a few confusing moments.
Like the fact that Memphis scored 43 points in the first half but just three points in the first 10 minutes of the second half in a matchup against a Marshall squad that is at the bottom of C-USA and had lost five of its previous seven entering the game.
The Tigers might have the skill to make noise in March. That ugly second half, however, didn't convert anyone.
On the Horizon:
Detroit and Valparaiso might have played the best game of the night. Detroit was down by 15 points with 10 minutes remaining in its road game against the Crusaders. But the Titans launched a 17-2 run over the next
five
minutes. They eventually won by 10 points,
84-74
, and now they're a half-game behind Valpo in the Horizon League standings.
Nick Minnerath
and
Jason Calliste
scored 21 points apiece, while
Ray McCallum Jr.
added 15 points, 5 rebounds, 6 assists and 3 steals. In the first meeting between the two teams, Detroit led by 18 at halftime and 11 with three minutes to play -- but lost by one. Sweet revenge tonight.
March, 17, 2012
3/17/12
12:42
AM ET
OMAHA, Neb. -- Quick thoughts from Kansas'
65-50 victory
over Detroit on Friday at the CenturyLink Center.
Overview:
Thomas Robinson
had 16 points and 13 rebounds and
Elijah Johnson
added 15 points to spark Kansas to an easy win over No. 15 seed Detroit in the Midwest Region. The No. 2 seed Jayhawks will play Purdue at approximately 9 ET Sunday night.


One of the biggest stories of the game was the health status of Kansas point guard
Tyshawn Taylor
, who left the contest with about 15 minutes remaining, reportedly because of cramps. Taylor was taken to the locker room and didn't return. He appeared to injure himself during a play in which he was called for a charge with about 16 minutes remaining. He went to the bench and then headed to the locker room about a minute later.
Detroit, which shot just 31.7 percent from the field, got 15 points from
Doug Anderson
and 10 from
Eli Holman
.
Ray McCallum
Jr., a McDonald's All-American in high school who chose Detroit over KU so he could play for his father, finished with just 8 points on 4-of-15 shooting.
Turning point:
The Jayhawks ended the first half on a 15-3 run, which gave them a 34-24 lead at intermission. They opened the second half on a 10-2 tear that made it 44-26. At that point, the game was essentially over.
Key player:
Robinson notched his NCAA-leading 24th double-double. The Jayhawks also got a boost from Johnson, who made three of his four 3-point attempts. Center
Jeff Withey
had 7 points, 10 rebounds and 6 blocks.
Key stat:
Detroit's 3-point shooting continued to be its Achilles' heel. The Titans were just 3-of-17 from long range (17.6 percent).
Miscellaneous:
Kansas' 2008 NCAA title run began in Omaha.
Up next:
Kansas takes on No. 10 seed Purdue on Sunday. The Boilermakers defeated No. 7 seed Saint Mary's earlier Friday. Detroit ends its season 22-14.
March, 16, 2012
3/16/12
1:15
AM ET
OMAHA, Neb. -- Here's a quick rundown of what to look for in Friday's afternoon games in Omaha.
No. 7 Saint Mary's (27-5) vs. No. 10 Purdue (21-12), 7:27 ET
For Saint Mary's coach Randy Bennett, Thursday's shootaround at the CenturyLink Center was gratifying for two reasons. His Gaels are back in the national spotlight -- and Bennett caught a glimpse of a celebrity.


"He's a legend," Bennett said of Purdue's
Robbie Hummel
. "I've heard about him for six years. I finally got to see him up close."
Bennett was only halfway kidding.
Hummel, after all, has garnered national public sympathy after missing the past two NCAA tournaments because of knee injuries. The fifth-year senior -- who didn't play at all last season after tearing his ACL on the first day of practice -- is hoping his return to the postseason isn't short-lived.
"Sitting out the last two years ... it's been frustrating," said Hummel, who averages 16.3 points. "I think it's made this time all the more special for me. I think we're all excited to be here and we're looking forward to tomorrow."
The Boilermakers face a tough task in their first game.
Saint Mary's became the first team in 11 years other than Gonzaga to win the West Coast Conference title outright. The Gaels, who reached the Sweet 16 in 2010, are led by point guard
Matthew Dellavedova
. The Cousy Award finalist is the school's all-time assists leader. He averages 15.6 points.
Things appeared bleak for Saint Mary's after a 14-point loss at Murray State in a BracketBusters game Feb. 18. But Bennett's squad bounced back with four straight wins to end the season.
Saint Mary's, which is comprised largely of Australian players, has won 25 or more games in each of the past five seasons. On Friday the Gaels will attempt to beat a Purdue squad that has won its past 13 games in the round of 64.
"They've got a lot of depth, a lot of talented guys," Purdue coach Matt Painter said. "We're going to have our hands full."
Players to watch:
Robbie Hummel, Purdue
-- The senior's 16.3-point scoring average is a career high, and so are his 7.1 rebounds per game. He's averaging just 10.6 points in his past three contests.
Matthew Dellavedova, Saint Mary's
-- One of the more fundamentally sound point guards in the country averages 15.6 points and 6.4 assists.
Rob Jones, Saint Mary's
-- The senior forward is a bit undersized at 6-foot-6, but you'd hardly be able to tell by looking at the stat sheet. Jones averages 14.8 points and 10.7 rebounds.


No. 2 Kansas (27-6) vs. No. 15 Detroit (22-13), 9:57 p.m. ET
For all the thrills they've experienced in the regular season, the
Kansas Jayhawks
still have painful memories from their past two NCAA tournaments.
More than the defeats, it's
who
the Jayhawks lost to that has been hard for Bill Self's team to stomach.
Two years ago it was Northern Iowa. Last season, Virginia Commonwealth.
When Kansas drew No. 15 seed Detroit in the round of 64 in this year's tournament, more than a few fans feared that another upset loss to a mid-major team could be in store.
"We didn't come to play," point guard
Tyshawn Taylor
said of the past two years. "We thought if we just showed up, we'd beat those teams."
The Jayhawks probably don't have that opinion of Detroit, which features a McDonald's All-American in
Ray McCallum
Jr. and a pro-caliber center in
Eli Holman
, who began his career at Indiana.
The Titans, who earned an automatic bid by beating Valparaiso by 20 points on their home floor, may be the most talented No. 15 seed in the history of the tournament. Seven of their 13 losses came without Holman, who was suspended for the fall semester.
Holman will be one of the main players charged with defending Big 12 Player of the Year
Thomas Robinson
, who averages 17.9 points and 11.8 rebounds. He certainly sounded confident when asked about the matchup earlier in the week.
"Robinson?" Holman said. "I can handle Robinson. He has to handle me."
Detroit head coach Ray McCallum -- the father of the star point guard -- said the last thing his players intended to do was disrespect Kansas.
"I think some of those comments have been exaggerated," the coach said. "We've been a team that hasn't bragged or boasted about anything. Some of the things in print, I scratch my head, like 'Where did that come from?'
"I don't think [it's] arrogance. We've got great respect for their team. We know they're truly one of the best. We're going to have to play our best game of the year to win."
Players to Watch:
Thomas Robinson, Kansas
-- The first-team All-American and Wooden Award candidate has gone from a nonstarter to one of the best players in America. The NCAA tournament will likely mark the final time he will be in a Kansas uniform, as he's expected to enter the NBA draft.
Tyshawn Taylor, Kansas
-- Not many point guards in the country were as good during the second half of the season as Taylor, who led the Jayhawks in scoring in Big 12 play. The senior is a fourth-year starter
Ray McCallum Jr., Detroit
-- The son of the Titans' head coach averages 15.6 points per game but shoots just 25 percent from beyond the arc. He chose Detroit over schools such as Kansas, Florida and UCLA.
March, 7, 2012
3/07/12
1:45
AM ET
The
Butler Bulldogs
won't be participating in this year's NCAA tournament, but the Horizon League is sending a more-than-capable replacement.
Ray McCallum
Jr. scored 21 points and
Jason Calliste
added 17 to lead Detroit to a
70-50
victory over regular-season champion Valparaiso in the championship game of the Horizon League Tournament.
The victory gives the Titans a berth in the NCAA tournament for the first time since 1999. Head coach Ray McCallum -- the father of the Titans' star player -- said five busloads of students made the 250-mile trip for Tuesday's game.
[+] Enlarge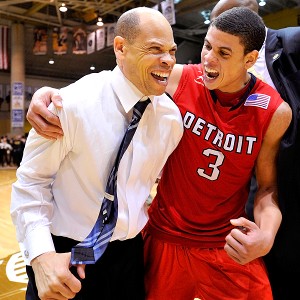 Nelson Chenault/US PresswireRay McCallum, Jr. and his coach and dad, Ray McCallum, are heading to next week's NCAA tournament after beating Valparaiso.
"I'm happy for the city of Detroit," said McCallum, the former Ball State and Houston head coach. "We're Detroit's team. This gives the city a program to follow in the tournament with its name on it."
Coaches of teams predicted to be seeded No. 2 or No. 3 probably grew nervous as they watched Detroit dismantle Valparaiso. The Titans, who will likely be a No. 14 or a No. 15 seed, played with the kind of confidence and swagger that is imperative for a team seeking a first-round upset next week.
Detroit trailed by three points at halftime before erupting after intermission. The Titans shot 58 percent in the second half to stun Valparaiso on its home court. The Crusaders had defeated Detroit twice this season by a combined seven points.
"We just played with a lot of emotion, a lot of intensity," McCallum said. "We got stronger as the game went on."
Resilience has been a theme for Detroit all season.
Some preseason publications picked the Titans to win the Horizon League title, but things turned sour when star center
Eli Holman
-- one of the best players in the country at his position -- was suspended before the start of the season for a violation of team rules.
Detroit lost six of the 10 games that Holman missed (including two league contests). Even after Holman returned, it took McCallum's squad a while to find its groove. Detroit certainly has it now, though. It will enter the tournament having won 10 of its past 11 games.
"These guys have hung together," McCallum said. "We're playing our best basketball at just the right time."
Detroit may compete in a small conference, but there is nothing "mid-major" about many of its players.
Holman began his career at Indiana before transferring after head coach Kelvin Sampson was fired. McCallum was on Sampson's Indiana staff and had helped recruit Holman, so the switch to Detroit made perfect sense for the 6-foot-10, 270-pound senior. Holman averages 11.1 points, 7.0 rebounds and 1.4. blocks. Impressive numbers, considering he plays just 23 minutes a game. Holman only had five points Tuesday.
"Still," McCallum said, "with that size ... he's just a presence."
Forward
LaMarcus Lowe
, who is also 6-10, had 14 points and 10 rebounds against Valparaiso, but it's no secret that the biggest strength of this team is its guards.
Chase Simon
, a 6-7 senior, struggled Tuesday but is averaging 13.7 points on the season. Calliste is the Titans' top threat from 3-point range.
Neither player, however, is as highly-medaled as McCallum Jr., who spurned offers from schools such as Kansas and UCLA to play for his father at Detroit.
"It was a big decision for him," the elder McCallum said. "A lot of people said, 'Why do you want to go to Detroit? They're not going to go to the tournament. At our school you'll go every year.'
"I said, 'If you come here, you'll have to do more.' He embraced that."
McCallum Jr.'s 21-point performance against Valpairso -- which came on 10-of-16 shooting -- was the perfect birthday present for his father, who turned 51 on Tuesday.
McCallum deserves just as much credit as his son for Detroit's turnaround. The Titans went just 7-23 in McCallum's first season in 2008-09, but they haven't had a losing season since. The current team is 22-13.
Detroit has just four NCAA tournament appearances in school history.
"In our meeting last night, all we talked about was winning a league [tournament] championship," McCallum said. "We've got guys on this team that have been around for four years, guys that can appreciate how far we've come.
"This is what it's all about. Hopefully there are even better things to come."
Butler advanced to the NCAA title game as the Horizon League's representative the last two seasons. The Bulldogs lost to Duke in 2010 and Connecticut in 2011.
October, 19, 2011
10/19/11
5:00
AM ET
1. Drexel was picked to win the Colonial Athletic Association, a surprise to head coach Bruiser Flint and probably most everyone who follows the league. George Mason, even with a coaching change, was a fringe Top 25 team and yet the Patriots were selected second. Could Drexel come from America East and become the first team not from the state of Virginia or UNC Wilmington to win the CAA? Yes. Flint said the Dragons are more competitive in practice then he's seen recently. But the Dragons will start the season without leading scorer, guard
Chris Fouch
, recovering from offseason knee surgery. Flint said he's hopeful Fouch will be back by December. That puts pressure on the Dragons to avoid stumbling in the Paradise Jam in St. Thomas so as not to hurt a possible at-large berth.
2. Butler was the pick to win the Horizon League again, barely over Detroit. But the telling info from the Horizon Leauge poll was that the Bulldogs had no one on the preseason all-league first team and only one (
Andrew Smith
) on the second. Meanwhile, Detroit had the player of the year (
Ray McCallum
Jr.) and two others on the first team (
Eli Holman
and
Chase Simon
). One problem for the Titans is Holman started the fall by taking a leave of absence due to personal issues. Still, if there was ever a year for Detroit to unseat Butler this is the season. Failing this season could be a significant psychological blow.
3. Nevada was picked by the WAC coaches to win the league, edging out New Mexico State. Utah State was third. Utah State has been the dominant team in the WAC, and it is finally going through a rebuilding phase. Utah State has been in the mix an at-large berth for years and fellow bubble teams have sweated out the WAC final. No need to worry this season. Nevada probably won't have the résumé to warrant an at-large berth in its final season in the WAC before going to the MWC. This is a one-bid league.
October, 4, 2011
10/04/11
6:15
PM ET
By
Diamond Leung
| ESPN.com
Detroit could be one of the nation's best mid-major teams and a big threat to overtake Butler in the Horizon League. The Titans are doing it with sophomore guard and son of the coach Ray McCallum along with a mix of impact transfers in guard
Chase Simon
from Central Michigan and forward
Eli Holman
from Indiana.
But not everyone was happy when news emerged that
Detroit managed to land Western Michigan transfer
forward
Juwan Howard Jr.
, who will have to redshirt the season before becoming eligible. According to the
Kalamazoo Gazette
, WMU coach Steve Hawkins stood behind Howard for deciding not to return due to personal reasons, but wasn't exactly thrilled to lose a second talented player to the Titans.
That's the same Detroit which also wound up with another prized WMU freshman, center LaMarcus Lowe, following the 2008-09 season.

WMU coach Steve Hawkins wasn't thrilled then and his "No comment" on his feelings about Howard's trek to Detroit said plenty this time, too.

...

After Lowe's transfer to Detroit, Hawkins decided not to renew the Broncos' long-running series with the Titans after the current contract expires following this season's game at Calihan Hall.
Howard ending up at Detroit isn't the first time McCallum's addition of a transfer left another program unhappy. When Holman left Indiana, coach
Tom Crean found the circumstances of that departure to Detroit troubling
.
Crean on Thursday characterized Holman hooking up with Detroit as "an orchestration," according to The Indianapolis Star.

"We were led to believe that this was a family decision and that he wanted to get closer to home," Crean said, according to The Star, "but now it doesn't look like that's the way it's going to turn out.

"I don't think there's any doubt that there was a certain amount of orchestrating going on. It's disappointing -- very disappointing -- on a lot of fronts."
The Kalamazoo Gazette reported Hawkins declined comment when asked if he felt Detroit coaches had tampered with Howard, and McCallum did not return a phone call from the paper. Either way, Detroit adds Howard, the son of an NBA player and former Fab Five member. And once again, the transfer issue has rubbed someone the wrong way.
September, 30, 2011
9/30/11
3:02
PM ET
By
Diamond Leung
| ESPN.com
Detroit big man
Eli Holman
was
placed on an indefinite leave of absence
due to unspecified "personal matters," but the student newspaper has since reported the school's announcement Tuesday came after the paper had inquired about a police report containing an allegation that the the 6-foot-10 senior had assaulted a fellow student at a fraternity party.
From
The Varsity News
:
UDM senior Brad Harbison told Detroit Police that Holman assaulted him in the early-morning hours Saturday, Sept. 17, at a party at the Phi Kappa Theta fraternity house at 16800 Fairfield.

In a Detroit Police report, officer Kenneth Cawley noted that Harbison said Holman struck him "in the nose and mouth with a closed fist two times then left. Mr. Harbison was conveyed to Beaumont Hospital by a friend at 2 a.m."

Harbison told The Varsity News that Holman broke his nose in two places and chipped two of his teeth.
Athletic director Keri Gaither told the paper the removal of the Horizon League's top rebounder from team activities wasn't directly related to the alleged assault, but rather, "It's in conjunction with a series of personal issues." Detroit coach
Ray McCallum
would not confirm the incident caused the leave of absence in an interview with the
Detroit Free Press
, adding, "I don't know when he will rejoin the team."
Holman was involved in a
previous incident that involved campus police
at Indiana while informing the Hoosiers coach Tom Crean he was transferring.
At some point, Holman became agitated and ended up knocking over a potted plant.

Crean told The [Indianapolis] Star he believed Holman had been "coached up" on what to say before meeting with him. Holman publicly apologized to Crean a day later, the same day the player's release was granted.
Since then, he has led the Horizon League in rebounding for the past two seasons. As a junior, he averaged 11.8 points and 9.6 rebounds, establishing himself as a big reason why Detroit could have a breakout season.
But now the Titans will have to wait to see what legal ramifications Holman might face from the fraternity house incident.
September, 28, 2011
9/28/11
9:55
AM ET
This was going to be the
Detroit Titans
' year. With
Matt Howard
and
Shelvin Mack
no longer at Butler,
Ray McCallum
's team is arguably the most talented in the Horizon League. It features McCallum's son, Ray McCallum Jr., a highly touted 2011 recruit who spurned more high-profile offers to play for his dad.
It was also meant to feature
Eli Holman
, a former Indiana recruit who left the school after Tom Crean replaced an NCAA-show-cause'd (new word!) Kelvin Sampson in 2008. This team may still feature Holman, but as of Tuesday night, it also may not:
According to a statement from Detroit athletics director Keri Gaither
, Holman has been placed on indefinite leave while he handles "personal matters."
"We have been working with Eli Holman for some time to assist him in addressing his personal matters.

At this time, we feel it is in Eli's best interest to step away from basketball to allow him to concentrate on these matters. He has been excused from all team-related activity for an indefinite period while actively addressing these issues.

We continue to support Eli during this time and we are asking everyone's cooperation in respecting his privacy."
There's no telling what, exactly, Holman is going through, or whether he's "going through" anything in the first place. Often, in the vague language that infests college hoops news releases, "personal matters" is a polite way of saying that a player got in some kind of trouble. That may or may not be the case with Holman; we don't know, and as Gaither says, he deserves his privacy whatever the issue.
This isn't the first time Holman has had a notable personal issue affect his career: In 2008, as Crean tried desperately to keep some of Sampson's former players around in the wake of the former coach's departure, Indiana campus police were dispatched to Assembly Hall to attempt to "calm" Holman after he "threw a potted plant and created a disturbance in the men's basketball office,"
the Indiana Daily Student reported
. The IU basketball staff called the police because they "saw Holman as a danger to himself," Crean said at the time.
Whether this new issue is of the same phylum is unknown. Nor do we know how long it will keep Holman away from the Titans. But we do know this: In 2011-12, Holman was clearly Detroit's best big man, an athletic 6-foot-10 post presence
who ranked in the top 50 nationally
in effective field goal percentage, true shooting, and offensive and defensive rebounding rate. (Holman was especially good on the offensive glass, where he grabbed 14.7 percent of his team's available misses. He ranked No. 24 among all Division I players in the statistic.) With Holman, Detroit is much bigger, athletic and more talented than most mid-major teams in the country. Without him? McCallum Jr. is still a breakout candidate, but Detroit as a whole will find it difficult to overcome, say, Butler forwards
Andrew Smith
and
Khyle Marshall
.
We'll see how long "indefinite" is. Until Holman returns, Detroit's chances of breaking the Butler monopoly -- and earning a rare and much-anticipated trip to the NCAA tournament -- will take a major hit.
September, 14, 2010
9/14/10
1:49
PM ET
By
Diamond Leung
| ESPN.com
In a
YouTube video interview
discussing Detroit's schedule this season, coach Ray McCallum appears to misspeak, calling his season-opening opponent the "University of Mexico."
But there was no flubbing the actual schedule, with the Titans playing three teams coming off 30-win seasons, including the University of New Mexico to open the season.
Really, McCallum is well aware of the challenge and opportunity of playing the Lobos on the debut of the renovated Pit, with his son and top recruit, Ray McCallum, Jr., set to make his debut in a hostile environment.
"They were a No. 3 seed and a top-10 team in the country last year and will be back in the NCAA tournament," the elder McCallum said. "I think that's how your team can grow and learn a lot about themselves."
Three days later, the Titans will play at Syracuse as part of the Legends Classic and then treat their fans by hosting a subregional of the event, facing Albany, Bowling Green and Niagara on consecutive nights.
On Dec. 18, Detroit will get time on national television playing at Central Michigan in a game that had its tipoff time changed in order to accommodate ESPNU and is sure to attract attention.
It'll be a battle between two teams featuring fathers as coaches and freshman sons who were highly recruited but chose to play for mid-major programs. Central Michigan coach Ernie Zeigler and his son, Trey, will look forward to matching up against Detroit's duo.
Only after that does the Horizon League schedule begin, with games against Butler on ESPN as well.
July, 8, 2010
7/08/10
7:31
PM ET
By
Diamond Leung
| ESPN.com
Detroit out of the Horizon League was portrayed in a
Washington Post article
last month as a big, bad program that wouldn't schedule a game against nearby Oakland, which recently won the Summit League and went to the NCAA tournament.
(Oakland coach Greg) Kampe has had trouble scheduling Detroit. Finally, after Oakland center Keith Benson declared for the NBA draft, Detroit called and asked to start a series; Kampe agreed. The next week, Benson withdrew and the phone rang. It was Detroit, saying they have a scheduling conflict.

"That's the crap that happens," Kampe said.
But
scheduling isn't easy
for the so-called mid-majors no matter where on the food chain they stand. This week, it was the
Detroit News
reporting that no one wants to play Detroit and their top recruit
Ray McCallum, Jr.
, especially at home.
"When we got Ray it really got challenging," Titans coach Ray McCallum Sr. said of his son.

McCallum works the phones but is used to coaches saying "Thanks but no thanks," when he asks them to play at Calihan Hall.

...

"I am trying to get more home games to get our (the team's) spirits up," McCallum said. "When you don't have a lot of home games, you get beat up and you're limping into the conference and your fans don't get to see you play and identify with your team. You don't get into a good routine heading into the season."
For now, Detroit has reportedly scheduled home games against Albany, Bowling Green and Niagara while also trying to convince USC to play at The Palace of Auburn Hills.
Might the Titans have to revisit a game with Oakland?
April, 15, 2010
4/15/10
12:21
PM ET
If I told you that the No. 17-ranked player on the ESPNU 100 list committed to play his college basketball at a Horizon League school, and that school wasn't Butler, what would you say? What about if I said the No. 33-ranked player just told the world he was going to spend his college career at Central Michigan? You'd be more than a little confused, right?
Then, being the smart person that you are, you'd investigate further, only to find that both of these players -- Detroit's Ray McCallum, Jr. and CMU's Trey Zeigler --
committed to those schools because their respective fathers are the respective coaches
. Hey, this is easy! Recruiting has never been so simple.
Yes, McCallum and Ziegler both officially announced their decisions to go play for their dads on Wednesday. Amid jokes of less yard work (funny) and increased allowance (a little too close to the improper benefits bone to be really tasty, but oh well), both players said they'd relish the opportunity to help their fathers build programs at places that are known less for their NBA players and more for their, well, um ... hmm. Exactly what are Detroit and Central Michigan known for?
That's the point, actually. McCallum and Ziegler made very clear choices on behalf of their families. Instead of going to any number of elite programs with gigantic budgets and a history of developing NBA talent -- when you're No. 17 or No. 33 in the country, you pretty much have your pick of the litter -- they chose to help their fathers attempt to build something Butler-esque at otherwise low-profile places. (Or, at the very least, put a few good years together in time to take a power conference job. Ahem.)
The question is whether that's the right strategy for the players. Sure, it's selfless. Some selflessness is great. But since when should college basketball players with potential NBA futures be
entirely
selfless? There's an NBA out there, and it would stand to reason that playing somewhere high-profile like Kansas or Kentucky would increase your odds of getting drafted at a exponential rate compared to, say, Mt. Pleasant, Mich.
This isn't an unheard-of view, either. The
Sporting Blog's always-excellent Chris Littman almost made this argument yesterday
. To wit:
While I can't really argue with that point, isn't there something to be said for going to a program that has a rep of producing NBA players? [...] And really, my point was more playing Devil's Advocate anyway, but there is something to be said for the high-major route to the NBA. Sure, you could star at a school like Davidson, but big numbers are always viewed with great skepticism at low and mid-major institutions. Look at some of the guys declaring early from high-major programs and think about the numbers they would've had to put up at a smaller school to even think about declaring.
There's no question there's a tradeoff there -- playing and succeeding at a big school simply confers more legitimacy in the scouts' eyes in regards to a potential NBA player's chances of succeeding in the pros. No question. At the same time, though, it's 2010, and in 2010 we have satellite TV and the Internet and all sorts of really awesome telecommunications things -- to say nothing of the legion of scouts each NBA team employs -- which ensure that a really good, NBA-worthy player at a small basketball school doesn't go unnoticed. Will Ray McCallum and Trey Zeigler get the same level of attention at Detroit and CMU that they would have gotten in the Big Ten? Probably not. But they can still get to the NBA. If that means helping Pops build his program in the meantime, well, that's just loyalty. And there's nothing wrong with that.
February, 4, 2010
2/04/10
3:59
PM ET
Saddle Up is our nightly preview of the hoops your TV wants you to watch. Oh, come on. You can always record the new "Parks and Recreation." Catch it after the games! Anyway, here's Thursday night's rundown.
No. 19 Georgia Tech at No. 9 Duke, 7 p.m. ET, ESPN2
: Purdue's rivalry showdown with Indiana will be on the main network tonight, but those of you unconcerned with Midwestern hoops provincialism will probably be more interested in this. It's a good one: Georgia Tech toppled Duke back before Duke's road woes were an apparent problem, back when Duke's record matched its gaudy efficiency numbers. Since then, Georgia Tech has become even more confusing: Is this the team that
loses at Virginia
? Or the team that wins
at UNC
? And what does a
tight road loss at Florida State
, followed by an
all-cylinders-pumping home blowout of Wake Forest
really mean? I have no idea. Georgia Tech is an enigma -- a dynamic squad with enough young talent (look no further than freshman
Derrick Favors
here) to compete for the ACC title, but who has put it all together once or twice thus far. Tonight's a legitimate chance for the Jackets to show us who they really are. Win at Duke, and the rest is gravy.
No. 7 Purdue at Indiana, 7 p.m. ET, ESPN
: You've already heard plenty about What It All Means, what the rivalry says about the state of Indiana, and why, despite the Hoosiers' post-Kelvin Sampson morass, this is still a hot ticket in the Midwest. You'll no doubt hear plenty more of it tonight. For now, let's focus on the hoops. Since dropping three in a row to start the Big Ten season, Purdue has rattled off four straight wins. Much has been made of Purdue's lack of a "true" point guard, but the Boilermakers' best quality is that they never turn the ball over;
they're the No. 7 team in the country in that all-important tally
.
Purdue is also more than capable at turning other teams over, and that just so happens to be Indiana's worst quality --
the Hoosiers give the ball away on 22.3 percent of their possessions
. Indiana is not as incapable of upset wins as last year. If the Hoosiers keep turnovers low and make enough shots to keep Purdue within striking distance, they have a chance. And hey, the home crowd never hurts; Indiana is much better in Assembly Hall than it is away from it. Still no one would expect Indiana to win this game, and the numbers back that up. The Boilermakers are tough, physical, and experienced, all qualities IU is still figuring out. This is a great rivalry, to be sure. Whether this year's version will live up to that history is less certain.
Everywhere else
: You would have been forgiven for thinking Tennessee's season was effectively over after the Tyler Smith fiasco; you, me, and everyone else would have been wrong. The Vols are still in the Top 25, still fighting for the SEC title and still a viable NCAA tourney team.
They'll try to keep their surprising run going with a visit to LSU
, which has a chance to prove its not actually the worst major conference team in the country. ... Portland is one of Gonzaga's few fellow contenders in the WCC; pity for the Pilots
they're stuck playing Gonzaga
just after
the Zags dropped their first conference game of the year
. ...
Butler welcomes a surprisingly tough Detroit team to Indianapolis
; the return of former Indiana characters
Eli Holman
(who famously threw a potted plant in Tom Crean's office) and coach Ray McCallum should be interesting. ... Maryland will try to get back to its early ACC form with
a tough road visit to Florida State
. ... How could it possibly get any worse for UNC?
Losing to Virginia Tech and going to 2-5 in the ACC would be a start
. ... Finally, in the Pac-10,
Cal will travel to USC
and attempt to get a game up on Arizona in the conference standings; meanwhile,
Arizona will have a daunting task at Washington
.