College Basketball Nation:

Reggie Moore
November, 30, 2012
11/30/12
10:30
AM ET
Ranking the Pac-12 is far from the unenviable task it was last season, when the league was filled with mediocre teams that drew minimal interest both locally and nationally. It might be too early to label the current Pac-12 as "strong," but almost every team has made marked improvements, which should make for an entertaining season -- and definitely one worth following. Here's how the conference looks after three weeks.

1. Arizona.
Even without an attention-grabbing victory, putting the Wildcats in the top slot was an easy decision -- mainly because UCLA is floundering.
Mark Lyons
and
Solomon Hill
each average 14 points, and freshmen forwards
Kaleb Tarczewski
and
Brandon Ashley
are grabbing a collective 13.8 rebounds.
2. Cal.
The Golden Bears are 6-0, but we'll find out a lot more about Mike Montgomery's squad in the coming weeks. Cal plays at Wisconsin on Sunday before hosting UNLV (Dec. 9) and Creighton (Dec. 15).
Allen Crabbe
(22 ppg) and
Justin Cobbs
(20) have been huge on the offensive end.
3. Colorado.
The undefeated Buffaloes may have been a notch higher if they didn't need double overtime to defeat Texas Southern on Tuesday. Forwards
Andre Roberson
and
Josh Scott
generate the most headlines, but guards
Askia Booker
(16.8 ppg) and
Spencer Dinwiddie
(14.8) lead the team in scoring.
4. Oregon.
The Ducks' win over then-No. 18 UNLV was one of the top two victories for the Pac-12 this season, with Colorado's upset of Baylor being the other. Rice transfer
Arsalan Kazemi
got on track in Thursday's win over Texas-San Antonio. His line: 20 points, 6 rebounds, 4 assists, 3 blocks, 5 steals.
5. Stanford.
Last season's NIT champion went 1-2 at the Battle 4 Atlantis, but there were still plenty of reasons to be encouraged. Setbacks against Missouri and Minnesota -- both of whom are ranked -- came by single digits. Guard
Chasson Randle
averages a team-high 15.4 points but shoots just 35.6 percent from the field.
6. UCLA.
Two Bruins players (Tyler Lamb and
Josh Smith
) left the team during the past week. The departures may actually help the chemistry on a squad that lost to Cal Poly on Sunday before bouncing back with a convincing win over Cal State Northridge on Wednesday. Freshmen
Shabazz Muhammad
and
Kyle Anderson
combined for 29 points.
7. Arizona State.
Sun Devils coach Herb Sendek is known for his slow-paced, low-scoring offenses. But this season Arizona State is pushing the ball thanks to the addition of freshman point guard
Jahii Carson
, who leads the team in scoring (19 ppg) and assists (5.5). As a team, the Sun Devils are averaging 77.2 points and own a nice win over Arkansas.
8. Oregon State.
Could this be the year the Beavers make the NCAA tournament? Craig Robinson's squad boasts quality wins over Purdue and New Mexico State, and it came within three points of Alabama.
Ahmad Starks
is averaging 14.6 points -- but only 7.3 in his past three games. Oregon State has a huge opportunity to prove itself Friday, when it plays Kansas in Kansas City.
9. USC.
The Trojans' roster is filled with transfers, so it's understandable that the cohesion just isn't there yet. Still, USC's two most recent losses (to Marquette and San Diego State) came by an average of seven points, so it's not as if Kevin O'Neill's squad isn't competitive. This could look like a completely different team in a month.
10. Washington.
Last season's regular-season champion was decimated when two players (Tony Wroten and Terrence Ross) left school early for the NBA draft and showed it in a home loss to Albany. Forward
Aziz N'Diaye
is averaging a double-double with 11.3 points and 10.5 rebounds. The fact Washington, coming off a quality win over Saint Louis, is No. 10 in these rankings speaks to the competitiveness of the Pac-12.
11. Washington State.
The Cougars' season was basically over the day Ken Bone kicked point guard Reggie Moore off the team. Washington State didn't have a replacement. Kansas transfer
Royce Woolridge
is trying his hardest, but he's averaging just 6.9 points while shooting 35 percent from the field. He should be a role player, not a starter. Bone, though, doesn't have any choice.
12. Utah.
The Utes are better than last season, but they're still considered the worst team in the league along with Washington State. Utah lost to Larry Brown's SMU squad 62-55 in Dallas on Wednesday.
Dallin Bachynski
, a 7-footer from Calgary, averages 11.5 points (second on the team) and 9.0 rebounds (first).
September, 25, 2012
9/25/12
9:30
AM ET
Reggie Moore
was not an efficient player. Let's get that out of the way right away. He shot 37.1 percent from inside the arc last season, and 33.3 percent from beyond it; he finished the year with an effective field goal percentage of 40.6 and an offensive rating of 97.8 percent. With the exception of the 32.8 percent assist rate Moore posted in 2012, there are few flattering statistics
in the junior guard's 2012 efficiency profile
.
Even so, Moore was a three-year starter at Washington State. He was the team's primary ballhandler and hands down its most experienced returner. Which is why Wazzu's
unceremonial two-sentence announcement late Tuesday night
-- that Moore had been dismissed from the team for a violation of team rules -- nonetheless counts as a blow.
No reason was given for Moore's departure;
as The Associated Press reported
, Cougars spokeswoman Jessica Schmick declined to provide any detail on why Moore had been removed from the team.
In any case, Washington State coach Ken Bone's decision comes at a particularly difficult time. Washington State finished 19-18 (and 7-11) in 2011-12's horrifically bad Pac-12, the lone bright spot being the emergence of criminally underrated forward
Brock Motum
. Motum
is in line for a big season
, but with the departure of a handful of seniors, and little in the way of high-profile talent arriving in the 2012 class, there's little evidence
Bone has anyone else
on the Wazzu offense to take pressure off the big man.
It would be a bit overblown to say Bone is on the (horrible phrase alert) hot seat. This will be just his fourth season at a program that doesn't exactly demand swift turnarounds and immediate success. Even so, the decision to get rid of a three-year starter at this juncture in Washington State's rebuilding project could prove costly. For all his statistical faults, Moore was a piece. And now that piece is gone.
September, 25, 2012
9/25/12
5:00
AM ET
1. Northwestern is fairly confident that it has the depth to absorb the loss of season-long suspended junior guard
JerShon Cobb
. NU coach Bill Carmody said he will lean on Louisville transfer
Jared Swopshire
,
Nikola Cerina
and freshmen
Sanjay Lumpkin
and
Kale Abrahamson
to fill the void left by Cobb. "All must guard and make shots,'' said Carmody. The Wildcats are still projected as a possible bubble team, even with the loss of Cobb.
2. Washington State's decision to dismiss
Reggie Moore
from the team Monday was yet another example of a player blowing an opportunity to finish up a career. Last spring, Maryland did the same to Terrell Stoglin. The Cougars, who played in the CBI final series against Pitt in the spring, couldn't afford to have any more distractions as they try to stay with the upper half of the Pac-12. Moore's dismissal for the season is on the heels of a number of notable players who won't be able to participate this season (Cobb, Harvard's
Brandyn Curry
and
Kyle Casey
, Xavier's Dez Wells before transferring to Maryland, likely indefinitely suspended
Bubu Palo
of Iowa State and possibly four players at LIU-Brooklyn).
3. The recruitment of the Harrison twins should be one of the more intriguing to watch in the coming weeks or months. Aaron and Andrew Harrison are down to Maryland, Kentucky and SMU. The likely choice would be for the Richmond, Texas, twins to decide between Maryland and Kentucky. The decision for the pair of perimeter players, though, would likely alter the fortunes of two programs -- Maryland and for sure SMU -- while simply enhancing a machine in Kentucky. The Harrison twins apparently aren't going to go to a Midnight Madness event after conflicting reports arose that they were going to Maryland at one point and then Kentucky. They don't have to show up at a show. They know they are the coveted pair in this class. Picking Kentucky means the Wildcats continue to stock pile. Choosing Maryland would be a way to elevate Mark Turgeon's program. Selecting SMU would be a program-changing moment.
July, 17, 2012
7/17/12
1:00
PM ET
Editor's note: ESPN.com's Summer Shootaround series catches up on the offseason storylines for each conference. For more on the Pac-12,
click here
.
Arizona: Nick Johnson
The shooting guard tapered off at the end of his freshman season, when he averaged just 6.1 points in his last seven games. It will be interesting to see if the presence of highly touted freshman Gabe York and Xavier transfer
Mark Lyons
will cause Johnson to step up his game.
[+] Enlarge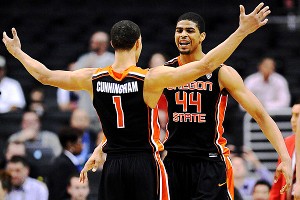 Jayne Kamin-Oncea/US PresswireJunior forward Devon Collier, right, will be heavily leaned on by the Beavers this upcoming season.
Arizona State: Jordan Bachynski
The 7-foot-2 center was a bright spot for the Sun Devils during an otherwise frustrating season in 2011-12. Don't be fooled by his ho-hum statistics (6.0 points; 4.0 rebounds). In Arizona State's last 13 games, Bachynski averaged 10.1 points, 6 boards and 2 blocks. He'll be one of the top post players in the league this season.
California: Richard Solomon
The 6-foot-10, 220-pound forward was averaging 6.8 points and 6.2 rebounds when he was declared academically ineligible after 13 games last season. It was a huge loss for the Golden Bears, who are a much better team when Solomon is anchoring the defense down low.
Colorado: Andre Roberson
The forward ranked third in the nation in rebounding last season with 11.1 boards per game. Most NBA mock drafts predict that Roberson will be a first-round pick next summer. For now, the biggest question is whether Roberson can lead the Buffaloes to the NCAA tournament for the second straight season.
Oregon: Tony Woods
The 6-foot-11, 250-pound Woods put up modest numbers (6.3 points, 3.7 rebounds) after transferring to Eugene last season. Still, the former Wake Forest post player has yet to live up to the lofty expectations that have hovered over him since high school. Oregon will be a different caliber team if Woods takes that "next step" in his final season.
Oregon State: Devon Collier
With
Jared Cunningham
now in the NBA, the spotlight will shine on Collier. The 6-foot-7 forward averaged 13.2 points and 5.3 rebounds as a sophomore last season, when he shot 61.5 percent from the field. He also blocked an average of 1.3 shots per contest.
Stanford: Aaron Bright
The point guard should be full of confidence after averaging 16.8 points and 4.2 assists during Stanford's march to the NIT title. Bright's performance earned him tournament MVP honors. If he plays that way in 2012-13, the Cardinal will be back in the NCAA tournament.
UCLA: Larry Drew
The Bruins' recruiting class has generated a ton of offseason buzz, and rightfully so. But a strong performance by Drew at point guard will be vital if the Bruins hope to be a mainstay in the top 10. Drew was North Carolina's starter before walking out on his team midway through the 2010-11 season.
USC: J.T. Terrell
The shooting guard averaged 11.1 points as a freshman at Wake Forest in 2009-10. He withdrew from school last fall after he was arrested for driving while impaired. Terrell played last season at Peninsula Junior College. Trojans coach Kevin O'Neill said Terrell is one of the most talented players he's ever signed.
Utah: David Foster
The 2009-10 Mountain West Defensive Player of the Year missed all of last season with a broken foot. Foster, a 7-foot-3, 243-pound center, will return this season and try to help the Utes bounce back from the worst season in school history. Foster holds Utah's all-time record for blocked shots with 219.
Washington: Scott Suggs
C.J. Wilcox
and
Abdul Gaddy
are the most recognizable names on the roster. But don't forget about Suggs, a sharpshooter who averaged 7.4 points and shot 45 percent from 3-point range as a junior two years ago. The 6-foot-6 Suggs, who redshirted last season because of a foot injury, could be one of the X factors for the Huskies.
Washington State: Reggie Moore
The Cougars might be decent if Moore can keep his head on straight. The point guard was suspended in January 2011 following his arrest on marijuana-related charges. Last season, he played in all 37 games and averaged 10.2 points and 5.2 assists. Moore is one of the most underrated players in the country at his position. His leadership this season will be key.
September, 27, 2011
9/27/11
4:41
PM ET
By
Diamond Leung
| ESPN.com
Washington State filled its news section this offseason with stories of community service. The Cougars helped one woman build a house with Habitat for Humanity, encouraged academics with kids at a basketball clinic, walked in the National Lentil Festival Parade in Pullman, and hung out with senior citizens at a community center.
The headlines came in stark contrast to the negative ones last season after three of the team's top four scorers last season were cited for separate marijuana infractions, with Klay Thompson and Reggie Moore serving suspensions.
According to
The Spokesman-Review
, coach Ken Bone made it an offseason priority to change the culture by dedicating them to work in the community.
The Cougars who spent the summer in Pullman not only did basketball workouts and weightlifting, they also volunteered for multiple community projects.

Though the coaching staff initiated the process, Bone said, the players ran with it.

"In probably any business you need good character to persevere," Bone said. "We had some issues last year that we think we've done a great job of cleaning up."
Issues needed to be addressed after athletic director Bill Moos in an interview with
The Spokesman-Review
was critical of the student-athlete culture on campus in wake of a third men's basketball marijuana incident involving DeAngelo Casto last March.
"I'm not sure we have a championship mentality here. We have to instill in our student-athletes a mentality that Saturday's game is more important than tonight's party. We're in a location that has a lot of positives, but Pullman is also extremely visible and our young people need to be aware of that."

...

"But we still need to address the drug issue in this department," Moos said. "In a perfect world, if the Pullman police or campus police wanted to target our athletes, there would be nothing to target."
Now that Pac-10 scoring champion Thompson and rugged big man Casto have turned pro following an unsatisfying 9-9 conference finish that resulted in a trip to the NIT, the rebuilding process begins.
At Washington State, the culture apparently needed to be rebuilt as well.
March, 10, 2011
3/10/11
6:04
PM ET
By
Diamond Leung
| ESPN.com
It's only been his second season, but Washington State coach Ken Bone has already experienced quite a ride since taking over the program. To briefly sum it up, the Cougars had promising 10-2 starts in non-conference play in both seasons, but then finished last in the Pac-10 a year ago and sixth this season by going .500.
There have been glimpses of potential, with the Cougars routing Gonzaga at home and having a nice showing at the Diamond Head Classic (to some extent a five-point loss at home to Kansas State counts). There have been some turns in fortunes, with nagging injuries hurting the team and
Klay Thompson
and
Reggie Moore
being busted for marijuana possession in separate incidents which resulted in each being suspended for a game.
Here's how guard
Marcus Capers
described this season to
The Spokesman-Review
:
"Ya, it's had its ups and downs," Capers said Wednesday after the Cougars' final pre-Pac-10 Conference tournament workout, a practice delayed because WSU was stuck in Pullman an extra day due to snow and a canceled Tuesday flight.

"I feel we could have done better, but one thing we were constantly struggling (with) was our consistency," said Capers, a junior whose role has been anything but consistent this year, swinging back-and-forth from wing to point depending on Reggie Moore's health. "When you don't have consistency, your team is going to be a roller coaster during the season."
That brings us to tonight, as Washington State hopes to make its way off the bubble starting with a win against rival Washington. The Cougars have already swept the regular-season series, and the Huskies will be down a man with reserve guard
Venoy Overton
getting suspended for the tournament. Bone, a former UW assistant under Lorenzo Romar, knows there are few secrets between these two teams.
The Cougars certainly have the personnel to not only beat the Huskies a third time, but also win the entire tournament. Thompson led the conference in scoring while Moore, who is having an injury-plagued season and is expected to return from an ankle injury, burst onto the scene last season.
DeAngelo Casto
is a load to handle inside, Capers is a reliable presence, and sixth man
Faisal Aden
has the ability to provide instant offense.
The issue -- as Capers said -- has been consistency for a program that isn't accustomed to sustaining success like some of the other Pac-10 powers. It has crept up on a day-to-day basis, as Moore and Aden have missed practices battling nagging injuries. There's been a leadership question as well, with Thompson putting himself in a poor position with the marijuana incident and also previously showing up late for the team bus. And as a team, the Cougars have struggled on the road, getting swept by the Los Angeles and Arizona schools.
When will it all come together for the Cougars? The long-term answer remains unclear (as does Thompson's NBA draft decision), but there's plenty of opportunity over the next three days to make a strong statement.
March, 7, 2011
3/07/11
3:19
PM ET
By
Diamond Leung
| ESPN.com
Washington State heads into its first-round Pac-10 tournament game against Washington as a No. 6 seed with uncertainty in its backcourt, but coach Ken Bone feels the Cougars might not need to win the tournament to make the NCAA tournament.
"Even though we lost the other day to UCLA, I still feel right now that if we were to get to the championship game, I feel we'd have a good chance of getting in," Bone said.
Washington State could very well have conference scoring leading
Klay Thompson
available in the tournament after he was suspended for the UCLA game after being cited for marijuana possession.
Bone said he would make the decision in the next 24 hours after Thompson practices, but seemed to indicate that
Thompson's public apology to fans
before the game and
Reggie Moore
's one-game suspension for a similar offense would be weighed heavily in the decision.
"It doesn't seal the deal, but it's a great step in the right direction," Bone said. "He was very sincere, and I think his apology came from the heart. That can't be a very easy thing to do for a young man. We as a staff appreciated what he had to say.
"We like to be consistent with our actions when it comes to disclipline."
The Cougars, if they reach the Pac-10 championship, would be 21-11 with three wins against Washington and non-conference wins against Gonzaga and then-ranked Baylor.
Washington State finished .500 in Pac-10 play, with the team's previous two losses coming with Thompson out of the lineup against Arizona State due to being late for the team bus, and against UCLA from the marijuana incident.
Moore's status is also unknown for Thursday's opening-round game after he missed the regular-season finale with a sprained right ankle.
March, 4, 2011
3/04/11
1:24
PM ET
By
Diamond Leung
| ESPN.com
Washington State is fighting to position itself for a chance to make the NCAA tournament, and then
this happens
.
Klay Thompson, the Pac-10's leading scorer and an NBA prospect, has been suspended for Saturday's regular-season finale against UCLA -- a crucial game that will determine conference tournament seeding and how much of a shot the Cougars have of going dancing.
Shortly after scoring 22 points against USC, Thompson was pulled over and cited for the 1.95 grams of marijuana found in his vehicle. It left coach Ken Bone no choice but to suspend the star guard after previously having benched point guard Reggie Moore for a
similar infraction
.
This was horrible timing for Thompson. Just two weeks ago, Bone kept him out of the starting lineup for being late for the team bus and the Cougars ended up losing to Arizona State. Only afterward did Bone find out that the tardiness was over a
misplaced iPod
. So it's been a bad stretch for the guy that should be looked upon as the team leader.
The other factor in this that hurts Washington State is that Moore is a question mark going into the UCLA game after he left Thursday's game in the first half with a sprained right ankle and spent the rest of the contest
on the sideline in a protective boot
. The Cougars are expected to turn to
Faisal Aden
, who has shown tremendous scoring ability, but has also battled knee issues throughout the season.
The Cougars' season began with much promise as they went through nonconference play with a 10-2 record and Thompson regained his shooting form after struggling a year ago. They have beaten Gonzaga, Baylor and swept rival Washington.
But because of uneven play in the conference season, a loss on Saturday could drop the Cougars as far down as the sixth seed in the Pac-10 tournament.
And Thompson won't be able to help.
Mychal Thompson, his father who works for ESPN 710 in Los Angeles, said he received a 7 a.m. phone call from Klay and thought, "uh, oh."
"He put himself and the team in this situation knowing the consequences," said Mychal, a former No. 1 overall NBA draft pick. "It's disappointing to me.
"He seemed to realize he messed up. If this isn't a wake-up call, I don't know what is."
January, 15, 2011
1/15/11
7:05
PM ET
By
Diamond Leung
| ESPN.com
STANFORD, Calif. -- Washington State point guard
Reggie Moore
has been suspended indefinitely after being
arrested on marijuana-related charges
last week, a team spokesperson said Saturday before the Cougars play Stanford.
Moore has played in three games since his arrest, and Washington State coach Ken Bone is making his decision now after gathering information and confirming details of the incident, according to the spokesperson. The situation will be reevaluated again next week.
Bone said in a statement earlier this month that he learned of the incident Dec. 12 and would take further action if necessary.
Moore has averaged 8.8 points and 4.1 assists since returning from an early-season wrist injury.
January, 6, 2011
1/06/11
12:16
AM ET
By
Diamond Leung
| ESPN.com
Washington State sophomore guard
Reggie Moore
will play in Thursday's game against Oregon State after being arrested this week on marijuana-related charges, coach Ken Bone wrote in a text message Wednesday.
Moore was reportedly cited for marijuana possession and use of drug paraphernalia in an on-campus dormitory on Dec. 11, and faces a minimum sentence of one day in jail after being arrested Tuesday.
"This is a team matter that we take very seriously," Bone said in a statement. "We initially learned about this incident Dec. 12, and at this time we have dealt with, and are still dealing with the issue. We will take further appropriate action if necessary."
Moore has averaged 7.7 points and 3.6 assists in nine games this season after missing the first five games with a wrist injury. He was a member of the Pac-10 all-freshman team last season.
December, 22, 2010
12/22/10
11:45
AM ET
By
Diamond Leung
| ESPN.com
Washington State begins play in the Diamond Head Classic today knowing that things are going swimmingly.
The one-loss Cougars are looking like contenders in the Pac-10 again and receiving votes in the polls.
Klay Thompson
is back to his old sharpshooting self, and there's plenty of talent surrounding him. The team even catches a break in the opening game of the tournament with Mississippi State big man
Renardo Sidney
out due to a suspension.
The Cougars could end up playing in some big showcase games this week against Baylor and perhaps Butler, but really, it's merely an opportunity to get good exposure, according to coach Ken Bone.
The Hawaiian business trip is nice to be sure. What the Cougars are looking forward to more, perhaps, are the Pac-10 battles that lie ahead. After all, they remember what happened last season when a 10-2 nonconference start went for naught following a subsequent last-place Pac-10 finish.
"We haven't forgotten last year, put it that way," said Bone, the team's second-year coach.
Bone feels it's clear that rival Washington is the favorite in the Pac-10 this season, with Arizona right behind the Huskies.
"After that, I feel like it's pretty much up for grabs," he said. "The team that can stay together and stay healthy has a chance to be in that top tier."
Is Washington State a top-tier team? The Cougars will soon have a chance to prove it when they finish their two-week road trip by opening Pac-10 play against the Los Angeles schools, starting with UCLA a week from today.
Thompson is one of the conference's top players and a guard who in the past two months has turned himself back into a scoring machine, averaging 21 points per game. He's able to score in a variety of ways after adding muscle and is playing better defense as well, getting away from some of the bad body language that defined his sophomore struggles.
While backcourt mate
Reggie Moore
recovered from a wrist injury that cost him the first five games of the season, another scoring option emerged.
Faisal Aden
is averaging 16.9 points per game and can be relied upon to start as he did Sunday in place of Moore or come off the bench to provide instant offense.
Aden has been a pleasant surprise for Bone, who was at first unsure how to handle the junior college transfer's aggressiveness.
"We were on him about his shots even though they would go in, but they kept going in," Bone said. "We're living with some of his shot selection because the ball goes in the basket."
With Moore back in the flow scoring a season-high 15 points in Sunday's overtime win against Santa Clara,
DeAngelo Casto
providing his usual physical presence and
Marcus Capers
a starting-lineup mainstay with 29 assists against only five turnovers, the Cougars have meshed well.
The Diamond Head Classic should give them some good competition to measure themselves against, and continued improvement would be the biggest takeaway from a solid showing. Soon enough, Pac-10 play will offer the opportunity to completely wash away last season's last-place memories.
"We reflect on it sometimes," Thompson said, "but it's a new year."
December, 7, 2010
12/07/10
2:10
PM ET
By
Diamond Leung
| ESPN.com
Washington State guard
Reggie Moore
is expected to make his first start of the season on Wednesday against Gonzaga, according to Cougars coach Ken Bone.
Moore missed five games with a wrist injury and had 10 points and three assists coming off the bench in Friday's loss to Kansas State.
Moore's return to the lineup means that
Faisal Aden
is expected to come off the bench against Gonzaga after averaging 18.7 points per game while filling in for Moore.
Aden has earned more playing time, as Bone indicated that the junior college transfer who is third in the Pac-10 in scoring, could get starts alongside conference scoring leader
Klay Thompson
(21.2 ppg).
"There's times it's nice to have Klay and Faisal on the floor together," Bone said. "With another weapon out there, it provides balance to what we're trying to accomplish on the offensive end."
June, 15, 2010
6/15/10
5:17
PM ET
By
Diamond Leung
| ESPN.com
Former Fresno State guard
Mychal Ladd
has decided to walk on at Washington State, according to
The Spokesman-Review
, and it's a move that allows coach Ken Bone to add an impact transfer while preserving an open scholarship that could eventually be filled.
Ladd, who averaged 10.3 points and was Fresno State's leading 3-point shooter this season, could be a key piece of the puzzle for the Cougars once he becomes eligible, but he does come with some question marks.
The 6-foot-5 sophomore had his season prematurely cut short when he was suspended for the WAC conference tournament and then decided to transfer, saying he needed "to take a new direction in my life off the court."
It might help that Ladd is set to reunite with
Reggie Moore
, his teammate at Rainier Beach High in Seattle who is now the Cougars' second-leading scorer.
Moore was slated to attend Fresno State with Ladd, but backed out on his national letter of intent and went to prep school for a year when he couldn't immediately get his release.