College Basketball Nation:

Reggie Theus
September, 4, 2013
9/04/13
10:30
AM ET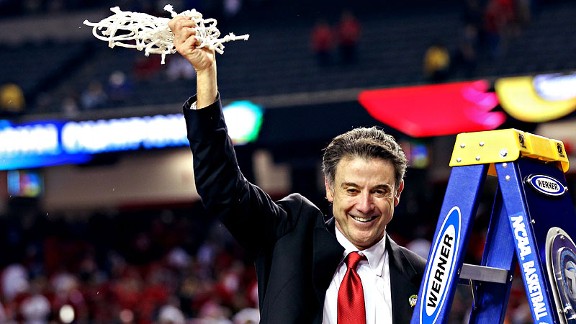 Streeter Lecka/Getty ImagesRick Pitino hasn't just won two national titles and taken three separate schools to a Final Four -- he also has provided a strong group of assistants who have had success of their own.
Editor's Note: Three legendary college basketball coaches -- Jerry Tarkanian, Rick Pitino and Guy Lewis -- take center stage this weekend as the trio is inducted into the Basketball Hall of Fame in Springfield, Mass. We'll be devoting a day to each as we examine what made them HOF-worthy. Here is Tuesday's tribute to Tarkanian.
There are coaching trees and then there is the
forest birthed by Rick Pitino
. Imagine crossing a redwood with a sequoia. And then adding the Rockefeller Christmas tree on top for good measure.
That gets you maybe a quarter of the way up the branches of Pitino's tree. No fewer than 13 of his ex-assistants and/or players currently serve as college head coaches (Mick Cronin, Scott Davenport, Billy Donovan, Travis Ford, Marvin Menzies, Richard Pitino, Kareem Richardson, Steve Masiello, Herb Sendek, Tubby Smith, Reggie Theus, Kevin Willard, Sean Woods). And if you stretch the list to include former head coaches or current assistants, it goes on for miles.
Between them, Pitino's disciples have four national championships of their own (two for Donovan, one each for Smith and Davenport). So trying to pick the best of this family tree is like trying to pick your favorite uncle. Highly subjective.
Consider this attempt just that, then -- an attempt to amass a list of the most successful ... with an out clause list of others who were left off.
1. Billy Donovan:
Before he won two national titles at the University of Florida, Donovan was Billy the Kid, the feisty point guard who led Providence and Pitino to the Final Four in 1987. Two years later, Donovan and his mentor reconnected at the University of Kentucky, where Donovan cut his coaching teeth as an assistant until 1994. Embarking on his own as a head coach, first at Marshall and now at Florida, Donovan has rolled up 13 NCAA tournament bids and has been to at least the Elite Eight in five of the past six appearances.
2. Tubby Smith:
Smith had the unenviable job of following in Pitino's well-heeled footsteps at Kentucky, when Pitino's one-time assistant returned to Lexington as head coach in 1997. Smith picked up right where his old boss left off, leading the Wildcats to their seventh national championship in his first season. Smith would go on to reach the 100-win mark faster than any other UK coach not named Adolph Rupp and collect five SEC titles. The former head coach at Tulsa and Georgia went on to Minnesota and is now at Texas Tech.
[+] Enlarge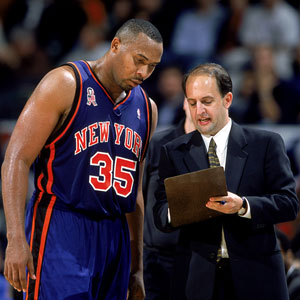 Garrett W. Ellwood/NBAE/Getty ImagesJeff Van Gundy went from being an assistant under Rick Pitino at Providence to leading the New York Knicks to the 1999 NBA Finals.
3. Jeff Van Gundy:
The popular NBA analyst and former NBA head coach was part of a pretty impressive bench lineup at Providence. Van Gundy was the graduate assistant, alongside assistants Herb Sendek and Stu Jackson, when the Friars went to the Final Four in 1987. Van Gundy, who was working as a high school head coach before Pitino hired him, used that coaching gig to launch his own career. He'd eventually serve as head coach for both the New York Knicks and Houston Rockets.
4. Jim O'Brien:
The son-in-law of one Hall of Famer (Jack Ramsay), O'Brien would begin working alongside a future Hall of Famer in 1994, when he joined Pitino at Kentucky. Long a college coach in his own right, O'Brien helped Pitino usher the glory years back to Lexington and when Pitino jumped to the Boston Celtics, O'Brien went with him. Little did he know it was the beginning of his own career. It was O'Brien who would take over in Boston after Pitino epically flamed out, twice leading the Celtics to the playoffs. He'd then go on to two more NBA head-coaching jobs, with Philadelphia and Indiana, before retiring at the end of last season.
5. Herb Sendek:
The master of his own pretty heavily limbed coaching tree, Sendek got his start under Pitino. The western Pennsylvania native joined the Providence staff as a graduate assistant before moving up to assistant coach. When Pitino left PC for Kentucky, Sendek went with him, spending four seasons with the Wildcats before launching his own head-coaching career. Sendek has gone from Miami (Ohio) to NC State to Arizona State and now has 20 years of head-coaching experience. He has made seven NCAA tournaments and has three conference coach of the year awards.
6. Frank Vogel:
No one can trace their roots directly to Pitino quite as thoroughly as the Indiana Pacers head coach. After meeting Pitino at Five-Star camp in Pittsburgh, Vogel, then a student at Juniata College, decided he was transferring on the spot to Kentucky. He had no promise of anything from Pitino but after loitering around the gym for weeks, he got a two-week trial period helping out assistant Jim O'Brien. A year later he was a student manager, and after graduation served as a video coordinator. The coach was so impressed with Vogel's abilities that when Pitino went on to the Boston Celtics, he brought Vogel with him, hiring him as the team's video coordinator. Vogel would outlast Pitino in Boston, staying on as an assistant coach under O'Brien. Six years later, when O'Brien was fired at Indiana, Vogel was named the Pacers' interim coach. This past season under Vogel, the Pacers made their first Eastern Conference finals appearance since 2004.
7. Mick Cronin:
The son of a head coach counts his father and Pitino as his two biggest mentors. He joined Pitino at Louisville in 2001 after five seasons at the University of Cincinnati under Bob Huggins. Eventually becoming Pitino's right-hand man and associate coach, Cronin was lauded for his recruiting savvy and eventually parlayed that into a head-coaching job at Murray State. He led the Racers to two Ohio Valley titles and NCAA tourney appearances before leaving to lead his alma mater, Cincinnati. Cronin has been credited with reviving the Bearcats, who had just one returning player when he arrived on campus.
8. Ralph Willard:
One of Pitino's closest friends and confidants, Willard worked alongside the Hall of Famer in three different stretches -- first as an assistant with the Knicks (1987-1989), then later at Kentucky (1989-90) and finally, at Louisville (2009-2012). In between, Willard forged his own impressive career, serving as head coach at Holy Cross, Pittsburgh and Western Kentucky. He had his best success at his alma mater, Holy Cross, leading the program to four NCAA tournament berths and amassing a 192-117 record at the Patriot League school.
9. Travis Ford:
The beloved Kentucky point guard started his career at Missouri but transferred to his home state school because he liked the style of its head coach. That would be Rick Pitino. Ford, fashioned in the same spitfire image of Billy Donovan, would take the Wildcats to three NCAA tournaments. With all that UK love and his coach's endorsement, Ford landed his first head-coaching gig at the tender age of 26, taking over at NAIA Campbellsville. That led to a job at Eastern Kentucky -- and EKU's first NCAA berth in 25 years -- which led to a job at Pitino's alma mater, UMass (and an Atlantic 10 title) and now to Oklahoma State.
10. Scott Davenport:
Maybe not as well known as others on this list, Davenport is every bit as successful. In his eighth season at Division II Bellarmine, Davenport has taken a program that was sub-.500 before he arrived all the way to a national championship in 2011. The former high school coach made the jump to the college game in 1996, joining Denny Crum's staff at Louisville. When Pitino came aboard in 2001, Davenport stayed on staff, working with Pitino until 2005, when he moved on to Bellarmine.
11. Marvin Menzies:
As a longtime assistant coach, Menzies' resume went on for pages before he joined Pitino at Louisville in 2005. Menzies' career had hopscotched from the high school ranks to junior college to San Diego State to USC to UNLV. After just two seasons alongside Pitino, Menzies was a head coach, taking over at New Mexico State. He has since led the Aggies to three WAC titles and three NCAA tournament berths.
Others to be considered:
Cal State Northridge head coach Reggie Theus (Louisville assistant, 2003-05); Seton Hall head coach Kevin Willard (Louisville assistant, 2001-07); Florida assistant coach John Pelphrey (played at Kentucky); former NBA executive vice president Stu Jackson (Providence and New York Knicks assistant).
September, 3, 2013
9/03/13
11:45
AM ET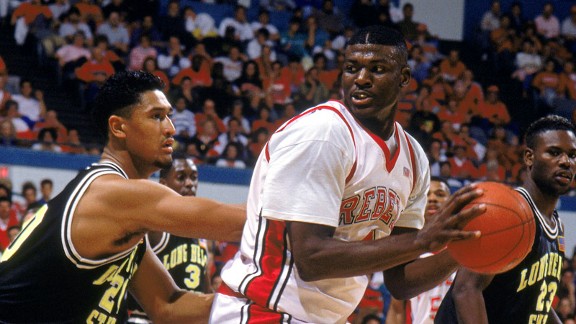 Ken Levine/Getty ImagesLarry Johnson rose from the juco ranks to carry UNLV to a national title.
Editor's Note: Three legendary college basketball coaches -- Jerry Tarkanian, Rick Pitino and Guy Lewis -- take center stage this weekend as the trio is inducted into the Basketball Hall of Fame in Springfield, Mass. We'll be devoting a day to each as we examine what made them HOF-worthy.
As part of our Hall of Fame week celebrations, I'm ranking the 10 best players of Jerry Tarkanian's coaching career. (Check back during the week for other similar lists.) As you might expect, most of them played for Tark at UNLV. But one did not.
Oh, and in case you thought the process of ranking these players was painstaking, well, it was, sort of, but not nearly as much as it could have been, were it not for the help of the Las Vegas Review-Journal and, yes, Tarkanian himself. That's right: In 2010, the Review-Journal published the results of a 25-person panel charged with
ranking the top 100 players in UNLV history
. That was a handy reference, to say the absolute least. Even better? The newspaper also
solicited the views of Tarkanian himself
, who refused to mince words -- both positive and negative -- about his former players. My favorite: "Lewis Brown is [ranked] too high. He was a pain in the [bleep] in a lot of ways." My second favorite: "Jackie Robinson is too high. Jackie couldn't shoot. He could jump to the moon, but he couldn't shoot." Pretty great, right?
Anyway, with some thanks to the paper and the Shark himself, here's a quick rundown of the 10 best players of Tarkanian's tremendous coaching career.
1. Larry Johnson, UNLV:
Sitting on the beach this weekend, before I had even opened my laptop to begin trying to pretend to think about this list, Larry Johnson was locked in at No. 1. You probably don't need me to run down Johnson's credentials, but before he went on to that good-but-disappointing pro career, he posted career averages of 21.6 points, 11.2 rebounds, 2.5 assists, 1.9 steals, 1.2 blocks per game, with 64.3/34.9/78.9 shooting percentages. He won the Wooden Award and a national title, and he was by far the best player on a team that packs this list. Point is, this was a done deal before my editor even assigned me this list. Too easy. As for Tark? "Larry stood out way above everyone," he told the Review-Journal three years ago. "I think he was the best by far." No argument here.
2. Stacey Augmon, UNLV:
As good as Johnson was, UNLV was a force unseen in college basketball because he was surrounded by some rather insane supporting pieces — none more so than Augmon, whom Bill Walton famously dubbed "The Plastic Man." (Bill Walton has been at peak awesomeness levels for decades now, kids.) A four-year player who averaged 13.9 points, 6.9 rebounds, 3.0 assists and 1.9 steals in -- get this -- an average of 36.23 games per season, Augmon was the versatile star-level wing who gave UNLV's overwhelming athleticism both offensive versatility and defensive backbone. He won the NABC Defensive POY award three times. He was crazy-good in ways old box scores can only tease.
3. Armen Gilliam, UNLV:
Armen Gilliam "was the second-best player I coached at UNLV," according to Tarkanian. I'm going to stick to my Augmon guns, but you can understand where the old ball coach is coming from. After all, the historic excellence of Tarkanian's early-'90s teams has long since overshadowed how good the Rebels were in the mid-1980s. But during Gilliam's tenure -- 1984 to 1987 -- the Rebels were 93-11 overall, usually ranked No. 1, and won 38 games in one season, still the most by any one team in a single season. Another single-season record -- 938 points, the most scored by any UNLV player -- belongs to Gilliam, who averaged 23.2 points on 15.3 field goals in 32.3 minutes per game in 1986-87. Also, his nickname was "The Hammer," one of the best hoops nicknames ever. (When it came to awesome nicknames, UNLV players had the market cornered.) Gilliam passed away during a pickup game in 2011 at age 47, but his basketball legacy, including that magical '87 Final Four run, lives on.
4. Sidney Green, UNLV:
Tark on Green: "Sidney Green only had one great year for us. But his senior year was great. He's in the top 10 but not the top five." Is it cool to slightly disagree again? I hate to do it, but look: Yes, Green's senior year was capital-G Great (22.1 points, 11.9 rebounds, 1.4 blocks, 36.1 minutes per game), but it was hardly his only elite year — he averaged 10.7 boards per game for his career, and posted 15.6, 15.0 and 16.7 points per game in each of those three seasons in the early 80s. Coaches are always looking for more from their guys, and you can bet Tark knew what Green had to give even when Green didn't; that had to be massively frustrating. But if we're being fair, Sidney Green was really, really good.
5. Reggie Theus, UNLV:
Theus' career stats -- 12.9 points, 4.4 assists and 4.3 rebounds per game in 91 career games (over three seasons) -- might not pop your eyeballs out of your head. But the teams he played for, most notably the 29-3 Final Four team from 1977, officially put Tarkanian's program on the map. Not only did those Runnin' Rebels teams introduce UNLV to the nation but they did so through a thrilling, up-tempo style -- matching burgeoning Las Vegas flash with genuine substance.
[+] Enlarge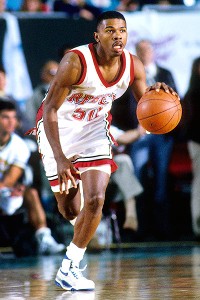 Richard Mackson/USA TODAY SportsGreg Anthony was a perfect fit at the point for Tarkanian's national championship team.
6. Ed Ratleff, Long Beach State:
Tarkanian will always be remembered for his Vegas teams, but Tark gave his first preview of the power shift that was to come during his years at the Beach. Ratleff was by far his best player; he and his teammates went 75-12 in three seasons under Tarkanian, during which Ratleff averaged 21.4 points per game. In 1971, the 49ers led three-time defending champ UCLA by as many as 11 points before Ratleff was called for what he now politely deems a "strange" fifth foul. The 49ers eventually fell 57-55, and UCLA went on to win its fourth national title. Later, Ratleff would play on the 1972 Olympic team that refused its silver medal after a controversial gold-medal game loss to the USSR.
7. Greg Anthony, UNLV:
This might be the craziest thing about those UNLV teams: Just about anywhere else in the country, Greg Anthony would have been the best player on his team for pretty much his entire career. In Vegas, he was the third wheel. But what a third wheel he was -- a smart, capable, push-the-pace point guard who made the Runnin' Rebels go.
8. Eddie Owens, UNLV:
If Theus was the most notable player from the 1977 team that put the Rebels on the map, Owens was the linchpin. A member of Tarkanian's first recruiting class, Owens departed Des Moines for Vegas in 1973 back when UNLV was mostly unheard of, basketball-wise. By the end of his four years, Tarkanian was off and running.
9. J.R. Rider, UNLV:
Easily one of the most talented players in Tarkanian's tenure, Rider's career peaked just after Tark's tenure and was known as much for its downs (particularly later, during his NBA days) as its ups. Still, Rider did post 29.1 points and 8.9 rebounds per game in the 1992-93 season, while shooting 51.5 percent from the field, 40.1 percent from 3 and 82.6 percent from the free throw line, which is so crazy good it almost doesn't matter that it came one year after Tarkanian was forced to resign.
10. Freddie Banks, UNLV:
From Tark, on the Review-Journal's list, which ranked Banks No. 8: "I love Freddie Banks. He was a clutch shooter. God, he hit big shots for us. His ranking is about right." You said it, coach.
Honorable mention, just because:
Anderson Hunt, UNLV: I would tend to lean toward the guy who hit the game-winning shot against Arizona in the 1989 Sweet 16, which might be the most memorable single shot in Tarkanian's entire career. Plus, Hunt could really play, despite being overlooked in favor of the Johnson/Augmon/Anthony glory days trifecta. So, honorable mention. Exactly what it says it is, actually.
September, 3, 2013
9/03/13
11:30
AM ET
Editor's Note: Three legendary college basketball coaches -- Jerry Tarkanian, Rick Pitino and Guy Lewis -- take center stage this weekend as the trio is inducted into the Basketball Hall of Fame in Springfield, Mass. We'll be devoting a day to each as we examine what made them HOF-worthy.
Jerry Tarkanian's coaching tenure was filled with both bliss and controversy. But the drama doesn't outweigh the facts about his decorated coaching career, including a prestigious reign at UNLV. He led the Runnin' Rebels to four Final Fours and the 1990 national title. He also took three different schools to the NCAA tournament.
For all of that success, however, Tarkanian doesn't boast the same coaching tree that some of his Hall of Fame peers produced.
Here is the best of Tarkanian's coaching tree:
[+] Enlarge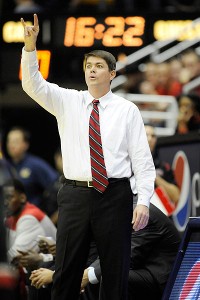 Bob Stanton/USA TODAY SportsDave Rice played for Jerry Tarkanian, coached under him and now is the head man at UNLV.
Dave Rice:
The current leader of UNLV's program played for Tarkanian and coached under him, too. Rice was a member of UNLV's 1990 national championship squad. He also played on the UNLV squad that nearly repeated a year later. Once Rice's career ended, Tark convinced him to join his staff as a graduate assistant for the 1991-92 season. It was the legendary coach's final year on the sideline. Rice also recorded another 10-year stint as an assistant at UNLV (1994-2004) before he ultimately returned as head coach in 2011. He has taken his alma mater to consecutive NCAA tournaments, and he has recruited blue chip prospects such as No. 1 NBA draft pick
Anthony Bennett
. But his third season might be more challenging than his first two. Bennett, veteran
Mike Moser
(transferred to Oregon) and
Savon Goodman
(suspended for the season) will be unavailable. A pair of top-100 recruits (
Christian Wood
and
Kendall Smith
) should help, though.
Reggie Theus:
He was an All-American for Tarkanian's UNLV squads in the 1970s prior to a productive NBA career that included two NBA All-Star Game appearances and more than 19,000 points. Theus turned New Mexico State into a player in the WAC after he accepted the school's head coaching gig in 2005. In his first season, the Aggies won 16 games, a 10-win improvement over the previous year. After leading NMSU to the NCAA tourney in Year 2, he became the head coach of the Sacramento Kings but was eventually fired in 2009. After that run, Theus bounced around the league as an assistant and even led the Los Angeles Defenders NBDL squad for a year. But he'll be back in the collegiate ranks this year as the new head coach for Cal State Northridge.
Tim Grgurich:
Many know Grgurich as a longtime assistant for various NBA teams (Dallas, Milwaukee, Phoenix, Portland, Seattle). But he was crucial in UNLV's run to the national title in 1990. For more than a decade, Grgurich helped mold former Runnin' Rebels as an assistant under Tarkanian. Stacey Augmon, Larry Johnson, Greg Anthony and other former standouts were tutored by Grgurich, who was the head coach at Pitt prior to joining Tarkanian's staff. With UNLV, Tarkanian implemented the same "amoeba" defense Grgurich utilized at Pitt.
John Welch:
He played one season under Tarkanian at UNLV and eventually joined his staff at both UNLV and Fresno State. He was Tarkanian's graduate assistant, and he was also an assistant for seven seasons during his stint with the Bulldogs. That stretch included two NCAA tournament appearances and six consecutive 20-win seasons. He moved on to the NBA and became an assistant with the Memphis Grizzlies and the Denver Nuggets. He was a key a member of George Karl's staff for nearly a decade. This summer, Welch joined Jason Kidd's staff with the Brooklyn Nets.
September, 28, 2012
9/28/12
5:00
AM ET
1. An NFL-style lockout of officials can't and won't happen in college basketball. The officials are independent contractors and the consensus among the group is to keep the status quo. "It's no different than if we paint your house, we get a 1099 from the IRS and we're responsible for our own insurance, our own tax filings, deductions and receipts, including retirement,'' said one high-profile official. "We have the flexibility.'' Officials work in multiple conferences. They don't have job security or a pension but they do have the freedom to hold day jobs, and the majority does. For the officials to be under one roof, the NCAA would have to hire them. If you paid 50 officials a salary of $100,000 with benefits, that's $10 million -- but you'd still need to hire 350 more officials to cover the 5,000-plus games, according to an officiating head. Making officials employees would be too cost-ineffective. "The system is fine, as it is now,'' said one officiating head.

2. Conference USA is discussing how to divide the league when it changes members and has 14 teams in 2013. The key question will be 16 or 18 league games and which teams will play each other twice every season. You can group a few natural rivals. The foursome of Charlotte-Marshall-Old Dominion-East Carolina will likely be together in some rivalry combination. UTEP and UT-San Antonio make sense as a pair. Tulsa and North Texas would be ideal, too. The interesting dilemma will whether the league pits small private schools Rice and Tulane against each other or pairs up intrastate Tulane and Louisiana Tech. The best chance for natural rivalries would be pitting Tulane against Rice and pairing Southern Miss against Louisiana Tech and Florida International against UAB, since those last two don't really have any other school to pair up with based on the geography.

3. Former New Mexico State and Sacramento Kings coach Reggie Theus is on the verge of getting the job as head coach of the Los Angeles D-Fenders in the NBA Development League, replacing Eric Musselman, who left for an assistant's job with Arizona State. The deal is done, according to a source, but Theus hasn't signed it yet; there is a tryout Saturday and Theus will be there. Theus has been anxious to get back into college basketball but hasn't been able to get a quality sniff of late. Getting a head-coaching job, regardless of the level, is crucial for him to convince an athletic director and/or school president that he's worthy of another shot.