College Basketball Nation:

Remembering Majerus
December, 4, 2012
12/04/12
4:55
PM ET
Rick Majerus was brilliant and obsessive. He was a beloved and dedicated friend, and a (by many accounts) a total jerk to work and play for. He would torment local media members but mentor student reporters. He harped on discipline, but was done in by his own ravenous appetite. He won 517 college basketball games, most of them without recruiting the nation's most prized prospects, almost all of them while coaching Utah and Saint Louis, two programs outside the sport's traditional power structure. He showed up to
recruit Keith Van Horn in shorts and flip flops
.
The point is, if there's one thing I've learned hearing so many touching, artfully written remembrances since Majerus' death Saturday, it's that the man was anything but normal.
It is only fitting, then, that Utah's lasting tribute to the greatest coach in school history is a little quirky, too.
From the Associated Press
:
University of Utah officials will honor the legacy of Rick Majerus by hanging a replica of his trademark white sweater from the rafters at the basketball arena where he coached from 1989 to 2004 and regularly led the Utes to the NCAA tournament.

"We want people to know it's Rick," Utah athletic director Chris Hill said. "You'll know it's a sweater, but at the same time it won't diminish anybody else who is out there."
That big white knit sweater is probably the most obvious of Majerus's Utah-era trademarks; Utes fans must be unable to picture the man on a sideline without it. To be honest, I'm not sure Utah could have done this any better.
December, 3, 2012
12/03/12
8:20
PM ET
By
Paul Biancardi, ESPN Recruiting Nation
| ESPN.com
As one of his assistant coaches, I had a unique relationship with Rick Majerus and was fortunate to be considered one of his friends.
We first met in 2005 when I was the head coach at Wright State and Rick was in town for a fundraiser and to visit his longtime friend and mentor Don Donoher, the legendary coach at Dayton. On my staff was Donoher's son, Brian, who asked if I wanted to have the coach come over to practice. I jumped at the opportunity. Rick took notes the entire time and then spoke to our team afterwards.
Then he and I had our first "talking ball" conversation, and it was from there we hit it off and stayed in contact.
Three years later, he hired me as one of his assistant coaches after he landed the Saint Louis job. Working with him morning, noon and night, we all worked diligently to restore the SLU program. It was extremely challenging as he was just returning to the sidelines after being with ESPN, with a completely new staff which had never worked together and a completely new team as well. Nevertheless, we still managed to win 16 games and I always told him that was one of the best coaching jobs I'd ever seen.
People always ask me what it was like to work for Rick Majerus. He was demanding and at times combustible, just like every other head coach. But being a former head coach, I understood the shoes he was walking in.
During the season on our "days off," you would arrive in the office in the morning, then we would meet at noon for lunch on The Hill and talk about our team, recruiting, scheduling, academics and in between he would have to take some calls. Before you know it is was 5 o'clock and he would say, "Let's go have dinner and talk ball."
[+] Enlarge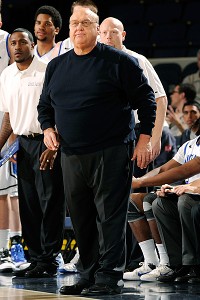 Matt A. Brown/Icon SMIBeing an assistant on Rick Majerus' staff wasn't always easy, but the knowledge gained was invaluable.
As we prepared for that first season, he had us come to Milwaukee, near where he grew up, for staff meetings. We went to the playground he grew up on and walked through all of our offensive and defensive drills and concepts outside on the cement, with cracks and weeds popping out of the ground. It was so pure. It was so Rick.
As a coach, he was an extraordinary teacher of the game and a master of detail. He would always cite people he learned from or coached with, such as the great Al McGuire, Don Nelson, George Karl, Del Harris, Don Donoher and Doc Rivers, whom he coached at Marquette. He had a philosophy and a plan for skill development and every phase of the game. His preparation for opponents was overwhelmed with detail.
The first time I ever scouted a game for him, I thought I had just taken a final exam. He was one of the best at preparing his teams for a game. Like all great coaches, his favorite place to be was practice or watching film. In the film room, he could pick out multiple breakdowns or good plays in just one possession.
His teams and players always improved under his tutelage. His practices were special because there was never any slippage from him. Whether it was the first practice of the year or the last, he was always well-prepared and detailed. He beat teams that were more talented because his teams were better prepared -- and when he had equal or better talent, he rarely if ever beat himself.
There are many reasons he will go down as one of the greatest coaches of all time in my book. His knowledge of the game, his thirst to learn more and his ability to translate that knowledge to his teams was remarkable. Games are won and lost in practice and coach Majerus conducted an incredibly detailed practice with purpose.
Every once in a while, though, a detail slipped through the cracks. In 2007, I will never forget our first scrimmage. It was against Memphis with Derrick Rose and Co. We had a thin roster and had to start a walk-on who was an extremely hard worker but had the tough assignment of covering D-Rose. It was the first time Rick had coached in a game since his Utah days, and we had only practiced for a few weeks. In these closed scrimmages, you don't worry about scouting reports and sometimes don't even know the players' names on the opposing teams.
So in the first four possessions, Rose drove and scored on our walk-on, and coach called a quick timeout, practically foaming at the mouth. He ripped the walk-on for not leveling the drive and staying in front of his man like we did in practice and jumped on the rest of the team for not helping and rotating over. As I watched him hold the walk-on accountable in a loud tone, I leaned over and whispered to him that it was Derrick Rose we were talking about, the top recruit in the country. It fell on deaf ears until we broke out from the huddle and the team walked back on the court -- and he turned and looked at me and said, "Oh, that's Derrick Rose?"
But as detailed and demanding as he was on the court with his players, he was equally concerned about their academic effort and progress. He would spend hours lecturing them about the importance and value of their education and how hard all of their parents sacrificed for them over the years. Rick would get off on life-lesson discussions that were deep and personal. One of his main points and phrases to all of his players was, "I don't expect an A, but I do expect an A effort in the classroom, and in your conduct and character toward others."
Those weren't just words. He led by example. Rick had an extremely generous and caring side that few got to see or experience. Although he never had a family of his own, he got to know my wife, Theresa, and daughters quite well, taking us out to eat and hugging my girls after every home game. He would send Christmas presents to the girls; last year he sent my wife and daughters each a pair of sneakers as they started off the school year. That's just the way he was.
He constantly said to me, "You have a great coach's wife who loves you and well-behaved children who love you unconditionally ... I wish I had your life." Coming from Rick, that meant the world.
That gift of communicating was a special thing. You know how hardly anyone writes letters anymore? Well, Rick treated it like an art form. He would write the most meaningful letters to recruits, fans, friends and colleagues. Shortly after I took my current position at ESPN, he sent a wonderful letter and signed it "your friend," Rick Majerus.
He was also one of the first people to reach out when he found out my dad passed away, and called me several times until he reached me with these great words: "The greatest thing is you were a great son and he knew you loved him and he loved you." It meant so much at the time and still does today. He always had a way to make you laugh, too. "Your dad and my dad are grilling brats and Italian sausage together right now," he said.
I will miss his friendship, his passion to teach and coach, the late-night calls to "talk ball." Our conversations always would go back to his mother or my family.
Please understand, he was more than just a future Hall of Fame basketball coach. He was a caring, loving son to his late mother, Alyce. He was a real friend. A friend who cared. No matter what the subject of the conversation was, he ended every phone call with "Whatever I can ever do to help, you just tell me."
Much to my sadness, those phone calls will no longer be made. I'll no longer hear those trademark Rick Majerus phrases.
But that doesn't mean I'll ever forget them. A man never forgets his friends.
Rick sure never did.
December, 3, 2012
12/03/12
11:40
AM ET
Saint Louis coach and former Utah legend
Rick Majerus passed away Saturday
, and there was no shortage of written remembrances and vocal, throat-clearing tributes to a complicated but ultimately beloved college coach.
But I'm guessing the tribute Majerus would have appreciated most, the one that might have best summed him up as a man, came Sunday.
That's when the Saint Louis team his heart robbed him of coaching went out and got a win,
a 62-49 win over Valparaiso
. It's not so much the victory that feels like the tribute (though surely Majerus would have appreciated that), but the nature of the game itself: His team won by stifling the opponents, holding the Crusaders to 32.6 percent shooting, and keeping leading scorer
Ryan Broekhoff
to just 10 points on 4-of-12 from the field. Majerus' teams defended, and they took away what you wanted to do, and I like to think Majerus would have appreciated Sunday's effort.
"Coach dedicated his life to basketball," Saint Louis forward
Dwayne Evans
told the Associated Press. "I can't think of a better tribute than to get a win."
Of course, that win came after an emotional pregame tribute in the Chaifetz Arena. From the AP again:
A moment of silence was observed before the game. Following the silence, fans in the near sellout crowd clapped and cheered for 50 seconds before the national anthem was played. Saint Louis players wore black ribbons on the front of their jerseys. The student cheering section, of which Majerus was a big supporter, donned black shirts. Majerus used to make sure to acknowledge the Slunatics, as they are called, after each home game.

"He always let us know that he appreciated us," said senior Marty Kovarik, vice president of the group. "Before the season, he would take some of us to dinner and tell us just how important he thought we were to the team. It made us feel good -- like we were a part of things."
That sort of story -- Majerus's
outreach to friends
and
students
, his
attention to personal and social detail
, his love of being involved, and of course his love of dinner -- was the prevailing way most seemed to remember him Saturday and Sunday. He was by all accounts a complicated man, difficult to work for and with, but for every angry story there seemed four or five incredibly positive thoughts emerge.
I did not know Majerus. I was 13 in 1998, when he was at the height of his Utah powers, and so I probably didn't quite get just how good he was until I got a bit older and started thinking about these things more often. (I always loved his TV work.)
From afar, though, Majerus just seemed ...
genuine
. And not genuine in the way football writers loved to say Brett Favre was genuine, with the faded T-shirt and K-Mart jeans. I mean genuine in the sense that Majerus didn't really seem to care about public perception
at all
, provided it didn't impede on how and when he was able to coach basketball. He didn't wear nice suits. He didn't sell. He wasn't trying to chip away at every sharp edge of every inch of his personality or his program to make its "brand" more "palatable" to fans and advertisers. He just wanted to coach basketball.
He was either one of a kind, or the last of his kind. Either way, he will be missed.
December, 2, 2012
12/02/12
2:47
AM ET
By
ESPN.com staff
| ESPN.com
Where to begin.
I've known that Rick Majerus was very ill since the summer. I knew that his heart was failing and that he was in a tough fight to get his body well enough to deal with the heart issue. I knew it was a reach.
I wanted to talk to him. I left messages. I tried to get in touch with him through friends. And then I heard that few, if any, friends had seen or talked to him since he was admitted to a California hospital.
I just wanted him to know how much he meant to me. I just wanted to talk to him at least one more time.
To read Andy Katz's full story,
click here
.
December, 2, 2012
12/02/12
2:08
AM ET
By
ESPN.com staff
| ESPN.com
They say Rick Majerus died of heart failure. They're wrong. The Rick Majerus that Gene Wojciechowski knew was all heart.
More from Wojciechowski
on Majerus.
December, 1, 2012
12/01/12
10:41
PM ET
By
ESPN.com staff
| ESPN.com
Sports are filled with those upon whom fate smiles. Good genetics, good fortune or even just good karma follows them along if not a gilded path, than at least one where things came easy.
That wasn't Rick Majerus' road. Life didn't offer him handouts or fast tracks. Instead, it offered him opportunities -- and he gobbled up every one, partnering curiosity with intellect to form a successful career despite a litany of hurdles.
Majerus died on Saturday, his heart finally giving out. The same heart that pumped the blood to fuel the drive that made the man. His legacy in these days will be about wins -- he accumulated 517 of them -- and players and basketball. But his life was about so much more.
For more from Dana O'Neil,
click here
.
December, 1, 2012
12/01/12
10:11
PM ET

Rick Majerus will be missed. He was a coach's coach. He loved the game and he loved -- as he would say -- "talking ball."

I had the pleasure of getting to know Coach Rick when I was the head coach at Long Beach State and had to compete against his Utah team in the NCAA tournament. Playing his teams made you re-evaluate everything you were doing. He was a coach who could take your team and beat his and take his team and beat yours. He was the best at putting players into position to play to their strengths.

But that's not what made Majerus special.

Rick was comfortable in his own skin. He beat to his own drum. He didn't fit the mold, and he was fine with that. He had substance. He was about relationships. He was not concerned about perception. He was real.

He deeply cared about his players and their well-being on and off the court. Rick was a great teacher of the game, but he was even a better teacher of the game of life.

Listening to Rick's Saint Louis players in their NCAA tournament postgame news conference last season revealed so much about the relationship he had with them and the influence he had on their lives. He helped them get to a place they couldn't get on their own. You could see how much he loved them and they loved him. To me, that is the essence of why he coached.

Rick had a small circle of close friends but was always available to talk. When I was an assistant at Long Beach State, I vividly remember traveling to the University of Utah to scout Purdue against his Utes. After the game, I walked down to get a copy of the film.

Three hours later, I left the Huntsman Center after Rick had dissected the game and what he felt were the keys to having success against the Boilermakers. The man just loved talking ball.

I will miss Rick, not because he was a great coach but because he was genuine and real. He was not afraid to state his opinion and didn't seek others' approval. He was an original.

Our profession, and our world, needs more like him.
December, 1, 2012
12/01/12
10:10
PM ET
When I coached at New Mexico, I spent three years in the Mountain West going head-to-head with Rick Majerus of Utah. Although he knew me and let me seek him out for advice when I was a young head coach at Manhattan College, he ignored me when I came into the conference as a competitor.

It ticked me off. It was his way of saying, "We're competitors now, and I am trying to beat your butt."

Majerus will be remembered as one of basketball's great teachers. On a list of my favorite clinicians, he was right up there with Hubie Brown and Bob Knight. More importantly, he shared his knowledge with coaches from every level, in part because I think he saw himself as a basketball everyman.

His basketball lineage goes back to his days in Milwaukee as an assistant coach at Marquette under the great Al McGuire and Hank Raymonds. Majerus spent time as an assistant with the Milwaukee Bucks under Don Nelson and Del Harris as well. They influenced him along with great coaches like Knight and Dean Smith.

I was fortunate to be one of the many coaches who spent a late night at a diner with Rick, moving salt and pepper shakers around the table to simulate a new screen-and-roll concept. Of course, there was a double order of onion rings and a couple of milk shakes on the table as well.

When I left coaching to go to ESPN, Majerus let me spend four days at Utah watching his team practice. While I wasn't surprised by the attention to detail, I felt like I was sitting through a graduate-level basketball course. While his coaching style could be described as an acquired taste, the majority of his players thrived under him on and off the court.

After not talking to me for three years when we competed against each other, the day I resigned as coach at New Mexico, he was the only colleague of mine in the league to call and offer his help. And he was sincere.

I'll never forget that. Underneath his large frame, and despite the sometimes gruff and quirky personality, Majerus showed me he had a good heart.