College Basketball Nation:

Remy Abell
November, 21, 2012
11/21/12
2:44
AM ET
NEW YORK --
Victor Oladipo
held up the Legends Classic banner for the crush of Indiana fans to view.
Oladipo made his way around the arena, even standing up on the media table at one point.
The No. 1-ranked Hoosiers had just knocked off unranked but soon-to-be top-25 Georgetown
82-72 in overtime
Tuesday night at the Barclays Center.
This was just a two-game tournament that didn't even produce a supposedly marquee matchup of Indiana versus UCLA (the Bruins aren't close to being as good as Georgetown is now, or possibly in the future). But it didn't matter to Indiana what the tournament was called, whom the Hoosiers had to go through to win it or when the games were played.
This title meant something to IU.
"It's huge, man," Oladipo said. "This was our first big test, our first tournament as the No. 1 team in the country. Georgetown is a really good team with a lot of really good players. It means a lot for us to win this tournament with two wins on the road."
Georgetown represented, but the majority of fans were clad in crimson and white. This Hoosiers team has a following akin to the Indiana teams of old. There is a sense among fans that they are witnessing something special. And the perception isn't farfetched.
Cody Zeller
is a star and the preseason national player of the year. But he was mortal these two days in Brooklyn. He was in foul trouble Monday against Georgia, and while he had his moments against the Hoyas, he struggled to gain position at times and wasn't a dominant presence.
"That's what makes us so dangerous," Zeller said. "Even last year, I don't have to do it all whether they take me away as a shooter or a driver. I don't have to worry about getting my stats. We can get the win no matter whether I score."
[+] Enlarge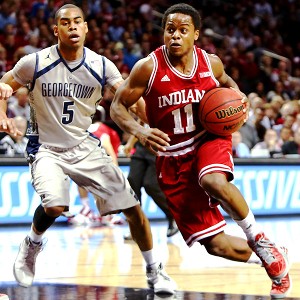 Debby Wong/US PresswireFreshman guard Yogi Ferrell finished with more free-throw attempts (11) than Georgetown (10).
Zeller still had 17 points and eight boards, equaling the scoring output of guard
Jordan Hulls
. The offensive balance and the ability to find openings in Georgetown's lanky, rangy zone was effective.
Christian Watford
made big shots and got boards (he had 10 points and 10 rebounds),
Yogi Ferrell
got to the free-throw line (9-of-11), reserve
Remy Abell
was a perfect option off a double team (a pair of 3-pointers) and
Will Sheehey
found his way to the basket, one time with authority on a slam.
"We have a team full of guys," Hulls said. "[Zeller] obviously gets more attention, but we have guys who can come in and contribute."
Indiana coach Tom Crean loved every second of this game. He told me at halftime that this was an epic college basketball game for November. He said afterward that if he couldn't coach it, he would have loved to have played in it. The atmosphere wasn't Assembly Hall, but it was more than adequate for a neutral-site, nonconference tournament setting.
Georgetown had its chance to knock off the Hoosiers but hit several scoring droughts, ignoring stud
Otto Porter
a few times. After
Markel Starks
fouled out it became harder for the Hoyas to pull off the upset.
"They've got a nice combination of experience and good younger guys," Georgetown coach John Thompson III said. "Yogi adds a whole new element with his speed. Zeller was the preseason player of the year. They have guys who have been through the ropes. They're poised, very, very poised."
That's a whole new experience for Indiana. The Hoosiers have never been the team to beat on the schedule under Crean. They are now.
"Now we're on the other side of it," Zeller said. "We'll get everyone's best shot, and we kind of expected that when we signed up to play at Indiana. You're going to get the best shot when you're first in the country."
The Hoosiers are hardly done being pushed, with North Carolina in Bloomington next Tuesday for the ACC/Big Ten Challenge (yes, even after the Tar Heels lost to Butler in Maui). They will play Butler in Indianapolis on Dec. 15, and of course there's the Big Ten schedule.
"These were two great games for us and it teaches us that we're capable of winning the tough games," Oladipo said. "These were the first two games that tested us and we came out with the victory. This is big for us. We'll have a lot more tough games down the road. We're the No. 1 team in the country and we did a good job to beat Georgetown and get the win."
November, 21, 2012
11/21/12
12:42
AM ET
NEW YORK -- A quick look at Indiana's
82-72 overtime victory
over Georgetown in the championship game of the Legends Classic.


Overview:
This wasn't the matchup everyone had hoped for but no one is complaining now, not after 45 minutes of ridiculously good basketball.
Having watched UCLA and Georgetown in back-to-back games, there was no arguing which was the better team, at least on this night.
The Hoyas in a landslide.
Pushed and prodded by Georgetown the entire game, the Hoosiers pushed right back, giving a November game a March feel. Like the Champions Classic in Atlanta, it was high entertainment, high intensity and high skill, and it was like that from the tip.
If Georgetown is the fifth-best team in the Big East -- as it was picked in the preseason -- the league is going to be fierce. The Hoyas leave New York with a lot more believers than they came with, and a sweet combination of offensive skill and high hoops IQ should carry them far.
Indiana leaves as it came -- as the No. 1 team in the nation, and maybe with more admirers, too. That's because the Hoosiers held on, fought back and proved they aren't just the
Cody Zeller
show. The sophomore was good, but his surrounding cast was every bit as great.
Jordan Hulls
had 17,
Victor Oladipo
12, and
Christian Watford
a double-double with 10 points and 10 rebounds. Mix in two huge 3s from sophomore
Remy Abell
and another from
Yogi Ferrell
, and you've got an across-the-board box score here.
The caveat: There is still that lurking issue of IU's defense. It tightened up when Indiana needed it most, but the Hoosiers have work to do, especially defending the arc, beyond which Georgetown did its most damage.
Turning point:
There were approximately 50 in regulation, but the overtime was more like a slow bleed to victory for Indiana. The Hoosiers went to the basket and got to the free throw line, needing just one field goal to build a seven-point lead that would be the end of Georgetown.
And then came the dagger, a buzzer-beating circus 3-pointer from Ferrell to bump the lead to 10 with less than a minute to play.
Before that, though, was the end of regulation.
Otto Porter
drained a 3-pointer to get the Hoyas within one after IU seemed ready to finally ease to the W. He followed it up with a gigantic drive to the right side of the lane, laying in the muscle shot to tie it at 64.
Key stat:
Here are the numbers Hoyas fans will be sure to study: 36 to 11. That's how many times Indiana went to the free throw line versus Georgetown. The Hoyas didn't even get into a one-and-one situation until there were two minutes left in OT.
Key player:
Really hard to pick just one and really hard to limit it to one team in a game like this. So I won't.
In a group effort from Indiana, the edge goes to Hulls. The quintessential Indiana kid made sure Indiana stayed No. 1. His 17 points matched Zeller's, but it was the timing of some of them that mattered most. Hulls scored five of the Hoosiers' first seven in OT and then set up Zeller with two more on a nifty bounce pass. That ended up being all the cushion IU needed.
But we've also got to give Porter his due. The super sophomore, who had just three points in the first half, nearly willed the Hoyas to and through overtime. He finished with 15 points, including those crucial five at the end of regulation to force the extra five minutes.
Miscellaneous:
Indiana has yet to hear from the NCAA regarding its appeal of suspended players
Hanner Mosquera-Perea
and
Peter Jurkin
. The two traveled to Brooklyn, and their appeal was heard Tuesday, but the NCAA did not make a ruling. ... Hoosier Nation travels.
Next game:
The Hoosiers host Ball State on Monday, and then North Carolina, loser to Butler on Tuesday night, heads to Bloomington on Nov. 27 for the ACC/Big Ten Challenge. ... Georgetown hosts Mount St. Mary's on Saturday and then has a good back-to-back, against Tennessee (Nov. 30) and Texas (Dec. 4).