College Basketball Nation:

Renaldo Woolridge
April, 30, 2012
4/30/12
2:50
PM ET
It's no secret the College Basketball Nation blog has long been fascinated with Tennessee forward
Renaldo Woolridge
, aka "Swiperboy," a self-styled rap
artiste
who has made as much of an off-court impact with his musical stylings as he has on the floor as a Tennessee Volunteer. (His career even
nearly landed the Vols in NCAA hot water
. Heady days, those.) Alas, it turns out Woolridge will tread the path so many young, aspiring entertainment moguls have trod: This summer, he is moving to Los Angeles.

The move would make just as much sense from a rap career perspective, but it's actually a basketball-related venture: Woolridge is using the graduate exemption transfer rule to join the
USC Trojans
for the 2012-13 season.
According to the Los Angeles Times
, Woolridge will "walk" as a Tennessee graduate this spring and then enroll in mini-term coursework that will get him eligible for post-grad work in Los Angeles this fall.
So, can he make an impact? At the very least, playing time should be plentiful. The Trojans just endured one of the worst seasons in school history, a 6-26 campaign that featured just one win (over Utah) in an historically bad Pac-12 conference. The Trojans were slow-paced and laughably bad on offense; they scored more than 60 points just twice (twice!) in conference play. But there is some small hope for the future. Star point guard
Jio Fontan
will return from the ACL injury that cost him his 2012 season, shooting guard J.T. Terrell (who spent one season at Wake Forest before transferring to Peninsula College and then USC) will join the squad, and,
as ESPN LA's Pedro Moura wrote last week
, USC coach Kevin O'Neill will have actual depth at every position, so one injury (like Fontan's) won't totally destroy the Trojans' chances of being (at the very least) competitive.
Woolridge will likely slot in as USC's small forward. His length, athleticism and defense will be a help. It won't make USC a Pac-12 contender, necessarily, and all eyes will no doubt be trained on the star-studded
UCLA Bruins
, but the chances of USC repeating the debacle that was 2012 do now seem far less likely. That's something, right?
In the meantime, Woolridge can continue to prepare for life after basketball. Hey, maybe "Frat Life" --
a newly released SB track
-- will blow up on the west coast, and basketball won't matter anyway. Keep dreaming that impossible dream, Renaldo. You found the right city for it.
September, 21, 2011
9/21/11
1:28
PM ET
For the past two years, the college hoops rap game has been held down by one man and one man only. That man is Tennessee's
Renaldo Woolridge
. His rap name is Swiperboy. And as a basketball player-slash-rapper,
he's pretty much one of a kind
.
Until now, at least. Apparently, highly-touted Texas freshman Myck Kabongo has emcee ambitions of his own, and he's already planning the release of an album after his first season with the Longhorns. His rap moniker? "Yung Swag."
ESPN High School's Jason Jordan got the lowdown from Kabongo
, who describes his rapping style as a cross between J. Cole and Drake.
"Rapping," Kabongo said matter-of-factly. "It's just in me. It's something that I used to play around with and grew to really love. So I decided to do it for real."

That's right, Kabongo, Texas' highly-touted freshman point guard, is joining the ranks of hoopers who double as hip hop emcees. His debut, 15-track album entitled "Late Nights and Early Mornings," is set to drop next spring after basketball season. [...]

"I'm a very positive person and that comes out in my music," Kabongo said. "I'm from a tough neighborhood back in Canada so I rap about things I've seen and been through and how I overcame things. Now I'm rapping about the college experience. I'd say I'm a motivational rapper. I've been in both extremes so that's what I rap about. That's my lane."
Kabongo says "Late Nights and Early Mornings" -- which, I have to admit, is a pretty intriguing album title -- won't be for sale in the spring; presumably, it'll be a free download. It will also feature verses from former Texas and current NBA star Kevin Durant, who also made an appearance on Wale's 2010 mixtape "More About Nothing."
Oh, and in case you needed a Yung Swag endorsement from another incoming freshman star, Duke guard Austin Rivers has you covered:
"Everything I've heard from him goes hard," said Rivers, a freshman scoring guard at Duke. "He's nice."
For those of you that don't speak millennial, in this case, allow me to translate: "He's nice" means "he raps in a manner that entertains me." You're welcome.
Anyway, it appears that Swiperboy isn't the only rapper in the college hoops game these days. Let the search for college basketball's best emcee begin.
August, 16, 2011
8/16/11
3:26
PM ET
Eight days ago,
we brought you some sad news
: Tennessee forward
Renaldo Woolridge
, aka "Swiperboy," got his Jerry Maguire on. Decrying the state of the modern rap industry and the artistic sacrifices he felt he had to make to be taken seriously, Swiperboy announced his retirement from the rap game in a post on his blog.
Needless to say, that didn't last long. On Monday night, Woolridge announced his un-retirement. Or, more accurately, he claims he was never actually retired in the first place. To wit:
So let me make this statement loud and clear...and if you know me you know this about me: I WILL NEVER QUIT! I WILL NEVER GIVE UP ON MY DREAM. That's not even in my genetic make up TO quit. I don't know what that is. I know the haters were excited when they actually thought I would be done rapping forever. Ha....false. Music has helped me get through a lot, and is a part of me. I will never give it up.
There are other clarifications in there -- his new mixtape will be his last, yes, but he plans on recording a full-length studio album at some point in the future. In the meantime, Woolridge says his primary focus will be on college hoops. Once the season starts, no more rapping.
Oh, and then there's this:
I WANT TO BE THE FIRST HIP-HOP ARTIST ON XXL FRESHMAN CLASS LIST TO GET DRAFTED TO THE NBA.
Lofty goals, but basketball and rap are both competitive, and you've got to set lofty goals if you're ever going to achieve them. As the great R. Kelly once said, "If I can see it, then I can do it." Wise man, that R. Kelly.
Anyway, now you know: Swiperboy isn't retired any more. Or, he never was. Either way, expect more songs like this -- called "
Teach Me How To Dooley
," and yes, it is a remake of Cali Swag District's infamous hit -- in the near future.
(Hat tip: BIAH)
August, 8, 2011
8/08/11
9:30
AM ET
Some sad news to report on this beautiful Monday morning, guys: Tennessee forward
Renaldo Woolridge
is putting his "Swiperboy" moniker -- and his career in rap music -- to bed.
[+] Enlarge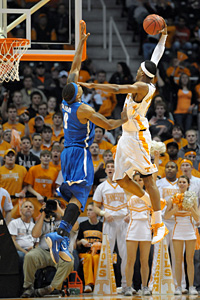 Jim Brown/US PresswireTennessee's Renaldo Woolridge has decided to stick with basketball for now.
You might recognize the name from the handful of blog posts we've written about his music career to date. There was the
time we first learned
of Woolridge's enthusiasm for rap music, the time
he released a lively remix of "Rocky Top"
and the time he dropped
a thoughtful tribute to the troops
in the wake of the operation in Pakistan that killed Osama Bin Laden. There was also the time Swiperboy's rap career nearly landed
Tennessee in some (more) hot water with the NCAA
, but the school eventually found no violation had been committed.
So why is Woolridge giving up his second love? To focus on basketball? No so much. In fact, Woolridge seems disillusioned by the current state of the rap game,
a notion he shared in a farewell post on his blog Sunday
:
Now I know what you all are thinking, "Wow..did SB just give up on a dream and quit??"... No, thats not the reason. In all honesty I feel extremely under appreciated when it comes to the talent I was given for music. There are a lot of artists in mainstream america who are TERRIBLE, but have more shine than the sun reflected off a mirror in the middle of July has.... MEANING, if I have to stoop down and be "wack" to "make it", then I don't want that.
There's something admirable in there somewhere -- I'm pretty sure Kurt Cobain felt exactly this way about Nirvana's popularity -- though I would politely disagree that modern rap dynamics make it impossible for talented artists to succeed. Sure, there are a lot of silly dance tracks out there. But there's also "My Beautiful Dark Twisted Fantasy," or pretty much anything Lil' Wayne releases when he's half-conscious and actually trying. (And hey, "Watch the Throne" drops today.) You can be popular
and
good, Renaldo. Don't give up yet!
Fortunately, Woolridge isn't leaving his fans high and dry. In fact, he's announcing his retirement just as he prepares to release what he says will be his final mixtape. It's titled "Zazzles." The sales pitch from Swiperboy himself:
I AM THE BEST NEW RAPPER ..I have to say new because for whatever reason mainstream america wants to continue to sleep on me and consider me as such. I WILL GO BAR FOR BAR, PUNCHLINE FOR PUNCHLINE, SWAG FOR SWAG with ANYONE in the game. Period. None of these new rappers impress me...but it's all good. Cuz like Drake says..maybe they'll "miss me a little when I'm gone". So with all that being said, "Zazzzle" will be my final mixtape. When I finish it, I will blow anyone who listens to it away. It will be my blood, sweat, and tears..final masterpiece to show the world what SB truly had to offer. There will be 15 tracks, all of which are my best recorded lyrical and delivered material up to date.
So there you have it. Here's hoping Swiperboy can overcome his disillusionment with pop music and chart a new course for musical success in the future. Or he can just play basketball at Tennessee. As Plan Bs go, that one's not so bad.
May, 2, 2011
5/02/11
2:20
PM ET
You may remember the name "Swiperboy" -- also known as Tennessee forward Renaldo Woolridge -- from such appearances
as his Rocky Top remix
, the celebratory post-Kansas-win video that put him on the map last fall, or the near-violation caused by his
music video's filming at a local Knoxville establishment back in January
.
Swiperboy's latest comes in the wake of last night's jarring, world-changing news from Pakistan. As you probably viewed above, it is indeed a tribute to the troops that made possible the capture of the world's most infamous terrorist, Osama bin Laden, in Pakistan Sunday. How Woolridge was able to write, devise and record this song in such a quick timeframe is almost as remarkable as the sheer quality of said recording. Frankly, this is a pretty solid tune. But most importantly, in the buzzing post-bin Laden news haze, it serves as a reminder to honor and thank U.S. servicemen and women for the sacrifices they make to keep this country we love safe.
From the
hardcore black-ops crew that took down bin Laden
to the average U.S. Army private: Thanks. We owe you more than can ever be repaid.
January, 24, 2011
1/24/11
12:13
PM ET
EDITOR'S NOTE: On Monday night, University of Tennessee officials determined that no violation was committed. For more, click here.
Just when you thought Tennessee's season couldn't get any weirder, the Volunteers go and do something like this ... and, well, yeah. Tennessee just keeps finding a way to put the "silly" in silly season.
You may know UT guard Renaldo Woolridge by his hip-hop alter-ego "Swiperboy." Woolridge has already given us a couple of not-as-bad-as-you'd-think hoops-themed hip-hop songs,
one dedicated to college hoops in general
and
another in honor of the Volunteers
(with a catchy remix of "Rocky Top" as the main hook, naturally), among others. To this point, nothing Woolridge has said in his raps has gotten him in trouble. But he appears to be in some trouble all the same.
According
to the Knoxville News Sentinel
, Woolridge shot a music video at a local Knoxville bar called New Amsterdam on Sunday. According to a source, Woolridge was allowed to use the bar's top floor free of charge:
"It was given to him by the New Amsterdam for free because we do support him and UT sports in general," the source said. "He shot the video, like I said, to support UT. It was basically done at the New Amsterdam because it's one of the favorite spots for UT college students."
It doesn't take a compliance officer to figure out why this could be a problem. NCAA athletes are not allowed to receive benefits, services or special treatment "because of the individual's athletics reputation or skill or pay-back potential as a professional athlete, unless such treatment, benefits or services are specifically permitted under NCAA legislation," according to NCAA bylaw 12.1.2.1.6. Based on the nature of the arrangement, this would seem to qualify.
In a regular season, on a regular team, this would be a funny little NCAA compliance story. On the College Hoops Scandal-o-meter (Scandalometer?), this barely registers a blip.
But we're talking about 2010-11 Tennessee men's hoops, a team that has already lost its coach for the first half of its conference season thanks to his decision to initially mislead NCAA investigators about a minor recruiting violation. We're talking about the Tennessee Volunteers athletics program, which is already under NCAA investigation for various alleged violations by its football, basketball and baseball programs. If there was one school that needed to avoid a silly-season NCAA issue like this, it's Tennessee.
Instead, here the Vols go again. Self-inflicted or not, Tennessee's strange, violation-tinged season rolls on.
September, 2, 2010
9/02/10
10:25
AM ET
In January, yours truly found out that Tennessee's
Renaldo Woolridge
-- one of the young players who stepped up during Tennessee's four-man suspension at the beginning of the year --
was also a pretty talented rapper
. Woolridge goes by the name "Swiperboy," and I believe Swiperboy just released what is sure to be his most popular track yet.
It's called "Footvol
," in honor of the upcoming
Tennessee Volunteers
football season (see what he did there?), and it features a somewhat ingenious beat. The song loops a stuttered version of Tennessee's always-popular "Rocky Top" and mixes it over some 808 drums and a synth. Also, I think I heard Smokey the dog on a background vocal.
It's simple, but I guarantee you Tennessee fans are going to love this thing. Even a non-Tennessee fan has to admire the straightforward craftsmanship. Swiperboy, it seems, has struck again.
(Hat tip:
SBN
)
February, 25, 2010
2/25/10
12:58
PM ET
January, 13, 2010
1/13/10
12:44
PM ET
January, 12, 2010
1/12/10
11:00
AM ET
If you watched Tennessee's upset win over No. 1 Kansas in Knoxville on Sunday -- and unless you were distracted by football, what's
your
excuse? -- you likely noticed sophomore forward
Renaldo Woolridge
's quietly effective performance. Woolridge started in place of dismissed forward
Tyler Smith
and shot 4-of-6 from three, scoring a season-high 14 points. Like teammate
Skylar McBee
, who hit the most unlikely of final-minute 3-pointers, Woolridge was an out-of-nowhere contributor to what might be Tennessee's best win under Bruce Pearl; it was his moment in the sun.
What's funny about Woolridge is that basketball is not all he's interested in. That's via Luke Winn,
who reminds in his postmortem
that Woolridge is also known as the rapper "
Swiperboy
." His first song: "
Tip Off (College Hoops Time)
."
It's actually not that bad! This is more than we can say for most athlete-rapper hybrids. And hey, any song that begins by dutifully listing every college basketball conference -- even the mid-majors get prominent placement -- before sound-biting someone that writes for this very blog is a song I can dig, quality notwithstanding.
January, 10, 2010
1/10/10
5:41
PM ET
KNOXVILLE, Tenn. -- How would a short-handed Tennessee deal with top-ranked Kansas? For a half, at least, it's a fair fight.
The Volunteers led by as many as six points in the first half and go into intermission tied at 33. They came into the game with only six scholarship players and stole several minutes in the first half with walk-ons on the floor after
J.P. Prince
and
Wayne Chism
each picked up two fouls.
But coach Bruce Pearl gambled by putting Chism back in for the final couple of minutes, and the Vols' best big man got whistled for his third foul while hacking
Sherron Collins
with 34.6 seconds left. Pearl may regret that move. They'll need him for the second half to have any chance.
Kansas, which struggled shooting the ball on Wednesday against Cornell, had its troubles again in the first half while making just 35.3 percent of its shots and missing nine of its 13 threes. But
Tyrel Reed
drilled a 3-pointer in the waning seconds to tie the game at the break.
Tennessee looked like it was in trouble about midway through the half, but then
Renaldo Woolridge
sank three straight 3-pointers, one of them a bank shot from straight on and the other two under heavy duress. It was an unlikely barrage from a guy who had hit only seven 3s all year.
Kansas owned the boards for most of the first half, holding a 17-7 edge at one point and finishing with 10 offensive rebounds to just three for the Volunteers.
Cole Aldrich
has 12 boards already, but he has just two points on three field goal attempts as Tennessee is trying to smother him in the middle of its matchup zones. The Jayhawks still need to get him more involved in the second half, especially with Chism saddled by foul trouble.
January, 8, 2010
1/08/10
3:23
PM ET
Prior to
Friday's decision to dismiss
Tyler Smith
, Tennessee coach Bruce Pearl told ESPN.com there might be fairly different levels of involvement in the case and that could lead to different decisions. He said no decision had been made regarding Sunday's Kansas game, but that the three other players --
Brian Williams
,
Cameron Tatum
and
Melvin Goins
-- remained indefinitely suspended.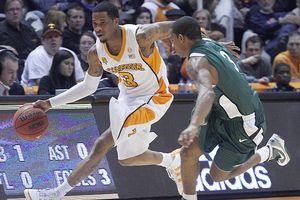 AP Photo/Wade PayneBobby Maze must limit his turnovers for Tennessee to have a chance against KU.
But it seemed highly unlikely any of the three remaining players would be cleared for what is easily the biggest nonconference game on Tennessee's home schedule.
Pearl said the crowd for Wednesday's win over Charlotte was a great help, rallying around the depleting Vols, especially once their huge lead was cut to six in the second half. Pearl said he anticipated a similar type of reaction from the Volunteer fans for the KU game. Tennessee had just six scholarship players for the Charlotte game and may have the same against the top-ranked Jayhawks.
For the Vols to have a chance forward
Wayne Chism
will have to rebound against
Cole Aldrich
, Pearl said. Scott Hopson and
Renaldo Woolridge
will have to make 3-pointers and
Bobby Maze
must limit turnovers against KU's
Sherron Collins
. Maze had only one turnover against Charlotte on Wednesday.
J.P. Prince
will also have to find ways to score. The Vols did defend well against the 49ers by limiting them to 27.6 percent on 3s, 36.2 percent overall. But obviously there is a talent upgrade with the Jayhawks.
Meanwhile, according to a number of NBA sources, Smith was already becoming a marginal draft pick with his play this season. He declared for the NBA draft in the offseason, but withdrew mainly because he wasn't getting any traction on being a first- or even second-round draft pick. Smith was averaging 11.7 points, 4.7 rebounds and 3.7 assists a game this season. All but his assist numbers were down from 2008-09, when he averaged 17.4 points and 5.8 rebounds a game.
One NBA personnel source said that executives will have to decide if Smith is worth digging into the facts of the case. The source said many times a big man is more often given the benefit of the doubt than a wing (where there are countless options) unless they are an exceptional talent.
Tennessee was projected to be Kentucky's toughest nemesis in the SEC East with its full compliment of players. But if Williams, Goins and Tatum don't return, the Vols will likely be vying with Florida and Vanderbilt, desperately trying to separate itself from the pack. In its three most significant nonconference games, Tennessee lost by 22 points at USC, lost by one to Purdue at the Paradise Jam, and won at Memphis on New Year's Eve day. The Vols open the SEC against Auburn on Jan. 14.