College Basketball Nation:

Rhode Island
March, 10, 2010
3/10/10
10:11
AM ET
The Morning After is our semi-daily recap of the night's best basketball action. Before we jump into today's insanity, here's an abbreviated look back on Tuesday night's almost-quiet affair. Oh, yeah: Try not to make it awkward. Catchphrase!
Seton Hall 109, Providence 106
: Note to self: Don't turn off games that feature Seton Hall and Providence, even if one of the teams is up 76-47 with 13:36 left to play. Yes, Seton Hall led the Friars by 29 points with the final quarter or so of the game left, and it didn't really matter: Providence came back anyway, cutting the lead to three on
Vincent Council
's pull-up jumper with eight seconds remaining. The Pirates then missed two free throws, giving Providence a chance to tie; freshman
Duke Mondy
launched a bad three that hit the bottom of the rim as time expired. Seton Hall survived. Good thing, too, as the Friars are in desperate need of at least one more win -- tonight vs. Notre Dame could do the trick -- to get themselves off the bad side of the bubble and back, finally, into NCAA tournament consideration.
But anyway, to review: 109-106 after 76-47. Providence's
Jamine Peterson
scored 38 points and grabbed 16 rebounds. Seton Hall's
Herb Pope
had 27 and 11. Every starter on both teams scored at least 12 points. I want to play pickup basketball with Seton Hall and Providence. That looks like a
lot
of fun.
Everywhere else, quickly
: Butler handled business in the Horizon League final,
walloping Wright State 70-45
and completing the ever-rare perfect conference-plus-conference-tournament season. At 20 wins, the Bulldogs also retained the country's longest winning streak ... You've by now read all about
UConn's ugly loss
yesterday;
Matt Norlander summed up the Huskies' season pretty well at The Dagger last night
: "Anybody got a theory as to what this team
was
for the past five months?" I'm still stumped ... The College Basketball Nation blog (say it five times fast) warmly welcomes two more teams to the NCAA tournament:
the Oakland Golden Grizzles
and the
North Texas Mean Green
, two tremendous mid-majors with two tremendous mascot names ... In the A-10,
Dayton
and
Rhode Island
both preserved their fading tournament hopes with first round wins;
Charlotte did not
... and
Cincinnati barely squeaked past Rutgers
to advance to the second day of the tournament, a day I'm greatly looking forward to.
March, 7, 2010
3/07/10
1:57
AM ET
Winners from Saturday
Notre Dame:
The Irish gave the selection committee another reason to put them in the dance with yet another road win, this time with
Luke Harangody
and at Marquette -- a team in the tournament field. The Irish are earning their way into the field.
Duke:
The Blue Devils likely earned the fourth No. 1 seed with a hammering of North Carolina on Saturday night. Duke also clinched a share of the ACC regular-season title. The Blue Devils passed the eye test of a team that could get to Indy.
Saint Louis:
The Billikens won at Dayton, completing a season sweep of the Flyers and finishing in fourth place in the Atlantic 10. Rick Majerus has done an outstanding job with a club that is void of upperclassmen. The Billikens could be a sleeper to win the A-10 in Atlantic City next week.
Baylor:
If you're looking for a sleeper in the Big 12 tournament, it could be Baylor. The Bears ran away from Texas and looked like a team ready to get busy in the postseason.
Kansas:
The Jayhawks may have locked up the No. 1 overall seed after winning at Missouri on Saturday. Kansas got inspired play from its key contributors and once again heads into the conference tournament on a high.
Louisville:
The Cardinals had to win two of there games this week and did. Louisville beat Connecticut, then lost at Marquette before beating Syracuse on Saturday. That gave the Cardinals a sweep of Syracuse and a likely bid to the Dance in the final game at Freedom Hall.
Tennessee:
The Vols did something Lane Kiffin couldn't do, taking a 17-0 lead on the road in the SEC. Tennessee lit up Mississippi State and had the look of a team that could be a major factor in an SEC tournament that they'll play in their home state just a few hours away in Nashville.
Virginia Tech:
The Hokies didn't have their second-leading scorer in
Dorenzo Hudson
, survived a nasty moving screen by
Gani Lawal
on
Malcolm Delaney
and gutted out a win over Georgia Tech in Atlanta. The Hokies dismissed any doubt about their candidacy with a win.
Washington:
The Huskies kept alive their chances of an at-large berth by winning at Oregon State. That win doesn't get them in the dance, but a loss would have been crushing.
Arizona State:
The Sun Devils are in Joe Lunardi's bracket and they had to beat UCLA to stay in the field. They did, sweeping the L.A. schools this week. But here's the deal: ASU and Washington are heading for a showdown in the semifinals of the Pac-10 tourney. Loser is out, winner has a pulse.
Memphis:
The Tigers had a great week, winning at UAB and crushing Tulsa at home. The Tigers get the sweep of the Blazers. If you're looking for a second C-USA team to go along with league champ UTEP, it could be the Tigers. They may get a third shot at UAB in the semifinals.
Maryland:
The Terps won at Virginia. Yes, UVA was playing without
Sylven Landesberg
, who has been suspended for the season due to academics, but the Terps still won a road game. That means Maryland gets a share of the ACC title. That's an outstanding accomplishment for this squad.
Pitt:
The Panthers lost to Indiana early in the year without
Jermaine Dixon
and
Gilbert Brown
. Pitt could have lost to Providence at home, but when it mattered most the Panthers have come up huge. They beat Rutgers as expected Saturday but that meant Pitt got the No. 2 seed after beating West Virginia and Villanova at home in February. Jamie Dixon has done a phenomenal job with the Panthers. There is no reason Pitt should be No. 2 in the Big East with what it lost.
Losers from Saturday
Rhode Island:
Had a shot to convince the selection committee that it was worthy, but lost at UMass a week after losing at St. Bonaventure. The Rams didn't beat the top three teams in the A-10 (Xavier, Temple or Richmond). URI must win the conference tournament.
Mississippi State:
The Bulldogs started a must-win game down 17-0. Mississippi State has blown two chances to win a key home game – to Kentucky and now Tennessee. The Bulldogs didn't do anything Saturday to convince the selection committee.
Georgia Tech:
The Yellow Jackets may still get into the field. But they gave the selection committee a reason to pause after losing at home to Virginia Tech, sans Dorenzo Hudson, who was hurt. The Yellow Jackets finished seventh in the ACC and had only one conference road win.
Connecticut:
The Huskies had an awful week, losing at Notre Dame and then losing at South Florida on Saturday. The Huskies now probably have to get to the Big East semifinals to crawl back into the conversation.
Dayton:
The Flyers were teetering on the bubble before the Billikens bulldozed the Flyers late and stole a win. Dayton now probably has to win the A-10 tournament to get a bid.
Villanova:
The 'Cats may have played themselves out of a No. 2 seed by losing at home to West Virginia. Villanova also fell to the No. 4 seed in the Big East tournament. 'Nova can still make a magnificent run, but it made the journey more difficult.
Kansas State:
The Wildcats lost their third home game in the Big 12 by falling to lower-level Iowa State (also lost to Kansas and Oklahoma State). The Wildcats blew a No. 2 seed with the home loss Saturday.
LaSalle:
The Explorers were supposed to be a sleeper in the A-10. They won't even make the tournament in Atlantic City. The Explorers will join winless Fordham in sitting out the conference tourney.
Oklahoma:
The disaster season came to a conclusion with a sad effort against Texas A&M. The atmosphere was awful and the Sooners sunk.
North Carolina:
The Tar Heels were handed the second-worst loss under Roy Williams. The Tar Heels were embarrassed by Duke and limp into the ACC tournament. It was just awful.
UAB:
The Blazers had a huge week with games against UTEP and Memphis. They lost them both and pushed themselves onto the wrong side of the bubble.
Tulsa:
The Golden Hurricane got hammered by Memphis and limp into hosting the conference tournament next week. Tulsa was the preseason favorite to win Conference USA.
A few nuggets:
Georgetown coach John Thompson III said late Saturday night that Austin Freeman felt fine after the game, his first since being diagnosed with diabetes. Freeman scored 24 points in the win over Cincinnati. Freeman missed the West Virginia game last Monday. Thompson told me that the Hoyas will continue to monitor Freeman's blood-sugar level and don't anticipate any problems going forward this season.
Notre Dame got Luke Harangody back for the win at Marquette. Harangody played 11 minutes off the bench. Irish coach Mike Brey told me late Saturday night that Harangody will continue to come off the bench this season. He said 'Gody told him to use him however he wants to ensure the team wins. Brey said the Irish have become mentally tougher in the past few weeks. The Irish were 4-2 without Harangody, beating Pitt and Connecticut at home and winning at Georgetown.
KVAL-TV reported that Oregon coach Ernie Kent has been fired and that he was told on Feb. 22 by Oregon athletic director Mike Bellotti. No one will be surprised if this does occur, but Kent told me in a text late Saturday night that this is the same story he has heard the past four years. Meanwhile, Bellottti sent this statement out late Saturday night after Oregon's win over Washington State: "Ernie and I have talked, and we will continue to talk through the Pac-10 Tournament."
February, 18, 2010
2/18/10
9:27
AM ET
The Morning After is our semi-daily look at last night's best hoops action. Try not to make it awkward. Oh, and sorry about that headline. I couldn't help myself.
No. 4 Purdue 60, No. 12 Ohio State 57
: Any time you face a player as good as
Evan Turner
, the conventional strategy is simple: Make someone else beat you. It might not have been conscious, but Purdue's execution in last night's impressive road win at OSU was the exact opposite. It let Turner get his points (and his assists, and his rebounds, and pretty much anything else he wanted, because what are you going to do, triple-team him?) and the rest of the Buckeyes couldn't step up in time. By the time OSU started hitting the shots it usually makes to complement Turner's brilliance, it was too late: Purdue is simply too smart, too hard-nosed and too complete on defense to spot it 15 first-half points. OSU and Turner made a valiant comeback, but it was too late.
Purdue's defense didn't stop Turner -- he went for 29 points, seven rebounds, and five assists -- but what it did do was isolate Turner from the rest of his teammates. Purdue swarmed OSU with that patented man-to-man defense, and Ohio State's offense turned simple. There was no motion, no movement, none of the things that the Boilermakers kept wowing with on their own offensive end. Instead, Turner would bring the ball up the floor, receive a screen or an iso call, go to the hoop and oftentimes score. But even a player as good as Turner can't rebound all of his misses. Even Turner can't find himself on back cuts. Even Turner can't make every shot. Ohio State had six assists all game; Turner had five of them.
In the end, it's games like these that set Purdue apart from the Big Ten pack. The Boilermakers have elite talent --
JaJuan Johnson
is perpetually slept on; sooner or later we'll learn -- but they also have the depth and style, that hard-nosed, lockdown defense thing that you can feel when you watch them, to outlast mercurial teams like Ohio State. Matt Painter's boys are not perfect, and they're not Kansas, but they're the closest thing the Big Ten has to a Final Four favorite. That much is no longer in dispute.
Louisville 91, Notre Dame 89, 2OT
: Which team needed this one more? Louisville, coming off an upset of Syracuse and trying to fight its way back into safe bubble territory? Or Notre Dame, whose bubble hopes are almost entirely waned, but who could maybe take a win at Louisville to the committee as a résumé-builder? Hard to say. What I do know that is that a Louisville win -- in which
Samardo Samuels
scored a career-high 36 points, including 16-of-19 from the free throw line,
marking the only real difference between these teams in Four Factors land
-- moves Louisville into legitimate tourney consideration, and just might move Notre Dame off the bubble for good. Such is life in the middle of the Big East.
Missouri 82, No. 17 Texas 77
: Is Texas going to drop out of the Top 25? This is the Longhorns' sixth loss in nine games, and while there's nothing wrong with losing at Missouri -- Missouri is a tough out, to be sure -- a team as talented as Texas losing so many games in the stretch run of its season, just as the country's elite are hitting their stride and doing their best work, ought to be hugely discouraging to voters. Take a gander at those Big 12 standings: Texas is 6-5 in the conference, behind Kansas, Kansas State, Texas A&M, Baylor and, yes, Missouri, which moved to 7-4 with Wednesday night's win. Texas is one of the most-talented teams in the country.
How does that happen?
Anyone with a really good answer -- something besides "Rick Barnes plays too many players" -- wins a cookie. Not kidding. I will mail you a cookie of your choosing. Just please help me understand this, because I am so very confused.
Everywhere else
: Duke was over the ledge in the first half at Miami, trailing by 12 at halftime and apparently doing another of its incomprehensible road loss routines, but credit the Devils for the turnaround:
Duke won 81-74 in an impressive comeback victory
. Sure, it's just Miami, but a road ACC win is a road ACC win. Especially for Duke. ... It was a night of survival for highly ranked teams, and
Kansas State's near-loss at home to Nebraska was no exception
. ...
West Virginia withstood Providence's second-half rally
. ... St. Louis got a huge win for itself and for the prospect of six A-10 teams in the NCAA tournament
with its win over Rhode Island
. ... Tennessee got a challenge from Georgia, but
pulled away for the nine-point win
. ...
Florida State rolled at Virginia
, a doomer for the Cavaliers' faint NCAA hopes. ...
South Carolina did itself no favors by losing at Arkansas
; as fun as it would be to have Devan Downey in the NCAA tournament, it's not looking good.
February, 17, 2010
2/17/10
4:02
PM ET
Saddle Up is our daily look at the hoops your TV wants you to watch. Here's Wednesday night's rundown.
No. 4 Purdue at No. 12 Ohio State, 6:30 p.m. ET, Big Ten Network
: If you're one of the college basketball fans
who doesn't live in a market that carries the Big Ten Network, or that doesn't have DirecTV
, well, man. I'm sorry. That's no good. Because tonight is one of the biggest games the Big Ten has had in years, and you're going to have to follow along on the Internet. You're also going to have to rush home from work; a 6:30 p.m. ET start time is mighty unfriendly to those Big Ten fans who live in the central time zone, which is most of them.
[+] Enlarge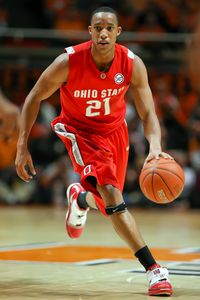 Robin Alam/Icon SMIExpect Purdue to try to smother Ohio State star Evan Turner.
Sneak out early. Duck your boss on your way out. Put up an out-of-office notification email. ("I'm not in the office, because I'm watching an awesome basketball game. Please direct all urgent issues to Person X, and don't bother me for the next few hours, nerds.") Do what you need to do, because the battle between the fighting Evan Turners and Matt Painter's steadfast and solid Boilermakers team is full of implications. If Purdue wins, they make a very strong case to displace Villanova as the fourth No. 1 seed and might cruise to the Big Ten title. If Ohio State wins, it boosts its own tourney resume and gets the added bonus of a foot forward in the Big Ten title race. The Big Ten is loaded at the top; tonight's result should provide some measure of separation.
The most notable match up on hand is, obviously,
Evan Turner
versus, well, anyone Matt Painter decides to send Turner's way. The Boilermakers are great at harassing opposing guards, and the one chink in Turner's armor is his tendency to turn the ball over. Expect Painter to try and smother Turner with multiple defenders as soon as he crosses the half-court line, and maybe before.
E'Twaun Moore
and
Chris Kramer
will play a prominent role, and it wouldn't be shocking to see
Robbie Hummel
try to keep Turner from dominating inside.
That's a solid strategy, but it leaves Purdue open to Ohio State's biggest non-Turner strength: shooting. The Buckeyes hit their outside shots. That efficiency means Turner doesn't need to dominate the scoreline for OSU to stay productive on offense; he merely needs to be enough of a distraction to dominate the other team's gameplan. If Purdue can find a balance between keeping Turner away from the areas he usually owns, as well as keeping OSU's shooters from getting too many kickouts and easy, Turner-delivered looks, Purdue has a great chance to win. But that, as with anything Villian-related, is easier said than done.
Whatever both teams decide to do, the numbers would point toward a close game:
Ohio State is the country's eighth-best offense
;
Purdue is its seventh-best defense
. Ohio State has the No. 24 defense in the country; Purdue has the No. 24 offense. Both teams have their eyes on deep tournament runs, and both teams are hitting their late-season strides. Like I said, rush home from work. Screw your personal file. This one is worth it.
But that's not all! Bonus previews, notes, and errata
: Be sure to check out
Hammer And Rails' lengthy preview of tonight's game
; same goes for Boiled Sports,
who says the anticipation "almost feels like a football game,"
which, were I a Purdue basketball player, would offend me. For the OSU-interested, you can find excellent fan-centric previews at
Eleven Warriors
and
Buckeye Battle Cry
. The
Big Ten Network seems rather excited about tonight's game
, too. And
don't forget the implications
. So many implications! (I like writing the word "implications." Implications. OK, sheesh, I'll stop.)
Everywhere else
:
Duke gets a chance to prove itself on the road against a decidedly mediocre Miami (FL) team
, which should be no problem, except this is Duke on the road, and, well, you know ...
West Virginia goes to Providence
, where Bob Huggins' men will attempt to sidestep the recent plague of Big East upsets ...
Nebraska plays Kansas State in Manhattan
; have fun, Huskers ... Your sneaky-good game of the night?
Texas at Missouri
... Georgia has played well on the road in the SEC;
their next challenge is at Tennessee
... Notre Dame, barely hanging on to a bubble spot,
will face fellow bubblers Louisville at Freedom Hall
... In a stacked A-10 with six possible NCAA tournament teams,
Rhode Island at St. Louis means a lot
... and two fringe ACC bubble teams will try to sort themselves out
when Florida State goes to Virginia
.
February, 10, 2010
2/10/10
3:45
PM ET
Saddle Up is our daily look at the hoops your TV wants you to watch tonight. Here's Wednesday night's rundown. Special programming note: I'll be flying to Indianapolis tomorrow to participate in the NCAA's mock selection committee, so my blogging may be a little light these next couple of days. I'm sure you'll find a way to persevere.


No. 7 Duke at North Carolina, 9 p.m. ET, ESPN
: Given the average college basketball fan's general fatigue with Duke-North Carolina -- everyone likes to complain about the attention these two teams always receive, and not without reason -- you might be struggling to find a reason to care about tonight's game. After all, if North Carolina (13-10, 2-6 in the ACC) is this bad, what's the point? Won't Duke just roll?
Maybe. Maybe not. Duke is certainly a more complete and more polished team than the Tar Heels. Veterans
Jon Scheyer
and
Kyle Singler
and the rest of Duke's formidable lineup constitute a major advantage over UNC's talented but inexperienced bunch. But it's not that cut and dry. Duke has major flaws, and one of them is that it's just not very good on the road. Let's not forget the
Devils' trouncing at Georgetown two weeks ago
. Nor should we ignore
Duke's loss at NC State
two weeks before that. Duke played very few nonconference road games, and it's been punished for it since, going 2-4 on the road in six tries overall. For a team with national title aspirations, Coach K's bunch has a way of looking decidedly average away from Cameron Indoor.
Meanwhile, North Carolina is in a horrific tailspin. What better way to turn the season around after losing six of your last seven than by getting a win at home over your hated rival? What better way to build confidence in your young players than by them proving to themselves they can play with an elite group like Duke? Or maybe the inverse happens: Duke dominates UNC at home in front of a disgusted crowd, and Roy Williams has to figure out how to get his team to recover from its latest disaster -- and how to talk to the media without
sounding depressed and apoplectic after the game
. The outcome will be high drama, in its own marginal way.
This might not be vintage UNC-Duke. You won't confuse tonight's lineups with anything you'll see on ESPN Classic. But sleep on it at your own peril. For reasons different than the past, this rivalry might surprise you yet.


Connecticut at No. 3 Syracuse, 7 p.m. ET, ESPN
: Speaking of intrigue, or a lack thereof ... ladies and gentlemen, allow me to present UConn-Cuse 2010! These two teams have taken opposite trajectories to end up where they are today. Syracuse was seen as a marginal Top 25 team at the beginning of the season; the Orange has morphed into one of the few viable challengers to Kansas' putative crown. UConn was a top 15 team to begin the year, and has morphed into a Jim Calhoun-less shell of its former self -- dominant shot-blockers on the defensive end (where the Huskies are No. 1 in the country for the ninth year in a row)
and barely average at almost everything else
. Jim Calhoun is being mentioned for coach of the year awards. Jim Calhoun is still on a leave of absence with no return date imminent.
It's hard to spin those conditions into something positive, even for me, and I'm positive (to a fault, admittedly) about any and all college basketball on my television. It's college hoops! It's awesome in and of itself! We get to watch basketball! Hooray for basketball! But it's hard not to feel the same sinking feeling many will have about Duke-UNC, and that many had about Kansas-Texas --
this game should be so much better
. It's up to UConn to prove us wrong. (In the Carrier Dome. Against a dominant 2-3 zone. With a team that can't shoot. Um, good luck, I guess?)


No. 19 New Mexico at No. 25 UNLV, 11 p.m. ET
: It would be criminal to focus on the above games and not give what could be tonight's best, most important matchup some love. New Mexico at UNLV is tonight's only game featuring two top 25 teams, and that's not the only reason to watch. Whoever wins tonight takes over first place in the Mountain West, where three teams (these two, plus BYU) are vying for NCAA tournament bids. Plus it features a matchup between the conference's two best wing players, New Mexico's
Darington Hobson
and UNLV's
Tre'Von Willis
. New Mexico rarely turns the ball over; UNLV thrives on forcing steals. New Mexico loves to get to the free throw line; UNLV never allows its opponents that luxury. Stay up past your bedtime, East Coasters. You don't want to miss the game of the night.
Everywhere else
:
Ohio State will visit Bloomington
, where the Hoosiers have been a tough out all year. But tough enough to keep
Evan Turner
Line Watch from showing up in the morning? Doubtful. ...
Northern Iowa will go on the road to play a pesky Drake squad
, which wants this win forever, man (sorry). ... Georgia Tech has lost its last two games on the road and
will try to avoid a third at Miami
. ...
Florida goes to Columbia
, where a banged-up
Devan Downey
should be in the lineup. ...
Northwestern's game at Iowa is a must-win for the Wildcats' tournament chances
. ... and a pair of important A-10 battles --
Charlotte at Dayton
;
Richmond at Rhode Island
... will go down.
February, 9, 2010
2/09/10
12:45
PM ET