College Basketball Nation:

Richard Solomon
June, 20, 2013
6/20/13
5:00
AM ET
1. Florida coach Billy Donovan said suspended senior point guard
Scottie Wilbekin
(9.1 points, 5 assists per game last season) isn't allowed to work out with the team, but he can lift weights on his own and the coaches are still working with him. He's certainly not part of the team in a group sense during his suspension (his second in less than a year). Donovan said Wilbekin has a lot of work to do to get back on the squad -- and that includes maturing and growing up. The Gators have a point guard ready to step in if Wilbekin doesn't get his act together.
Kasey Hill
, who could end up beating out Wilbekin anyway, will be on campus for summer session next week. Donovan will likely review Wilbekin's status when he returns July 8 from Prague after coaching the United States under-19 team at the FIBA World Championships.
2. The new Big East starts up in less than two weeks -- do you know who the next commissioner will be? Well, neither do the athletic directors, who have been left totally out of the loop. The 10 school presidents have been directing the entire operation, and made a number of runs at professional sports candidates before looking once again at college possibilities. The one person a number of administrators want is the NCAA's Dan Gavitt, who was a longtime associate commissioner in the old Big East. But Gavitt reiterated that he is staying put. The presidents should have done everything in their power to get Gavitt. He would have been perfect, since he understands each of the schools better than most. He also knows the difficulties of scheduling in pro arenas. Managing that issue, leading and organizing the league will be the most pressing issues of the job, since a television negotiation is already done with Fox.
3. Cal was an omission when I was looking at some of the top challengers to Arizona next season in the Pac-12. The Bears anticipate they will have one of their best teams even though
Allen Crabbe
is gone. They return four starters -- everyone except Crabbe -- and bring in
Jabari Bird
, who headlines what the staff considers its best recruiting class under Mike Montgomery. Cal does get overlooked quite a bit, but has been in contention the past four season. The Bears have studs
Justin Cobbs
and
Richard Solomon
back from a team that finished one game out of first place, in a tie with Oregon and Arizona, last season before losing to Syracuse in the NCAA round of 32.
March, 24, 2013
3/24/13
1:51
AM ET
SAN JOSE, Calif. -- It's one thing to play good defense. That's when opposing players have low field goal percentages. Syracuse does that, without a doubt. It ranked third in the nation in field goal percentage defense this season.
But what if you need that extra push over the cliff and decide to turn your defense up to 11? That's when, say, the Pac-12 Player of the Year can't even get a shot off, much less make one.
And that's what the Orange did Saturday in their
66-60 victory
over California in the NCAA tournament round of 32 at HP Pavilion. Bears guard
Allen Crabbe
entered the tournament averaging 18.7 points. He'd scored 20 or more points in 15 games this season.
Against Syracuse, he took his sixth shot of the game with five minutes left. At that point, he was 1-for-6 from the field. He finished with eight points on 3-of-9 shooting.
"They keyed in on me," Crabbe said. "The shots that I thought I would probably get weren't there. And they took things away from me. You've just got to give credit to them. They're long and athletic, so I tried to shoot over them a couple of times. They were there, contested it. I was in the air passing the ball, deferring for my shots. You've got to give them credit, they play really well in that zone."
[+] Enlarge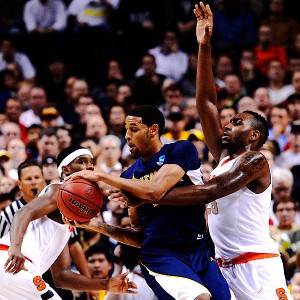 Thearon W. Henderson/Getty ImagesRakeem Christmas and the Syracuse zone took Cal star Allen Crabbe out of the game for a huge stretch.
Ah, Syracuse's notorious 2-3 zone. Love it, hate it, but it's the signature of one of the nation's most consistent programs. Coach Jim Boeheim's players are running it as well as they have in the 1,037 years -- give or take 1,000 -- the crotchety one has been at Syracuse ("crotchety" being the term Cal coach Mike Montgomery used to describe his good friend).
"I thought our defense was really good tonight, the whole game," Boeheim said. "I just thought we played tremendously on the defensive end."
Fourth-seeded Syracuse (28-9) will play the winner of Indiana's game Sunday against Temple in the Sweet 16 in Washington, D.C., on Thursday.
Cal averaged 67.5 points per game this season, but the Orange defense is not just about scoring. It's about frustrating. Making a team uncomfortable. Cal seemed uncomfortable most of the night. Crabbe's No. 2, guard
Justin Cobbs
, scored just five points on 2-for-9 shooting and had as many turnovers -- four -- as assists.
Cal shot 39.3 percent from the field. It was 4-of-21 from 3-point range (19 percent). The Orange grabbed 1o steals.
"We had a difficult time solving the zone," Montgomery said. "They did a great job of getting to Crabbe, for example, and locating him in the thing and they had us pretty well spread out. Credit to Jim Boeheim. That zone is effective. It's good. It's tough. I'm sure everybody in the Big East will tell you the same thing. It's something you've got to play with for 40 minutes. They're not changing. They have a lot of confidence in it and we didn't come out and attack it very intelligently. And obviously if you go 4-for-21 from 3 against the zone, you're probably going to have some problems."
Cal, the region's No. 12 seed, was forced to go away from Crabbe and Cobbs, who combined to score 1,059 of the Bears' 2,094 points entering the tournament;
Richard Solomon
led all scorers with 22 points while
Tyrone Wallace
added 12.
But that's not Cal.
"They moved the ball well, as well as anybody. They really did," Boeheim said. "We just were reacting really, really well. We really had great defensive movement. Our defense was as good as you could ask it to be for a long time tonight. I mean, they weren't getting shots, you know."
Crabbe had five turnovers, most coming when he tried to pass as the Orange converged on him. And even when Cal (21-12) got good looks, those looks didn't last long.
"So by trying to throw it to
David [Kravish]
and Richard and at the high post, they were having to catch, face, make a decision there," Montgomery said. "And we got some really nice shots off. We had some where we actually got the ball exactly where we wanted it, but we got it blocked. And their size came in and took those away from us. That's discouraging."
As for offense, Syracuse was a bit sloppy at times, but it was aggressive and got the job done. With 18 points,
C.J. Fair
led four players in double figures.
James Southerland
scored 14 points on 4-of-8 shooting and grabbed a team-high nine rebounds. He added two assists and four steals.
Syracuse scored 20 points off turnovers, compared to 13 from California. The Orange also had 18 second-chance points, compared to 12 from Cal. Both those numbers add up to meaningful totals when you consider the final score.
So how far can that defense carry Syracuse?
Said Fair, "We can go all the way -- our whole goal is to get to Atlanta."
March, 7, 2013
3/07/13
5:00
AM ET
1. At least one coach in the new Big East, filled with the Catholic 7 schools and likely Butler and Xavier, has been told to anticipate a 16-game schedule next season, according to one source with knowledge of the situation. That would force the seven Big East schools -- Georgetown, Providence, St. John's, Seton Hall, Villanova, DePaul and Marquette -- to get two more non-conference games after playing 18 in the Big East this season. Of course, if Creighton is chosen as the 10th member for next season instead of in 2014, the league can pull off a true round-robin, 18-game league schedule, much like the Big 12. That's what the league should do to have a major splash in Year 1. The league's new television partner, expected to be Fox, would probably like to have two more games per team to show.
2. I don't understand why four Stanford assistant coaches and Cal assistant Gregg Gottlieb were ejected from the Cal-Stanford game for coming onto the floor to break up a scuffle Wednesday night. The assistant coaches were acting as peacemakers and trying to ensure the situation didn't escalate. Gottlieb was reacting to a volatile situation. Were the assistant coaches expected to just sit there and watch a full-scale fight? At some point, common sense has to factor into some of these decisions. If the assistant coaches were doing more harm than good, fine.
Gabriel Harris
of Stanford and
Richard Solomon
of Cal were also ejected -- but not for fighting, meaning they wouldn't have to miss their respective teams' next games, in the Pac-12 tournament. The conference could always add to the discipline if warranted.
3. Give Washington State coach Ken Bone and Georgia Tech coach Brian Gregory a lot of credit for ensuring their teams were still playing with purpose and passion in the final week of the regular season, despite no shot at the postseason (barring miraculous runs in the Pac-12 and ACC tournaments, respectively). The Cougars' victory over UCLA in Pullman on Wednesday had to give Bone such relief after a rough season. The Yellow Jackets, mired in the bottom third of the ACC, denied Miami the chance to clinch the league's regular-season title with a last-second putback. The same is true of Nebraska's Tim Miles, who had the Huskers ready to pounce on Minnesota in Lincoln. South Florida, meanwhile, has won two in a row at the bottom of the Big East. This final week of the season has proven to be as unpredictable as the season as a whole.
July, 17, 2012
7/17/12
1:00
PM ET
Editor's note: ESPN.com's Summer Shootaround series catches up on the offseason storylines for each conference. For more on the Pac-12,
click here
.
Arizona: Nick Johnson
The shooting guard tapered off at the end of his freshman season, when he averaged just 6.1 points in his last seven games. It will be interesting to see if the presence of highly touted freshman Gabe York and Xavier transfer
Mark Lyons
will cause Johnson to step up his game.
[+] Enlarge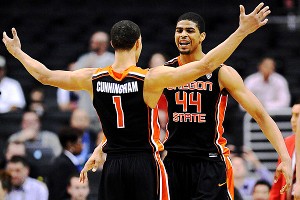 Jayne Kamin-Oncea/US PresswireJunior forward Devon Collier, right, will be heavily leaned on by the Beavers this upcoming season.
Arizona State: Jordan Bachynski
The 7-foot-2 center was a bright spot for the Sun Devils during an otherwise frustrating season in 2011-12. Don't be fooled by his ho-hum statistics (6.0 points; 4.0 rebounds). In Arizona State's last 13 games, Bachynski averaged 10.1 points, 6 boards and 2 blocks. He'll be one of the top post players in the league this season.
California: Richard Solomon
The 6-foot-10, 220-pound forward was averaging 6.8 points and 6.2 rebounds when he was declared academically ineligible after 13 games last season. It was a huge loss for the Golden Bears, who are a much better team when Solomon is anchoring the defense down low.
Colorado: Andre Roberson
The forward ranked third in the nation in rebounding last season with 11.1 boards per game. Most NBA mock drafts predict that Roberson will be a first-round pick next summer. For now, the biggest question is whether Roberson can lead the Buffaloes to the NCAA tournament for the second straight season.
Oregon: Tony Woods
The 6-foot-11, 250-pound Woods put up modest numbers (6.3 points, 3.7 rebounds) after transferring to Eugene last season. Still, the former Wake Forest post player has yet to live up to the lofty expectations that have hovered over him since high school. Oregon will be a different caliber team if Woods takes that "next step" in his final season.
Oregon State: Devon Collier
With
Jared Cunningham
now in the NBA, the spotlight will shine on Collier. The 6-foot-7 forward averaged 13.2 points and 5.3 rebounds as a sophomore last season, when he shot 61.5 percent from the field. He also blocked an average of 1.3 shots per contest.
Stanford: Aaron Bright
The point guard should be full of confidence after averaging 16.8 points and 4.2 assists during Stanford's march to the NIT title. Bright's performance earned him tournament MVP honors. If he plays that way in 2012-13, the Cardinal will be back in the NCAA tournament.
UCLA: Larry Drew
The Bruins' recruiting class has generated a ton of offseason buzz, and rightfully so. But a strong performance by Drew at point guard will be vital if the Bruins hope to be a mainstay in the top 10. Drew was North Carolina's starter before walking out on his team midway through the 2010-11 season.
USC: J.T. Terrell
The shooting guard averaged 11.1 points as a freshman at Wake Forest in 2009-10. He withdrew from school last fall after he was arrested for driving while impaired. Terrell played last season at Peninsula Junior College. Trojans coach Kevin O'Neill said Terrell is one of the most talented players he's ever signed.
Utah: David Foster
The 2009-10 Mountain West Defensive Player of the Year missed all of last season with a broken foot. Foster, a 7-foot-3, 243-pound center, will return this season and try to help the Utes bounce back from the worst season in school history. Foster holds Utah's all-time record for blocked shots with 219.
Washington: Scott Suggs
C.J. Wilcox
and
Abdul Gaddy
are the most recognizable names on the roster. But don't forget about Suggs, a sharpshooter who averaged 7.4 points and shot 45 percent from 3-point range as a junior two years ago. The 6-foot-6 Suggs, who redshirted last season because of a foot injury, could be one of the X factors for the Huskies.
Washington State: Reggie Moore
The Cougars might be decent if Moore can keep his head on straight. The point guard was suspended in January 2011 following his arrest on marijuana-related charges. Last season, he played in all 37 games and averaged 10.2 points and 5.2 assists. Moore is one of the most underrated players in the country at his position. His leadership this season will be key.
December, 2, 2011
12/02/11
10:00
PM ET
By
Diamond Leung
| ESPN.com
In a media day monologue that included details of his cancer scare along with humor both dark and self-deprecating, Cal coach Mike Montgomery made one glaring comment while describing the state of his team that was omitted from the Pac-12's detailed official transcript.
"
Richard Solomon
is no longer a freshman, although sometimes we have to check," Montgomery said half-jokingly. "But he's made great progress and has great upside."
It was an honest, little jab at the maturity level of a 6-foot-10 forward talented enough to have played major minutes as a freshman and earned a tryout to USA Basketball's Under-19 world championship team this summer. Solomon showed improvements this season while taking over a starting job, averaging 6.0 points and 7.3 rebounds, leading the team in boards.
But after being
suspended indefinitely
for conduct that Montgomery deemed detrimental to university and athletic department values, Solomon has left the No. 23 Bears a big question mark heading into Sunday's intriguing game at San Diego State.
Cal (6-1) uses a strong three-guard rotation with
Jorge Gutierrez
,
Allen Crabbe
and
Brandon Smith
with high-scoring
Justin Cobbs
coming off the bench. But alongside forward
Harper Kamp
, the Bears are thin in the frontcourt without Solomon.
The attention now centers around freshman
David Kravish
, who has impressed in the early going, averaging 4.7 points and 5.1 rebounds despite an obvious need to eventually add muscle to his 6-foot-9, 210-pound frame.
Bak Bak
and former walk-on
Robert Thurman
haven't received major minutes.
Cal seems to be the Pac-12 favorite after UCLA and Arizona dropped out of the rankings. A 39-point loss to Missouri in the CBE Classic was a definite sign that the Bears remain a work in progress. Solomon's suspension doesn't help, but a brief benching could provide a wake-up call for the talented sophomore and give Kravish a chance to shine.
For now, there's some growing up to be done.
"We expect our student-athletes to adhere to a high standard of behavior," Montgomery said in a statement. "In this particular instance, that was not the case."
November, 9, 2010
11/09/10
10:05
PM ET
By
Diamond Leung
| ESPN.com
BERKELEY, Calif. --
Gary Franklin
is the daring one, the lights-out shooter that Cal coach Mike Montgomery muses has never met a shot he doesn't like, but is being encouraged to keep on firing.
Allen Crabbe
is the conservative one, and while Montgomery appreciates his commitment to limiting mistakes, is also being asked to be more of an aggressive playmaker given his talent and potential.
They are Cal's freshmen wings and the two players that will need to grow up quickly if the rebuilding Bears hope to defend the Pac-10 title.
Cal returns only one major contributor from the past season's championship team. Luckily for the Bears, the gems of Montgomery's recruiting class are accustomed to winning during their prep careers in southern California.
Franklin and Crabbe, who are set to make their college debuts in an exhibition game Wednesday, impressed the coaching staff when they checked their high school titles and egos at the door.
"They've been as committed as anyone could possibly be in our program," assistant coach Travis DeCuire said. "They've never second-guessed anything they've been told, and they're willing to learn. A lot of 'yes coach, no coach, thank you coach,' and a lot of questions being asked. They've been a blessing to have."
Montgomery is so high on Franklin's ability to score that he's leaving the point guard position in the hands of veterans
Jorge Gutierrez
and
Brandon Smith
so the 6-foot-2 star at powerhouse Mater Dei High won't have too much on his plate and can focus on shooting.
"He can shoot it from deep," Montgomery said.
How deep?
Well, put it this way. Franklin is invoking the name Jerome Randle, the departed senior who won Pac-10 player of the year honors and is known for the 3-pointers launched from the Haas Pavilion parking lot.
"Seeing Jerome Randle play and seeing the shots he took, it made me more confident to where I couldn't take any worse shots than he did," Franklin said, smiling. "To his credit, he made those crazy shots that he would take sometimes. I've worked a lot on my jump shot, and I've become a pure shooter. I think Coach Montgomery is confident as well in me as taking those shots that I won't really turn down."
Crabbe, the reigning Mr. Basketball in California, will get his share of looks as well. The 6-foot-6 guard won a state title for tiny Price High in Los Angeles with fellow freshman
Richard Solomon
, a 6-foot-10 forward.
And on a team with Gutierrez as the leading returning scorer averaging 5.5 points per game, less-heralded freshman guards
Emerson Murray
and
Alex Rossi
are expected to get opportunities to play as well.
"As a group, I'm just surprised how humble they are and how willing to work they are," said junior forward
Harper Kamp
, who was medically redshirted last season and will form a frontcourt with injury-plagued center
Markhuri Sanders-Frison
.
"You see freshmen come in a lot, and they have the accolades like these guys have, and they think a little more of themselves than they should, and they don't work as hard. But this group has done a lot of work, and they know they have a lot of work left to do."
Montgomery, of course, expects plenty of growing pains early while teaching his young team the fundamentals, noting, "They don't know what they don't know yet."
But for a Bears team picked to finish seventh in the Pac-10 coming off its first regular-season title in 50 years, maybe things won't be so bad after all if the newcomers are as good as advertised.
"I think we're going to be a problem (for opponents)," Solomon said. "We're used to winning. We're going in with the mindset that we're going to win. We're pretty confident."