College Basketball Nation:

Rob Brandenberg
February, 15, 2013
2/15/13
8:00
AM ET
Another wacky week in the Atlantic 10, another mostly futile attempt to place the lion's share of these teams in something resembling a hierarchy. Let's give it a less wordy shot:

1. Virginia Commonwealth.
For most of the nonconference season, VCU was an elite defensive team. Shaka Smart's constant pressure system worked: It forced opponents into the highest turnover rate in the country -- a distinction it still maintains; Rams opponents cough it up on 29.3 percent of their possessions -- while VCU's all-men-on-deck combination of lightning-quick guards (
Treveon Graham
,
Darius Theus
,
Briante Weber
,
Troy Daniels
,
Rob Brandenberg
) constituted one of the most exciting watches in the sport.
But a weird thing happened on the way to the Atlantic 10: VCU's defense got mediocre. The Rams still force a ton of turnovers, of course, but when they
don't
force turnovers, they don't get stops. VCU's league opponents make 38.0 percent of their 3-pointers and 50.2 percent of their 2s, and have averaged 1.01 points per trip, making VCU's defense the seventh-best in the league. Another weird thing happened: VCU's offense took off. Through nine games, the Rams have the best per-possession offense in the A-10. Talk about a reversal of fortune.
Why put them back at No. 1 this week? Because I think VCU's defense will come back. And if it does,
and
this offensive pace continues, the Rams will be as dangerous as any team in the country.
Also, Thursday night
Juvonte Reddic
did
this
. So you know.
2. Butler.
If power rankings are a balance between a team's long-view work to date and an evaluation of its current performance, you could still make the argument that Butler is the best team in the Atlantic 10. After all, no one else can lay claim to a win as good as Indiana, not to mention Gonzaga at home. (Marquette in Maui wasn't too bad, either). But the Bulldogs, it should be noted, entered Wednesday night's home date against Charlotte with
a conference efficiency margin of only 0.08 points per possession
, tied with La Salle and George Washington for fourth-best in the league. And then they lost to Charlotte at home. I'm not panicking just yet, nor should Butler fans; there is still much to recommend the Bulldogs. But it is not heresy to admit that Butler has struggled in the past two weeks, even as wins over Rhode Island, St. Bonaventure and George Washington masked that fact.
3. Saint Louis.
The Billikens, meanwhile, are headed in the opposite direction: Since back-to-back losses to Temple and Rhode Island on Jan. 12 and Jan. 19, St. Louis has won six in a row in mostly easy fashion, including a 73-58 victory over Butler. Its defense allows the fewest points per trip in the league (0.915), mostly because Saint Louis rarely allows offensive boards. But the schedule only gets tougher from here: versus Charlotte, versus VCU, at Butler, versus Saint Joseph's, at George Washington, at Xavier, versus La Salle. In other words: go time.
4. La Salle.
Were it not for that baffling mid-November home loss to Central Connecticut, the Explorers might well be the subject of some national discussion. Because other than that, the rest of La Salle's losses (at Bucknell, Miami, Charlotte and Xavier, and a 61-60 home loss to Massachusetts) are completely forgivable. Saint Louis has been stifling on the defensive end in conference play, but La Salle is right there with its friends from the Midwest, and perhaps it's time non-A-10-heads sat up and took notice.
5. Massachusetts.
OK, UMass fans: You win. I have officially decided to stop qualifying everything I write about the Minutemen with some version of "Well, their efficiency numbers haven't been very good, so the other shoe could drop any time now." It's not that I didn't like UMass, or something sinister like that; it just felt like fair warning. I'm done now. The bottom line is UMass is the fourth-fastest team in the country -- in this hyper-slow modern college basketball landscape, this is something we should be praising in and of itself -- and that pace, aided by the speed of point guard
Chaz Williams
, allowed the Minutemen to post the A-10's second-ranked efficiency offense performance and fourth-ranked defense prior to Thursday night's game at VCU. The Minutemen were blown out in that game, but that'll happen at VCU. Either way, it's time to start taking Derek Kellogg's team seriously.
6. Charlotte.
On Wednesday night, Charlotte won 71-67 at Butler. I reacted to this in some detail Thursday, so instead of repeating myself,
I'll merely send you there
.
7. Xavier.
For a young team that struggled so much in the nonconference, Xavier sure seems to be headed in the right direction now. Maybe that was bound to happen. Maybe it's a product of the Musketeers' backloaded schedule. All three of Xavier's league losses came on the road; its only real quality A-10 win (La Salle) came at home. The Musketeers go to Dayton on Saturday, and then Rhode Island next week. Those will be tests, sure, but it gets really gully starting Feb. 23, when Xavier closes with -- get this -- VCU, Memphis, UMass, St. Louis and Butler. This is going to be
really
interesting.
8. George Washington.
As mentioned above, the Colonials' league efficiency margin of 0.08 points per trip was, before Wednesday's games, tied for the fourth-best in the league. George Washington hasn't played since. The ceiling is pretty limited here, but Mike Lonergan's team plays defense, and that makes it a very tough out.
9. Temple.
More like TempLOL, am I right? No? Come on, Owls fans. Now might not feel like the time to joke, but I find the hoary old chestnut holds true: "Laughter is the best medicine … for getting over an 84-83 home loss to Duquesne." That actually happened Thursday night; that's a real thing. And it's a perfect summation of this insanely unpredictable, defense-averse Temple team, a team that can now say it beat Syracuse in Madison Square Garden and lost to Duquesne at home. Your guess is as good as mine.
10. Saint Joseph's.
Fun game in Philly this weekend, when Saint Joe's meets La Salle in another Big 5 matchup. At this point, city pride is starting to feel like the best possible outcome for Saint Joe's. It's a really disappointing team.
11. Dayton.
In December, back when we thought Alabama was a top-four SEC team, Dayton's victory in Tuscaloosa seemed to foretell another unpredictable, up-and-down Dayton season. Now it just looks like the latter.
12. Richmond.
The Spiders have been racked by injuries, which is a good explanation for why an offense that played so well on a per-possession basis in the nonconference season has been the A-10's 12th-best to date. The Spiders have struggled on defense all season; without scoring, they're having a tough time.
13. St. Bonaventure.
When they beat Temple and Saint Joe's on the road in late January, the Bonnies seemed to be on the rise. But they've fallen back below .500 since and, despite a valiant effort in a three-point home OT loss to La Salle on Wednesday, are clearly in a rebuilding stage.
14. Rhode Island.
Between a road win at Saint Louis -- still can't figure that one out -- and Wednesday's 75-72 home victory over Dayton, Rhode Island lost six consecutive games. And you know what? It was all positive stuff. Remember, this is a team with a first-year head coach that won seven games in 2011-12. Five of the losses in the recent skid came by single digits. The Rams are playing people tough. It's a weekly refrain in this space, but it's true.
15. Duquesne.
Duquesne! Huge win over Temple on Thursday night, not for any tangible reason -- it's not as though Duquesne is on the bubble -- but for sheer morale. It's not easy to play in a league like this when you're overmatched, and you had better believe knocking off one of the league's annual contenders in its final season in the league, in its own building, had to be incredibly satisfying.
16. Fordham.
Fordham, unfortunately, has had no such fun. Its only two league wins have come over Rhode Island and Duquesne; it has lost its past five games; and on Saturday, Butler comes to town. Ouch.
March, 17, 2012
3/17/12
11:23
PM ET
PORTLAND -- There was 1-17 and Kelvin Sampson and the NCAA investigation and an implosion of a marquee program whose fans love their team because they really love the game of basketball -- and the game had become unwatchable at Indiana.
Misery was Hoosiers basketball over a 10-year stretch since the school last played for a national title in 2002. A proud program found itself cast into the fetid basement of the Big Ten with a 6-25 record in 2008-09.
The return of Indiana basketball from the depths was one of the major stories of this college hoops season. But everyone knew that story would be tested in the NCAA tournament. In college basketball, that's when plots thicken and teams are unmasked, their ultimate truth revealed by the pressure of win-or-go-home.
That the Hoosiers beat a rugged VCU team
63-61
to advance to the program's first Sweet 16 in a decade is meaningful in itself, of course. But the way the Hoosiers prevailed adds heft and substance to the accomplishment.
VCU was pushing Indiana around most of the night in the Rose Garden. It was dictating the pace. And its "havoc" defense forced a stunning 22 turnovers. The Hoosiers' previous worst this season was 18.
There were plenty of reasons to get flustered and to let doubt enter into the team huddle. Only it didn't. And during the final stretch, it was the IU defense, as well as clutch play, that stood out.
"I got to see this game, the last six or seven minutes through our players' eyes," coach Tom Crean said. "And they were so locked in and had such great resolve to never panic and to just truly believe that they were going to win."
[+] Enlarge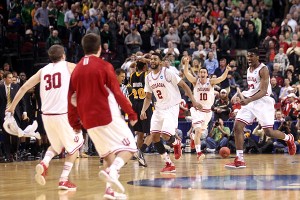 Jed Jacobsohn/Getty ImagesIndiana players celebrate their win over VCU, in which they overcame a 9-point second-half deficit.
Locking in and showing resolve. That sounds a bit like ... Indiana basketball.
Defense? VCU led 57-48 with 12:30 left. The Rams would score just four more points. Sure, some of that was poor shooting. But how can you not credit a defense for yielding that few points over that long of a stretch?
Clutch plays? Indiana scored the final seven points.
Cody Zeller
made two free throws that closed the gap to three.
Victor Oladipo
's 3-point play tied the count. And
Will Sheehey
's short jumper from the side gave the Hoosiers the lead for good with 14 seconds left.
Meanwhile, VCU faltered. Senior leader
Bradford Burgess
missed a pair of free throws with just under a minute left.
Troy Daniels
missed a 3 with 23 seconds left. And
Rob Brandenberg
missed a trey that would have won the game at the buzzer.
Defense often wins championships. But not always. Grabbing 10 steals is great, but VCU needed to be able to produce in the half court. It needed to hit more than 9 of its 30 3-point attempts. And, really, the Hoosiers still shot 52.2 percent, including making 6 of 13 3-pointers (46.2 percent).
"The shots that we got late in the game, I feel good about those looks," VCU coach Shaka Smart said. "I feel good about the guys that were taking them, they just didn't go in. And that's basketball."
Indiana fans know how basketball is. It giveth and it can taketh away. And even during the rise from the ashes this season, there probably was still a pit of worry in most Hoosiers fans' stomachs.
Are we really back? How will these guys react when the screws tighten in the NCAA tournament?
The answers? Yes. And like Indiana basketball players.
March, 26, 2011
3/26/11
3:16
AM ET
SAN ANTONIO --
Joey Rodriguez
was out of options and nearly out of time.
"I was counting in my head," the Virginia Commonwealth guard said. "I was at four."
Four seconds into his attempt to inbound the ball beneath the Florida State basket. One more tick and it would be a five-second violation, and the Rams would almost certainly have lost their last decent chance to beat the Seminoles.
They trailed 71-70 in overtime, having frittered away a nine-point lead in the final 7:05 of regulation. And now they were eight seconds away from ending their stirring, underdog run to the Sweet 16.
And the clock was ticking in Rodriguez's head. A play originally designed for
Brandon Rozzell
blew up when Rozzell and forward
Jamie Skeen
collided. Then it was on to Plan B --
Bradford Burgess
slipping to the hoop off the third screen of the sequence -- which coach Shaka Smart had told his point guard would be open late in the play.
So Rodriguez kept his wits about him. The little senior Smart called the mentally toughest player he's coached didn't panic. He faked a deep pass to freeze the Florida State defense, then suddenly discovered Burgess cutting to the basket.
[+] Enlarge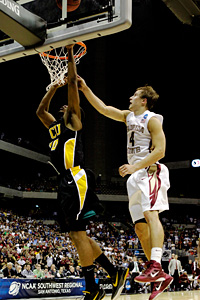 AP Photo/Tony GutierrezVCU's Bradford Burgess lays in the game-winning shot off an inbounds pass in the final seconds of OT.
Open.
Shockingly open.
Shocking, in part, because it seemed that no Ram had gotten open for days. Florida State's vaunted defense had suffocated VCU, holding it to three points in the final 7 ½ minutes of regulation and five more points in overtime. The Seminoles had blocked shots, created turnovers, forced shot-clock violations, instilled doubt in a team that had played so freely and so well for so long.
Now here, in the literal nick of time, came Burgess slicing into the paint between
Deividas Dulkys
and the unfortunate
Derwin Kitchen
. All alone.
"I was very surprised," Rodriguez said.
Kitchen took the blame, saying he turned his head the wrong way and lost Burgess. It would be the second part of an unholy trinity of late-game errors for the senior guard. You could describe the end of regulation and the end of overtime as Hell's Kitchen.
You also could describe it as Rodriguez's Redemption. An 84 percent foul shooter on the season and 91 percent in this tournament, he had stunningly missed three free throws in the final minutes of regulation. That was part of a team-wide meltdown at the line as VCU slowly lost its grip on the lead.
"Senior year, you don't want it to end on free throws like that," Rodriguez said.
It didn't. Instead, it ended on the biggest bounce pass in VCU history, the one Rodriguez threaded to Burgess for the layup and the winning points in a
72-71
triumph.
"Joey did a great job pass-faking and finding Brad," Smart said, "and Brad finished the play."
The play did not, however, finish the game. Seven seconds remained -- time for Florida State to make a last dash down court. The Seminoles put the ball in Kitchen's hands and hoped for a better result than the end of regulation.
The last possession of regulation had been a disaster. Kitchen lost track of time and dribbled out the clock, failing to turn and get up a shot before the buzzer.
"That was poor judgment on my part," Kitchen said, showing admirable accountability.
FSU coach Leonard Hamilton had watched that transpire while sitting on a pair of unused timeouts. But he said he'd diagrammed the play during the previous timeout and it simply hadn't panned out.
At the end of overtime, it was more of the same -- Kitchen to the hoop. And again Hamilton thought the play was going to work.
Kitchen drove to within a few feet of the hoop and seemingly had a decent shot -- then passed out to
Chris Singleton
. Kitchen said he fumbled the ball on his way up and didn't think he'd get off a good shot, thus the pass. Singleton's medium-range jump shot was blocked by
Rob Brandenberg
-- but it was unclear whether that one got off in time, either.
When the horn sounded, the Noles were left to ponder a determined comeback that was undone by late-game ineptitude. And the Rams were free to go wild.
Their ability to defy all expectations has made them the story of this NCAA tournament. A team that was barely granted admittance to the Big Dance dominated its first three games -- then had to win this one in dramatic fashion.
It was VCU's second late-game escape of the season. The first one occurred in the Colonial Athletic Association quarterfinals, when Skeen barely beat the buzzer with a spinning layup for a 62-60 victory over Drexel.
"If he doesn't hit that," Smart said, "we're not standing here."
That's how thin the margin of error was for the Rams just to get into this tournament. Now, in a fitting absurdity for a season that long ago began defying rational explanation, VCU is 40 minutes from the Final Four.
And all the Rams need to do is take down the last No. 1 seed in the field, mighty Kansas.
Earlier Friday, the Jayhaws ripped Richmond by 20. Earlier in the season, the Spiders ripped crosstown rival VCU by 12.
The math says this is a bad matchup for the Rams.
The Rams, just the sixth team seeded 11th or worse to make it this far, will counter that math with their beguiling brand of March magic.
"We're going to have to strap it up," Smart said, then smiled. "But I've got a feeling our guys are going to be ready."
March, 26, 2011
3/26/11
12:40
AM ET
SAN ANTONIO -- Thoughts from 11th-seeded VCU's thrilling
72-71 win
over Florida State.


Overview:
Virginia Commonwealth pulled off an overtime victory with a stunningly open inbounds play in the final seconds.
Joey Rodriguez
found
Bradford Burgess
going to the basket for a layup with seven seconds left, after VCU had struggled mightily to score in the final minutes of regulation and overtime. A final Florida State drive was stopped when
Rob Brandenberg
blocked the Seminoles' last shot.
Turning point:
With Rodriguez seemingly out of options and almost out of time to get the ball inbounds, he found Burgess for the winning basket.
Key stat:
VCU somehow withstood being outrebounded by 20 to win.
Key player:
Burgess had a game-high 26 points (which tied his season-high), none bigger than the winning basket.
What's next:
VCU's Cinderella ride advances to the regional final, where the 11th-seeded Rams will face No. 1 seed Kansas. The Rams will be just the fifth 11-seed to ever play in the Elite Eight. Florida State goes home to lament a botched final possession of regulation that saw the Seminoles dribble out the clock.
March, 17, 2011
3/17/11
1:46
AM ET
DAYTON, Ohio -- As VCU coach Shaka Smart sat down for his team's news conference following a
59-46 win
over USC at the First Four, he posed a question of his own for the media.
"You guys think Jay Bilas watched that game?" he said.
The Rams heard the criticism from ESPN analysts and others ever since Sunday night. That, as a fourth-place team from the Colonial Athletic Association, they didn't deserve their at-large bid to the NCAA tournament. Good thing they didn't gather as a team to watch the selection show, because they found themselves cast in the role of villain.
"As soon as we got selected, we were getting smashed," senior
Ed Nixon
said. "I mean, sheesh, they were really throwing some blows right there."
[+] Enlarge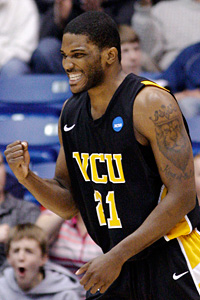 AP PhotoJamie Skeen had 16 points and 9 rebounds in VCU's win over USC.
UAB was the other team in this First Four that nobody thought belonged. The Blazers tried to ignore that talk, which coach Mike Davis called heartbreaking, before they flamed out in an 18-point loss against Clemson on Tuesday night.
VCU took the opposite approach. They laughed at it. Embraced it, even. Used it as motivation while reminding each other about it all week.
"Just fuel to the fire," guard
Rob Brandenberg
said. "We came here to Dayton with one thing on our mind: to prove everybody wrong."
You won't hear anybody bashing the Rams after Wednesday's performance. You might hear some people predicting them to beat No. 6 seed Georgetown on Friday in Chicago.
That's because they approached USC the way they did the controversy over their inclusion: They went on the attack. Even on a night when they struggled with shooting and several starters got in foul trouble, they played like a team ready to reward the selection committee's faith.
The Trojans, with their six-and-a-half-man rotation, didn't want any part of VCU's run-and-gun style. The Rams missed so many shots in the first half -- they connected on just 28 percent -- that they couldn't apply their press. USC coach Kevin O'Neill beamed at the halftime score of 22-all and called it a "perfect tempo."
But Smart told his team at intermission that it would shoot better in the second half. The Rams finally started hitting 3-pointers -- six of them in the second half, compared to just three in the first 20 minutes -- and USC made the mistake of trying to match plays in transition.
VCU forced 15 turnovers, cashed them in for 19 points, and fouled out three Trojans starters. Meanwhile, a team that ranked 297th nationally in rebounding margin beat the much bigger Trojans 40-31 on the backboard.
"They came out and performed like they wanted it more," USC guard
Jio Fontan
said. "They got a couple more loose balls than we did. The pace of the game was more in their favor than it was ours."
The pace still fell far short of what Smart wanted, and few would have believed the Rams could win this game while scoring fewer than 60 points. But VCU showed some versatility and toughness, switching to a 2-3 zone late to contain dribble penetration. USC, which somehow escaped media criticism despite finishing its season 19-15, simply looked worn out down the stretch.
"We like to be the aggressors," guard
Bradford Burgess
said. "We play a different style of basketball that select few teams in this tournament play. No team likes to be sped up and pressed. We like to get you out of your comfort zone."
Now comes another interesting test against Georgetown, another team that wants to control the tempo. The Hoyas expect to get injured point guard
Chris Wright
back, but if he's not 100 percent they could labor against the press.
Doubt VCU now at your own risk. Ironically, the Rams were the only NCAA tournament team that UAB beat this season. But they are no UAB this March.
"We already proved we belong in the field," Smart said. "We proved that all year. What this proves is that we deserve to advance."