College Basketball Nation:

Rob Wilson
March, 17, 2012
3/17/12
10:57
PM ET
ALBUQUERQUE, N.M. -- Forget the No. 4 seed. Toss out the top-20 preseason ranking.
Wisconsin again reaching the Sweet 16, after what the Badgers lost off last season's Sweet 16 edition and certainly following an unprecedented three home losses at the Kohl Center, is a surprise.
Don't let anyone say anything otherwise. You may have picked the Badgers in your bracket to reach the Sweet 16. I did not. President Barack Obama did and countless others did as well.
But step back and digest how far this team has come this season and you'll realize that the Badgers have fooled the field yet again.
"This team has done some things that if you're a real basketball person, you've got to go, wow,'' said Wisconsin coach Bo Ryan after the Badgers knocked off No. 5 Vanderbilt 60-57 Saturday afternoon at The Pit. "Everybody knows we have weaknesses.
Jordan Taylor
. Without Jordan Taylor, it's not the same.
"I'd like to say it's coaching but nobody would believe that,'' Ryan said. "It's guys working hard.''
The Badgers lost Jon Leuer and Keaton Nankevil off last season's team.
"We have three starters that played reserve minutes [on last season's team],'' Ryan said. "Some programs do that and put in McDonald's All-Americans. That didn't happen here.''
The Badgers were dreadful in a home loss to Iowa at the beginning of the Big Ten season. That led to a 1-3 conference start. Taylor was in a shooting slump and the Badgers looked like they were going to be an afterthought in the Big Ten behind upstart Indiana and Michigan and well behind Ohio State and Michigan State.
"I had to go to practice and be up,'' Ryan said. "It wasn't about a lack of trying. You can't yell at people for not making baskets.''
But then the Badgers won at Purdue and stunned Ohio State with a win in Columbus. Taylor shook his slump.
Ryan Evans
became the unsung player on this team and the contributions from
Mike Bruesewitz
,
Jared Berggren
,
Josh Gasser
,
Ben Brust
and even
Rob Wilson
became better with each game.
When asked if this team had improved more than any other he has coached at Wisconsin, Ryan's quick response was: "No question.''
[+] Enlarge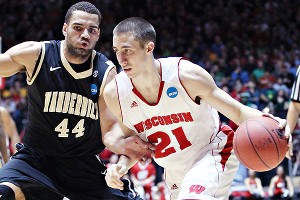 Nelson Chenault/US PresswireWisconsin star Jordan Taylor credited teammate Josh Gasser, who played ill during Saturday's win.
Saturday's win over Vanderbilt was another example of how much.
The Badgers blitzed the Commodores with a 10-2 start as Evans made shots in and out of the lane. Vandy was in step with Wisconsin, though, and took a lead to start the second half. But just when it appeared safe for the Commodores, the Badgers, especially Taylor, would hit buckets late in the shot clock.
"Coach kept telling me in the huddle that I had to step up as a senior and take the shot,'' Taylor said.
Gasser said, "If we get the ball to him late in the shot clock, he will make sure to always do good things. He's been doing it all year and all of last year. He is the leader of this team and we want the ball in his hands at the end of the game. He usually makes it happen. He didn't want this to be his last game and he definitely showed it.''
Taylor buried a 3-pointer with the shot clock winding down to one second to give the Badgers a 59-57 lead. The Badgers defended Vandy well on the next few possessions and Taylor had a shot to deliver the dagger to the Dores with 19 seconds left.
But he missed. And that's when Gasser hustled to get the loose ball rebound. Vandy's
Festus Ezeli
, who was benched for the first three-plus minutes of the game in a coach's decision, said it was a case of a long rebound that his team simply didn't run down in time.
Taylor said Gasser was up until 3 a.m. sick. "I can't say enough about him,'' Taylor said. "He did a great job just coming in. He dogged Jenkins as much as he could. That's why we're able to have success because we have teammates like Josh.''
Vandy had one more chance because Gasser missed a free throw.
John Jenkins
had a clean look at a 3-pointer to possibly win the game with four seconds left.
"It was a pretty good look,'' Jenkins said. "I felt like I got a good chance of having it going in, just like a lot of looks I had. It just didn't drop for me.''
"He was wide open,'' Vandy coach Kevin Stallings said. "He's a great shooter, period. He's really a great shooter going left and he was going left and he was wide open. We ran the play, ran it to perfection and got it right where we wanted him. He's made so many that have caused us to win games, and unfortunately that one didn't go in.''
Those close to the Badgers are in awe of their Sweet 16 appearance and that they have won 26 games, picked up a number of wins by shooting close to 40 percent and survived shooting slumps by Taylor and Bruesewitz this season.
The Badgers will play East Region top seed Syracuse on Thursday with a chance at an Elite Eight berth.
"They're long and we'll have to get inside-outside stuff going,'' Ryan said. "Hey, how close is Boston to Syracuse? Pretty close, isn't it?''
It is much closer than Madison. But distance and fan support shouldn't matter. The Badgers won't be picked to beat Syracuse. But doubting this particular Ryan edition has already proved to be foolish.
March, 17, 2012
3/17/12
8:41
PM ET
ALBUQUERQUE, N.M. – A quick look at fourth-seeded Wisconsin's
60-57 victory
Saturday over No. 5 Vanderbilt:


Overview:
The Badgers might have been a top-15 team and a high pick in the Big Ten. But if you saw this team early in the season against Marquette, then losing to Iowa in the Big Ten, there is no way you would think Wisconsin could be a Sweet 16 team. But Wisconsin muzzled Vandy early, made key 3s, and got crucial rebounds to limit Vandy to one shot to prevail in a highly entertaining second half. Wisconsin coach Bo Ryan knew this wasn't his most talented team, but it may have been his most improved. Vandy's senior class, which had accomplished so much, couldn't close out against a Wisconsin squad that simply made the late-game plays. This was as impressive a victory as you'll see in the weekend by a team that followed its own script perfectly.
Turning point:
Jordan Taylor
was getting defended quite well. The shot clock was winding down. With a second left he launched a 3-pointer from the top of the key and buried it for a 59-57 lead with 1:34 remaining. Vandy had just gotten a huge
Festus Ezeli
block and a scoring move inside to take a 1-point lead. Taylor's shot was a big swing.
Key player:
It's a tough call between Jordan Taylor and
Ryan Evans
. Evans was hot early. But Taylor once again showed that he makes plays when the shot clock is winding down. Taylor finished with 14 points, but his three 3s were all daggers and he ran a steady game for the Badgers.
Key stat:
The Badgers have to make 3s to win. They made 10. They also took 33. But that's OK. They have to do that to pull off a win like this over Vandy.
Miscellaneous:
Vandy coach Kevin Stallings benched Ezeli to start the game, opting to start
Steve Tchiengang
. The Commodores got down 10-2 to start the game. Hard to say if that had a direct effect. ... Old school here at the Pit as the wave made a cameo in the second half. ... Wisconsin's Jordan Taylor is deceptively quick. He broke down Vandy on multiple occasions with his fleet first step. He found openings to the hole when he needed them. Meanwhile,
Jeffery Taylor
might have had the broken-ankle move when he got
Rob Wilson
on the court with a crossover move. Taylor then buried the 3-pointer. ... More old-school stuff here in the Land of Enchantment as a beach ball made its way around the arena until a security guard popped it, much to the dismay of the fans.
What's next:
Wisconsin will take on Syracuse in Boston on Thursday. And to take this team lightly would be a major mistake. Wisconsin finds a way. Always does.
March, 9, 2012
3/09/12
7:15
PM ET
INDIANAPOLIS -- He didn't credit his lucky socks or a favorite pregame meal. He didn't quote Confucius or Oprah. He didn't recall reading a horoscope or opening a fortune cookie that predicted his performance.
He didn't know exactly how it'd happened.
Rob Wilson
just felt it and he didn't know why.
The senior's 30-point explosion in Wisconsin's
79-71 win
over Indiana in the quarterfinals of the Big Ten tournament, which included a 7-for-10 clip from the 3-point line, belied reason.
A fourth-year guard who'd never scored more than 13 points. A player who'd accrued 21 points combined in three previous games. A senior who's averaging 3.1 ppg this season played the role of Mr. Clutch for Wisconsin Friday and recorded a career-high.
"Every game, I feel like, can be a good game for me. Today was just one of those days," Wilson told ESPN.com.
It wasn't just what Wilson did. It's also when he did it.
A layup with 2 minutes, 30 seconds to go extended Wisconsin's lead to 67-62. A 3-pointer with 38 seconds to play gave the Badgers a 72-65 advantage and a shot at Michigan State in Saturday's semifinals.
[+] Enlarge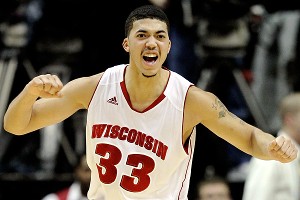 Andy Lyons/Getty ImagesRob Wilson, who averaged 3.1 points per game this season, scored 30 against Indiana.
Whenever the Badgers were desperate for a bucket, Wilson gave them one.
The Hoosiers kept the game close after the Badgers took an 11-point lead in the first half. They'd cut that edge to five points by halftime.
The Hoosiers played with a heavy heart after
Verdell Jones
was diagnosed with a torn ACL Friday morning, an injury he suffered in the first half of Thursday's victory over Penn State. Wisconsin had trouble pulling away from a Hoosiers squad that was fueled by what sounded like a home crowd in Indianapolis.
The Badgers had to rely on Wilson.
"It seemed like every time we needed a shot, every time they were making a run back at us and chipping away at our lead, we found Rob open somewhere and he was putting up shots and knocking them down," said Wisconsin center
Jared Berggren
, who scored 16 points.
As he walked off the floor at Bankers Life Fieldhouse, Wisconsin fans cheered Wilson's name. One middle-aged man reached down and smacked him on the back. The entire experience seemed foreign to Wilson.
"I don't recall having … I mean the weight of the ball felt like it was going in today. I don't remember that feeling in a long time. I don't know the last time I've been in the interview room," Wilson said in the postgame press conference.
His teammates enjoyed the moment as much as he did.
Jordan Taylor
, one of his best friends on the team, said he "felt like I had 30."
Others said Wilson was in such a zone that that they were surprised when he missed.
"I actually remember the two shots he did miss. The one on the wing, and the fast break. … He also air-balled one," said
Mike Bruesewitz
. "He had it going tonight. We found him early, we found him often."
Wilson had never enjoyed the spotlight that found him in Indianapolis.
In the locker room, Wilson couldn't get settled because teammates, coaches and other team personnel wanted to personally congratulate him for his achievement. That celebration came after reporters crowded around him in a corner 15 minutes.
But Wilson did not make the game bigger than it was. He scored 30 points because he believed he could score 30 points, he said. He'd worked hard like a multitude of college basketball players. And he'd always prepared for the opportunity even as his minutes dwindled throughout his career.
He did not, however, offer the kind of backstory that can exaggerate similar moments.
Wilson got hot at the right time.
And for the Badgers, their coaches and Wilson's teammates, no other explanation is necessary.
"You always want to go out with a bang, but it's that time of the year when every team in the country steps it up and every player steps it up because it's tournament time," he said. "So that's what I did, stepped up as a senior's supposed to."
March, 9, 2012
3/09/12
4:25
PM ET
INDIANAPOLIS -- A look at Wisconsin's victory against a depleted Indiana team.
Overview:
During an opening-round victory against Penn State, Indiana lost senior point guard and leader Verdell Jones to an ACL injury. But the Hoosiers tried to press forward without the veteran in a tough game against the Badgers, who had beaten the Hoosiers in their only previous meeting of the season.


The Badgers led by 11 with 10:30 remaining in the first half of Friday's game. But after shooting 47 percent in the first half, the Hoosiers were only down 36-31 at halftime.
The Badgers led by as much as nine in the second half, but they couldn't bury the Hoosiers, who fed off a Bankers Life Insurance crowd that was anchored by Indiana fans.
Cody Zeller
hit a pair of free throws that cut Wisconsin's lead to three with 5:04 to play. The Hoosiers stayed close the rest of the game.
But Rob Wilson's late 3-pointer put Wisconsin ahead 72-65 with about 40 seconds to play.
Ryan Evans
blocked
Jordan Hulls
' 3-point attempt on the other end, and the Badgers sealed the game with late free throws.
Turning point:
Hulls hit a jump shot with 3:45 to play that cut Wisconsin's lead to one point (63-62). A pair of Wisconsin free throws followed after Zeller was called for the offensive foul on the play. The teams exchanged buckets before
Jared Berggren
extended a three-point lead (67-64) to five with 90 seconds left. It was a crucial sequence. The Hoosiers needed a play during that stretch. And they had chances.
Key player:
Wilson averages 3.1 ppg. He'd recorded double figures (11 during 67-66 loss at Iowa Feb. 23) once this season. Then, Friday happened. The senior guard scored 30, and went 7-for-10 from beyond the arc.
Key stat:
The Badgers were 13-for-26 from the 3-point line.
Miscellaneous:
Jones watched the game from behind the bench …
Christian Watford
recorded his second double-double in this year's tournament with 17 points and 10 rebounds. … Wisconsin fans chanted "Rob Wilson!
Rob Wilson
!" as the game clock expired.
What's next:
Michigan State will face Wisconsin on Saturday in the semifinals of the Big Ten tournament. Indiana will go home and prepare for the NCAA tournament.
November, 30, 2011
11/30/11
11:47
PM ET
CHAPEL HILL, N.C. -- A quick look at No. 5 North Carolina's
60-57 victory
over seventh-ranked Wisconsin the Smith Center in the Big Ten/ACC Challenge on Wednesday night:


What it means:
UNC forward
Harrison Barnes
' ankle is fine. And it looks like the Tar Heels are going to be, as well. It wasn't the prettiest outing, but North Carolina bounced back from losing its first game of the season -- and its No. 1 ranking -- by outrebounding the Badgers by 13 and holding them to less than 36 percent shooting. Barnes did most of the damage in the points column, scoring 14 of his 20 in the second half while junior
John Henson
did most of the damage on the backboards, pulling down 16 rebounds.
How it happened:
It looked like UNC might pull away early, when a Barnes bucket put the Tar Heels ahead 19-10. But Wisconsin countered with a 12-2 run, taking a 22-21 lead on a
Rob Wilson
3-pointer. That included about a four-minute span when no one scored.
North Carolina led 25-24 at halftime, but Wisconsin took a 36-31 lead in the second half. That's when the Tar Heels pulled away, using an 18-5 run -- during which Barnes did most of the damage -- to take a 49-41 advantage. That was just-enough to survive UW's comeback try at the end.
Injury report:
UNC freshman reserve
P.J. Hairston
fell on his left wrist during the second half, and was taken to the locker room. He returned to the bench, but not to the game.
Numbers to note:
The Tar Heels buried eight straight free throws during their second-half 18-5 run; they were shooting only 60.7 from behind the line entering the game. ... The last time UNC lost to a nonconference opponent in the Smith Center was Nov. 29, 2005, to Illinois. ... Wisconsin point guard
Jordan Taylor
finished with 18 points and four assists, but made only 6 of 20 shots.
Hubbub:
Shammond Williams, Mike Copeland, Antawn Jamison, Raymond Felton, Marvin Williams, Tyler Hansbrough and Rasheed Wallace were among the Tar Heel alumni in attendance. Wallace was wearing a red sweatshirt and was seated behind the bench, which caused some chuckles, considering
Roy Williams' comments Tuesday about red-wearing fans and BB guns
.
What's next:
It doesn't get any easier for the Tar Heels, who travel to Rupp Arena to face top-ranked Kentucky on Saturday. Wisconsin faces Marquette at home, also on Saturday.
Follow Robbi Pickeral on Twitter at @bylinerp.