College Basketball Nation:

Robbie Hummel injury
October, 16, 2010
10/16/10
3:13
PM ET
When asked by ESPN.com for a prediction earlier this week, Michigan State coach Tom Izzo picked rival Purdue to win the national title.
And why not?
If Izzo had to pick a national contender other than the Spartans, the Boilermakers made sense since they returned a rarity these days -- three senior all-Big Ten players in forward
Robbie Hummel
, center
JaJuan Johnson
and guard E'Twaun Moore.
Hummel was healthy and ready to play this season after suffering a torn right ACL on Feb. 24 at Minnesota. Late Friday night, during ESPNU's Midnight Madness coverage, he told ESPN.com that he was close to being 100 percent back. Hummel also discussed how he has had to deal with severe injuries in his career, from a back injury that made him skip practices and opt for just games as a sophomore, to the ACL as a junior.
Less than 24 hours later, Hummel tore the right ACL on the first full practice Saturday morning in West Lafayette and is done for the season, likely ending the Boilermakers' national and Big Ten title hopes and clearly pushing them out of the top 10 for the foreseeable future (they were No. 2 in my preseason poll Friday).
[+] Enlarge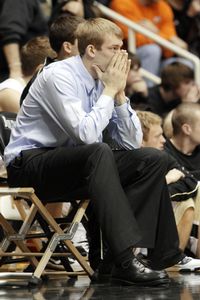 AP Photo/AJ MastRobbie Hummel will once again have to watch his teammates from the bench.
Without Hummel, Purdue was able to get to the Sweet 16 before losing to Duke in Houston. But the Boilermakers had defensive stopper Chris Kramer on that team, too. Kramer was a senior, so now the Boilers have to replace two, not just one, of the most important pieces of last season's title contender.
"When I heard it this morning, it brought tears to my eyes,'' said Minnesota coach Tubby Smith. "He tore up his knee here last year. He's such a sweet kid, a special young man. He's got so much going for him. I just feel bad for him and his teammates. Purdue was as good a team as any in the country.''
Smith said that with Hummel the Boilermakers had the total package to compete for the title.
"They had JaJuan who could block shots, E'Twaun Moore as good a perimeter player as anyone and Robbie Hummel, who was like the kid [Butler's Gordon] Hayward,'' Smith said. "I thought he was better than the kid from Butler.''
Hummel was selected by Syracuse coach Jim Boeheim, who chairs the USA Basketball junior national teams, to the World University Games team that won a bronze medal in July 2009. The team was coached by Wisconsin's Bo Ryan. Naturally, the reaction from Boeheim and Ryan was similar to Smith's.
"It's such a horrific thing because that kid has worked so hard to get back,'' Boeheim said. "Obviously I feel bad for Purdue, but it's devastating for the kid. He is a tremendous player, an all-American that could be a first-team all-American. Purdue is a preseason top four or five team. He played for his country and for this to happen to him two years in a row is just an awful thing. It's hard to describe.''
Boeheim said Hummel made the Boilermakers a national title contender.
"In a second, things change,'' Boeheim said. "We lost a key guy before the tournament [Arinze Onuaku] and so did Purdue [with Hummel], so who knows what would have happened for us and for them if we were healthy. I feel bad for him because it's so hard to come back from that. It's a tough surgery and then six to seven months of tough rehab.''
Ryan echoed those thoughts.
"He has done all the right things and it just goes to show how unfair things are at times,'' he said. "If anybody though can handle the adversity it is him. He's such a tough-minded young man. He loves the game so much. He's been good to the game.''
Wisconsin, like the Gophers, will benefit from Hummel's absence in the Big Ten race. Michigan State will now be the clear front-runner for the Big Ten title with Ohio State and Illinois in contention while Purdue, Minnesota, Wisconsin and Northwestern possibly compete for a top-five finish.
Purdue's toughest two nonconference games are both on the road, at Virginia Tech on Dec. 1 and at West Virginia on Jan. 16. In the Big Ten's unbalanced schedule, the Boilermakers still play Michigan State, Ohio State, Minnesota, Wisconsin and Illinois twice.
Ryan still thinks Purdue is one of a number of teams that could win the national title and isn't ready to give up on the Boilermakers' chances.
"Purdue still has the ability to do that,'' Ryan said. "I know it hurts the percentages, but there are so many things that have to happen to win it and you hate to project. They were one of the teams that had the tools to advance deep. They were one of those teams that no doubt had an opportunity to compete and win six games [in the NCAAs] and win it all. They had the experience inside and outside. I know it's still going to be really tough in our league.''
October, 16, 2010
10/16/10
2:47
PM ET
I watched
Robbie Hummel
grimace and sweat this summer. I watched him attack weight machines with a vengeance and endure the drudgery of stepping up and down on a block of wood no bigger than a stair riser without complaint.
When we talked
, he told me about the first moment he woke up following surgery, when a nurse bent his leg back and it made a gross noise that still made him shiver.
He told me how frustrated he was to watch his teammates work on agility drills that he still couldn't do.
And he also told me something that, now that I've learned he's re-torn the ACL I was watching him rehab in July, just about makes my stomach knot.
"I'm a little nervous because I hurt it doing something so simple,'' he said to me as we ate noodles a few blocks away from the Purdue campus. "It's not like I was doing anything crazy, so I'm a little apprehensive. I want to fall down and get back up again.''
[+] Enlarge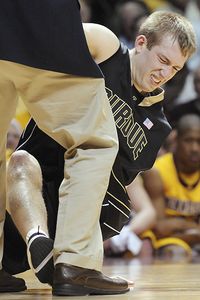 AP Photo/Jim MoneRobbie Hummel first tore his right ACL in a February game at Minnesota.
Robbie Hummel fell in practice on Saturday morning.
Only he couldn't get back up, and now one of arguably the most talented and genuinely nice players in college basketball will have to go through the same awful rehab he only just completed.
It is, no doubt, an awful blow to Purdue and muddies up the season's expectations (I had picked the Boilers first, in part, because I thought they had an edge about them after losing Hummel last year), but really all I can think about right now is Hummel.
His surgeon elected to take the patella tendon from Hummel's good knee instead of a graft from his injured right leg. Though that left Hummel technically with two knees to rehab, the rationale is that taking the graft from the injured leg only weakens it further. This sort of surgery speeds along the rehab process.
And Hummel welcomed that.
Rehab isn't fun. It's bloody awful, both painful and painfully boring, the physical pain outdone only by the mental drain.
But Matt Painter and athletic trainer Jeff Stein both told me Hummel was a remarkable patient the first time around. He wasn't afraid or depressed; he wanted to push to do more.
He worked feverishly every day, spending more hours with Stein than anyone else in West Lafayette. When his leg wasn't strong enough, he lifted weights for his upper body. When his teammates took shots during workouts, he practiced cutting.
Hummel was as tireless in rehab as he is on the court.
But can he do it twice? Can anyone?
I know someone who had to.
Five years ago, I was the Villanova beat writer for the Philadelphia Daily News. During the second round of the NCAA tournament against Florida, Curtis Sumpter crumbled under the basket with a torn ACL.
He, like Hummel, worked his rear end off in the summer to come back and rejoin his team -- a team expected to be very, very good, not unlike Purdue. Sumpter was so excited that he nearly skipped to practice on that first day in mid-October.
And then on Oct. 19, Sumpter re-tore his ACL during practice. He had surgery in November and missed the entire season.
I watched and talked to him a lot that year. He was a great support for his team -- a great leader and cheerleader -- but emotionally, he was crushed. In fact, he didn't accept a medical redshirt until February, holding out hope daily that he might just be able to return for what would have been his senior season.
Instead, the Wildcats and the guys he came to college with -- Jason Fraser, Allan Ray and Randy Foye -- went to the Elite Eight without him.
"You think, 'Oh, I could have gotten that rebound or blocked that shot,'' Sumpter told me at the time. "It's so much worse this time. Last time I missed one game. It was a big game [the Sweet 16 matchup with North Carolina], but it was one game. This time we've played what, 17 games? It's killing me.''
Sumpter came back strong the next season, averaging 30 minutes, 17.4 points and 7.2 rebounds. But the player who, I believed, was the best on the Villanova team before the first injury, went undrafted.
Sumpter has made a decent career for himself overseas, but you can only wonder what might have been for him.
And now Hummel.
The NBA is a funny business. It will draft a player on potential, upside and wingspan and ignore his statistics because of a perceived medical malady.
Countless teams passed on DeJuan Blair because he didn't have an ACL, convinced he would never be able to play despite a college career to the contrary (and an NBA rookie season that made an awful lot of people look silly).
So how will the NBA look at Hummel and his twice-injured knee when the time comes?
Impossible to know.
I do, however, know that the player I watched in July is not a person I would count out.
He will get back up eventually.