College Basketball Nation:

Robert Morris Colonials
October, 8, 2013
10/08/13
9:15
AM ET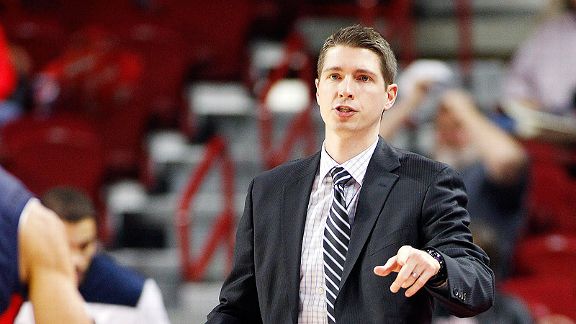 Wesley Hitt/Getty ImagesAndrew Toole has built a winner at Robert Morris but is still looking for a tournament run.
It's college basketball preview season, and you know what that means: tons of preseason info to get you primed for 2013-14. But what do you really need to know? Each day for the next month, we'll highlight the most important, interesting or just plain amusing thing each conference has to offer this season -- from great teams to thrilling players to wild fans and anything in between. Up next: Robert Morris's least-favorite weekend.
The bad vibes began in 2010-11. The funny part is Robert Morris was still gestating. Mostly freshmen and sophomores, the Colonials went 18-14 that season thanks to a tough schedule and a rough start, but by the time the NEC tournament came around -- by the time the first weekend in March hit the calendar -- they were ready. Robert Morris' loss to LIU Brooklyn in that 2010-11 NEC tournament was a heartbreaker; the Blackbirds, who went 16-2 in league play that season, edged the Colonials 86-83 in overtime. Bummer, sure, but the future was bright. All those young players would be around for years.
Two seasons later, the Colonials are still waiting for their turn.
Robert Morris improved by leaps and bounds the next season, 2011-12, finishing 26-11 overall and 13-5 in league play. But LIU Brooklyn won the league again (with 16 wins, again) and again held off the Colonials in the NEC final (this time 90-73). Last season, Andrew Toole's team broke through and won the regular-season conference crown, but it was held out of the tournament by a Saturday NEC tourney loss to Mount St. Mary's. Instead, LIU Brooklyn, all of 12-6 in the NEC regular season, attended for the third consecutive season.
Now, finally, Robert Morris' long-deserved payoff looks imminent. Russell Johnson was the lone contributor the Colonials graduated this spring; everyone else, including five rising seniors, are back for one last crack. Even better, LIU Brooklyn lost a host of four-year players, the core of its recent run of success.
The problem? For an NEC team to make the NCAA tournament, it has to win the automatic bid. There is no other way. And so Robert Morris can be just as good in 2013-14 as it was in 2012-13, and can carry a No. 1 seed into that competition, and if it doesn't win three games in a row, none of it matters.
There's a long season ahead. But as the Colonials know better than anyone, one weekend means more than the rest combined.
March, 20, 2013
3/20/13
5:00
AM ET
1. The NIT gets criticized for being the junior varsity. But the importance of the games can have a lasting effect. The Robert Morris home game against Kentucky will do more for RMU than had the Colonials been a 16 seed and lost in Dayton. The Robert Morris-Kentucky game was the game to watch Tuesday night. Those highlights will be something for the program to build off of and use for a year. The NIT did the right thing in rewarding conference champs that didn't get an automatic bid. The quirk in Kentucky hosting the NCAA tournament meant the Colonials and the NEC got a home game for the ages. You can't put a price tag on what this means for RMU.

2. One of the most interesting storylines in the next few weeks will be with the Kentucky underclassmen who aren't ready for the NBA but could still be drafted on potential. The Wildcats would likely have a scholarship issue if they all returned. But that could easily take care of itself through natural attrition. Some of the current players simply may want more playing time somewhere else if they lose their playing time to the younger crew coming to Lexington next season.

3. Here's something for inside baseball guys like me. The Big East was prepared to do an 18-team Big East tournament in 2014 had no one left early this season. And the tournament would have started on Monday. How about that. Also, one odd thing that has occurred is the Big East was helping St. John's in hosting the NCAA tournament at Madison Square Garden in 2014. But now the Big East isn't the Big East anymore so the conference office that used to be the Big East that is now looking for a name can't really help St. John's since the Red Storm aren't in the conference starting in the fall. Got it? So if St. John's wants help in hosting it will need to get it from the new Big East employees who haven't been hired yet.
March, 19, 2013
3/19/13
11:25
PM ET
Twenty years ago, I covered Rider in its first-round NCAA tournament game against Kentucky. The Broncs of the Northeast Conference were naturally a 16-seed; the Wildcats of the soon-to-be NBA were a No. 1 seed.
Rider's best player, Darrick Suber, agreed to do a blog for our newspaper, The Trentonian, detailing the experience. His entry from the game day in Nashville included his memories of walking onto the Vanderbilt court for the first time, into the throng of the Big Blue Nation and hearing one distinct voice yell in a female Southern drawl:
"Here come the lambs," she said.
As in to the slaughter.
She was right, of course. Kentucky won that game 96-52, as is scripted in those sorts of matchups.
Which takes me to what happened Tuesday night on the small campus of Robert Morris University in Moon Township, Pa., hometown of one John Calipari.
The Colonials beat the Wildcats
59-57
.
Let me retype that.
[+] Enlarge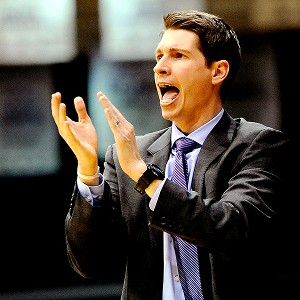 AP Photo/Don WrightAndy Toole's Robert Morris team earned a 59-57 victory over Kentucky in the NIT first round.
Robert Morris University, whose best postseason appearance before Tuesday night was an almost-win against Kansas in 1990, beat the University of Kentucky, whose latest best postseason appearance came 350 days ago, when the Wildcats won their eighth national championship. A program with more losses than wins in its history beat the program with more wins than anyone in college basketball history.
So feel free to say that this was "only" an NIT game and mock the fact that Robert Morris fans stormed the court.
Then understand the absolute impossibility of what just happened.
After the brackets came out Sunday night, players and head coach Andy Toole understandably reacted as if they'd been punk'd.
"I feel like Rocky in 'Rocky I' who just got his shot against the champions in our home city," he said.
Guard
Velton Jones
tweeted, "Really? Why can't I breathe right now?"
Well, Velton, because the Robert Morris Universities of the world are supposed to be the sacrificial lambs, not hosts -- and that was only from an ironic twist of NCAA hosting fate -- and certainly not winners.
According to the Department of Education's latest equity in athletics numbers, the Colonials men's basketball operating expenses are $307,670. Kentucky spent $212,242 … per participant.
Robert Morris' gym includes a track circling the court and lines on the court for volleyball games. Kentucky's newly upgraded locker room is one step below the Plaza.
Calipari makes $5.2 million. Toole? Well, Toole does not.
Money, apparently, can buy you neither love nor basketball victories.
The Colonials didn't just win this game, they deserved to win it. They outplayed the Cats. That says as much about Kentucky as it does about Robert Morris, but I'm not going to ruin the Colonials' moment by bogging it down with UK's myriad of issues. Calipari covered that in his postgame news conference.
As starry-eyed as the Colonials might have been on Twitter, they never played like deer in headlights, not even after
Lucky Jones
headed to the showers after a foolish -- and dangerous -- flagrant foul on
Archie Goodwin
.
They looked as calm as their baby-faced coach. Toole, by the way, might be the only Division I coach who could challenge Brad Stevens in the head-coach-most-likely-to-get-carded-at-a-bar competition.
Given his first head-coaching gig at the age of 29, after Mike Rice moved on to Rutgers, Toole was nonchalant about being the youngest coach in Division I tag. He told me dryly in 2009 that he could very easily become "the youngest head coach to be fired," so why get hung up on it?
Toole comes by his sane outlook and bright hoops mind naturally. He played for Fran Dunphy at Penn, helping the Quakers to two NCAA tournament berths. What he lacked in physical skills he made up for with basketball smarts, a talent he has brought with him to his coaching job.
His team did exactly what it needed to do on both ends of the court, draining available 3-pointers and picking smart spots to drive.
Now Toole and his players have given Robert Morris its most significant moment, certainly in basketball history and maybe in the school's history altogether.
For one day at least, the lambs pushed back and refused to be silenced.
March, 18, 2013
3/18/13
7:45
PM ET
For the vast majority of the college hoops world, the NCAA tournament is the only thing worth getting excited about. The NIT, on the other hand, is at best boring, and at worst depressing. Almost any way you look at it for many of its teams it constitutes one week-long reminder of some degree of failure. No one wants to be in the NIT.
Kentucky fans know this pain. A year after riding one of the most dominant teams of the past decade to a national title, the Wildcats find themselves in the NIT. It isn't too hard to find UK fans who would prefer the season just end now, thank you very much. They've seen enough.
That said, Kentucky's first-round NIT game is about as intriguing an NIT game can be. Rupp Arena is an NCAA tournament site, so UK can't host its first-round opponent. The No. 1-seeded Wildcats will have to travel to No. 8-seed Robert Morris' 3,000-seat gym in Moon Township, Pa. … hometown of UK coach John Calipari.
Not only does Moon Township just sound like an awesome place to be from -- it would be cooler if it were actually a township
on the Moon,
but it's close enough -- it plays a major role in understanding what makes Calipari tick. Calipari may wear bespoke suits and Gucci loafers now, but he grew up sleeping in the hallway of a two-bedroom home. His father was a steelworker and gas station attendant, and his mother was a cafeteria worker at the local junior high school. My favorite detail from
S.L. Price's 2011 feature on Calipari in Sports Illustrated
has nothing to do with basketball: "[Calipari's father] Vince took any overtime he could get, yet made sure on every warm day to cut the grass: front, side or back. 'The yard was magnificent,' John says. 'A grinder is what he was.'" If Calipari is looking for an anecdote with which he can motivate his squad to finish out the end of a disappointing season, he could do worse than that.
And even if none of this gets you even remotely excited about the NIT, guess what? Robert Morris doesn't care. Because
Robert Morris is actually incredibly excited
about this whole NIT thing:
"I feel like Rocky in Rocky 1 who just got his shot against the champions in our home city," Robert Morris coach Andy Toole said. "We're extremely excited."
"It's incredible," Toole said. "It shouldn't be hard to get the team prepared. It's going to be a crazy, crazy event."
Robert Morris junior guard Karvel Anderson tweeted: "This can't be real. Wow, this game bout to be crazy." Velton Jones tweeted: "Really? Why can't I breathe right now?"
I'm not sure the Moon Township Department of Parks and Recreation has a Leslie Knope in their ranks, but if they do, perhaps they can very quickly whip up some sort of city-wide celebration for the native Calipari. A ceremonial street? A tasteful statuette, perhaps?
In the meantime, UK fans and the general populace now have at least one reason to be moderately interested in the NIT.
March, 7, 2012
3/07/12
10:18
PM ET
By
ESPN.com staff
| ESPN.com
C.J. Garner
scored 21 points as Long Island University's Blackbirds made it two straight Northeast Conference championships with a
90-73 victory
against Robert Morris.
October, 24, 2011
10/24/11
6:22
PM ET
By
ESPN.com staff
| ESPN.com
Before we get to the Blue Ribbon team-by-team previews for the Northeast Conference, here is Eamonn Brennan's one-minute wind sprint through the league:
Blue Ribbon breakdowns of all 12 teams in the NEC:
Central Connecticut State
Fairleigh Dickinson
Long Island
Monmouth
Mount St. Mary's
Quinnipiac
Robert Morris
Sacred Heart
St. Francis (N.Y.)
St. Francis (Pa.)
Wagner

More NEC content
:
New Faces, New Places: Andy Katz on how former North Carolina star and first-year Monmouth coach King Rice overcame alcoholism and is now getting his first shot at a head-coaching gig.
Paul Biancardi gives the lowdown on the recruiting picture in the NEC.
August, 13, 2010
8/13/10
9:00
AM ET
They imagined beignets for breakfast and crawfish for dinner, life in the Garden District and nights on Bourbon Street.

And then Mike Rice said no, turning down the job opening at Tulane.

His assistants, tired of the tap dance of potential job changes, got together.

"It was a roller coaster for all of us; every time his name came up for a job, me and Jimmy Martelli would get together and think, 'What are we going to do?''' Andy Toole said. "After Tulane, we promised not to get excited any more.''

And then Rice, long a hot name in the coach-search carousel, finally pulled the trigger.

But Toole stayed put.

And he couldn't be happier.

Five days after Rice left Robert Morris for Rutgers, Robert Morris chose Toole to replace him.

At 29, Toole narrowly beats out Appalachian State's Jason Capel for honors as 'youngest coach in Division I,' a tag Toole thinks has about as much meaning as his current win-loss record.

"It's nice to say to recruits on the phone, but other than that what's it mean?'' Toole said. "You could also become the youngest head coach to be fired.''

Not likely.

Toole's driver license may say he's a greenhorn, but those who know him best say he has a veteran coach's mind.

Toole played at the University of Pennsylvania, shepherding the Quakers to a 47-13 record and two NCAA tournament berths in his two seasons. He admits that he wasn't "always the most athletically gifted'' player on the court, but instead relied on his basketball instincts.

Those instincts told him right away that a coaching career was in his future. After graduation, Toole went to work for The Hoop Group. He served as the director of the Eastern Invitational Basketball Clinic, but more importantly, made contacts in the basketball world. He spent one season at Lafayette alongside former Penn assistant Fran O'Hanlon before partnering with Rice at Robert Morris.

"He knows exactly what he wants and exactly what he's doing,'' said Temple's Fran Dunphy, who coached Toole at Penn. "I'm not at all surprised at his early success. He was a terrific leader for our team and was really great for me. I'd have something that I wanted to do and he'd already taken care of it with his teammates.''

That basketball savvy worked well when Toole arrived at RMU with Rice three years ago. Together the two developed not just the Colonials' system, but also the program's identity.

Rice built Robert Morris on defense, on players who switch constantly without thought or concern and who ended up allowing opponents to score just 65 points per game this past season.

"He helped me create it,'' Rice said. "Co-author is the perfect term. Not only did he help with how to break things down and teach, but he also helped to manipulate the guys' thinking, trick them into doing what we wanted to do. Getting guys to defend for four or five minutes at a time is brutal. They don't want to but through film and conversation, he helped make it happen.''

That's why Rice urged his administrators to look past Toole's birthday when choosing the next coach. He pointed out to other programs like Butler and Xavier, universities with a history of hiring from within and reaping the benefits of the continuity, as a model for what Robert Morris could be.

And Toole has no intention of breaking the mold.

Why would he?

The Colonials are in the midst of a pretty sweet run. In 2008, Robert Morris made its first appearance in the NIT. The Colonials then followed it up with back-to-back trips to the NCAA tournament, including a near-Cinderella moment this season. Robert Morris took No. 2 seed Villanova to overtime before losing, 73-70.

Four seniors from that team are gone, but Toole still has plenty to build on -- namely Karon Abraham. The Northeast Conference's Rookie of the Year, he led the team with 13.6 points per game, including a 23-point performance against Villanova.

"These opportunities don't come about for people my age too often,'' Toole said. "Robert Morris has had three of its best years in school history, so for the administrators to say, 'We trust you to continue this,' is both humbling and flattering. My job now is to every day go out and prove those people right for having faith in me.''
March, 18, 2010
3/18/10
5:56
PM ET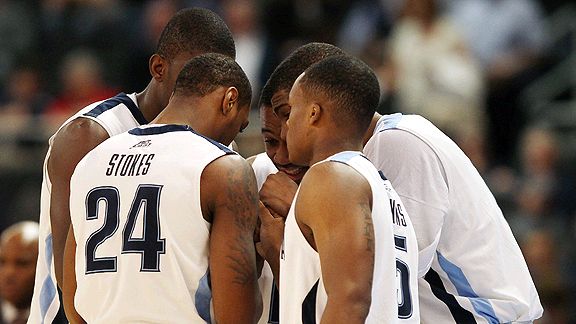 Elsa/Getty ImagesVillanova came together to overcame a slow start and the benching of starters Scottie Reynolds and Corey Fisher to begin the game and beat a determined Robert Morris team in overtime.
PROVIDENCE, R.I. -- Villanova isn't completely right.
The Wildcats can point to the benching of starters
Scottie Reynolds
and
Corey Fisher
-- for not handling their business as starters in game preparation Wednesday night (that's about as detailed as anyone would say) or the reinclusion of
Taylor King
back to the active roster. Or they can point to the lack of pregame shooting for Reynolds as a reason for his erratic play.
But know this: Villanova coach Jay Wright said the Wildcats haven't played a full 40 minutes of good basketball since winning at West Virginia Feb. 8.
"That's a long time ago,'' Wright said after the No. 2-seeded Wildcats escaped with a
73-70 overtime win
over No. 15 Robert Morris in the NCAA tournament South Regional first-round game at the Dunkin' Donuts Center Thursday.
But can Villanova play like that again? Since that win over the Mountaineers, the Cats had lost four of seven games prior to the win Thursday. Getting 10 blocked shots was a huge key in the win over the Colonials, including four from
Maurice Sutton
and three from
Mouphtaou Yarou
.
"We can keep getting better,'' Wright said. "If we can win this next game and get more practice, we can. I don't know if we're ready to win this next game.''
The reason for that may be the focus of this group. Wright said it's hard to argue with an outside perspective that the Wildcats look like a team that has gone adrift with multiple disciplinary actions of late for unexplained reasons. Wright said these are issues that are dealt with in-house and the team moves on.
He maintained there aren't issues in the program, but "I do understand what it looks like. I can't argue that. If anybody says something, I told our guys you can't argue with them. It happened.''
Wright emphasized that there are expectations for starters that weren't met by Reynolds and Fisher. He said that both would start Saturday in the second round and that the issue was over. Still, something was amiss since Reynolds shot 2 of 15 from the field, 1 of 8 on 3s. His only 3-pointer came with one minute left in overtime. Reynolds did get to the line to make 15 of 16 free throws to still finish with an odd 20. Fisher was a moderate contributor with six points.
Wright said that not getting Reynolds his pregame shots up with assistant Doug West hurt Reynolds' preparation. He said that the early tip time of 12:25 p.m. disrupted the game plan and that Saturday the Wildcats would find a gym for Reynolds to work out in prior to the game.
The decision to discipline his best player was made Friday night, Wright said, to send a message that the starters have to do their job in prepping for the game.
Reynolds said he heard it loud and clear and wouldn't let it happen again, whatever "it" is.
"It's not a big deal, it was coach's decision,'' Reynolds said. "I'm the leader and as the leader I've got to be that rock. I can't have no chips on that rock. [Thursday] there was a chip in the rock.''
Reynolds said he didn't know the benching was coming. But he wasn't shocked. Reynolds sat the first four minutes. He played 34.
He said he didn't blame the benching for his poor shooting. He said he didn't have his legs.
"As both a leader and a captain and a starter I've got to be solid and excellent all the time,'' Reynolds said. "Robert Morris played a heckuva game. I think they did a great job on us and that had something to do with our shooting.''
Lost among the Reynolds' benching talk was an unbelievable effort by Robert Morris freshman
Karon Abraham
who scored 23 points and made five 3s. But that will be a blip on the record as Reynolds goes forward in the tournament.
"I'm a starter and if coach is punishing me, my choice is either sulk and let everybody know it and give other guys a reason to do the same thing,'' Reynolds said. "He made an example out of me and I knew what he was doing. It didn't affect me at all. Everybody learns from it and we'll be better from it.''
March, 18, 2010
3/18/10
3:42
PM ET
PROVIDENCE, R.I. -- Quick postgame thoughts after
Villanova's 73-70 overtime win
over Robert Morris Thursday at the Dunk: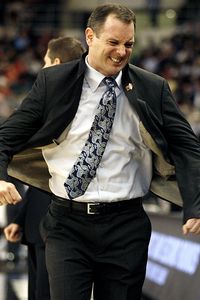 Stew Milne/US PresswireColonials coach Mike Rice had some questionable calls go against his team in the second half.
Villanova couldn't have played worse and won an overtime first-round game. Couldn't have played worse and still won.

Villanova seemed out of sync until overtime. Not sure if it was the benching of Scottie Reynolds and Corey Fisher or the re-emergence of Taylor King but the Wildcats never could get in a groove.

Reynolds didn't make a 3-pointer until the final 70 seconds of overtime. The 3-pointer gave the Wildcats a six-point lead and it came with one second left on the shot clock.

Villanova couldn't find Robert Morris' Karon Abraham for most of the game as he continued to keep the Colonials either out front or in the game. But they did a great job of hiding him on the final possession and preventing him from getting off a potential game-tying shot.

Abraham is the star of this game, a real find as a freshman for RMU coach Mike Rice. Abraham made deep 3s, got to the line and found a way to the hole. Another gem was the defense turned in by Dallas Green. He had a few blocks and defensive stops that were key in putting RMU in position to possibly win.

Rice had a right to be a bit upset over some of the calls. This is a once in a lifetime kind of deal for a 15 seed to pull off an upset like this over a 2 and a major power like Villanova. The Colonials were so close but couldn't win it overtime. You could sense it was going to go against RMU in overtime. Villanova flipped the switch to win the game.

The crowd had a nice moment giving both teams a standing ovation, especially the Villanova fans. It was a class act. Rice also went over to the crowd to clap for the RMU fans giving a great effort themselves.

Villanova may have found its inside game with Mouphtaou Yarou. But it's still not a strength.

I still don't understand why Reggie Reading didn't just score the ball and put Nova up five instead of trying to dribble out the clock. He gave RMU another possession and a chance to tie the game.

Stats to remember: Reynolds was 2-of-15 shooting and just 1-of-8 on 3s. But he was 15-of-16 at the line. Very strange numbers.


Abraham scored 23 points and made five 3s.
March, 18, 2010
3/18/10
9:15
AM ET
PROVIDENCE, R.I. -- What I'm looking forward to seeing Thursday in Providence:
Can I hope for upsets and last-possession games?
In years' past I've had insane jealousy as I've missed out on some of the best first and second-round games in other regionals. I've had the vanilla brackets, save my never-forget moment in Worcester in 2005 when Vermont's T.J. Sorrentine beat Syracuse with a deep 3-pointer. I can't recall ever seeing an arena erupt in unison the way the DCU Center did that day. I still remember Tom Brennan raising his arms in unison. It remains one of my greatest memories covering this tournament in 20 years. So please give me something like that.
Villanova is a No. 2 seed, which is probably one or two seed lines higher than they should be after losing five of seven games. But the Wildcats get Taylor King back and a good draw in round one. How the Wildcats respond to their new lease on life should be interesting to watch.
Georgetown comes in quite hot after losing to West Virginia in the Big East tournament title game. There is a buzz with this crew that can't be denied. But what has gotten lost amid all the hype is that Greg Monroe is playing in his first NCAA tournament. The Hoyas flopped last season and Monroe didn't get a chance to be on the sport's top stage. How he responds with the lights on in March should be a telling tale.
The best game of the day should be Richmond-Saint Mary's. I was disappointed that the two were matched together in round one. Of course that means at least one of them will make it to the second round. I'm big on the Spiders. I love the backcourt of Kevin Anderson and David Gonzalvez and Chris Mooney has done a tremendous job planning for this event. He scheduled for it, knew his team was mature enough to handle the situation and they delivered. Saint Mary's finally got in by winning the WCC tournament, but will that be enough? The Gaels are a better team this season, even though they don't have two pro-level players in Patty Mills and Daimon Simpson. How the Gaels handle the cross-country trek will be critical to their success. How the Spiders defend Omar Samhan will be critical to their success. We'll also find out whether or not Matthew Dellavedova can keep his mouthpiece in his mouth. That mouthpiece is dangling too far out of his mouth.
My upset pick is San Diego State over Tennessee. I'm doing that for a few reasons. I think Tennessee has had a tremendous season. The Vols to knocked off two No. 1 teams at home (Kansas and Kentucky), and will be the lasting memory for this squad. But the hammering they took from Kentucky at the SEC tournament concerns me. The Vols have more experience than San Diego State and the proximity to Providence helps. The Aztecs are playing well on the road after beating New Mexico and UNLV in Las Vegas to win the MWC tournament. The matchup with Kawhi Leonard and Wayne Chism may be the best of the day.
Ohio's Armon Bassett averaged 29 points in the MAC tournament. He'll have to probably do more than that to beat Georgetown.
Robert Morris is playing in its second straight NCAA tournament. That's a nice stat. But I can't see RMU beating Villanova. Not here. Not now.