College Basketball Nation:

Rodney Terry
June, 17, 2014
Jun 17
12:00
PM ET
By
ESPN.com staff
| ESPN.com

In today's 3-point shot, Andy Katz reports about how Kansas will represent the United States, the dynamic of college coaches with USA Basketball and an extension for Fresno State's coach.
September, 10, 2013
9/10/13
4:15
PM ET
In 2011, Rodney Terry took over at Fresno State with a simple mandate: Make the dormant Bulldogs competitive again. Former coach Steve Cleveland had done much of the post-sanctions cleanup work already, and when he stepped into the school's athletics administration periphery, he made room for a coach who was instrumental in landing Daniel Gibson, Dexter Pittman, Tristan Thompson, Cory Joseph and a score of other top recruits during his nine years as Rick Barnes' assistant at Texas.
The theory was pretty straightforward. Terry would apply his recruiting prowess to a program that didn't need to land top-20 guys on a regular basis -- in a state teeming with Mountain West-level talent. (Q.V.: State, San Diego.) Fresno State would shed its sanctions sluggishness. It would go to the proverbial next level.
[+] Enlarge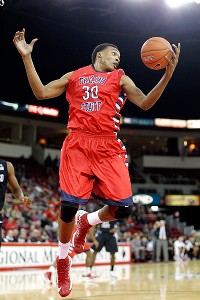 Cary Edmondson/USA TODAY SportsRobert Upshaw often looked lost at Fresno State.
It didn't take long for Terry to land his first bellwether. Robert Upshaw, a 7-foot local Fresno kid ranked No. 55 in the ESPN 100 and No. 13 at the power forward position, eschewed interest from a host of Pac-12 schools (and an offer from Georgetown) to play for his hometown school. Fresno State still had a long way to go, but Upshaw was a player to be built around -- a long, athletic, raw talent who needed at least a couple of years in school, enough time for the Bulldogs to improve along with him.
Which is right about where things stopped going according to plan. Upshaw missed the start of the season thanks to a knee injury. That would have been bad enough, but when he returned, he looked lost -- more raw than even the least optimistic scouts had projected. And that was when he was on the floor: Terry suspended Upshaw for team rules violations twice during the season -- the first a three-game suspension in February, the second a DNP in Fresno's season-ending MWC tournament loss to Colorado State.
In mid-August, the inevitable happened: Following another undisclosed violation, Upshaw was dismissed from the program, with nothing but a terse statement from the athletic department marking his departure.
Fortunately, it takes a lot more than that to scare college basketball coaches away. On Tuesday, Upshaw told ESPN's Jeff Goodman that he had found a landing spot at Washington, where he will transfer, sit out a season, and be eligible to play in 2014-15.
For his part, Upshaw is saying all the right things:
"I had a nice visit with both Washington and Oregon," he said. "I just felt like Washington was a better fit for me as a player. I liked it there, I felt comfortable and am looking forward to a new start."

"I went through a tough period at Fresno State," Upshaw said. "I had some maturity problems and didn't focus on what was in front of me. It all made me realize that I need to focus on what's important. I love the game."
That's a good start. Whatever Upshaw did to be suspended twice and then dismissed from a school that surely would have loved to have found any reason to keep him, the fact that he recognizes that it's on him is a positive sign. (That seems pretty obvious, but you'd be surprised how many kids -- or their families, or whomever -- refuse to ever believe they're in the wrong. This is as true of kindergarten PTA meetings as it is college basketball.)
But that acknowledgement only goes so far. After all, it hasn't even been a month since Upshaw's dismissal. Maybe it was a wakeup call; maybe he really has matured in the past three weeks. But it's not like he's a 30-year-old reflecting whimsically at his wild youth. It literally just happened.
There's also the small matter of his actual performance. When he did manage to stay on the floor last season, what Upshaw produced belongs on any short list for worst offensive campaigns of the year (and maybe even the last few years). He shot 37.8 percent from the field, all of which were 2-point shots. According to Synergy scouting data, Upshaw's 63 post-up plays netted a grand total of 37 points, good for .587 points per possession and a spot in the 17th percentile (!) nationally. He turned the ball over on 18.8 percent of his touches. His offensive rating, when all was said and done, was a whopping 77.2. I'm sure there have been worse marks in recent years, but I couldn't name them.
So, why would Washington take him? Because his value isn't really as an offensive player anyway, at least not yet.
What Upshaw can do -- and his limited role last season makes tempo-adjusted stats especially helpful here -- is rebound and block shots. Upshaw grabbed 7.0 percent of available offensive rebounds and cleared 21.1 percent of opponents' misses on the defensive end. He also posted a 12.1 percent block rate. Had he played enough possessions to qualify, that mark would have ranked him among the best 15 shot-blockers in the country. It's a skill that can't be taught, and Upshaw clearly has it.
It'll be another year before we get to see the kid play at Washington, so things will probably quiet down for a while. This is one instance where the NCAA's one-year transfer delay makes complete sense: Upshaw can recede into the background, practice with the team, get his personal stuff in order, get situated on campus, and spend as much time as the bylaws allow adding some polish to an offensive game that clearly needs it.
When we check in next summer, it's entirely possible Upshaw will have worn out his welcome at UW. But if he takes advantage of the opportunity ahead of him, and becomes intimately acquainted with the Mikan Drill, it seems just as likely he can make good on all that talent.
Unfortunately for Terry and Fresno, he'll be doing it somewhere else. It's back to the drawing board -- for everyone involved.
March, 8, 2013
3/08/13
10:00
AM ET
The Mountain West Conference is poised to send an unprecedented percentage of teams to the NCAA tournament. If Boise State can beat San Diego State and avoid a flop in the conference tournament next week in Las Vegas, it's hard to see the Broncos missing the cut. That would give the MWC five out of nine teams in the field, one of the best showings ever by a conference.
On to the final rankings before the selection committee has its say:

1. New Mexico.
The Lobos have been the most consistent team from beginning to end. Steve Alford is a legitimate candidate for national coach of the year. UNM got pushed by Nevada in Wednesday's first half, only to find a second gear when it mattered most. The Lobos finish up on the road against pesky Air Force. This won't affect the Lobos' seeding in Vegas, but a loss to the Falcons would ruin any outside shot at a No. 1 seed in the NCAAs.
2. UNLV.
I'm comfortable putting the Runnin' Rebels back near the top of the MWC, where they were projected in the preseason. UNLV seems to have finally found its rotation and might be peaking at the right time. The Rebels should beat Fresno State at home -- where they'll have the rare treat of remaining for two straight weeks, since UNLV hosts the conference tournament. But that doesn't always translate into a tournament title. UNLV is hardly a lock to cut down the nets.
3. San Diego State.
The Aztecs should end up in the third spot. I'm not sold on San Diego State being able to win at Boise State on Saturday, but the Aztecs still have one of the best players in the league in
Jamaal Franklin
. I still consider San Diego State a tournament title contender and a tough out in the NCAAs. I'm putting a bit more faith in this team by keeping the Aztecs in the top three, where I projected them in the preseason.
4. Colorado State.
The Rams have the experience, but have come up short in a few key games of late. CSU needs some momentum going into the NCAAs. The Rams should beat Nevada to close the season and be a tough out in Las Vegas. This team won't get rattled at all. If
Colton Iverson
can dominate his position, or at the very least hold his own, Colorado State has a chance.
5. Boise State.
Last Saturday,
Derrick Marks
lit up Colorado State with 38 points. The Broncos then nearly beat UNLV on the road. Now they are on the verge of a program-changing win. If Boise State were to beat San Diego State Saturday afternoon, it should be in the NCAA field. If that happens, Leon Rice would have the Broncos way ahead of schedule.
6. Air Force.
The Falcons are playing for a possible NIT berth when they host New Mexico on Saturday.
Michael Lyons
is also looking to secure his spot on the all-conference first team. Air Force should be proud of its efforts. This team overachieved and was in contention throughout the conference race.
7. Wyoming.
Injuries and off-court issues have crushed the Cowboys' momentum. Wyoming, which finished its conference season Wednesday, has slid back into the pack, but can still play spoiler in the MWC tournament. Larry Shyatt had this team as one of the last four unbeatens in the country -- but the margin of error was always thin.
8. Fresno State.
Rodney Terry has the Bulldogs heading in the right direction. Fresno State has been relevant this season in the conference race. I'll be surprised if this team isn't moving up in the standings in the next two seasons. The key will be for Terry to ensure Save Mart Center is a tough stop for every opponent.
9. Nevada.
The Wolf Pack looked as though they were going to get a signature victory against New Mexico but lost 75-62. The problem this season for Nevada has been sustained effort, finding the 40 minutes to finish off games. This has to be addressed.
January, 18, 2013
1/18/13
10:00
AM ET
The best news for the Mountain West came when San Diego State was brought back into the conference for next season. Now the MWC can settle back, celebrate that it is one of the best leagues in the country and focus on getting a record number of teams into the NCAA tournament.
To the rankings:

1. New Mexico.
UNM is the only undefeated Mountain West team after winning in overtime Wednesday at Boise State. The Lobos might not be the most talented team in the league, but they still find ways to win and make winning plays late. They will get clipped here soon. But until then, New Mexico can't be knocked off the top perch.
2. UNLV.
The Runnin' Rebels are a solid No. 2 after winning at San Diego State. Add
Anthony Marshall
to the host of options for the Rebels to lean on when the offense needs a spark. The win at Viejas will turn out to be one of the hardest to get this season for everyone else.
3. San Diego State.
The Aztecs can't drop out of the top three with a home loss to UNLV.
Jamaal Franklin
was dominant with 27 points in the loss.
Winston Shepard
scored 18 off the bench. But SDSU was a brutal 3-of-19 from 3-point range -- and that's not going to cut it at home or on the road.
4. Colorado State.
The Rams turned in the most dominating performance of the week with a 79-40 victory over Air Force. The Falcons were coming off a near-miss at UNLV, taking the Rebels to overtime before losing by five; the Rams had lost in overtime at San Diego State in their previous game. Coming into the season, the Rams represented the most experienced returning team in the MWC. To dismiss CSU as a real threat to win the league would be a mistake.
5. Boise State.
The Broncos played the most important home game in years against the Lobos. Had Boise won, it could have made a play for a top-25 ranking. Still, BSU is a contender.
Derrick Marks
scored 27 points against UNM and will turn out to be one of the most prolific scorers in the league.
6. Wyoming.
The Cowboys won at Nevada then lost at Fresno State in their two games last week. The national attention on the
Luke Martinez
fight didn't help the Pokes' image. Wyoming's offense was practically extinct in Fresno, going 5-of-27 on 3s, and shooting a brutal 24 percent against the Bulldogs. The free throw line wasn't much kinder, either, as the Pokes were 7-of-20.
7. Fresno State.
Rodney Terry's club finally climbs out of the basement in the MWC rankings with the home victory over Wyoming. The win should help Terry get everyone on board in believing that he has this program going in the right direction. Fresno State's defense stifled Wyoming. The game was hardly an offensive display, but the Bulldogs dictated the outcome.
8. Air Force.
The Falcons had a rough week, nearly upsetting UNLV before falling flat against Colorado State. Air Force's margin of error is so thin that when the Falcons go 3-of-19 from beyond the arc -- as they did against the Rams -- it's hard for them to win. Air Force can set Boise State back with a home win Saturday.
9. Nevada.
The Wolf Pack simply cannot get into a groove. Nevada has lost three consecutive games, and its season really hinges on the next three. Nevada is at Fresno State, then hosts San Diego State and Boise State. If Nevada is ever going to make a move, the time is now.
November, 30, 2012
11/30/12
10:00
AM ET
I was convinced the Mountain West could have the highest percentage of teams in the NCAA tournament. I'm not backing down from that statement. The depth is unprecedented and it might only get better. So let's dive into the inaugural power rankings for the MWC.

1. New Mexico.
The Lobos are off to a 7-0 start with quality wins against Connecticut and George Mason in the Virgin Islands and Davidson at home. Coach Steve Alford was bullish on his backcourt, and with good reason.
Tony Snell
and
Kendall Williams
can hang with any pair of guards in the country.
2. San Diego State.
The Aztecs fell to Syracuse to start the season but their defense has been solid ever since. San Diego State can make another statement this weekend by knocking off UCLA in the Wooden Classic in Anaheim.
3. Boise State.
Yes, I'm going with the Broncos over UNLV and Colorado State after the most impressive true road win so far for the conference. Boise State won handily at Creighton behind an outstanding effort from
Derrick Marks
. BSU also was within two possessions of taking out Michigan State in East Lansing. Leon Rice has the Broncos as a major factor in the last season in the MWC.
4. UNLV.
The Runnin' Rebels were stunned at home by Oregon last week, but rebounded to knock off Iowa State. UNLV needs to work on its shot selection and overall offensive patience. This team is still figuring out how to play with a host of newcomers blending with veterans. Coach Dave Rice gets another one in a few weeks when Khem Birch is eligible.
5. Colorado State.
Tim Miles left his best team for Larry Eustachy. He made the NCAA tournament last season and the Rams have every reason to believe they'll make it again. CSU won easily at struggling Washington. Minnesota transfer
Colton Iverson
has lived up to his hype and has been well worth the wait.
6. Wyoming.
The Cowboys are 7-0 with a schedule that's been about as soft as a light snow in Laramie. But Wyoming is defending and showing signs that it will be a major pest in the MWC this season.
7. Air Force.
The Falcons have a veteran crew that's only loss was in a fairly competitive game at Colorado. Air Force has a chance to build credibility within the league against Wichita State this weekend in the MWC-MVC Challenge. A number of coaches in the preseason said the Falcons' experience made them an intriguing watch this season.
8. Nevada.
The Wolf Pack were supposed to be a threat to get to the NCAA tournament. But Nevada has been slow out of the gate, losing at UC Irvine and Marshall and beating Cal State Fullerton, Green Bay and UC Davis by a
combined
six points.
Deonte Burton
is scoring as expected but the overall defense has been highly suspect.
9. Fresno State.
The Bulldogs are still in rebuilding mode under Rodney Terry. Their offense has been erratic. The problem for Fresno State is that there's no place to hide. There are only nine teams, meaning this improved group might have a hard time climbing.
October, 24, 2011
10/24/11
1:40
PM ET
By
Diamond Leung
| ESPN.com
Braeden Anderson, a top-50 power forward who
wasn't able to attend Kansas as a partial qualifier
, will go to Fresno State instead and look to become eligible next season, according to the
Lawrence Journal-World
.

"I did not want to commit to two years at a junior college," said Anderson, who would have needed a juco degree to qualify for a two-year career at KU. "Fresno is a really good fit for me. I really like the coaches there. I'm a West Coast kid at heart. I have a ton of family in California -- a lot of cousins."

Of course, he's depressed that he's unable to play at his first choice, KU.

"My ultimate goal is the NBA. Before that, my ultimate goal was to make a high-major Div. I school. In my mind, I made it there," Anderson said of attaining an offer from Kansas. "Kansas is where I wanted to go. I would have picked Kansas over any school in the country. I love all the people there. My heart will always be in Kansas. I'll always have a really soft spot for Lawrence and the people there."
The addition of Anderson for Fresno State would be a big shot in the arm, as coach Rodney Terry is getting off to a good start with rebuilding the program. The former Texas assistant made his name recruiting out of Canada, and the Alberta native Anderson gives the Bulldogs the 2011 Mr. Canada Basketball award winner.
Fresno State will have to raise its talent level, because this is its final season in the WAC before leaving for the Mountain West. Rather than help replace the Morris twins at Kansas, the 6-foot-9 Anderson will now head to a program that could make him the face of a new era.
August, 16, 2011
8/16/11
9:02
PM ET
By
Diamond Leung
| ESPN.com
First-year Fresno State coach Rodney Terry needed to add a big man to the roster and ended up finding one from China.
The Bulldogs have announced the addition of Grant Hefeng, and Terry believes the 6-foot-8 power forward from Shenzhen is one of the first players from China to transition straight into Division I basketball without first attending school in the United States. Terry said Hefeng, also known as Sun Hefeng, has been cleared to play and will soon enroll in school.
"He really wanted to be a kid who had a chance and come over and be a trailblazer," Terry said. "It was a lifelong dream for him to play college basketball."
Terry had made a name for himself while as a Texas assistant coach by opening up a pipeline to Canada and recruiting Myck Kabongo,
Cory Joseph
and
Tristan Thompson
to become Longhorns. He now believes that China is the wave of the future and is willing to take a risk to make it happen.
Terry needed some size after
Greg Smith
decided to turn pro and others transferred. Hefeng's name came up as a potential prospect. The coaching staff relied on its contacts for evaluations, watched some video online and then got to see him play at an AAU tournament last month in Carson, Calif. Terry said he couldn't even remember the name of the AAU team Hefeng played for, but his ability left a lasting impression.
"He's a skilled face-up guy that has a chance to score the ball really well and can shoot the ball," Terry said. "He's one of those guys that's more crafty and has a knack for scoring in a variety of ways."
Can Hefeng make the jump from China to Central California? Terry said he passed the necessary standardized test to get eligible and has a grasp of the language.
"His English is not half bad," Terry said, adding that he is in the process of finding a translator. "The more we've communicated with him, the more he understands.
"China is one of the untapped areas in terms of prospects. They've made a lot of progress on the international scene in terms of where basketball is there with Yao Ming having come over here and had success."
But can Hefeng, who has played on the Chinese National Team level, make an impact in the WAC? Terry said he hasn't seen him play enough to tell. So you be the judge.