College Basketball Nation:

Ron Guenther
May, 17, 2011
5/17/11
10:50
AM ET
If you read
Adam Rittenberg's excellent Big Ten football blog
(one of our altogether excellent
College Football Nation blogs
, all of which you probably read; and if you don't, well, get it together), then you read Adam's timely reaction to Illinois's announcement that longtime athletic director Ron Guenther has decided to retire. The retirement marks the end of Guenther's 19-year career, for one,
but as Adam wrote yesterday
, it also marks a major shift for Illinois football coach Ron Zook, whom Guenther has tirelessly supported even at Zook's most unpopular moments.
[+] Enlarge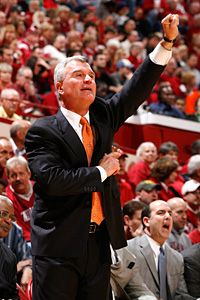 Brian Spurlock/US PresswireIllini coach Bruce Weber will have a new athletic director to impress next season.
This is a college hoops blog, though, so we don't much care about Zook.* We're much more interested in what Guenther's departure means for Illinois coach Bruce Weber.
More specifically: Does losing Guenther -- who has supported Weber through several spates of unpopularity within the Land of Lincoln -- put Weber's job in greater jeopardy in the coming seasons? Will a new athletic director be nearly as supportive?
There's an easy answer here: It's too early to say. Weber's team, like Illinois's athletics program, is in transition. The coach loses three key seniors in the post-2011 era, all talented but inconsistent players (
Demetri McCamey
,
Mike Tisdale
,
Mike Davis
) that came to define their team's talented but inconsistent performance over the past two seasons. In their place comes a bevy of homegrown talents,
products of Weber's successful recent forays into local recruiting
.
In some ways, Weber has come full circle. In the early years, Weber was criticized by some Illini fans as a stern defensive coach who couldn't recruit top talent. Lately, he's been derided as a guy unable of melding talented teams into winning squads. One or both of those titles is unfair. Which is exactly why he needs more time under a new athletic director -- time he is certain to get, and rightfully so -- to iron out just what his new-look teams are made of.
That said, the past few seasons -- consistently disappointing in their ratio of talent to wins -- have shaken plenty of Illinois fans' faith in their head men's basketball coach. Weber's 2010-11
season proved especially challenging
. Through it all, Guenther had his coach's back,
squashing any notion that Weber's job was in jeopardy
:
"I feel very confident that Bruce can get this thing figured out," Guenther said on Feb. 17. "He's a wonderful coach and a great human being. He will do the right thing at the end of the year."
Judging by the comments Weber made to media yesterday
, the admiration ran both ways:
"He was so good to us," Weber said. "When you needed help he was there. He was a coach before. He knew when to come in, when not to, when not to bug you. Sometimes just let you talk and vent. He understood."
No coach likes to survive his athletic director. Frequently, when new ADs are hired, they seek to put their stamps on the most high-profile programs in their stables, especially when those programs are purportedly underperforming.
Will a new Illinois athletic director do the same with Weber? Not right away. Weber's seat isn't that hot. His teams haven't been that bad. Still, Illinois fans are an impatient, hungry bunch. They want to win. When they don't, they get frustrated. (Making them like pretty much every other fan base in the country, if not larger than most.) In the past, Weber has been able to face those tough times secure in the knowledge that his athletic director had his six. In the past, Illinois fans have known that Guenther would support his hires -- even to a fault.
Will a new athletic director do the same? History tells us otherwise. It will be on Weber to buck the trend in the coming seasons.
*Except, of course, when Zook is water-skiing. That photo remains a classic.
February, 17, 2011
2/17/11
3:26
PM ET
In the end, Illinois survived. Michigan missed two last-second shots, including Stu Douglass's desperation heave, and
the Illini escaped with an ugly 54-52 win in Champaign, Ill
. It wasn't an inconsequential victory: With a loss, Illinois would have faced serious questions about its at-large status for the first time this season, and the sturm and drang among restless and disappointed Illinois fans would have reached a fever pitch.
And if merely watching such a game sounds intense, imagine being one of the orange-and-blue-clad boys on the floor. Or, for that matter, Bruce Weber.
From the Chicago Tribune's
Chris Hine:
"I just thought if we lose this one, then you're going to die," Illinois coach Bruce Weber said he thought then. [...] "You just kept watching the clock," Weber said. [...]

Said senior Mike Davis: "I was like, 'No!' I was just hoping they missed." [...]

"You could feel the pressure tonight," Weber said. "Even the crowd, it just seemed like the air was thick."
That's not at all surprising. Illinois fans expect a lot from their basketball team in any year, but this one has been especially frustrating. It's not as if Illinois doesn't have talent. It's not like Weber's team is merely rebuilding. No, this team entered the season with designs on a Big Ten title and a deep tournament run, and it has at times displayed the talent to do so.
Lately, though, it's been easy to forget this team is the same one that
nearly
beat No. 2 Texas on a neutral floor Nov. 18. (Update: Yours truly forgot to include that all-important "nearly" in an early version of this post.) That result seemed to promise big things for this team. If anything, the Illini have regressed since then, and a near-loss to Michigan at home doesn't exactly portend a sudden revival in downstate Illinois. Weber has criticized his players for a lack of toughness; he's also criticized McCamey for allowing "outside influences" to interfere with his play.
But none of this is new; by now, most college hoops fans are well aware of the Illini's struggles. (After all,
I just wrote about all this Tuesday
.) No, the question isn't whether the Illini are struggling. It's whether those struggles have caused the same level of consternation in athletic director Ron Guenther's office as it has among the message board die-hards.
That answer? It all depends on whom you blame. Again,
from Chris Hine
:
As for the basketball program, which could miss the NCAA tournament for the third time in four seasons, Guenther said he understood the frustration of the fans.

"We have a senior class that probably hasn't played to their potential," Guenther said.
That's a pretty blatant indictment, but it's not off-base. Besides McCamey, senior forward Mike Tisdale and Mike Davis have been the subjects of criticism among Illinois fans -- if you need proof, check this post's comments in, oh, 15 minutes -- for most of this season and much of their careers. So if Guenther thinks the seniors share much of the blame, what does that say about Weber's job status?
Guenther added that if a staff change was necessary to "make this thing click," that decision would come from Weber and not above him.

"The question will be, with (him and me) as we talk about it. You can't be loyal to a fault, but everything from front to back has to be overturned," Guenther said. "So if he thought that there had to be a staff change to make this thing click, I believe Bruce will do that."
There are a variety of ways to interpret that statement, but at the risk of over-parsing a potentially innocuous quote -- maybe Guenther just means Illinois needs a new assistant coach, or new trainers, or whatever -- let's just say this: It would be pretty shocking to see Weber leave the Illini anytime soon. For one, it's clear Guenther lays much of the blame at the feet of this year's seniors. But Weber has also made huge strides in recruiting in recent years. Illinois has landed two straight heralded classes, both of which have included Illinois Mr. Basketball honorees (Brandon Paul and Jereme Richmond), and the 2011 class is again full of elite Chicago-based talent. Even if there are concerns about Weber's coaching and player development, Illinois might hesitate to risk losing out on that sort of recruiting momentum.
Bottom line: No, this has not been Weber's best season. No, the Illini aren't playing to their potential. But as bad as things have seemed, this team is still going to make the NCAA tournament, and if your team is still a likely tournament inclusion despite massive inconsistency, uneven play and increasing restlessness from a frustrated fan base ... then your program is still in pretty decent shape.