College Basketball Nation:

Ronald Moore
March, 19, 2010
3/19/10
9:35
AM ET
SPOKANE -- Does Michigan State have another run in it? Can Purdue go far without
Robbie Hummel
? Does the nation's leading scorer, Houston's
Aubrey Coleman
, have enough points in him to shock Maryland and ACC Player of the Year
Greivis Vasquez
? Will Texas A&M slip because of poor free-throw shooting? Does Siena have another Cinderella win in it? Or is Utah State going to break through?
Those are a few of the many questions that will be settled in Spokane on Friday and Sunday.
SOUTH REGIONAL
No. 4 Purdue (27-5) vs. No. 13 Siena (27-6), 2:30 p.m.


Storyline:
Purdue looked like a title contender at one point, but the loss of star Robbie Hummel to a torn ACL has most thinking the Boilermakers won't go far. Siena is dangerous because it's done this before: It's posted first-round upsets the past two tournaments.
What to watch Boilermakers:
Will
E'Twaun Moore
and
JaJuan Johnson
, who combine for 31 points per game, give Purdue enough scoring, or will someone else step up? The other three starters combine for just over 14 points per game. Watch out of senior
Keaton Grant
, who scored in double figures in four of the past eight games.
What to watch Saints:
Four players average between 13.6 and 16.3 points per game, topped by
Alex Franklin
.
Ryan Rossiter
is the force inside (11.1 rebounds per game), while
Ronald Moore
is the distributor (7.8 assists per game, which leads the nation). On the downside: They don't consistently hit from 3-point range.
They said it:
"The only thing we can do to prove anybody wrong is to win basketball games," Purdue guard
Chris Kramer
said. "There's a quote that says losers make excuses and winners make it happen. So we just got to go out there and make it happen."
No. 5 Texas A&M (23-9) vs. No. 12 Utah State (27-7), 5 p.m.


Storyline:
Texas A&M can't shoot the 3 and struggles at the line, which are both Utah State strengths. Both teams play deliberately, which could mean a low-scoring game. Texas A&M might have noticed that a lot of folks are pegging it for an upset. One thing we know: The Aggies are going to win.
What to watch Texas A&M Aggies:
Donald Sloan
, a first-team All-Big 12 pick, averages 18.2 points per game. No other player averages in double figures, though though three average nine-plus points. The defense led the Big 12 in scoring (65.8 ppg). The Aggies have shot .475 from the field in their past four games. They are 30-0 under coach Mark Turgeon when they shoot at least 50 percent from the field.
What to watch Utah State Aggies:
Point guard
Jared Quayle
is where Utah State's precise offense starts. He averages 12.5 points, 4.2 assists and 6.3 rebounds per game.
Nate Bendall
and
Tai Wesley
are smart, capable post presences.
Brian Green
is the best 3-point shooter on a very good 3-point shooting team (42 percent).
The said it:
"They run a ton of sets, obviously, and run them very well," Turgeon said of Utah State's offense."They have counters to counters to counters. And you've got to pick and choose what you show and how much you show. I have a couple of my seniors and I say, 'Is this a lot?' and they say, 'Yeah, this is a lot, coach'."
MIDWEST REGIONAL
No. 5 Michigan State (24-8) vs. No. 12 New Mexico State (22-11), 7:20 p.m.


Storyline:
Did New Mexico State's leading scorer
Jahmar Young
tweak Michigan State's two-time first-team All-Big Ten point guard
Kalin Lucas
this week by replying, "Who?" when asked about Lucas. Absolutely. But Young clearly was making a statement that he -- and, by extension, his teammates -- aren't afraid of the Spartans.
What to watch for the Spartans:
Lucas leads four players who average in double figures.
Chris Allen
, suspended for the Big Ten tournament, is the Spartans best threat from 3-point range. The Spartans aren't big but
Raymar Morgan
,
Delvon Roe
sixth man
Draymond Green
are particularly good at grabbing offensive rebounds.
What to watch for the Aggies:
Young and fellow guard
Jonathan Gibson
combine for 38 points a game, but
Wendell McKines
,
Hamidu Rahman
and
Troy Gillenwater
are physical players who each averages in double-figures. The Aggies like to run-and-gun and try to force turnovers. They are 19-0 this season when they outshoot their opponents.
They said it:
"I watched him. He can play. Everyone can play. What am I supposed to do, bow down because of what they say? That's not going to happen, but it's no disrespect to him at all," said Young when told that Lucas has been offended by his comments.
No. 4 Maryland (23-8) vs. No. 13 Houston (19-15), 9:50 p.m.


Storyline:
It's ACC Player of the Year Greivis Vasquez (19.5 ppg) vs. the nation's leading scorer, Aubrey Coleman (26.0 ppg). Both teams are hot. The Cougars won four games in four days to win the Conference USA Title. Maryland won nine of 10 to finish the regular season.
What to watch for the Terrapins:
The Terrapins averaged 79 points per game, so it's obviously not just Vasquez, but the senior will have the ball in his hands if things are tight late. It's likely Maryland is eager to face a defense that allows foes to hit 46 percent of their shots.
What to watch for the Cougars:
The 6-4 Coleman will get his points, but the Cougars upset chances probably require more than a one-man show. Guard
Kelvin Lewis
, the conference tournament MVP, averages 15.3 points per game and he likely will spend plenty of time guarding Vasquez. He also shoots nearly 40 percent from 3-point range.
They said it:
"I'm not going to get caught up in trying to go back and forth with him. He's a great player in the ACC. And we know everybody is going against us because we are Conference USA," Coleman said of his matchup with Vasquez. "We don't have nothing to lose."
February, 20, 2010
2/20/10
12:59
PM ET


INDIANAPOLIS -- More to come later, but a quick, postgame analysis from Butler 70, Siena 53:
It's official: The Saints must win the MAAC tournament title to play in the NCAA tournament.
Impressive job by Butler winning without injured double-digit scorer and jack-of-all-trades Willie Veasley, and with minimal contribution from No. 3 scorer Matt Howard due to fouls. Gordon Hayward's versatility is very impressive.
Siena point guard Ronald Moore came in leading the nation in assists but had a miserable day offensively. He scored just one point, whiffing from the field (0-for-9). Star Edwin Ubiles wasn't much better, going 2-of-11 for four points.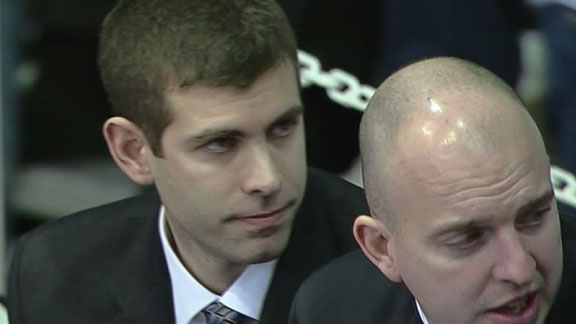 February, 8, 2010
2/08/10
8:16
PM ET
By
Diamond Leung
| ESPN.com
January, 5, 2010
1/05/10
11:28
AM ET
Five things to know from Monday's action:
1. Playing in its first game this decade, North Carolina suffered an indignity that it never experienced last decade. In their overtime loss to the College of Charleston, the Tar Heels held a 56-36 rebounding advantage. During the past decade, UNC was 22-0 when holding a plus-20 rebounding advantage.
2. No one is averaging more assists than
Ronald Moore
's 8.7 a game. In fact, no active player has more career assists than the Siena guard. So Moore's 11 assists in Monday's win over Loyola (Md.) was really just an average performance by his standards. It was his sixth 10-assist game this season. Lehigh's
Marquis Hall
is the only other player with four such games. However, while Moore continues to find his teammates, he can't seem to locate his shot. Over Siena's last four games, Moore is 3-of-26 from the floor and 0-for-9 from 3-point range.
3. Mercer truly beat North Florida at the free throw line in its 84-79 win. The Bears shot 86.5 percent from the charity strip (32-37), including 7-of-8 in the final 31 seconds. That's the second-best free throw shooting performance this season for a team attempting at least 35 free throws. Amazingly, the Bears entered the game shooting just 69.4 percent from the line. The real story of the game was
Daniel Emerson
, who finished with a career-high 29 points (15-of-17 from the line) while adding 15 rebounds. Emerson is the first player since Nebraska's Aleks Maric in 2007 to have 15 free throws and 15 rebounds in a game.
4. It was in a losing effort, but Delaware's
Jawan Carter
posted his first career double-double with 18 points and a career-high 11 assists against James Madison. His minutes are what is really interesting. For the fourth straight game (which includes an OT game), Carter went the distance. The former St. Joe's starter is averaging 39.3 minutes per game, most in the nation and nearly a minute more than the next player (LSU's
Tasmin Mitchell
).
5. Jacksonville State's
Trenton Marshall
followed up a three-point performance on Saturday with 37 points on Monday, including 28 in the second half. However, the Gamecocks fell short of Southeast Missouri State, 78-66. Marshall's 37 points were the most for any player since the program moved to Division I. Overall, it's the most points by a Gamecock since Charles Burkette put up 37 in 1991.
December, 30, 2009
12/30/09
12:53
PM ET
1. Kentucky's
John Wall
set a school record with 16 assists in the Wildcats' win over Hartford. He broke Travis Ford's record of 15 set in 1993 against Eastern Kentucky. Wall's 16 assists are the most by a Division-I player this season, and the most since Pittsburgh's Levance Fields also had 16 last February. Wall is now averaging 7.5 APG, second in the nation to Siena's
Ronald Moore
(who had a mere 12 assists on Tuesday). In addition to the huge assist total, Wall tied a career-low with just one turnover. He also failed to score in double figures for the first time in his career, a minor footnote on a historic night.
2.
Ryan Wittman
and Cornell are making a lot of noise in the Ivy League. Wittman, the son of former NBA player and coach Randy Wittman, scored a career-high 34 points Tuesday in Cornell's 78-75 win at La Salle. Wittman also set Cornell's all-time scoring record in the game, surpassing John Bajusz's 1,663 points. The Big Red won their eighth straight despite missing a pair of starters. Cornell is 10-2 despite having only played two home games. It is now 6-1 in true road games, including wins at St. John's, Massachusetts and Alabama.
3. Wall may be getting the majority of the press, but what
DeMarcus Cousins
is doing is fairly astonishing. The freshman big man scored 19 points and added 12 rebounds on Tuesday for his seventh double-double this season. He did so in just 19 minutes. In fact, he has played fewer than 20 minutes in each of his last three games, all double-doubles. While battling foul trouble (though he had no fouls Tuesday), Cousins is averaging only 18.7 minutes per game this season. But in that time, he is also averaging 15.2 PPG and 9.0 RPG. That makes him the most efficient scorer and rebounder in the nation. Cousins is averaging 32.5 points per 40 minutes, first in the nation ahead of Seattle's
Charles Garcia
, and 19.2 rebounds per 40 minutes, first in the nation ahead of Duke's
Brian Zoubek
.
4. Seton Hall suffered its second tough conference loss in four days when it fell to Syracuse 80-73. But no one can blame those losses on not getting the ball in the hands of its superstar. Days after scoring a career-high 41 points against West Virginia,
Jeremy Hazell
poured in 38 on Tuesday. Hazell has attempted 64 shots (including 34 treys) in those two Big East games. His 33 attempts on Saturday were the most by a player this season. Tuesday's 31 attempts are tied for the second most in a game. There were 26 teams that attempted fewer 3s than Hazell's 15 on Tuesday.
5. Louisiana Tech improved to 12-2 with a 99-94 win at Houston on Tuesday. Rebounding was the story of the game, as the Bulldogs held a 55-32 edge on the boards.
Olu Ashaolu
had a career-high 21 rebounds, the fifth most in Division-I this season, to go with 17 points. Louisiana Tech got 98 of its 99 points from its starters, the third most points in a game for a starting lineup this season. Former LSU big man
Magnum Rolle
scored a career-high 29 points on 13-for-15 from the field.