College Basketball Nation:

Rondae Hollis-Jefferson
March, 11, 2014
Mar 11
11:00
AM ET
The Pac-12 has followed the script for the most part.
Entering this season, anyone could recognize Arizona's perch atop the conference with McDonald's All American
Aaron Gordon
joining one of the nation's best frontcourts.
Steve Alford, meanwhile, had come to Los Angeles to save UCLA.
Oregon, Colorado, Stanford, Arizona State and Cal all looked like potential NCAA tourney teams.
But even though we knew that about this league, no conference is teetering on a bigger platform of uncertainty right now. Maybe this is a three-bid league. Maybe it's a six- or seven-bid league.
The Pac-12 picked the perfect city, Las Vegas, for this toss-up
conference tournament
.
[+] Enlarge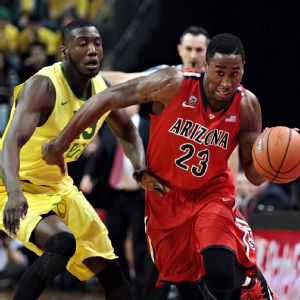 Scott Olmos/USA TODAY SportsRondae Hollis-Jefferson's versatility has helped Arizona move forward in the absence of Brandon Ashley.
What's at stake?
On Feb. 1,
Brandon Ashley
suffered a season-ending foot injury that changed Arizona's season and program. Ashley, a sophomore, stretched the floor in ways that few big men can.
But Sean Miller's recruiting spoils in recent years have been a godsend to the program. Freshman
Rondae Hollis-Jefferson
gives the starting five a true small forward and creates a mismatch nightmare for every frontcourt that faces Hollis-Jefferson, Gordon and
Kaleb Tarczewski
.
Everything is pointing to
Nick Johnson
, the Pac-12 player of the year, and the Wildcats earning a top seed and a place in Anaheim. But what could mess that up? A loss to Washington or Utah -- a pair of sub-50 teams in the RPI -- in Thursday's quarterfinals wouldn't help.
A quarterfinal loss to Oregon State (if the Beavers were to get past Oregon in the first round) could demote UCLA, too. And it's not like the Bruins are hot right now (2-3 in their past five games).
But neither has much to worry about right now, it seems. They're dancing.
As for the rest of the league? Well, that's not necessarily the case.
Oregon, Stanford, Arizona State, Colorado and Cal are all fighting to lock up berths in the NCAA tournament. Oregon, which defeated Arizona over the weekend, is probably the safest member of the group. The Ducks likely feel secure after defeating the Wildcats, but that buzz will die fast if they lose to Oregon State on Wednesday.
Stanford is searching for its first NCAA tournament berth under Johnny Dawkins. An NIT bid for Arizona State, which enters the conference tourney after suffering back-to-back road losses to Oregon State and Oregon, would be disappointing. The Sun Devils and Cardinal could be matched up on Thursday in a quarterfinal game with high stakes.
Colorado continues to deal with the question, "Who are the Buffs without
Spencer Dinwiddie
?" Including its Jan. 12 loss to Washington when Dinwiddie suffered his season-ending knee injury, Tad Boyle's program is 7-8 without the previously projected first-round pick in next summer's NBA draft. Colorado has a chance to prove it would still be a respectable addition to the field and a solid seed with a run this week. Its overtime road loss to Cal over the weekend didn't help.
Team with the most to gain
On Feb. 1,
Justin Cobbs
drove off a pick and connected on a 17-footer that beat the buzzer and then-No. 1 Arizona. Cal fans stormed the court and all seemed well for Mike Montgomery's program.
That thrill, however, didn't last. Cal has gone 4-5 since then but enters the conference tournament following a weekend overtime victory over Colorado.
Cal is still alive. The Bears are currently in Joe Lunardi's
"First Four Out" grouping
. So a couple wins, beginning with a potential matchup against Colorado in Thursday's quarterfinals, could be the difference for Cal.
It'll be interesting to see how the Pac-12 tourney affects the league's pool of at-large berths once they're announced on Selection Sunday.
It could be bigger than that, though. Few leagues have faced as much speculation about coaches who might be on the hot seat. This might be a pivotal tourney for Dawkins, Arizona State's Herb Sendek, Washington State's Ken Bone and Oregon State's Craig Robinson.
February, 7, 2014
Feb 7
1:14
AM ET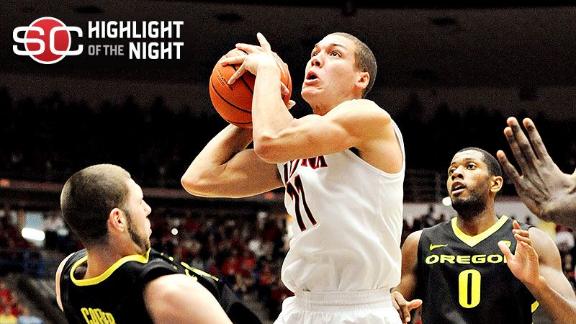 After Arizona's narrow win over Oregon on Thursday night, Sean Miller stepped to his customary place in front of the postgame television cameras to answer questions posed by ESPN reporter Jeff Goodman. The second question was the universal one, the same thing everyone has been asking since Arizona lost its first game of the season and its starting power forward Brandon Ashley on the same night Saturday: How would the Wildcats -- and new starter Rondae Hollis-Jefferson, more specifically -- respond? Was Miller ever worried?
"Not at all," he said. "He's a stud."
As postgame analyses go, that was an easy one. But no less accurate for it.
Indeed, Hollis-Jefferson's impressive starting debut in the Wildcats' 67-65 win over the Ducks hardly qualifies as a surprise. The less-touted of Arizona's two insanely athletic freshmen forwards (Aaron Gordon being the other, perhaps you've heard of him), Hollis-Jefferson had nonetheless already put together an excellent year as Miller's sixth man before he was elevated to the focal point in Ashley's wake. But he was great Thursday -- all attacking, angular energy -- and his four buckets late in the second half were crucial to Arizona's mini-comeback effort.
[+] Enlarge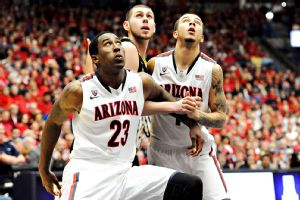 Casey Sapio/USA TODAY SportsRondae Hollis-Jefferson, left, and guard Gabe York, two of the Wildcats with new roles, battle Oregon's Ben Carter.
Hollis-Jefferson finished with 14 points (on 6-of-10 shooting), 10 rebounds (four of them offensive), three assists, two blocks and a steal. And Arizona escaped its own gym with a win because of it.
So, hey, there's one item crossed off the list. Rondae Hollis-Jefferson is indeed good at basketball. Check and check.
The rest of the picture is slightly less clear.
The Wildcats' conundrum in replacing Ashley was never a simple matter of plug-and-play. Miller's team, for all its immense strengths, hasn't gone much deeper than seventh man Gabe York all season. So the task for Miller was to get the stuff out of Hollis-Jefferson (the rim-runs, the transition baskets, the motor) that makes him special over a longer stretch, while maintaining that significant size advantage that Arizona so ruthlessly wields.
The Wildcats' unique size is written all over their per-possession numbers: They've shot it really well inside the arc, and OK outside it. They don't shoot 3s often, though -- just 25.9 percent of their field goal attempts are 3s, which ranks 323rd in the country -- and they play at a slow-ish pace, which has helped accentuate the strengths of Ashley, Gordon, Hollis-Jefferson and Kaleb Tarczewski around the rim. It also helped minimize that lack of depth in the backcourt. The Wildcats rarely had their shots blocked. And when they missed, they got their own rebound 39 percent of the time.
Ashley was key in all of this, and he did something no other Arizona big man could: He made jumpers, and thus spaced the floor, without losing any of the interior productivity in the exchange.
On Thursday night, Miller unveiled a decidedly smaller team. York, a good standstill shooter who has attempted 81 3s and just 41 2-pointers all season, took on the sixth-man responsibilities and played 24 minutes. Guard Elliott Pitts, who had played in just nine games all season (and averaged about a point in less than five minutes) was called up for 12 minutes of spot duty. He attempted three 3s, made one and grabbed three rebounds. He acquitted himself well. But Pitts' presence is the long tail of Ashley's injury, and the clearest sign that Arizona will end up smaller in the future out of sheer necessity.
And then there is Gordon. If you squint, Gordon's night -- five shots, six points, eight rebounds -- was fine. If you even casually glance, you should notice the 2-for-11 performance from the free throw line. This is another weakness Ashley's loss exacerbates: Gordon is a 42 percent shooter from the free throw line, and he has the second-highest free throw rate on the team.
Translation: He's leaving a ton of points on the board. Ashley was a 76 percent free throw shooter. Hollis-Jefferson shoots 62.8 percent. The Wildcats' ability to absorb fouls from desperate, overmatched defenses took a major hit with Ashley's loss, one without a clear fix at the ready.
In the end, Thursday night's 67-65 win doesn't tell us a whole lot about what Arizona Version 2.0 will really look like. The Ducks don't have much of an interior themselves -- their closest thing to a reliable "center" is probably 6-foot-8 tweener wingman Mike Moser -- and, oh yeah, they arrived in Tucson on Thursday losers of six of their past eight. A litmus test this was not. Miller will need more time to tinker, to tweak, to find new ways of maximizing the still-considerable talent on the floor. All precincts have not reported.
"Clearly, [Hollis-Jefferson's] role changes a little bit," Miller said. "But he'll grow, he'll get better. And we'll just stay with it."
At the very least, though, Thursday served notice that Hollis-Jefferson will take on his new role with gusto. Where Arizona goes from here is still an open question.
October, 21, 2013
10/21/13
9:30
AM ET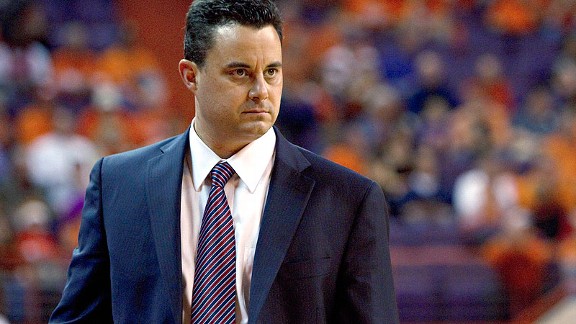 Joshua S. Kelly/USA TODAY SportsAfter years of accumulating high-level talent, the pieces are starting to fit into place for Arizona coach Sean Miller, who boasts a team that could be a national championship contender.
It's college basketball preview season, and you know what that means: tons of preseason info to get you primed for 2013-14. But what do you really need to know? Each day for the next month, we'll highlight the most important, interesting or just plain amusing thing each conference has to offer this season -- from great teams to thrilling players to wild fans and anything in between. Up next: Can Arizona put it all together?
Is Arizona the most fascinating story in the 2013-14 Pac-12? Probably not! Indeed, the travails of the UCLA Bruins and new coach Steve Alford surely offer more pure intrigue. Alford will step into a breach occupied by the insane subconscious expectations of UCLA fans, who were already in somewhat of an open revolt against their entire athletics program before they were miffed by the hire. Alford has a gigantic, inexplicable contract buyout, so he's not going anywhere anytime soon, and how he handles his first season -- when he will have as talented a roster as he's ever coached -- will set the tone for the next five.
It's interesting stuff, and yet I can't help but feel that UCLA -- like brilliant Arizona State point guard Jahii Carson, like Dana Altman's steadily improving Oregon Ducks, like Mike Montgomery's quiet solidity at Cal -- are mere bit players in this production. In the 2013-14 Pac-12, Arizona's name is the one in lights.
In four seasons at Arizona, Sean Miller's teams have had one defining characteristic: talent. No one on the West Coast has recruited elite prospects as well as Miller. But this season feels different. This season doesn't include a productive but ultimately makeshift option (Mark Lyons) at point guard. It isn't staking its season on a freshman such as Josiah Turner. (Remember him?) It isn't mixing in maybe one too many young forwards with seniors (Solomon Hill) who have to play. This season Arizona doesn't feel like a collection of really good pieces; it feels like a really good team.
Rest assured: There will still be talent. Even without forward Grant Jerrett, who made a surprise move to the NBA this past spring, the Wildcats have one of the deepest and most talented frontcourts in the country. Sophomores Kaleb Tarczewski and Brandon Ashley are star-level talents willing to bang on the low block, and Rondae Hollis-Jefferson is the fifth-ranked small forward in the class of 2013. And then there's Aaron Gordon. Go ahead and type his name into the YouTube search field now. The Blake Griffin comparisons are non-stop at this point; Gordon isn't talked about as much as Andrew Wiggins, Julius Randle or Jabari Parker, but he has a chance to be better than all three.
But what really separates this year's Arizona team from slightly underachieving groups of the recent past is the backcourt. Last season, Miller turned to Lyons, his former recruit at Xavier, after Lyons' relationship with Chris Mack broke down; that meant putting all that frontcourt talent (along with Hill) on the floor with a point guard whose game would never be described as "pass-first." And don't get me wrong: Lyons had a good season, as did the Arizona offense. But one couldn't watch the Wildcats' fourth-place Pac-12 finish and not feel like much had been left on the table, like everything didn't quite fit.
Duquesne transfer T.J. McConnell, who will take over at the point this fall, should snap into place immediately. And his backcourt mate, junior Nick Johnson, is probably the most polished player on the team -- an ideal outside-in college two.
That's why Arizona is (or should be) a top-five team in just about every poll despite losing Lyons, Hill, Jerrett and Kevin Parrom: Because the product of Miller's years of recruiting success are finally taking shape in more ways than mere acquisition. This could be the best team in the country. At the very worst, there will be lots and lots of lobs. Either prospect is worth the price of admission.