College Basketball Nation:

Rondae Hollis-Jefferson
March, 28, 2014
Mar 28
9:00
PM ET
ANAHEIM, Calif. -- The big industries have long left Chester, Pa., and taken thousands of jobs with them, but there's still a lot of truth to the saying Wisconsin coach Bo Ryan likes to quote from the water tower of his hometown:
"What Chester makes, makes Chester."
The town of roughly 35,000 in Eastern Pennsylvania is still successfully producing ball players. Ryan said that basketball has been the thing for kids in Chester since the 1920s, and the competition on the court is so tough that even the managers had tryouts in high school.
[+] Enlarge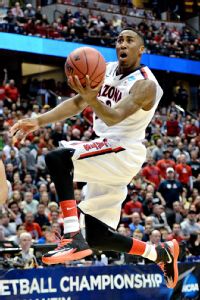 Harry How/Getty ImagesRondae Hollis-Jefferson provides a huge boost off the bench for the Wildcats.
"There is a sense of pride there that the whole city rallies around," Ryan said. "But in order to be a player there, you've got to be a player. You've got to beat out a lot of people."
Arizona 6-foot-7 forward
Rondae Hollis-Jefferson
is the latest in a line of players that recently included
Jameer Nelson
and
Tyreke Evans
to serve as the next potential great out of Chester. Hollis-Jefferson will be on display when the Wildcats face Wisconsin in the NCAA tournament West Region final for a berth in the Final Four.
Arizona freshman
Aaron Gordon
said if there was a national Sixth Man of the Year award, it should go to Hollis-Jefferson.
"He's come off the bench all year long for us and given us huge minutes, huge plays, energy," Gordon said. "... He's a huge asset to this team, he's our sixth starter."
He's slowly become an invaluable component of the Wildcats, especially after starter
Brandon Ashley
suffered a season-ending foot injury on Feb. 1. Arizona coach Sean Miller said that was the moment Hollis-Jefferson began to mature. He was more detailed in scouting reports and worked harder in practice because he knew the team would need him more.
"He started to recognize the difference between college and high school, and the process of being ready for that doesn't start on game day, it's every day, and everything you do contributes to that," Miller said.
Arizona probably would not have escaped a poor shooting outing by
Nick Johnson
and foul trouble from center
Kaleb Tarczewski
against San Diego State without Hollis-Jefferson's 15 points and five rebounds.
After Thursday's win Johnson said Hollis-Jefferson was "playing like the best freshman in the country" along with Gordon.
"I feel like if it's any time you want to prove to somebody who you really are, it's tournament time," Hollis-Jefferson said. "Just to be able to step up and contribute as big as I'm doing, my will is kicking in. I want to win so bad, I just want to prove to people I can win."
Gordon's name has long been associated with the elite of the freshman class this season, especially when the Wildcats played Duke and he faced off with freshman forward
Jabari Parker
. Hollis-Jefferson was rated No. 21 overall in the 2014 recruiting class, but compared to the attention Gordon has earned, he's more like the Wildcats' "other" freshman.
Hollis-Jefferson has started only six games, and his 9.1 points and 5.7 rebound average don't leap off a stat sheet. But he didn't attend Arizona to put up the big numbers he could have accumulated at a place where he would have been a star with less supporting talent.
"Being a McDonald's All-American and coming in and saying hey you're our sixth man, that's a blow to an ego right there," Johnson said. "But he's handled it so well, he embraces that role. He really is our X-factor."
Hollis-Jefferson is more concerned with being effective than being noticed. And he's achieved that quite well. In 22 games with Ashley in the lineup, Hollis-Jefferson averaged just 7.9 points. In the 15 games since Ashley's injury, he has averaged 10.8 points per game. Both of his double-doubles this season in scoring and rebounding have come over that span as well.
"I guess people can say I'm the underdog, people look past me, but I know deep down inside that I've done a lot for the team," Hollis-Jefferson said. "I'm helping the team tremendously on defense and offense and I know what I'm doing and I know people notice that."
It's hard not to notice what Hollis-Jefferson is doing in the tournament. He scored a career-high 18 points and had five assists in the third-round win over Gonzaga. He and Gordon were stuck guarding the Aztecs' big men when Tarczewski got into foul trouble. Though he was at a size disadvantage, Hollis-Jefferson held his own.
In scouting Arizona, Wisconsin center
Frank Kaminsky
paid Hollis-Jefferson the highest compliment.
"As coach would say, he's a Chester guy," Kaminsky said. "Obviously he's going to be a tough kid, he's going to be a tough matchup."
Competition aside, Hollis-Jefferson took time to pose with Ryan when both teams arrived at the Honda Center in Anaheim on Wednesday. Hollis-Jefferson posted the picture on his Facebook page, but added one request when anyone references the pair as Chester natives:
"Make sure you say, he's from
my
hometown."
March, 28, 2014
Mar 28
12:44
AM ET
ANAHEIM, Calif. -- Arizona proved it's above any one player with its 70-64 win over San Diego State. The Wildcats withstood
Nick Johnson
's shooting struggles and
Kaleb Tarczewski
's foul troubles to advance to the Elite Eight and a matchup with Wisconsin.
Here are five observations from their victory:


• The first thought from Arizona's win is how in the world did the Wildcats pull it off? The simple answer was defense. The Wildcats held SDSU to just 38.9 percent shooting from the field. But it wasn't entirely because Zona was just so suffocating. The The Aztecs have been offensively challenged all season and when they should have held a bigger lead, they allowed the Wildcats to stay within striking distance.
Xavier Thames
did his best to takeover the scoring load -- he had 25 points -- but he was 9 of 22 from the field.
• The Aztecs made it plain that they wouldn't let Johnson beat them. He scored 23 in the regular season meeting. SDSU coach Steve Fisher put 6-foot-7 forward
Dwayne Polee II
on the 6-foot-3 guard. Polee's length clearly bothered Johnson early and even when Polee was no longer defending him, he still couldn't find the basket. He missed his first nine shots and his 10th -- a bank shot with him driving left -- rimmed out just as it seemed it would be his first make. He was scoreless until making a 3-pointer with 1:51 that gave the Wildcats their biggest lead at the time. Johnson finished with 15 points thanks to making 10 of 10 free throws.
• What a difference a Polee makes. The junior from Los Angeles didn't play in the first meeting for disciplinary reasons. His defense on Johnson was only part of his impact. With Thames struggling to shoot in the first half, Polee provided an offensive burst for the Aztecs. Two of his baskets came off steals, including a thunderous dunk in front of
Aaron Gordon
. He knocked down two 3-pointers too and scored 10 points of his 13 points in the first half.
• Small ball worked well for Arizona. Tarczewski picked up his third foul of the first half with five minutes left and he got his fourth foul barely more than 60 seconds into the second half. With their 7-foot center absent for most of the game, the Wildcats played with forwards Gordon and
Rondae Hollis-Jefferson
and three guards. They got beat on the boards, but Hollis-Jefferson pumped in 15 points and five rebounds before fouling out. Gordon had an identical line with 15 points and added seven rebounds.
•
T.J. McConnell
didn't exactly carry Arizona, but his leadership guided them in the right direction. In the first half with the Aztecs taking control of the game, McConnell provided an emotional boost -- first from his defense, then by his scoring. McConnell finished with 11 points and five rebounds.
March, 22, 2014
Mar 22
11:10
PM ET
SAN DIEGO --
Stephen F. Austin
's
Jacob Parker
and his teammates were treated like royalty. Well, the Lumberjacks, a 12-seed in San Diego, felt like kings as they climbed onto a coach bus that was led by a police escort to their team's hotel following a 77-75 overtime NCAA tournament win against
VCU
at the Viejas Arena on Friday night.
"I think the police escort is pretty cool," Parker said Saturday. "Me and
Thomas [Walkup]
were talking in the room [about it] the other day. The Gatorade and the water in the locker room is nice."
[+] Enlarge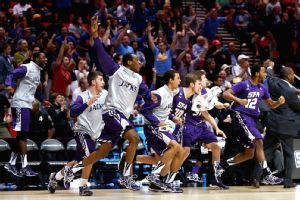 Jeff Gross/Getty ImagesStephen F. Austin players hope to repeat their celebration against UCLA on Sunday.
Stephen F. Austin has enjoyed blue-chip perks in San Diego that were rare in the Southland Conference. Like most mid-major programs, the Lumberjacks can't match the resources, finances, marketability, legacies or TV dollars enjoyed by their BCS-level peers.
The school's operating budget for athletics is $14 million, or nearly $70 million below Sunday opponent
UCLA
's athletics operating budget, according to the government's Equity in Athletics Disclosure Act database.
Sunday's matchups at Viejas Arena illustrate the line between the game's haves and have-nots. Top-seeded
Arizona
, a Pac-12 school with a rich basketball history, will face
Gonzaga
, an 8-seed. And Stephen F. Austin will attempt to upset UCLA, a 4-seed competing a few hours from Los Angeles.
If these games were drag races, they'd pit a pair of Porsches against a couple of Corollas, on the surface, at least. But this isn't college football.
A legit conversation about separating the top football programs from the rest of the Division I teams has reached new levels in recent years. It's a valid discussion.
But the line in college basketball is murkier. Sunday's games in San Diego prove as much.
There's talent everywhere. The top programs might have the inside track to the nation's best preps, but the one-and-done culture is not prevalent at the mid-major level, so, often, players stay and develop. That's how a Stephen F. Austin, a team led by upperclassmen, wins 29 games in a row and earns a slot in the round of 32.
Gonzaga's
Sam Dower
,
Kevin Pangos
,
Gary Bell Jr
. and
Przemek Karnowski
didn't enter school with the same prep accolades as Arizona's top players, and they don't have the same NBA hopes, either. But
Aaron Gordon
& Co. will have a tough time against an experienced Gonzaga team that hurts opponents inside and outside.
There are obvious differences between the programs, though.
[+] Enlarge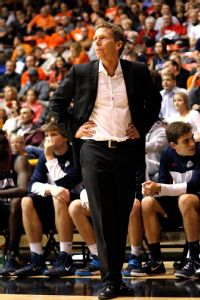 Cary Edmondson/USA TODAY SportsMark Few finds common ground between his Gonzaga program and Arizona.
When Arizona desired a new practice facility, NBA standout
Richard Jefferson
donated $3.5 million to the school. The Richard Jefferson Gymnasium gives Arizona's players 24-hour access to a gym that they use for skill development and strength training.
Freshman
Rondae Hollis-Jefferson
said the practice facility factored into his decision to attend Arizona.
"It was pretty great to see that practice facility, to know 24 hours you can go in there and work out whenever you want," he said. "I thought that was a big step for me, and I knew if I wanted to be great, I knew I had to spend countless hours in there, so I thought that was pretty big."
Coach Sean Miller said the practice facility -- once considered a trinket for select programs -- is an essential component for a Division I squad today. But the former
Xavier
coach also suggested that the chasm between schools from the top and middle tiers of college basketball is shrinking.
"I think, sometimes, you almost categorize college football and college basketball as if it's the same when we all know it's different," Miller said. "Places like Xavier and Gonzaga, they're not mid-major. Dayton is not. The way they travel, the talent level they have on their team, their coaches. Those universities put all their eggs in that basketball [basket] to be as good as they possibly can be."
Although there's a $46 million gap between the operating budgets for athletics at Arizona and Gonzaga, according to the EADA website, the West Coast Conference's perennial champ has access to a practice facility inside the McCarthy Athletic Center, which was completed in 2004.
Gonzaga might not have Arizona's brand, but the Bulldogs, who've made more NCAA tournament appearances than the Wildcats in the past 10 seasons, possess a product with a strong track record.
"I don't know that there is any difference in the resources, especially when it comes to recruiting," coach Mark Few said about Arizona. "I think they're able to draw, you know, off the traditions maybe of the national championship and Final Fours and the pro players they've had. They've done a nice job with that. And, obviously, sometimes league affiliation comes into play, but we fight like crazy to dispel that and try to get guys to look at the program as a whole. Resource wise, more seats in their building but not a big deal. Everything is probably pretty close."
Stephen F. Austin coach Brad Underwood subscribes to a similar philosophy as his program prepares to face a UCLA team that features multiple NBA prospects.
On Saturday, UCLA coach Steve Alford told reporters that NBA scouts have attended 88 of his team's 100 practices this season. The Bruins have 11 national titles. Stephen F. Austin just won the first NCAA tournament game in the program's history.
The Lumberjacks thrive in Nacogdoches, Texas, a city of 35,000, and UCLA exists in Los Angles, the West Coast's metropolis.
"The brand and who UCLA is about, it's obviously a very special brand," Alford said.
Yet, the Lumberjacks are still alive.
They don't have the resources that the other programs in this pod have utilized to build their programs, but they've advanced in the NCAA tournament while power players like
Duke
and
Syracuse
have already been sent home.
Buildings and budgets don't tell the full story about the hierarchy within college basketball.
"I can do everything at Stephen F. Austin that I need to do to be successful," Underwood said. "And whether I get on a commercial airline or whether I get on a [Learjet], I don't need to do that. … We're fine going to an Outback [Steakhouse]."
If the Lumberjacks win Sunday, they'll need a police escort to get there.
March, 11, 2014
Mar 11
11:00
AM ET
The Pac-12 has followed the script for the most part.
Entering this season, anyone could recognize Arizona's perch atop the conference with McDonald's All American
Aaron Gordon
joining one of the nation's best frontcourts.
Steve Alford, meanwhile, had come to Los Angeles to save UCLA.
Oregon, Colorado, Stanford, Arizona State and Cal all looked like potential NCAA tourney teams.
But even though we knew that about this league, no conference is teetering on a bigger platform of uncertainty right now. Maybe this is a three-bid league. Maybe it's a six- or seven-bid league.
The Pac-12 picked the perfect city, Las Vegas, for this toss-up
conference tournament
.
[+] Enlarge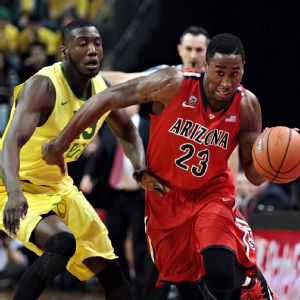 Scott Olmos/USA TODAY SportsRondae Hollis-Jefferson's versatility has helped Arizona move forward in the absence of Brandon Ashley.
What's at stake?
On Feb. 1,
Brandon Ashley
suffered a season-ending foot injury that changed Arizona's season and program. Ashley, a sophomore, stretched the floor in ways that few big men can.
But Sean Miller's recruiting spoils in recent years have been a godsend to the program. Freshman
Rondae Hollis-Jefferson
gives the starting five a true small forward and creates a mismatch nightmare for every frontcourt that faces Hollis-Jefferson, Gordon and
Kaleb Tarczewski
.
Everything is pointing to
Nick Johnson
, the Pac-12 player of the year, and the Wildcats earning a top seed and a place in Anaheim. But what could mess that up? A loss to Washington or Utah -- a pair of sub-50 teams in the RPI -- in Thursday's quarterfinals wouldn't help.
A quarterfinal loss to Oregon State (if the Beavers were to get past Oregon in the first round) could demote UCLA, too. And it's not like the Bruins are hot right now (2-3 in their past five games).
But neither has much to worry about right now, it seems. They're dancing.
As for the rest of the league? Well, that's not necessarily the case.
Oregon, Stanford, Arizona State, Colorado and Cal are all fighting to lock up berths in the NCAA tournament. Oregon, which defeated Arizona over the weekend, is probably the safest member of the group. The Ducks likely feel secure after defeating the Wildcats, but that buzz will die fast if they lose to Oregon State on Wednesday.
Stanford is searching for its first NCAA tournament berth under Johnny Dawkins. An NIT bid for Arizona State, which enters the conference tourney after suffering back-to-back road losses to Oregon State and Oregon, would be disappointing. The Sun Devils and Cardinal could be matched up on Thursday in a quarterfinal game with high stakes.
Colorado continues to deal with the question, "Who are the Buffs without
Spencer Dinwiddie
?" Including its Jan. 12 loss to Washington when Dinwiddie suffered his season-ending knee injury, Tad Boyle's program is 7-8 without the previously projected first-round pick in next summer's NBA draft. Colorado has a chance to prove it would still be a respectable addition to the field and a solid seed with a run this week. Its overtime road loss to Cal over the weekend didn't help.
Team with the most to gain
On Feb. 1,
Justin Cobbs
drove off a pick and connected on a 17-footer that beat the buzzer and then-No. 1 Arizona. Cal fans stormed the court and all seemed well for Mike Montgomery's program.
That thrill, however, didn't last. Cal has gone 4-5 since then but enters the conference tournament following a weekend overtime victory over Colorado.
Cal is still alive. The Bears are currently in Joe Lunardi's
"First Four Out" grouping
. So a couple wins, beginning with a potential matchup against Colorado in Thursday's quarterfinals, could be the difference for Cal.
It'll be interesting to see how the Pac-12 tourney affects the league's pool of at-large berths once they're announced on Selection Sunday.
It could be bigger than that, though. Few leagues have faced as much speculation about coaches who might be on the hot seat. This might be a pivotal tourney for Dawkins, Arizona State's Herb Sendek, Washington State's Ken Bone and Oregon State's Craig Robinson.
February, 7, 2014
Feb 7
1:14
AM ET
After Arizona's narrow win over Oregon on Thursday night, Sean Miller stepped to his customary place in front of the postgame television cameras to answer questions posed by ESPN reporter Jeff Goodman. The second question was the universal one, the same thing everyone has been asking since Arizona lost its first game of the season and its starting power forward Brandon Ashley on the same night Saturday: How would the Wildcats -- and new starter Rondae Hollis-Jefferson, more specifically -- respond? Was Miller ever worried?
"Not at all," he said. "He's a stud."
As postgame analyses go, that was an easy one. But no less accurate for it.
Indeed, Hollis-Jefferson's impressive starting debut in the Wildcats' 67-65 win over the Ducks hardly qualifies as a surprise. The less-touted of Arizona's two insanely athletic freshmen forwards (Aaron Gordon being the other, perhaps you've heard of him), Hollis-Jefferson had nonetheless already put together an excellent year as Miller's sixth man before he was elevated to the focal point in Ashley's wake. But he was great Thursday -- all attacking, angular energy -- and his four buckets late in the second half were crucial to Arizona's mini-comeback effort.
[+] Enlarge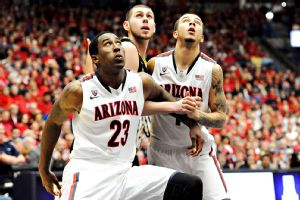 Casey Sapio/USA TODAY SportsRondae Hollis-Jefferson, left, and guard Gabe York, two of the Wildcats with new roles, battle Oregon's Ben Carter.
Hollis-Jefferson finished with 14 points (on 6-of-10 shooting), 10 rebounds (four of them offensive), three assists, two blocks and a steal. And Arizona escaped its own gym with a win because of it.
So, hey, there's one item crossed off the list. Rondae Hollis-Jefferson is indeed good at basketball. Check and check.
The rest of the picture is slightly less clear.
The Wildcats' conundrum in replacing Ashley was never a simple matter of plug-and-play. Miller's team, for all its immense strengths, hasn't gone much deeper than seventh man Gabe York all season. So the task for Miller was to get the stuff out of Hollis-Jefferson (the rim-runs, the transition baskets, the motor) that makes him special over a longer stretch, while maintaining that significant size advantage that Arizona so ruthlessly wields.
The Wildcats' unique size is written all over their per-possession numbers: They've shot it really well inside the arc, and OK outside it. They don't shoot 3s often, though -- just 25.9 percent of their field goal attempts are 3s, which ranks 323rd in the country -- and they play at a slow-ish pace, which has helped accentuate the strengths of Ashley, Gordon, Hollis-Jefferson and Kaleb Tarczewski around the rim. It also helped minimize that lack of depth in the backcourt. The Wildcats rarely had their shots blocked. And when they missed, they got their own rebound 39 percent of the time.
Ashley was key in all of this, and he did something no other Arizona big man could: He made jumpers, and thus spaced the floor, without losing any of the interior productivity in the exchange.
On Thursday night, Miller unveiled a decidedly smaller team. York, a good standstill shooter who has attempted 81 3s and just 41 2-pointers all season, took on the sixth-man responsibilities and played 24 minutes. Guard Elliott Pitts, who had played in just nine games all season (and averaged about a point in less than five minutes) was called up for 12 minutes of spot duty. He attempted three 3s, made one and grabbed three rebounds. He acquitted himself well. But Pitts' presence is the long tail of Ashley's injury, and the clearest sign that Arizona will end up smaller in the future out of sheer necessity.
And then there is Gordon. If you squint, Gordon's night -- five shots, six points, eight rebounds -- was fine. If you even casually glance, you should notice the 2-for-11 performance from the free throw line. This is another weakness Ashley's loss exacerbates: Gordon is a 42 percent shooter from the free throw line, and he has the second-highest free throw rate on the team.
Translation: He's leaving a ton of points on the board. Ashley was a 76 percent free throw shooter. Hollis-Jefferson shoots 62.8 percent. The Wildcats' ability to absorb fouls from desperate, overmatched defenses took a major hit with Ashley's loss, one without a clear fix at the ready.
In the end, Thursday night's 67-65 win doesn't tell us a whole lot about what Arizona Version 2.0 will really look like. The Ducks don't have much of an interior themselves -- their closest thing to a reliable "center" is probably 6-foot-8 tweener wingman Mike Moser -- and, oh yeah, they arrived in Tucson on Thursday losers of six of their past eight. A litmus test this was not. Miller will need more time to tinker, to tweak, to find new ways of maximizing the still-considerable talent on the floor. All precincts have not reported.
"Clearly, [Hollis-Jefferson's] role changes a little bit," Miller said. "But he'll grow, he'll get better. And we'll just stay with it."
At the very least, though, Thursday served notice that Hollis-Jefferson will take on his new role with gusto. Where Arizona goes from here is still an open question.
October, 21, 2013
10/21/13
9:30
AM ET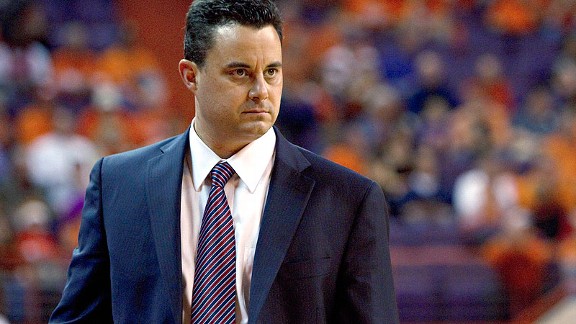 Joshua S. Kelly/USA TODAY SportsAfter years of accumulating high-level talent, the pieces are starting to fit into place for Arizona coach Sean Miller, who boasts a team that could be a national championship contender.
It's college basketball preview season, and you know what that means: tons of preseason info to get you primed for 2013-14. But what do you really need to know? Each day for the next month, we'll highlight the most important, interesting or just plain amusing thing each conference has to offer this season -- from great teams to thrilling players to wild fans and anything in between. Up next: Can Arizona put it all together?
Is Arizona the most fascinating story in the 2013-14 Pac-12? Probably not! Indeed, the travails of the UCLA Bruins and new coach Steve Alford surely offer more pure intrigue. Alford will step into a breach occupied by the insane subconscious expectations of UCLA fans, who were already in somewhat of an open revolt against their entire athletics program before they were miffed by the hire. Alford has a gigantic, inexplicable contract buyout, so he's not going anywhere anytime soon, and how he handles his first season -- when he will have as talented a roster as he's ever coached -- will set the tone for the next five.
It's interesting stuff, and yet I can't help but feel that UCLA -- like brilliant Arizona State point guard Jahii Carson, like Dana Altman's steadily improving Oregon Ducks, like Mike Montgomery's quiet solidity at Cal -- are mere bit players in this production. In the 2013-14 Pac-12, Arizona's name is the one in lights.
In four seasons at Arizona, Sean Miller's teams have had one defining characteristic: talent. No one on the West Coast has recruited elite prospects as well as Miller. But this season feels different. This season doesn't include a productive but ultimately makeshift option (Mark Lyons) at point guard. It isn't staking its season on a freshman such as Josiah Turner. (Remember him?) It isn't mixing in maybe one too many young forwards with seniors (Solomon Hill) who have to play. This season Arizona doesn't feel like a collection of really good pieces; it feels like a really good team.
Rest assured: There will still be talent. Even without forward Grant Jerrett, who made a surprise move to the NBA this past spring, the Wildcats have one of the deepest and most talented frontcourts in the country. Sophomores Kaleb Tarczewski and Brandon Ashley are star-level talents willing to bang on the low block, and Rondae Hollis-Jefferson is the fifth-ranked small forward in the class of 2013. And then there's Aaron Gordon. Go ahead and type his name into the YouTube search field now. The Blake Griffin comparisons are non-stop at this point; Gordon isn't talked about as much as Andrew Wiggins, Julius Randle or Jabari Parker, but he has a chance to be better than all three.
But what really separates this year's Arizona team from slightly underachieving groups of the recent past is the backcourt. Last season, Miller turned to Lyons, his former recruit at Xavier, after Lyons' relationship with Chris Mack broke down; that meant putting all that frontcourt talent (along with Hill) on the floor with a point guard whose game would never be described as "pass-first." And don't get me wrong: Lyons had a good season, as did the Arizona offense. But one couldn't watch the Wildcats' fourth-place Pac-12 finish and not feel like much had been left on the table, like everything didn't quite fit.
Duquesne transfer T.J. McConnell, who will take over at the point this fall, should snap into place immediately. And his backcourt mate, junior Nick Johnson, is probably the most polished player on the team -- an ideal outside-in college two.
That's why Arizona is (or should be) a top-five team in just about every poll despite losing Lyons, Hill, Jerrett and Kevin Parrom: Because the product of Miller's years of recruiting success are finally taking shape in more ways than mere acquisition. This could be the best team in the country. At the very worst, there will be lots and lots of lobs. Either prospect is worth the price of admission.